Dubrovnik - Photo credit to @beautifulcroatia
Top 5 sunniest places in Croatia to visit on your yacht charter
Because of Its fantastic geological position, the Croatian coastline is exposed to incredible amounts of sunlight during the summer months, with spring and autumn also being sunny in the months of May and September. For true sun lovers, there is nothing better than to find a comfortable spot on land or on the deck of your yacht charter & enjoy the warm rays of our closest star.
Sunbathing in Croatia can be a fulfilling and unique experience, with favourable outcomes and perfect tans that will serve as a reminder of your incredible charter holiday in Croatia, at least until Christmas.
If you are a true sun lover, here is a comprehensive list of the sunniest places in Croatia to visit on your yacht charter, as measured by the Croatian Meteorological society.
Hvar
Hvar island is definitely the sunniest place in Croatia, with 2760 hours of sunshine each year. This means that this island has 5 months of sunshine, which are most prevalent between April and October.
Hvar town is a perfect place to experience the sunny atmosphere of the island, with medieval fortification architecture, renaissance palaces and squares and plenty of local cuisines to entice you to stay longer. All of these will be easily available to all guests who visit by booking a yacht charter. Hvar is also considered to be among the 15 sunniest places in Europe– talk about walking on sunshine!
When chartering a yacht around Hvar island, the sun will be your constant companion, allowing for unforgettable experiences in the sea. Use the water toys on your yacht charter and go swimming, diving or snorkelling – the summer sun enables good visibility to depths of around 5 meters.
The sun and the sea are inseparable elements of every yacht charter holiday in Croatia, and for good reason; the hot summer sun allows travellers to spend hours in the water, without getting out.
If at any time you get too cold, the only thing you need to do is dry by letting the sun warm you up. The effect is similar to saunas or hammams – first, you sweat out all the toxins from your body by baking under the sun and when you cannot stand the heat anymore, plunge straight into the refreshing Croatian Adriatic sea, for instant refreshment and welcomed cooling off.
By doing this, you can experience a lot of the sea in only one day – swap water toys with every sunbathing warm-up and returns to the water with snorkelling gears, Sea bobs, kayaks and more. The Croatian sun will be your best companion on your charter holiday.
Dubrovnik
The ancient walled city of Dubrovnik is famous for many things – its UNESCO-protected walls, unbelievable medieval architecture, a nearby archipelago that resembles paradise on earth and overall, an atmosphere worthy of a charter holiday.
But, Dubrovnik is also a place that is lucky to be graced with 2665 hours of sunshine each year which makes it one of the sunniest places in Croatia to visit on your yacht charter. This sunny vibe, combined with the magic of Dubrovnik, is a winning combination and a definite must-visit for guests on a yacht charter in Croatia.
Since the weather will always be sunny and inviting on your yacht charter holiday in Dubrovnik, you can experience the best of Croatia. These conditions allow for exciting exploration excursions into the Croatian mainland, where an abundance of National and Nature Parks await discovery.
Climb atop high mountain peaks and enjoy the beautiful scenery or venture into the interior of ISLAND and learn much about the local history, culture and gastronomy.
Rely on your yacht crew to enable you and your charter party to experience the best and the most beautiful natural sights in Croatia, embraced by the warm and pleasant veil of the summer sun in Croatia.
Split
Split is the biggest coastal city in Croatia, situated in the centre of Dalmatia, a central Croatian Adriatic region. Serving a purpose as a hub that connects countless islands with the Croatian mainland, Split is also a major tourist hotspot, with an incredible heritage and rich history.
Berthing your yacht charter in Split enables you to visit the UNESCO-protected Diocletian palace, located directly in the centre of the city and still used today for numerous shops, markets, museums and businesses. The entire area sees 2628 hours of sunshine, which means hot summers and dry winters.
If the sun becomes unbearable at any moment, there is always the option of retreating into the air-conditioned salon on your yacht charter, to cool off until the worst of the noon sun gradually weakens.
During this time, you can still enjoy the sun, thanks to large windows that will bathe the salon in natural light or use the blinds and shut the light off completely, creating a pitch black atmosphere where you can enjoy watching a movie or a snug afternoon nap.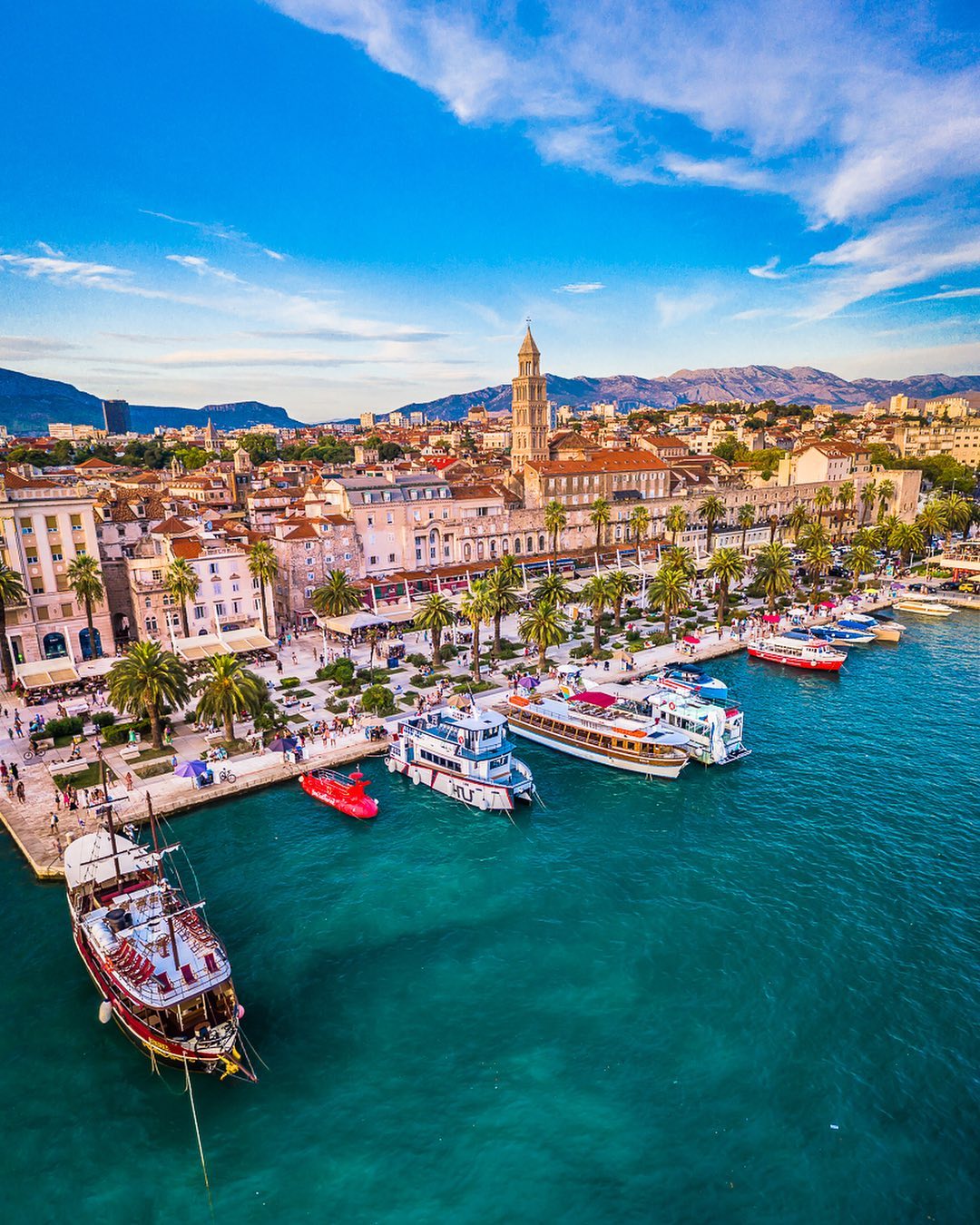 Bol on Brač island
The island of Brač is one of the most breathtaking places in the entire Croatian Adriatic sea. Lush pine forests behind turquoise bays and sandy beaches, all under the allure of one of the cleanest seas in the world.
Explore an island that experiences 2620 hours of sunshine each year and enjoy an atmosphere filled with sunshine on Bol Beach, also known as the "Golden Horn". Tell the captain to anchor your yacht near Bol beach and experience what it is like to have fun on water toys near the most beautiful beach in Croatia.
There are plenty of ways to enjoy the sun, but also to cool off from its warm influence. One of the most popular ways of doing that is by utilizing your yacht charter and your Michelin-level chef to prepare different refreshing desserts and enjoyable beverages.
These include summer classics like hand-made ice cream, but also granitas, slushies, cool smoothies or chilled ice tea. Staying hydrated when the sun is in its zenith is important, especially if you are planning on spending most of your time outdoors, under the warm embrace of the summer sun.
Vela Luka on the Island of Korčula
The island of Korčula is a magical place, surrounded by crystal-clear sea and adorned with lush pine forests. It is no wonder that so many yacht charter guests come and visit every year; countless hidden bays offer excellent sanctuary as overnight anchorages.
Korčula has 2600 hours of sunshine each year, which is concentrated the most in the town of Vela Luka so it is in the 5th place of the sunniest places in Croatia. Accessible with your yacht charter, Vela Luke is a perfect place to go snorkelling or water skiing, surrounded by exotic isles and numerous coves.
Listen to your experienced and competent charter crew, when it comes to precautions regarding protection against sunburns or heat strokes when sunbathing. These things can happen and it is best to avoid them entirely, by following simple guidelines. Stay hydrated and cool; if you find it too hot, retreat into the main deck salon or simply dive into the magnificent Croatian Adriatic sea.
Always stay hydrated; dehydration is no joke, especially if you are planning on working on your tan. Wear a hat and sunglasses, as well as a layer or loose clothing if you are sensitive to strong sunlight. Also, when applying sunscreen, do not forget your face.
Why you should visit one or all of the sunniest places in Croatia, during your yacht charter holiday?
If you love the sun and the fascinating blue colour of the crystal-clear Croatian Adriatic sea, there is no better way to visit the sunniest places in Croatia than on your yacht charter. Enjoy the sunny atmosphere of our picks for the sunniest places in Croatia and work on your perfect bronze tan in between jumping in the refreshing sea.
Ask your charter crew to provide locally sourced and hand-made essential oils for the best skin treatment while you enjoy the sunniest places in Croatia. Let go of your worries while the sun warms your skin and enjoy the all-embracing warmth of a summer spent on a yacht charter in Croatia.
Charter Yachts
We present to you the best selling yachts for charter in 2021. Slide through these different yachts, ranging from 20 to 80 meters in length, and choose the best option for you. If you have any questions regarding yacht charter, destinations & yacht support, contact us.
VIEW ALL CHARTER YACHTS
VIEW ALL CHARTER YACHTS