DOMINIQUE Yacht Charter - Build For Unforgettable Entertaining Vacation
DOMINIQUE yacht charter is 21 meters yacht built by Ferretti. This Ferretti 681 series vessel is fast, stylish, and ideally suited for a charter vacation in Croatia.
The main aft deck can provide a shaded space for alfresco dining, thanks to a sofa lining the stern, as well as a raised table and movable chairs. Two stairways lead down to the swimming platform, providing easy access to easy access to the tender and water toys.
The foredeck is covered with comfortable sun pads that offer uninterrupted views of the surroundings. On the flybridge, there is an alfresco dining area and more sunbeds. An expert yacht chef can also be brought on board for an additional fee to improve your overall gourmet experience. DOMINIQUE yacht charter will provide an amazing and unforgettable vacation.
YACHT CHARTER ACCOMODATION
Yacht details.
Guests:

8
Cabins:
4
Yacht Length:
21 meters / 70 feet
Yacht cabins layout:
2x Double + 2x Twin
Total living area:
176 sq.m / 1.894 sq.ft
Yacht exterior area:
85 sq.m / 915 sq.ft
Yacht interior area:
91 sq.m / 980 sq.ft
Types of Cabins on This Yacht:
1x Master Suite + 1x VIP Stateroom + 2x Twin Cabin
Bed Configuration & Size:
2x Double + 4x Single
Yacht Interior Guest Areas:
Split-Level Salon & Indoor Dining Area · Captain's Helm Area · Main Deck Galley · Four Private Cabins
Yacht Exterior Guest Areas:
Main Deck Aft With Alfresco Dining Area · Front Deck Sunbathing Area · Flybridge Lounge & Sunbathing Area · Swimming Platform & a Diving Board
TOP 10 YACHT CHARTER FEATURES
Yacht highlights.
1
Large and Comfortable Interior Lounge
5
Great Collection of Water Toys
7
Shallow Draft of 1.7m/5.8ft for Close Beach Access
8
Plenty of Sunbathing Spaces
9
TV in Every Cabin & Wi-Fi Available
10
BOSE Surround Hi-Fi System
YACHT PHOTO & VIDEO GALLERY
Charter Moments.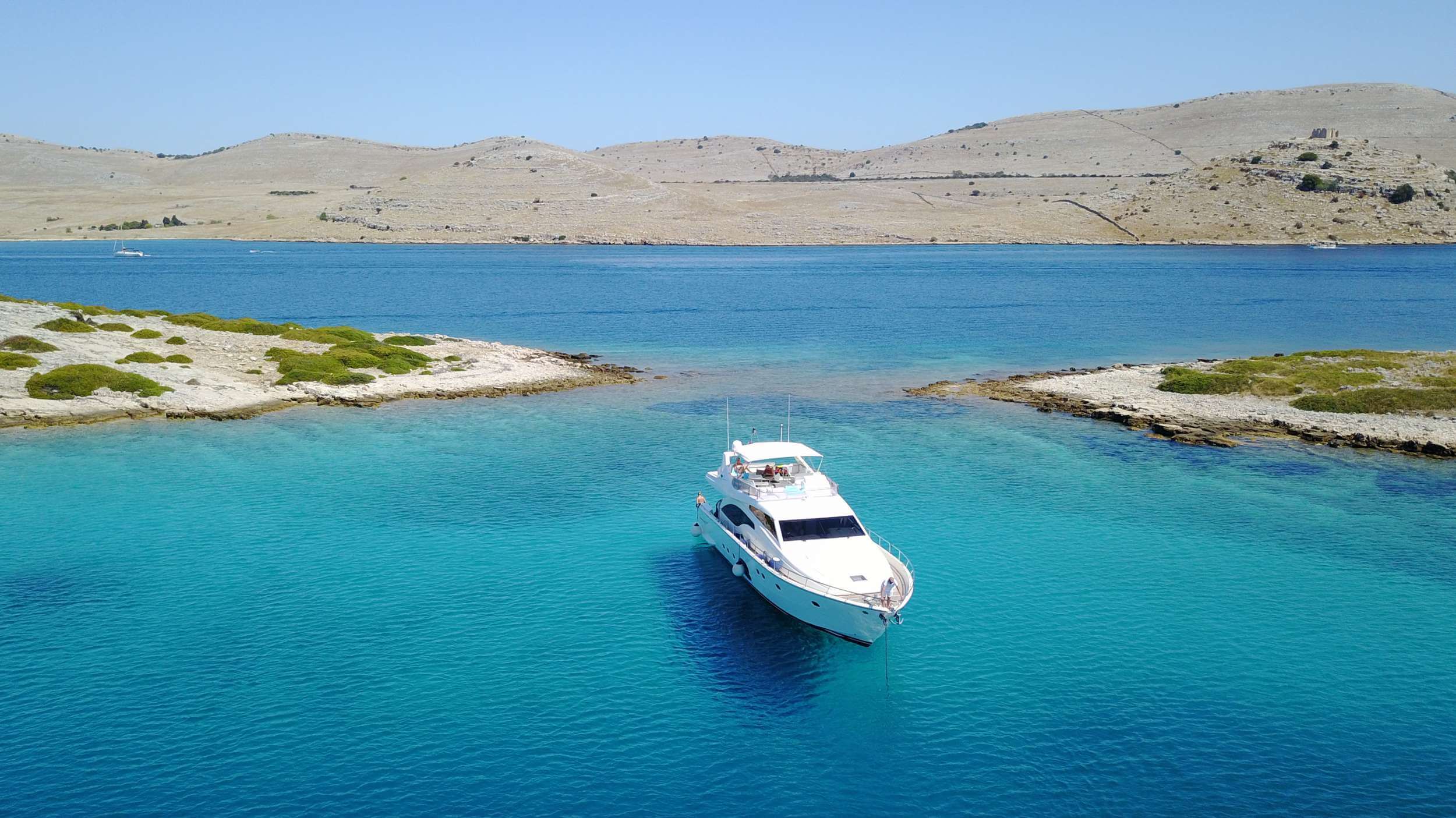 YACHT CHARTER SPECIFICATIONS
Particularities.
GENERAL INFORMATION
Length: 21.20 meters (69.7 feet)
Beam: 5.63 meters  (18.6 feet)
Year Built: 2007
Year of last refit: 2020
Yacht Builder: Ferretti
Main Engines: 2x 12V CRM
Maximum Speed: 34 knots
Cruising Speed: 28 knots
Fuel Consump. Engines: 306 l/hour*
Generator Engines: 11 kW + 20 kW
Fuel Consump. Generators: 7.2 l/hour*
Stabilisers: None
*Highly dependent on sea conditions
LIST OF AMENITIES
WiFi & Audio Visual Equipment · BOSE Surround Hi-Fi System with Loudspeakers in Salon and Cockpit · Fusion System on the Flybridge · Lat Screen SAT TV in the Saloon with DVD · Flat-Screen TV's in Each Guest Cabin · 3 Dining Areas
WATER SPORTS & TOYS
1x Sea-Doo SPARK (2018)
1x SUP
1x Towable Donut
1x Water Ski
2x Snorkelling Gear (Adults)
TENDER VESSELS
Yamaha, 3.8m Tender (Included)
Axopar 37, 12.5m Chase Boat (Optional)
FULL YACHT CHARTER REVIEW
Inspected by Us.
Soak up the heavenly atmosphere of the blue Adriatic Sea and feel with all your senses at once: smell the fresh sea breezes paired with cypress scents, touch the warm teak deck of DOMINIQUE yacht charter with your feet or the cold steel railings with your hands, while you gaze off into the magnificent horizon. Listen to the sound of the waves splashing against one another as you stand on DOMINIQUE's deck, knowing that your superyacht vacation in Croatia has just begun.
DOMINIQUE is a motor yacht with a length of 21 meters, built by the renowned Italian shipyard Ferretti in 2006, intended for charter in the Croatian part of the Adriatic. Made by Ferreti, she falls under the 681 model, which is known for its speed, stylishness and stability.
Her sporty profile and impressive list of amenities beckon charter guests to explore the beautiful Adriatic coast in glamour and exclusivity. DOMINIQUE yacht charter was built for entertaining guests, incorporating three separate luxury dining spaces across her layout. Enjoy an alfresco fine dining experience or a meal in the air-conditioned salon.
Her refit was in 2020, which means she is loaded with the most modern features and technological advancements available on the yachting market. This enables every charter guest to get the most out of their superyacht charter holiday in Croatia. This marvellous yacht can house 8 charter guests in 4 well-appointed cabins: 1 Master, 1 VIP and two twin cabins. A crew of two (a stewardess and a captain) will always make sure your stay onboard DOMINIQUE yacht charter is as pleasant as it can possibly be.
Guests can also bring a chef on board as the third member of the crew for an additional fee, to improve the overall culinary experience. This should be taken up for consideration, for having a member of the crew entirely dedicated to cooking means that the other two of the crew have more time to work on improving your overall charter experience. This also guarantees luxury dining on the level that reaches well beyond the length category of DOMINIQUE yacht charter, competing with boats of 28 meters in length and larger.
DOMINIQUE's draft is quite short, measuring 1.7 meters, meaning she can access shallow waters and provide excellent beach access, sometimes not even needing a tender to disembark guests on a particular stretch of coast.
This arrangement perfectly suits DOMINIQUE's splendid water toys, especially when it comes to exploring the Croatian seabed using a combination of snorkelling gear and paddleboarding. Jet ski and water skis are also available, enabling you to have fun on the water while DOMINIQUE yacht charter is anchored in a beautiful and shallow bay.
A DAY ON THE YACHT
Arriving on DOMINIQUE either from a dock or by tender, she will amaze you with her inviting profile and the warm welcome of her crew. After a glass of refreshing champagne on the main deck aft, you will be given a tour of DOMINIQUE yacht charter, while your dedicated crew transport your luggage to the cabins. Once DOMINIQUE starts to cruise, your superyacht charter holiday in Croatia can officially begin.
After cruising for some time, ask your crew for ideas about what to do and what to see in the vicinity. They suggest several key points of interest for your enjoyment, like visiting Šibenik.
Here, you can walk the busy cobblestone streets, polished by countless curious souls, exploring and learning about Croatian history and culture. The architecture and the numerous Gothic and Renaissance buildings bear witness to a turbulent history, but one with many interesting stories to tell. If you are curious, visit archaeological sites and museums to learn more about the Croatian Adriatic; the pirates, the Venetians, the wars with the Turks and many more historical conflicts that are sure to spark some interest.
During the summer months, and particularly on warm evenings, the Croatian coast becomes an incredible hive of social activity, with plenty of happenings and events that are entertaining in nature. Concerts and live music range from the most distinguishable classical pieces to popular Croatian songs. There are cover bands that play only globally famous songs, while at the same time performers of traditional Croatian Ethno music will surely capture the imagination of onlookers, using distinctly recognisable clothes, dances and sounds.
If this plan sparked your imagination, ask the captain to change course and to head straight to Šibenik. Suggesting that you stop near the island of Kaprije, your captain points out that it would be enjoyable to have your lunch here, before continuing to Šibenik, which is very close.
Agreeing that it is an excellent idea, you thank the captain for his ingenuity, returning to your comfortable seat, patiently awaiting arrival to Kaprije, and then Šibenik. But first, some snacks and more refreshing beverages will keep you fed and happy, until DOMINIQUE yacht charter reaches her destination.
Kaprije is a small island and a part of the Šibenik archipelago. Being an attractive location for divers and snorkelers, Kaprije also entices visitors with its natural beauties and numerous secluded coves and hidden bays, perfect for enjoying an alfresco lunch and water toys.
Arriving at Kaprije, the crew starts setting up lunch and the water toys display, so you could have some fun, seeing that Šibenik is really close by and you have plenty of time; after all, it is your holiday. While the table is being prepared for lunch, your crew has set up a jet ski, a towable tube, a stand-up paddleboard, and plenty of snorkelling equipment for your consideration.
Having fun on the water with all the toys that DOMINIQUE yacht charter has on disposal really does work up an appetite. Luckily, your crew planned ahead and prepared a lovely meal, consisting of salad nicoise followed by a prawn and shrimp risotto with local cheese and butter sauce, sprinkled with local herbs and lemon zest and hand-made coffee ice cream for dessert.
After lunch, spend the afternoon as you discussed earlier with the crew, roaming the narrow streets of Šibenik. You can even go a step further and let your crew organise a guided tour of the most interesting spots in Šibenik's old core. Afterwards, enjoy a pre-reserved table in an exclusive restaurant, courtesy of your thoughtful crew.
Experience a wonderful dinner, consisting of a garden salad with Indian nut hummus and crispy toast, grilled sea bass with spinach puree and baked sweet potatoes with chocolate and vanilla marble cake for dessert. Afterwards, return to DOMINIQUE yacht charter for a nightcap and a good night's sleep.
YACHT CHARTER DINING
Considering DOMINIQUE's length and the options available when planning luxury dining, you could opt for an alternative approach to fine dining. While aboard DOMINIQUE yacht charter, instead of focusing on food, why not focus on the drink? Let your crew organise a wine tasting event, where you will have terrific Croatian wines for your consideration, paired with excellent local cheese and meat platters.
Known throughout the world as an exporter of fantastic wines, Croatia is of perfect climatological and geomorphological characteristics to provide excellent soil and sunshine to grapes that tranquilly grow in one of many thousands of vineyards across Croatia. With a wine-growing tradition that spans almost a thousand years, it is no wonder that the Croatians know how to grow and cultivate only the finest of grapes, which they turn into the most exquisite wines your lips will ever taste.
After an organised wine-tasting event, you could always go out to an exclusive Michelin-starred restaurant, which can be found scattered all across the Croatian coast. Once you sit at your pre-reserved table, expect to be served meals like smoked haddock and shellfish chowder, grilled sea bass with fennel and dill, prawn tortellini with spinach purée and white wine sauce and a nice white chocolate mousse and sorbet with dill and cucumber for dessert.
On the other hand, if you decide to hire a chef as a third member of the crew, there is no need for improvised fine dining solutions; just relax and let your expert yacht chef handle the rest.
YACHT MAIN DECK
Stepping aboard DOMINIQUE yacht charter, you will either walk across the hydraulic passerelle on the port side or enter her stepping onto a generously spaced swimming platform, finding yourself on the main deck aft. Here, a dining table for six guests offers sitting on movable chairs on one side and a moulded and elongated sofa on the other side, that spans the length of the stern.
This area could be ideal for all your get-togethers, parties, entertaining guests or anything else you would like your crew to organise for your social pleasure on your superyacht charter holiday.
Yacht charter accommodation: main salon & dining area
Moving on from the alfresco dining table, a staircase to port leads up to the flybridge and a glass sliding door into the interior living space. The split-level salon is an area where guests will have a chance to rest and relax in an air-conditioned environment.
Wide and spacious, the salon features a U-shaped lounge configuration to starboard, which encircles a coffee table. Across it, to port, is a typical sofa for two people, which enhances the whole impression of a loft living room, rather than a space on a yacht.
Moving towards the bow, guests arrive at the dining area, which consists of an L-shaped and corner-placed sofa and a dining table with movable chairs. Across the dining table, the galley is practically appointed and features all the amenities needed for a pleasant and enjoyable dining experience aboard DOMINIQUE yacht charter. Arriving at the helm station, located at the front of the main deck, guests can sit on the small sofa and, in utter comfort, follow what the captain is doing and where DOMINIQUE is heading.
Her main deck is walk-around, meaning that there are side decks to both port and starboard, which lead to a comfortable front sun deck area, perfect for catching a tan while DOMINIQUE steadily cruises towards her next location. A more than generous triple-sun pad arrangement is placed directly in front and below the wheelhouse windshield, so guests can enjoy their privacy when sunbathing.
YACHT FLYBRIDGE
Guests can reach the flybridge by way of a staircase located on the main deck aft, placed on the starboard side. Once on the flybridge, they will notice a tender, meant for quick water launches. Once the tender is launched, the whole flybridge stern area becomes free to use however the guests wish.
It can be transformed into an extra sundeck, a place to do yoga or an improvised yacht gym. To port is a C-shaped sofa surrounding a coffee table, a perfect place for enjoying breakfast or watching your friends and family have fun on DOMINIQUE`s water toys.
To port, a wide sun pad serves as a sort of continuation of the alfresco sitting arrangement, ending with the port helm station. Besides the helm, to starboard, is another wide and comfortable sun pad, protected by the flybridge`s windshield, and offering spectacular views of the cruising trajectory. A wet bar with a fridge and a BBQ station will serve perfectly for potential evening parties, enabling guests to relax with a bite from the grill and a tasty cocktail from the bar.
YACHT LOWER DECK
The lower deck consists of 4 cabins, arranged as one master suite, two twin cabins and one VIP cabin located on the bow. All the cabins have their own ensuites and their own entrances from the hallway, connected with the main deck by means of a staircase. Overall, more headroom for the lower deck is achieved by using a levelled platform that divides the salon and the dining area on the main deck.
Yacht Charter Accommodation: The master cabin
Wonderfully furnished, the master is decorated in a style that suits the rest of DOMINIQUE`s interior décor. The soundproofing of the master is expertly done, so you can fully enjoy resting in the comfortable accommodation of your superyacht charter. It will be easy to relax and unwind by watching a movie from your king-size berth using the integrated surround sound system and the flat-screen TV – or you could just take a hot shower in the master ensuite and go to sleep, preparing for the rest of your luxury Croatian holiday.
Yacht Charter Accommodation: The VIP cabin
The bow-placed VIP cabin is a breath of fresh air in cabin design when it comes to yachts in DOMINIQUE`s category. Light crème colours dominate the ceiling and the walls, with cabinetry done in a darker wood finish. To complement this, blue silk sheets on the berth combine with portholes on port and starboard sides to bring the sea atmosphere into the cabin. The cherry on top is definitely the roof window, which is totally see-through. This enables guests to watch the starry night sky in the evening without needing to go outside.
Yacht Charter Accommodation: The twin cabin
Following a similar pattern as the VIP, the twin cabin is also primarily coloured with white and light grey colours, only subtly decorated with wood panels. The double portholes are framed with a wooden finish, while the twin berths provide cabinetry and storage, smartly placed beneath them. A mirror located above the twin berths makes the cabin look larger, while also reflecting any natural light coming in through the portholes. A practical nightstand divides the twin berths, which are also equipped with neat night-lights, situated above the headspace.
YACHT BEACH CLUB & SWIMMING PLATFORM
DOMINIQUE`s swimming platform and beach club offer more than a guest would assume, adding to the list of reasons why you should pick her for your perfect superyacht charter in Croatia.
When the tender from her stern stand is launched, the freed space transforms into a compact, but versatile swimming platform and beach club. Here, guests can enjoy being close to the water, while the helpful crew serve refreshing cocktails and tasty snacks.
Enjoy the combination of the sea and the sun, while you work on your tan on the swimming platform of DOMINIQUE yacht charter. After you have sufficiently soaked up enough of the warm sun`s rays,  jump into the sea for instant refreshment.
YACHT WATER TOYS & WATER SPORTS
The water toy list of DOMINIQUE yacht charter is impressive, featuring a jet ski, a towable tube, one stand up paddleboard, a 60 hp tender and all the snorkelling equipment you could want or need. Choose to experience the extreme rush of adrenaline when you accelerate wildly from 0 to 50 km/h, without risking your safety by doing the same on hard surfaces. If you like the thrill and excitement of making waves and riding fast, climb onto the mega-fun jet ski.
It does not matter if it is your first time on a jet ski or a hundred-and-first; you are going to get soaking wet, no matter what you do, but it is all part of the fun! Any questions you have concerning safety or any trick or tips, be sure to ask your expert crew and they will gladly instruct you and help with any potential problem. Dare to embark on a wet and salty adventure with a jet ski, knowing that every ride will be a thrilling roller coaster of crashing waves and speed bumps at high speeds, but entirely safe.
YACHT CHARTER CREW
At Your Service.
SIMILAR YACHTS FOR CHARTER
By Charter Rate.
Simull
Perfectly Balanced Design Between Interior & Exterior
from: 19.000 €
per week
Hope I
Modern & Compact Yacht for a Couples Charter
from: 19.000 €
per week
Kimon
One of the Most Impressive Private Charter Yachts
from: 20.000 €
per week
LET'S GET IN TOUCH TODAY.
Contact us.