SANCTUARY Yacht Charter - 43 Meters of Impeccable Style
SANCTUARY yacht charter (ex EVA. 4EVA Yacht Charter) is a breathtaking superyacht built by Overmarine. With 43 meters in length, she can comfortably accommodate up to 12 charter guests in 5 well-appointed staterooms.
Her gorgeous interior was designed by Alberto Mancini who created a warm, sun-filled atmosphere in the main salon area, thanks to large windows that allow plenty of natural light.
She has a stunning beach club and an abundance of water toys to enjoy during every minute of your yacht charter. The crew of 7 is 100% local with extensive knowledge about the Croatian coast & they can't wait to share it with you.
YACHT CHARTER ACCOMODATION
Yacht details.
Guests:

12
Cabins:
5
Yacht Length:
43 meters / 141 feet
Yacht cabins layout:
3x Double + 2x Twin
Total living area:
667 sq.m / 7.180 sq.ft
Yacht exterior area:
302 sq.m / 3.251 sq.ft
Yacht interior area:
365 sq.m / 3.929 sq.ft
Types of Cabins on This Yacht:
1x Master Suite + 2x VIP Stateroom + 2x Twin Cabin
Bed Configuration & Size:
1x King + 2x Queen + 4x Single
Yacht Interior Guest Areas:
Main Deck Salon with Private Entertainment Centre · Main Deck Dining Table · Main Deck Day Head · Galley Bar Area · Upper Deck Salon with Private Entertainment Centre · Captain's Bridge · Upper Deck Day Head · Five Private Cabins
Yacht Exterior Guest Areas:
Aft Main Deck Lounge · Upper Deck Dining Table & Lounge Area · Master Suite Private Terrace · Beach Club with Swimming Platform · Foredeck Swimming Pool with Lounge & Sunbathing Area · Sundeck - Sky Lounge & Dining Area
TOP 10 YACHT CHARTER FEATURES
Yacht highlights.
2
Unique Model on the Yacht Charter Market
3
Spacious & Modern Main Salon Area
4
3 Double Cabins & 2 Twin Including a Master Suite on the Main Deck
5
Upper Deck Dining Table for 8 People
6
Foredeck Lounge Area with a Swimming Pool
7
Sundeck with Plenty of Socializing Space & Private Bar
8
Professional & Local Crew of 7 People
9
Zero Speed & Underway Stabilisers
10
Fabulous Interior Design by Alberto Mancini
YACHT PHOTO & VIDEO GALLERY
Charter Moments.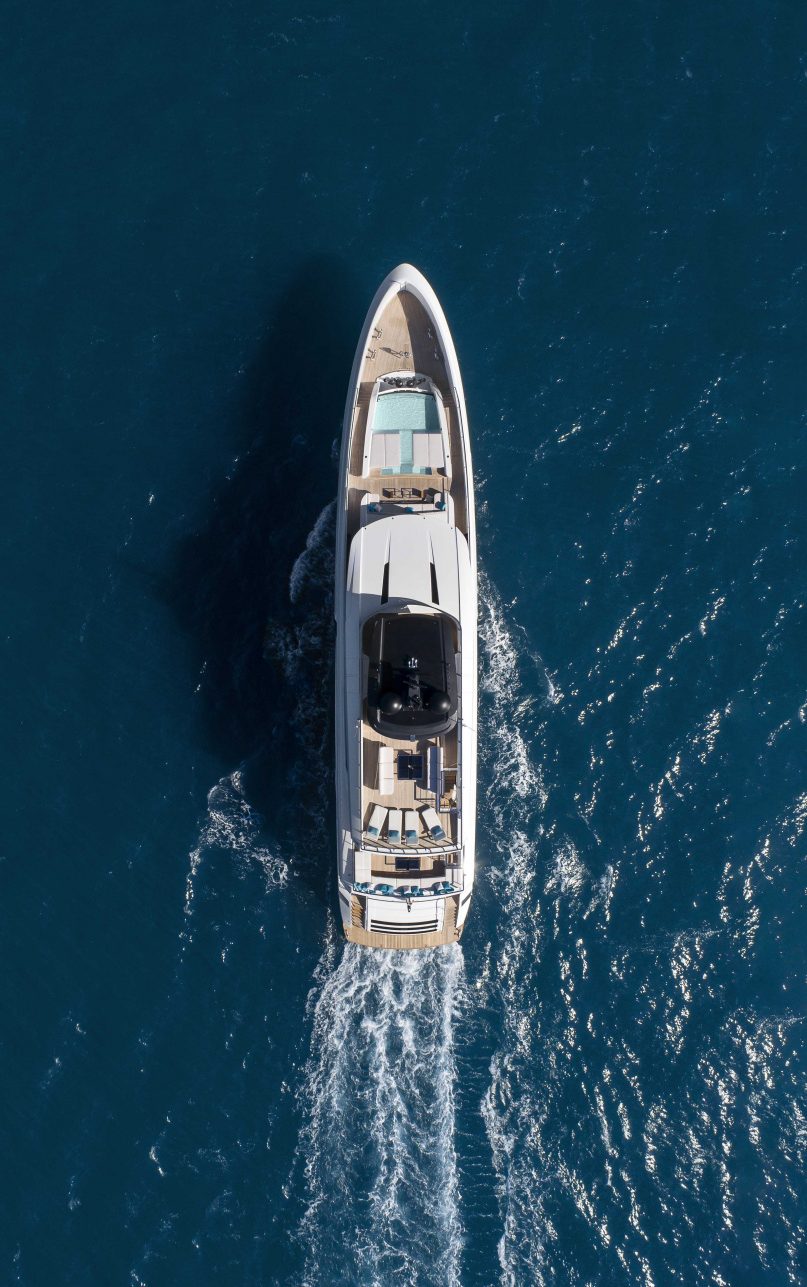 YACHT CHARTER SPECIFICATIONS
Particularities.
GENERAL INFORMATION
Length: 43.00 meters (141.1 ft)
Beam: 8.70 meters (28.7 ft)
Year Built: 2018
Year of last refit: /
Yacht Builder: Overmarine
Main Engines: 12V 2000 M72
Maximum Speed: 15 knots
Cruising Speed: 11 knots
Fuel Consump. Engines: 320 l/hour*
Generator Engines: 100 kW
Fuel Consump. Generators: 30 l/hour*
Stabilisers: Zero Speed Stabilisers
*Highly dependent on sea conditions
LIST OF AMENITIES
All Decks Air Conditioning · Outdoors & Indoors Wi-Fi On Board · Under Way Stabilisers – No Rolling 'While Cruising' · At Anchor Stabilisers – No Rolling 'While Asleep' · All Suites with Private Entertainment Centres – Multimedia Systems – Sound, LCD TV's · Foredeck Glass Bottom Wading Swimming Pool · Hydraulic Swimming Platform
WATER SPORTS & TOYS
2x Seadoo Spark jetski
1x Seabob F5
1x Seabob F5S
1x Seabob F5SR
1x Water carpet
1x SUP Paddle board
1x SUP Board with sail
4x Paddle stick
1x Wake board
1x Wake board handle
1x Fun Air Sea Pool
1x SEA-ESTA 3 person
1x STORM 2 person
1x REVOLVE 2 person
1x ANURA II
6x Halmet (XL, L, XS)
6x Seadoo Adult Jackets (XL, L)
4x Kids Jackets
6x Wetsuit (XL, L, S)
3x Dipper board
4x SHIMANO-PENN Fishing rods
2x Fishing Box
2x Yacht Bike
3x Mares Scuba mask+snorkels Adult
2x Mares Scuba mask+snorkels Kids
2x SUBEA Sub mask
5x AQUA LUNG Fins
3x Speedo Swim glass
1x Slide
TENDER VESSELS
Sacs Strider 10, 9.32m Chase Boat (Included)
Castoldi 16, 5.08m Jet Tender (Included)
Axopar 37, 12.5m Chase Boat (Optional)
FULL YACHT CHARTER REVIEW
Inspected by Us.
The spectacular SANCTUARY yacht charter was built in 2018 by Overmarine group, a shipyard known for its unique style and heritage. They are constantly raising the bar for innovation and quality, to which SANCTUARY can testify truly.
She is a 43-meter long yacht, beautifully designed by Alberto Mancini. With sheet sets by Frette, tableware by Hermès, glassware by Christofle and silverware by Sambonet, be sure you will spend your dream yacht charter vacation in style and luxury.
SANCTUARY yacht charter is the most stunning and balanced three-deck yacht in her category, due to her perfectly proportioned layout. Huge floor-to-ceiling windows on both sides of the main deck salon provide magnificent views while inviting natural light to enter and enrich the indoor area.
SANCTUARY yacht charter is full of amazing features with standards suited for mega yachts. The ones guests like the most are the hydraulic side ladder, a luxurious infinity pool, an extendable balcony in the master suite and a dedicated beach club. On this yacht, you will feel like royalty in a castle.
Since you can swim in different locations every day, SANCTUARY yacht charter is much better than any 5-star-hotel or villa. She is a perfect yacht for both family and friends.
She can accommodate up to 12 guests in 5 lovely rooms; including a master suite, two VIP staterooms, and two twin cabins with two pullman berths. Her amazing master suite has a private balcony, made for watching sunrises and drinking your first-morning coffee or squeezed orange juice with your loved ones. All cabins are beautifully decorated and you will wake up every day energized and ready for new adventures.
She also has 7 crew members, who will provide a pleasant luxury yacht experience. They will ensure that your holiday experience adheres to the superyacht hospitality standard. Your crew members are knowledgeable, professional and available 24/7;  thanks to them, you will enjoy complete privacy, comfort and safety during your charter holiday in Croatia.
Furthermore, SANCTUARY yacht charter has a lot of amazing water toys, like an exciting jet ski, a cool paddleboard, a wakeboard and much more. If you are ready for exploring the sea, she also has three amazing Sea bobs and all the snorkelling and diving equipment you will ever need for observing starfish, sea urchins, crabs and more.
If you want to know more about this spectacular, one-of-a-kind yacht, continue reading…
A DAY ON THE YACHT
As soon as you wake up from your comfortable bed, you can have your first-morning coffee or squeezed juice on your lovely private balcony. You will enjoy absolute tranquillity while your hostesses serve a delicious breakfast at the main deck aft or at the upper deck alfresco dining table.
If you are more for action in the morning, absolutely any space on this yacht can be converted to your private yoga ashram. Relax with the sound of the sea and the chirping of birds.
Your award-winning chef can prepare delicious Mediterranean, English or Asian meals, combined with an amazing selection of tea and juices for breakfast. You will enjoy the most important meal of the day while the sun slowly rises. After breakfast, you might come on the bow, lie on your belly while being immersed in the pool.
Enjoy sipping your drink from a totally different perspective, and when you have had enough, take just one step back and you are already lying on comfortable sun cushions, located on either side of the custom-made pool. This area is absolutely made for a luxurious retreat. If you want you can also try out all your water toys and start a race on seabobs. You will remember this experience for the rest of your life. When you are ready for lunch, give a signal to your private chef.
He might delight you with broiled lobster tails, salmon, pomegranate gastrique & wasabi pea purée or spatchcocked grilled turkey with local vegetables. He can pair it with your favourite limited-edition bottle of wine or exclusive champagne. Celebrate life while enjoying an amazing lunch.
You can unwind on timeless seating features that create a glamorous and relaxed environment when you are full. SANCTUARY is an excellent yacht with lots of entertainment and recreation areas on board, making her a perfect charter yacht for socializing and having fun with family and friends. She is designed to mesmerize.
After recharging your batteries, you might start exploring the stunning city of Split. Climb on the main Saint Domnius Cathedral and watch your anchored yacht from the highest point of UNESCO's Diocletian's palace built in the 4th century.
You will feel like a knight in shining armour. You can also spend your time shopping in the local market where you will find amazing hand-made products while being able to try almost every Croatian traditional dish. When you are ready to return back to your yacht, your amazing tender will come and pick you up.
Your private chef will serve dinner as soon as you step onto SANCTUARY yacht charter, making sure you enjoy every bite of it. You can try black risotto with cuttlefish or amazing potato dough with Pasticada stewed beef.
For the end of the day, you can have a movie night in your indoor salon with your family and friends, or relax alone with a glass of your favourite champagne in the spacious spa pool while watching the stars.
YACHT CHARTER DINING
Your private chef will prepare delicious food for you every day, satisfying absolutely everyone in your charter group. Peter, a hardworking, passionate, and talented chef with over 8 years of experience, will prepare all your meals.
The breakfast can look like freshly baked croissants or bread with homemade jam, as well as your favourite English or Asian breakfast including special breakfast sushi rolls. Because of his ability to prepare Mediterranean and Asian cuisines, he is able to please a wide range of tastes and gastronomic tendencies.
Your private chef can also prepare an amazing lunch like confit duck ravioli with sage and hazelnut beurre noisette or sesame seared ahi tuna and wasabi mash with edamame bean salad. If you want dessert, Peter will be happy to oblige; your word is his command.
If you wish, he can teach you his favourite recipe, while your captain shows you how to catch fish. Lastly, keep in mind that your award-winning private chef is a member of the Chefs Club Croatia Academy and a medalist in several international culinary competitions; after his delicious meals, you will definitely want to extend your charter.
YACHT MAIN DECK
When you arrive onboard the spectacular SANCTUARY yacht charter, you will be amazed at the number of features this vessel has. A huge main deck aft might be one of your favourite places to hang out with your friends and family or enjoy a delicious snack on the glass coffee table positioned above the skylight. If you want you can also practise yoga or lift weights -this spacious area is ideal for all kinds of activities.
Yacht charter accommodation: main salon & dining area
An amazing glass door opens on both sides and a spacious foyer leads to the indoor lounge. Using glass to bounce light around the interior and reduce visual barriers to the outside world , SANCTUARY yacht charter succeeded in minimizing the divide between the interior and exterior spaces, so guests always feel close to the sea.
As soon as you step inside, you will be delighted by the appearance of the superbly designed interior, with its charming white sofas and a large glass dining table that exudes luxury. The floor is beautifully coloured in brown, while the ceiling, which is white, shines and gives more space to this open indoor area.
Huge windows occupy both sides of the space, offering natural light and a beautiful view of the Croatian Adriatic sea. A large dining table surrounded by eight chairs is placed forward, with nearly full-height windows on both sides, allowing for panoramic views of the surroundings.
Yacht Charter Accommodation: The Master Suite
SANCTUARY yacht charter is packed with technological innovation and the master suite is a perfect example of this. Moving forward on the main deck, you will arrive at the splendidly decorated full-beam master suite which has its own private balcony. A broad window on the starboard side can open and create an amazing balcony where you can drink your first-morning coffee or watch the stars before sleeping.
The master suite also houses a spacious en-suite bathroom with Eramosa marble in the shower, as well as a large TV and a spacious walk-in wardrobe. The layout of the master was envisioned to provide guests with complete privacy and comfort.
YACHT UPPER DECK
The upper deck on SANCTUARY yacht charter is the absolute winner among her decks. It begins with a huge alfresco dining table on the upper deck aft and finishes on the bow with the infinity swimming pool that has the best view every time of the day, whether it is watching sunrises, sunsets or falling stars.
The upper deck aft has an abundance of sunbeds along the stern and an elegant alfresco dining area. Next to the table, a wet bar provides an ideal solution for serving cocktails while the guests are relaxing in the sky lounge or enjoying the fresh air on the bow.
You can watch your football match on stylish sofas or let your charter crew organise a movie night. A special feature about these sofas is that they can be connected with the table to form one huge sofa, ideal for the whole charter group.
The best part of the upper deck is the infinity swimming pool, large enough for the whole family or group of friends. Right behind it is a comfortable C-shaped sofa with coffee tables, ideal for reading your favourite best-seller novel, while your kids enjoy the refreshing pool. The upper deck also houses a day head, the wheel station and the captain's cabin.
YACHT SUNDECK
A starboard staircase connects the upper deck and sundeck of the great SANCTUARY yacht charter, which features sunbeds along the stern and three charming sofas with coffee tables where you can enjoy delicious snacks or drink your favourite champagne. The hardtop shades the forward zone, which includes a bar and an alfresco dining area for up to eight guests, who have incredible views of the beautiful Croatian Adriatic sea.
There is more than enough space for sunbathing on this yacht. You can choose between sunbeds on the front upper deck, right next to the spa pool, and sun loungers on the second upper deck. Every inch of this extravagant yacht's sundecks will continue to amaze you.
YACHT LOWER DECK
On the lower deck, you will find two amazing VIP staterooms and two lovely twin cabins perfect for both kids and adults. Each of these cabins is air-conditioned and equipped with high-quality mattresses and bed linens, on which you will sleep peacefully every night.
Yacht Charter Accommodation: Two VIP Staterooms
The lower deck also houses two VIPs staterooms, beautifully designed in golden-white combinations, with marble en-suite bathrooms. In these ensuite bathrooms, you can expect large showers, sinks, toilets and a lot of storage. The spaciousness of VIP staterooms exude luxury and the guests will be amazed at the size of the ensuites.
Yacht Charter Accommodation: Two Twin Cabins
The two twin cabins, with en-suite bathrooms, have slightly more floor space than any other twin cabins of similar yachts; this space can be used for storage or playing card games between beds. Between the berths, a smartly-positioned nightstand allows you to store your valuables or something you do not want to lose during your vacation.
YACHT BEACH CLUB & SWIMMING PLATFORM
Most beach clubs are windowless bases designed for use at anchor with the swim platform deployed, but SANCTUARY's beach club is the real deal. It is not just a convertible garage that fits a tender and water toys; it is an amazing space on the lower deck, where you can spend your time lounging and relaxing. The beach club comes furnished with seating, a drinks table and a bar, providing more gathering and sunbathing areas.
The magnificent glass panels provide underwater views for guests to relax in sun loungers. This has been made possible by moving the tender garage forward.
Create the sensation of your own private retreat – an exotic place close to the sea where you can enjoy cocktails while staring off into the beautiful Croatian Adriatic distance. Full-sized sun loungers will provide the feeling of an exclusive beach.
The design of the beach club and the swimming platform on SANCTUARY really helps in bringing the outside in,  with contemporary furniture and design only inches away from the water`s edge. It is like spending time in a modern living room, that happens to float in the middle of the crystal clear Croatian Adriatic sea.
Drink champagne and eat canapes, served by your diligent crew, as you touch the water with one hand and luxurious fabrics of the beach club`s interior with the other. This sensation will perfectly sum up the experience of your yacht charter holiday in Croatia.
YACHT WATER TOYS & WATER SPORTS
This yacht is a real paradise for all adrenaline lovers. It has an enormous number of toys including two superfast jet skis, four amazing Sea bobs, a water carpet, a paddleboard, a stand-up paddleboard, a wakeboard, a fun air sea pool, a spectacular sea-ESTA towable for three people, and much more.
Enjoy spending hours of fun in your private Adriatic paradise, racing with jet skis with the members of your charter party. You can also explore the vastness and the beauty of the Croatian sea bed, by using Sea bobs. Glide through the water like dolphins, emerging and submerging to create the feeling of flight above the diverse and colourful seafloor.
Use the paddleboards to stay in shape and active on your Croatian yacht holiday – try a few balancing yoga poses with your friends and see how can hold the pose longest.
If you want to explore the small bays and caves, SANCTUARY yacht charter also has two tenders, ideal for exploring. My favourite water toy on this yacht is the slide. There is no better feeling than sliding down the slide and splashing around in your private piece of the Adriatic; both kids and grownups will enjoy this spectacular water toy.
YACHT CHARTER CREW
At Your Service.
Captain
Ivan Marcelic
Originally from Croatia, Ivan has acquired extensive experience in the maritime industry. In 1999 he found his first job on a yacht and in 2001 he bought his first sailing boat, where he acquired excellent sailing experience. After that, he worked as a Captain on various yachts, both charter and private. In 2018 he finally joined M/Y SANCTUARY crew.
Chief Officer
Mate Radulic
Mate has been involved with the sea since his early youth. He grew up in Croatia, around boats, gaining valuable knowledge of the yachting industry since 2001. Mate has been working on M/Y SANCTUARY since 2019 and is looking forward to maintaining a safe environment onboard!
Chief Engineer
Marko-Dino Azic
Marko hails from Zadar and has already acquired more than 8 years of experience as an Engine Officer. He is a team player, always willing to help the crew and establish excellent relationships. He previously worked as 2nd Engineer on CARNIVAL CRUISE LINE, tanker ship NYK, 50m M/Y MOSAIQUE, and as Chief Engineer on M/Y ZEUS I, M/Y HERCULES I and finally M/Y SANCTUARY.
Head Chef
Petar Krzelj
Petar is a hard-working, enthusiastic and creative Chef with more than 8 years of restaurant experience prior to his engagement with the Yachting Industry in 2017. He is able to satisfy different tastes and ethnicities thanks to his ability to prepare dishes from different cuisines. Petar is a member of the Chefs Club Croatia Academy and is also a medal winner of various international cooking competitions.
Deckhand
Jakov Matek
Jakov has had plenty of opportunities to gain valuable experience, working as a deckhand on superyacht charters in Croatia. His professional attitude and multi-tasking abilities make him an indispensable member of the charter crew. He will constantly seek opportunities to assist the guests, while also acomplishing his daily duties, always with 2
Chief Stewardess
Katarina Lucic
Tina was born in Croatia and despite graduating as an Administrative Lawyer from the University of Split, from 2007 she started to work on a few different yachts for one year. After 7 years of working in an office as an office manager and personal assistant, she decided to continue her career in yachting, following her passion for the sea. She has been a Stewardess on various Sailing Yachts, and then has evolved to Chief Stewardess working on different superyachts before joining the crew of SANCTUARY.
Stewardess
Eva Uric- Stelluto
Eva graduated from the University of Law. Thanks to her multiple work experiences, including housekeeping and laundry service in a hotel for two years, she acquired many skills. She joined the yachting industry as a Stewardess in 2018, and now is super excited to be part of SANCTUARY crew and deliver the best service to every guest
Captain
Chief Officer
Chief Engineer
Head Chef
Deckhand
Chief Stewardess
Stewardess
SIMILAR YACHTS FOR CHARTER
By Charter Rate.
LET'S GET IN TOUCH TODAY.
Contact us.