Photo credit to xbrchx from Shutterstock
Yacht Charter In Hvar
Be sure that going on a yacht charter in Hvar is the best possible choice for a holiday in Croatia, because this island offers everything a yacht charter guest would want on their vacation. There are plenty of surrounding islands for island hopping, while Hvar itself hides a rich culture and excellent local cuisine, alongside beautiful and untouched nature and hospitable locals.
Located in Central Dalmatia, Hvar island is nestled between the islands of Vis, Brač and Korčula, which makes it an ideal target for a crewed yacht charter holiday in Croatia. Considered to be the longest Croatian island, Hvar`s coastline is nearly 70 kilometres long, filled with untouched beaches and pristine bays. There are several settlements on the island, each one offering something different for visiting travellers.
The historic heart of Hvar island is Stari Grad, a well-preserved medieval settlement, while Hvar town is its modern counterpart, a hip and vibrant centre of the island. Stari Grad or "Old Town" is a walled city, made of stone houses and cobbled streets which, combining the historic with the modern, offer contemporary venues located inside Gothic architecture or old fortresses.
When it comes to vegetation on Hvar, more than a few freshwater springs can be found to the west and north of the island, contributing greatly to the variety of plant and animal life that can be observed while visiting Hvar.
You will get the opportunity to cruise around the island of Hvar with your yacht, encountering many secluded bays with turquoise waters and a lively seabed. If you want to venture into the interior, vast fields of lavender and olive groves will enrich your panorama and fill the air with soothing scents.
The interior of Hvar is also littered with little taverns called "konoba", where guests can unwind in a local atmosphere, sampling native delicacies and traditional specialities. Your yacht will give you unparalleled manoeuvrability, a great commodity for exploring all the nooks and crannies of Hvar island.
You can manoeuvre between points of interest with ease: check out the paradise-like beaches shaded by pines on Zavala beach or dare to cliff-jump in Ivan Dolac.
Lastly, check out the settlement in Vrboska, which has rightfully earned the nickname "Little Venice", attracting many visitors to its unique city centre.
WHY CHARTER IN HVAR
A yacht charter in Hvar is the best possible choice for a holiday because this island offers everything a yacht charter guest would want on their vacation. There are plenty of surrounding islands for island hopping, while Hvar itself hides a rich cultural and historic heritage, alongside beautiful and untouched nature and excellent cuisine.
Many celebrities find that yachting around the island of Hvar satisfies their needs for privacy, peace and quiet, while also providing possibilities for glamourous nights out, fine dining in restaurants and partying in open-air festivals that are prevalent during the summer season. Hvar provides travellers with what they covet the most – whether it is luxurious parties or private beaches and secluded bays.
A yacht charter in Hvar enables guests to hop from one beach to the next, always seeing something different on each one, like fantastic underwater life, pine tree shade, beach amenities or enough room to fully utilize all of your yacht water toys. The shoreline alongside settlements like Vrboska, Stari Grad and Jelsa is home to beaches that are ideal for families with children because the sea is easily accessible and there are plenty of beach amenities.
If you stick to the east side of the island, which is less populated and less touristy, you will be welcomed by sights of fantastic private beaches and secluded coves, all yours to enjoy in complete isolation.
Hvar island was governed by many different rulers, from Greeks and Romans to Venetians and Austrians. Its shores saw many masters, all of whom left a distinct trace of their culture and history. For example, the agricultural plains near Stari Grad, protected under the UNESCO World Heritage Site, follow the original Greek pattern of land division. There is also the case of the Hvar theatre, which was constructed in 1612 and is considered to be one of the first theatres to be built in Europe.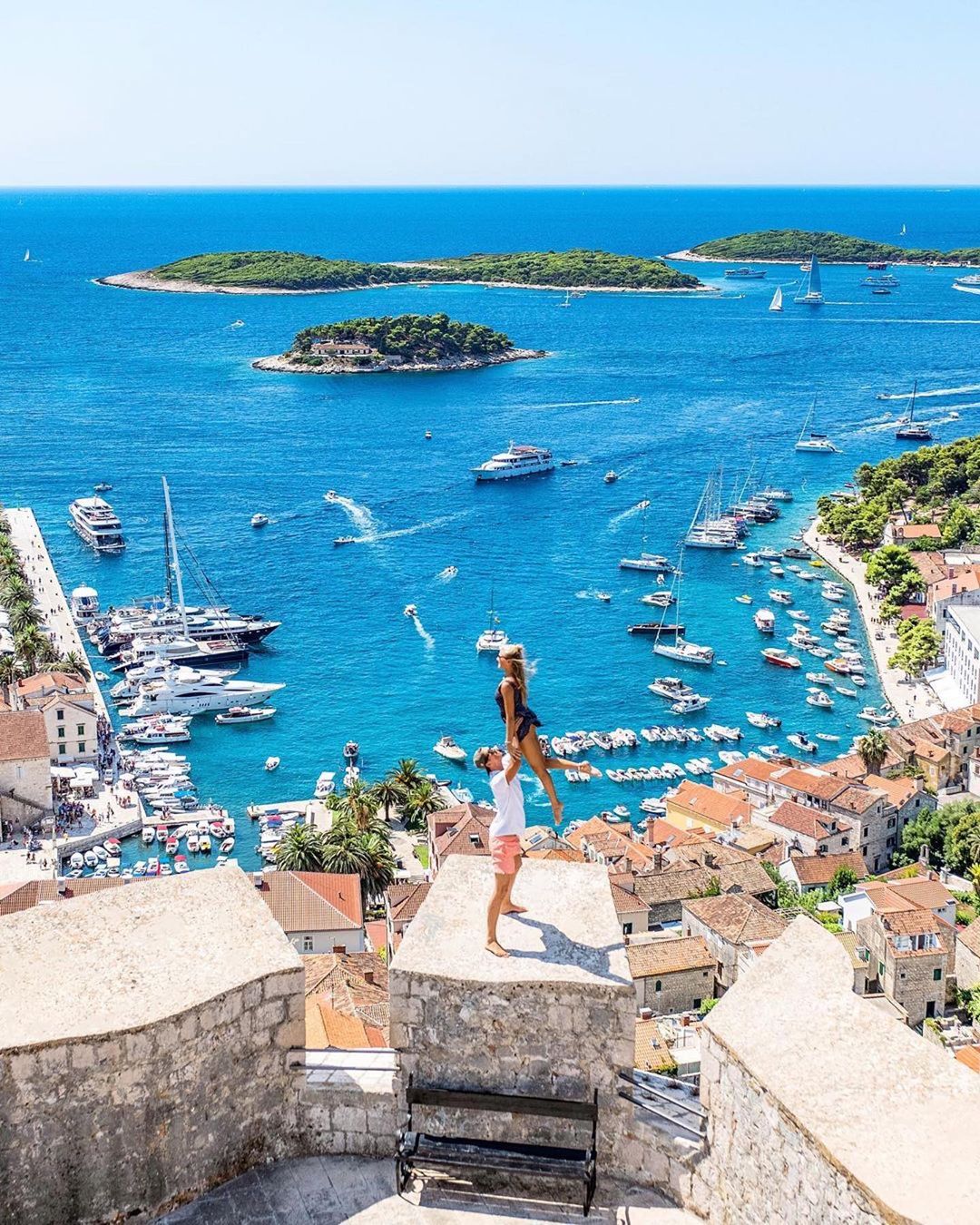 WHEN TO CHARTER IN HVAR
Plan your yacht charter in Hvar according to your wishes; if you are a summer child, you will probably want to visit from June to August. This is the time when the summer season peaks, in more ways than one. Firstly, the temperatures of both air and sea rise to their maximum, meaning that you will be swimming in about 21-26 degrees Celsius during the day and about 18-20 degrees in the evening.
The air temperatures will move between 25-30 degrees Celsius (77-86F), depending on the specific day of the month. While the peak of the summer season lasts, visitors to Croatia usually walk around in shorts and T-shirts, without any need for more clothes. Evening skinny-dipping is a regular occurrence, as well as chilling on the beach until dawn, without any need for extra layers. This period is for people who enjoy hotter climates and everything that they imply, like refreshing drinks, lots of fresh fruit smoothies and open-air BBQ parties on a yacht.

Having a superyacht at your disposal during this time will only enhance your yacht charter in Hvar to new levels because you will always have an option of air-conditioned cabins and other interior socializing spaces if it gets too hot. If you prefer a milder climate and moderate temperatures, you could consider going on a yacht charter in Hvar in April and May, or in late September and October, when there are fewer crowds. During this time, the weather is also more tolerable for those who do not like to spend time under the hot sun.
Sea temperatures do not reach over 19 degrees Celsius, while the air temperatures stay pleasant at around 19-25 degrees Celsius. You can also expect fewer crowds if you decide to charter a yacht in April, May, September or October, so you could witness a completely different face of the Croatian Adriatic; private, peaceful and quiet.
HOW TO GET TO HVAR
There are many different ways to reach Hvar island, depending on the mode of your preferred transport and your starting location. The airports closest to Hvar island are the ones located in Split and Dubrovnik, both of which handle international and intercontinental traffic regularly. Talk to your local SuperYachts Croatia broker about the possibilities of a VIP transfer from your aircraft to your yacht which will wait at berth in one of these two cities.
Once you arrive, your yacht can transport you swiftly and safely to the island of Hvar. You could also arrange a different schedule – remember, you are the creator of your dream yacht holiday and SuperYachts Croatia will grant your every wish.
One should not also exclude the possibility of coming to Hvar island via boat. Guests can arrive by cruising from the northern Croatian Adriatic Sean or from countless marinas on Croatia`s mainland.
Bear in mind, this will impact your yacht charter in Hvar, so always remember to talk about itineraries with your local charter crew or the SuperYachts Croatia support team. The roads on the island support all kinds of automotive transport, which means that you can always delight in touring Hvar by road in a luxurious sports car, if you choose to arrange such details prior to your charter.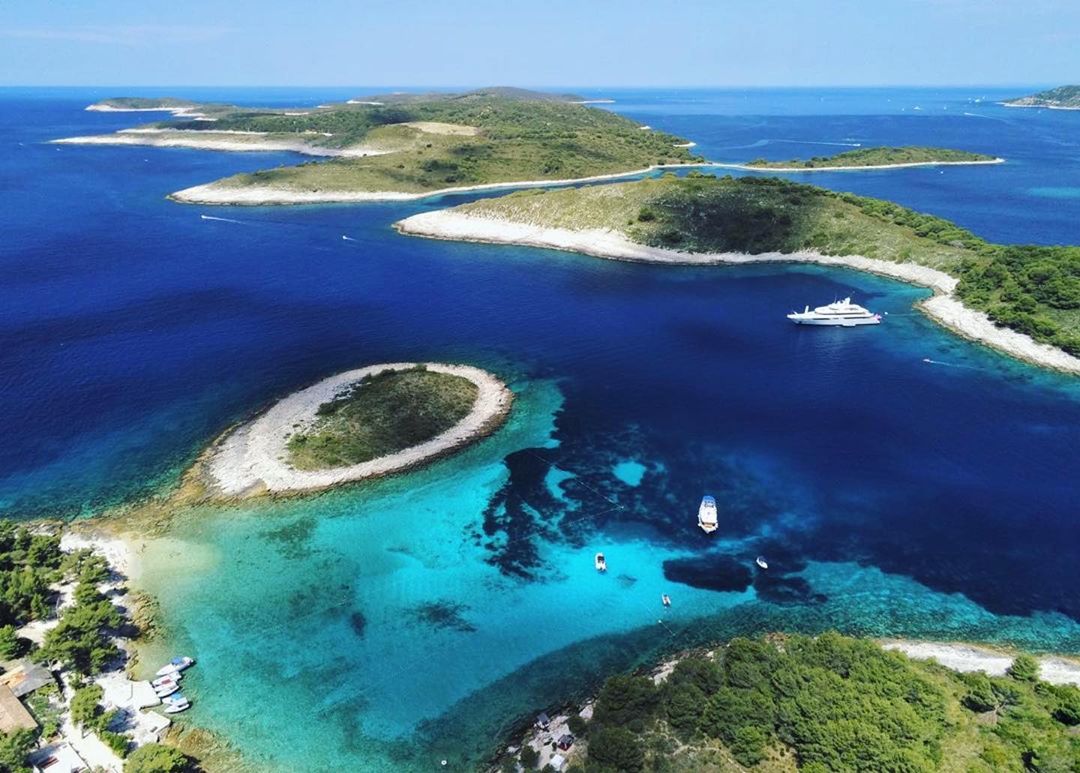 PERFECT ACTIVITIES FOR YOUR YACHT CHARTER IN HVAR
Wine tasting on Hvar island
Be sure that there will be plenty of things to experience while on a yacht charter in Hvar which will satisfy different tastes and inclinations. For wine lovers, there is no better option than a wine tour of Hvar`s many vineyards and wine cellars, where incredible sorts of local grapes are turned into exquisite wines.
The tradition of winemaking and growing grapes goes back to the ancient Greeks, the first settlers of Hvar island who noticed that it has perfect conditions for grape cultivation. Since then, the tradition only grew, and soon the autochthonous wine sorts from Hvar became famous in the Mediterranean.
Organise an excursion with your dedicated charter crew, so there is no need for a designated driver and you can indulge in many different tastes and scents of wine. The main wine producers on the island are Tomić Wines, Plančić Brothers and Zlatni Otok, which create fantastic wine sorts such as Plavac Mali red and Pošip white wines.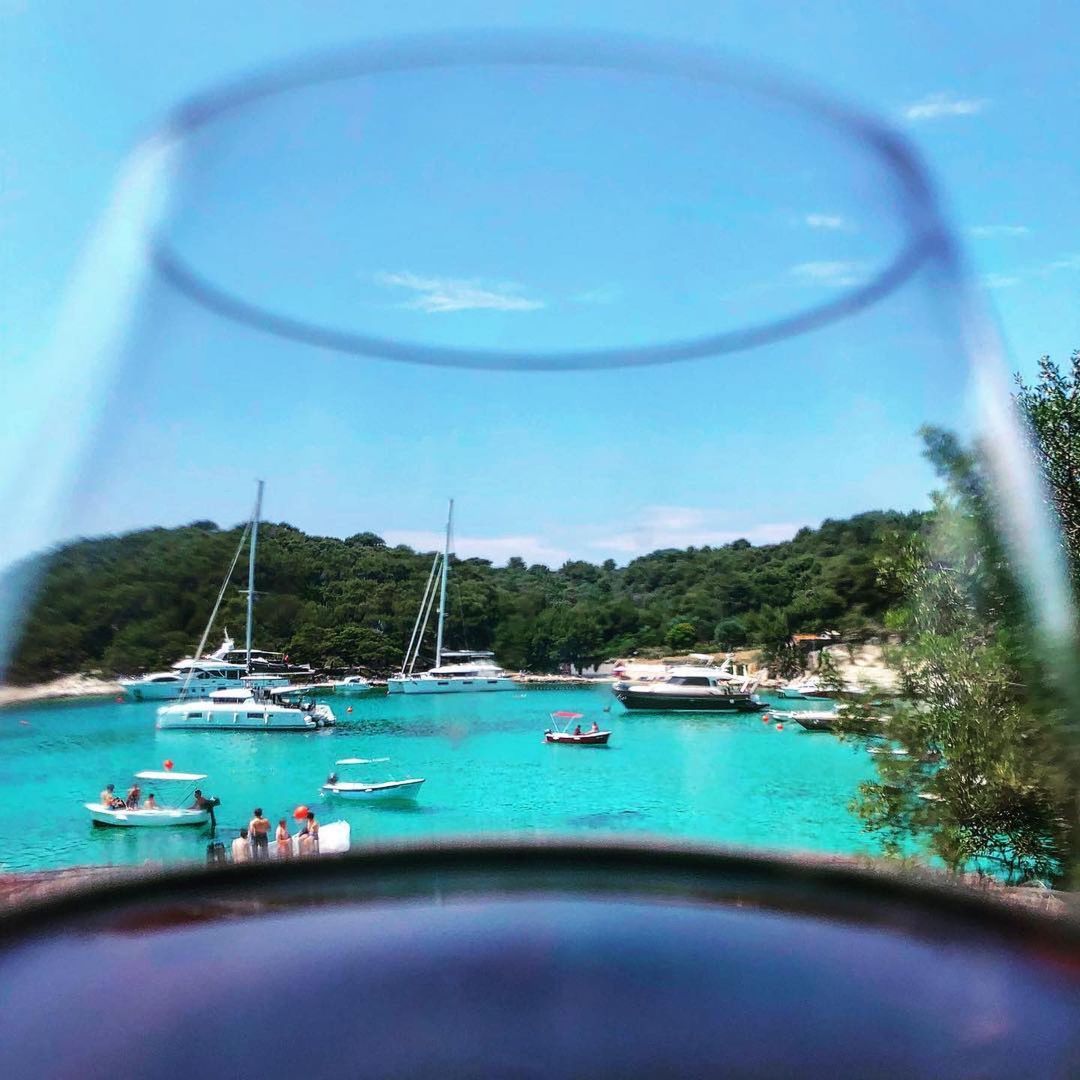 Unique features of Hvar
Villages in the interior of Hvar island were abandoned over time, as people began to switch from farming and fishing to tourism, with the beginning of the 20th century. This process saw coastal settlements pop up in favour of their mountainous counterparts, which can still be observed today; these include villages like Humac and Malo Grablje. Explore these abandoned villages and feel like you are in a fairy tale.
Hvar is also famous for the plethora of different aromatic herbs that can be found growing in abundance around the island.
Wild oregano, immortelle and lavender are just some of nearly a hundred different plants, that exude essential oils into the air, making Hvar an incredible palace of scents. These also possess medicinal purposes for those suffering from pulmonary problems, and when combined with the saltiness that the sea provides, create an olfactive paradise, which is best indulged from the sundeck of your yacht charter in Hvar.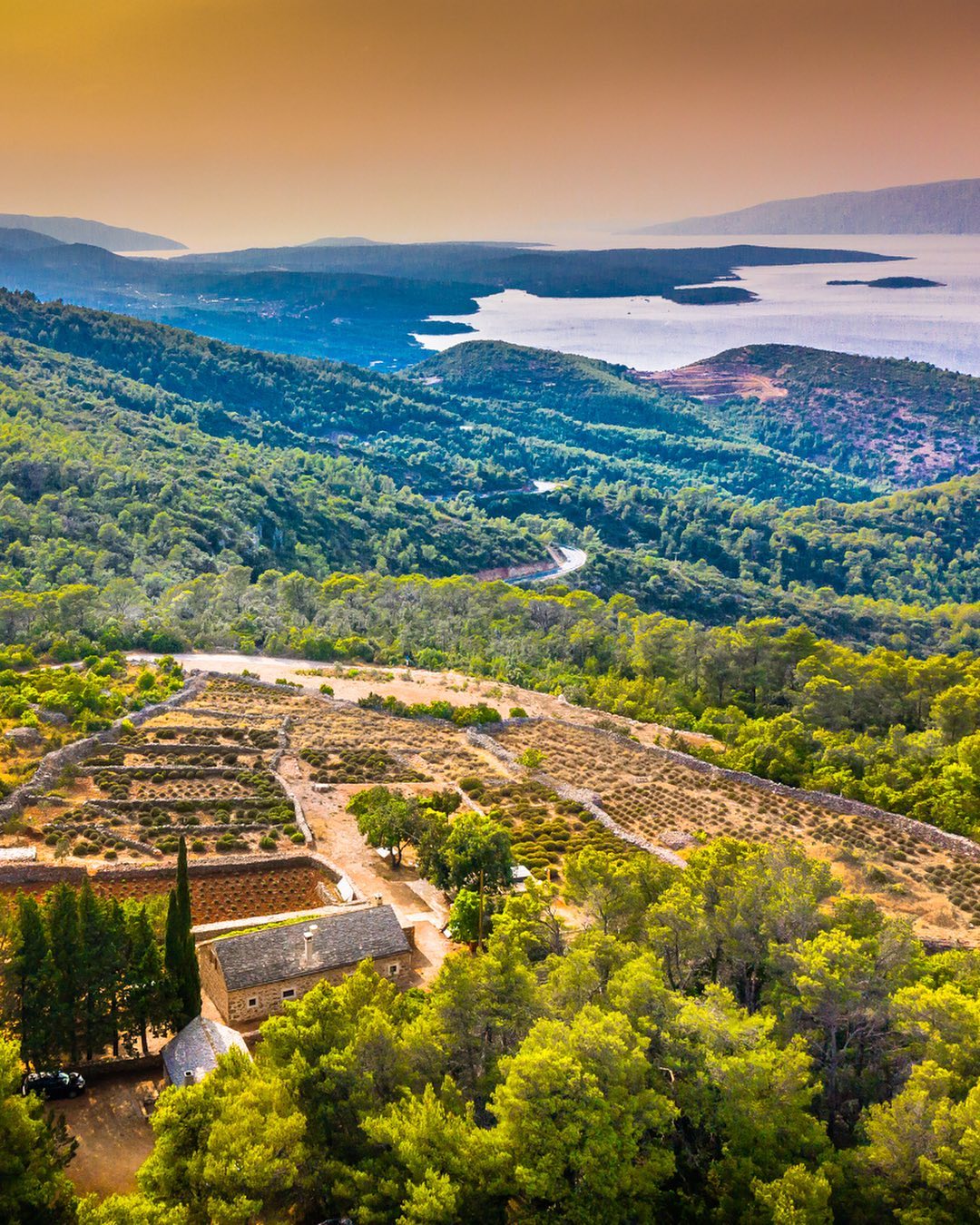 Discover your wild side in Biokovo
As a part of the Dinaridi mountain chain, Biokovo follows the Croatian shoreline from north to south. Specified as a Park of Nature, Biokovo harbours immense riches in form of different plant and animal species. The variety alone is enough to keep nature lovers interested for hours, with beautiful views and Adriatic panoramas as rewards for those that reach the peaks of Biokovo.
You can talk to your yacht crew and let them arrange a specially guided tour of the Park or a personalised excursion with e-bikes or buggies. Be sure that your yacht crew will also remind you of the "Biokovo Skywalk", a glass C-shaped observatory that protrudes from one of Biokovo`s many peaks and offers astounding panoramas of the wide Croatian Adriatic sea.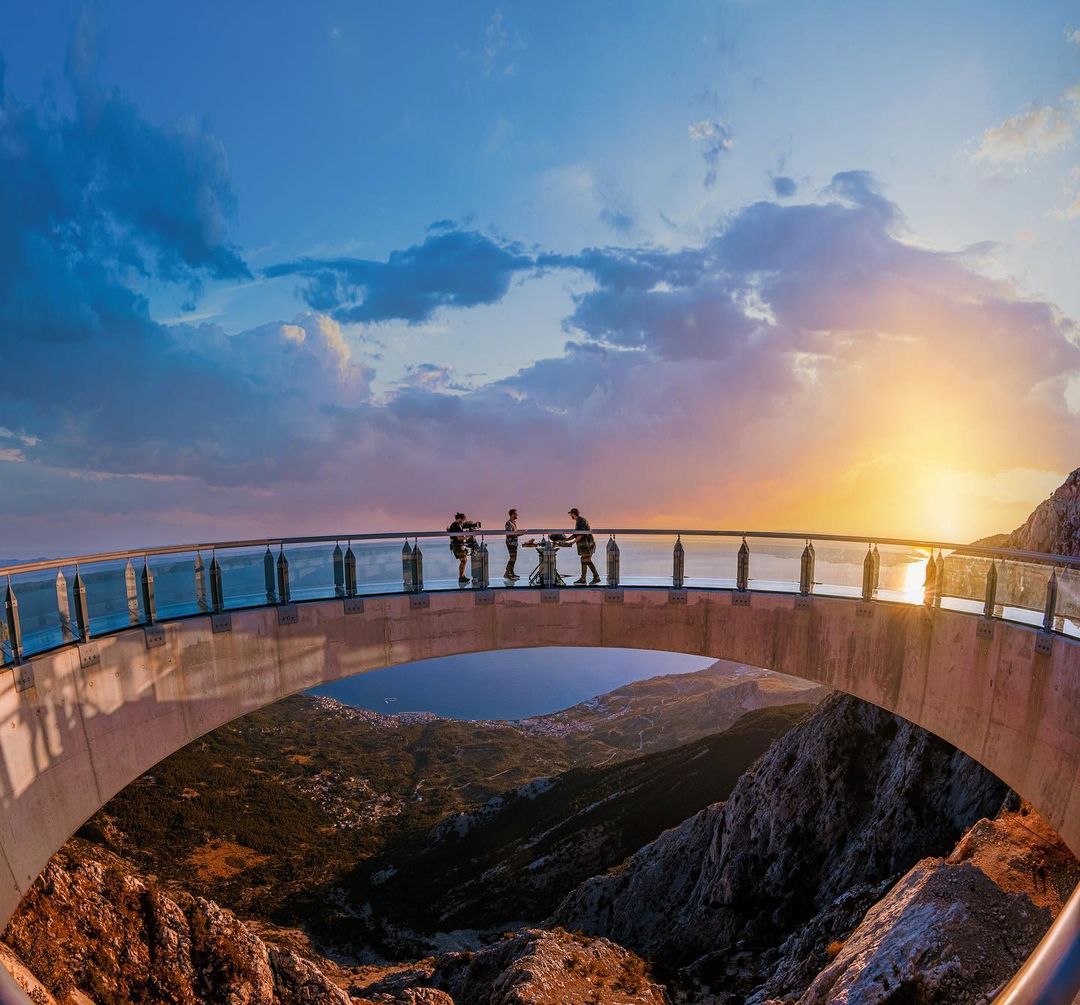 Discover the tranquil oasis of Lastovo island
Nature Park Lastovo is located on the island of Lastovo, some 20 nautical miles from Hvar island. It consists of the Lastovo archipelago, i.e. 46 isles and islets that surround the main island, which houses the local population. Because of the variety of plant and animal species found here, as well as the rarity and endangered status of others, Lastovo was declared a Nature Park.
There are also underwater sea caves, steep high cliffs, an incredible cultural and historic heritage and some unique local traditions for you to explore and experience on your yacht charter holiday in Croatia.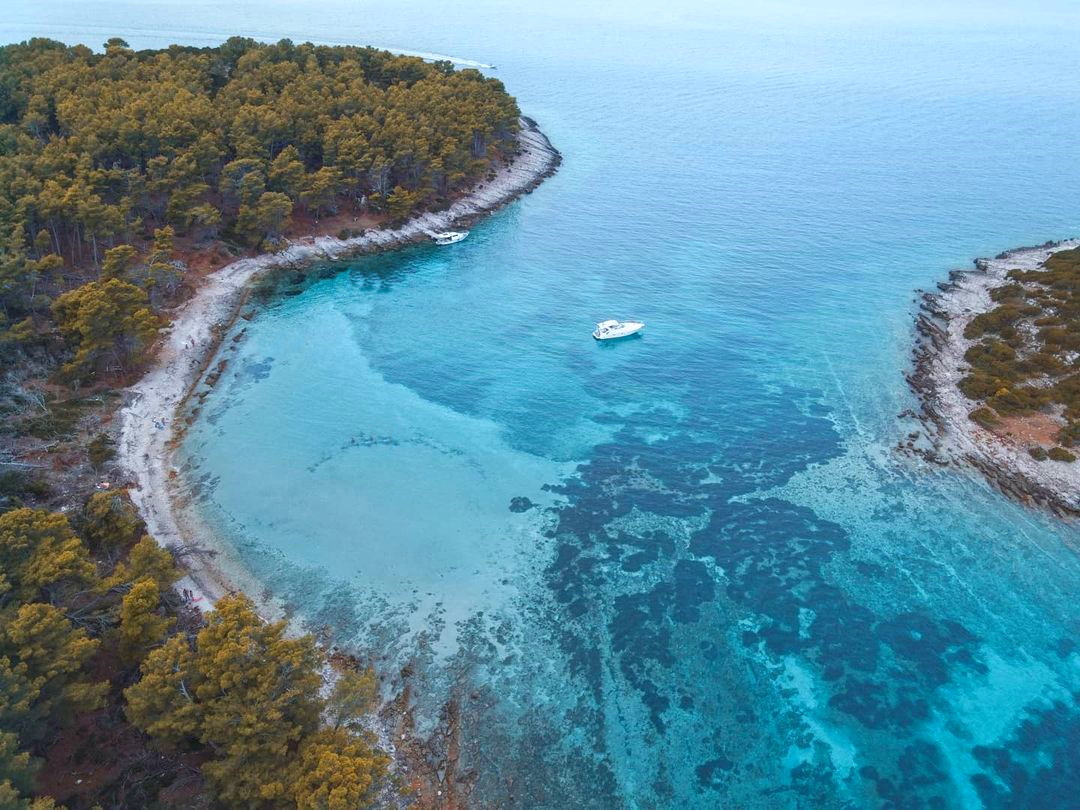 Explore The Untouched Nature Of Mljet
National Park Mljet is one of Croatia`s most prized treasures and it is not hard to tell why, once you visit this one-of-a-kind place. The national park is also the reason why Mljet is considered to be Croatia`s `greenest island.
The first settlers on this island were the Illyrians, which populated Mljet nearly 4 millennia ago. Mljet is an island that has also seen Greek settlers come to its shores and leave many traces of their culture, like temples and monuments.
After them came the Romans, followed by the Venetians and Austrians, all of which left traces of their culture and traditions. Apart from history, there are also 2 saltwater lakes to check out while visiting Mljet island, which still attract botanists and biologists to this day since they continue to puzzle with unidentified species or peculiar natural properties.
The bigger of two lakes contains a small islet and a monastery built on it, which is a not-to-be-missed experience. Ask your local charter crew about a tender excursion to this "monastery isle" and enjoy the unique atmosphere.
An interesting fact about Mljet is that this island is considered to be the island on which the nymph Calypso imprisoned Odysseus, and many historians agree. If you want to know more, just ask your local charter crew.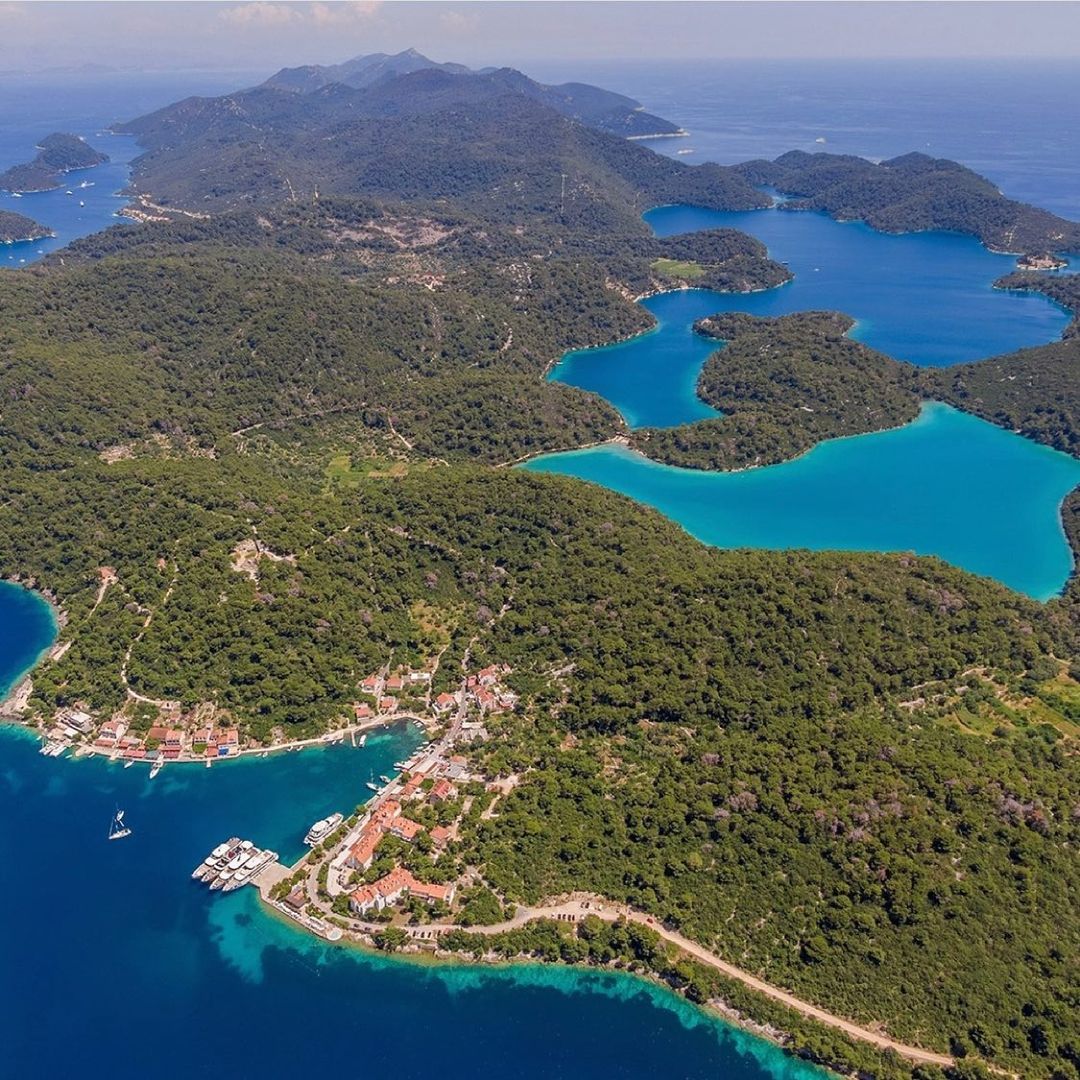 Discover the ancient heritage of Split
A trip to Hvar island would not be complete without a visit to the magnificent city of Split, where culture and cosmopolitanism mingle and mix. Berth your yacht in Split and discover how this city is connected both to its past and orientated towards its future.
The ancient Roman Diocletian's palace makes up the old core of the city, earning the privilege of UNESCO protection. People live, work and relax inside the same walls the ancient Romans used as grounds for bartering, exercising and administration.
During the summer season, Split becomes a hive of activity, attracting numerous performers and artists to its many festivals and manifestations. Culture lives in synergy with contemporary fun – classical concertos, art exhibitions and theatrical performances side by side with EDM festivals, the most popular of which is certainly Ultra Music Europe, which is known to attract more than 100.000 people to Split each summer.
Anchor your yacht near Split and listen to the music or let your crew take you to shore on the tender and enjoy the festival first hand.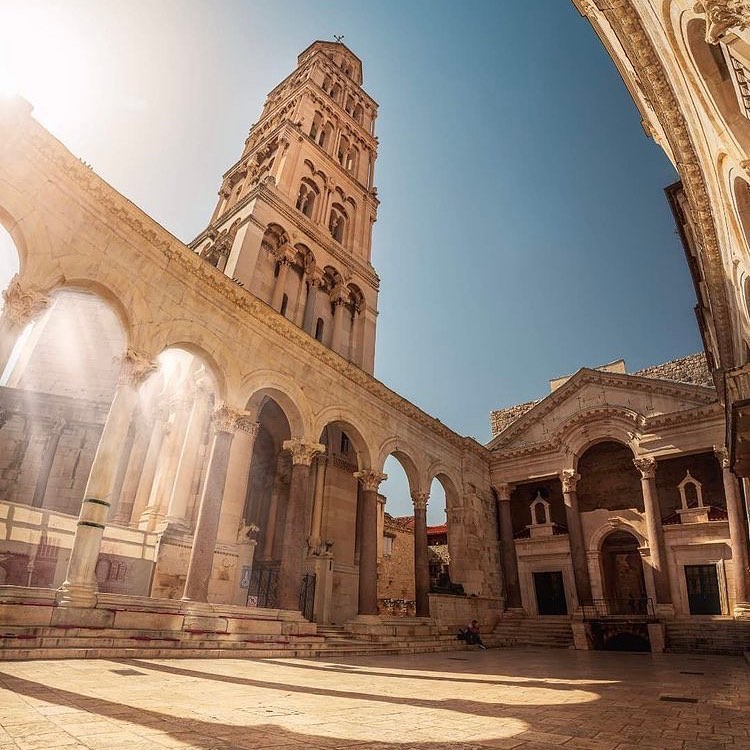 Sightseeing Around Hvar
During your yacht charter in Hvar, you will have the possibility of experiencing numerous sights, from historic and monumental to natural and beautiful.
Hvar town
Hvar town is located in a picture-perfect bay, on the southwestern part of the island. The port is very near the city centre, which enables charter guests to berth their yacht in the very heart of the settlement; if you are more prone to privacy, ask your local crew and they will take you to shore by tender. Be sure that you will experience mostly sunshine when spending time around Hvar island because it is known as one of the sunniest islands in the entire Mediterranean sea.
This settlement was fortified in the middle ages when extensive walls were built to protect Hvar from raiders and pirates. More work was done in the 15th century, with the Spanjol Fortress being built in 1557. Climb to the top of the fortress and enjoy seeing your anchored yacht charter in the distance.
During the Napoleonic wars, the French constructed the Napoleon Fortress on St. Nicholas hill, which saw its revitalization as an astronomical observatory in the 21st century. This is because Hvar is mostly free of light pollution, making it an ideal location for stargazing, which is best done from the sundeck of your yacht charter.
When it comes to culture, the Hvar gallery and other such institutions are housed in the Arsenal, a structure built between the 16th and 17th centuries, and one of the largest secular monuments in Croatia.
The cathedral of St. Stephan is also worth seeing, mainly for its renaissance architecture and details, with fountains, monasteries and small churches adorning the old city core. Talk to your local yacht crew about hiring a native history expert and embark on an exciting tour of the island`s history.
There are also many interesting smaller settlements on Hvar island, that are worth exploring.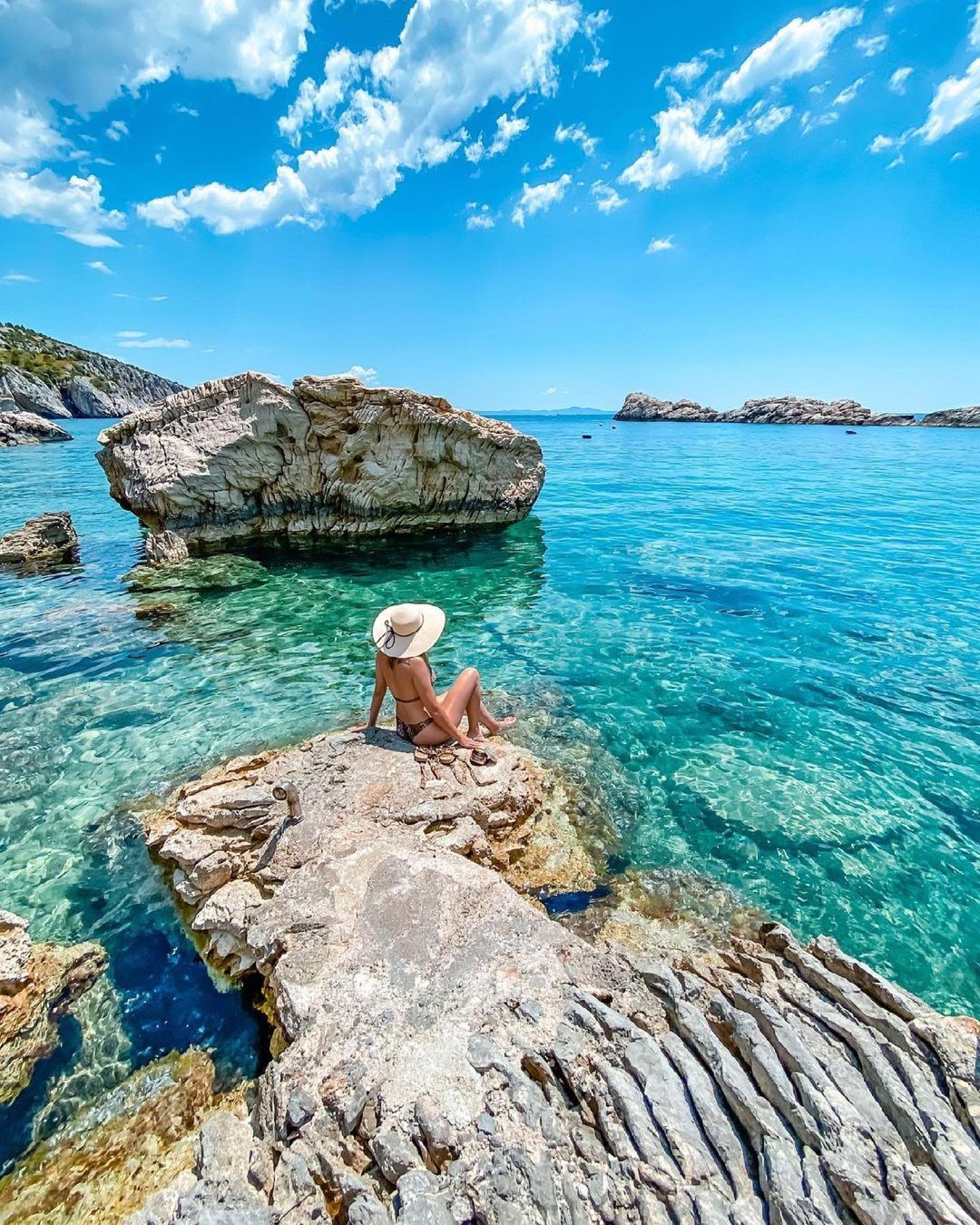 Jelsa
Situated on the northern part of Hvar island, Jelsa is a famous tourist destination, recognized by its beautiful beaches shaded by pine forests. One of these pretty pieces of shoreline is Soline, considered to be one of the best beaches on the island, located on the Glavica Peninsula.
A worthy mention is also Zvečevo, an isle near Hvar that offers incredible bays with a private atmosphere, ideal for a secluded superyacht anchorage. In the town itself, there are many churches and sacral monuments, as well as forts and towers, defensively used against Turkish raids in the 16th century. As you sail on your yacht around the island, try to imagine how it was like for pirates to attack fortified positions on Hvar.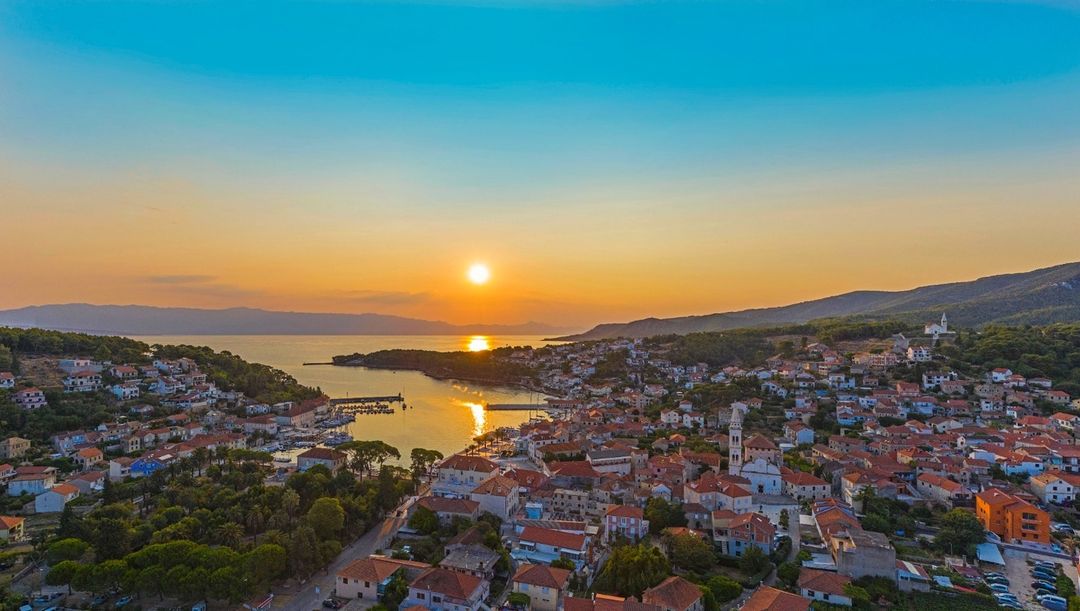 Stari Grad
Stari Grad is the oldest settlement on the island, situated on the northwestern coast of Hvar. The locals here tend to dabble in agriculture, producing excellent fruits, wines and olive oils, as well fishing, enabling fresh seafood to the locals and tourists who crowd the seaside restaurants during the summer months.
Known as `Pharos` in Greek, Stari Grad was constructed by the Greeks in the 4th century BC, when this coastal town was the oldest settlement in Croatia. Among more interesting cultural sights, the remains of ancient Roman villas and religious sanctuaries, as well as catholic churches and monasteries will entice history buffs as they tour the old core of Stari Grad.
Outside of Stari Grad, the nearby plains have made their way onto the UNESCO world heritage list, since 2008. This is because they keep the same layout set by the Greek settlers when they first started dividing the land outside their settlement.
These fruitful plains are a source of many authentic wine sorts, as well as olives, figs, oranges and aromatic herbs, like lavender and rosemary, divided by an intricate web of stone plots. Experience the historic atmosphere of cruising around Stari Grad and discover many ideal places for anchoring and enjoying a wonderful summer Croatian day.
ENJOY AN EXQUISITE FINE DINING EXPERIENCE ON YOUR YACHT CHARTER IN HVAR
Prepare to taste an incredible blend of organic and locally grown produce led by fresh seafood, excellent wines and unavoidable olive oil.
During your yacht charter in Hvar, visit many family restaurants, some of which are undiscovered gems when it comes to the quality of food and the level of service. These include Kokot Konoba in Dol, which specializes in meat dishes, particularly local lamb.
Stori Komin in Malo Grablje is situated on the edge of a deserted village and provides a family-like atmosphere where meat dishes are the house specials, particularly veal and lamb chops. Oaza in Milna is a restaurant placed just several meters from the water's edge, serving fresh seafood on a wood grill.
A dish authentic to the island of Hvar is "Gregada", a combination of fish stew and broth, with other typical dishes not that different from what you can find in other locations along Croatia`s coastline. Regardless, the best places to enjoy local food are establishments known as "konobe", where travellers are welcomed by hospitable owners who serve fresh catches of the day in combination with native wines and organic side dishes.
A popular way of preparing food on Hvar is to cook octopus or lamb under an iron bell, covered by hot coals – this tenderizes the meat, while also making it juicy and evenly prepared.
On the other hand, if you would like to enjoy a premium fine-dining experience, there is nowhere better than Split to do so, especially if you enjoy unlimited mobility with your yacht charter.
Ask your captain to cruise to Split and in less than an hour, you will be sitting in a magnificent setting, enjoying Michelin dishes and admiring the Adriatic panorama. Dine-in restaurants such as The Olive Tree, situated in the centre of the Split sea promenade, popularly known as the "Riva".
Other Michelin restaurants include Kadena, which provides an incredible panorama of the greater Split region, as well as excellent service and fresh seafood prepared following traditional recipes, but with a fine dining twist. Another high-end restaurant is Zrno Soli, located in the Baluni harbour and bay. You can enjoy an excellent fine dining atmosphere while marvelling at the boats and yachts anchored in the vicinity.
Also popular is Dvor restaurant, which serves locally caught seafood in a tranquil and private atmosphere, with incredible vistas of Šolta and Brač islands.
Last but not least, the Gariful restaurant is a gem located on the seaside promenade of Hvar town, serving excellent fish specialities from fresh catches of the day. The terrace of the restaurant provides excellent vistas, so if you come and berth your yacht nearby, you will get to enjoy the view of both the sea and your charter.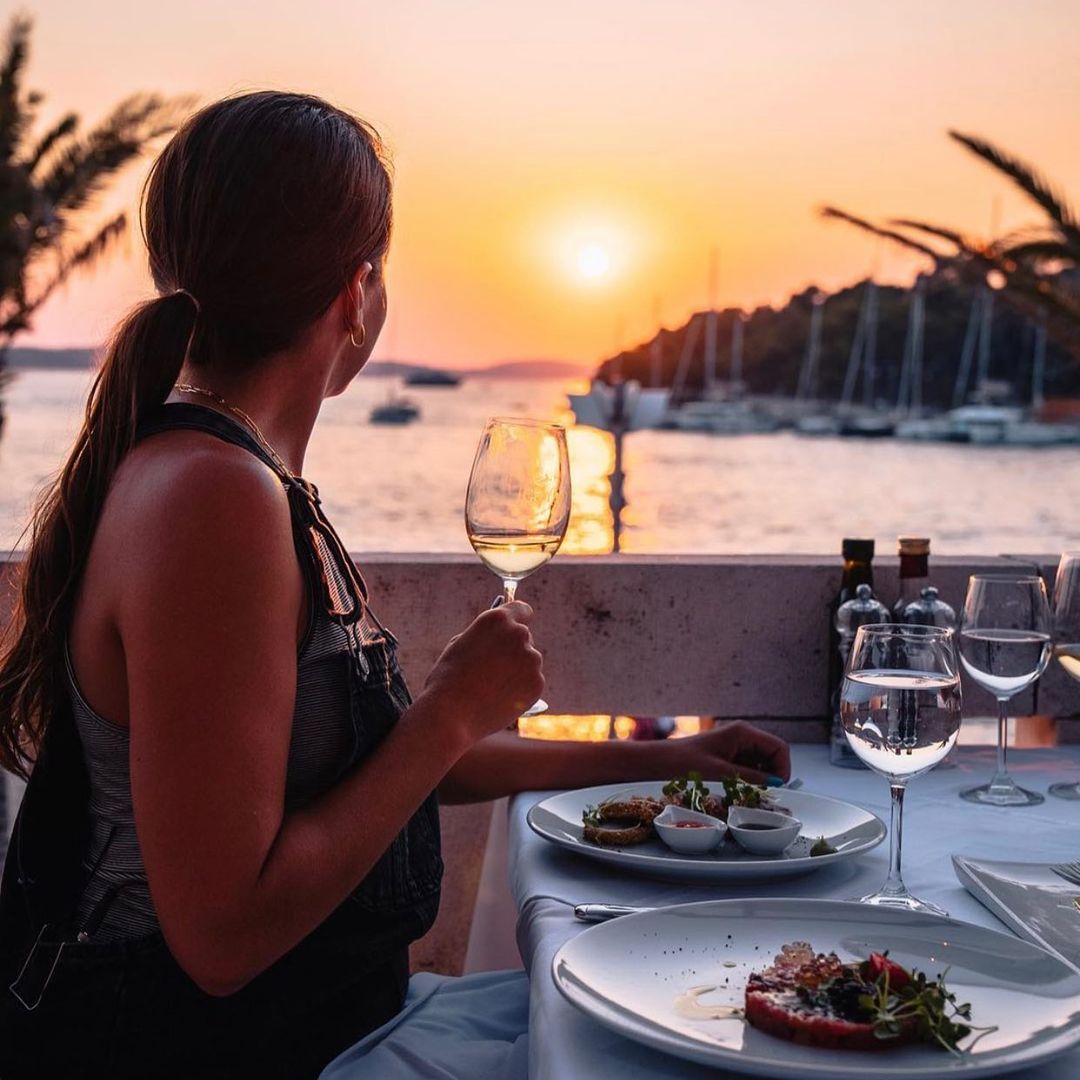 OUR SUGGESTED SEVEN-DAY YACHT CHARTER IN HVAR
Yacht charters in Hvar are ideal due to numerous nearby islands and countless pristine bays, which only local experts know about. Keep reading to find out more about the unique experiences and unspoiled nature you will discover during your yacht charter on our suggested seven-day cruising route…
Day 1: Stari Grad-Korčula
On the first day of your yacht charter in Hvar, you could consider cruising alongside the northern shore of Hvar island, stopping to enjoy a secluded bay of your choice, for some fun and leisure on the water.
Continue onward until you reach Makarska, with the option of exploring the Biokovo Nature Park or just continuing straight towards the channel between Orebić and Korčula island. Let your captain choose a perfect anchoring spot for the evening, while you enjoy an alfresco dinner on the main deck aft of your yacht. After an exquisite meal, socialise with your charter party in the salon or stay outside and observe the starry sky above you.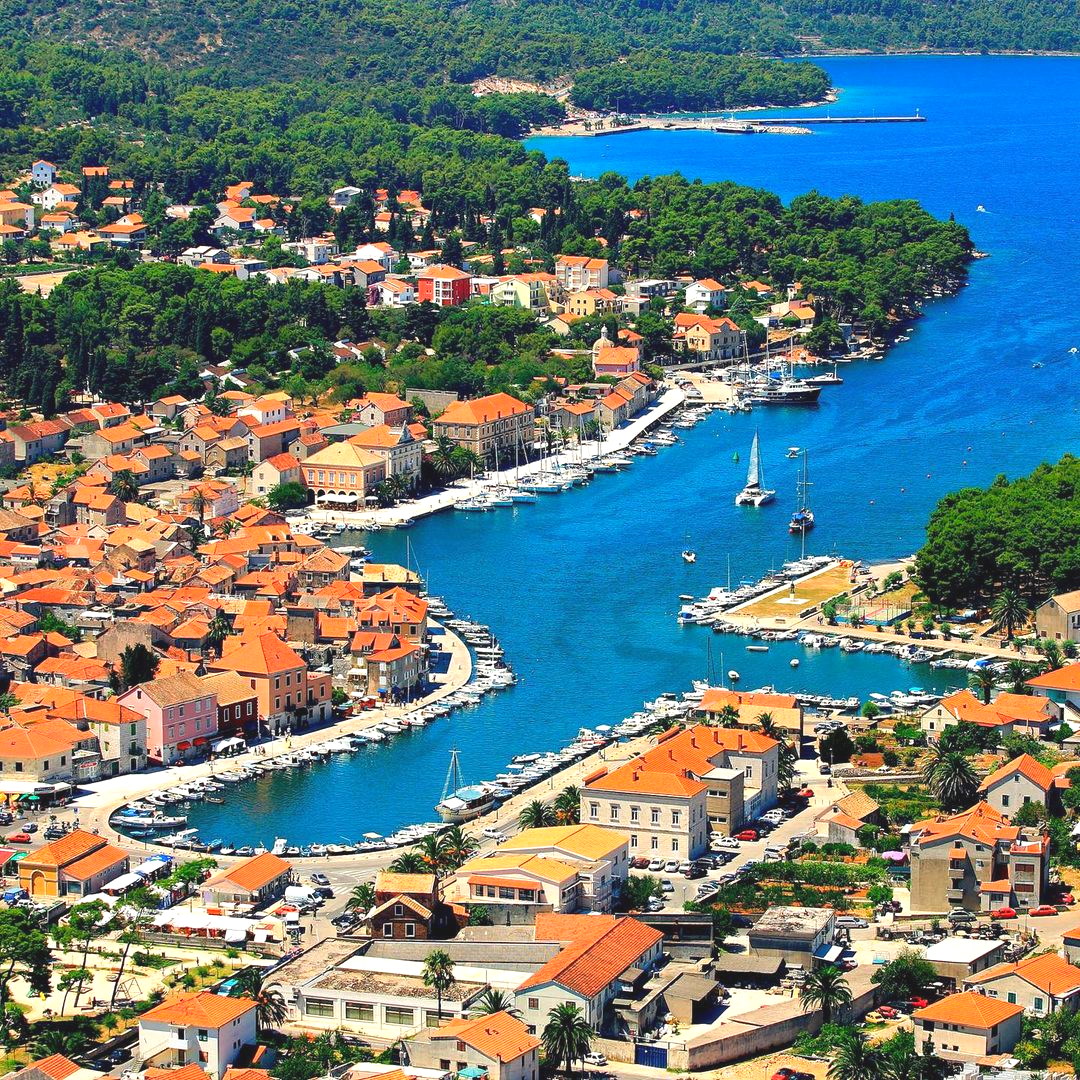 Day 2: Korčula-Mljet
There are many different natural wonders to experience on Mljet island, starting from the abundance and richness of plant life. The islanders grow olives, lavender, oranges and other fruits and vegetables, which make up the local cuisine, together with seafood and some locally herd sheep.
This makes the food quality on Mljet exquisitely local, as well as healthy and nutritious; ask your Michelin-level chef about preparing some local specialities by using locally provisioned Mljet produce.
Day 3: Mljet-Lastovo
Lastovo island harbours one of Croatia's beautiful Parks of Nature, where cycling and hiking are the best way of exploring the interior of the island. Your local charter crew will take care of classic or e-bikes for you to tour Lastovo on. Skrivena Luka and Zaklopatica are good options for enjoying a beach day with children; however, these beaches are pebbly.
On the other hand, the isle of Saplun, northeast of Lastovo, is graced with an incredible sandy beach which can only be reached by boat or yacht – which is great news for all charterers looking for some privacy and secludedness.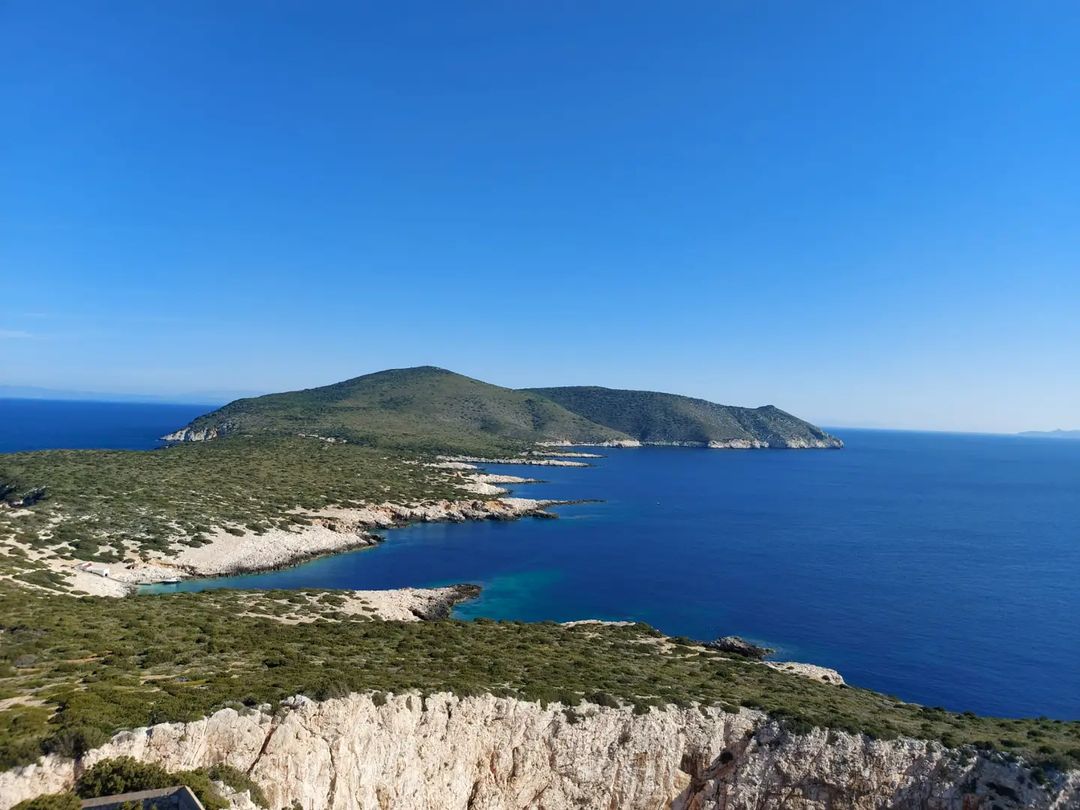 Day 4: Lastovo-Vis, Biševo
Vis served as a mainstay for the Yugoslavian army, so its tourism potential remained relatively underdeveloped until the beginning of the 21st century. Slowly opening up to tourists, Vis was immediately recognized as an island that has a lot to offer, starting from a rich cultural and historic heritage, beautiful nature, crystal-clear sea, fantastic cuisine and hospitable locals.
There are many bays and coves just waiting to be explored by your yacht charter. Choose a perfect location and enjoy a day on a private beach, where your yacht chef can prepare an open-air BBQ while you rest under the shade or explore the turquoise seabed with snorkelling gear.
Not far from Vis, the island of Biševo just beckons to be circled by a yacht charter, because of the secrets this patch of land possesses. Less than twenty people live on Biševo today, which was inhabited in prehistoric times, as well as by the Greeks and the Romans. Feel the incredible atmosphere of the island as you disembark from your yacht and take a tour of the island, accompanied by members of your local charter crew.
Due to its position, Biševo experiences occasional harsh winds and waves, so it is ideal for day trips and rarely for sleeping at anchor. Despite this, Biševo is known to contain plenty of fish and a rich seabed, which means a paradise for snorkelers and divers – talk to your expert yacht crew about arranging a guided tour of the Biševo seabed, where you can also observe plain wrecks from the Second World War.
The island itself also contains a forest and prickly shrubs called "makija", but also high cliffs and beautiful bays with inviting beaches. There are also more than 20 caves on Biševo, with the most famous one being Modra cave, also known as the Blue grotto on Biševo.
This cave is not to be missed, because the light plays with the surface of the sea and the sandy seabed below in a way that produces incredible blue light refraction, due to an opening through which sunlight enters during midday.
Day 5: Vis-Drvenik Veli, Šolta, Trogir
Drvenik Veli is a small isle not far from the island of Šolta, with both islands belonging to the Trogir archipelago. There are several churches, sacral monuments and summer houses of local nobles, dating from the 16th and 17th centuries. The reason why you should come to Drvenik Veli is to experience the feeling of being far from civilization, surrounded by untouched nature.
The shore of the island is indented, containing plenty of sandy coves and pebbly beach bays, with Grabula bay being the perfect location to anchor overnight, because of the natural protection it offers against wind and waves.
Stopping by Šolta island with your yacht charter, you would want to check out one of eight villages, which all keep the tradition and history of island life. Feel the different atmosphere as soon as you step foot on the island, experiencing a slower passage of time and a relaxed tone to everything that is done.
Use this influence to relax on your yacht charter, with massage therapies, spa treatments, sunbathing and cocktails or yoga. You can explore the old fishing village of Maslinica and anchor at the local marina, built under an 18th-century castle.
The south side of Šolta harbours many inaccessible and wild bays and coves, where you can expect total secludedness. Tell your captain to anchor your yacht charter in such a way that she blocks the entrance, completely protecting your privacy. Enjoy the peace and quiet of your very own private cove, before returning to civilization.
While cruising around the waters of Drvenik Veli and Šolta, you could potentially plan a day trip to Trogir, a UNESCO-protected medieval town. Stroll through the old city core, which should belong in a museum: incredible specimens of Romanesque, Gothic and Renaissance buildings enclosed in medieval fortifications with towers, high walls and gates – there is even a `hanging` bridge!
Day 6: Šolta-Split
Split is an ancient city, with roots that span more than 2 millennia. The settlement was founded by fishermen and then populated by the Romans; the Roman emperor Diocletian decided to build his summer palace on this location, so he could enjoy his retirement.
This palace, which is on the UNESCO world heritage list, makes up the old core of the city. An interesting fact about Split is that the majority of the palace is still in use even today, so locals walk around the same streets and piazzas that were originally made by their Roman predecessors.
There are many different interesting shops, cafes, bars and restaurants to check out when on a tour of Split. Talk to your local yacht crew and they will arrange a knowledgeable native guide, who will introduce you to all the secrets of Split.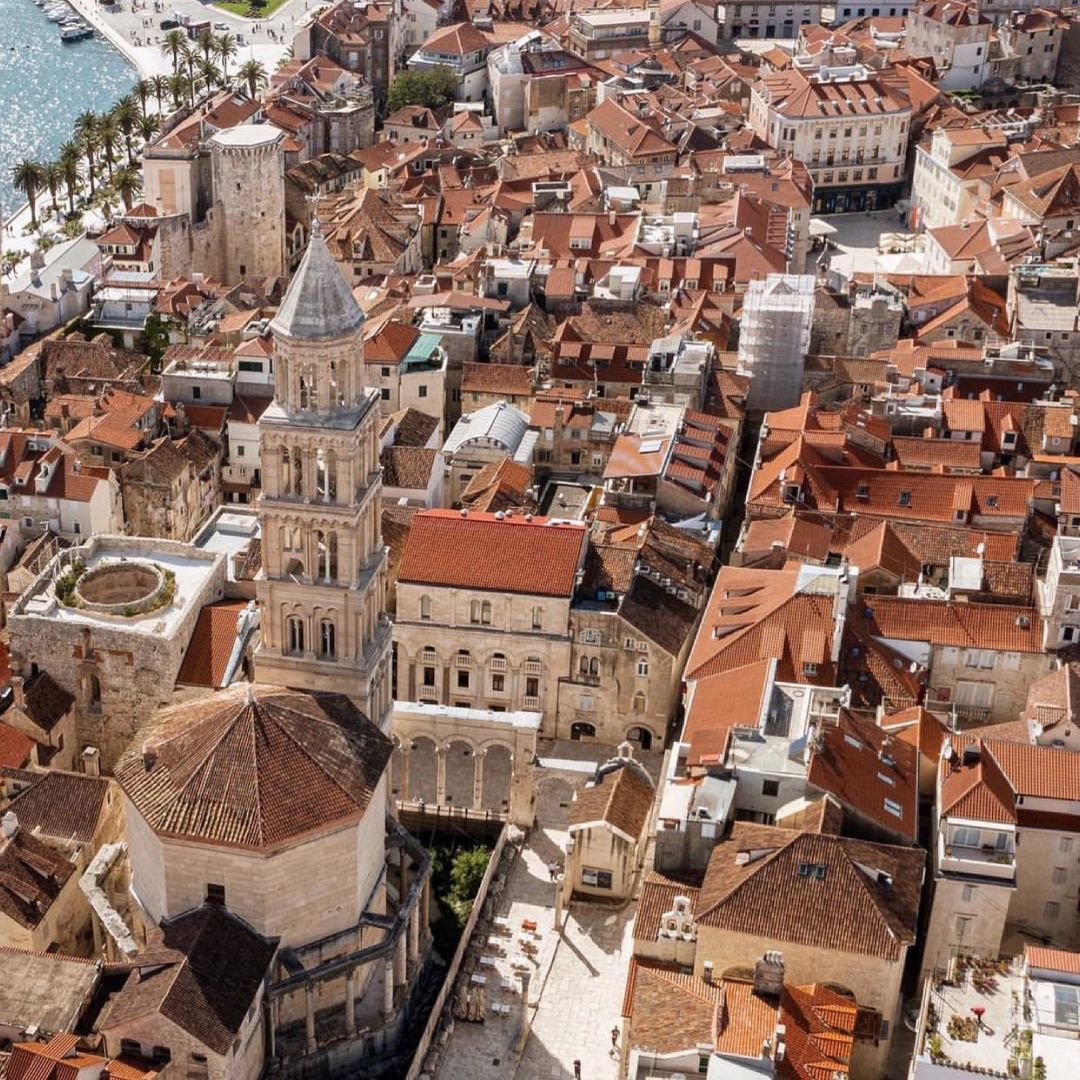 Day 7: Split-Hvar
For the last day of your charter vacation in Croatia, choose to return to Hvar using the longer route back and circle the island of Brač. Along the way, you can discover many interesting things about Brač island, as well as secluded coves and private bays, where you can choose to stay and play with water toys or just rest under the sun, working on your perfect bronze tan.
Consider stopping by the Zlatni Rat, one of Croatia's most beautiful beaches; the name translates as "Golden Cape" and it is not hard to notice why. The whole beach reminds you of a golden horn that slowly moves with the waves, and is an awesome place to anchor your yacht and enjoy in the summer sun and the shimmering of the `golden beach`.
TOP ANCHORAGES AND MARINAS FOR YOUR YACHT CHARTER IN HVAR
The sea around Hvar island is home to a couple of marinas that will ensure a safe dockage for your vessel during your yacht charter in Hvar.
ACI Marina Vrboska is another name for the Vrboska Hvar port, a decently sized marina located near the old town of Hvar. If you decide to berth in this marina, prepare to experience an enjoyable panorama of the surrounding waters, as well as vast fields of olives and lavender.
Another marina that could be a potential anchoring location for your yacht charter is the ACI Marina Palmižana, nestled on the northern coast of Sv. Klement, the largest of the Pakleni islands archipelago. Palmižana is located in a sandy bay, covered by alpine pine trees, which makes it one of the more coveted marinas in the Croatian Adriatic sea.
When it comes to natural anchorages, the area around Hvar island is indeed rich with different options for your consideration. Vis island hides an incredible secret, in form of Luka Rogačić and its submarine pens. Because Vis was the main naval base in the 20th century, it was covered in secrecy because of numerous army structures.
The beauty of this place will mix with features of army architecture to create a unique atmosphere. Its relative closeness to all other places of interest in the vicinity makes Luka Rogačić a perfect target for an overnight anchorage.
Pakleni islands are a perfect target for your yacht charter if you enjoy pristine and untouched natural features, together with turquoise sea and thick forests on the edges of the coastline. Pakleni islands are barely inhabited, which makes them a coveted location for yacht charter guests in search of a peaceful and quiet overnight anchorage.
There are no roads, making Pakleni islands accessible exclusively with yachts and other boats. The main island of Sveti Klement harbours the ACI Palmižana marina on its northern part, perfect for shelterin in unfavourable weather conditions.
The island of Drvenik Veli is home to the out worldly Krknjaši blue lagoon, an incredible wonder of nature with a sea as blue as a cloudless sky. There are numerous passages between the islands, with a shallow seabed which is perfect for families with children.
Enjoy the magnificent atmosphere of the Croatian `Blue Lagoon` and get inspired to do something special for your charter party, like organising a guided diving tour of the lively seabed or a special fine dining experience on the alfresco deck of your yacht charter.
Dine in the surroundings of the Blue Lagoon, the best venue you could ask for. Last but not least, Smarska is a beautiful bay worth anchoring in, situated on the southeastern coast of Hvar island. Let your crew take out the water toys so you could explore the coastline using standup paddleboards, kayaks or jet skis.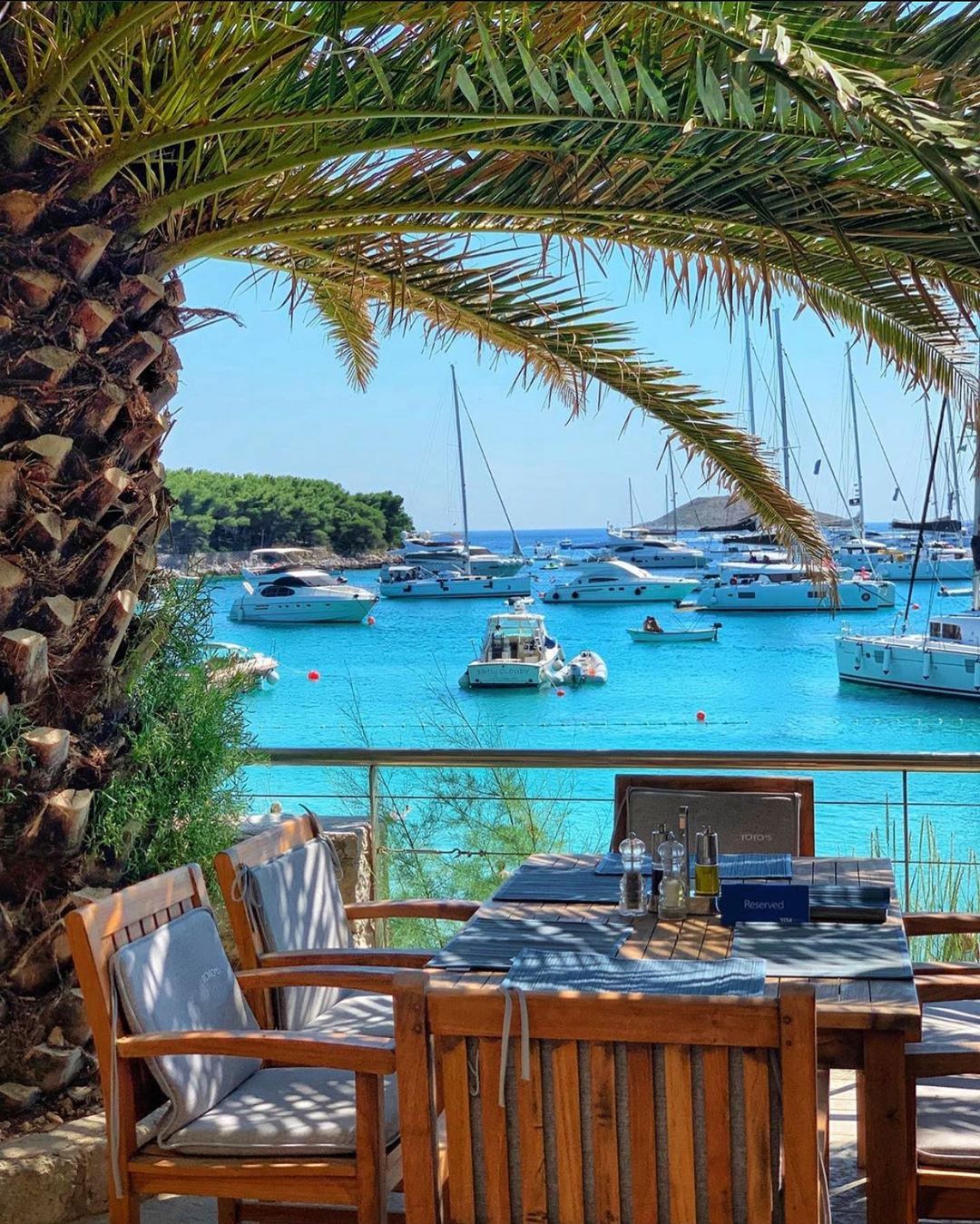 THINGS YOU DIDN'T KNOW ABOUT HVAR
WHY CHARTER IN HVAR WITH SUPERYACHTS CROATIA?
Rest easy and unwind to the fullest, knowing that the successful completion of your yacht charter in Hvar depends entirely on the professionalism, expertise and local know-how of the SuperYachts Croatia charter agency.
Explore the waters around Hvar island having complete confidence in the expertise of your charter captain and crew. Taste excellent local cuisine, made by following traditional recipes, passed down for generations. Ask your yacht chef to recreate them with a Michelin twist, so you could enjoy alfresco dining on the main deck aft of your yacht charter, as you take in glorious panoramas of the surrounding waters
Charter Yachts
We present to you the best selling yachts for charter in 2021. Slide through these different yachts, ranging from 20 to 80 meters in length, and choose the best option for you. If you have any questions regarding yacht charter, destinations & yacht support, contact us.
VIEW ALL CHARTER YACHTS
VIEW ALL CHARTER YACHTS