Yacht Charter In Trogir
Trogir is a true haven for yacht charter guests from all over the world, due to its excellent location and numerous opportunities for unique experiences. It is known as "Little Venice" and has been listed on the UNESCO list of World Heritage sites for its cultural and historical treasures, unique architecture and magnificent streets.
Trogir is one of the most magical Croatian coastal cities, offering unparalleled freedom of movement to cruise with your charter in any direction you want. This charming historic city is situated between the island of Čiovo and the mainland on the Kaštela Bay coast. Furthermore, Trogir is known as "Little Venice" and has been listed on the UNESCO list of World Heritage sites for its cultural and historical treasures, unique architecture and magnificent streets.
Trogir is also considered to be a true haven for yacht charter guests from all over the world, due to its excellent location. You can ride your jet ski around the island of Čiovo, swim in the Blue Lagoon next to the island of Drvenik Veli, enjoy paddle boarding around the island of Drvenik Mali or relax in pristine nature on the island of Šolta. And the best thing about all this is- you can experience it all in just one day of your yacht vacation.
Your local yacht charter broker, SuperYachts Croatia, together with an experienced charter crew, will take care of your itinerary, showcasing all the major secrets of the Croatian Adriatic sea. Cruising around the Croatian islands and visiting magical locations is by far the most ideal type of vacation you can dream of.
Your wish is our command, and we will do everything we can to make your fantasies come true, turning them into an unforgettable yacht charter experience.
WHY CHARTER IN TROGIR
Trogir is one of the most beautiful towns in Croatia. Because its located in the centre of the Croatian coast, Trogir allows guests to cruise in all directions, towards one of the 1244 Croatian islands. This beautiful city is truly the best place to start your dreamy yacht charter in Trogir.
Here, you can enjoy historic places, where every stone embedded in the walls and small alleys tells its narrative from the time of the Greeks, Romans and Venetians. It is a true "city/museum", with new attractions popping up around every corner, where history and art enthusiasts will find their way around.
Moreover, from this unique coastal town, you can cruise to more than one island each day during your yacht charter in Trogir. Feel free to visit the Kornati National Park islands north of the city and the sunniest island on the Mediterranean – the island of Hvar south of the city.
You will be amazed at how easy it is to cruise through Croatia from Trogir. A calm sea and numerous beautiful islands will leave you speechless so you will surely want to come back again and again, year after year.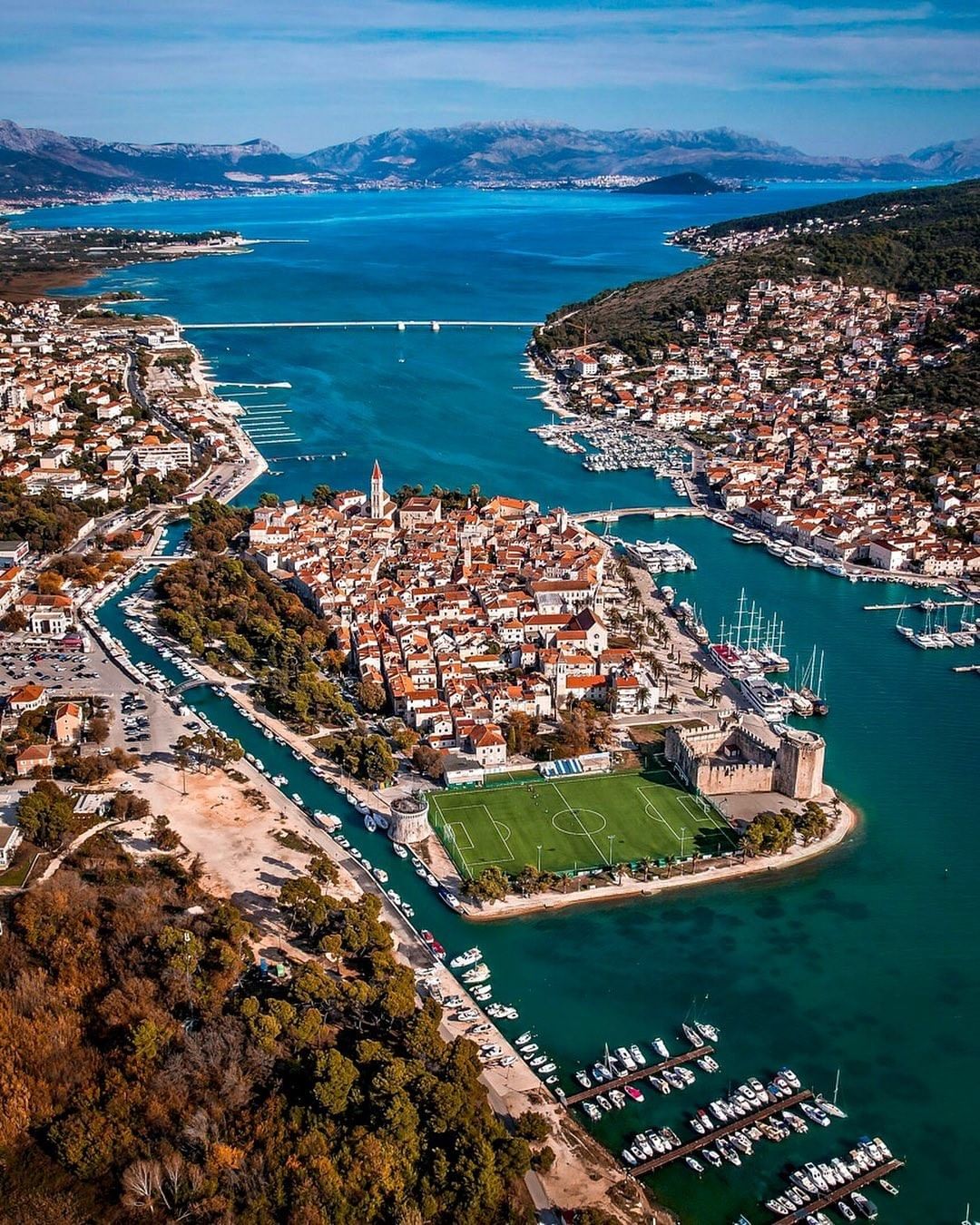 WHEN TO CHARTER IN TROGIR
The best months for a yacht charter in Trogir are June or September. Unlike the high season in July and August, during June and September, you will be able to enjoy this historical town without brimming city crowds, skittering around alleys and harbours. During this time, cruising conditions are perfect, and the air temperature is just right for a refreshing swim in the crystalline sea.
If September or June do not suit your timetable, you can charter a yacht in Trogir in the shoulder season. We suggest the last weeks of May and the first weeks of June, for experiencing a peaceful yacht charter vacation.
Yachting season in Trogir officially starts in April and lasts until November, so you can take your time and choose the period that suits your busy schedule the best.
During the high season from late July and August, you will be able to witness numerous signs of vivid life along the Croatian coast, although there is a possibility you might encounter some crowds; that is when yacht charter plays an important role.
With your yacht charter in Trogir you will be able to escape the crowds, whenever you want, and explore the best spots accessible only by yachts. Apart from that, this town is blessed with a great climate and a high number of sunny hours, which makes it the perfect yacht charter destination.


Moreover, here you will discover a vast archipelago filled with unspoiled nature and countless secluded bays just a brief cruise away from the city of Trogir.
HOW TO GET TO TROGIR
Getting to Trogir with SuperYachts Croatia will be a comfortable and carefree experience for you and your charter guests. We suggest flying to the Split Airport, where your local yacht broker will be waiting, with a VIP vehicle of your choice.
Since the Split airport is well connected with year-round flights with numerous European destinations, you can arrive easily and in style. Apart from that, it is only 3km ( 1.5 miles) away from Trogir, which means you will be in front of your yacht in the blink of an eye.
Another option is Zadar Airport, which is well connected with Trogir via the A1 highway, as well as the iconic Jadranska magistrala road, a route famous for the beauty of its coastal scenery.
Trogir is a must-see destination for all yacht lovers cruising along the coast of the Croatian Adriatic Sea, and it is easily accessible to your yacht charter. Moreover, your yacht can moor right next to the Old town promenade, just a few steps from the city centre.
The newly refitted dock on the city promenade is a perfect spot to berth, and it is exclusively reserved for yachts during the main summer season. Furthermore,  you can ask your yacht crew to anchor your yacht charter on the west side of the old city, allowing you to visit the town incognito, with help of your tender boat.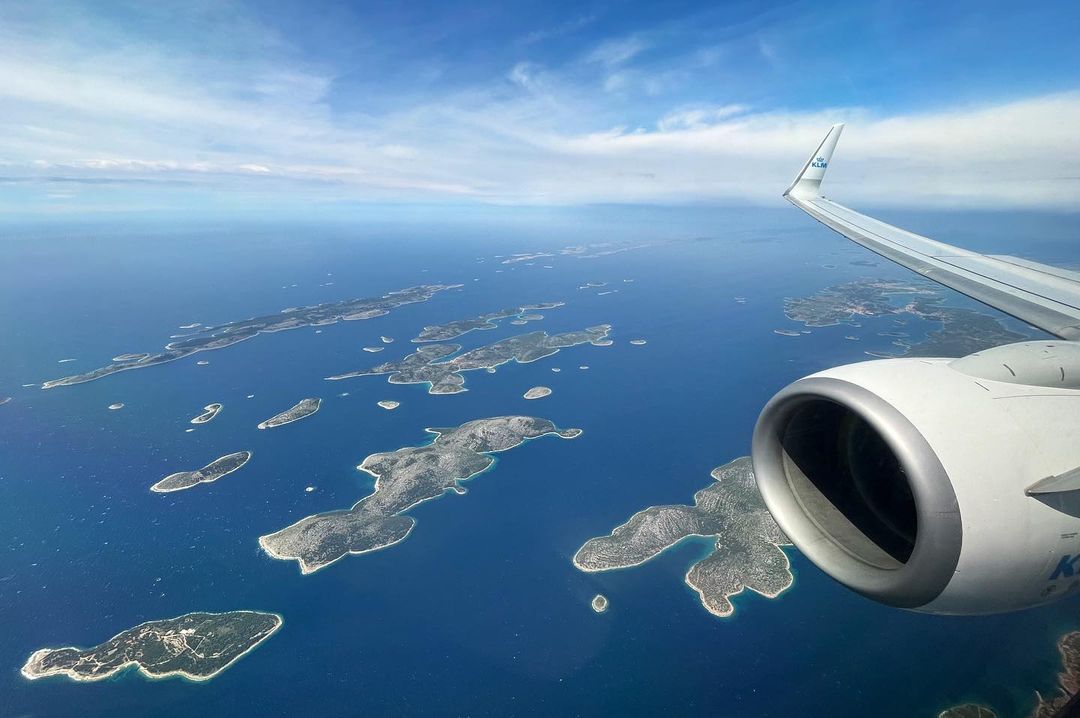 PERFECT ACTIVITIES FOR YOUR YACHT CHARTER IN TROGIR
Sightseeing around a UNESCO heritage just several feet away from your yacht charter in Trogir
That's right! You can visit a UNESCO World Heritage Open-Air museum just a few steps away from your yacht charter in Trogir.
The entire Old Town is under UNESCO protection as a World Heritage Site, due to its vast history and rich architecture. Although the centre is not big, it is full of wonders, which you can explore by yourself during a pleasant stroll, or with your private tour guide, hired by your local SuperYachts Croatia broker.
Let your attention be captured by the Cathedral of St. Lawrence, constructed 370 years ago on the exact spot where the temple of the Greek goddess Hera used to stand. The most precious building in Trogir, St. Lawrence`s Cathedral has a 46m high bell tower, which offers spectacular panoramic vistas of the entire town, and your yacht charter moored on its marble white promenade.
Near the cathedral, you can witness yet another lovely building – the church of St. Sebastian from 1422 and its picturesque bell tower right next to the Trogir Loggia, a building used as a courthouse throughout history.
Take your time and enjoy a peaceful stroll along medieval alleys, where you can feel like being a part of a fairytale. Explore numerous architectural attractions hidden in plain sight, and the cobblestone streets dotted with boutiques and lovely little shops.
Apart from glorious architectural masterpieces, you will also discover charming restaurants tucked away in narrow streets and numerous atmospheric cafes alongside small squares.
Your stroll will take you through the old core of Trogir's social life known as the Piazza. This picturesque space is a central square complemented with old Venetian houses and a portico.
We suggest visiting the well-known Ćipiko Palace, from the 13th century. The interior of the Palace is not open to the public, but if you are a history buff, your local broker will make sure you have a proper glimpse at it.
Moreover, Ćipiko is one of the most Instagrammable places in the town, perfect for romantic and vintage holiday photos. Do not miss out on this magnificent scenic promenade, best enjoyed + under the shade of palm trees; you will also get a chance to walk around an outstanding film set used for multiple Game of Thrones scenes.
In season two of this world-famous TV show, Trogir's main promenade was used to shoot an iconic scene, where the Warlocks had imprisoned Khaleesi's dragons in the city of Qarth's harbour.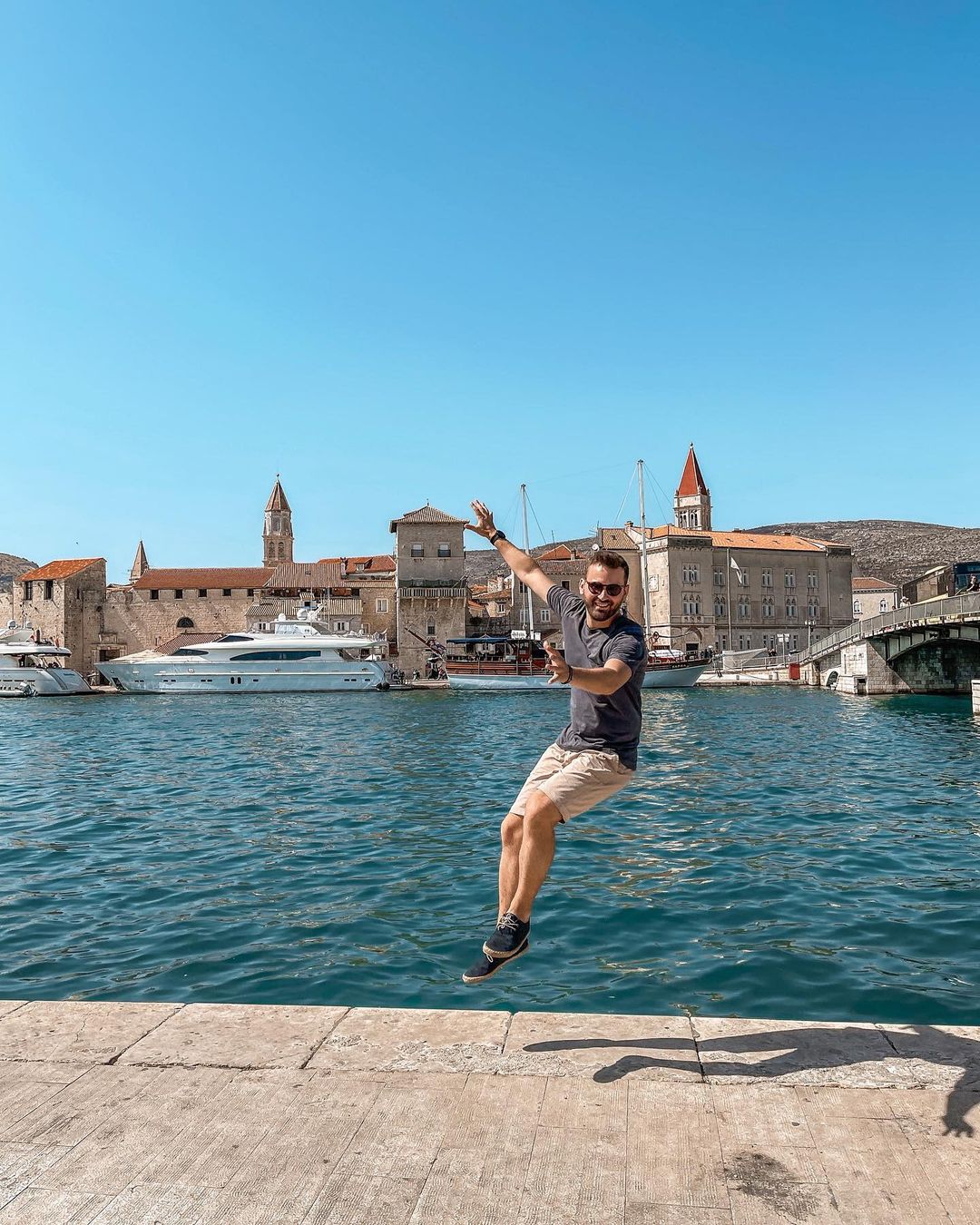 Feel like a monarch on top of the Kamenlargo fortress
One of the highlights of Trogir`s old core is the spectacular Venetian-style Kamenlargo fortress, from the late 14th-century. Climb to the top of the fortress and stroll along its mighty walls, feeling like a Venetian Doge.
Marvel upon the sweeping views of Trogir and your luxurious yachtr. During the summer months, you can visit numerous events held within the fortress, so prepare your ball-gowns and tuxedos for a true royal night out.
Your SuperYachts Croatia broker can book the entire fort just for you and your beloved, which is a unique experience for special occasions. Imagine enjoying the sunset backdrops,  and private fine-dining experience with your beloved atop of the Kamenlargo fortress on your honeymoon or anniversary during your yacht charter in Trogir.
Catch the luck by its hair on your yacht charter in Trogir!
Visit the millennia-old Benedictine monastery of St.Nicholas, the protector of Sailors and children. If that is not reason enough to visit, how about if you get a chance to familiarize yourself with one of the most beautiful artefacts of ancient Greeks – a relief of Greek god Kairos, discovered in Trogir.
According to legend, Kairos was the youngest son of the king of all the gods – Zeus. Kairos was described as a young man, known for his unique hairstyle – a long hair falling over his face.
He would appear once in his lifetime on the streets of ancient Tragurion (Trogir) and swiftly move between people giving them a chance to catch a strand of his hair. Catching his hair was almost impossible because his head was shaved from behind.
If he passed you by, that meant a lucky opportunity was gone, since Kairos represented good luck and unique opportunities.
Even today, his relief, preserved from the 4th century, in the church of St.Nicholas inspires curiosity and bravery, provoking people to try to achieve impossible dreams..
Eat healthy organic food on your yacht charter holiday
In front of the old town, near the vicinity of your yacht charter in Trogir, you will find a truly atmospheric place – the Trogir town market. Here you can find a vast selection of fresh, locally grown fruits, vegetables, and freshly caught fish, straight from the sea.
You can ask your yacht chef to do the provisioning here, while you try out local delicacies such as olive oils, honey from the hinterlands, fresh meat, cheese, prosciutto, dried fruits and local spices, or homemade wines and fruit liqueurs as well as the many other traditional delicacies.
Cruise to nearby Čiovo island and have a picnic in the lavender fields
The nearby island of Čiovo will amaze you with its secluded bays and crystalline sea, perfect for a day filled with fun with your jet skis and jet packs. If you are up for something a little less adventurous, Čiovo will not leave you disappointed.
This island is well-known for its flower fields, and landscapes full of immortelle flowers, rosemary, and olive groves. Ask your yacht chef to prepare a picnic basket and a bottle of champagne,  and head out for a picnic in the lavender fields.
Imagine the scent of that much lavender, while you enjoy the finger food complimented with a spectacular vista on Trogir and its nearby archipelago. Do not forget to toast to life while you enjoy your memorable yacht charter experience on Čiovo island.
After a pleasant picnic, refresh yourself in numerous bays on Čiovo's southern side. Also, we suggest visiting Duboka Uvala (Deep Cove), a pebble bay with the crystalline sea, which will tempt you to jump right in. On the shores of this bay, you can lounge in the Laganini Beach Bar, a great place to recharge your batteries with a colourful cocktail during hot summer days.
Here you can rent a double lounger and completely relax and admire the sea views and enjoy the utter hedonism complemented by the light sea breeze and scent of the salt in the air.
The second bay worth a visit is Duga Uvala (Long Cove). Although its name is not the most creative one, this lagoon is exceptionally beautiful and full of unspoiled nature, just a short walk away from Duboka Uvala.
While on Čiovo, nature lovers can enjoy hiking under the shade of trees near the village of Slatine. Along your relaxing hike, you will come across the carved path that will lead you to the small island church, worth a visit – the Sanctuary of Our Lady of Prizidnica from 1546. There you will witness a spectacular sea view, courtesy of the majestic cliffs high above the sea.
Explore the Trogir hinterland with quads
The SuperYachts Croatia team will procure quads, for a unique adventure in Trogir`s hinterland. Opt for a thrilling ride in untouched nature and drive off into a spectacular sunset.
Only a 25-minute drive from your yacht charter in Trogir, you will find yourself near Malačka viewpoint, which provides an otherworldly sunset view over the 7 villages of Kaštela.
This viewpoint was built to honor the soldiers who died in the Homeland War, offering spectacular places to enjoy awesome panoramas of the Kozjak Mountain.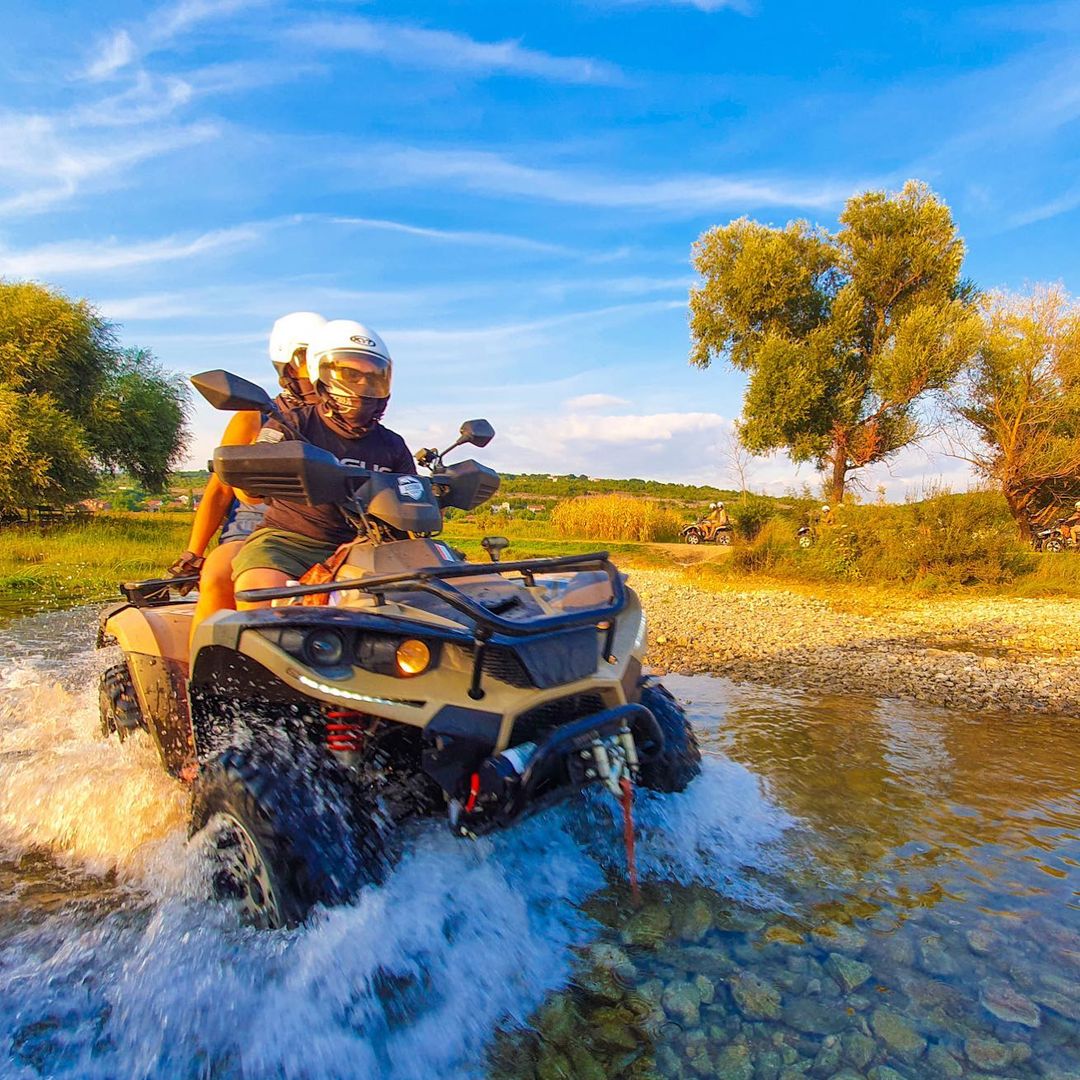 Enjoy pool parties in the luxurious Beach house by the sea
Visit the unique Brown Beach House, well-known for its vintage design and ravishing pool parties. Work on your tan, lounging on a floaty in the pool, and enjoy the ravishing terrace perfectly positioned just a few steps from the beach and surrounded by lush vegetation.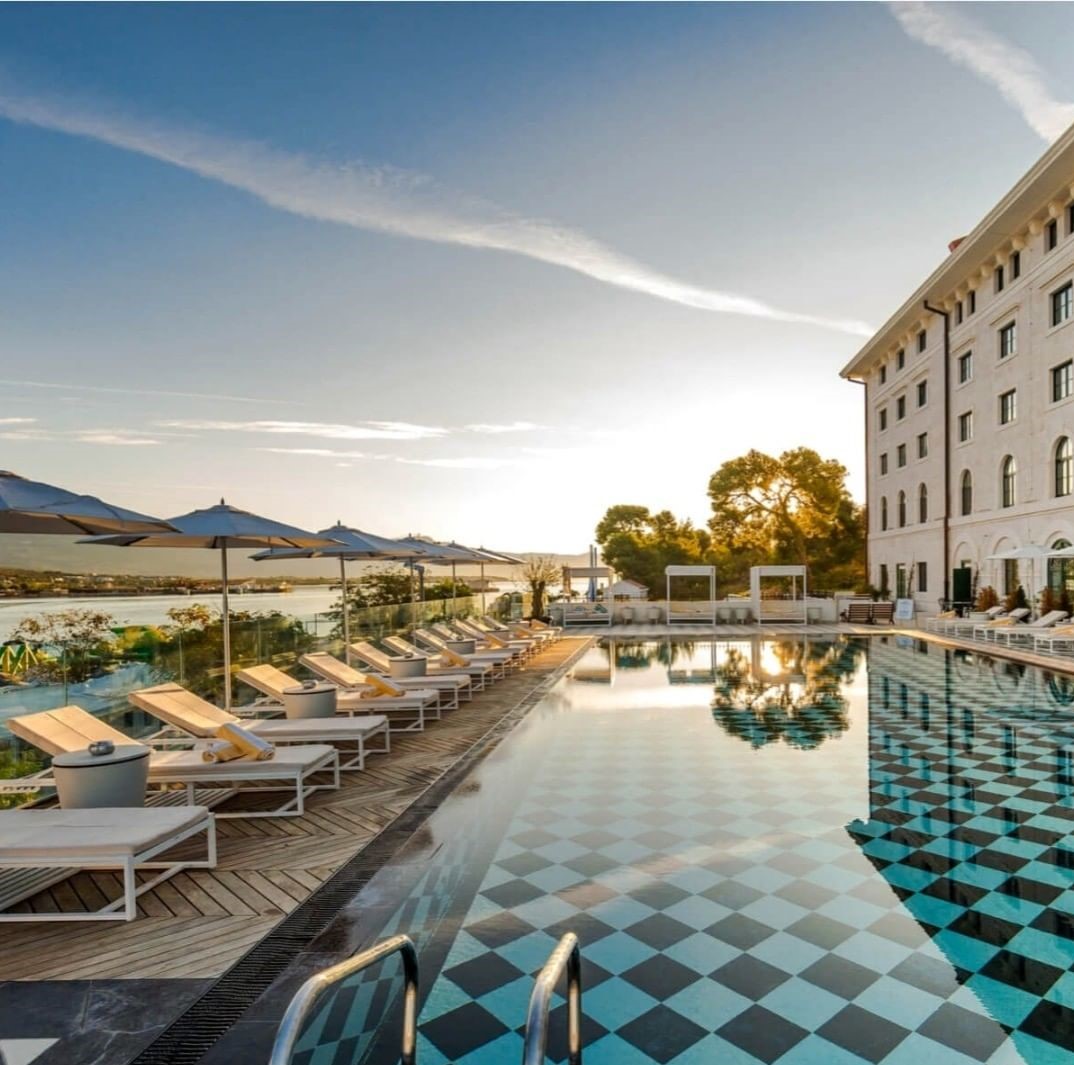 Relax and enjoy the DJ`s performance, perfectly complemented by a glass of champagne, while you mingle around the dancefloor in your swimsuit. The Brown House also offers great spa facilities and exquisite food in the restaurant, both needed to re-energize after an exhausting pool party.
Explore the untouched underwater world
Only a short 15-minute cruise stands between you and 15 remarkable diving spots near the southern side of Čiovo island.
Ask your yacht crew to prepare your gear and get ready to create unique memories on your yacht charter holiday. The SuperYachts Croatia team will make sure you have a personal scuba instructor at your disposal, as well as modern scuba gear.
These spots are one of the most beautiful diving locations in Central Dalmatia, but if you cruise near the island of Šolta, you will discover a special treat hidden underneath the turquoise sea.
Since the Island of Šolta used to be under military supervision, diving in this area was strictly prohibited. Due to that fact, Šolta is rich with marine flora and fauna, filled with majestic underwater cliffs overgrown with sea sponges, corals, gorgonians, and numerous schools of fish.
Apart from that, you can explore sea caves, shipwrecks and colourful underwater life.
ENJOY AN EXQUISITE FINE DINING EXPERIENCE ON YOUR YACHT CHARTER IN TROGIR
Konoba Trs is situated in the heart of Trogir, only a few steps away from your charter. Because it is a pedestrian zone, you can sit on the outdoor patio and enjoy the atmosphere of a delightful restaurant with a relaxing and unique ambience.
The charming atmosphere of Konoba Trs is well-paired with its incredibly efficient staff, and the superb quality of traditional food with a creative twist.
This family-run restaurant's culinary team will satisfy the palates of the most demanding gourmets, even with special dietary requirements.
Try out vegetarian-friendly dishes, or gluten-free and vegan meals true to local traditions and ingredients. Apart from that, you will discover that the portions are quite generous for the standards of Michelin restaurants.
Moreover, this rustic little tavern has a unique charm and decor. Sit back on wooden benches in the inviting courtyard shaded by grapevines or near the antique stone walls.
We recommend that you book a table in advance, or ask your local SuperYachts Croatia broker to book a table on your behalf.
Restaurant Don Dino is an exquisite restaurant that will most definitely give you an unforgettable fine-dining experience, only a few steps away from your yacht charter in Trogir.
Don Dino restaurant has a lovely decorated interior and picturesque outdoor terrace with an atmospheric location on a small piazza, right in the centre of Trogir Old Town.
The Restaurant's culinary team will deliver innovatively, mouth-watering dishes served straight to your table. We suggest trying out fresh fish dishes paired with excellent wines or a magnificent carpaccio with homemade pasta.
Save a spot for the spectacular desserts and homemade pastries. If you have special dietary requirements do not worry, you will get to enjoy carefully designed menus, and fresh, seasonal vegetarian-friendly, vegan and gluten-free dishes.
Restaurant and Bar Calebotta will charm you straight away with its prime location on the Piazza, the main square of Trogir's Old Town. This restaurant lets you enjoy a unique atmosphere and gives you a taste of the Mediterranean lifestyle.
There is also a cosy interior with modern decor and a hidden garden terrace in the back, where you can dine in a more intimate ambience.
Treat yourself to a unique fine dining experience and try out local delicacies made of fresh ingredients accompanied by a vast and high-quality wine list.
Moreover, this restaurant has first-class service and is the IT place for all yacht lovers eager to enjoy a unique fine-dining experience when chartering a yacht in Trogir.
OUR SUGGESTED SEVEN-DAY YACHT CHARTER IN TROGIR
As you board your yacht charter in Trogir, enjoy cruising the magical nearby islands. Along the way, you can stop in one of many secluded bays, ask your yacht crew to drop anchor and prepare for a day filled with fun and excitement on your luxurious superyacht. Keep reading to find out our favourite spots for a perfect seven-day cruise on your yacht charter in Trogir.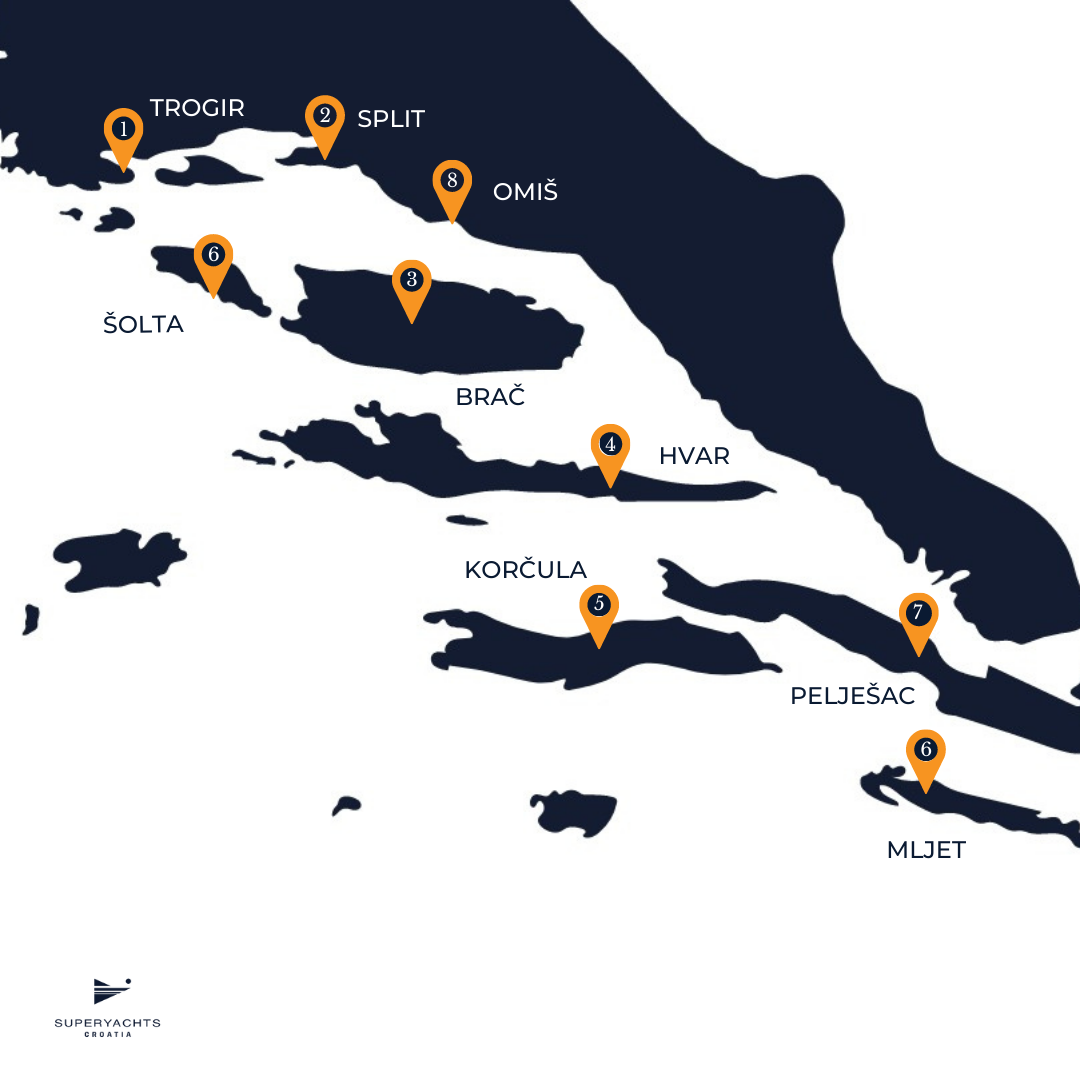 Day 1: Trogir – Čiovo island – city of Split
Start your yacht charter in Trogir, a medieval town frozen in time. You will get a chance to stroll through this town`s cobblestone streets and marvel at the fortifications or sacred architecture, before embarking on a unique charter experience in Croatia.
Once you board your yacht and meet the attentive charter crew, it is time to cruise to the nearby Čiovo island. If you are hungry, your Michelin-level chef will prepare some fast and tasty canapes, before it is time for lunch.
Arriving at Čiovo, you will be surprised by the unspoiled nature, as well as the clarity of the sea. Take this opportunity to finally take a refreshing dip in the turquoise Croatian Adriatic sea, fighting off the relentless summer heat. After cooling off, you could enjoy lunch on the sundeck of your yacht charter or head straight towards the nearby city of Split.
Being a regional centre, Split is so much more than a major traffic port; this settlement has a history that spans almost 2 millennia, offering much in terms of sights to see and experiences to take in.
The old core of Split consists of a Roman palace, built by the emperor Diocletian, as his summer getaway location; the beauty and the intricacy of the palace earned its place on the UNESCO World Heritage list.
After inspecting every detail of the palace, why not take a short walk through the Marjan forest park and enjoy an elevated panorama of the interior – you will also easily spot your yacht charter in the distance. Spend the night berthed in this awesome town and enjoy the lively evening atmosphere of a Croatian coastal city.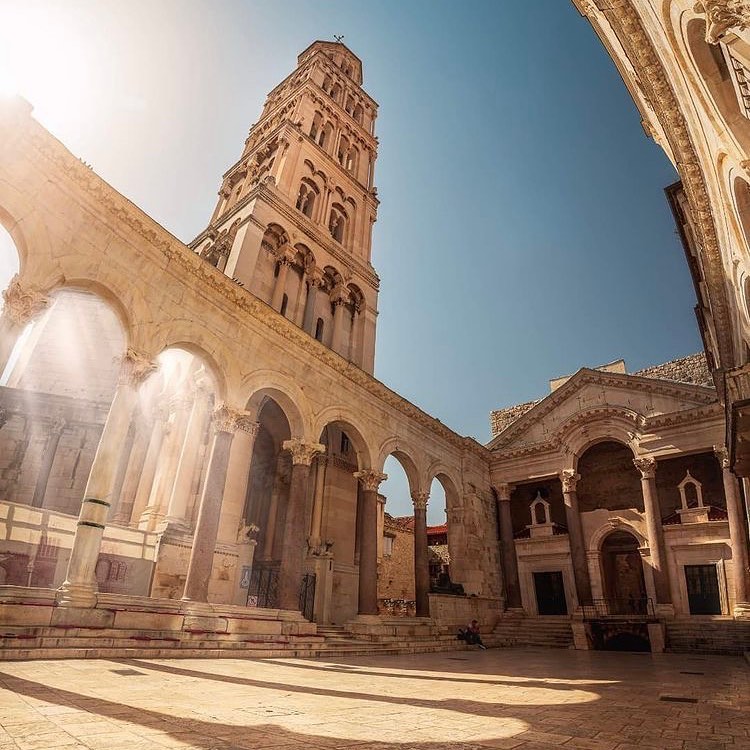 Day 2: City of Split – Brač island
After an alfresco breakfast, set a course towards the island of Brač, practically located right across Split. The cruise will be short and sweet, ending with a beautiful bay in which you will enjoy a clean and clear sea, alongside lush vegetation and sounds of sea breezes, waves and crickets.
Your dedicated yacht crew will launch all the water toys, so you can enjoy numerous options of having fun on the Croatian Adriatic sea: will you snorkel and dive, exploring the vast riches of the quiet seabed. Or will you enjoy an adrenaline-filled ride on jet skis or towables?
Either way, spend the first part of the day enjoying a typical Croatian summer atmosphere, before heading towards the town of Bol. This settlement is home to the most famous of all the Croatian beaches – Zlatni Rat – which protrudes more than 300 meters (500 ft) into the sea.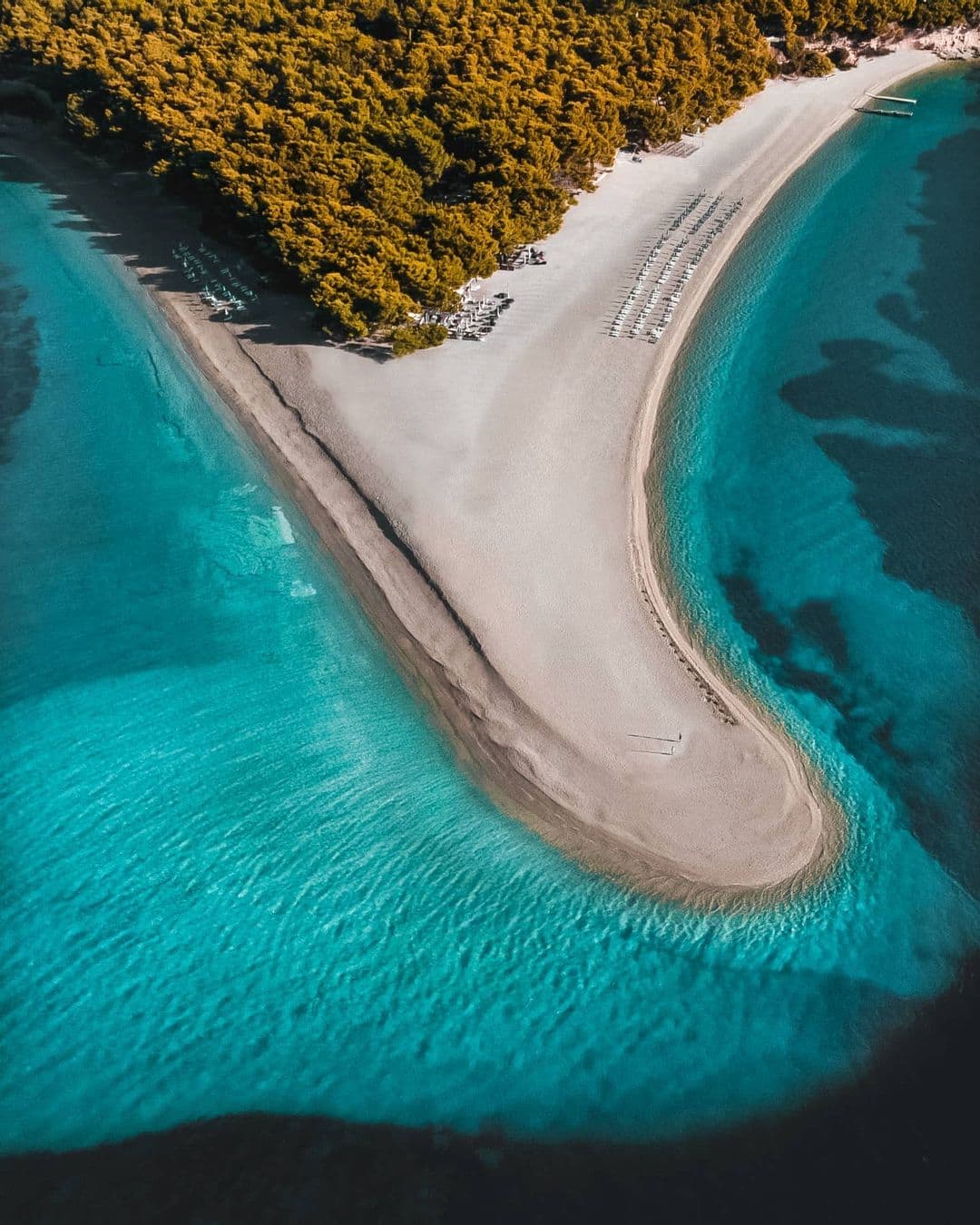 This beach is a natural phenomenon, because it constantly changes shape, depending entirely on wind and air currents. Enjoy the plethora of possible water sport activities that are more than welcomed around Zlatni Rat: inflatable water parks for kids, towables and jet skis for fun-filled rides or kayaks and SUP boards for a tranquil meditation amongst the waves.
After you have sufficiently enjoyed the beach, go on a biking adventure, exploring old forts and monasteries around Bol town, or retire to the air-conditioned cabins on your yacht charter and allow yourself an afternoon siesta. In the evening, one of the numerous private bays around the town of Bol could be your anchorage for the night.
Day 3: Island of Brač – Hvar island
Cruise to the island of Hvar, with an option of stopping underway and enjoying a swim on the island of Zečevo. This small isle offers numerous opportunities to enjoy the water toys at your yacht`s disposal, as well as take in beautiful natural scenery and crystal-clear waters.
Continue onward to Hvar island and anchor in a quaint fishing village of Jelsa. Here, you can enjoy a traditional Dalmatian lunch of freshly caught seafood, seasonal vegetables, massive amounts of olive oil and excellent local wines.
After you rest and digest, you might wish to explore Hvar`s medieval town of Stari Grad, the oldest settlement on the island. Known as Pharos in ancient Greek, Stari Grad is filled with cultural heritage, in the form of historic architecture like monuments, temples and churches.
Climb on top of the high walls and towers which command the entrance into this magnificent city and marvel at the beauty of the panorama, but also your yacht charter in the distance.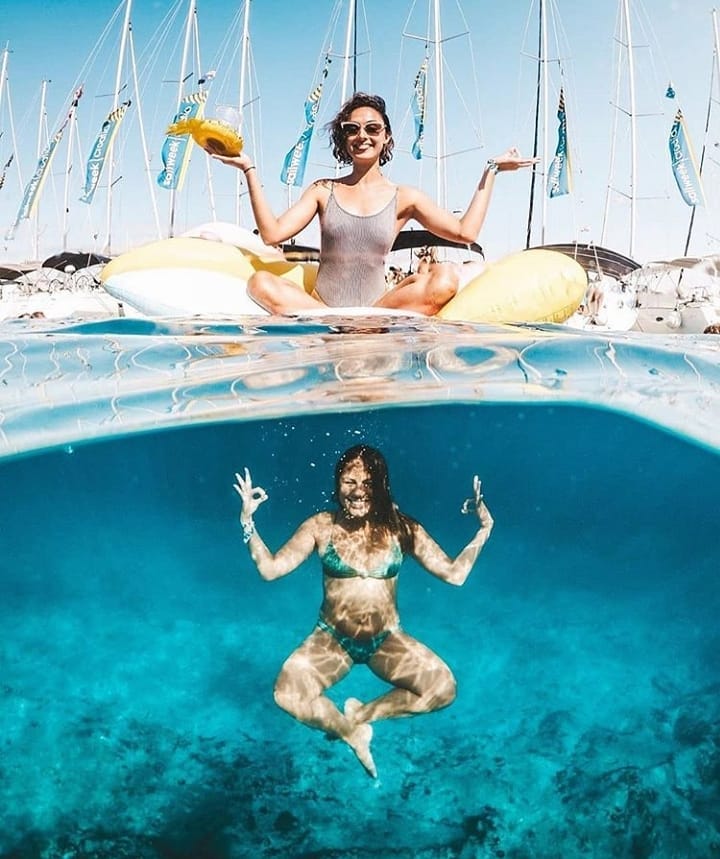 Day 4: Island of Hvar- Korčula island
After you spend a night anchored in Stari Grad, continue your journey towards the island`s centre, the city of Hvar. Cruising alongside the northwestern coast of the island, you will come across numerous coves which are ideal for snorkelling or kayaking.
Once you arrive in the town of Hvar, you could climb atop a small hill and witness the Španjola fort. Enjoy the spectacular vistas of the surrounding Pakleni archipelago, which could be your target for the afternoon.
If you decide to stop by the Pakleni islands,  you could experience truly untouched nature or cruise straight toward Korčula island, disembarking in the charming Korčula town. Known to possess one of the most well-preserved and beautiful historic old city cores in Dalmatia, this town will amaze you with its medieval architecture.
Often dubbed `Little Dubrovnik`, Korčula has many things to offer to casual sightseers, as well as history buffs. These include sites like medieval fortifications, churches, monasteries, palaces and buildings,  as well as the birthplace of Marco Polo, all made from fine white stone.
There are still even older remains, left by ancient Greek settlers, who first inhabited this beautiful island.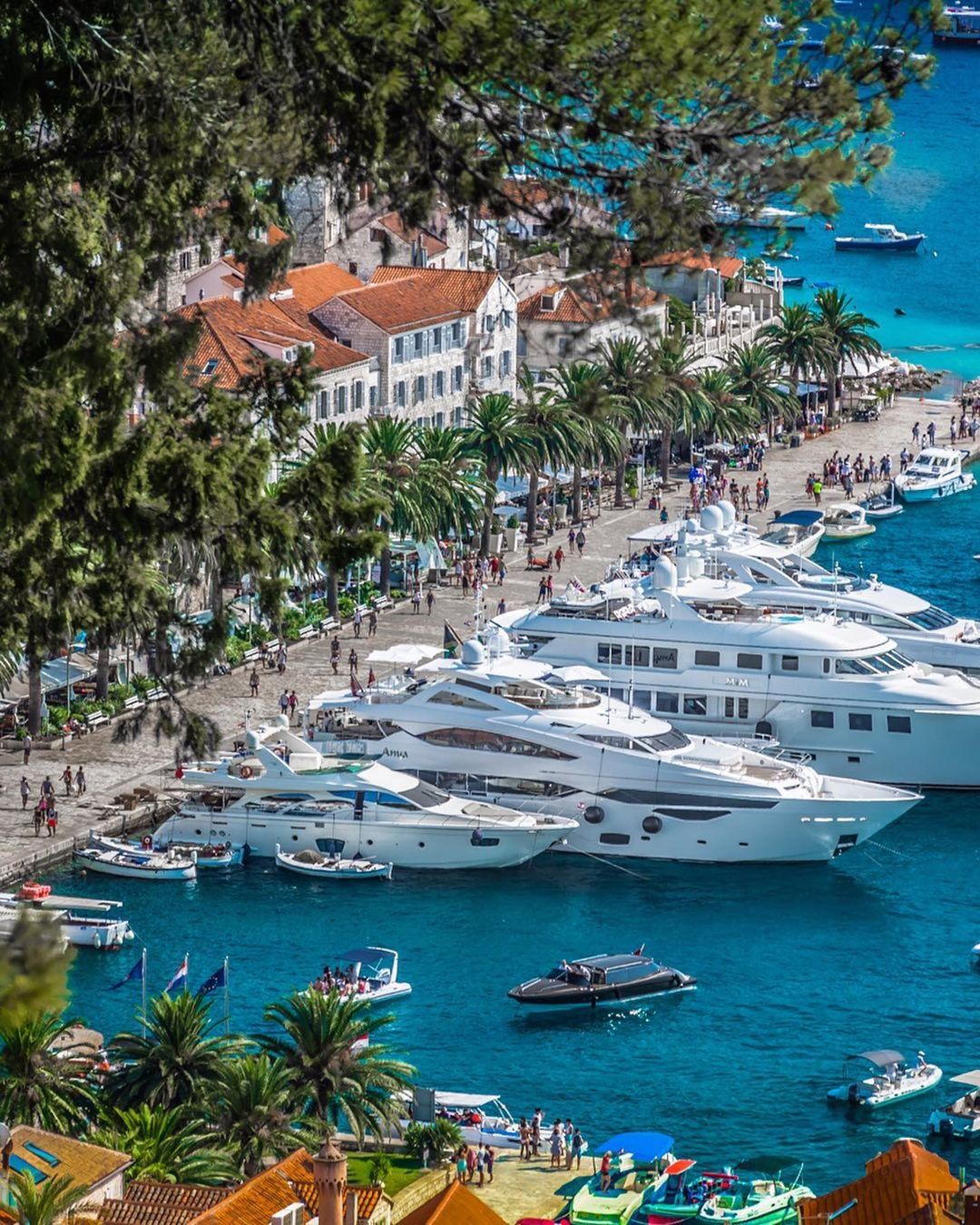 Day 5: Island of Korčula – Mljet island
Say goodbye to Korčula and set a course to the island of Mljet, one of the most stunning isles in the entire Croatian Adriatic sea. A large portion of this island was declared a National Park, which is best experienced by chartering a yacht and cruising along its coastline.
Once you spot the perfect piece of the shore, let your expert charter crew know, so they could launch water toys that will further aid in discovering more hidden secrets of this awesome island. Once you have sufficiently mapped the shoreline, it is time to venture into the interior.
Let the beauty of nature dazzle all your senses, as you stroll on hiking trails that criss-cross the surface of Mljet National Park. The coup de grace are two saltwater lakes; the centre of the bigger lake also hides a Franciscan monastery, which is easily reached by kayaks.
You can also swim in the lakes in more comfort than usual because the temperature is always several degrees hotter than in the open sea.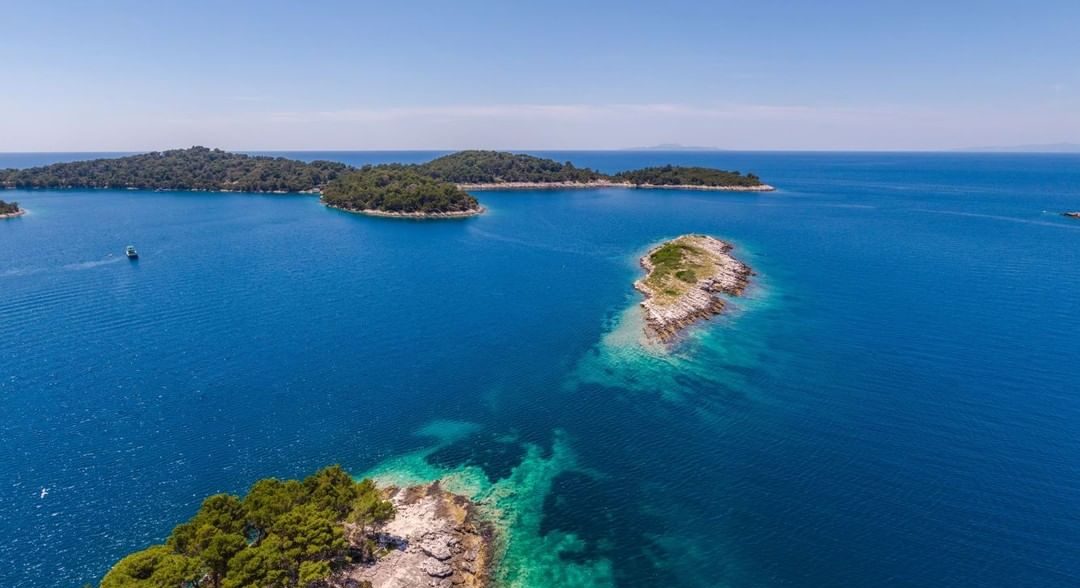 Day 6: Island of Mljet – Pelješac peninsula – Makarska Riviera
Leave the beauties of Mljet islands, cruising towards the picture-perfect coastal settlement of Orebić, located on the Pelješac peninsula.
Being the second biggest peninsula in Croatia, Pelješac is famous for its wine production, dishing out such exclusive sorts as Postup and Dingač. Be sure that a wine tour is obligatory if you are a wine lover; just ask your local charter crew and they will point out all the necessary stops, hire a private guide and take the role of the designated driver, so you can unwind and relax to the fullest.
Apart from wine, Orebić will also entice visitors with its beautiful locations, nestled beneath the St. Ilija hill. Enjoy lunch in a serene Mediterranean atmosphere, satisfying your appetite with dishes containing freshly- caught seafood, locally grown vegetables and, of course, plenty of wines to choose from.
As the sun begins to set, continue onward to the Makarska riviera, a perfect place for families with children. This is mostly due to long stretches of shallow pebbly beaches, equipped with all manners of kid-friendly beach amenities.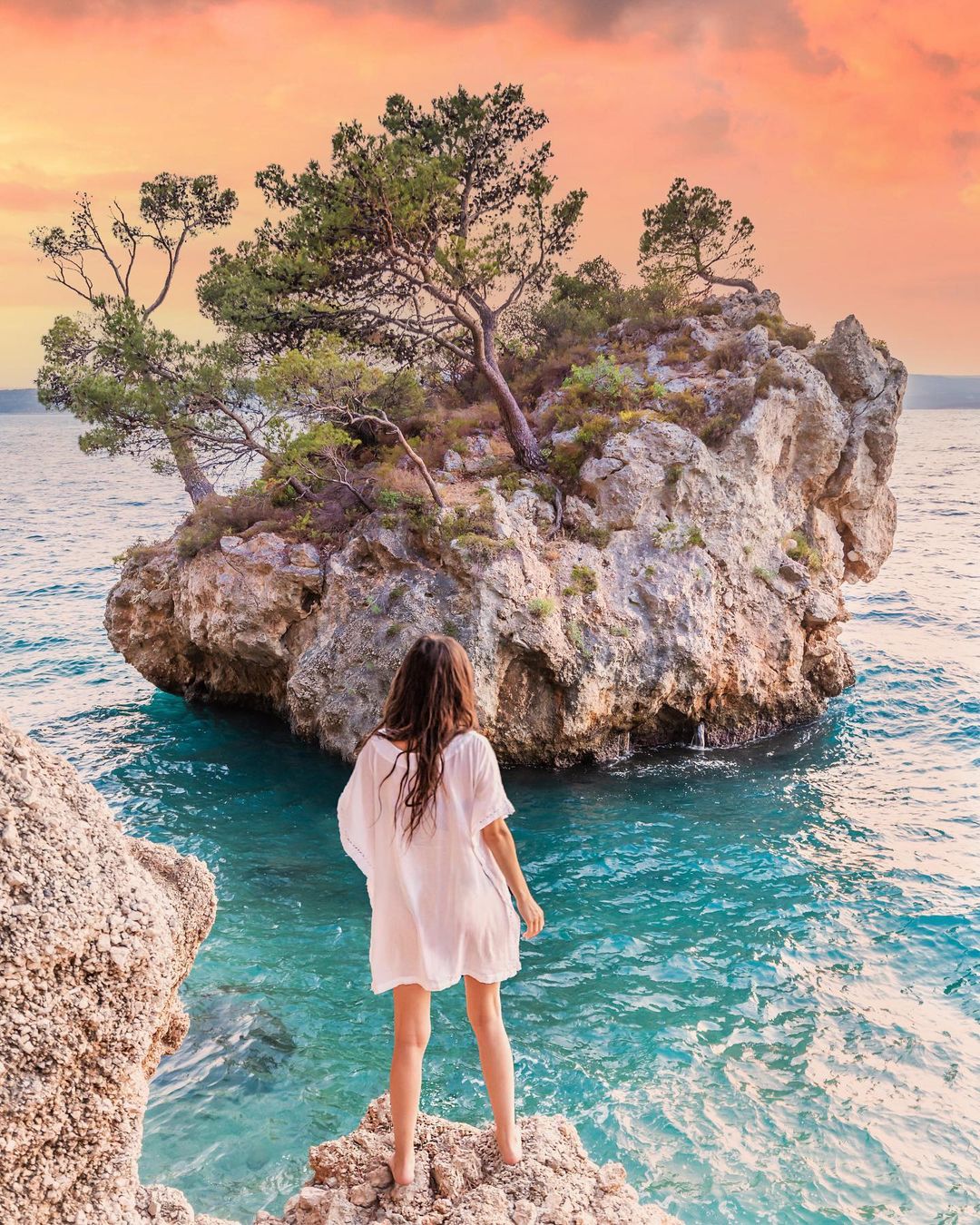 Day 7: Makarska Riviera- city of Omiš -Trogir
For the final day of your yacht charter holiday in Croatia, we have prepared something truly special. Cruise towards the small town of Omiš as you enjoy breakfast and be amazed at the beauty of the Cetina river delta.
Carved by the forces of Mother Nature using wind, salt and other geological influence, a canyon was formed, containing numerous interesting stone formations.
This area also contains incredibly clear water, high cliffs, waterfalls, lakes and lush vegetation of all kinds. Cruise straight through the canyon as you enjoy an incredible atmosphere to go with your lunch.
Once you arrive at the end of the road, prepare for a unique experience – rafting on the Cetina river. Adrenaline and excitement are guaranteed for those with strong stomachs, but for guests who do not want to participate, a stroll through Omiš and relaxing in one of the cafes in the old core will do just fine.
After rafting, cruise with your yacht charter to Trogir, and enjoy the final hours of an unforgettable yacht charter holiday in Croatia.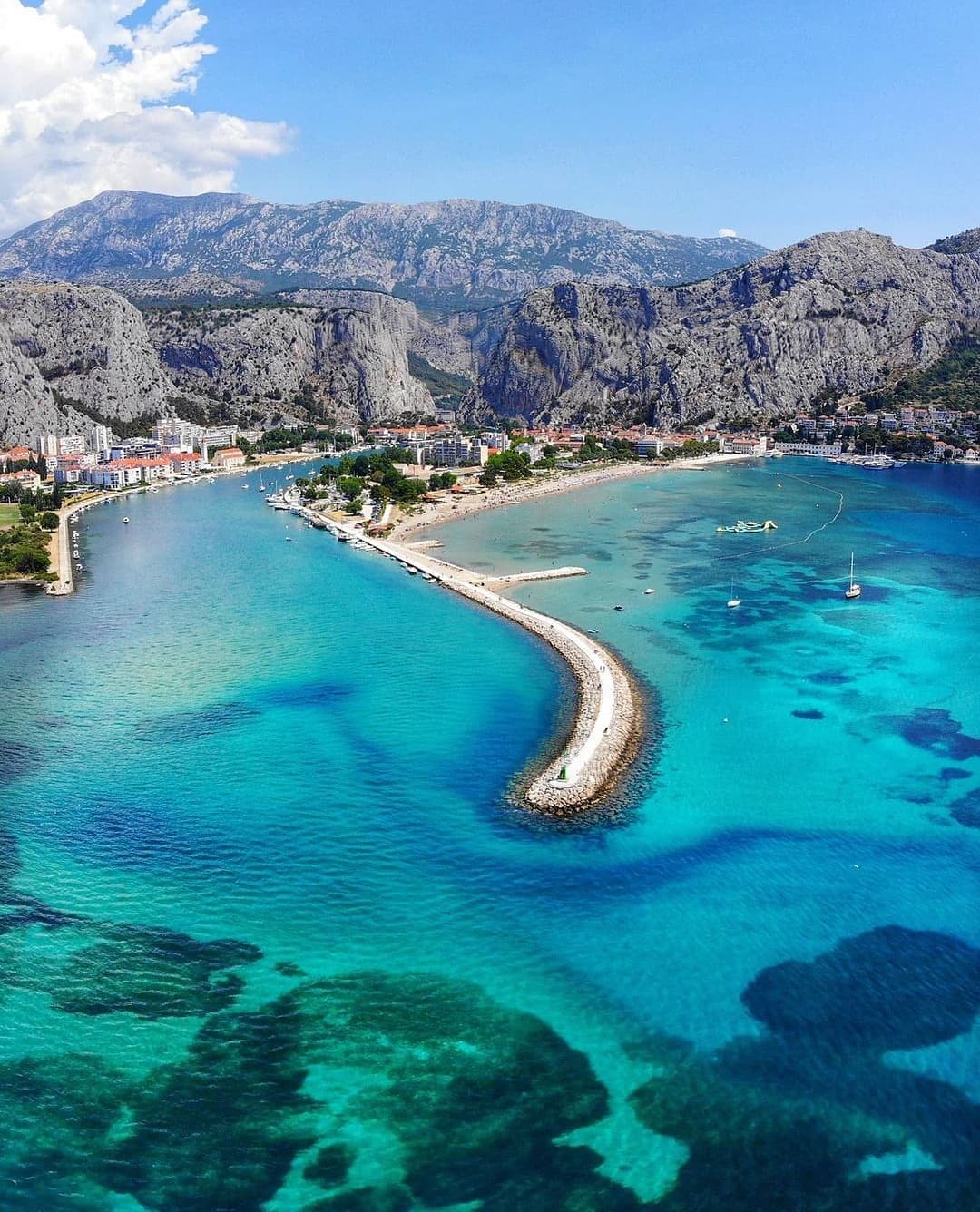 TOP ANCHORAGES AND MARINAS FOR YOUR YACHT CHARTER IN TROGIR
During your yacht charter in Trogir, be sure you will be greeted by the finest and modern marina facilities to berth your yacht charter, as well as beautiful and private anchorages, in the form of secluded bays and hidden coves.
ACI Marina Trogir is located on the island of Čiovo, right across the ancient city core of Trogir, separated by a narrow channel. One of the most luxurious marinas in the Croatian Adriatic sea, ACI Marina Trogir also entices charterers with the vicinity of many wild beaches and bays on the nearby Čiovo island.
If you choose to berth your yacht charter in Trogir you could have the best of both worlds – the fabulous sightseeing options in Trogir, also known as the `City Museum` and the fantastic privacy in Čiovo.
You can also berth in the fabulous ACI Marina Split and be amazed at the combination of ancient Split palaces, clear sea and modern marina amenities. Nestled between two small sailboat clubs, the Split marina holds and nurtures a long maritime tradition, which is immediately noticeable in the performance of your local charter crew.
Among multiple awards, ACI Marina Split was proclaimed "The Best Medium Marina" two years in a row, as well as awarded a Blue Flag certification, recognizing the cleanliness of beaches and shorelines.
Located at the tip of the southeastern part of Milna bay, ACI marina Milna will attract charterers with the crystal-clear sea, appetizing local food and ideal conditions for either snorkelling or scuba-diving.
Jump into the turquoise sea and experience firsthand the unbelievable diversity of the Croatian Adriatic seabed or ask your expert charter crew to prepare cocktails and canapes for a chill session on the sundeck of your yacht charter.
Stračinska bay on Šolta island harbours incredible views, as well as stunning sights of natural beauty, and it is an ideal place for escaping crowded marinas and anchorages, and dropping your anchor where peace and privacy reign supreme.
Saving the best for last, the Blue Lagoon anchorage on Drvenik Veli island is a perfect choice for yacht charter guests who want to enjoy an impeccable atmosphere of the turquoise sea combined with bustling green vegetation.
Experience the incredible natural arrangement which made bringing the Caribbean into the Adriatic possible.
THINGS YOU DIDN'T KNOW ABOUT TROGIR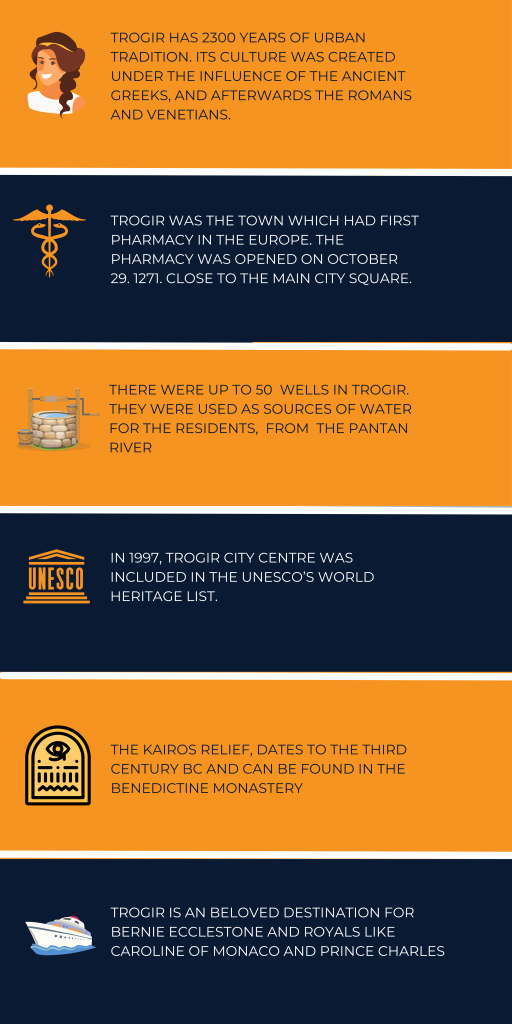 WHY CHARTER IN TROGIR WITH SUPERYACHTS CROATIA?
A yacht charter in Trogir can be a truly memorable experience, especially when you have a team of local experts available 24/7 at your disposal. We will show you all the best spots, take you to the best restaurants, and ensure you enjoy your yacht charter vacation to the fullest.
From VIP transfers, best seats in the bars and restaurants to arranging an entire fortress for your special occasions – you can rely that your Super Yachts Croatia broke, that will make sure you live through unforgettable charter experiences on your yacht charter in Trogir.
Charter Yachts
We present to you the best selling yachts for charter in 2021. Slide through these different yachts, ranging from 20 to 80 meters in length, and choose the best option for you. If you have any questions regarding yacht charter, destinations & yacht support, contact us.
VIEW ALL CHARTER YACHTS
VIEW ALL CHARTER YACHTS