7X Catamaran Yacht - Superyacht With a Taste of Royalty
When you hear the term superyacht you imagine a yacht exclusively for royalty or celebrities, and then out of nowhere Sunreef yacht builder comes up with a brand new luxury private superyacht called 7X and impresses the whole yacht charter industry. This Sunreef gem is not a motor yacht, it is a luxury crewed catamaran that cruises the Croatian sea.
This luxury 7X catamaran yacht accommodates 8 people in 4 modern and stylish cabins which are all ensuite. The main salon is a beating heart of this beauty as it is certainly a place for gathering and entertainment with enormous windows that provide lots of natural light.
The outside area is filled with features such as a vivid lounge area with sun pads, a bar for your pleasure, and a barbecue to enjoy an amazing Croatian meal, while two dining tables offer a stunning place for enjoying a luxurious view over the Adriatic coast. Other than the relaxing areas, this luxury yacht offers a variety of water toys that can be enjoyed throughout the secluded bays and open sea in Croatia. This superyacht is truly a gem made for pleasure, enjoyment, relaxation, and adventure.
YACHT CHARTER ACCOMODATION
Yacht details.
Guests:

8
Cabins:
4
Yacht Length:
25 meters / 80 feet
Yacht cabins layout:
4x Double
Total living area:
340 sq.m / 3.659 sq.ft
Yacht exterior area:
142 sq.m / 1.528 sq.ft
Yacht interior area:
198 sq.m / 2.131 sq.ft
Types of Cabins on This Yacht:
1x Master Suite + 3x VIP Stateroom
Bed Configuration & Size:
1x King + 3x Queen
Yacht Interior Guest Areas:
Spacious Main Salon Area · Main Deck Dining Table for Eight Guests · Galley Area with a Bar · Four Private Cabins
Yacht Exterior Guest Areas:
Aft Deck Alfresco Dining Table with a Wet Bar · Front Deck Sunbathing Area & Yacht Trampoline · Flybridge with an Alfresco Dining Table & Bar
TOP 10 YACHT CHARTER FEATURES
Yacht highlights.
1
Modern & Vibrant Interior With Lots of Natural Light
2
Large Four Cabins For Eight Guests Including a Spacious Master Suite
3
Welcoming Crew With Experience
4
Spacious Master Suite With an Office & Additional Seating
5
Enormous Outdoor Space With Lots of Different Features
6
340 sq.m (3.659 sq.ft) of Total Living Area
7
Wide Selection of Water Toys
8
Outdoor Area Perfect for Relaxation & Entertainment
9
2 Electric Bicycles Onboard
10
11m Slinger Chase Tender
YACHT PHOTO & VIDEO GALLERY
Charter Moments.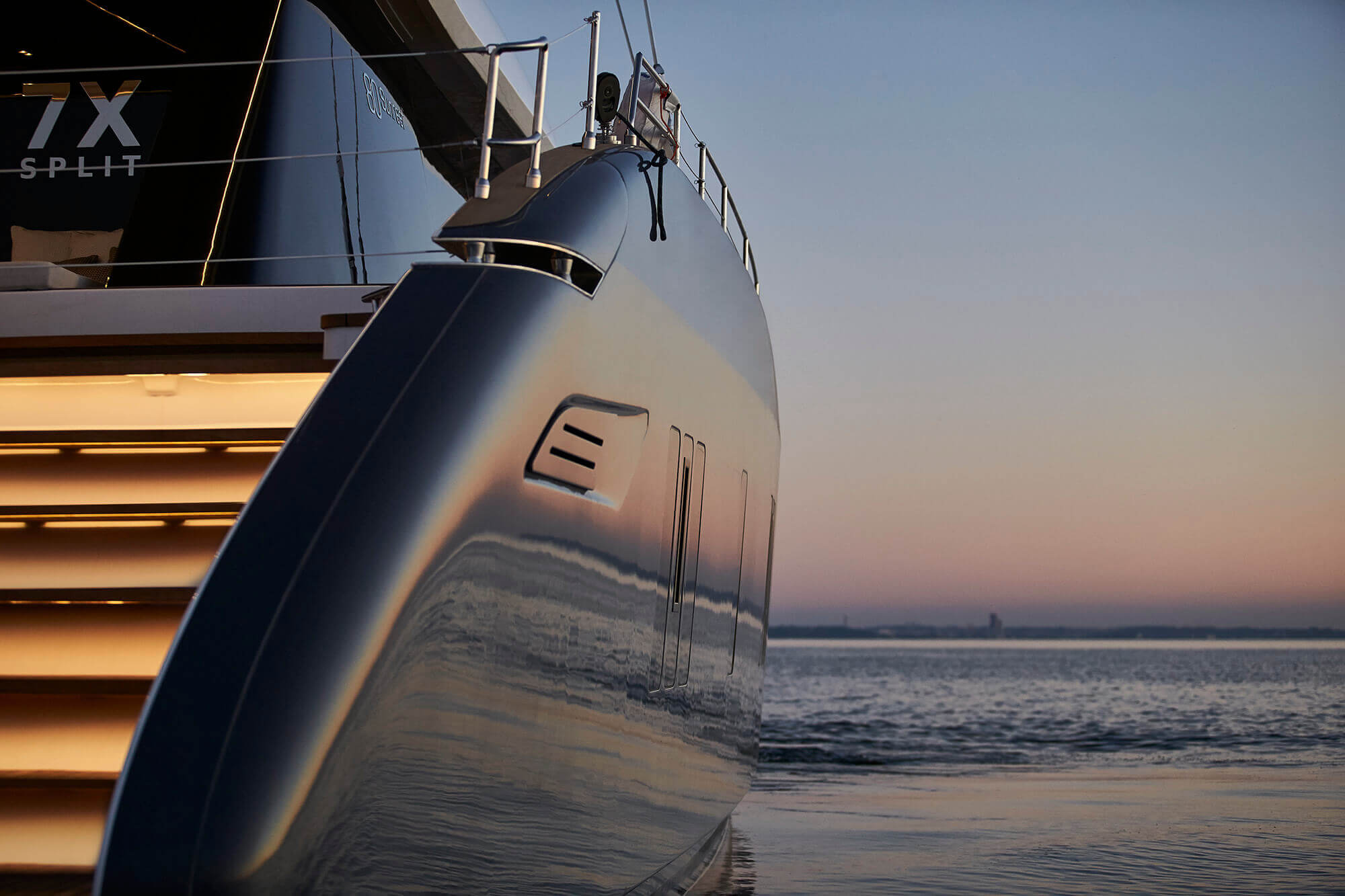 YACHT CHARTER SPECIFICATIONS
Particularities.
GENERAL INFORMATION
Length: 24.40 meters (80.10 ft)
Beam: 11.54 meters (37.10 ft)
Year Built: 2018
Year of last refit:
Yacht Builder: Sunreef
Main Engines: 2x 280 HP
Maximum Speed: 13 knots
Cruising Speed: 10 knots
Fuel Consump. Engines: 60 l/hour*
Generator Engines: 19 kVA
Fuel Consump. Generators: 4.8 l/hour*
Stabilisers: None
*Highly dependent on sea conditions
LIST OF AMENITIES
All Decks Modern Sound System · All Suites with Private Entertainment Centres – LCD TV · All decks Air Conditioning · Outdoors & Indoors Wi-Fi On Board · Sun Deck Private Bar & BBQ · Upper Deck Al-Fresco Lounge
WATER SPORTS & TOYS
3x SUP Inflatable Paddleboards
2x Electric Bicycles Plus 1x Standard Bicycle
2x Inflatable Tubes
1x Kneeboard
8x Snorkeling Gear
1x Fishing Gear
1x Water Skies Plus Wake board
2x Sea Scooter
2x Seabob
TENDER VESSELS
Williams 520, 5.2m Tender (Included)
Axopar 37, 12.5m Chase Boat (Optional)
FULL YACHT CHARTER REVIEW
Inspected by Us.
Use the full potential of the 7X catamaran yacht and have the best of both worlds, when enjoying your Croatian charter holiday. Experience the sensation of sailing, while also utilizing the enormous quantity of living space on 7X. Let your local Superyachts Croatia broker fill you in on all the advantages of a sailing catamaran like 7X. A super catamaran built for luxury charter purposes, 7X can easily accommodate 8 guests in 4 double cabins, with an able-bodied crew of 3.
This means that you will get a much more private and intimate atmosphere than on monohulls, because of the number of crew onboard, but without sacrificing much in terms of a luxury experience. The decor and design of 7X communicate stylishness, with ample living space; precisely, more than 330 square meters of it (3660 square feet).
Launched in 2018, 7X catamaran yacht was designed to be charter-oriented, incorporating a large selection of water toys and an 11-meter Silinger Chase Tender. These toys include but are not limited to water-skis, paddleboards, kneeboards, wakeboards, jet skis, lots of inflatables and plenty of diving and snorkelling equipment. All the rigging is done so 7X could sail with minimal effort, thanks to hydraulic sails.
The space aboard is ever-expanding, with a stunningly spacious saloon, continuing to the bow terrace on the main deck. When it comes down to technical details, the best thing about any catamaran is its width and 7X is no exception. Boasting absolutely enormous amounts of space, 7X delivers what every twin hull should – vast amounts of living areas that will suit large parties or intimate gatherings in a glamourous atmosphere.
Designed and built by Sunreef, 7X catamaran yacht definitely has an advantage over monohulls, when it comes to the sheer amount of special volume available for charter guests. Because of this, it is no wonder that nearly 80% of 24-meter Sunreefs end up as charter vessels, thanks to their family-friendly specifications. If you would like to know more about the sailing experience aboard 7X, please keep reading…
There is a clear distinction between motor yachts and sailing yachts, more precisely, sailing catamarans. The sensation of wind in your hair, not just gliding thorough, but actually propelling you and your vessel further and further into the horizon – this is the true definition of freedom under sail. Getting in touch with nature stops being just a regular phrase aboard 7X catamaran yacht and starts being your reality.
Harnessing the power of the wind has a certain magic to it; free energy, flowing through all living things, captured in your sail and used to drive your need for adventure and excitement. After all, it was not that long ago that sea vessels used to rely only on wind power, and some of that "old spirit" is alive and well aboard 7X. Catamarans offer a different cruising experience than monohulls: the notion of width contributes to the overall feeling of unlimited movement.
This gives the impression that 7X can move in all directions at once, like a mighty queen in a perpetual game of sea chess.
A DAY ON THE YACHT
Waking up on a twinhull will forever change your perception of what it means to experience relaxation. Every cabin on 7X catamaran yacht is placed so that all guests could experience absolute silence, with minimal intruding noise and vibrations. In a blissful state of rest and peace of mind, you could enjoy breakfast in one of many possible places: on the bow terrace overlooking your charter course, in the alfresco aft main deck, in the salon or on the flybridge.
When it comes to the breakfast menu, you can expect a typical buffet, consisting of dishes like granola, fruits, vegetables and pastry, with meats, cheeses and olives served on platters. To drink, choose from smoothies, milkshakes, coffee, tea and plant or dairy milk. After a wonderful and fulfilling breakfast, you can start planning for the day, asking your crew for advice about points of interest alongside the Croatian coastline.
If you choose to heed the advice of your crew, in no time at all will you find yourself experiencing things you cannot read online or in tourist guides:
You will get to know beautiful stretches of shoreline you would normally ignore or miss out on.
Your crew will gladly reveal hidden sandy beaches, protected from those who don't know their exact location
Choose to discover wonderful coves, covered by pine and cypress shade, totally empty and completely private.
All of this could be yours to enjoy in total privacy…
On the other hand, you could choose to ignore native advice and local attractions, just going with your instincts when deciding what to do in the afternoon. You could choose to play watersports with your charter party, or let your children have fun under the sun while you relax on the flybridge.
Whatever you choose, lunch will surely come as a well-deserved respite. Enjoy wonderful dishes like chicken kebabs with rosemary and garlic-fried potatoes or rice and shrimp balls, with a side of steam-cooked cauliflower in an onion-butter reduction sauce. After lunch, truly enjoy the fact that you do not have to rush anywhere – have an after-meal siesta, preparing for the excitements that await in the afternoon.
Totally rested and prepared, tell your crew to break out the snorkelling gear, so you could enjoy all the vast underwater treasures of the Adriatic. Scan the seabed for seashells or sea urchins and enjoy the unbelievable cleanliness of the Adriatic Sea. You will feel comfortable in the warm sea as you free dive or snorkel around the incredibly clean waters. Feel safe knowing that your crew watches over your security while you snorkel or dive.
Ask your charter party to join in on the fun and have a little competition: the person who manages to collect the most seashells of a certain type, gets to dictate the theme of your next dinner party, while the loser has to wear a chicken costume to dinner. Be prepared for lots of fun and laughter, for your dedicated yacht crew will make sure everything goes according to plan. Slowly return to 7X catamaran yacht as the sun sets over the horizon.
Enjoy a wonderfully prepared alfresco dining experience on the aft main deck, feasting on tenderloin tournedos Wellington with carrot and aubergine puree or chicken strips with pea puree, green onions and sweet potato mash.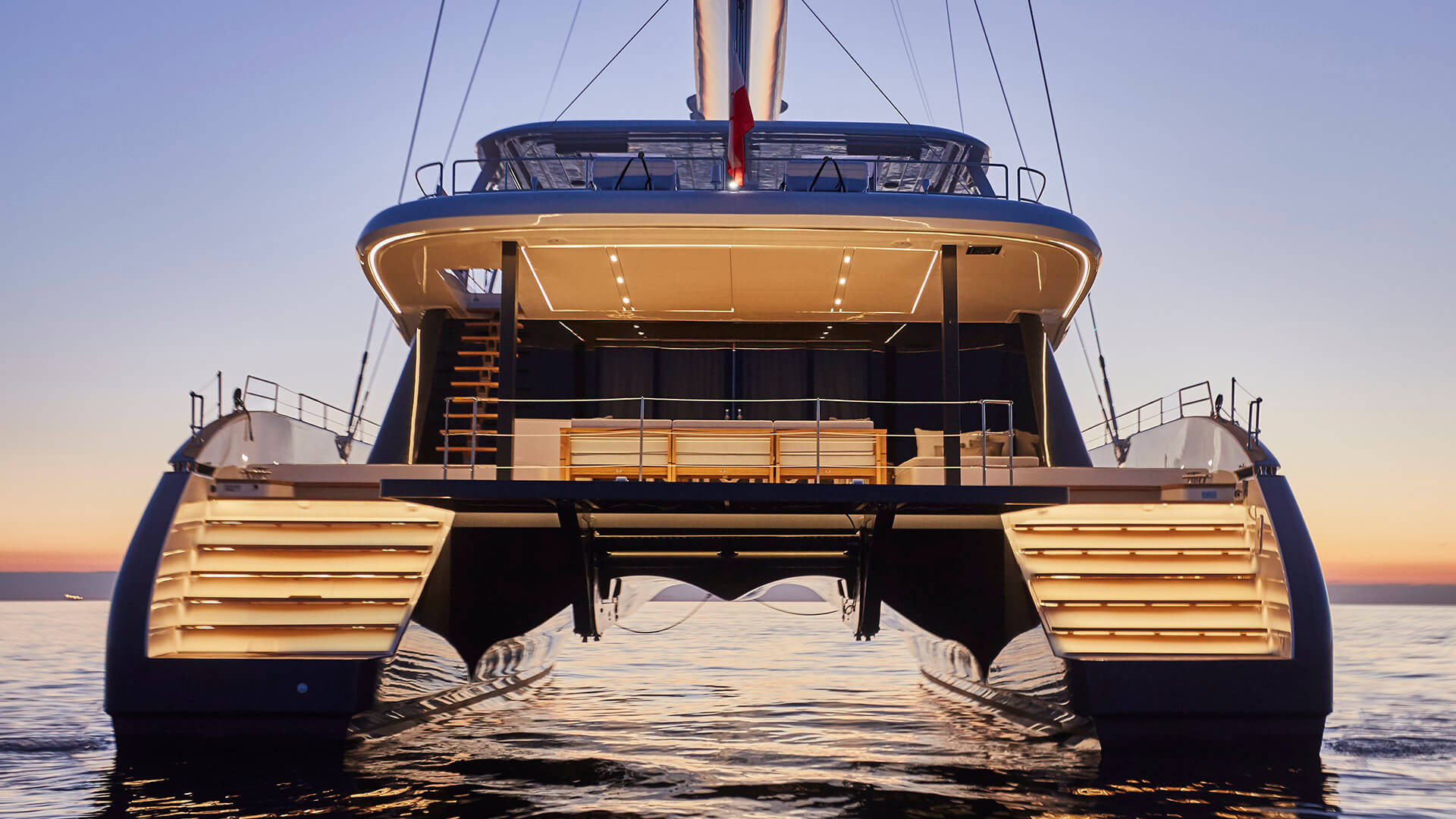 YACHT CHARTER DINING
One thing is certain for any luxury charter vacation: every guest will be served only the best and most exquisite food a Michelin-level chef could prepare. You will have a choice between a wide range of dishes and cuisine, like mustard-crusted boneless prime rib roast with cream sauce and salted caramel pots de crème for dessert.
Satisfy the gastronomic curiosity of your charter party with dishes such as seared scallops with mint, peas, and bacon with pomegranate pavlova with pistachios and honey for dessert. Stick to your preferred diet or ask your chef to prepare authentic Croatian cuisine, not served in regular restaurants, but recognized in the local community.
Try catching your meal, either by fishing or by scavenging the coast. Catch sea urchins, a type of crustacean living in the sea and serving as an indication of the cleanliness of the water. Collect enough of them and so your chef could prepare a pâté, to go as a snack before dinner – you will be amazed at how good sea urchins taste if prepared by a Michelin level chef on board your luxury yacht charter.
Or you could try your luck at some old-fashioned fishing. Ask your crew for advice and in no time at all will you be eating your first-holiday catch. Seasoned sea wolves and fishermen always swear by the fact that the tastiest fish is the one you catch yourself.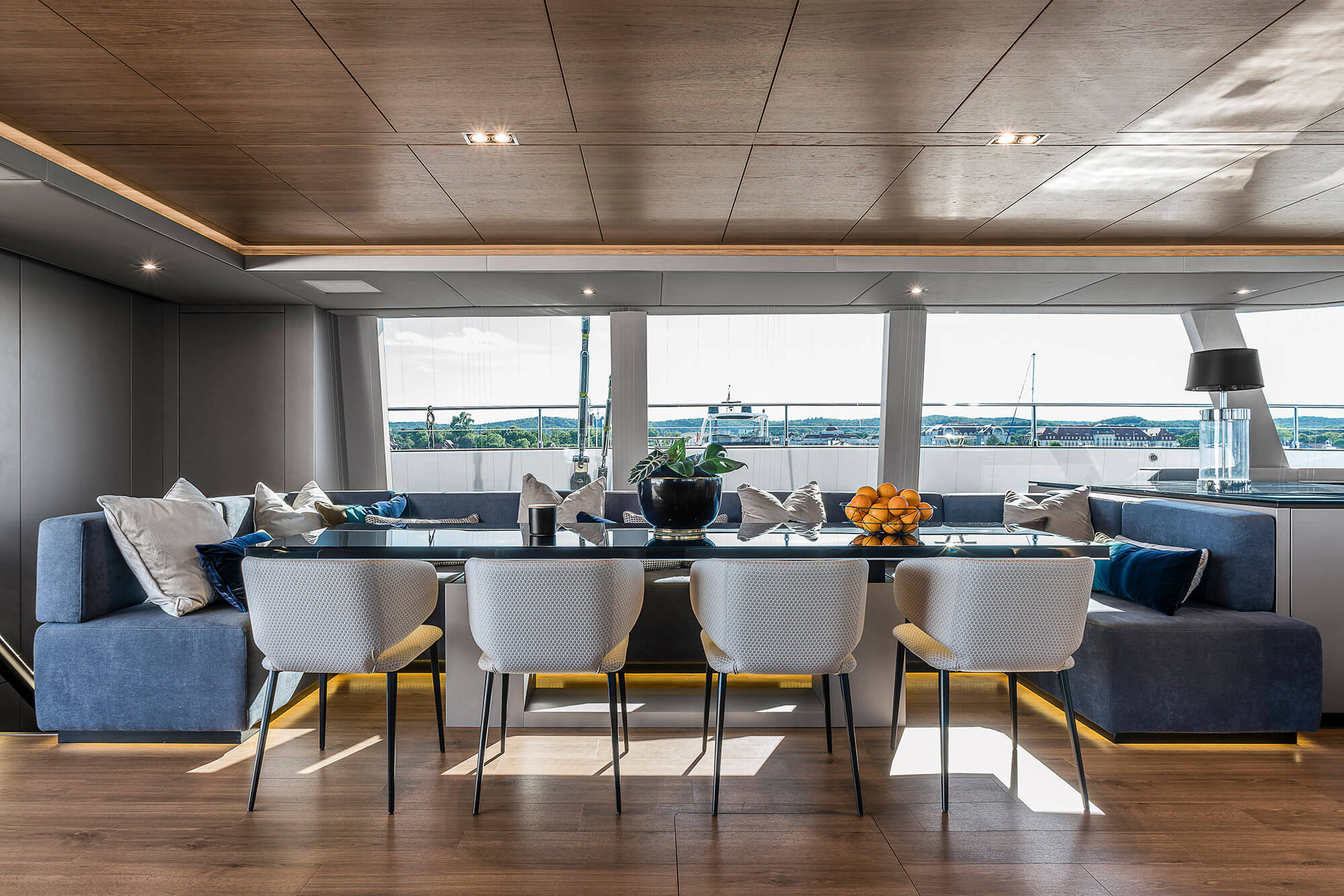 YACHT MAIN DECK
A mega catamaran, 7X`s forward alfresco deck is 11.5 meters wide, enough to play a game of Frisbee or badminton. 7X`s twin hull, coupled together with a riseable swimming platform creates a huge supply of extra space, enabling an absolutely massive main deck aft alfresco area, wide enough to be considered a dance floor.
The bow lounge area is great either for sunbathing or socialising. Providing even more lounging and sunbathing options, the bow trampolines are tight but comfortable to sit or stand on. Families that charter 7X catamaran yacht find that the kids sometimes love bouncing on the trampolines even more than playing with water toys.
The lounge table in front of the salon wheelhouse has integrated pop-up lighting, a very practical feature for gatherings in the evening. Integrated in the hulls, the bow of 7X also contains masses of storage space, needed for keeping the deck tidy and clean. The width of the exterior walkways on either port of the starboard side aboard 7X catamaran yacht easily beats any motor yacht of the same length. Centred around the aft alfresco main deck is a reversible backward bench, providing more flexibility with seating arrangements and an extendable coffee table
Yacht charter accommodation: main salon & dining area
The salon is absolutely huge and both the starboard and port sides of the lounge area are excellently lighted, thanks to large hull windows behind it. Big glass surfaces all around the saloon provide great visibility, while also adding plenty of daylight in the salon. Relax and unwind in the interior while enjoying beautiful views and panoramas or the Croatian Adriatic Sea.
YACHT UPPER DECK
The climb to the upper deck starts with a weather door on both sides of the twin hulls, ensuring that any bad weather stops in its tracks when it reaches the seal-proof gate. A great feature is the wide sun pads smartly integrated into the L-shaped sofa, surrounding the dining table.
This design allows guests to lie down right after eating, favouring the old Roman way of relaxing after a meal. If by any chance there is a magnificent sunset happening on the stern, and the guests are sitting towards the bow, just one turn and guests can enjoy a truly spectacular Adriatic sunset.
Containing a bar with an ice maker and a fridge, the upper deck entertainment area is always a good choice for fun times and beautiful panoramas. Ask your stewardess to prepare drinks on the upper deck, so you could enjoy the sailing life with your favourite drink in hand.
The twin helm stations on the flybridge are equipped with all the high-tech gear needed for an easy and relaxed sailing experience, but also guaranteeing redundancy in case of any emergency. The best thing about any catamaran is that there is double of everything – even engines and helm stations.
YACHT LOWER DECK
The lower deck design of 7X catamaran yacht is a real show-stopper, with modern décor that includes grey panelling, black-ish leather and chic design.
Yacht Charter Accommodation: double cabins
When it comes down to the layout, the three lower deck double cabins are mostly mirror images of one another, with the exception of the master stateroom, which is more spacious and more luxuriously furnished.
The cabins aboard 7x catamaran yacht all feature wide and low beds, with tons of storage in form of drawers, wardrobes and cabinets, all hidden from sight and tucked away neatly, to create a smooth and levelled atmosphere throughout the lower deck.
Every cabin has its own ensuite, generously spaced and equipped with a separate shower, a sink and a head. The thickness of the doors and walls provide great sound isolation between staterooms, guaranteeing a good night's sleep for all guests.
The integrated lighting really complements the daylight coming in from ceiling hatches and hull windows in all cabins. Guests are sure to appreciate the fine craftsmanship that went into the creation of the lower deck cabins aboard 7X catamaran yacht. The chic and contemporary design of 7X`s lower deck cabins will make guests feel at home, but also surrounded with luxury and style.
Yacht Charter Accommodation: the master cabin
It is good to know that, for a family charter, the master stateroom can extend its range by incorporating the front cabin as a sort-of-a kid room, so parents can be closer to their youngest, without the need to walk around the vessel and cabins.
The master features an elongated layout, with the king-sized berth being positioned directly in front of the huge hull windows, so guests have an incredible view to wake up to every morning. A sofa next to the berth allows guests to relax in the master with their favourite summer read or just rest a bit before returning to an exciting itinerary of 7X catamaran yacht.
The walls and ceiling are covered with grey leather panels that go great with rugged wood frames and azure sheets. All the cabinetry is hip-high, so you always have an unobstructed view. There is also a vanity table located near the sofa, a perfect place to fix your appearance before an alfresco dining experience aboard 7X catamaran yacht.
YACHT BEACH CLUB & SWIMMING PLATFORM
The most notable feature of 7X`s beach club is the massive tender lift which doubles as a submersible swimming platform. Once this lift is down, you can fold out the leaves on each side and make a total extension between the sugar scoops, creating an absolutely massive beach club. This makes using water toys on 7x very fun and practical, while also giving guests an extra possibility of experiencing this wonderful catamaran by observing it from below.
When the hydraulic swimming platform is in position above the water's edge, you can use this incredibly wide space for a number of fun and attractive purposes. Sunbathe or relax on comfortable cushions, while your dedicated crew serve your favourite drinks with tons of ice. Read a book under the shade of a bimini and converse with the members of your charter party who decided to have fun with some of 7X`s water toys.
You can spend most of your charter time just by relaxing on the hydraulic swimming platform on 7X yacht charter – there is no pressure to do anything more than hailing a member of your diligent yacht crew for more cocktails or champagne.
YACHT WATER TOYS & WATER SPORTS
There are a lot of water toys on 7x yacht charter. Paddleboards, water skis, wakeboards, kneeboards, jet skis – all of which will provide tons of thrilling rides in your private piece of Adriatic paradise.
There are also inflatables and diving equipment, aimed at satisfying different tastes in having fun on the water. Discover a new meaning of the phrase "getting to know your boat" as you pass beneath 7X with jet-skis. You could also try paddling between the hulls of 7X catamaran yacht, surprising and waving to your charter party as they relax on the trampolines on the bow.
Let your crew set up a competition, where all the charter party competes. Every towable water toy is used to see who can do three laps around 7X catamaran yacht and be the fastest. The winner gets to try and open a bottle of premium champagne with a special sword. Do not worry, your crew will help you train on cheap champagne first, while also making sure nothing bad happens.
YACHT CHARTER CREW
At Your Service.
SIMILAR YACHTS FOR CHARTER
By Charter Rate.
LET'S GET IN TOUCH TODAY.
Contact us.