Photo Credit to Klement Grgic from Shutterstock
Yacht Charter in Brač
Brač is full of numerous unique experiences, from kite surfing, kayaking or parasailing on the Zlatni rat beach, to thrilling jet ski rides around secluded bays or a family fun day in the aquapark.
Start your yacht charter in Brač and enjoy the unparalleled luxury of your superyacht in one of the most beautiful islands in the Mediterranean. Opt-in for an exciting day and try out kitesurfing, parasailing, water skiing and wild jet pack rides near the famous Golden Horn beach in Bol.
On this island, you will discover unspoiled nature, countless private bays and a pristine sea, supporting all the water activities you ever dreamt of. Take your time and explore the island's hinterlands or enjoy cycling or hiking adventures under the shade of the pine trees and explore the Dragon's cave.
Visit the famous Brački Marble quarries, whose stone was used in the construction of the Whitehouse. Try out the local gastronomy and dine in the most prestigious restaurants on the Adriatic Sea.
The SuperYachts Croatia team will make sure you have an unforgettable yacht charter vacation in one of the most famous yachting destinations in Europe. We will show you the hidden side of Brač, that only local yachting experts know about.
WHY CHARTER IN BRAČ
Brač island is an excellent starting point for yacht charters and a must-visit destination for all yacht lovers eager for a luxurious cruising holiday. You will be able to explore this vast dotted archipelago with utter ease, thanks to your yacht charter.
Brač is full of numerous unique experiences, from kite surfing, kayaking or parasailing on the Zlatni rat, to the thrilling jet ski rides around the secluded bays or family fun days in the aquapark; Brač is an ideal island for creating unforgettable family memories. If you are a history buff, you are also in for a treat! Make sure to take your time exploring the rich heritage and architecture of the island's hinterland.
Brač is a true oasis for nature lovers as well. Spend a relaxing day cycling or hiking along the numerous magnificent trails around the entire island, visit the mysterious Dragons Cave and admire the 360-degree panorama of the Brač archipelago from the highest peak of the tallest island in the Adriatic!
Hard to believe you will be able to experience all this on a single island? Well, it is true, and we did not even mention the best part – the exquisite gastronomy of the island and the countless private bays with gorgeous restaurants for the elite. The SuperYachts Croatia team will be there every step of your yacht charter adventure, enabling unique experiences on the best spots, known only by local experts.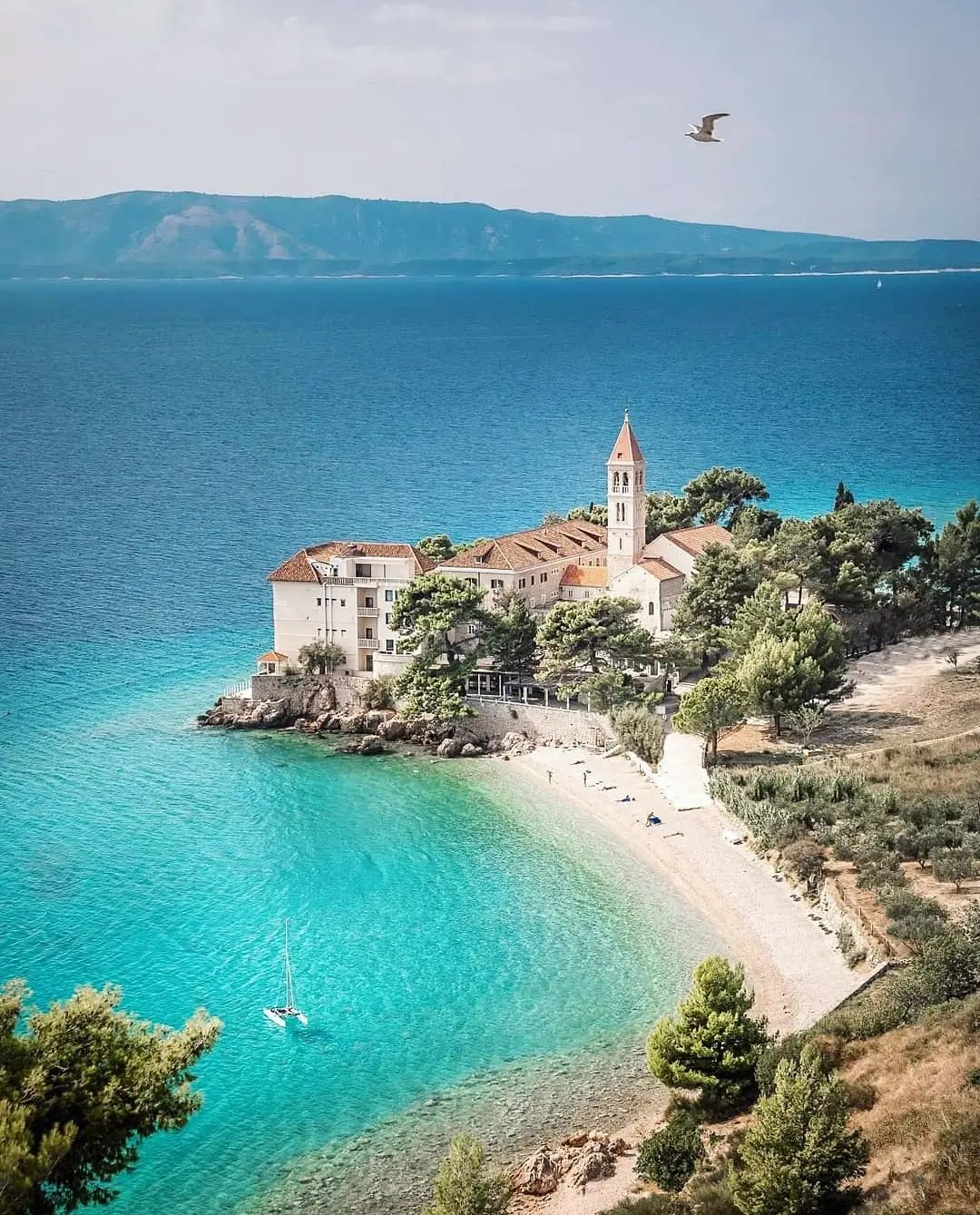 WHEN TO CHARTER IN BRAČ
We recommend you charter a yacht around Brač in July and September, during the shoulder season. Why? Brač island is a very popular destination for yacht charters, filled with untouched nature. To avoid brimming marinas and crowds, we suggest chartering a yacht during July and September, which offer perfect cruising conditions.
During the peak of the summer season, the vivid island atmosphere is at its peak and the island becomes a truly atmospheric place. Throughout the entire summer, temperatures are ideal and the sea is warm, which is perfect for all the water activities you can do on your yacht charter. If you cannot make it in the shoulder season, do not worry, cruising conditions here are ideal throughout the whole yachting season, from April until November.
Chartering a yacht is synonymous with freedom, so be prepared to go wherever you please. Brač island is vast and full of nature and there is no doubt that your experienced crew and local broker from SuperYachts Croatia will find spectacular secluded bays, which you can enjoy in complete privacy.
The air temperature during the summer is somewhere between 25 C (77F) – 30 C (86F) degrees and the sea temperatures are around 20C (68F) degrees- 25C (77F) degrees.

HOW TO GET TO BRAČ
If you plan to arrive on your yacht charter in Brač by aircraft or by car, you will be pleased to know that your transit will go smoothly. There are two nearby airports, and the roads in Dalmatia are superb for pleasant and scenic drives. The SuperYachts Croatia team can also arrange a transfer from the Split airport to Brač island.
If you are flying with a smaller, private aircraft you can fly directly to Brač airport. Apart from that, there are two airports in proximity to Brač – Split airport and Zadar airport. Your yacht broker from SuperYachts Croatia will organise a VIP transfer from the airport for you and your charter guests; just sit back and relax, we will make sure you have a perfect start to your charter vacation in Brač.
Split Airport is only 20 km away, so you can be on your yacht in less than half an hour. Moreover, this airport is well-connected and provides direct flights all year round. What's even better is that we can take care of every step of your trip from first-class plane tickets to private jets and limousines or a specially adorned vehicle and various boats and tenders ready to transport you to the island of Brač from the city of Split.
Brač is located 10 miles southeast of Split on the mainland coast of Croatia, eastwards of the smaller island of Šolta, from which it is separated by a channel barely half a mile wide, and directly north of Hvar island. You can easily cruise to Brač with your yacht charter and moor in secluded bays around the island of one of three prestigious marinas.
If you decide to travel by car, first, you will need to reach the city of Split which is done by enjoying a scenic drive on the A1 highway or the famous coastal road- Jadranska magistrala, well-known for its spectacular sea views.
Because of the number of tourists in the middle of the season, it is truly hard to find free parking spaces on the coast. That is why you have the SuperYachts Croatia team. If you need parking, your local broker will take care of everything. Moreover, we can arrange a special transfer with an exclusive car or helicopter (if your yacht charter has a helipad) so you will avoid traffic and enjoy panoramic views with a glass of your favourite champagne.
PERFECT ACTIVITIES FOR YOUR YACHT CHARTER IN BRAČ
Embark on an adventure in the desert
Brač island has one truly remarkable place, unlike no others: the Blaća desert, special in numerous ways. You can take a brief hike from Bol to the Blaća Hermitage, a 16th-century monastery hidden in a fascinating rocky canyon, tight in the middle of the desert.
This wondrous place is reachable only on foot, but the remarkable beauty of this secluded spot will leave you breathless. Apart from that, you will discover a picturesque monastery that is home to the 2nd largest telescope in Europe. Moreover, after your desert adventure, you can relax on your yacht charter, in the secluded Blaća cove, surrounded by a dense pine forest and a beautiful beach above where you can spot a small chapel.
Sightseeing around the island Brač
We suggest visiting the towns of Supetar and Brač, which are filled with rich history and amazing architecture that will surely inspire you with its buildings made out of the famous Brački marble. Apart from that, another place worth visiting is the Dragon's Cave, in the proximity of Murvica village. Here, you will discover a monk's cave, filled with carvings, mysterious writings and drawings on its walls.
Since the cave door is usually locked to protect this place, SuperYachts Croatia will find a local guide to take you on an exclusive tour. While on Brač stop by the most famous lighthouse, built-in 1882, on the westernmost tip of the island, specific for its octagonal stone tower.
Climb up and enjoy the spectacular views. Brač is home to 30% of all olive trees in Dalmatia, and home to some of the world's finest sorts of olive oils. Visit the Olive oil museum where you can discover the process of olive oil making.
There is a native olive species that grows just on Brač island, called Buhavica, around Novo Selo and there are only 50 trees. This olive oil is one of the best sorts in the world, but due to its limited amounts, a bottle of it costs around 150€ and it is worth every bit.
Apart from olives, Brač is renowned for its wines – Pošip (white wine) and Plavac Mali (red wine). The SuperYachts Croatia team will organise a visit to local wineries or a tasting of local wines with a professional sommelier on your yacht deck in the middle of a picturesque bay.
For a special treat, we will acquire a unique dessert wine made by the priests of a Franciscan Monastery in Bol. Do not miss out on the island's hinterland, and visit the oldest settlement on the island, the town of Skrip.
This must-visit place is rich in history and it is a great alternative to Brač`s brimming coastal towns. Pay attention to the Radojković Tower, the Museum of Brač, the Church of St. Helen from the 18th century, the Cerinic Castle from the 16th century and a Roman quarry Rosohe.
Enjoy an active vacation in the island's hinterland
Opt in for a rock-climbing adventure around the historic villages of Brač island. We suggest the village of Ložišća, located on the northwest side of the island, with established routes and a good variety of challenges from easy ones to the more demanding climbing routes.
If you are not a big fan of rock climbing, take a relaxing hike on this lush island covered in olive groves and pine forests. Brač island has numerous trails where you can enjoy gentle strolls or challenging hikes. We suggest the trails from Bol to Vidova Gora, Murvica to Dragon's Cave trail, Nerežisca to Blaca Hermitage trail, Farska to Blaća Hermitage trail, and one from Sumartin to Planik.
You can ask your crew to prepare mountain bikes and enjoy a scenic ride along the numerous lush cycling routes that lead to the breathtaking viewpoints where you can enjoy views of the seascape and your yacht charter.
Opt for an active day in the sea
Scuba dive around the best diving spots on the island, with your diving instructor. We suggest diving around the Lučice Cave, located on the southeast side of the island and exploring the underwater chamber at 15 m (49ft), and two more at 30 m (96ft). Beginners can dive around the Roman mosaic in the Drašine Cave at the depth of 5m (16ft), or you can admire the vivid underwater flora and fauna on the reefs of the Golubinja cave.
If you are not a big fan of diving or snorkelling, you can ask your yacht crew to prepare kayaks and explore the coastline. On the other hand, you could spend an exciting afternoon learning how to windsurf on Zlatni Rat beach with your instructor. It does not matter if you are a beginner, an experienced windsurfer or if you simply wish to try out new and exciting activities, windsurfing in Bol will not leave you disappointed.
You can always have fun with an arsenal of your water toys, and have exciting jet ski rides, fun Sea bob moments or learn how to use a hydrofoil or a jetpack that your SuperYachts Croatia team can procure on demand.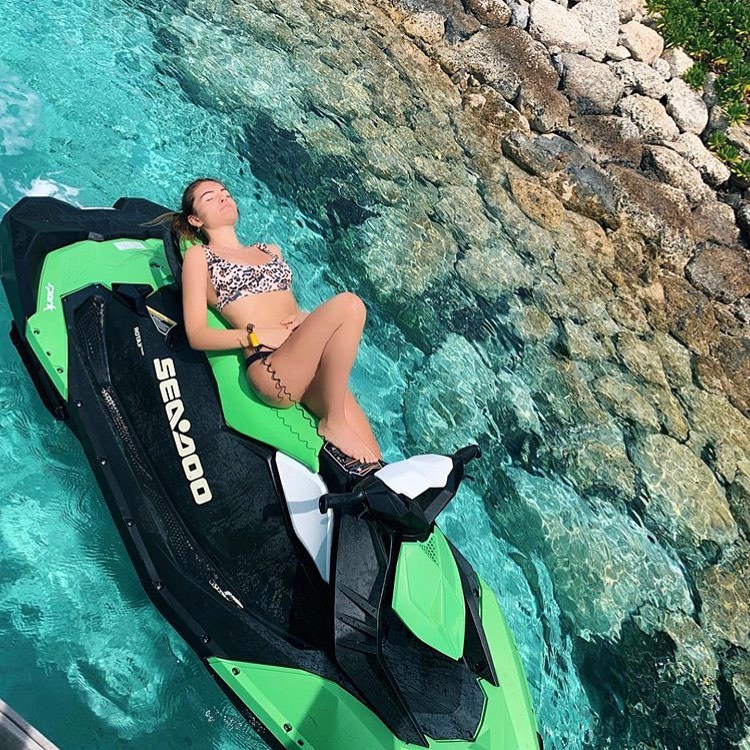 Visit one of the most famous yachting spots on Brač
Ask your yacht captain to moor your yacht in the Milna bay, on the west side of Brač island, and get a glimpse of the local way of living in the village with the same name. This place is a famous spot for yacht lovers due to its lush vegetation and calm, pristine waters that will lure you in for a refreshing swim.
Apart from that, Milna was the naval base of the Russian fleet in the Napoleonic Wars and a cove where emperor Diocletian moored his ships while he built his spectacular palace in the city of Split.
Moreover, here you will find two premium marinas with all amenities you may need. Milna is the nautical centre of the island, and its ports are always lively, full of hustle and bustle. Take your time to get familiar with the cultural life of the island, and visit the unique exhibitions, nights of Brač poetry or a scientific symposium.
Discover the famous Brački marble used in the White House
Discover the island's most valuable resource, suited for royalty. We are talking about the famous Brač stone, which impressed numerous aristocrats and world leaders. This one-of-a-kind marble was used in the building process of worldwide seats of power, due to its unmatched quality and exceptional beauty.
Some of the examples are Diocletian's Palace in Split, the White House in Washington, the Parliament House in Vienna and Budapest, the exceptional Cathedral of St. James in Šibenik and the Cathedral of St. Lawrence in Trogir which are also under the World Heritage (UNESCO) protection. You can ask your crew to moor your yacht charter in the pristine Pučišća bay, home to the quarries of Brački marble, and visit the famous Stonemason School.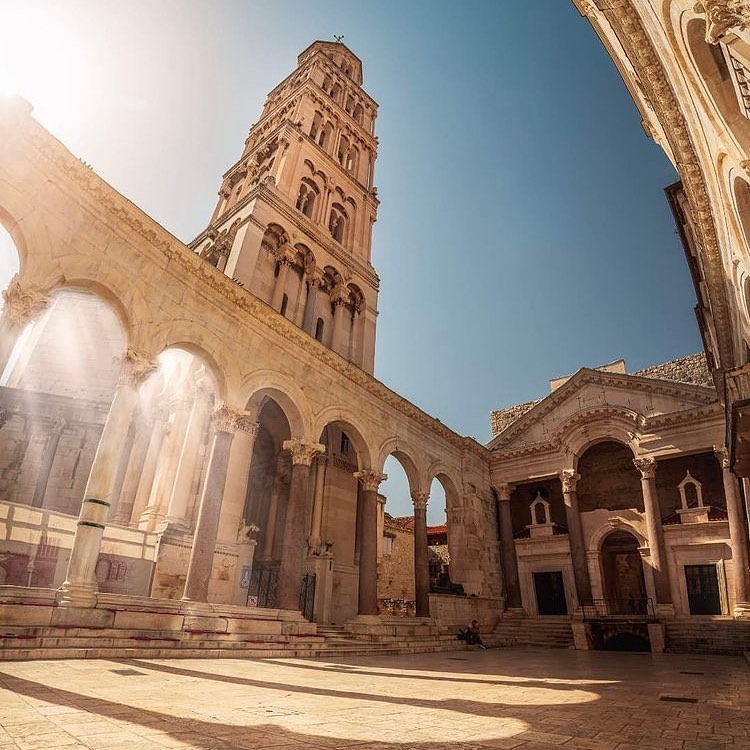 Experience true joy on the most famous beach in Croatia
On Zlatni rat, you will experience pure joy, swimming and sunbathing on the most beautiful beach in the Croatian Adriatic Sea. Channel your inner child and enjoy the best water activities on a beach cape that constantly changes its shape and position depending on the winds and waves.
This place is perfect for crazy summer escapades! Ask your crew to prepare your floaties and tender, and enjoy wild rides on an inflatable banana, towing donuts, or try out kitesurfing or water skiing in the turquoise sea. In this place, you will find many amenities, from a beach gym to numerous beach bars and exquisite restaurants hidden under the shade of pine trees.
You can simply relax and enjoy a massage on the warm sand. The SuperYachts Croatia team will gladly provide a professional masseuse. If you are chartering a yacht with your family, do not worry, your kids will enjoy this amazing beach. They will jump and play all day in the nearby Aquapark, or a playground underneath the shade of pine trees.
If you prefer to have a family day in a private bay, SuperYachts Croatia can acquire a floating waterpark just for you and your family for an epic day filled with unparalleled fun on the water.
Discover the gorgeous stone sculptures in a quaint hilltop village
Visit the hilly Donji Humac village, 7 km (4miles) from the town of Supetar, from where you enjoy an amazing view of Brač island and numerous bays; you might even spot your yacht charter. The inland villages on the island were built high on the hills to keep them safe from pirates, but in the process, these picturesque places got unique stunning vistas.
This lovely village will delight you with its stone houses, a Roman mausoleum and gorgeous statues built from the famous Brač stone which will make you feel like you are in an open-air museum.
Big game fishing in the crystalline sea
For all the fishing lovers, you can ask your yacht crew to prepare fishing equipment and try out Big game fishing in the countless bays and sea passages near Brač island. For less experienced fishing enthusiasts, do not worry, you can still catch your lunch and go mid-game fishing or try to catch a smaller fish using baits and rods.
Ascend to the peak of the tallest island in Croatia
Make sure to witness the spectacular 360 views from the top of Brač island, and hike to Vidova hill in the vicinity of Bol town. Apart from the majestic view, you will discover another surprise hidden in the steep rocks of Vidova Gora, close to Mrvica village – the Zmajeva Špilja (Dragon`s Cave). Inside this wondrous cave, you will see the figure of a dragon carved in a rock, as well as various other carved reliefs.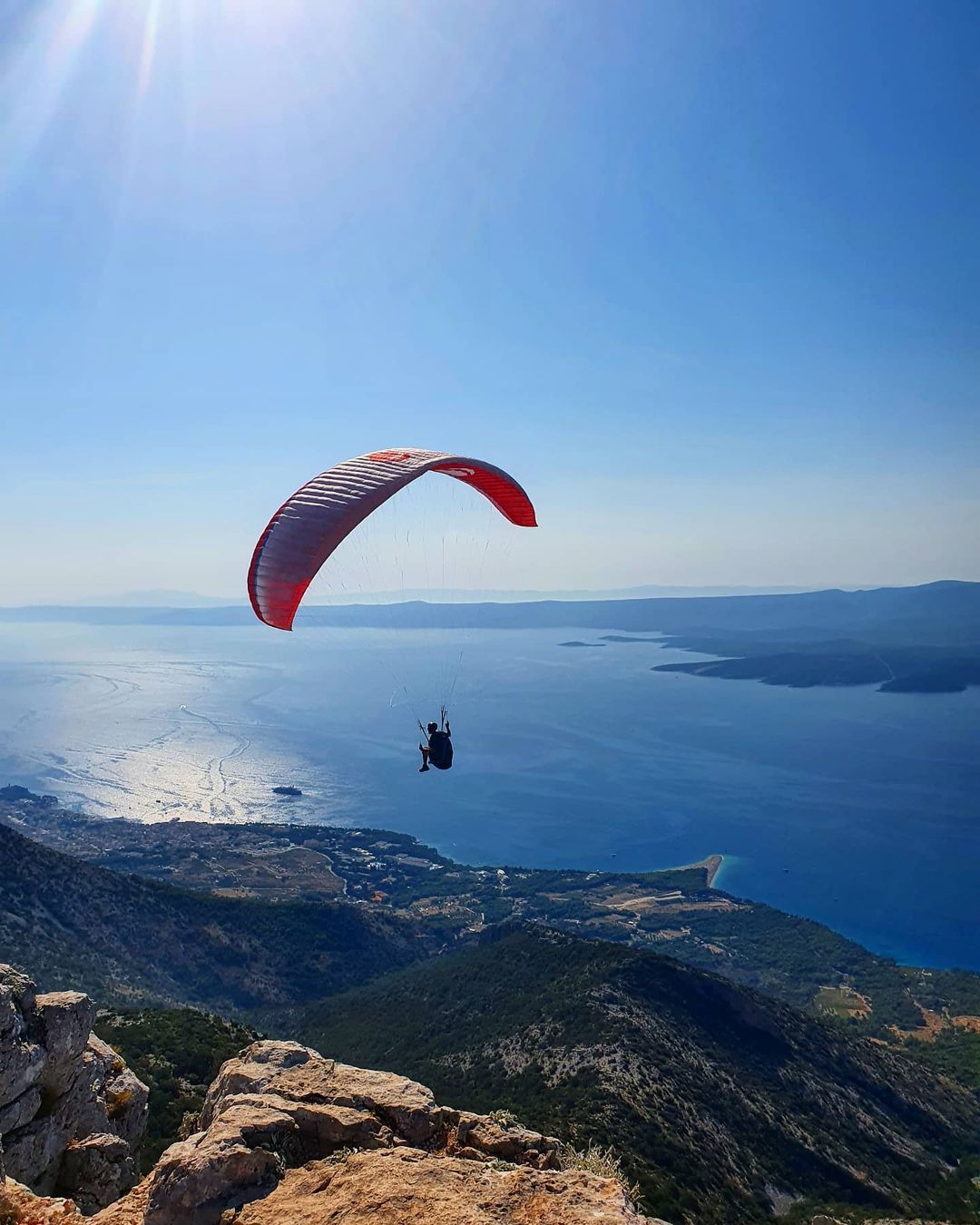 ENJOY AN EXQUISITE FINE DINING EXPERIENCE ON YOUR YACHT CHARTER IN BRAČ
Taverna Riva is a picturesque place in Bol on the island of Brač, that will bring you an incredible mixture of traditional and modern cuisine. We suggest booking a table on the gorgeous marble terrace on the first floor and enjoying the view of the waterfront, the town of Bol, and your yacht. A spectacular vista like this will not leave you indifferent.
Your experience will be complemented by the exquisite food, served creatively, and by professional staff that will pamper you from the moment you step foot in the restaurant. Try the carpaccio and tartar for lovers of raw fish, or creamy risottos and pasta with fresh local ingredients.
If you prefer meat dishes, this place has a rich offer of meat specialities, as well as vegetarian and gluten-free food. This restaurant will not disappoint you with the quality and presentation, complemented with well-balanced flavours that will top up the taste of the dishes to the next level.
Taverna Riva is not on our list by chance, it is an extremely popular restaurant, where an extra table is often requested. Do not worry, the SuperYachts Croatia team will make sure you have a reserved table in this spectacular restaurant. Not just any table, but one with the best view from the terrace.
Dine in the most picturesque environment of all the restaurants on Brač island. Slip into one of the traditional narrow alleys, paved with cobblestones and visit Konoba Vinotoka. We suggest trying a fish menu since the family that runs the restaurant owns a fishing boat and it always serves locally caught seafood, straight from the sea to your plate.
Apart from the fresh seafood and picturesque atmosphere, you will be able to enjoy carefully prepared dishes, kept to the highest standard. Do not miss out on Konoba Vinotoka`s olive oil, as well as its local wines. Furthermore, at this place, you can always try original desserts that will impress even the most refined palates.
In short: the food in Konoba Vinotoka is superb, the staff is extremely professional and highly hospitable and they will make sure your visit to the Konoba Vinoteka is a special experience that you will remember for a lifetime.
Finally, located in a pine forest just a hundred metres (328ft) away from the popular beach Zlatni Rat (Golden Horn Beach) Restaurant Mali Raj (Small paradise) is a must-visit place when in Bol. This unique restaurant is surrounded by ancient olive trees and vines, offering unforgettable moments of relaxation combined with top-notch gastronomy. Sit back and enjoy the fine dining experience, surrounded by lush greenery.
Restaurant Mali Raj will impress you with excellent cuisine, a first-class wine selection, impeccable service, one-of-a-kind surroundings and proximity to the Golden Horn beach. This restaurant is established as one of the most popular restaurants in Bol. Therefore, leave it to your SuperYachts Croatia broker to make reservations for you and your charter party.
OUR SUGGESTED SEVEN-DAY YACHT CHARTER IN BRAČ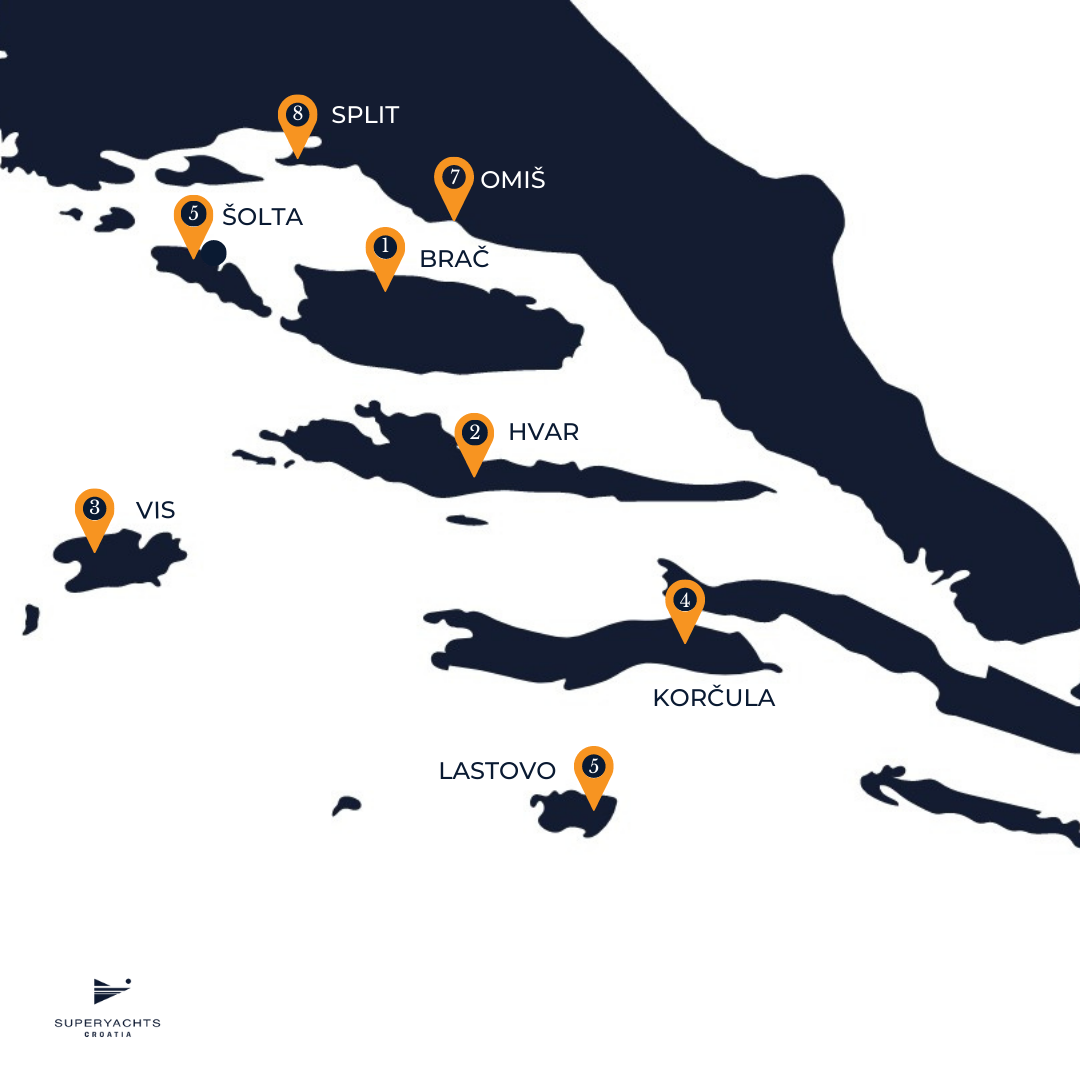 Day 1: Brač Island
Start your yacht charter from Brač island, an ideal destination for cruising in the Croatian Adriatic Sea. Brač will offer a rugged landscape, lush pinewoods, vast vineyards, olive groves and countless secluded bays. Cruise to the impressive Zlatni Rat Beach in Bol, on the south coast of Brač, and enjoy its sandy shores.
We suggest you take a day to explore this wonderful island before you set off to the next one. While here, if you are feeling adventurous, try out windsurfing – Bol on Brač is Croatia's most praised windsurfing destination. If you are a beginner, the SuperYachts Croatia team will ensure you have an expert local instructor for this fun watersport.
Besides windsurfing, you might want to explore the underwater world with your personal scuba diving instructor. Near Bol, a short hike to Blaća Hermitage and you can visit a 16th-century monastery hidden in a rocky canyon, in the middle of the Blaća desert, reachable only on foot. The otherworldly beauty of this place will leave you breathless.
Apart from Blaća, you can hike or mountain bike from Bol to Vidova Gora, for a spectacular 360 view from the tallest Croatian Island. Make sure you do not miss out on Pučišća bay, home to the quarries of Brački stone that were used worldwide due to its unparalleled quality, and a Stonemason school, open to visitors.
Brač island is famous for its exquisite gastronomy based on fresh seafood and lamb dishes, and first-class wines which are perfect for a fine dining experience in one of the picturesque restaurants around the island. You can ask your yacht captain to moor your yacht in one of the numerous secluded bays and spend the night on the calm waters around Brač while you enjoy all the luxurious amenities of your yacht charter.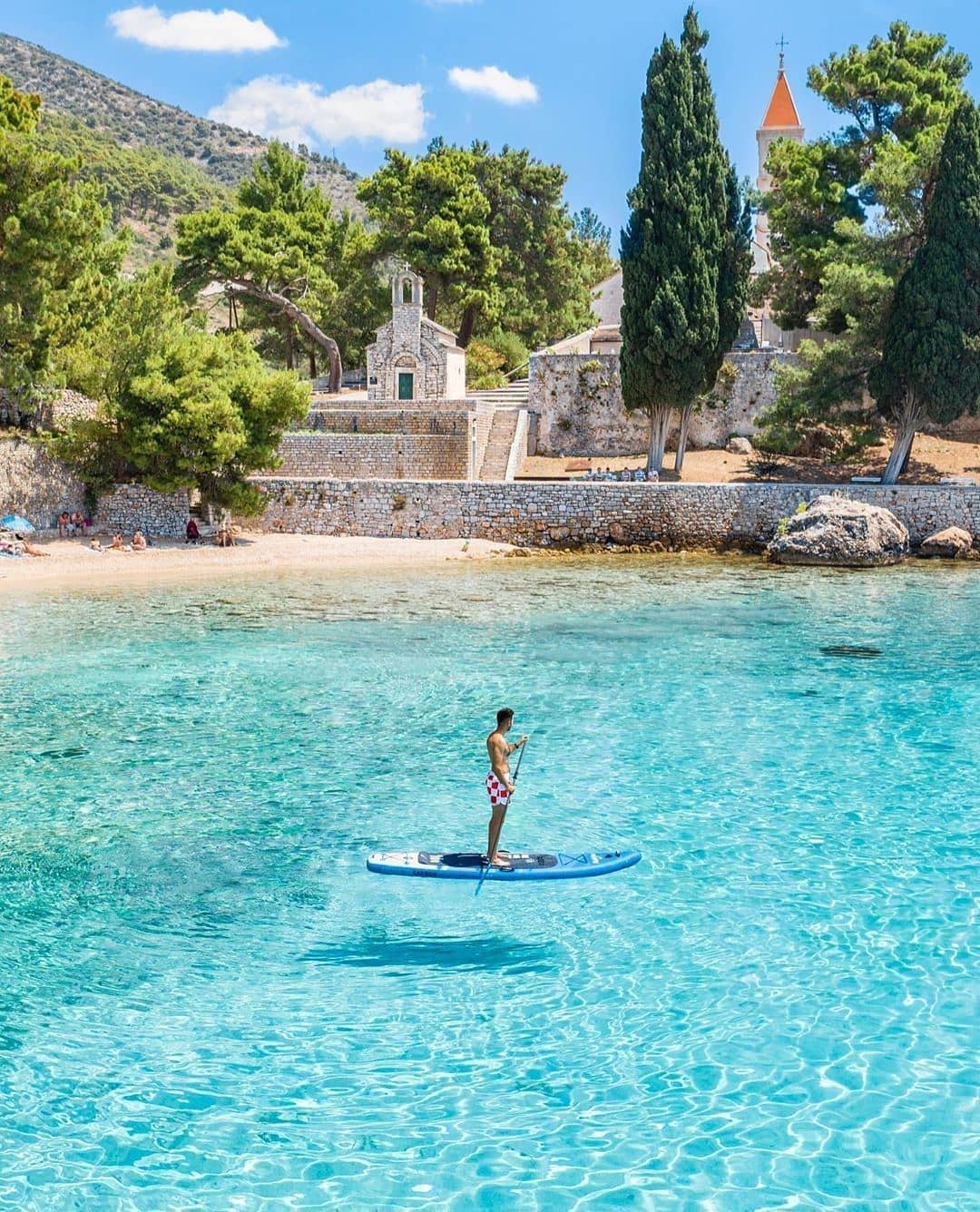 Day 2: Brač Island – Hvar Island
A short cruise from Brač island with your luxury yacht charter and you will arrive near the breathtaking island of Hvar. Here you will encounter charming, romantic villages that contrast the lush green mountains wrapped in olive groves. Cruise on your yacht to one of the numerous secluded beaches, ask your crew to drop anchor and jump into the warm turquoise sea. We suggest a visit to Dubovica bay, a white pebbled bay, considered to be one of Hvar's most beautiful beaches.
If you want to indulge yourself in an underwater adventure, the nearby Pakleni islands will offer exceptional diving and snorkelling opportunities. These rocky islets are filled with hidden coves and are ideal to explore with jet skis or your tender. After your island-hopping adventure, head back to Hvar and drop anchor, spending the rest of your day discovering the picturesque villages bursting with charm and heritage.
Glide with your yacht in one of the modern marinas and get ready to explore wineries, designer boutiques and elite parties that are well-known amongst celebrities. Inhale and delight in the scent of the purple lavender fields on the sunniest island in Croatia. A superyacht charter is the only stylish way to visit this luxurious island.
If you are a nature lover, the SuperYachts Croatia team will provide a scooter or an E-bike, so you can discover the stunning scenery of this astounding island. Do not miss out on the fantastic cuisine of Hvar island, before you retire to your private yacht to enjoy cocktails on the sundeck watching the famous Croatian sunset.
You do not want to miss out on a stroll around Stari Grad (Old town) Hvar, one of the oldest towns in Croatia and Europe. This antique city is on the north-western side of the island. Apart from the majestic history, nature and architecture, Hvar will amaze even the most demanding of gourmets with its gastronomic offer.
Opt-in for a fine dining experience that will make you want to come back over and over. After you are full, warm up with fine local wines and prepare your dancing shoes. Hvar island is also famous for its luxurious and upscale clubs where you will experience how celebrities have fun, enjoying the summer beats. Some of these clubs offer access to yachts, which gives them another dimension in the clubbing world.
Day 3: Hvar Island – Vis Island
Soak in the sun, gazing at the clear Adriatic Sea while you cruise to your next stop- Vis island. This place will amaze you with numerous natural attractions, hidden gems, and historical value. Ask your yacht captain to cruise to the town of Vis in the north-eastern part of the island.
If you are a history buff you will adore this coastal town full of tradition, mystery, and exquisite cuisine. Vis is a place filled with history and cultural heritage that dates to 397 B.C. Apart from that, this island is one of the top locations for yacht lovers from all over the world.
Head to Tiha cove (Silent cove), where you can stay on anchor and enjoy the water toy arsenal of your superyacht till early afternoon. Make sure to visit Komiža, a secluded place that is cut off from the rest of the island by a hill and experience tranquillity like you are on the very edge of civilization.
If you enjoy climbing or hiking you will be pleased to find out that Hum, which is the tallest hill on the island and the smallest town in the whole world, offers spectacular vistas on Komiža and Biševo. While sailing along Vis, pay attention to the dotted military tunnels that were used by Josip Broz Tito's fighters. When Tito's fighters left the island in 1989, they left behind many tunnels, caves and bunkers, which are now open to curious visitors.
The must-see attraction is the underground submarine tunnel that you can explore with your tender, on the northern side of the island. Finally, we save the best place as your last stop on Vis island – the majestic Stiniva beach, protected by its mighty cliffs. This wonder is located west of the Mala Travna bay and easily reachable by your yacht, so make sure to explore all that this wondrous place has to offer.
Day 4: Vis Island – Korčula Island
Cruise from Vis to the island of timeless beauty – Korčula. Enjoy cruising along the coast of this narrow island covered with dense pine forests. This remote island is a lot less crowded, which means you will have a perfect opportunity to explore its hidden lagoons, fascinating grottos, mysterious caves and vivid underwater world.
All of this makes this island a dreamlike destination for every yacht enthusiast. Make sure to explore this breathtaking island, which is also the birthplace of Marco Polo. While there, make sure to experience Vela Luka and enjoy its pristine coves. Apart from that, you will discover an impressive attraction nearby – the Vela Spilja cave.
This majestic place is above the town on the Pinska cape and is one of the most important archaeological sites on the island, with excavations that date back to the late Stone Age, around 3,200 BC. Hike up or drive to the Vela Spilja cave, and gaze upon miraculous vistas of the long bay, safeguarding your yacht charter.
Day 5: Korčula Island – Lastovo – Biševo – Sv. Andrija
The interesting thing about this island is that everything on it revolves around the number 46. It is in an archipelago with 46 islands, this place also has 46 churches, 46 hills and 46 valleys planted with olives, fruits, and vineyards. If you are a nature lover, try the hiking trails that stretch all around the island, and explore the diversity of this island.
Make sure to stop by the town of Lastovo, and take a stroll around this protected cultural monument, where you can enjoy the views of its unique renaissance architecture. You might want to consider exploring the island's underwater world, full of enchanting flora and fauna. Scuba dive in the crystal water surrounding the island and discover the world beneath the waves.
The SuperYachts Croatia team will make sure you have a local and certified scuba instructor at your disposal, for your next charter adventure. We suggest diving in the underwater passage next to Bjelac island or explore the underwater cave on the islet Tajan. Whether you choose exploring, hiking, diving or just enjoying privacy in secluded bays, the SuperYachts Croatia team can organise completely personalised experiences on your yacht charter holiday.
Leave Lastovo in the morning, and cruise towards the small island of Biševo, located only 5 nautical miles away from Komiža. This small islet is the type of place that is awe-inspiring, and it will surely leave you breathless. Biševo has it all: sandy lagoons, friendly islanders and famous Plavac wine. However, this island is best known for its unique natural phenomenon – the Blue Cave.
Make sure to explore this spectacular place, and witness the sun rays showering the cave, creating incredible art effects on the cave walls, and turning the sea surface into a silver-blue colour. If the weather is decent, stop by the `Green Cave` as well for an extra treat. These saves are among the 26 caves located on this tiny island.
Day 6: Sv. Andrija – Šolta – Brač
Cruise with your yacht charter to St. Andrija islet, where you will discover the oldest lighthouse in Croatia, built by Prince Metternich. Legend says that the prince built the lighthouse for a beautiful Croatian aristocrat that he met in Vienna at a ball. But this story does not have a happy ending; the prince died on the day the lighthouse was built. Sadly, he never had a chance to make memories with his beloved near this lighthouse.
After a refreshing swim in a bay around this lore-filled islet, ask your captain to set a cruising course towards Šolta island, famous for Illyrian legends, ancient fishponds, mediaeval poetry, nautical tradition and oenology. Šolta is also known for its olive trees and olive oil productions, a tradition that dates back to the times of Ancient Greek settlers. Although this island does not enjoy as much popularity as its neighbours Brač and Hvar, it is worth visiting.
Here, you will discover numerous beaches surrounded by the dense pine forest, ideal for families with kids. Exploring this paradise with a yacht, you will have access to private bays and blue lagoons full of untouched nature and pristine sea.
After you satisfy your curiosity on Šolta, cruise back to Brač, but this time circle around the north side of the island and berth in the town of Supetar, the biggest settlement on the island. Here you can discover a town of simplicity and surreal beauty.
Take a stroll through the town's cobbled alleys and enjoy its rich cultural heritage, as well as natural attractions. Apart from that, you will be able to swim and sunbathe on beautiful sandy beaches, and dine in one of many top-notch restaurants in town. We suggest spending a night in one of many secluded bays around the northern side of Brač island, so you could enjoy the view of the coast and the lights of Split during the night.
Day 7: Brač – Omiš – Split
For the last day of your yacht charter in Brač, enjoy a morning swim around secluded bays before your cruise to the city of Omiš, a town with a lush port at the beautiful mouth of the majestic Cetina river. Step off your yacht charter and visit the old town of Omiš, beneath steep bare cliffs or sunbathe on a kilometre-long sandy beach. This area has been inhabited since prehistoric times and it hides many surprises.
Here, you can find the remains of the Roman settlement of Oneum, located in the village Borak above Omiš. During the Middle Ages, Omiš was a fortified town and infamous pirate stronghold that came under Venetian rule in the middle of the 15th century.
Make sure you visit the fortress Mirabella above Omiš, reachable from the Old Town with the street that passes by the Church of St. Spirit and goes up the hill. From the top, you will witness an amazing view of the city, your yacht, and the island of Brač. This picturesque town is ideal for hiking, kayaking or rafting along the mighty river Cetina.
Rafting on Cetina gives the possibility of exploring the magnificent canyon where you can try zip-lining, cycling, rock climbing or paragliding with a certified instructor. What an exciting last day of your yacht charter adventure! We also suggest visiting one of the most magical spots in Croatia – the Great spring of river Cetina known as Glavaš spring, which is also called the `Eye of Dalmatia` because of its incredible appearance.
This karst spring is a submerged speleological object, and its depth is assumed to be about 115 metres (377ft), but since it was never measured, no one knows how deep it is exactly. The shape and colours that flow through the crystal-clear water, especially seen from a bird's eye view, have brought the spring world fame as one of the most 'instagrammable' locations in Croatia.
Enjoy a refreshing swim in the spring, while your crew takes aerial drone photos of your charter adventure that you will not forget any time soon. After a fulfilled day, cruise towards the city of Split and dock your yacht charter right on the city promenade.
Just a few steps from the yacht, you will find the famous Diocletian's palace and the old town filled with stunning buildings. We suggest exploring the city and enjoying spectacular sunsets from the promenade.
The SuperYachts Croatia team will arrange a limo or a VIP transfer for you and your charter guests to your hotel or the Split airport, after your unforgettable 7-day yacht charter adventure.
TOP ANCHORAGES AND MARINAS FOR YOUR YACHT CHARTER IN BRAČ
On Brač island, you will find luxurious and well-equipped ports with all the amenities and facilities you might need. The SuperYachts Croatia team can book berths in Brač in several locations on your behalf. We suggest berthing your yacht in the ACI Marina Milna, Marina Vlaška or the Yacht Club Milna.
Marina Bol is a small marina, with 60 berths for yachts up to 40m. This port is very popular for yacht lovers because of its vicinity to the famous Zlatni Rat beach and the ancient town of Bol. If you decide to berth your yacht charter here, you will have first-class restaurants, modern bars, and shops, within walking distance.
Yacht Club Milna is one of the three marinas located in Milna and known as the Nautical Centre Milna. The marina is located on the western side of Brač island and is known for its natural harbour and built to meet all the needs and standards of modern yachting. Apart from a safe berth and luxurious amenities, you will also find a fine dining restaurant and a charming café, where you can enjoy a hot beverage overlooking scenic vistas and your yacht.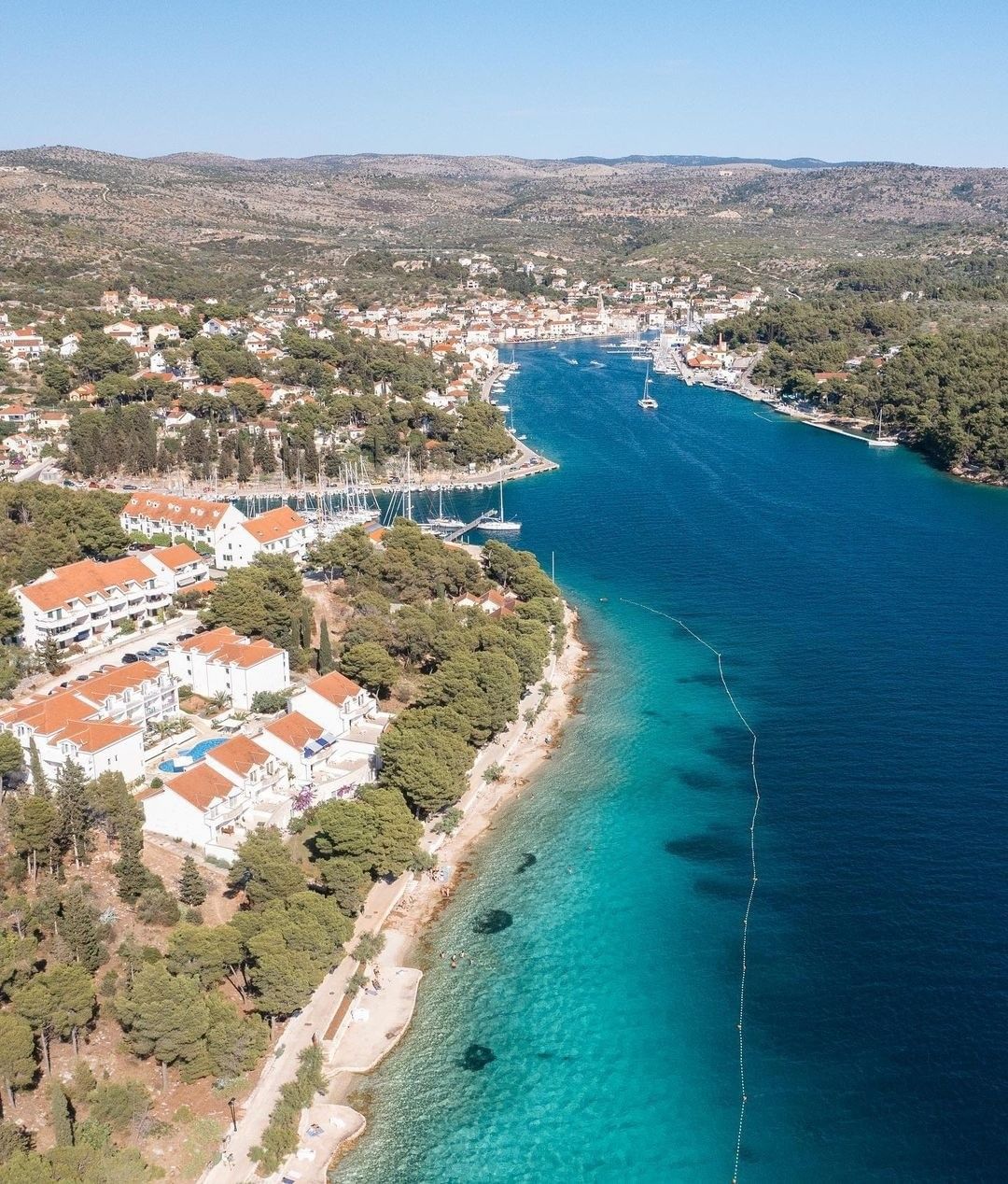 ACI Marina Milina – This port is one of the best starting points for chartering a yacht in Brač, as well as the best natural anchorage you will find in the waters around the Split. Milna is also the biggest village on the west side of Brač island.
You can easily approach the ACI Marina Milina with your yacht charter. This place will offer 170 berths, but yachts with a larger draught should try to moor a bit further from the waterfront. Start your charter in Brač from one of the most popular nautical destinations, which provides a great shelter for all yachts, and one of the safest bays for yacht charters.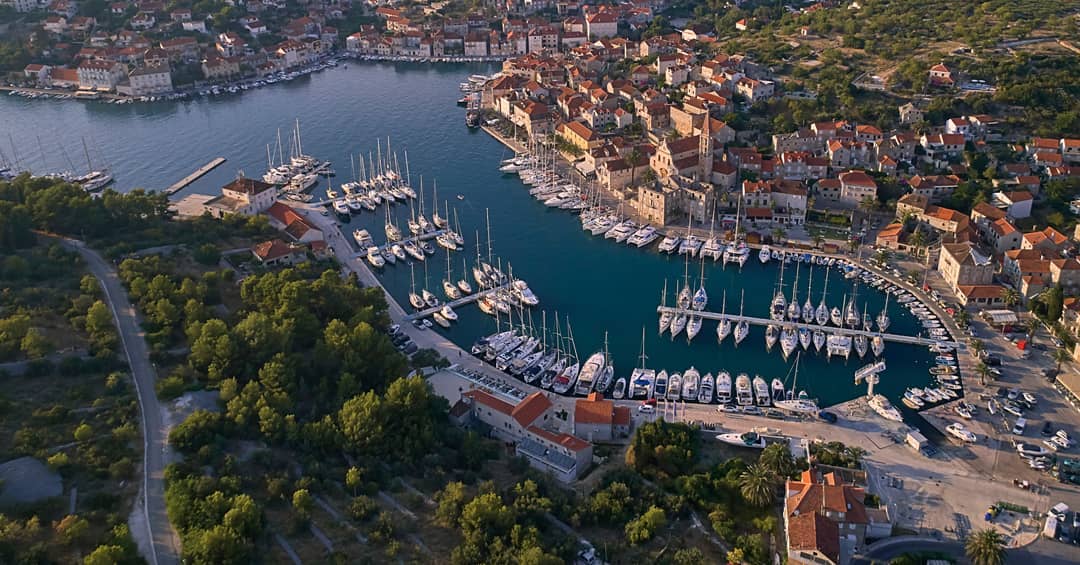 Anchorage Bobovišća is a deep bay on the western side of Brač, and it is one of the most pleasant and tranquil bays in the area. This lush place is surrounded by pine tree forests, which gives it a special atmosphere.
Here you can enjoy the symphony of sea breezes between pine branches that create a magical relaxing sound, complemented by an orchestra of crickets. The water in this bay is crystal-clear and very tempting. This anchorage is equipped with 32 buoys and the Manta Ray anchor system.
Blaća Bay is a wonderful anchorage on the south part of Brač. Here you will enjoy a tranquil and secluded bay with a sandy bottom and emerald waters. If you want to explore the surroundings,  the Blaća desert and a hermitage from the 16th century will definitely astonish you.
Bol Bay is one of the most popular yacht charter destinations on the island. You will be able to relax in surreal nature and sunbathe on the most famous beach in Croatia – Zlatni Rat. If you are feeling adventurous, you can opt for surfing or windsurfing lessons with your private instructor. Yachts can berth in the Bol bay, behind the breakwater, with the Bol port protected by a long pier.
Lučice Bay is amongst the favourite coves of yacht lovers on the island of Brač, equipped with a lagoon where you can always find decent shelter from the wind. Moreover, this spot is interesting for scuba divers because the cave is in the western part of Lučice bay. Here you will enjoy a sandy seabed, dense pine forest, and the turquoise that will lure you for a swim.
Osibova bay is near the town of Milna, and it is a popular stop for a yacht charter in Brač, because it offers good shelter from winds and waves. This miniature oasis is protected from all the  elements , so you can relax on your sundeck with a spectacular vista on the unspoiled nature and pearly sea.
THINGS YOU DIDN'T KNOW ABOUT BRAČ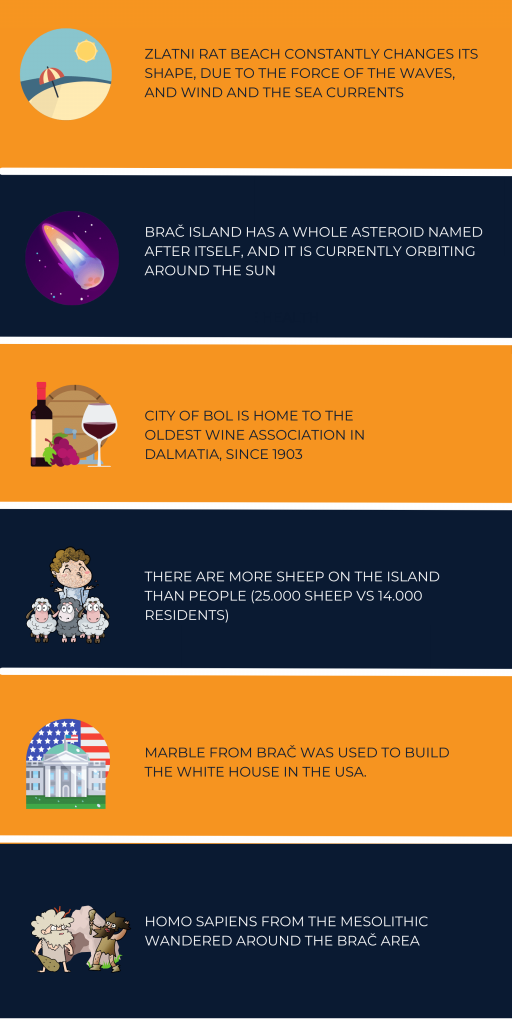 WHY CHARTER IN BRAČ WITH SUPERYACHTS CROATIA
Charter a yacht in Brač, a must-visit destination for all yacht lovers and enjoy a luxurious tailor-made charter vacation. The SuperYachts Croatia team will make sure you cruise to this elite destination with style, on the yacht that suits your preferences the best. Our team will arrange everything on your behalf and assist with all your desires.
You will have a local expert at your disposal 24/7, for any requirements you might need. From VIP transfers, scuba diving, yoga and surfing to reservations in the most elite restaurants and clubs – we will take care of everything for you. Just relax and enjoy a royal treatment on your yacht charter in Brač.
Charter Yachts
We present to you the best selling yachts for charter in 2021. Slide through these different yachts, ranging from 20 to 80 meters in length, and choose the best option for you. If you have any questions regarding yacht charter, destinations & yacht support, contact us.
VIEW ALL CHARTER YACHTS
VIEW ALL CHARTER YACHTS