Dining on a yacht charter with style
One of the highlights of every luxury charter vacation is the yacht food, made by world-renowned chefs. Prepare to be amazed by mouthwatering delights only a superyacht chef can produce. The exquisite smells that will wash over you each time you sit at your table to dine on your yacht charter will never leave your memory. Every day you will be welcomed by a beautifully arranged table with only the best dishes supplied by a richly stocked galley. Each menu will consist only of the freshest ingredients, hand-picked wild spices and herbs, seafood freshly caught and brought to your yacht every day and the most expensive meats and wines. The menus on superyachts are fit for royalty.
Your experience of dining on a yacht will transform each meal with a different splendorous thematic party of tastes, sights and smells. Your eyes will be as satisfied as your stomach because all meals will be tailored to meet your demands, thanks to the preference sheet you filled out before the beginning of your superyacht charter.
Let your Michelin-starred chef cheer you up every day
Imagine watching the most beautiful sunset on the planet and sipping chilled limited-edition champagne, while your private chef prepares unique-luxury food? This is the intro to dining on a yacht charter with style.
Having a Michelin-starred chef and choosing exactly what food you want him to prepare is the best kind of vacation you can imagine. All of the ingredients will be carefully selected to suit your requirements and the chef will cheer you up every day. Also, while enjoying your yacht charter, we will provide freshly caught fish or lobster every day. The Croatian Adriatic Sea is brimming with delicious delicacies, and your chef is ready to delight you.
The best part is that you can eat anytime you want; unlike in exclusive and well-known restaurants, the kitchen on your superyacht is never closed.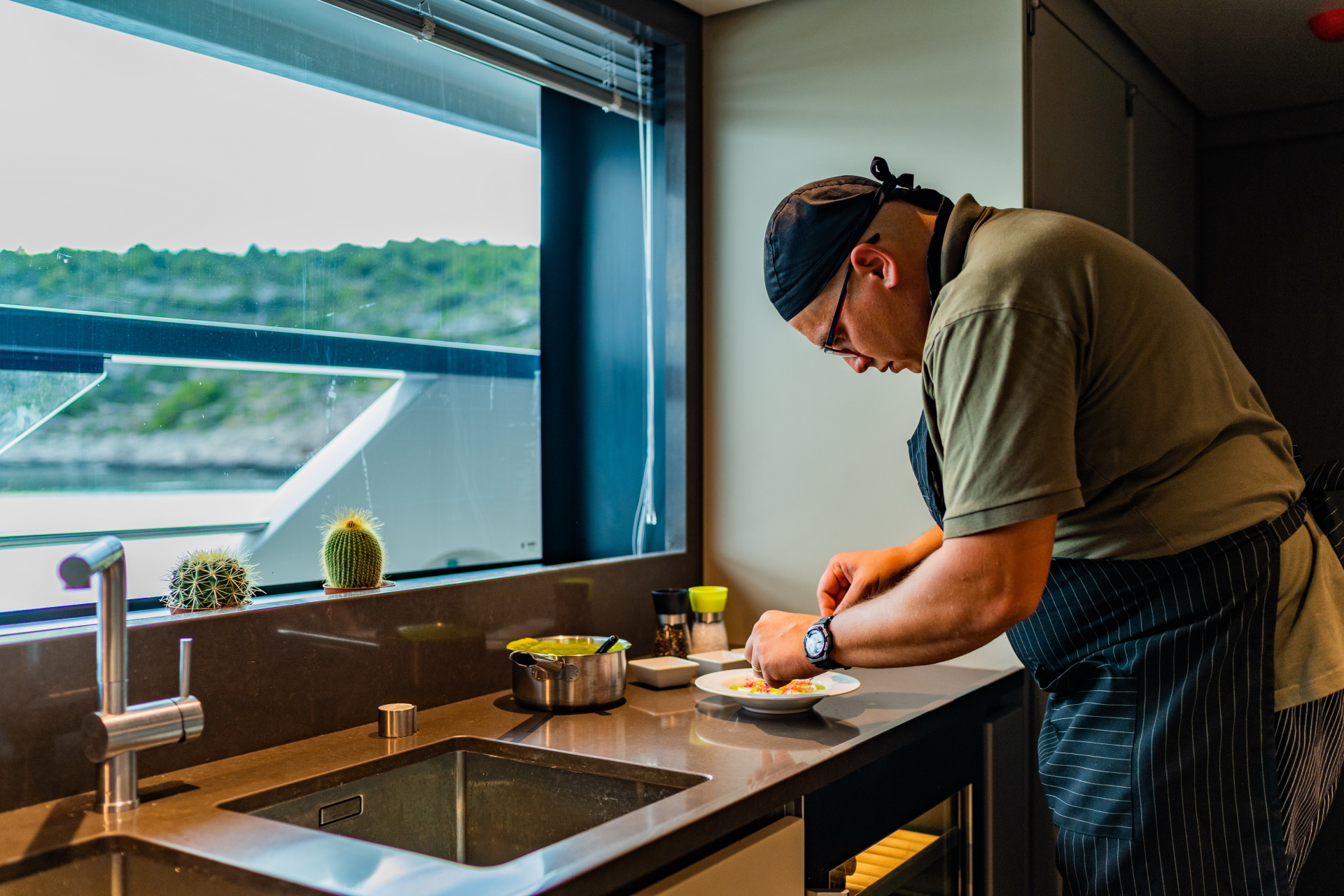 Enjoy alfresco meals on every yacht deck
When you can enjoy an alfresco fine dining experience on your favourite deck or a private beach lit by flashing candles, there is no reason to eat out in restaurants. Replace your routine with a themed dinner on an uninhabited island, where your crew will be dressed as pirates so you could enjoy domestic food in complete privacy. Let your yacht charter become a private paradise from where you can decide what, when, and where to have alfresco meals.
Find joy in every moment spent on your yacht and experience something different each day. Imagine going fishing with your crew, catching a delicious fish, bringing it to your awarded chef, and having a wonderful meal for the whole family? This is only possible while dining on a yacht. Share your catch with your close friends on Instagram, with the caption: Love of food and the sea has never been closer!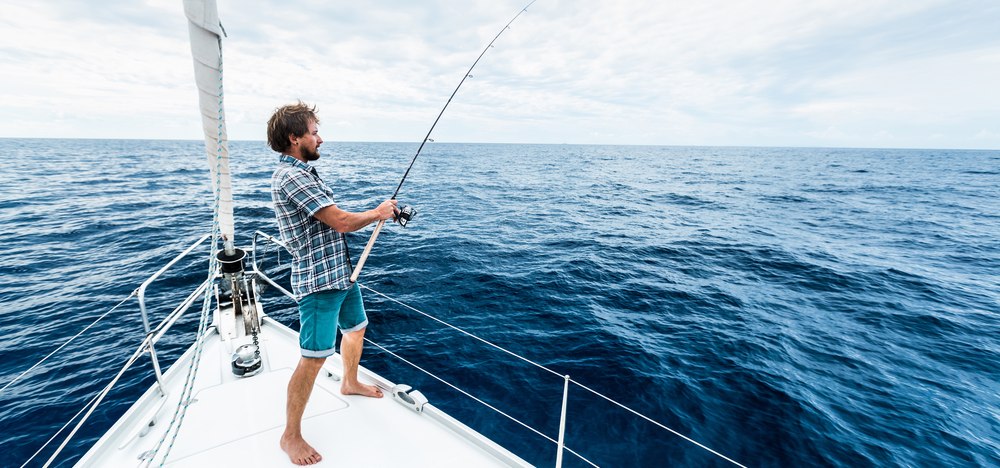 Learn to cook like a true Masterchef while on a yacht charter
Why not attend culinary school with the best chefs from around the world whilst on a yacht charter? Learn to roll magical sushi, roast a medium-rare steak, or make a tasty local cake.
Bring home these amazing recipes so you could always remember your superyacht charter holiday. In addition to beautiful memories, tell your friends about how you learned to prepare delicacies in the middle of the sea.
Dining on a yacht charter is only enhanced by your fantastic crew
There is no food too complex or ingredients too exotic for your onboard chef to prepare. A master of the culinary arts, he is more than proficient in every cuisine imaginable – from Indian and Japanese to the Mediterranean and classic continental, your expert chef aboard your superyacht charter will make every gastronomical fantasy a reality.
Every meal that leaves a superyacht galley is considered to be a 5-star dish, comparable only to the dishes served in the most exclusive restaurants around the world. There is no service on land that can match the level of service on board a luxury superyacht. The degree of personalization is tuned to the finest of heights – every meal will consist of as many courses as you want and every course will be customized to fit the preferences you whitelisted before boarding your luxury superyacht.
Whether your diet is simple or strict, or you have general, specific or expensive tastes, every appetite will be catered while you dine on a yacht charter.
Charter Yachts
We present to you the best selling yachts for charter in 2021. Slide through these different yachts, ranging from 20 to 80 meters in length, and choose the best option for you. If you have any questions regarding yacht charter, destinations & yacht support, contact us.
VIEW ALL CHARTER YACHTS
VIEW ALL CHARTER YACHTS