SeaBob on a yacht charter in Croatia
A Seabob on a yacht charter is a unique and exciting water toy for yacht charter guests that can add a whole new level of adventure to your holiday in Croatia. It is a small, electric-powered water toy that allows riders to move through the water at high speeds, making it perfect for exploring the beautiful Croatian Adriatic Sea around your yacht for charter.
Designed for high-speed fun and adventure, Seabob is a water scooter that can reach speeds of up to 22 km/h (13.67 mp/h) and dive to depths of up to 40 meters (131.23 ft). Its advanced technology makes it easy to handle, even for beginners, and it offers a smooth and stable ride that allows users to explore the underwater world with ease.
Seabob is equipped with powerful motors and state-of-the-art control systems, ensuring that yacht charter guests can manoeuvre it with precision and control. Its lightweight design, combined with its powerful performance, makes it a popular choice for water sports enthusiasts, as well as those who simply want to enjoy a leisurely ride on the water.
In addition to its performance and versatility, Seabob also offers a stylish and modern design, making it a popular choice among luxury yacht charter guests and those looking to make a statement on the water. Whether you are looking for a fun and thrilling ride, or a leisurely exploration of the underwater world, Seabob on a yacht charter is the perfect water toy for you.
Why should I charter a yacht with a SeaBob?
One of the main advantages of using a Seabob on a yacht charter is the ability to explore the Croatian Adriatic Sea at a faster pace. Unlike traditional scuba diving or snorkelling, a Seabob allows yacht charter guests to move quickly and easily through the water, giving them the opportunity to see more of the marine life and underwater landscape.
It is also a great option for those who want to explore the astonishing Adriatic Sea without having to put on diving gear or learn how to use traditional scuba diving equipment.
Another advantage of using a SeaBob on a yacht charter is the ability to access areas that are not easily accessible by the larger yacht. This can include shallow waters, secluded beaches, and hidden coves. SeaBobs can also be used for water sports such as wakeboarding and tubing, providing even more entertainment for yacht charter guests.
SeaBobs are furthermore a great way to explore the local marine life and waters. Yacht charter guests can take a Seabob out to see dolphins, fishes, and octopuses in their natural habitats. They can also go snorkelling or diving to explore the coral reefs and other underwater wonders.
In addition, these water toys are an eco-friendly option for those who want to explore the waters without causing damage to the environment. They are electric-powered and do not produce any emissions, making them a much cleaner option than traditional watercraft.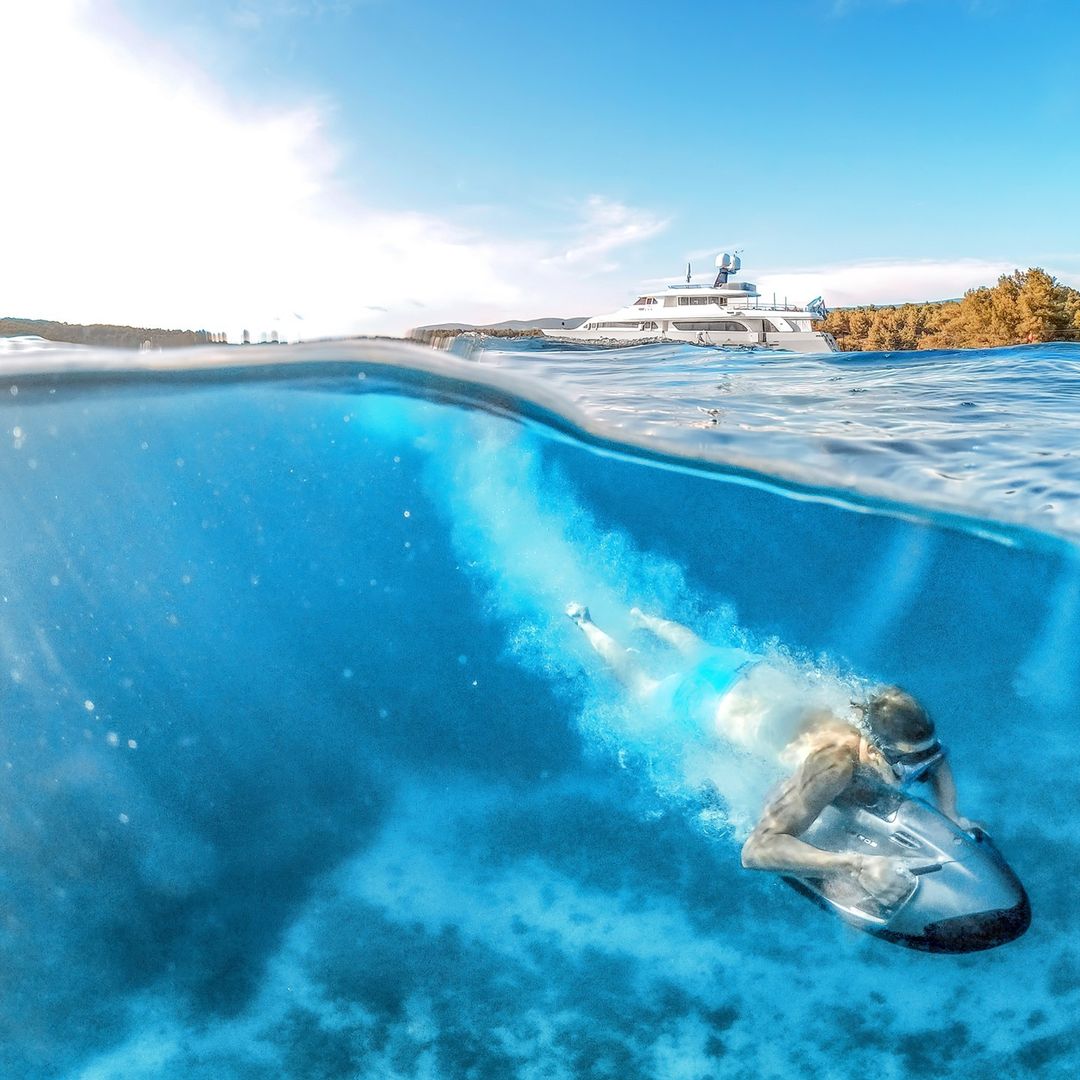 Here are six ways that yacht charter guests can use a SeaBob during their vacation in Croatia:
Explore the coastline with a Seabob on a yacht charter
One of the best ways to use a Seabob is to explore the coastline and coves of Croatia. With its powerful underwater propulsion system and manoeuvrability, a Seabob allows you to easily navigate through the crystal clear Adriatic Sea and discover hidden beaches, coves and marine life that might not be accessible otherwise.
Moreover, the Seabob features a sleek and streamlined design that makes it a joy to ride, even in rough water conditions.
Whether you are a seasoned water sports enthusiast or simply looking for a unique way to explore the coastline, the Seabob is a perfect choice. The Seabob is also eco-friendly, as it runs on rechargeable batteries and produces no emissions.
This makes it an ideal option for each yacht charter guest who is concerned about the impact of human activities on the environment. In addition to exploring the coastline, the Seabob is also great for taking part in water sports like snorkelling, diving, and surfing.
My favourite thing about Seabob is that you can go everywhere with this magical water toy. For example, if you want to visit Stiniva beach (which is due to its beauty a protected part of nature in Croatia under the status of a significant region) your yacht can anchor 100 meters from the shallow and with Seabob you can come to this magical place in less than a minute.
So if you are looking for a unique and exciting way to explore the coastline, be sure to check out the Seabob this year!
Snorkelling and diving with a Seabob on a yacht charter:
A Seabob allows you to effortlessly explore the underwater world and discover the rich aquatic life that Croatia is famous for. With a Seabob on a yacht charter, you can easily access snorkelling and diving spots that are further out to sea and explore the depths of the ocean at your own pace.
Snorkelling and diving are popular water activities that allow people to explore the underwater world and see nautical life up close. A Seabob is a water toy that can be used for both snorkelling and diving and you will be allowed to effortlessly glide through the beautiful Croatian Adriatic Sea.
Snorkelling with a Seabob is an unforgettable adventure as it provides a new perspective on the submarine world. The Seabob can be used to easily access deeper areas of the ocean and explore areas that would otherwise be difficult to reach. This water toy also allows the snorkeler to cover more ground in a shorter amount of time, making it easier to see a variety of fish, shells, and corals,…
For scuba divers, using a Seabob can make diving more efficient because it provides propulsion and can be used to easily access areas that would otherwise be difficult to reach, allowing divers to focus on observing the underwater world and taking photos or videos.
Watersports and Seabob on a yacht charter
Seabob is a perfect water toy for yacht charter guests who adore watersports. Whether you want to race across the waves, perform stunts, or simply enjoy the thrill of speeding across the water, a Seabob is a perfect way to add a new dimension to your yachting holiday in Croatia.
What I truly like about this water toy is that you can swim like a dolphin and it is the epitome of excitement, elevating the level of fun that may be had when snorkelling, freediving, or scuba diving. Since I like speed, the Seabob can be really fast and nimble, making it perfect for high-speed races and competitions with other yacht charter guests.
Photography and videography with a Seabob on a yacht charter
The Seabob's underwater propulsion system allows you to easily swim and dive under the water, making it an ideal tool for capturing stunning underwater photography and videography. With a Seabob, you can easily capture the beauty of Croatia's marine life and coastline, and create lasting memories of your yacht charter vacation.
The Seabob allows smooth and stable movement in the water, making it easier to capture high-quality footage. With its powerful motor and hydrodynamic design, Seabob can also reach areas that are difficult to access by boat or swim, offering unique and stunning perspectives for photography and videography.
Whether you are looking to capture the beauty of oceanic life, the thrill of water sports, or simply the breathtaking scenery, using a Seabob for photography and videography is a fun and exhilarating way to do so. However, it is important to follow all safety guidelines and instructions, and to have the proper equipment and training, to ensure a safe and successful photography and videography experience with a Seabob.
What is truly amazing is that you can use your Seabob to explore shipwrecks in Croatia, which is a popular activity for adventure-seekers and marine life enthusiasts. The crystal-clear waters of the Croatian Adriatic Sea provide perfect visibility for snorkelling and the abundance of shipwrecks in the area provides an exciting backdrop for underwater exploration.
Some of the most popular shipwrecks to snorkel around and take amazing photos and videos of include the Baron Gautsch and the sunken steamship "Villa Dalmacija". These shipwrecks are now home to a variety of marine life, including colourful fish, sea urchins, and starfish, making for a truly breathtaking experience.
Cruising with your Seabob around these shipwrecks is suitable for all levels, from beginners to experienced snorkelers. With the help of your crew, you can safely explore the underwater world and learn about the history and ecology of the area, but also make some amazing content for your social media.
Island hopping with a Seabob on a yacht charter
Croatia is home to many beautiful islands and a SeaBob is an excellent way to explore these islands and the waters surrounding them. With a SeaBob, you can easily hop from island to island, discovering hidden beaches, coves, and marine life along the way.
For example, my favourite area for island hopping with Seabob is the Pakleni Islands which are a mesmerizingly gorgeous archipelago, and its 21 nautically appealing islands, islets, and rocks make them perfect for island hopping and ensure an experience that cannot be repeated.
One more amazing area for cruising with a Seabob is from the Dubrovnik Old Town to Lokrum Island. This will be an unforgettable cruise because you will be able to swim like a dolphin with dolphins. Ask your yacht charter captain to explore when the family dolphins are swimming around so you can join them.
Overall, experiencing swimming with dolphins in Dubrovnik is a must-do for nature lovers and adventure seekers visiting the region.
Seabob on a yacht charter is excellent for all ages
Seabob is an ideal water toy for both adults and kids due to its versatility, safety, and excitement. It provides a unique and thrilling underwater experience that can be enjoyed by people of all ages. The Seabob is designed to be user-friendly, with intuitive controls and easy operation.
It is also equipped with safety features to ensure that riders are protected while using the device. Seabob can be a good water toy for kids, but with certain precautions. It provides an exciting experience in the water, which is sure to delight children.
However, as with any water sport or activity, it is important to follow the manufacturer's guidelines and safety precautions to ensure the child's safety. Children should always be supervised while using the Seabob and should wear a life jacket or other appropriate safety gear.
Additionally, the Seabob may have weight and height restrictions, so it is important to check the manufacturer's specifications to ensure the child is old enough and big enough to safely use the device. In summary, with proper safety measures, Seabob can be a great water toy for kids to enjoy.
In conclusion, a Seabob on a yacht charter is a fun water toy that can be used in a variety of different ways, and it has the potential to bring a whole new level of excitement to your yachting vacation in Croatia.
A SeaBob can help you make the most of your holiday and create memories that will last a lifetime by allowing you to do things like explore the coastline, snorkel and dive, participate in water sports activities, capture breathtaking photography and videography, and bounce from island to island.
Charter Yachts
We present to you the best selling yachts for charter in 2021. Slide through these different yachts, ranging from 20 to 80 meters in length, and choose the best option for you. If you have any questions regarding yacht charter, destinations & yacht support, contact us.
VIEW ALL CHARTER YACHTS
VIEW ALL CHARTER YACHTS