ONE BLUE Yacht Charter - A Perfect Blend Of Luxury and Design
Build by Oceanline in 2009, ONE BLUE yacht charter had a thorough refit in 2019, so she could please even the most demanding charter guests. Designed by the world-famous Frank Mulder, her interior layout includes 6 well-appointed cabins, able to accommodate up to 12 charter guests.
The spacious main deck salon is an inviting area for all guests to enjoy, where comfortable leather seating stretch from the entrance towards the main dining area with a large dining table easily convertible to a poker table.
The flybridge completes her fantastic socialising areas with another dining table accompanied by a BBQ & a wet bar. A jacuzzi & accompanying sun pads further aft give guests the perfect place to relax under the stairs. ONE BLUE is operated by an experienced 6-member crew, who are ready to take you on a journey of a lifetime.
Read more and find out why ONE BLUE yacht charter is so special and perfect for a family yacht charter.
YACHT CHARTER ACCOMODATION
Yacht details.
Guests:

12
Cabins:
6
Yacht Length:
39 meters / 127 feet
Yacht cabins layout:
4x Double + 2x Twin
Total living area:
315 sq.m / 3.400 sq.ft
Yacht exterior area:
120 sq.m / 1.300 sq.ft
Yacht interior area:
195 sq. m / 2.100 sq. ft
Types of Cabins on This Yacht:
1x Master Suite + 1x VIP Stateroom + 2x Double Cabin + 2x Twin Cabin
Bed Configuration & Size:
2x King + 2x Queen + 4x Single
Yacht Interior Guest Areas:
Main Saloon with Private Entertainment Centre · Main Dining Table – Convertible to Full Poker / Card Games Table · Indoor Veranda Lounge · Main Deck Day Head · Galley Bar Area · Captain's Bridge Lounge
Yacht Exterior Guest Areas:
Aft Main Deck Lounge · Beach Club with Swimming Platform · Sundeck Jacuzzi & Sunbathing Lounge · Sundeck Coffee Lounge & Bar · Sundeck Alfresco Dining Area · Front Sun Deck Lounge · Sundeck Outdoor BBQ Bar
TOP 10 YACHT CHARTER FEATURES
Yacht highlights.
1
Custom Built Yacht Designed by Frank Mulder. The Only One in The Whole World
2
Unique Design Feature. Master & Suite Private entrance, Private Port & Starboard Hallways to Twin & Double Cabin.
3
Private Chase Boat Briig, 10 Metre RIB Included
4
Extensive Water Toy List
5
Dining Table Convertible to Poker / Card Games Table
6
All areas Easily Accessible to Everyone. 6 cabin Layout On Two Levels
7
Ceiling Height in the Main Salon
8
Separated Entrance to Lower Deck Cabins on the Left & Right
9
Experienced Captain & Crew Members
10
Maximum Speed of 28 Knots
YACHT PHOTO & VIDEO GALLERY
Charter Moments.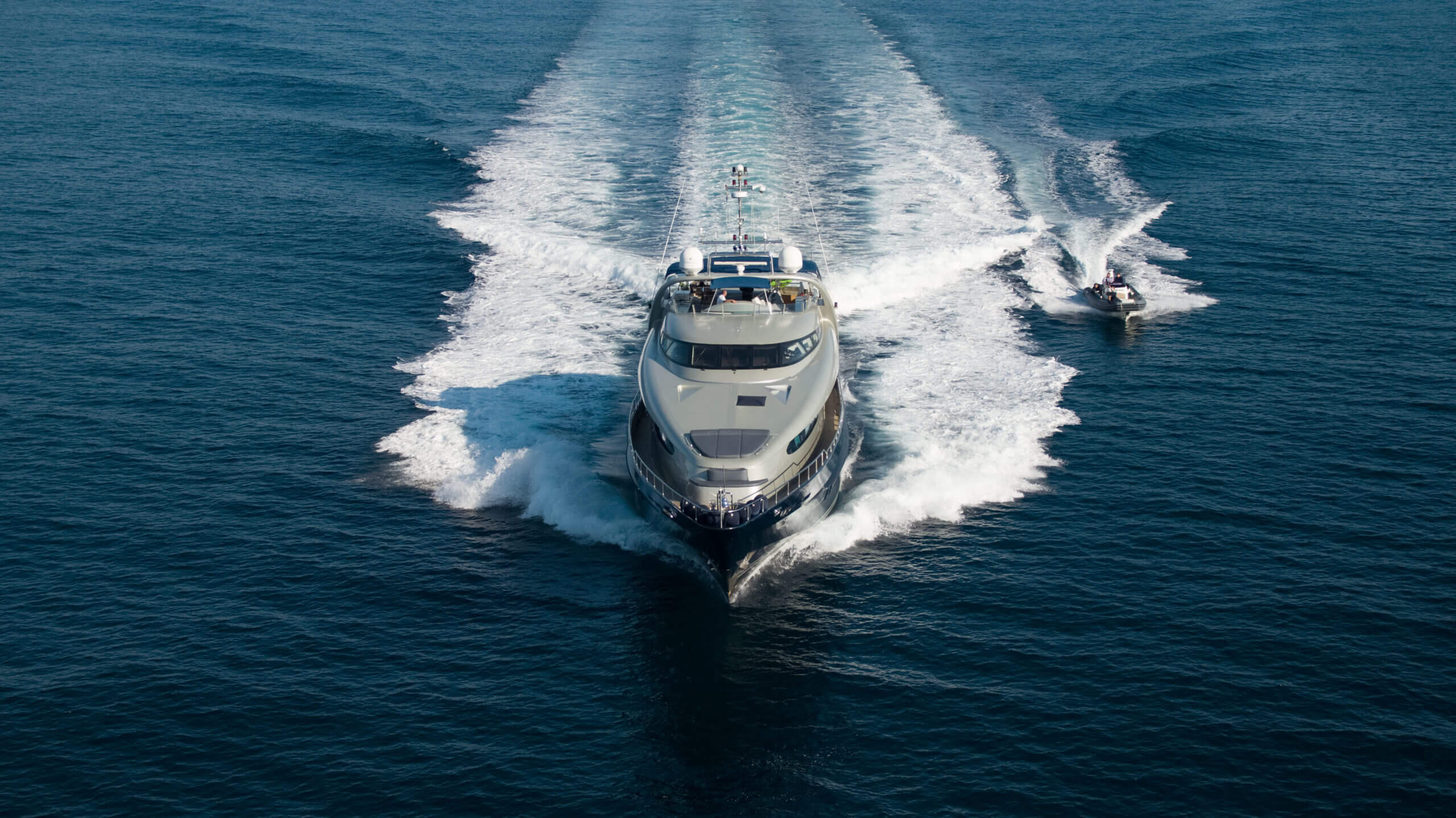 YACHT CHARTER SPECIFICATIONS
Particularities.
GENERAL INFORMATION
Length: 38.71 meters (127 ft)
Beam: 7.54 meters (24.9 ft)
Year Built: 2009
Year of last refit: 2019
Yacht Builder: Oceanline by Frank Mulder
Main Engines: 2x 12V4000
Maximum Speed: 28 knots
Cruising Speed: 14 knots
Fuel Consump. Engines: 380 l/hour*
Generator Engines: 2x 105 kW
Fuel Consump. Generators: 40 l/hour*
Stabilisers: Under-Way
*Highly dependent on sea conditions
LIST OF AMENITIES
Outdoors Yacht GYM Equipment · Spacious Sundeck Jacuzzi Bath & Jacuzzi Lounge · All decks Air Conditioning · Outdoors & Indoors Wi-Fi onboard · Under Way Stabilizers – No Rolling 'While Cruising' · All Decks Modern Sound System · Private Movie Collection (DVD) · All Suites with Private Entertainment Centres – Multimedia Systems – Sound · LCD & LED Private Library at Main Deck
WATER SPORTS & TOYS
2x Water ski
1x Wake board
2x Seabob
2x Jet ski
1x Snorkeling equipment
1x Fishing Equipment
2x Paddle board
2x Kayaks Pirana
1x Floating pool with a weighted net
TENDER VESSELS
Brig, 10m Chase Boat (Included)
Axopar 37, 12,5m Chase Boat (Optional)
FULL YACHT CHARTER REVIEW
Inspected by Us.
Climb aboard ONE BLUE yacht charter, a unique superyacht trailblazer. This magnificent vessel will bolster all summer sensations tenfold, with its magnificent design, smart architecture and one-of-a-kind interior layout.
Experience a beautiful charter vacation in Croatia, where warm afternoons, refreshing sea breezes and pine treetops create an inescapable sense of paradise. Feel like the ruler of the blue Adriatic Sea with the help of ONE BLUE yacht charter.
ONE BLUE is a stunning 39-meter motor yacht, built in 2009 and carefully refitted in 2019 to suit the modern standards of a superyacht intended for charter. The sleek architecture and modern layout is the brainchild of Frank Mulder, coupled together with tasteful interior design done by Art Line.
ONE BLUE was constructed around one premise: to provide guests with a sense of style and luxury, while also having options for entertaining on a larger scale. Elegance is imbued throughout the entirety of the yacht, making her truly one-of-a-kind. Her smooth profile contributes to the feeling that the yacht is in motion even when it is tightly berthed.
The interior of ONE BLUE yacht charter can accommodate a charter party of a maximum of 12 guests in 6 private cabins. The two double and two twin guest cabins all have their separate bathrooms and hallways, with the VIP and master cabins having their own staircases and entrances.
ONE BLUE`s interior is arranged to highlight an open concept with a wide and elongated salon, stretching further than most yachts of ONE BLUE`s length, making it seem bigger and longer.
The sheer volume of space creates an impression of awe and grandeur, enabling a free flow of air and energy – a feature rarely given any thought by other yacht designers. An innovative design and Frank Mulder`s signature guarantee that ONE BLUE will triumph over all other yachts in her category.
Please continue reading to find out more about ONE BLUE yacht charter…
A luxury yacht with a signature, ONE BLUE is a timeless masterpiece. An artist, rather than just a designer, Frank Mulder is one of the most famous yacht designers in the world, partly because he manages to incorporate supreme aesthetics with practical design solutions.
Taking the time and appreciating the craftsmanship of ONE BLUE, one starts to notice these smart and elegant design solutions. The whole layout of ONE BLUE is circular, broken by stepped ornaments and motifs.
This sharp contrast between the layout and ornaments follows guests all around the vessel, hiding in plain sight like staircases, under bathroom sinks, in the indoor veranda or in the guest cabins… After a conscious tour of ONE BLUE, one starts to notice how much time and effort really went into conceptualising and designing this yacht.
Not a single detail was left to chance, giving the impression of walking through a luxury museum, rather than just a luxury yacht.
The artistry that went into planning and building ONE BLUE is one of ingenuity and craftsmanship, rarely found aboard more modern yachts. Start your superyacht charter holiday in style and glamour aboard the unique ONE BLUE yacht charter.
A DAY ON THE YACHT
Wake up refreshed in ONE BLUE`s master cabin, surrounded by a 180-degree view of sea and shore. Let the light in through the blinds while you prepare for a day filled with excitement, adventure and fun.
Before breakfast, pass the walk-in wardrobe leading to your private bathroom, with two separate sinks, a large shower and a huge bathtub. Have breakfast on your indoor veranda, at the dining table in the salon or join your charter party for an al fresco breakfast on the main deck aft. Enjoy the Adriatic panorama as you sip coffee and read the news.
Let your hardworking stewardess bring out all the dishes that make up a typical breakfast buffet: deli meats, olives and cheese platters, hand-made and freshly-baked pastry, lots of fresh fruits and vegetables. For simpler breakfast tastes, several different types of granola, eggs and smoothies are also on offer.
If you have any alternative breakfast wishes, just ask your dedicated chef, and he will prepare anything in a blink of an eye. After the last bite of breakfast, a fun and exciting day of a luxury yacht itinerary can begin.
ONE BLUE yacht charter boasts an impressive water toy list, with two jet skis, a Sea bob, water skis, kayaks and all the snorkelling and diving gadgets you could wish for. Ask the crew for local insights about the best places to visit for a particular activity.
Spend the day having fun with jet skies or explore hidden nooks and crannies of Croatian islands with kayaks. Afterwards, return to your luxury yacht for a magnificent lunch, costume made to fit your taste down to the last detail. Lunch is usually served in the salon, to avoid the heat of the noon sun, so you could better prepare for the afternoon's entertainment.
Sit down at the beautifully decorated dining table and enjoy dishes like a classic lentil soup, served with lemon juice, followed by sea bass with balsamic vinaigrette sauce and mashed potatoes. Finish with a dessert-like classic tiramisu, with a side of local forest-fruit jam.
After a post-lunch siesta, you might want to relax on a deserted beach, where the crew can take you with the tender. Here, you can sunbather in total privacy. If you are not in the mood, just lounge around your luxury yacht, bathing in sunlight while you seek refreshments in cool drinks and the crisp Adriatic Sea.
As the sun slowly sets, kindly ask the captain to move to a more suitable location to go with your alfresco dinner on the flybridge. Eat under the night sky and be amazed at how much more glistening the stars are when there is no light pollution or big cities nearby.
Experience dishes like a freshly-caught grilled octopus, with potatoes and asparagus sauce. Continue with a red mullet fillet with a zucchini carpaccio marinade. For dessert, choose between a vanilla Pavlova cake or traditional Croatian pancakes.
Let the calmness of the sea slowly rock you to sleep, after several glasses of terrific Croatian wine. And as you slowly return to your king size bed in your master cabin, on board ONE BLUE, you can be sure of one thing: tomorrow will be even better than today.
YACHT CHARTER DINING
Let your expert chef prepare magnificent dishes, described as god-like cuisine, served against the backdrop of the heavenly Adriatic. Magnificent culinary delights prepared with tenderness and proficiency by your chef and served with love by your stewardesses aboard ONE BLUE yacht charter will be one of the highlights of your superyacht charter vacation.
Eat and drink with your charter party at the large salon table and enjoy course upon course of gourmet masterpieces. Your Michelin-level chef will create wonders in the galley of ONE BLUE, never failing to deliver both mouthwatering fusion cuisine and traditional Croatian recipes with a luxury twist.
Visit your private chef as he prepares your meals and lean over the galley bar, to see what's cooking. He will happily share some tips and tricks for preparing gourmet specialities.
The galley on board ONE BLUE is compact, but more than capable of handling all the gourmet demands a typically charter party would ask for. Vast refrigerator space guarantees the freshness of food and coolness of drink at every time of day.
ONE BLUE`s storage can hold out for the whole duration of the charter without the need for restocking or additional provisioning. Despite that, the chef will insist that fresh seafood gets delivered daily.
Enjoy your meals indoors, utilising the huge salon dining table, or little lounge areas scattered around the salon. The interesting thing about the main dining table is that it can serve two purposes. Firstly, the crossover design between dining chairs and bar stools ensures that you have an elevated dining experience, sitting more than 12 guests comfortably.
Secondly, after meals, you can practice your poker face, because the dining table can also serve as a poker table. For families with small children, a vacation on ONE BLUE will mean keeping your children still on elevated chairs, as you dine.
Kids will definitely find it entertaining to spin around and sit backwards. That is why a separate lounge and indoor veranda area was implemented in the design, to present choices for several different sitting arrangements.
After a meal, step out on the main aft deck for an alfresco dessert and a nice cigar or spice things up with a barbecue on the flybridge. Ask your chef to prepare an evening surf and turf menu, while you and your charter party watch him do his magic from the flybridge jacuzzi.
YACHT MAIN DECK
Stepping aboard ONE BLUE yacht charter, the first thing you notice is the main deck aft alfresco area, which is designed to comfortably sit up to 12 people on the big dining table.
This space can also provide a relaxing lounge opportunity for several guests The entrance connecting the main deck with the salon also holds a small lounge area, where members of the charter party can sit, watch a movie, read a book or just rest and relax.
Yacht charter accommodation: main salon & dining area
The main salon is dominated by a big dining table, serving dual roles, both as an exquisite dining table and as a poker table for the evening's entertainment. The indoor veranda at the starboard side of the salon enables lounging, eating or drinking without the need of sitting at the table while enjoying picture-perfect sea panoramas.
The staircase at the front of the salon is the main ornament of the entire yacht, offering both aesthetic and practical features. On one hand, the spaciousness of the staircase communicates luxury and glamour.
On the other, it provides separate staircases for each of the four guest cabins, eliminating potential traffic jams on stairwells, a somewhat common occurrence on most yachts.
The ceiling is nearly 3 meters high in some parts of the vessel, giving the impression of old European continental apartments, where the height of the ceiling communicated the height of social status.
There are ample glass surfaces, that cover the main deck's walls, so ONE BLUE yacht charter is always full of light, from the earliest hours of the morning to the last flickers of sunlight at dusk.
Yacht Charter Accommodation: The master stateroom
The master suite, located at the tip of the main deck, is the epitome of spaciousness and luxury, designed around circular shapes which complement spacious windows that give a full frontal view of 180 degrees.
You will sleep in a king-size berth in the master suite while having access to vast amounts of closet space. A small staircase leads to a multi-levelled and spacious ensuite, with double sinks and a large bathtub.
Completely separated from all the other cabins, the master suite enjoys total privacy. Being located on the furthest forward point of the yacht, the master suite is also completely soundproof.
Rarely is there a suite on yachts that can compete with ONE BLUE`s master suite. Even when you get into the category of 50+ meter yachts, you will not find such a marvellously appointed and innovatively designed suite. It is a multi-level masterpiece!
Black polished leather furniture combined with an overall white theme and complemented by traces of ebony wood details create an exclusive and glamorous vibe. The all-black sheets on the king-size berth really add to the sense of luxury and style that this suite communicates.
The oval layout of the suite allows for the furniture to be designed ovally as well. Guests can sit at an oval sofa to starboard, which is placed directly below the extra-big windows. Directly opposite, a vanity table and an auxiliary table offer a quaint place to sit and maybe do some quick work with the background panorama of the beautiful Croatian Sea.
Another black polished leather sofa is placed to port, continuing the oval design until guests reach the steps leading into the sunken ensuite. With polished stainless steel handrails leading to it, ONE BLUE`s ensuite in the master suite is really a work of lavatory art.
The door to the ensuite is stylized to match an early Japanese theme, with cardboard and wood frames resembling ancient Japanese movable walls and doors. Inside, an intricate unified mosaic sets up a luxury atmosphere. Double sinks are intricately connected to a large tub, perfect for a bubble bath after a glamorous dinner party.
YACHT FLYBRIDGE
The flybridge consists of a big sunbathing area complete with soft sun lounges and a 6 person jacuzzi. This jacuzzi is often the most favourite place aboard ONE BLUE yacht charter for many charter guests, and it is not hard to see why.
You can enjoy perfect panoramas of the Croatian Adriatic – it does not matter which time of day or night you choose to relax in the jacuzzi – you will constantly feel surrounded by beautiful coastal nature or the divine blue sea.
Handpicked outdoor yacht gym equipment is available for converting the flybridge into an outdoor yacht gym. Talk to your crew about a light work-out routine, best suited for the equipment and space on ONE BLUE`s sundeck.
You can ask your crew to hire a professional fitness coach or a yoga trainer, so you could enjoy an active charter holiday in Croatia. After all this, there is still enough space left on the flybridge for a dining area created with the idea of eating dinner while catching the last rays of the sun, before the stars start to appear in the sky.
To offer more versatility, the flybridge is also equipped with a minibar and barbecue area, so you could ask your expert chef to prepare a barbecue dinner, while you lounge around and enjoy the aroma of meat cooking over the grill. As you enjoy a meal on the flybridge, experience the view of the sun dipping into the horizon, as you salute your charter party with champagne.
YACHT LOWER DECK
Finely tuned and well-appointed, the lower deck cabins on ONE BLUE yacht charter are a masterpiece of contemporary yacht construction and timeless maritime design.
ONE BLUE yacht charter features 4 private entrances to cabins: 1st to the master, 2nd to the VIP, and 3rd and 4th to two private hallways to starboard and port, leading to twin and double cabins. Families find this very convenient as each couple with children has its own entrance, leading to different sides of the yacht. This feature is usually found only on catamarans.
All the cabins on board come with flat-screen TVs and en suite bathrooms that feature showers, plenty of closet space, cabinets and drawers. The VIP stateroom is accessible via the hallway that connects the master suite with the main deck salon, so it also has its own private staircase.
ONE BLUE is one of few luxury yachts where movement between cabins and decks is not restricted in the manner usually found on other yachts. All the beds are costume-made and designed around the cabins, so they maximize the available space while sacrificing nothing in return.
Yacht Charter Accommodation: The twin cabin
The futuristic feel of ONE BLUE`s twin cabin is achieved by using white as a primary colour, with ebony wood details paired with pillows of the same colour. Berths are custom-made and shortened at the corners, to provide more room for walking around and accessing the berth.
The integrated artificial lighting only serves to accentuate the futuristic atmosphere that the twin cabin provides. Guests can immediately feel the difference between the twin cabin aboard ONE BLUE yacht charter and all other yachts.
The designer definitely knew what he was doing when he was putting together the twin cabin aboard this wonderful superyacht charter because he created a stylized and glamorous accommodation.
Yacht Charter Accommodation: The double cabin
A costume-made queen size bed with an appropriate costume mattress, practically shortened at both edges, gives more room to move around the cabin. Beneath the berth, an island-sofa doubles as an element for sitting, as well as storage. The design of the cabin reminds of a sports car cockpit: sleek, streamlined and swift.
The dark-striped ebony wood details match perfectly with the white furnishings, contrasting the game of shadow and light in this cabin. Black curtains cover the wide porthole, guaranteeing a pitch-black atmosphere if guests want to sleep in the middle of the day and not be disturbed by natural light.
Besides that, ample artificial lights are integrated into the ceiling panels. The soft white carpet ties together the impression of the double cabin perfectly, inviting guests to step into a masterfully designed living space.
Yacht Charter Accommodation: The VIP stateroom
The VIP stateroom is multi-levelled, following the master suite`s example, with steps that lead into a sunken accommodation. A black-and-white theme is present here as well, like in the rest of the ship, which translates into a dynamicity that can be felt when stepping into ONE BLUE`s VIP stateroom.
The sunken level gives an impression of height as well as length and depth, creating a sense of a den in a living room, so you can really feel like you are in your home away from home. The cabinetry is practically appointed, located throughout the cabin so as not to disturb the natural flow of energy that occurs here.
A stainless steel pole that is a part of the superstructure could remind some guests of a nightclub vibe, while others will find entertainment in the massive flat-screen TV right in front of it.
The headspace above the queen-sized berth has an overhang, which is actually the sunken level of the master suite above. Nevertheless, the design turns this feature into an absolute win and a favourite among charter guests. The black can be used to shut off plenty of natural light that comes in during the day.
Guests will find that the VIP stateroom can also serve as a lounge area, where you can enjoy drinks and some light reading, just watch TV in an air-conditioned environment.
YACHT BEACH CLUB & SWIMMING PLATFORM
ONE BLUE yacht charter offers easy access to the sea via the beach club swimming platform, where you can relax and enjoy the scenery or a refreshing cocktail. Let your expert crew lower swim ladders and experience the sea up close like never before. Or jump straight into the water and start having fun with water toys in an instant.
ONE BLUE`s water toys are stored behind the hydraulic garage door; once released, the toys can be easily accessed from the swimming platform. While you wait for your turn on the jet ski or the Sea bob, your dedicated crew can serve canapes and cocktails, creating a wonderful beach club atmosphere.
YACHT WATER TOYS & WATER SPORTS
ONE BLUE yacht charter has an avid water toy collection, ranging from traditional fun-makers, such as jet-skis, snorkelling gear or diving equipment to modern approaches to having a good time on the water, like paddle boards, wakeboards and Seabobs.
Choose to have an unforgettable experience in your private Adriatic Sea playground, racing on jet skis with friends or snorkelling around the shallows with your children. If you are inclined to a more peaceful and relaxing time spent near the water, why not ask your crew to set up a private fishing spot, just for you?
While your charter party has fun on the water, you can catch your dinner, confirming the old saying that the best meal is the one you catch yourself.
YACHT CHARTER CREW
At Your Service.
Captain
Ivo Zuvela
Ivo is a professional seaman with over 20 years of sea experience, of which 12 were spent as an AB (Able Body Seaman), 4 spent as 3rd and 2nd mate on Merchant vessels in worldwide navigation. In 2015 he decided to move to yachting. Since then, Ivo has been extensively cruising the SOF, Italian and Croatian coasts onboard the 39 ONE BLUE. Ivo is a very organised person and has excellent seamanship skills. Honest, flexible, and an excellent team player.
Engineer
Simun Ljubica
Simun was born in 1983 and after finishing his studies at the Faculty of Maritime Studies in Split, he started to sail in 2008 as an engineering apprentice on offshore and container vessels. In 2018 he started to work on yachts. He is very professional, responsible, friendly and reliable. His hobby is volunteer firefighting. He speaks Croatian and English.
First Officer
Filip Stipkovic
Filip was born in 1974 and has many years of experience working at sea on small cruise ships and fishing vessels. His diligence and dedication ensure a high level of service and comfort to all guests. On a personal level, Filip is friendly and approachable, always going the extra mile to make sure all guests have an unforgettable experience. He is an avid sportsman, diving and rides his bike. Filip speaks Croatian and English.
Chef
Marijo Gotovac
All his life Marijo has had a passion for gastronomy. He studied professional cuisine and worked in various high-end restaurants throughout the world acquiring experience and an interesting level of variety of dishes. With his extensive knowledge and expertise, Marijo decided to join the yachting industry on board a 44-meter yacht based in Croatia. We are happy to have Marijo on board this year, being a perfect addition to the ONE BLUE team. Marijo speaks Croatian and English.
Chief stewardess
Lara Kondic
Lara was born 1993 and raised in Split, Croatia. She spent her whole life by the sea and has found yachting a perfect field to combine her love for the ocean, her passion for travel and her hospitality skills. Lara is a student at the Faculty of Applied Business and Social Studies, with 6 years of experience in the Hotel and service industry, 4 of which she spent on Cruise ships and Mega yachts. Lara takes pride in providing extraordinary service, devoted to making your stay onboard an exclusive and unforgettable one. Lara speaks Croatian and English.
Second stewardess
Jelena Vrtlar
Jelena was born in 1988 and raised in Belgrade, Serbia. She has over 10 years of experience in the hotel industry. Jelena started her ships career five years ago. With a cheerful personality, she is always ready for new challenges and creating memorable experience onboard One Blue. Jelena speaks Croatian and English.
Captain
Engineer
First Officer
Chef
Chief stewardess
Second stewardess
SIMILAR YACHTS FOR CHARTER
By Charter Rate.
LET'S GET IN TOUCH TODAY.
Contact us.