Photo Credit to Blue Planet Studio from Shutterstock
Yacht Charter in Šibenik
Start your charter holiday in the heart of Central Dalmatia and discover the picturesque medieval town which is a gateway to extraordinary places filled with untouched nature, and enjoy in unique experiences during your yacht charter in Šibenik.
Discover numerous islands and islets that define the spectacular landscape of Šibenik. Here you will find everything you could want from your yacht charter vacation!
Explore countless secluded bays, taste the fresh Adriatic oysters in the Šibenik channel, cruise around 242 islands and swim in the pristine sea. These are just some of the highlights of your yacht charter in Šibenik.
Discover the unique atmosphere, quiet streets, ancient city walls and breathtaking views. If you are a Game of Thrones fan, just a few marble stairs up from your yacht, through the old town you can visit a filming location of the Iron Bank (St. James Cathedral) and explore the streets of Braavos. (Šibenik)
Start your charter in the heart of Dalmatia and discover the medieval town which is a gateway to 2 extraordinary places with untouched nature: lush National Park Krka and a unique National Park Kornati. Both fascinating areas are easily accessible by yacht and full of unspoiled nature and unique charter experiences.
Make sure to start your morning in tranquil Skradin bay, and gaze upon extraordinary nature. There you can visit the famous National Park Krka with its 7 majestic waterfalls and discover the impressive, 45m tall waterfall Skradinski buk with 17 cascades. Bring your swimsuits for a unique experience and swim under the cascade waterfalls in the heart of the National Park Krka.
If you prefer island-hopping, make sure to visit a must-see nautical paradise – Kornati Islands. Cruise with your yacht among countless islands in the Kornati archipelago and enjoy the best water activities in secluded crystal-clear bays.
Witness the spectacular landscape of Kornati Crowns, visit the private Mana Island with a film set on top of the island and swim in the pristine waters of its private bays.
WHY CHARTER IN ŠIBENIK
Dock your superyacht right on the promenade of Old Town and enjoy a relaxing stroll through the medieval streets of this unique place. Discover the exquisite fine dining experience of a Michelin-starred restaurant Pellegrini with a backdrop view on a UNESCO heritage site – St. James Cathedral, just a few steps away from your yacht charter in Šibenik.
Cruise around the most captivating archipelago in the Adriatic and experience the best side of Šibenik – its majestic canyon, famous for the oysters you can try out on your yacht while cruising through the area of the spectacular beauty.
This alluring area consists of 150+ islands, full of private bays, untouched nature, and tranquil lagoons for you to explore, all within a radius of only 40 nautical miles, meaning everything is very close. This means you will spend less time cruising and more enjoying the beautiful bays.
Start your yacht charter in Šibenik with a short cruise around the islands, enjoy various exciting water activities, and put your water toys to good use.
Apart from that, these islands also offer various spots to visit, such as the museum of the inventor of the parachute – Faust Vrančić in Prvić Luka, one of the most interesting museums in Croatian islands.
During your yacht charter in Šibenik, you can visit the extraordinary Kornati Islands with its 89 mainly private islands and countless crystal-clear lagoons.
This area is an oasis for yachts looking for either a relaxing charter holiday or an adventurous summer getaway around secluded bays. Apart from the exceptional nature, you can enjoy snorkelling and diving, try out various water sports and swim in peaceful private bays, full of underwater life.
You will get to choose where to moor with your yacht, in one of many spectacular lagoons. Just imagine relaxing on your deck with a cocktail in your hand and enjoying a fantastic sunset, followed by dinner prepared by your chef, and served to you under the stars. After your dinner, you can enjoy a movie night in your open-air yacht cinema.
While on a yacht charter in Šibenik Archipelago, 6 miles inland from Šibenik to the north, you will discover yet another area of unparalleled beauty – National Park Krka.
You can easily moor your yacht in Skaradin, near the entrance, and enjoy a unique experience in unspoiled nature. You will witness the majestic Skradinski Buk waterfall, with its 17 glorious cascades of different heights pouring into the emerald river lake, suitable for a refreshing swim.
You can enjoy multiple and unique charter experiences in this natural oasis and try out the local cuisine in traditional restaurants overlooking the charming watermills.
When we are talking about superyacht infrastructure in the area there are many marinas, docks, and moorings, so you can be sure the yacht support can reach you at any time of your charter holiday.
To be precise, in this area, you have access to leading nautical ports – 13 marinas with a total of 3671 wet and 950 dry berths.
Moreover, the Šibenik archipelago has the safest and most tranquil archipelago on the Adriatic due to its unique landscape, which means you will enjoy a relaxing cruise on your yacht charter in Šibenik.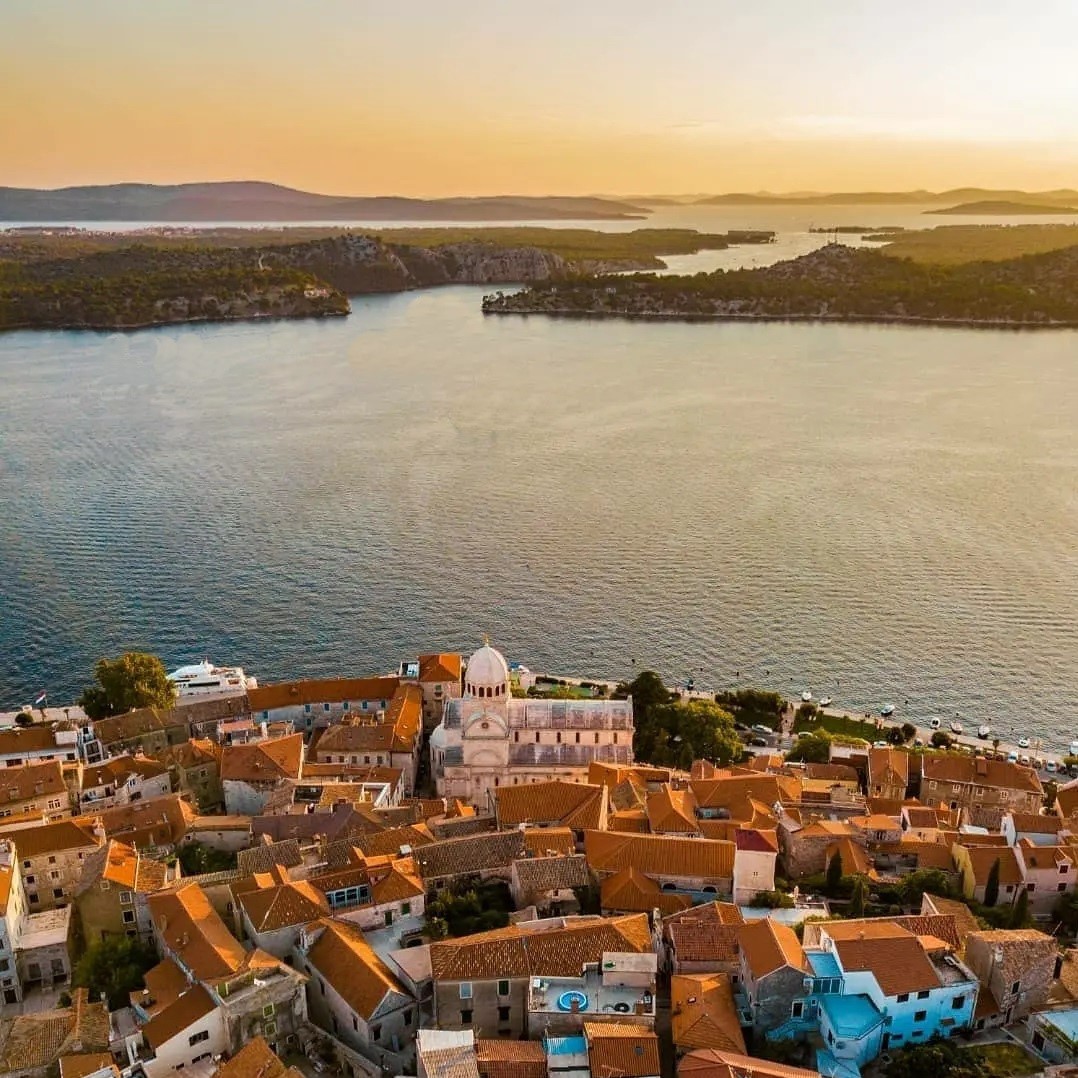 WHEN TO CHARTER IN ŠIBENIK
The best time for a yacht charter in Šibenik is June and July, with ideal sailing conditions, long sunny days, warm weather, refreshing sea, and almost no crowds at all. You will feel like you are cruising around your very own private archipelago wherever you go.
If those months don't fit in your busy schedule, don't worry. You can start your yacht charter in Šibenik around the whole summer season (April – November).
The high season is in July and August, and it is the most popular time to charter a yacht and cruise around the Adriatic.
The low summer season is in June and September, and it offers fewer crowds and ideal sailing conditions.
The shoulder season in April, May, October, and November is perfect to explore nature in all its glory and to enjoy complete privacy.
The winds are particularly reliable during the sailing season when local sailors claim they can set their watch by them. Wind mistral blows during the day, peaking between 9 am and 12 pm, then taking a break for a couple of hours before returning around 3 pm for a few more hours until dusk, when the winds die down, to a light breeze.
The daytime winds usually force 4 or 5 and their predominant direction is landward, which is driven by the sun – as the land warms and the air above it rises during the day, the air is drawn in by the sea.

Šibenik has mild winters and quite warm summers, but the temperatures are never too extreme. In the yachting season from May to September, conditions are practically perfect – the temperature is somewhere between 20 and 25 degrees (68-77F) which means light summer clothes and colourful cooled drinks.

The Adriatic is very well protected and enclosed, so temperatures never drop much below 15C (59F) degrees, and the sea is swimmable all year round. By the end of May, swimming in the sea becomes pleasant and refreshing at around 20C degrees (68F), and by the end of August, at 25 degrees (77F), it feels like you are swimming in a pool.
HOW TO GET TO ŠIBENIK
If you plan to arrive on your yacht charter in Šibenik by aircraft, you'll be pleased to hear that there are two airports nearby. Zadar to the north and Split to the south. It is very important to note that both Zadar and Split have year-round flights.
The nearest airport to Šibenik is Split Airport (SPU), which is 39.3 km away. It takes around an hour of car ride to get from Šibenik to Split Airport. On the other hand, Zadar airport(ZAD) has access to the highway leading directly to Šibenik and you will be in there much faster and avoid all the traffic jams (ca 45min).
After you arrive at the airport, it is best to rent a car and drive to Šibenik. The SuperYachts Croatia team will be pleased to arrange a VIP transfer with a shortstop to the River of Krka hilltop view for a perfect start to your yacht charter experience.
There are two close airports (Zadar and Split) that offer year-round flights and fantastic Airports with all the amenities you may need.
PERFECT ACTIVITIES FOR YOUR YACHT CHARTER IN ŠIBENIK
Take A Dip In An Emerald Lake Near Majestic Krka Waterfalls
Start your yacht charter in Šibenik and try out fresh oysters on your yacht deck, freshly brought to you from the Šibenik channel. Make sure to visit the nearby oasis full of untouched nature – spectacular Krka National Park.
Moor your yacht in Skradin port, close to the park entrance and discover an area of unparalleled beauty only 10 nautical miles away from Šibenik. Visit the stunning waterfalls, sail through the magnificent river gorge, explore the caves and swim under majestic waterfalls.
This area is full of unique experiences and unmatched scenery. You will see 7 cascading waterfalls and vivid forests surrounding the emerald river.
Make sure to visit the awe-inspiring 45m high Skradinski Buk waterfall, famous for its 17 cascades of different heights falling in a shimmering emerald lake perfect for a refreshing swim.
Walk on the charming wooden footbridges across the Veridian green river and discover several breathtaking viewpoints.
We suggest visiting this majestic waterfall earlier in the day, before the rush hours. If you decide to swim in the National Park, we advise doing it after you have visited Visovac island or Krka Monastery. That way you will avoid wearing a wet swimsuit for the rest of the day.
During your yacht charter in Šibenik don't miss out on the smaller, more tranquil Roški Slap waterfall. It has fewer cascades, but it is an equally glorious sight.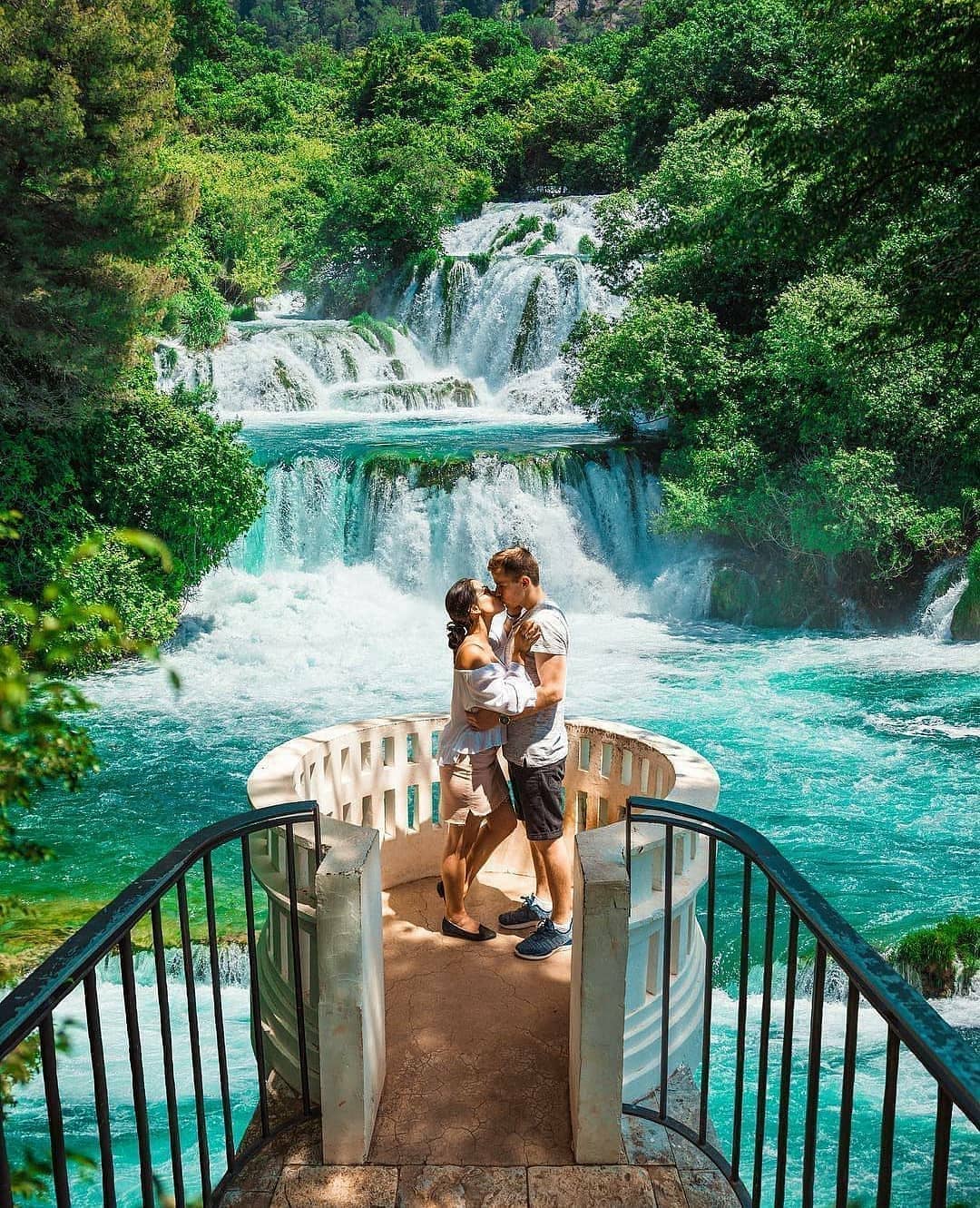 The main cascade is an impressive 22 meters high waterfall. You will get to see "the necklace" shaped cascades, while you are there visit the Oziđana pećina cave- a small preview of Krka's extensive underground cavern system. There you can look at fascinating thousands of year-old artefacts.
National Park Krka is home to plenty of wildlife, 20 species of fish, and endangered mammals (otters, wolves, and wildcats). If you are lucky, you might get a peek at the Olm, a strange aquatic salamander that lives in the caves systems of the park.
Enjoy a series of 19th-century water mills all over the area, cycle or hike on trails full of unspoiled nature trails and explore preserved Roman military remains – Burnum. Only a few hundred meters from the Roman ruins you will find Majnolovac waterfall, cutting through a jungle-looking river canyon.
Discover Zlarin – The Red Coral Island
One of the highlights of your yacht charter in Šibenik is the island known for its red corals – Zlarin, where islanders are known to be famous coral divers and where it is believed in the magical power of corals, and its healing properties.
The Island of Zlarin is still the undiscovered jewel of the Croatian Adriatic, distinguished by its pristine nature and exceptionally rich heritage.
On this quiet yet beautiful island, the Adriatic keeps its secrets hidden under the surface in the form of stunning corals. Here you will discover the fascinating legends about corals, dating from the 13th century. You can dive around the island's coral reefs and explore the underwater world.
Although most corals grow deep down on the seabed, you will still be able to see some closer to the surface. Coral diving know-how was carried over from father to son on island Zlarin and there are no written records of coral hunts, nor are there any records of how to dive for ones that are 200 meters deep in the sea.
The red coral is considered the most beautiful coral, symbolizing love, devotion, loyalty, and obedience, and ones made by the Zlarinka Coral Center, are proclaimed the best souvenir in Croatia.
On this island you will find more than just corals, you will find the rich heritage and a lot of historical buildings.
Walk, jog or ride a bike on hundred-year-old paths through the beautiful landscape – on Zlarin, you will have countless possibilities for sports and recreational activities during your yacht charter in Šibenik Archipelago.
Relax in stunning bays, listen to the sound of waves, the rumble of wind and enjoy the clarity of the sea. Pull out your SUP or kayak and enjoy around the island's coastline.
Visit Kornati Islands – A Nautical Paradise With Countless Secluded Bays
Take time to visit a well-known nautical paradise – Kornati Islands. Enjoy cruising through the place where peace and tranquillity reign supreme beauty. This is where you can spend a good portion of your vacation.
There you will be able to explore 90+ mostly private islands, owned by ancient families who paid their workers for hard labour with barren and worthless islands at that time. Little did they know that today those same barren islands are precious and priceless paradises.
Take your time and cruise along the countless secluded bays and discover the rich marine life with a snorkelling adventure on your yacht charter in Šibenik. The Kornati will impress you with its crystal-clear sea and beautiful seascape. Kornati islands are a true oasis for yachts, full of unique experiences and crystal-clear bays.
Visit one of the numerous private islands in this astonishing National Park, which redefine the meaning of privacy. Cruise around the majestic Kornati Crowns cliffs, explore the unique plate-shaped island Taljurić, visit the spectacular sandy bay Lojena on the Island Levrnaka, and many more. If you like hiking – Kornat island is your place, make sure to visit Vrata Opata, in the south of the island and witness the outstanding vistas on this spectacular nautical labyrinth.
Explore Remote Movie Set On The Private Island
You will enjoy a spectacular panoramic vista from the top of Mana Island, just a short hike away from your private bay. On the hill, you will discover scattered stone houses, which were part of a blockbuster movie set back in the 50s named "As the Sea Rages" with old school Hollywood stars Maria Schell, Cliff Robertson, and Cameron Mitchell. This movie was in cinemas in 1959 and it was directed by famous director Horst Hächler.
Take a walk around the majestic cliffs on Mana Island and jump on the film canvas. If you are eager for a unique summer experience, you can jump into the sea from the white Mana cliffs and feel the thrill of the free-fall. This island of wild beauty hides another spectacular viewpoint – fort Turetta. Unlike the ruins of the movie set – this fortress was standing here from the 6th century.
Cruise around limestone island Taljurić, famous for its flat surface, only 3m above sea level. This islet is not easily accessible by larger boats, but if you wish to take a few spectacular photos, hop on your tender and take a closer look at this specific islet.
This labyrinth of remarkable beauty was, according to the legend, created from rocks God had left after creating the world. He tossed them into the sea, and when he looked at them, God was so impressed by his creation, that He has decided Kornati Islands are so beautiful that nothing else needed to be corrected.
This legend tells a deeper story, about how something imperfect and natural can be perfect. Hence, the Kornati islands are a maze of extraordinary beauty with a deep meaning left open for interpretation to its visitors.
As a part of your spectacular yacht charter in Šibenik, you will get a chance to see Kornati crowns – breath-taking cliffs, carved and shaped by nature itself. These magnificent phenomena will make your cruise worthwhile. You will find the highest crown on the island Klobučar 82 m high (269ft) and the longest crown on the island of Mana 1350 m long (4429ft).
You will discover amazing underwater life around the Kornati islands. No matter how experienced you are, you will simply enjoy snorkelling around Kornati or diving with your personal scuba instructor.
Explore the Kornati underwater crowns dropping down vertically for almost 100 m and enjoy vivid marine life.
Here are our 9 best spots for diving and snorkelling on the Kornati:
Apart from the extraordinary underwater world, Kornati Islands are famous for their gastronomical scene. You can ask your yacht crew to berth your yacht charter right in front of the restaurants and enjoy exquisite gastronomy, fresh seafood, and excellent service with a backdrop on the pristine and tranquil bays.
If you aren't certain what to eat – you can't go wrong with lobster, shrimps, seashells, calamari or other fish dishes. All the seafood is freshly caught in the Adriatic Sea and brought straight to your plate.
The SuperYachts Croatia team will gladly assist you with a certified and professional local scuba instructor if you wish to explore the secrets within the depths of the Kornati islands archipelago on your yacht charter holiday or make a reservation on your behalf in a top-notch restaurant.
On the way back from Kornati Islands to Šibenik, we suggest you explore the Proversa sea passage and cruise around the Veli Kornat, along the island of Žut.
Here you can enjoy summer activities around nearby islands and moor in many secluded island bays of your choice. While you are out there, make sure to make a quick stop on the island of Tetovišnjak Mali.
This island is located 9 miles southwest of the entrance to the Šibenik Channel. Here you can enjoy a beautiful beach on both the south and north sides of the island and put your jetski or seabob skills to good use.
Explore The Mighty Fortress, Mysterious Cave And Enjoy In Stunning Coves
Drop your superyacht anchor in one of 3 lovely coves in St. Anthony`s Bay and discover the wonders of this stunning sea passage. Visit the mighty St. Nicholas' Fortress, located at the entrance to the channel, with your tender and witness the majestic vista on this intimidating arrowhead-shaped fortress, which is also on the UNESCO World Heritage List.
After you are done with this impressive fortification, hop on your tender and explore a fascinating cave hidden in the harsh rocks of the channel – the Cave of St Anthony.
This cave system is unique, because of the little church located in it. While navigating the channel, pay attention and discover an undersea tunnel, which was dug in the rock inside the Cave of St Anthony by the German army.
After all the exploring there are a few more things you can do before heading back to your yacht. Take a stroll across the wooden bridge to the islet of Školjić and enjoy the sight of the shimmering sea beneath your feet.
Continue onwards on the fascinating promenade extending from Panikovac Cove to the islet of Školjić near St. Nicholas' Fortress. This 4 km (2.4 miles) long track is full of amazing panoramic vistas, and stunning viewpoints of the entire city and the Šibenik archipelago from multiple locations.
It takes about two hours to walk along the whole promenade, which is a wonderful opportunity to spend a few hours in nature.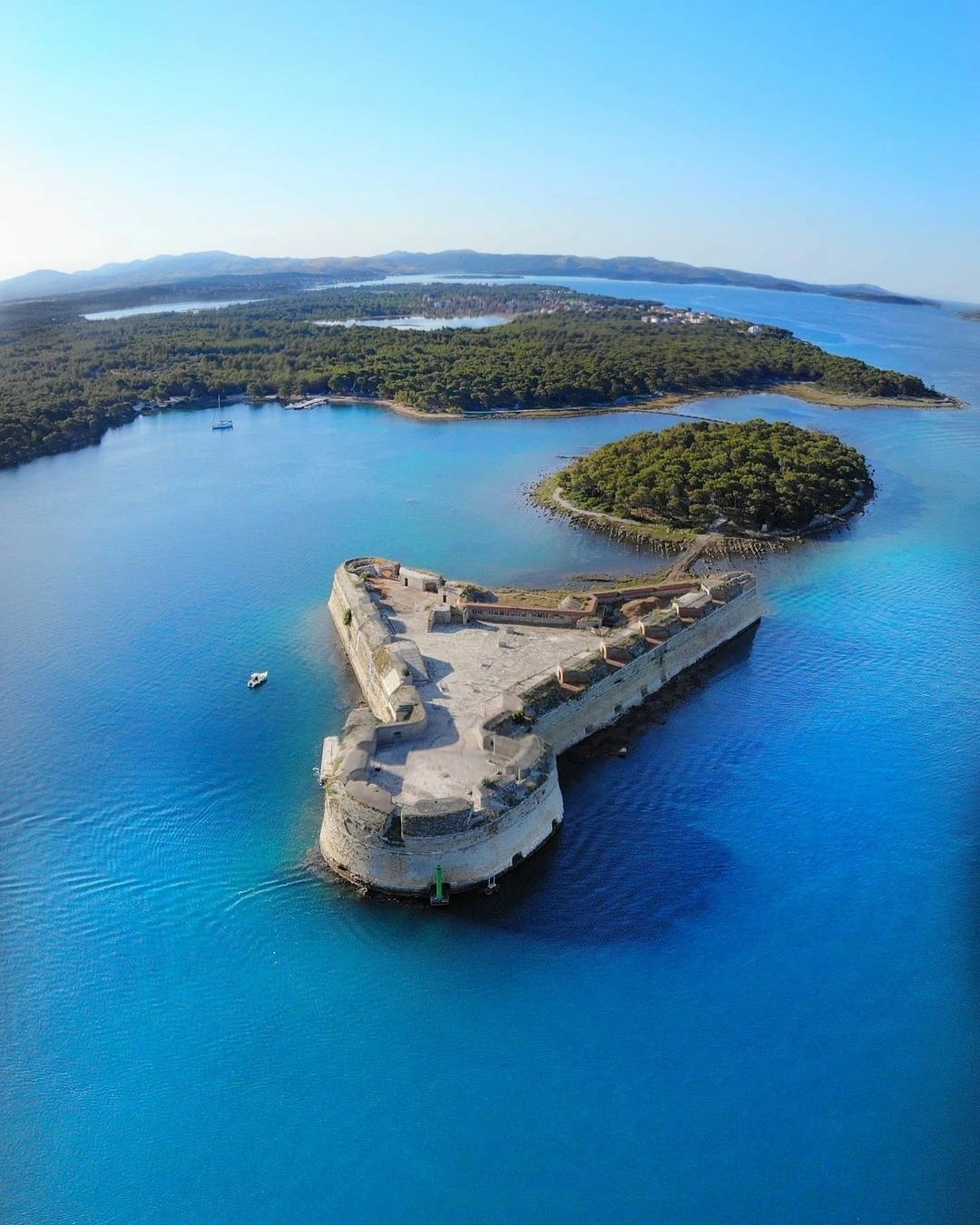 Sightseeing Around The Old Town Šibenik
As a part of your yacht charter Šibenik itinerary, you will get the opportunity to explore some of these unique spots in the old town Šibenik:
While on your yacht charter in Šibenik make sure to stop at Fortress Barone, also known as the Fortress of Culture. This spectacular place is famous for its many events, concerts, exhibitions, expos, and a spectacular view of the entire city of Šibenik.
Just imagine listening to Maksim Mrvica, one of the world's most famous pianists, born in Šibenik from the top of the Barone Fortress with awe-inspiring vistas on the entire archipelago and your yacht charter.
While you are enjoying your sightseeing tour in the medieval town, just a few steps away from your yacht charter in Šibenik, do not miss out on the oldest fortress in the area – St. Michael's Fortress.
This marvellous landmark stands proud and tall above the city, and it is the unavoidable destination of cultural tourism and national significance with a spectacular view of the Šibenik channel.
We suggest visiting this majestic place and enjoying stunning sunset views, and most likely you will be able to spot your yacht bathing in sunset rays from the top of the fortress.
One of the best spots to visit on your yacht charter in Šibenik is the Channel of St. Anthony. Here you will find a unique arrowhead-looking fortress that once had a defensive purpose to protect Šibenik from Ottoman naval attacks. In 2017, this masterpiece was included in UNESCO's World Heritage List, putting Šibenik on the list of only one of 5 cities in the world with two ancient buildings listed.
Just a few steps away from the Old Town promenade, where you can moor your yacht charter in Šibenik,  you can find marvellous white marble stairs leading to this impressive building. The Cathedral of St. James in Šibenik was built in a stretch of more than a hundred years, unique for it is entirely built of stone. Near Cathedral you will also find a Michelin star-rated restaurant Pellegrini.
Island hopping around the nearby islands during your yacht charter in Šibenik
The island of Kaprije is a quiet island with a single settlement, whose narrow streets will take you between traditional stone houses. On this island there are no cars at all, so you are guaranteed a quiet escape from brimming summer crowds.
You will discover around 20 bays where you can swim in the crystal-clear sea and relax on the beach. Choose between a dozen local restaurants, try fresh local cuisine and enjoy locally grown olives and grapes.
The island of Žirje is a fishing island with beautiful nature, ideal for beach escapes with your yacht. If you circle this island, you will find more than 30 sheltered bays, 17 islets and many more reefs nearby. During your visit to this diverse island, you can also visit some natural caves.
Krapanj Island is one of the smallest inhabited islands in the Adriatic with the lowest elevation of 1.5 m (4.5ft). This small islet is sinking just like Venice, so make sure to visit while it is still out there. Besides its elevation, island Krapanj is famous for its 300-year-old tradition of sponge farming.
Softly textured Krapanj sponges are ideal for your yacht charter Spa room, they have superb exfoliating effects, boost circulation.
ENJOY AN EXQUISITE FINE DINING EXPERIENCE ON YOUR YACHT CHARTER IN ŠIBENIK
The town centre of Šibenik offers a wide selection of local restaurants with stunning sea views. Many of them can be found right on the town promenade.
In Restaurant Pellegrini you will enjoy one of the best restaurants in Croatia, awarded with a Michelin star, just a few marble steps away from your yacht charter in Šibenik.
The professional staff will make sure you enjoy only top-notch fine-dining experiences with their attentive, impeccable skills, and the knowledgeable sommeliers will help you with the wide selection of amazing local wines that you do not want to miss out on simply by overlooking them for some better-known labels.
Pellegrini won several consecutive first places in various selections for the Croatian restaurant of the year, while its chef and owner Rudolf Štefan was repeatedly voted the best Croatian chef, and the founder of Chef's Stage, arguably the most important Croatian gastronomic event.
Tomaseo tavern is a place where you will experience authentic Croatian cuisine and discover a wide range of mouth-watering dishes a few meters away from your yacht charter in Šibenik.
Try the outstanding gourmet food, well known for its fresh, unique flavours, complemented by the extraordinary vista on the Šibenik archipelago and an exclusive atmosphere.
Tavern  Žakan is accessible only by your yacht charter, since it is located on a remote, inhabited islet, and it is one of the most prestigious restaurants for yacht lovers, surrounded by a seascape of surreal beauty.
This place is a luxury destination and is recommended for people who appreciate the beauty of nature combined with outstanding food and atmosphere, complimented with top-notch service. Here, you will enjoy exquisite seafood, brought straight to your plate from the crystal-clear Adriatic Sea, the finest steaks and first-class service.
Šporka Mare is the oldest and the most famous restaurant on the Kornati islands. This magnificent place with a long tradition is located on the south shore of the island Katina, near the Proversa Vela Strait, near the north gate of Kornati National Park.
What is fascinating about this place is the history of this restaurant, which is in fact, the history of the family or restaurant owners, who have been living on this tiny islet for 4 generations.
This family got the bare island Katina in the late 19th century from Zadar's aristocrats and that's where the real story begins. The old stone house on the shore was a shelter to fishermen and passengers from storms and used as the place where fishermen who caught fish in the open seas outside the Kornati used to unload the catch.
However, fishermen and sailors kept visiting this little bare island with a single stone house for the generosity and hospitality they used to get from the shelter owners. Slowly this shelter for fishermen and sailors became the first restaurant on the Kornati islands.
As time passed the outstanding reputation of the restaurant spread out among yachtsmen, fishermen, and sailors, who called this restaurant after its master and chef – the old Mare.
Today this place is a must-visit spot famous for its extraordinary seafood dishes and fine impeccable service that goes 4 generations back.
Tavern Opat is the must-visit ambience of pristine beauty, complemented with a perfect blend of unbelievable crystal-clear sea and hard island rocks, with a fine-dining restaurant incorporated into this natural environment.
This place is an eco-friendly oasis situated in Opat bay in the marvellous Kornati Islands. In this extraordinary restaurant, you will feel the warm hospitality and professional service with a long tradition, dating back to 1988. Enjoy fresh seafood on the open-air terrace of Tavern Opat and witness the unique vistas while you savour the tastes of Mediterranean cuisine.
Restaurant Core & Lounge bar is a modern, stunningly designed venue in the heart of Kornati National Park. Here you can enjoy delicious food complimented with a great selection of wine and fantastic views.
The Core Restaurant is positioned towards the west and looks out into the open sea. Except for delicious gourmet food, Core offers berths for your yacht, a stunning lounger bar and a glamping resort nearby.
Dock your yacht charter on the restaurant pontoon and enjoy a jet-ski ride while your meal is getting ready, or simply enjoy lounging in the bar with a glass of finest champagne and backdrop vista of splendid Kornati Islands.
OUR SUGGESTED SEVEN-DAY YACHT CHARTER IN ŠIBENIK
Day 1: Šibenik city – Skradin town
Start your yacht charter in Šibenik exploring this wonderful town, and later cruise to the secluded canyon full of breath-taking vistas and famous for oyster farms, only 10 nautical miles from the old town. There you will find Skradin – a famous yachting spot. Here you can enjoy the tranquillity and visit the extraordinary Krka National Park, famous for its 7 cascade waterfalls and unspoiled nature.
Day 2: Skradin – Prvić or Zlarin or Potkućina cove (island of Kakan)
Discover complete privacy on Prvić island, famous for its wine-making tradition and olive oil production. Ask your yacht crew to moor your charter in the bay of your choosing.
On this islet, there are only 2 fisherman settlements full of old stone houses with a unique charm, and many secluded coves, perfect for getting away from the city crowds.
What is special about this island is the fact that the whole island is under the protection of the Croatian Ministry of Culture and the island itself is considered a cultural heritage.
Prvić is a completely car-free island, ideal for a relaxing holiday on gorgeous pebble or sandy beaches.
Day 3: Potkućina cove – island of Ravni Žakan – Lavsa cove (island of Lavsa)
Visit Potkućina cove located northeast of the island Kakan. This lovely cove will offer a peaceful place to anchor your superyacht and enjoy the crystal-clear sea and pine trees around the island.
Start your day with a morning swim, proceed with water skiing, and jet ski or Sea bob adventures before you head out to Ravni Žakan.
This little inhabited islet has one of the most famous island restaurants and it is a must-see spot for yacht lovers. This islet is a luxury destination and recommended for people who appreciate the beauty of nature combined with outstanding food and atmosphere, accessible only by yachts.
Here you will enjoy top-notch cuisine, exquisite seafood (local catches), the finest beef and great service. All this makes Konoba Ravni Žakan a unique fine-dining spot in an unbelievable surrounding, far away from prying eyes.
Day 4: Cruise around Kornati Islands with your yacht charter
Get ready for a day full of unique experiences on your yacht charter in Šibenik archipelago. Cruise to the best natural shelter on Kornat island, Lavasa cove, where you can spend the night on anchor. Besides being the best natural shelter for yachts, there are 2 restaurants in the cove, famous for their seasonal menus and locally grown food.
Only a short cruise from Lavasa, you will enjoy a spectacular panoramic vista from the top of Mana Island, just a few minutes of hiking away from your private bay.
On the hill, you will discover scattered stone houses, which were part of a blockbuster movie set back in the 50-es named "As the Sea Rages". Take a walk around the majestic cliffs and if you dare, you can even try cliff jumping and feel the adrenaline rush.
After an exciting visit to Mana island, cruise to the island Levrnaka, a place of truly remarkable beauty. There you will find a sandy lagoon in the Kornati archipelago – Lojena.
Let your crew put up your yacht slide and splash into the crystal-clear sea in this extraordinary turquoise bay. Lojena is a perfect spot for swimming, snorkelling with fishes, sunbathing, relaxing and completely forgetting about the rest of the world.
Day 5: National Park Kornati Islands – Telašćica Nature Park
Visit Strižnja cove, famous for its restaurants, Darko and Quattro, in front of which you can dock your yacht and enjoy a meal on the coast of the island. On the western side of the cove, in Kravljačica there is another restaurant called Andrija.
Visit Telašćica bay, one of the most famous yacht destinations. This stunning bay is one of the most beautiful places in the Adriatic, full of unique vistas, unspoiled nature and majestic cliffs. Except for its emerald waters and lush nature, this bay is one of the safest anchoring spots in the Adriatic Sea, plus you can visit spectacular salty lake Mir, just a short hike from your yacht, and enjoy its waters with healing properties.
Cruise from Telaščića to Žut island and enjoy a Robinsonian atmosphere and landscape covered with olive trees, figs, and vineyards. Here you will find a luxurious marina with around 120 berths. Therefore, this place is ideal for yachtsmen.
Here you will find a top-notch restaurant Fešta, which specializes in seafood. Looking at the interior, the restaurant resembles an old Dalmatian tavern and has a collection of native crafts. The restaurant also has 2 large outdoor terraces, an open wood-burning barbecue, a bread oven, and an aquarium which will provide you with a unique dining experience.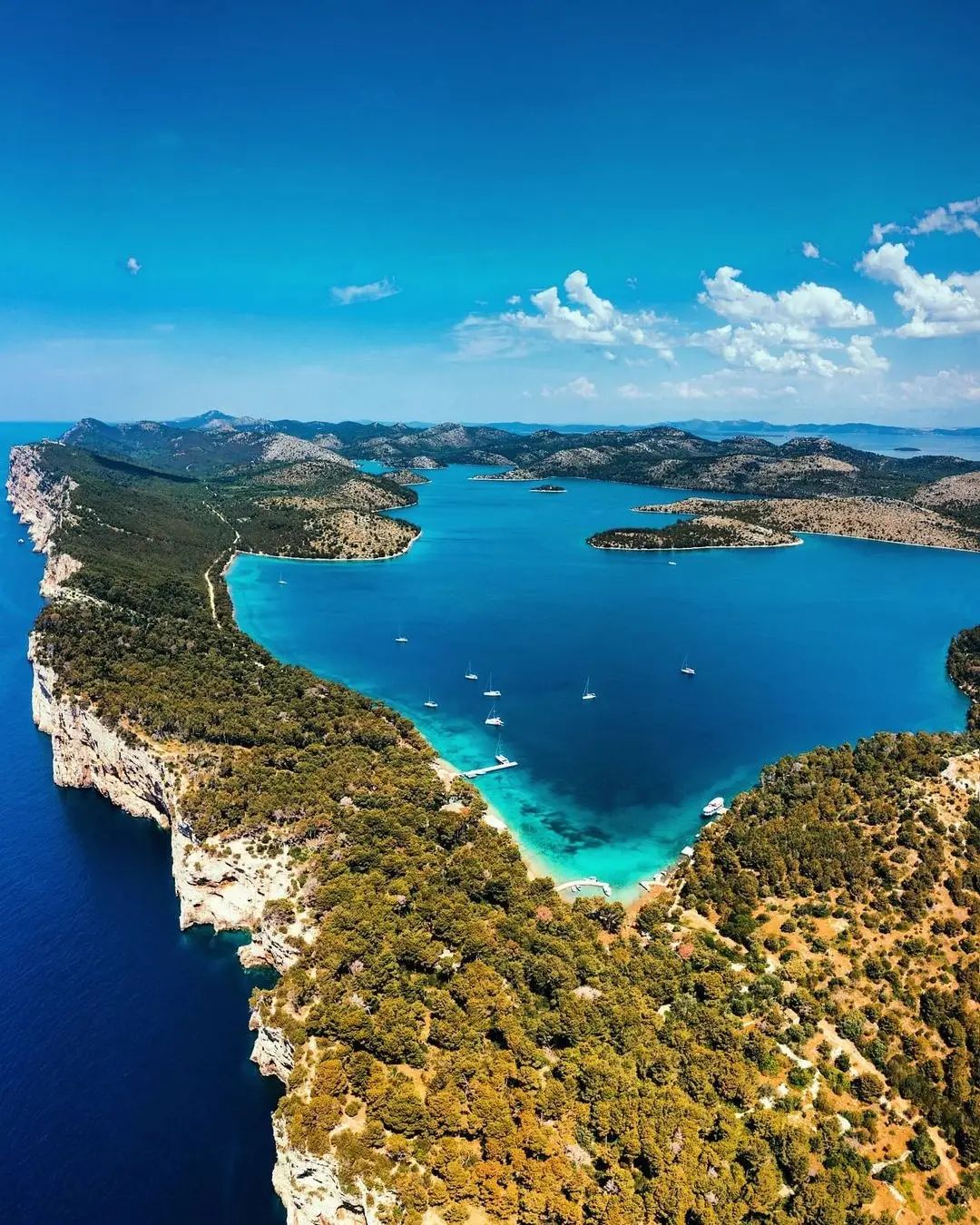 Day 6: Luka Žut – Žutska Aba (island of Žut) – Kaprije (island of Kaprije)
From Žut island make sure to cruise to the nearby island Žutska Aba bay,  discovering a private area, perfect for relaxing against a stunning backdrop of the clear waters. We recommend Paladinica bay or Grbavac bay where you can find gastronomical delights at the extraordinary restaurant Villa Rava.
Day 7 : Kaprije Island – town of Šibenik
Save this quiet island for the last day and experience its narrow streets and traditional stone houses. On Kaprije there are no cars at all, so you are guaranteed a quiet escape from the brimming summer crowds.
Cruising around this island, you will discover around 20 bays where you can snorkel, swim in the crystal-clear sea and relax on the lovely private beaches.
You can choose between a dozen local restaurants, try fresh local cuisine and enjoy locally grown olives and grapes.
For the yacht lovers looking for solitude and a way to enjoy the silence of Kaprije, we recommend Remetić Cove, situated in the northwest part of the island, and the opposite Medoš Cove – which can only be accessed by sea.
Take your last break before heading back to Šibenik in Tijašnica Cove, the most stunning bay in the archipelago. Enjoy this snorkelling oasis, dive in, and explore the extraordinary underwater scenery.
TOP ANCHORAGES AND MARINAS FOR YOUR YACHT CHARTER IN ŠIBENIK
Visit this small sandy bay Žimnjak near Murter,  famous for its shape of a horseshoe and ask your yacht crew to moor there for good luck. Except for an omen of good luck on your cruising adventure, this anchorage will offer you good protection from Bura and strong easterly winds.
Sv. Nikola, Murter is an ideal place if you truly want to experience the silence, visit a beautiful sandy cove protected from all winds except strong scirocco. Here you will also find a small church near the bay.
Skradin is a must-see for yacht charters in Šibenik region! Here you will enjoy an enchanting cruise through the canyon to a tranquil lush town in the deep inland. This place is a very popular destination for yachts because of its picturesque landscapes and proximity to the Krka National Park.
D-Marin Marina Mandalina, Šibenik is probably the best superyacht marina in the Adriatic. This luxury nautical resort on the coastline of Šibenik is naturally protected and designed mainly for superyachts and mega yachts of 30-140 m in length (which make up 80% of the berths).
This is the only marina in Croatia awarded with the highest quality level of five golden anchors by the British Yacht Harbor Association and five anchors by the Croatian Ministry of Tourism.
ACI Marina Žut is located on the island of Žut in the Kornati islands archipelago, and it will amaze you with beautiful scenery. Here you will find several excellent restaurants, 135 berths, and many amenities. The marina is open from April to October which means it is open for a whole yachting season.
Marina Betina in Murter is a private port known for its unique shape of a ship, and it is open all year round. This harbour will offer you an intimate atmosphere, perfect for yacht charters in Šibenik archipelago. Here you will find plenty of space, and tranquillity.
THINGS YOU DIDN'T KNOW ABOUT ŠIBENIK
WHY CHARTER IN ŠIBENIK WITH SUPERYACHTS CROATIA?
SuperYachts Croatia team will create a unique and memorable yacht charter in Šibenik just for you. We will arrange a VIP transfer for you from the airport to your yacht, with a brief stop to one of the most spectacular viewpoints near the city, and prepare a bubbly surprise for a perfect start of an unforgettable yacht charter in Šibenik.
We can make any of your wishes and dreams into reality, whether it be reservations in the best fine-dining restaurants, special wines aged on the Adriatic seabed or perhaps an appetizer of fresh oysters delivered straight to your yacht deck and followed by lunch under the waterfalls in National Park Krka.
We know the best oyster farms in Šibenik and we will gladly get them delivered to you on your yacht charter along with fine dry white wine and some lemons that go perfectly with this meal. Relax on your yacht deck and enjoy your yacht charter in Šibenik, while you eat fresh oysters, just picked up from the sea, complemented with a bottle of amazing white wine, followed by magnificent vistas on Krka canyon. That way you do not need to make an extra stop to try the local food.
Here oysters are served raw with a few drops of lemon, so they need to be fresh from the sea.
We will make sure your yacht charter in Šibenik is an unforgettable experience with our tailor-made itineraries. Let us be your local experts, we know all the best and most luxurious places which will satisfy all your needs, and we know how to make unique charter experiences whether they exist yet or not.
Charter Yachts
We present to you the best selling yachts for charter in 2021. Slide through these different yachts, ranging from 20 to 80 meters in length, and choose the best option for you. If you have any questions regarding yacht charter, destinations & yacht support, contact us.
VIEW ALL CHARTER YACHTS
VIEW ALL CHARTER YACHTS