Enjoy a 1st class wellness experience on a yacht charter in Croatia
You will be surprised with a new level of relaxation and rest on your luxury charter holiday. Feel totally rejuvenated with spa and wellness programs aboard your superyacht charter. With the help from your expert crew or hired professionals, turn your superyacht charter into a 1st class wellness and massage centre.
Let your massage therapist incorporate the sea and the sun into a fully customized wellness on a yacht charter program, for maximal pleasure. Start a day off with a light massage prior to lunch, before you work your way up to aromatherapy, after a quick sauna session. Finish off with a relaxing dip in the warm Croatian Adriatic Sea.
Hire top wellness experts on your yacht charter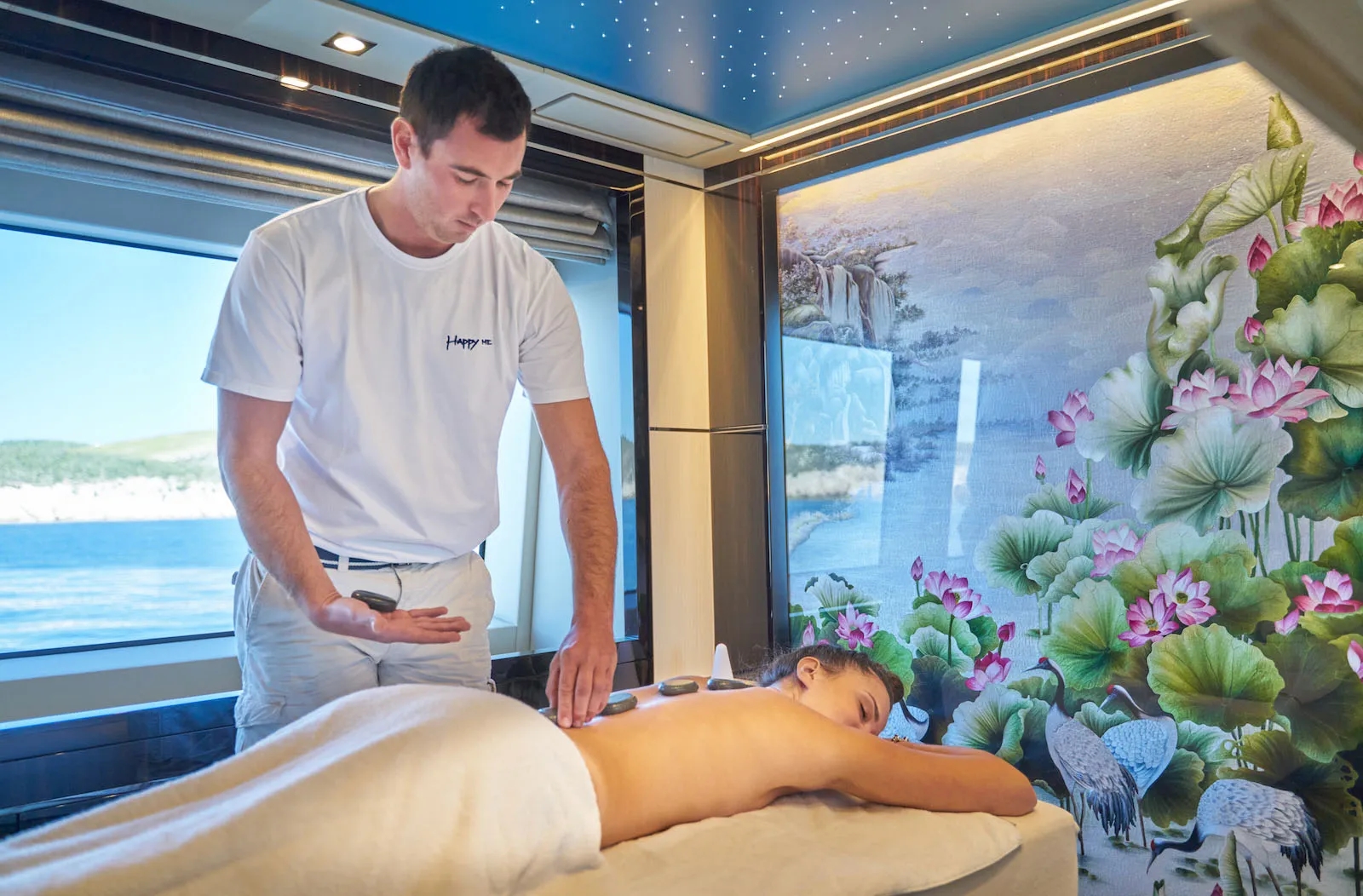 If you want to experience your yacht entirely, make sure the crew includes wellness experts. Ask your local broker for a special yacht with a sauna and ensure that you get rid of all the negative energies while you enjoy your wellness on a yacht charter. With your yacht charter, you can easily move from a rainy location to a sunny one and enjoy the incomparable atmosphere. Do not let anything be a problem while you are working out. Unwind and appreciate your dreamlike vacation right.
Soak up the atmosphere & surroundings on the yacht deck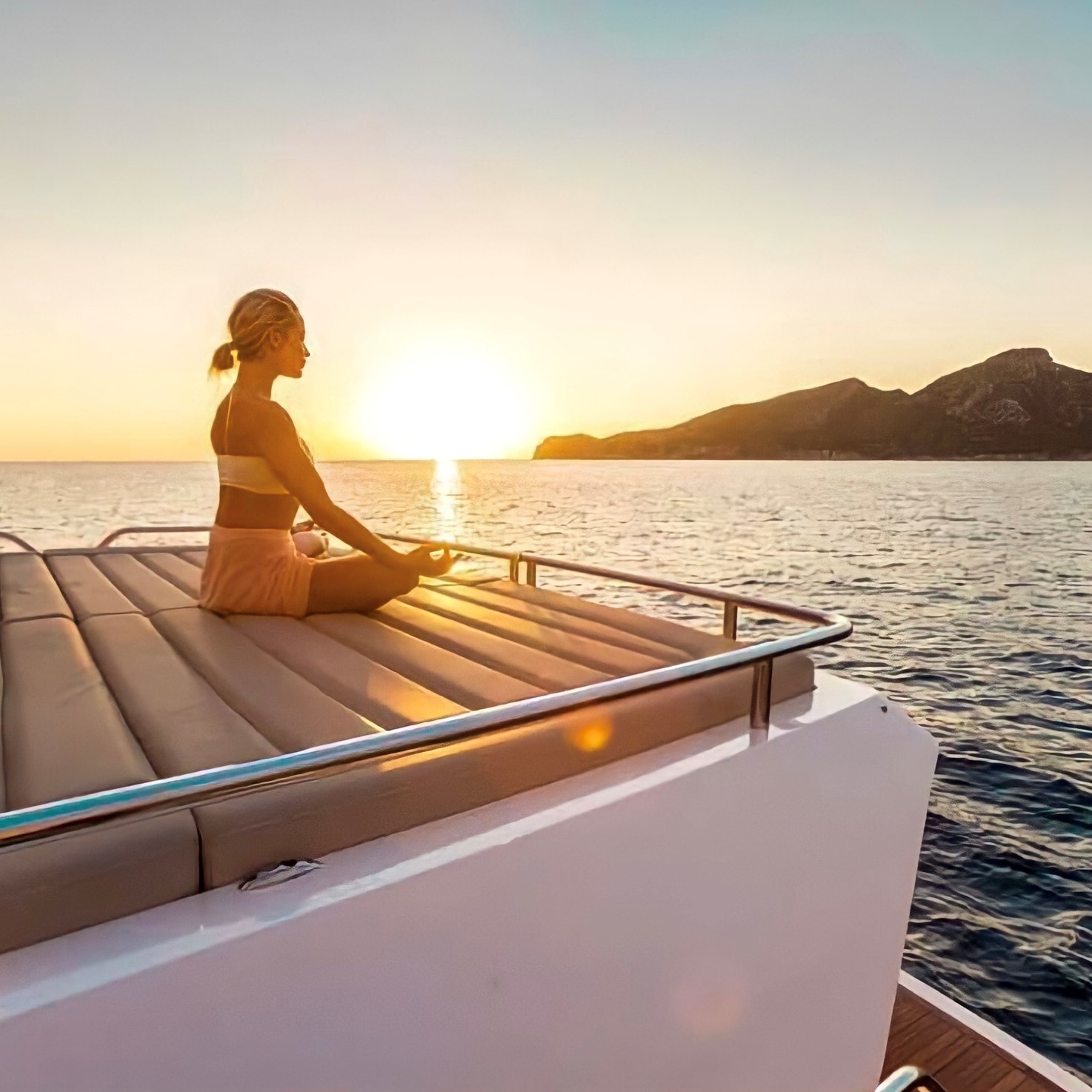 Choose a lovely place where you can have total privacy while listening to the chirping of birds and the calming sounds of the crystal clear Croatian Adriatic sea. Afterwards, you can pick your favourite spot on the yacht to enjoy a luxurious spa and wellness treatment on your charter. It could be an amazing beach club, the magnificent sundeck or the air-conditioned salon. Moreover, a generous jacuzzi is perfect for watching the stunning Croatian sunrises or just relaxing in bubbly heaven with a glass of your limited-edition champagne.
On the sundecks, you can eat your favourite octopus salad on comfy sunbeds, take iconic Instagram photos or just rest from everyday stress. Allow your feelings to guide you in determining where you feel most relaxed.
Indulge in the private yacht massage therapy
Have you ever wished you had your own masseuse to pamper you every day while you enjoy sipping cocktails on a sundeck? If you decide to charter a yacht, your wishes can become a reality! Let an outstanding masseuse be part of your yacht charter crew. Our expert beautician can use original creams, lotions and oils made from local ingredients and wild herbs picked in remote Adriatic locations.
Enjoy any form of massage you can think of, like sports, hot stone, suction cup, even anti-cellulite massages. Let your therapist massage you as much as you like so you can get rid of any negative energy & enjoy your wellness on a yacht charter. Come home ready for new business victories!
Use the health benefits of a yacht sauna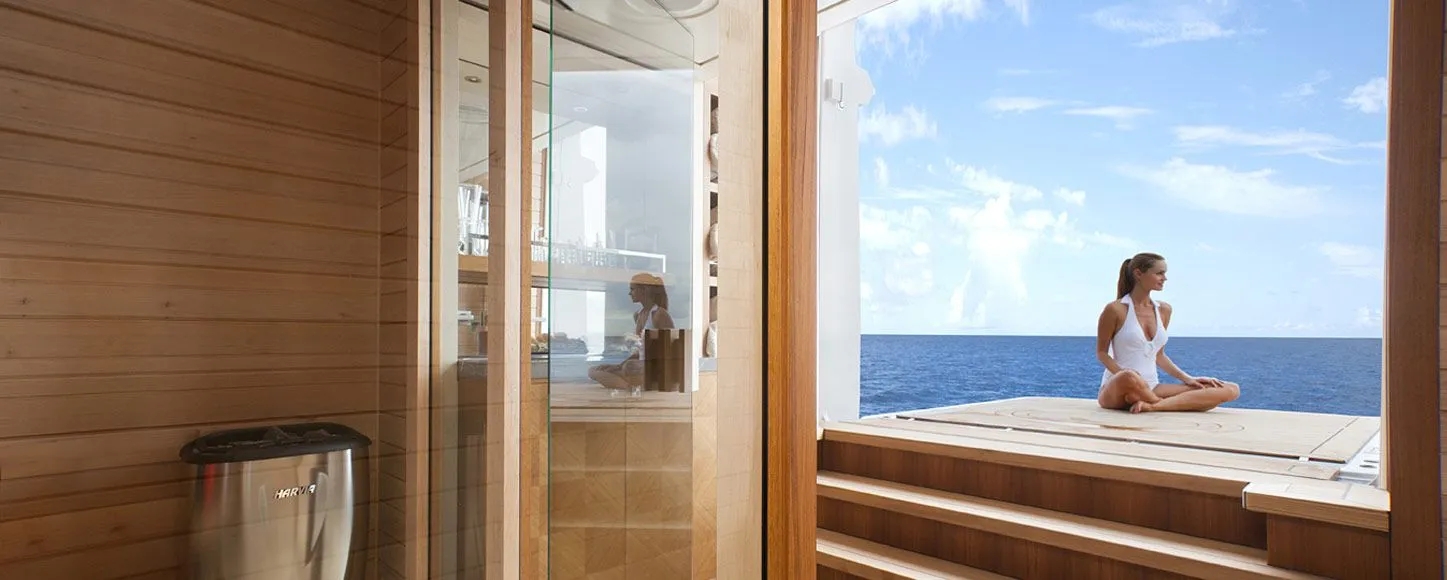 You can choose a yacht with a sauna to flush the toxins out during your yacht charter. We promise that you will not regret it. Return from your holiday looking better than ever because the sun, the sea and the sauna will undoubtedly aid you in this endeavour.
Your private wellness on a yacht charter
Charter a luxury superyacht with wellness in mind and be amazed at how quickly you can pamper yourself with spa and wellness treatments. Feel the tension leave your body while you relax on the massage table, which can be set up to accommodate different needs.
Ask your masseuse for a massage on the sundeck, against the backdrop of the sun setting over the stubby island peaks in Croatia. Lie and relax on the beach club, as your professional massage therapist helps you with eliminating stress and stiffness, right next to the sea. Enjoy unforgettable wellness on a yacht charter experience in Croatia.
Charter Yachts
We present to you the best selling yachts for charter in 2021. Slide through these different yachts, ranging from 20 to 80 meters in length, and choose the best option for you. If you have any questions regarding yacht charter, destinations & yacht support, contact us.
VIEW ALL CHARTER YACHTS
VIEW ALL CHARTER YACHTS