ALALYA Yacht Charter - Refitted in 2020 & Brand-New on the Charter Market
Built in 2005 by ISA Yachts, ALALYA yacht charter was fully refitted in 2020. She can comfortably accommodate up to 10 guests in a spacious 5 + 1 cabin arrangement,  including a Master Suite with a King size berth,  as well as 3 double cabins and 1 twin cabin.
She has a comfortable cruising speed of 15 knots & state of the art stabilisations system ensuring a smooth & pleasant cruising experience. Alalya comes with a Deck Jacuzzi, Air conditioning throughout, and a WiFi connection on board.
YACHT CHARTER ACCOMODATION
Yacht details.
Guests:

12
Cabins:
6
Yacht Length:
47 meters / 155 feet
Yacht cabins layout:
4x Double + 1x Twin
Total living area:
796 sq.m / 8.568 sq.ft
Yacht exterior area:
285 sq.m / 3.068 sq.ft
Yacht interior area:
511 sq.m / 5.500 sq.ft
Types of Cabins on This Yacht:
1x Master Suite + 3x VIP Stateroom + 1x Twin Cabin
Bed Configuration & Size:
1x King + 3x Queen + 2x Single + 2x Pullman
Yacht Interior Guest Areas:
Main Saloon with 3 Large Sofas · Main Dining Table · Main Deck Day Head · Galley Bar Area · Captain's Bridge · Upper Deck Lounge Area with Private Entertainment Centre · Five Private Cabins
Yacht Exterior Guest Areas:
Aft Main Deck Lounge · Beach Club with Swimming Platform · Sundeck Jacuzzi & Lounge area with a Bar · Upper Deck Dining table · Upper Deck Lounge Area
TOP 10 YACHT CHARTER FEATURES
Yacht highlights.
1
Refitted in 2020, Sleek Exterior Lines & Brand New Contemporary Interior
2
5 Cabins Including a Master Suite with a King Size Bed on the Main Deck
3
Main Salon of 60 Square Meters with 3 Large Sofas
4
Entertainment Systems in Every Cabin
5
Comfortable Cruising Speed of 15 Knots
6
Spacious Sundeck With a Jacuzzi & Lots of Lounge Areas
7
Upper Deck Salon Area with a Modern LCD TV
8
Professional Crew of 9 People
9
State of the Art Stabilisation System Ensuring Maximum Comfort
10
Interior Design by Famous Cristiano Gatto
YACHT PHOTO & VIDEO GALLERY
Charter Moments.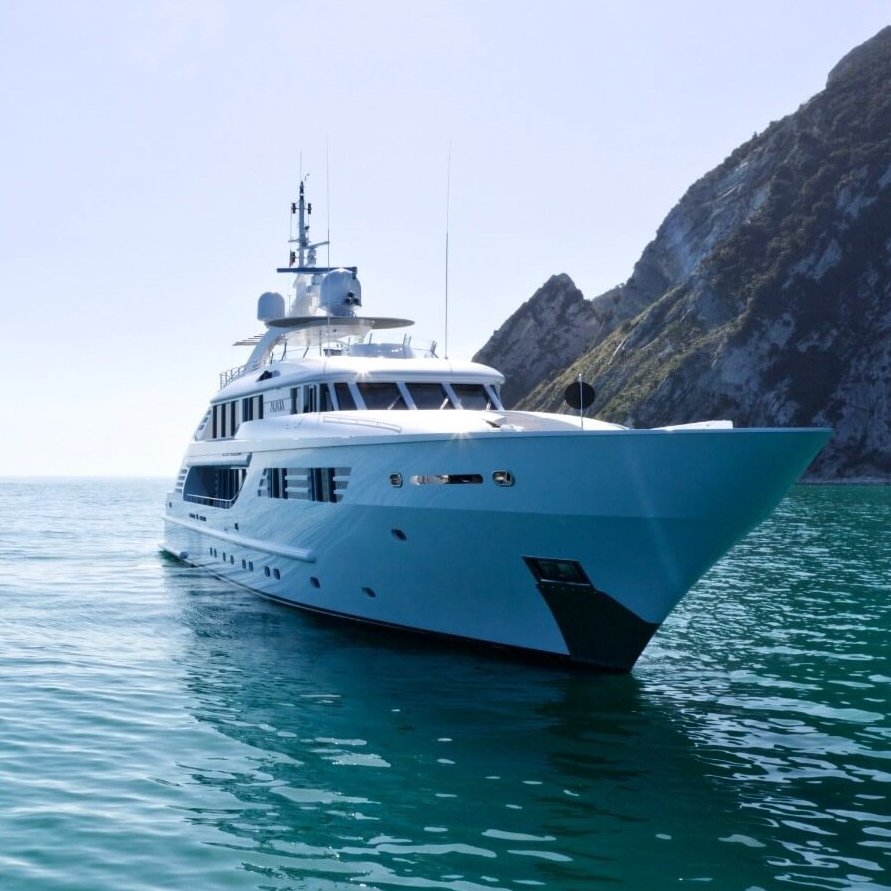 YACHT CHARTER SPECIFICATIONS
Particularities.
GENERAL INFORMATION
Length: 47.50 meters (155.10 ft)
Beam: 8.6 meters (28.2 ft)
Year Built: 2005
Year of last refit: 2020
Yacht Builder: ISA Yachts
Main Engines: 2x 12V 4000 M70
Maximum Speed: 17 knots
Cruising Speed: 15 knots
Fuel Consump. Engines: 380 l/hour*
Generator Engines: 2x 125 kW + 55 kW
Fuel Consump. Generators: 85 l/hour*
Stabilisers: At Anchor & Underway
*Highly dependent on sea conditions
LIST OF AMENITIES
Spacious Sundeck Jacuzzi Bath & Jacuzzi Lounge · All decks Air Conditioning · Outdoors & Indoors Wi-Fi On Board · At Anchor Stabilisers – No Rolling 'While Asleep' · Under Way Stabilisers – No Rolling 'While Cruising' · All Suites with Private Entertainment Centres – Multimedia Systems – Sound · LCD TV's
WATER SPORTS & TOYS
2x Seadoo GTX Jet Ski
2x Seabob
2x SUP
2x Electric bicycle
2x Electric scooter
1x Water skies
1x Wake board
1x Towables
10x Snorkeling equipment
TENDER VESSELS
Castoldi Jet, 4.45m Tender (Included)
Novurania, 5.4m Tender (Included)
Axopar 37, 12.5m Chase Boat (Optional)
FULL YACHT CHARTER REVIEW
Inspected by Us.
Once you board ALALYA yacht charter, each day of your luxury Croatian vacation will seem like a never-ending thrill ride, full of excitement, adventure and fun. If you are thinking about the best places to visit and the best things to experience while on a luxury yacht charter in Croatia, consult with ALALYA`s expert crew.
They will surely have the best advice about interesting spots & locations to visit. ALALYA's crew will be your direct contact to everything traditional, local and historic in Croatia.
Explore the untouched ocean and pristine nature, but also a land of culture and tradition, where the people are still unburdened by global issues. Meet local people and listen to local stories as you explore port towns with the guidance of your native crew.
After a whole week of charter experiences aboard ALALYA yacht charter, you will become a different person: A person that knows the secrets of the Croatian Adriatic Sea and the riches of the Croatian islands.
A person that has experienced the best Croatia has to offer. A person forever changed by the influence of the loving crew and the positive atmosphere aboard ALALYA yacht charter. You will always remember Croatia as a country full of life, that warmly embraces each traveller with words of welcome and care. A luxury yacht vacation in Croatia will forever change your mind and soul for the better.
If this short introduction peaked your interest, please continue reading…
All of the things above will become a reality if you decide to charter ALALYA. Built exclusively for charter in mind, ALALYA transcends its competition, with over-the-top performance, an elegant design and a strong hull structure. Measuring 47 meters, ALALYA yacht charter is built by using steel for the hull and aluminium for the superstructure, making her both strong and fast.
Her cruising speed is around 14 knots, achieving a maximum speed of 17 knots, thanks to her 4730 HP engines, an equivalent of 11 Teslas type 3. ALALYA can accommodate up to 12 guests, served by 9 crew members.
This crew member-to-charter guest ratio assures a level of service that will surpass all expectations, in terms of attention to detail, swiftness of service, politeness and precision. 6 cabins onboard ALALYA are arranged between one master stateroom, one VIP cabin, two double cabins and two twin cabin, with two pullman berths.
Guest access ALALYA through the transom which connects the beach club platform with the alfresco aft main deck. The first impression is thus a sense of awe and grandeur, with ALALYA`s twin steps reminding guests of an Imperial Russian Palace foyer, with the shimmering sea doubling as both mirrors and chandeliers.
Constructed in Italy by ISA shipyard in 2005, ALALYA yacht charter was constructed by Walter Franchini and Cristiano Gatto, guaranteeing a contemporary approach to how this luxury yacht feels and behaves underway. Christiano Gatto`s design incorporates a philosophy of beauty that creates an atmosphere of soundness and well-beingness.
This in term produces a one-of-a-kind vessel that is an amalgam of a well-thought-out construction process, functional performance and a deep understanding of aesthetic ratios in spatial design; for example, the golden ratio can be observed in several places in ALALYA`s interior. Choosing highly specific values and norms for each particular project guarantees a unique result every time, which can clearly be seen when observing ALALYA yacht charter.
Emotions are implemented into technical specifications because they are the driving force behind every project. Poeticism and artistry are highly valued attributes in each member of the Gatto team. What they pride themselves on above all else is the fact that, taking a soul-less object and making it feel alive and part of this world. This is the ultimate pinnacle of creativity and design and it shows with ALALYA.
A DAY ON THE YACHT
Let total tranquillity be the prerogative of your luxury yacht charter vacation onboard ALALYA yacht charter. You might want to dedicate one day of your charter holiday to complete and utter relaxation. Move only when you want to eat a delicious meal or entertain yourself with a huge variety of amenities aboard ALALYA.
Ask your crew to hire a professional massage therapist, so you could enjoy the medical benefits of being massaged on the beach club of your luxury superyacht charter, before taking a refreshing swim in the Adriatic Sea. After a session like that, your muscles will be as tender as never before, letting you fall into a state of deep relaxation.
Afterwards, you might want to enjoy a light yoga exercise with a certified instructor, to further your transition into a state of bliss. Practice Sun Salutations and meditation poses on the beach club or the sun deck on ALALYA yacht charter, discovering a new meaning to the words serenity and restfulness.
Enjoy a light lunch prepared by your dedicated chef, with dishes like parmesan cream seafood risotto, crab-stuffed mushrooms with herb roasted potatoes or vanilla mousse with dark chocolate-chip pudding.
Afterwards, just lounge around and sunbathe on numerous sun pads, scattered around the sundeck on ALALYA yacht charter. Let the warmth of the summer sun recharge every energy cell in your body, revitalising your mind and soul. Dedicating the afternoon to resting and relaxing, you feel energised enough to consider a more active afternoon.
Let your captain chart a course to Brijuni, a one-of-a-kind biosphere located westwards of the Istrian Peninsula. Here you can enjoy unique natural surroundings, crystal-clear sea and a small exotic ZOO, as well as parks and gardens. Be stunned by the beauty of the Brijuni islands.
Ask your crew to arrange a bicycle tour of the island, so you could witness local wildlife and sights inaccessible from the coastline. You also have the option of playing golf on the stunning island, while being surrounded by pristine nature and exotic animals. This atmosphere will surely upgrade your stroke game.
After some sightseeing and a game of golf, return to ALALYA for dinner. The hunger felt from an afternoon filled with exploration will easily be satisfied with mouth-watering delicacies your dedicated chef has prepared for you and your charter party.
Dishes like lemony mussels with cherry tomatoes and potatoes, balsamic roasted brussels sprouts with bacon and apple galette with vanilla yoghurt drizzle will be a wonderful introduction to a champagne-filled evening. After dinner, let your crew continue serving cocktails and champagne as you enjoy the soft and warm embrace of a typical Croatian summer night.
YACHT CHARTER DINING
The chef's signature dishes on ALALYA yacht charter always taste as good as they look. And they look mouth-watering good. With fine dining being an essential part of a memorable luxury charter experience, the cook on board ALALYA will not disappoint, preparing delicious smoked lamb racks with peanuts and a sour spicy dressing or a pan-roasted goose with a side of sweet corn, paprika and parmesan cream sauce.
ALALYA's chef truly is a dedicated professional with years of experience, preparing food for the best restaurants in the world. He proves this by cooking dishes like lemon-roasted salmon with escarole, asparagus, and potatoes, cioppino seafood stew with gremolata toasts and pomegranate-poached pears for dessert.
The level of training and dedication this professional displays when preparing meals for the whole charter always ensures a 5-star dining experience. Aboard ALALYA yacht charter, every meal will be its own story, masterfully crafted to fit even the tiniest of demands.
You will remember culinary delights like spiced marinated lamb chops with garlicky yoghurt, fettuccine with asparagus, beet green pesto, and poached egg, finishing with cranberry and dark cherry clafoutis for dessert.
YACHT MAIN DECK
Yacht charter accommodation: main salon & dining area
The interior features a fantastically spacious arrangement, as expected from a yacht of this size. An absolutely stunning salon, with warm and light colour patterns accentuating the daylight coming in through lavishly big and numerous windows. Separating the huge lounge area from the sleek and stylish dining table is a countertop with a pop-up TV, which can also serve as a makeshift mini-bar.
The dining table`s appearance joins contemporary and traditional, made from solid hardwood and patterned to fit the more modern feel of the saloon. Sitting 8 comfortably, the table is ideally positioned in regard to the windows, which provide a beautiful scenic panorama for all your meals.
Yacht Charter Accommodation: The master cabin
Streaming directly from the dining area, guests can arrive at the master stateroom, located forward on the main deck. Parallel to the master, there is also a smaller guest cabin, nestled on the main deck between the master and the main saloon. Providing versatility with sleeping arrangements, this 6th cabin is ideally used as a children`s room, accompanying the bigger master stateroom.
The master stateroom is simply glorious, with ample closet and shelve space for storage. Practical features are double study areas, with long surface tables, perfect for accomplishing business successes. Here the light hazel colour patterns and palettes go together nicely with elegant and modern décor. Gorgeous and inviting, the master en suite comes with double sinks, a shower a tub and all that with a smooth, dark-marble finish.
YACHT UPPER DECK
The upper deck alfresco area consists of a marvellous dining area in the middle and an aft U-shaped lounge, ideal for relaxing after a wonderful meal prepared by your expert onboard chef. 2 large L shape sofas are placed on both sides of the upper deck saloon, which doubles as a cinema room or a lounge area, ready for fun family times or partying with your friends.
With a widescreen TV, you and your charter party are sure to spend quality time enjoying a truly unique yacht cinema experience. Tons of space ensures the whole charter group can comfortably mingle in the sky lounge, without turning into a tightly packed crowd.
Gorgeous upholstery and beige colour palletes complement the polished wood details, reflecting every light particle tenfold. The massive windows let in tons of natural light during the day, but can also be shut off, thanks to tasteful and subtle blinds.
Feel at ease and totally relaxed while lounging or relaxing on ALALYA`s upper deck. Remember, your dedicated crew will constantly serve you refreshing drinks and tasty snacks, while you are enjoying a blockbuster on the widescreen TV.
YACHT SUNDECK
The design of the sundeck is absolutely amazing, because of the twin pillars holding the radar system above. Thanks to lighter and stronger materials, ALALYA yacht charter manages to create an impression of a platform "hovering" above the sundeck, a sort of a "levitating" UFO. Thanks to this, relaxing in the jacuzzi feels totally unique because there is nothing blocking the forward panorama – no helm station or structural supports.
Just the view of the endless blue Adriatic Sea, a perfect side note to a blissful luxury charter holiday. Sitting at the bar on the bow feels like resting on a very tall ledge, with unobstructed views and a dim feeling of wanting to take flight.
There is even a compact windshield behind the bar, making sure guests are protwected from gusts when drinking their favourite drink. Guests can also relax on the sofas located on either side of the sundeck, strategically placed under the shade of the "hovering" sundeck platform.
YACHT LOWER DECK
Two of the biggest challenges when designing and constructing a luxury yacht is sound isolation and light isolation. Getting rid of the sound of the sea knocking against the hull of the boat is a never-ending task for boat builders.
Natural lighting is the second problem, particularly if you want total darkness during daylight. These two problems are handled masterfully by the designer of ALALYA yacht charter.
The lower deck cabins follow these solutions and are decorated to fit the overall furnish of the stateroom aboard ALALYA yacht charter. Smooth surfaces and tasteful décor transform every cabin into a space where you would want to rest, relax or spend time.
The double and twin cabins all feature the same interior décor as the master stateroom but in a more compact environment. The light colour palette accentuates the natural light coming in through wide hull windows.
Yacht Charter Accommodation: The double cabin
Bright beige and brown colours make up most of the palette in the double cabin. Mirrors on both sides of the queen-size berth elongate the cabin, while tasteful artwork complements the overall design. Electric shades control the level of natural light coming in from big windows, so you can customize the amount of daylight in the cabin.
Plenty of closet space ensures enough room for storing all of your fine dining and evening attire. Comfortable and spacious, the lower deck double cabin is sure to provide plenty of room for relaxing and relief from an active charter itinerary.
Yacht Charter Accommodation: The twin cabin
ALALYA's twin cabin is absolutely gorgeous, featuring plenty of light upholstery and soft colours that create a bright and roomy atmosphere, similar to a box of delicious chocolates, all of which are a slightly different colour brown, delicious to watch and more delicious to experience.
The sheets and the panelling on the berths are light brown, with appropriate artwork in the headspace above. The mirror above the nightstand that separates the berths acts as an optical illusion element, creating an effect of the cabin seeming much bigger than it actually is. The flat-screen TV is hooked up to ALALYA`s satellite option, so you can watch literally every channel imaginable, from the comfort of your cabin.
YACHT BEACH CLUB & SWIMMING PLATFORM
Besides having a regular swimming platform, ALALYA yacht charter has a surprise up her sleeve, in the form of balconies, one on each side of the beach club. By using this clever engineering solution, guests can use the water toys without disturbing the swimming platform area. This effectively separates the different stern areas, allowing for more versatility with the guest`s leisure time.
A pair of stairs, both on the port and starboard side of the swimming platform, enable yacht guests to seamlessly pass between different levels of ALALYA yacht charter, without any traffic jams.
When you want to go to land, step onto the swimming platform and board ALALYA`s tender, which will take to land in style. Upon returning, your charter crew will welcome you with a glass of chilled champagne and a bite to eat, if the need arises.
YACHT WATER TOYS & WATER SPORTS
ALALYA yacht charter boasts a whole array of inflatable water toys, like a climbing wall, a slide, a rubber couch and tubes for high-speed fun…even an inflatable kayak. Also to choose from are the unavoidable jet skis and Seabobs, a fly board, a kneeboard, a wakeboard, two standup paddleboards, and enough snorkelling gear to launch a small expedition into the turquoise depths of the Adriatic Sea.
Let your expert crew give advice about how and when to use the plethora of ALALYA`s water toys, with safety as the highest priority. The most unique toy by far is the Voyager swim platform, a versatile and fun water toy, meant for either extending ALALYA`s existing beach club platform or for creating your own perfect little island.
Combine the swimming platform with ALALYA`s amenities and create a unique holiday experience. Use the swimming platform for sunbathing, doing yoga or ordering cocktails, which will be delivered by your dedicated crew. Set up your fishing gear and try catching your dinner, with the help of your expert crew.
YACHT CHARTER CREW
At Your Service.
Captain
Lovre Supe
Lovre started his nautical journey as a skipper on sailing boats and daily cruise boats. He worked on two smaller motor yachts, Ferretti 731 and Leopard 23 as a solo crew member, later he joined M/Y Pride in 2013 as a deckhand and worked his way up to Chief Officer. In 2019 he took over M/Y ALALYA as a Captain. Lovre is calm, professional, and always gives his best. He takes huge pride, both in his own and his team's accomplishments. Both a team player and a leader, Lovre is always ready to help. With personal integrity, common sense, and attention to fine detail, he aims to provide an enjoyable and exhilarating charter experience. After more than 10 years of experience, he has vast operational and technical knowledge. His outstanding knowledge of yachting legal and classification matters allows him to advise and guide all parties, ensuring all the guests are in safe hands. His enthusiasm for yachting is noticeable, making every charter experience all the better.
Chief Officer
ANDREA ALBAN
Andrea comes from Padova, Italy. He has acquired significant work experience and enjoyed a versatile career starting as a junior officer on cargo ships, after graduating from Nautical High School. His career in the yachting industry started after three years at the Faculty of Maritime Studies. Andrea is an ambitious person as he sees himself becoming a motor yacht captain in the future. He works hard and uses every opportunity to better himself or learn something new. With a yacht master offshore certificate, he looks forward to expanding his yachting qualifications and traveling onboard M/Y ALALYA.
Chief Engineer
HRVOJE MEDANIC
Hrvoje started his maritime career as an Engineer Cadet onboard a commercial vessel. He has been part of the marine industry for over 20 years and has gained the experience and knowledge to hold a Chief Engineer over 3000kW certificate. Most of his experience, Hrvoje gained on vessels in the 30 to 60 meters size range. Hrvoje loves to share his knowledge and is always available for a chat or a tour of the engine room. He strives to give guests that 6-star service. His mechanical aptitude, engineering knowledge, and energetic personality ensure that all the equipment, yacht systems, tenders, and toys are running smoothly.
Chef
VELIMIR LAJSIC
A hardworking, enthusiastic, and creative Chef with 13 years of restaurant experience prior to working in the yacht industry. Velimir is used to working in high-pressure environments, both onboard and during land-based employments. He has efficiently managed a team of chefs, conducting their training to handle tasks proficiently, but worked as a Sole Chef as well, catering to 20+ people on daily basis. Chef Velimir is extremely flexible and easily adjusts to every guest's or crew member's specific preference, a real team player! In the off-season, Velimir works in Michelin Star restaurants to gain more valuable experience and improve his skills.
Chief Stewardess
HANA BULJEVIC
Confident, vibrant, and a hard worker, Hana has been in the yachting industry since 2012. She has extensive work experience both in the hotel industry and onboard luxury yachts. Her hostessing skills have reached an advanced level over the years, excelling in table setting, flower arrangement, cocktail, wine and food knowledge. Hana has a real passion for the service industry and will always do her best to make sure that the guests enjoy their time during their charter. Hana pays attention to even the smallest details, she is discrete and always has a positive outlook, even in stressful situations. There is nothing that cannot be handled with grace if you approach it with a smile! Her education background is in hospitality management and marketing, welcome skills in this industry.
2nd Stewardess
JOSIPA BILIC
Josipa is highly adaptable to all kinds of situations and a great team player. A combination of strong personality, customer-oriented approach, and the ability to communicate very clearly makes her a perfect choice for this position. She is a hardworking, energetic, patient, reliable person with a pronounced sense of responsibility, able to handle all kinds of unexpected situations.
3rd Stewardess
IVONA LOVROVIC
Ivona is an experienced stewardess who has been working in yachting for 6 seasons now. Working at sea is something she has always been passionate about. She is extremely confident in every aspect of interior maintenance and her service skills are exceptional. All she needs is a strong cup of coffee. She speaks English and Italian. In her free time, Ivona loves to read a good book, spend time around the sea and hang out with her friends.
Bosun
SIME LUSTICA
Šime grew up on the Croatian coast and spent a lot of time around the sea. He has been in the yachting industry for 6 years. Šime is a very calm person which is reflected through the whole yacht, not only on the deck department. If it has something to do with the sea, Šime is a fan. Motor yachts, scuba diving, swimming, the wonderful life under the sun and near the sea. You can find Šime enjoying a number of shore based sports. He is a skilled fisherman and loves the active lifestyle, but he is not a stranger to relaxing and enjoying a good book on occasion.
Deckhand
MARIJA UHODA
Marija grew up to be a keen sailor, she was a member of Croatian sailing representation and participated in many national and international regattas as an active competitor. She has been a part of the maritime industry for most of her life, through hobbies, education and work. She worked both as a stewardess and a skipper in a number of charter companies and gained valuable experience which allowed her to take up the role of a deckhand comfortably. Marija loves outdoor activities and spends her free time rock climbing and mountaineering. She also loves yoga and pottery making.
Captain
Chief Officer
Chief Engineer
Chef
Chief Stewardess
2nd Stewardess
3rd Stewardess
Bosun
Deckhand
SIMILAR YACHTS FOR CHARTER
By Charter Rate.
LET'S GET IN TOUCH TODAY.
Contact us.