AGRAM Yacht Charter - King of the Adriatic
Agram yacht charter is an exceptional luxury yacht charter choice for your family and friends to enjoy in Croatia. With an amazing outdoor space, you can experience early sunrise and amazing sunsets. Agram has a crew of 9 skillful, multilingual professionals who are there to make your dream vacation possible. 
The private luxury yacht is in perfect condition and has been refitted to make sure it met the standards of the guests coming aboard.  Suitable for family gatherings or enjoying with your friends, M/Y Agram will certainly make your memories unforgettable. 
YACHT CHARTER ACCOMODATION
Yacht details.
Guests:

12
Cabins:
5+1
Yacht Length:
44 meters / 144 feet
Yacht cabins layout:
3x Double + 2x Twin
Total living area:
641 sq.m / 6.899 sq.ft
Yacht exterior area:
295 sq.m / 3.175 sq.ft
Yacht interior area:
346 sq.m / 3.724 sq.ft
Types of Cabins on This Yacht:
1x Master Suite + 2x VIP Stateroom + 2x Twin Cabin - Convertible to 2x Double Cabin + 1x Convertible Cabin
Bed Configuration & Size:
1x King + 2x Queen + 4x Single - Convertible to 2x Double Cabin + 1x Pullman
Yacht Interior Guest Areas:
Main Saloon · Main Dining Table · Upper Deck (Sky) Lounge - Large TV & Lounge Room · Six Private Cabins
Yacht Exterior Guest Areas:
Aft Deck Alfresco Dining Table & Welcome Aboard Lounge · Upper Aft Dining Table · Sundeck Jacuzzi Surrounded with Sun Pads · Sundeck Lounge with a Private Bar · Bow Lounge with a Coffee Table · Bow Sunbathing Area
TOP 10 YACHT CHARTER FEATURES
Yacht highlights.
1
6 Cabins That Include Master Suite & VIP Rooms
2
Stabilisers at Anchor & Navigation
3
Impressive Selection of Water Sport Toys
4
State Of The Art Audio & Video Systems
5
Flexible Cabin Configuration
6
Spacious Sundeck With a Jacuzzi
7
Sophisticated Interiors
8
Professional Crew of 9 People
10
Full Beam Master Cabin
YACHT PHOTO & VIDEO GALLERY
Charter Moments.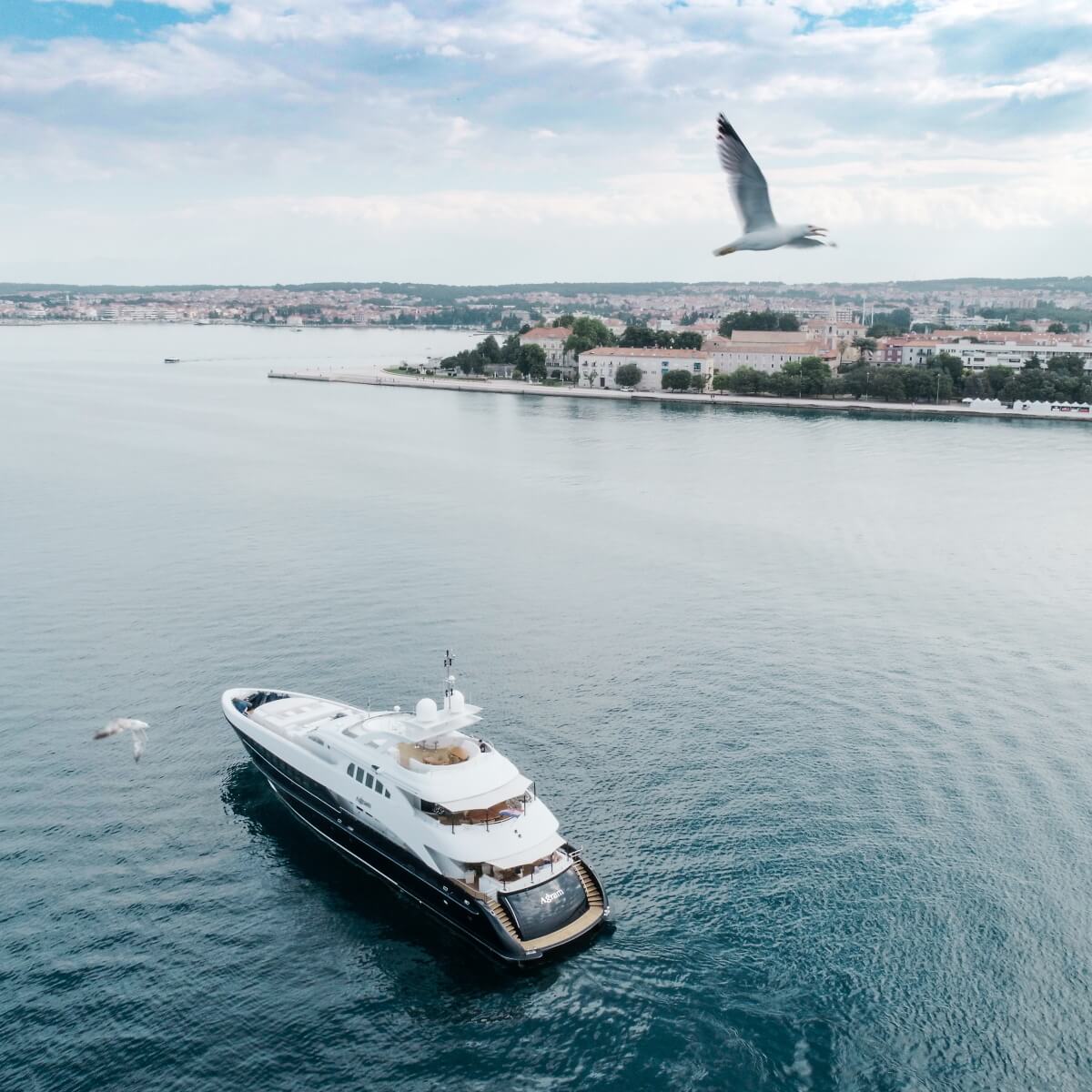 YACHT CHARTER SPECIFICATIONS
Particularities.
GENERAL INFORMATION
Length: 44.17 meters (144.11 ft)
Beam: 9 meters (29.6 ft)
Year Built: 2008
Year of last refit: 2016
Yacht Builder: Hessen
Main Engines: 2x 3699 BHP
Maximum Speed: 24 knots
Cruising Speed: 14 knots
Fuel Consump. Engines: 850 l/hour*
Generator Engines: 2x 99 kW
Fuel Consump. Generators: 50 l/hour*
Stabilisers: At Anchor & Underway
*Highly dependent on sea conditions
LIST OF AMENITIES
All Decks Air Conditioning · Outdoors & Indoors Wi-Fi onboard · At-Anchor Stabilisers – No Rolling 'While Asleep' · Under Way Stabilisers – No Rolling 'While Cruising' · Spacious Sundeck Jacuzzi Bath & Jacuzzi Lounge · Sun pads · Bar · BBQ & Dining Area
WATER SPORTS & TOYS
1x Jet Ski Yamaha SVHO with 260 BHP
1x Jet Ski Yamaha FX SHO with 160 BHP
1x Seabob F5S
1x Stand Up Paddle board
1x Sea Doo RS3 Underwater Scooter
2x Kayak
1x Dive Gear (RDV Diving ONLY)
1x Wake Board
1x Banana
1x Donut
Snorkeling & Freediving Gear
TENDER VESSELS
Circus, 6.5m Jet Tender (Included)
Axopar 37, 12.5m Chase Boat (Optional)
FULL YACHT CHARTER REVIEW
Inspected by Us.
Gather the company of your closest friends and loving family and undertake an exciting charter vacation in Croatia aboard AGRAM yacht charter. Motor yacht ( M/Y) AGRAM is an exceptional luxury yacht and an excellent charter choice for your family and friends to enjoy.
AGRAM has a crew of 9 skilful, multilingual professionals who are there to make your dream vacation a reality. Equipped for up to 12 guests, the crew-to-guest ratio on AGRAM yacht charter ensures an above 5-star level service and exceptional attention to detail.
The members of your crew will always be ready to assist with anything that would improve the experience of your charter holiday in Croatia. With 6 cabins in total, AGRAM`s living quarters are divided between a Master stateroom, 1 VIP cabin, 2 twin cabins and 2 double cabins convertible to twin.
Suitable for family gatherings or having a good time with friends, M/Y AGRAM will help you create unforgettable memories, thanks to her wonderful amenities, comfortable living spaces and well-designed deck spaces.
AGRAM yacht charter is in perfect condition and has been refitted to make sure she meets the highest expectations and standards of luxury yachting service and safety. She had a thorough refit in 2016 and 2019. With a length of 44 meters (145ft), AGRAM is one of the biggest yachts available for charter along the Croatian coastline.
On the outside, she has a stylish and sporty look which complements her maximum speed of 24 knots. The interior is very elegant with smooth lines and subtle décor, not lacking in entertainment content. You can choose to spend your time on one of the three outdoor decks, enjoying a Jacuzzi tub with a splendid view or satisfying your appetite with an alfresco dining experience.
Larger groups will adore AGRAM for its numerous amenities, water toys and entertainment possibilities. Charter guests always love to switch between a plethora of water toys, so paddleboards, kayaks, jet-skis and Sea Bobs are always up for grabs on AGRAM.
Having fun on the water is always enjoyable but thrilling experiences can sometimes be found under the water as well. Plenty of scuba and snorkeling gear on AGRAM yacht charter will always satisfy charter guests who love underwater adventures, exploring the vast riches of the Adriatic Sea.
If you would like to know more about AGRAM yacht charter, continue reading…
Founded in 1978, the Hessen shipyard had a clear vision from the start – to become the world's most successful producer of luxury lifestyle yachts. Thus, every vessel made by Hessen is guaranteed to be of ultimate quality and comfort. This is particularly true about AGRAM, a superyacht made by Hessen to personify their core values and represent the shipyard on the world's oceans.
After building the fastest superyacht of the 20th century, Hessen turned to improve the standards of luxury yacht design and construction. From that perseverance and effort, Hessen managed to produce many award-winning designs. This tradition of excellence is clearly made visible in AGRAM, an impressive semi-displacement luxury yacht, perfectly suited for a charter vacation in Croatia.
A DAY ON THE YACHT
Once you book AGRAM for your Croatian charter holiday, be prepared to experience style, glamour and elegance. From the first moment that you open your eyes in AGRAM`s Master stateroom, you will feel how chartering a yacht connects you to the sea in a way no on-land service could.
Doing your morning rituals, enjoy the pleasant Adriatic panorama, before stepping outside to smell the fresh sea air. The smell of freshly baked croissants and coffee beans fills the main aft deck, calling all charter guests to sit and enjoy breakfast.
Dig into several different kinds of granola with either plant-based or dairy milk, together with premium coffee and tea. Also to choose from are the unavoidable cheese and deli meats platers, together with plenty of fresh fruits, vegetables and local specialities, such as prosciutto, cheese from the island of Pag or Croatian pancakes. If you would prefer a special dish made, you only need to ask your hard-working chef, who will always work to satisfy your appetite and culinary imagination.
Start planning your itinerary while enjoying the most important meal of the day, carefully prepared by your hardworking charter chef. Will you cruise around Croatia`s coastline, explore diverse underwater worlds or would you rather enjoy an individual paddleboard experience? You and your charter party can decide to have a fun morning with jet skis, spending hours on end in your private piece of Adriatic paradise.
Make a bet with your friends, racing 10 laps around your superyacht charter – the loser has to wear Speedos at dinner, so be prepared to have lots of laughs when sitting at the dining table this evening.
After a very fun morning, you return for lunch, with a Mediterranean culinary delight already waiting for you. Enjoy a grilled tuna steak with roasted pepper hummus and quinoa mash or peppered Adriatic Sea bass served over Istrian truffle puree in a bourbon, sea salt and red paprika infusion. Relax after a lovely and nutritious meal with your charter group, deciding what to do in the afternoon. Lounge around the saloon, before taking a nice swim in the clear Adriatic sea.
Refreshed and ready for more fun, make arrangements with your captain about berthing in the city of Zadar. When ready, you give the word and m/y AGRAM starts cruising, on its way to Zadar.
While you cruise towards your destination, let your crew pamper you with snacks and beverages served to you while relaxing in a jacuzzi. Offering a perfect visual sensation, cruising while enjoying AGRAM`s jacuzzi will make you feel like you are soaring above the sea, but still somehow close to it.
Berthing on the busy seaside promenade, just as the sun slowly makes way for the moon, you step onto the polished cobblestone streets of Zadar. Since you planned a restaurant dinner and some quick sightseeing with your charter party, the crew onboard AGRAM are constantly on standby, awaiting your return.
Exploring the old city core of Zadar, you experience marvellous archaeological sites, like old roman architecture and strong city walls. You enjoy your dinner surrounded by ancient stone structures and the beautiful sea in the background. Visit the famous Zadar Sea Orgon and listen to the organic sound made by the sea, entering and exiting the structure, manufacturing 100% natural music.
Once you finish sightseeing, you could be ready to sit for dinner in one of Zadars exclusive restaurants. Do not worry, your wise crew has already booked a table for you and your charter party. Start your evening with a salad made of feta cheese, grilled eggplant and saffron, continuing with tuna with a lime and thyme infusion and finishing off with a Pistachio crème and banana and chocolate mousse dessert.
After dinner, you can return to your superyacht charter to enjoy some quality time with your friends and family in private. The professional crew of AGRAM will welcome you with a small late-night banquet, made from light dishes, like milk-soaked salmon carpaccio with chilly garnish and cashew cream. Relax and enjoy the food with a glass of champagne, planning tomorrow's itinerary.
YACHT CHARTER DINING
Due to the considerable size of the galley aboard AGRAM, you and your charter guests will constantly be surrounded by mouth-watering dishes and delicious snacks in-between meals. Without disturbing the atmosphere of the saloon or the alfresco decks, the professional crew can serve you and your charter party with speed and accuracy, thanks to separate hallways.
Over-indulge on sweets or nibble on healthy treats; your dining experience onboard AGRAM will be in the capable hands of chef Mladen Sundov, a real expert in the kitchen. He will make sure that the food you eat is local, fresh, organic and exceptionally tasteful. If by any chance you have a special diet program, the chef will do his very best to present meals only of a certain quality, serving your every taste.
Cruising around the Adriatic Sea will be a once-in-a-lifetime opportunity to enjoy the most freshly caught fish that money can buy. Also, you would not miss out on the exquisite wine list that the Croatian coastline has to offer. Whether you are a white wine or a red wine lover, the crew will select only the best wines for your taste. Remember, chef Sundov will always deliver unique culinary experiences, paired with the beauty of a Mediterranean atmosphere.
For breakfast, you can choose between:
Thickly cut toast, hand made from rich dough, topped with grilled scampi, feta cheeses and sprinkled with freshly picked spices and herbs
Brown-dough pancakes filled with banana puree generously topped with handmade dark chocolate sauce and strawberries.
French toast infused with maple syrup, with a side of a traditional Croatian apple strudel
Pineapple puree with rum and coconut hand-made ice cream.
Lunch will consist of at least 3 courses, among which will be:
Grilled fresh Adriatic bass on a bed of sweet potatoes, seasoned with garlic, lime juice and olive oil
Surf-n-turf kebabs marinated in poppy seed sauce, topped off by baby spinach reduction and crispy prosciutto sprinkles
Skewered beef with tomato and pesto sauce, served with caramelised onion and rough sea salt, with a side of grilled bacon
For dessert, mini vanilla-chocolate tart, topped off with fresh forest fruits.
Among other dishes, dinner time on AGRAM means dishes like:
Lamb-chops served with a dilution of coconut milk, coriander and basmati rice
Istrian truffle ravioli with olive oil, red onions and parmesan
Well-cooked beef served with shredded garlic and onion jam, topped off by ginger, basil and couscous
Pistachio paste on grilled tuna bites served with onion, garlic and pea puree and drizzled by fine Croatian white wine
Tiramisu for dessert.
YACHT MAIN DECK
Starting from the main deck, AGRAM boasts enormous amounts of living space. The aft alfresco deck features a large and comfortable U-shaped sofa, practically surrounding two compact coffee tables. Feel the soothing vibe on the main aft alfresco deck, whilst enjoying evening drinks and favourite appetisers before dinner.
The dining table will be decorated daily with fresh flowers and sea-themed accessories that will lift up any alfresco dining experience. Hidden away on the bow is a quaint sunbathing and lounging area, with charming coffee tables, sofas and sunbeds. Here, you can enjoy watching the horizon change, as AGRAM yacht charter steadily cruises towards the next beautiful location on your Croatian holiday itinerary.
Yacht charter accommodation: main salon & dining area
The interior features the main salon, which follows the overall design of the furniture, with bright colour patterns and plenty of polished wood details. The huge saloon is surrounded by big hull windows, making it the perfect place to be during the afternoon.
When the sun shines through the windows, bathing the saloon with golden rays of light, you will be captivated by the warm feeling of relaxation and bliss. The centrepiece of the salon is the dining table, eye-indulging and decorated daily with fresh flower arrangements. A long hallway stretches from the saloon to the bow of the superyacht, leading to the master stateroom.
Yacht Charter Accommodation: The master cabin
Equipped with a king size bed and a large en suite, AGRAM`s master stateroom is the epitome of stylish interior design combined with lavish furnishings. Woodwork details and geometric shapes capture natural light coming in from large windows, creating an enjoyable game of shadow and brightness.
A day bed right beneath the window enables guests to put their legs up and read a favourite book or magazine. To port, a vanity table is suited for fixing your appearance before going to dinner. Two ceiling-integrated windows elongate the cabin, making it seem much longer than it actually is.
The contemporary and chic style lifts the whole stateroom, using bright colour palettes of brown and beige. The big en suite features a jacuzzi tub which accentuates the luxury, while a large office area inside the room gives more than enough space for working in privacy and peace.
YACHT UPPER DECK
An ideal place for gala dinners, the upper deck al fresco dining area is a perfect spot for hosting themed dinner parties or karaoke nights. The round dining table will be filled with Michelin-level food made by a first-class chef. This will be a truly remarkable setting with a view of the Croatian horizon.
In the evening hours, gentle LED lights cover the area, creating a soothing experience, especially when shared with loved ones. Moving up towards the sundeck is a socializing area like no other, with numerous sun pads and a generous jacuzzi. Dipping inside the jacuzzi while sipping cocktails from a wet bar is a one-of-a-kind experience and definitely our favourite spot on the yacht.
On the upper deck, you can enjoy the sky lounge – a perfect entertainment centre aboard AGRAM yacht charter. Contemporary decorated and following the same brown-beige pattern as the saloon, the sky lounge is equipped with a big screen TV and comfortable sitting arrangements.
With a big collection of movies and games, the sky lounge is a favourite choice for watching movies with family and friends or organising game nights. The TV is angle-adjustable, meaning it can be viewed from anywhere in the room. Forward the sky lounge is another study area.
Yacht Charter Accommodation: The VIP Stateroom
The VIP stateroom aboard AGRAM yacht charter is actually a skylounge converted into a VIP stateroom. This is done by lowering a queen-sized berth, integrated into the wall, into the centre of the sky lounge, transforming this space into a spacious living quarter.
The converted VIP cabin is always a favourite among charter guests, perfect for reading a book or simply relaxing while the warm sun fills the room. The big windows have no trouble filling the converted VIP with massive amounts of natural light.
When it comes to the décor, it is in unison with the predominant theme of beige colours and brown details, used extensively throughout AGRAM`s interior. The ensuite is located in the upper deck foyer – compact and practical, it features a day head.
YACHT SUNDECK
Moving up, the sundeck is a socializing area like no other, with plenty of versatile spaces to entertain guests, enjoy meals, have a good time with family members or throw a wild party.
Relaxing inside of a jacuzzi while sipping cocktails is truly a must-try experience and a favourite activity among charter guests on AGRAM. The jacuzzi is forward-facing, which means guests can enjoy a warm soak as the panorama changes due to AGRAM cruising towards new adventures. Port from the jacuzzi is a wide sunbathing surface, strategically placed so guests could have a conversation with the people in the hot tub or people sitting at the bar.
AGRAM`s sun deck has a fully equipped bar, incorporating a grill station, an ice maker, a fridge and all the countertops necessary for preparing one-of-kind cocktails. The crew on AGRAM are expert cocktail makers, concocting their creations from only freshly squeezed or blended fruits, farm-to-table spices and natural Croatian honey, for sweetness.
Once you try a Pina Colada or Sex On The Beach made with honey, you will not want to try anything else. Towards the bow, the simply enormous horse-shaped sofa arrangement, paired with 2 smaller dining tables and movable chairs, can sit up to 20 people in comfort.
YACHT LOWER DECK
Guests arrive at the lower deck by way of the lower deck foyer, which has an integrated beverage cooler, for keeping your favourite drinks ice-cold. The lower quarters offer generous living space for AGRAM guests, with two double cabins and two twin cabins which can be converted into a double, providing flexibility with sleeping arrangements. Your guests will feel immediately at home and relaxed, no matter what cabin they choose to occupy.
The high-quality materials used in the construction and outfitting of the lower deck cabins really touch all your senses at once. All the cabins onboard are outlined to fit the bright and woody theme of the overall design on AGRAM. With polished wood accentuating the incoming natural light, the cabins seem sleek and spacious. Plenty of storage space ensures a tidy environment, whilst the en suites in all staterooms are spacious.
Electric blinds are installed in all staterooms, ensuring fully customisable brightness levels, from pitch-black to bathed in light. With plenty of legroom and headroom in each cabin, guests swear they slept and felt like waking up in their own bedroom, after only one night spent on board AGRAM yacht charter.
Yacht Charter Accommodation: The double cabin
Guests will surely enjoy the atmosphere of the double cabin, earthly and inviting. A flat-screen TV, where you can watch every program imaginable thanks to the direct uplink AGRAM has with orbital satellites. You can feel comfortable in your cabin during a hot summer day thanks to a smart and silent air-conditioning system.
Rest and relax in your cabin, taking full advantage of the well-appointed ensuite, which has a separate shower cabin, a head and a sink. Enjoy a hot shower after a refreshing swim in the Adriatic or before resting on imported silk sheets.
Yacht Charter Accommodation: The twin cabin
Polished light wood surfaces reflect the light coming in large portholes, enabling guests to better appreciate the light-beige colour palette. If you feel the need for some darkness, the electrically operated blinds provide pitch black in a blink of an eye. There is enough room to walk around the queen size berth and feel the soft and fuzzy carpet beneath your feet.
Try touching the beige wall panels, made from premium leathers and fitted to reflect a 5-star luxury yacht accommodation. The ensuite accentuates wooden details paired with glass surfaces and black marble details Nightstands provide a feeling of being at home with your favourite book by your side or some personal care products A vanity parallel to the bed, that sits in a moulded wall frame, ideal for putting on make up before dinner or enjoying a meal in complete peace and privacy
YACHT BEACH CLUB & SWIMMING PLATFORM
Spend hours enjoying water toys from the beach club on m/y AGRAM. Due to the extendable swimming platform, this superyacht can provide access to multiple water toys at once. Feel the versatility of dropping and picking up water toys in a blink of an eye. You can also use the wide beach club space for massage therapy, exercising, sunbathing or yoga. Your expert crew will always make sure you experience something new.
Ask your crew to set up a charming lounge on AGRAM`s swimming platform, so you could enjoy being close to the sea in a way not possible on most other yachts. After you are done with champagne and canapes, jump straight into the refreshing  Croatian Adriatic sea. To rinse off the excess salt after a swim session, use the freshwater shower smartly integrated into the exterior of AGRAM`s beach club.
A private tour of the coastline, scuba diving lessons, a kayak picnic, jet ski races or underwater Sea bob explorations – there is always something fun to do on AGRAM. Let your crew prepare a refreshing beverage for you and your charter party, while you swap between water toys on the extendable stern platform Enjoy a quick break by sipping your favourite drink while watching your friends and family have fun on the water.
YACHT WATER TOYS & WATER SPORTS
With two jet skis at your disposal, you can race with members of your charter party or explore the nearby Croatian coastline in pair, trying to spot the perfect place for some later snorkelling or kayaking activities. Do not satisfy your curiosity by only scouting above the sea; delve beneath the water with the help of a Sea bob, and transform the everyday snorkelling experience into flying above the Croatian seabed, feeling like a genuine dolphin.
For guests who like to feel relaxed more than thrilled,  a stand-up paddleboard gives the perfect opportunity to gently scout the nearby Adriatic surrounding, seeking a quiet cove or a secluded bay, where you can sunbathe on the paddleboard in perfect privacy and harmony with nature.
There is also the choice of going on a kayak excursion; let your crew load up the kayaks with snorkelling gear and something to eat, so you could pick the perfect spot on the coastline and enjoy some delicious Michelin-level food, as you bask in the perfect ambience of a Croatian summer.
If you want to bounce on waves and feel the adrenaline in high gear, place yourself on the banana or donut towable, so one of the members of your charter party could tow you with the tender. Feel safe as the sea splashes all around you, knowing that you can only get seriously wet, and nothing else.
YACHT CHARTER CREW
At Your Service.
Captain
Dino Radulic
Dino is the Captain of Agram and is here to ensure that your stay is memorable and luxurious. He is a highly trained and skilled professional with over 15 years of sea experience. He takes great pride in his crew and is confident in their ability to deliver an exceptional service. He started as as a deckhand and soon moved up to the Captain's position. Dino guarantees that you will have an unforgettable experience of more than 1,000 islands along the Croatian coastline discovering a crystal clear hidden beaches and coves, little coastal towns. Originating from the North Dalmatia, Dino found his passion for the water from a young age. He has many years of experience cruising the Mediterranean and the Adriatic. Languages: English, Croatian
First Officer
Zoran Pekic
First Officer Zoran Pekic is a licensed captain with more than 10 years of experience in the yachting industry. He has travelled extensively throughout the Mediterranean, and will be happy to share his anecdotes from the sea. He is the Captain's right hand and is responsible for the implementations of decisions made by the Captain, maintaining and carrying out inspections of all safety equipment and the proficiency of crew training. He is taking care that everything is running smoothly so we can reach all of the places of your interest. Zoran likes sailing, reading, listening music and exploring new places. Languages: English, Croatian
Chief Engineer
Mate Ladic
Mate was born in 1986. in Zadar and grew up with an interest in everything technical. After finishing school, he has been working as an engineer on passenger ships. Mate decided to move to the yachting industry recently and enjoys his job and being a part of M/Y AGRAM. He is in charge of the engineering department and the operation of all safety and critical equipment. When the time permits Mate enjoys fishing and swimming.
Deckhand
Ivica Kozul
Born in 1983. in Zadar, Croatia. Ivica has over a 6 years experience on M/Y AGRAM. He is a fast learner, fun to be around and loves to participate in all water activities. He will assist you with water sports, drive you to hidden beaches and bays by tender, or help to improve your skills on jet-ski. When he is not on duty he enjoys watching and playing soccer. Languages: English, Croatian
Bosun
Danijel Visic
Danijel was born in 1973. in Veli Rat, an island near Zadar. He has over 15 years of experience in the yachting industry. His knowledge about Mediterranean and a lot of miles he sailed, makes him a person you must have on board. He will be happy to take you on an adventure you will long remember. From the young age, his biggest passion was the sea. In free time, Danijel enjoys surfing and diving. Languages: English, Croatian.
Chef
Mladen Sundov
Born in 1963. in Split, Croatia. With over 10 years of experience as a chef, Mladen is a real expert in the kitchen. After finishing culinary high school, he has been working in 5 star a la carte restaurants, and takes pride in being involved in wide range of culinary roles in Croatia. Specialised in preparing mediterranean cuisine based on fresh ingredients. Mladen loves to learn new recipes, styles and cuisines and always surprises his guests with lovely local dishes based on ecologically produced ingredients. Mladen is looking forward to take you on a culinary journey through Croatia! When not in cuisine, Mladen enjoys fishing. However, cooking is his greatest passion. Languages: English, Croatian.
Chief Stewardess
Ana Adum
Ana was born 1994. in Split. After graduating, she decided to join the yachting industry. She is a fast learner, pays attention to every detail and takes a great pride in what she does. Ana has excellent communication skills and most importantly, she is very flexible, hardworking and responsible person. She will go the extra mile to ensure that all guests onboard Agram have a fantastic time on board. Ana loves all outdoor activities; riding bicycle and running.
Stewardess
Anea Vukosa
Anea was born 1995. in Zadar, Croatia. Anea enjoyed sailing from a young age. She finds herself the happiest when onboard. Anea enthusiastically supports the Chief Stewardess in all interior duties while providing the excellent service in every aspect of your stay onboard Agram. Great personality and her responsibility make Anea a great choice for putting a smile on clients faces. When off of work, Anea loves spending time outdoors with family and friends.
Stewardess
Nina Kvesic
Nina was born 1998. and despite the fact that she lived far from the sea, she gained love for sailing from an early age. During her studies, she gained a valuable insight into the hospitality industry and learned the importance of an exceptional service. Nina is always happy to assist her guests and make their stay a memorable experience. Nina is a passionate pianist, so she enjoys everything related to music.
Captain
First Officer
Chief Engineer
Deckhand
Bosun
Chef
Chief Stewardess
Stewardess
Stewardess
SIMILAR YACHTS FOR CHARTER
By Charter Rate.
LET'S GET IN TOUCH TODAY.
Contact us.