5 factors that made Heesen a successful builder of luxury yachts
Heesen Yachts, one of the most prominent yacht shipyards in Europe, was founded in 1978 in the Netherlands. Since then, this yacht shipyard has constructed and launched countless superyachts. Most of Heesen's designs go on to win awards for interior or exterior design, as well as integrating novelties regarding the shape of the hull, the superstructure or some innovative yacht amenities. Heesen is considered by many yacht enthusiasts to be one of the leading powerhouses in the world when it comes to designing and building luxury yachts.
The majority of Heesen-built yachts tend to be made from aluminium and steel, although this yacht shipyard invests tremendous resources into implementing new yachting technologies, to stay relevant on the market. This pretends to the ever-increasing demand for yachts built using carbon fibre technology.
Innovation is another of Heesen's key marketing and development strategies, closely tied to their need to always push beyond the accepted norm; each new model produced has a clear purpose, and that is to outdo previous models.
To better understand what made Heesen the yacht manufacturer that it is today, here are 5 important factors that influenced its growth, change and success:
The Philosophy of Heesen Yachts
Heesen`s philosophy is deeply rooted in their heritage and past. Staying true to their identity and tradition, while also staying ahead of the progressive superyacht curve takes a lot of ingenuity in the managerial sectors, as well as more than competent hands behind the drawing boards and experienced craftsmen and artisans handling the physical labour.
To communicate excellence that echoes through the decades of luxury yachting, while being regarded as one of the most prominent superyacht shipyards in the world is no easy feat. Thus, Heesen is considered to be one of the truly great luxury yacht manufacturers because of their ability to give the clients exactly what they want, while also providing something new. The implementation of novel designs and technologies is no stranger in Heesen`s shipyards because Heesen understands that to progress means to innovate.
Countless man hours and resources have been spent on Heesen think-thanks, which have a constant task of figuring out ways to improve performance, manoeuvrability, space utilization or engineering components of each new yacht. At the same time, a team of incredibly talented naval designers let their passion guide them in creating truly unique accessories, and exterior and interior venues, as well as thinking up new ways of changing what is considered to be a typical superyacht form.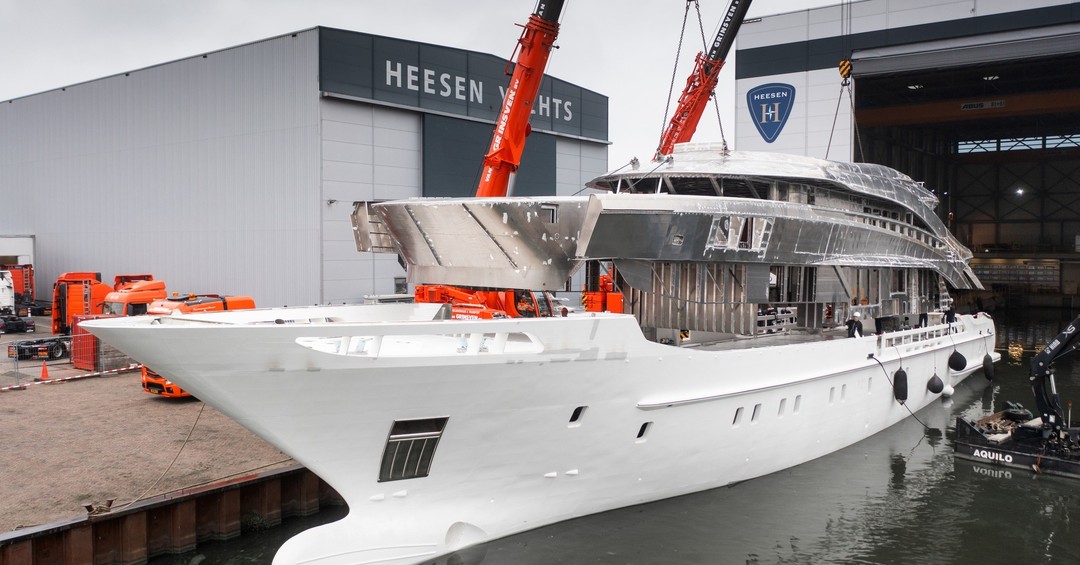 Because of this, each luxury yacht manufactured by Heesen brings something new to the table – some core value of their identity that makes its way into their product.
This means that you can actually feel the presence of a "nordic soul" while cruising on a Heesen-built yacht i.e. a need for directiveness and practicality, without unnecessary details. Of course, aesthetics play an important role in every Heesen yacht, but it does not take the central role. In fact, aesthetics ranks beneath functionality and practicality – its presence is subtle, hidden in plain sight, but obvious if you look for it.
Heesen is also famous for a "near-invisible" feature that drastically improves the overall experience that potential clients have aboard these yachts. This has to do with the crew`s accommodations; on most yachts, the comfort of the crew comes second to the comfort of the guest, meaning tighter and smaller crew cabins, as well as less-than-compact crew mess and other crew-related areas.
Hessen is well aware of the fact that, without a crew, there would be no luxury yachting, so they pay extra attention to the needs of the crew, who make or break any and all experiences aboard yachts with their readiness or tardiness.
This means that on Hessen-made yachts, the crew enjoys more space in their cabins and more space in the crew mess hall. This in turn produces a well-rested and well-motivated crew, who enjoy the work they do, which reflects directly on the quality of service, hospitality and every other type of experience.
History of Heesen Yachts
The establisher of Heesen Yachts was an entrepreneur by the name of Frans Heesen, who had previous business ventures working in the plastic industry. Because he had some capital established from his previous projects, he decided to buy a boatyard belonging to Striker Boats in 1978, in order to re-purpose it to suit different business goals.
But something changed in the mind of Frans Heesen, because he decided to keep the yacht shipyard as is, and continue its operations. In 1979, Heesen yachts launched its first vessel, the 20-meter Amigo, and the world would never be the same again…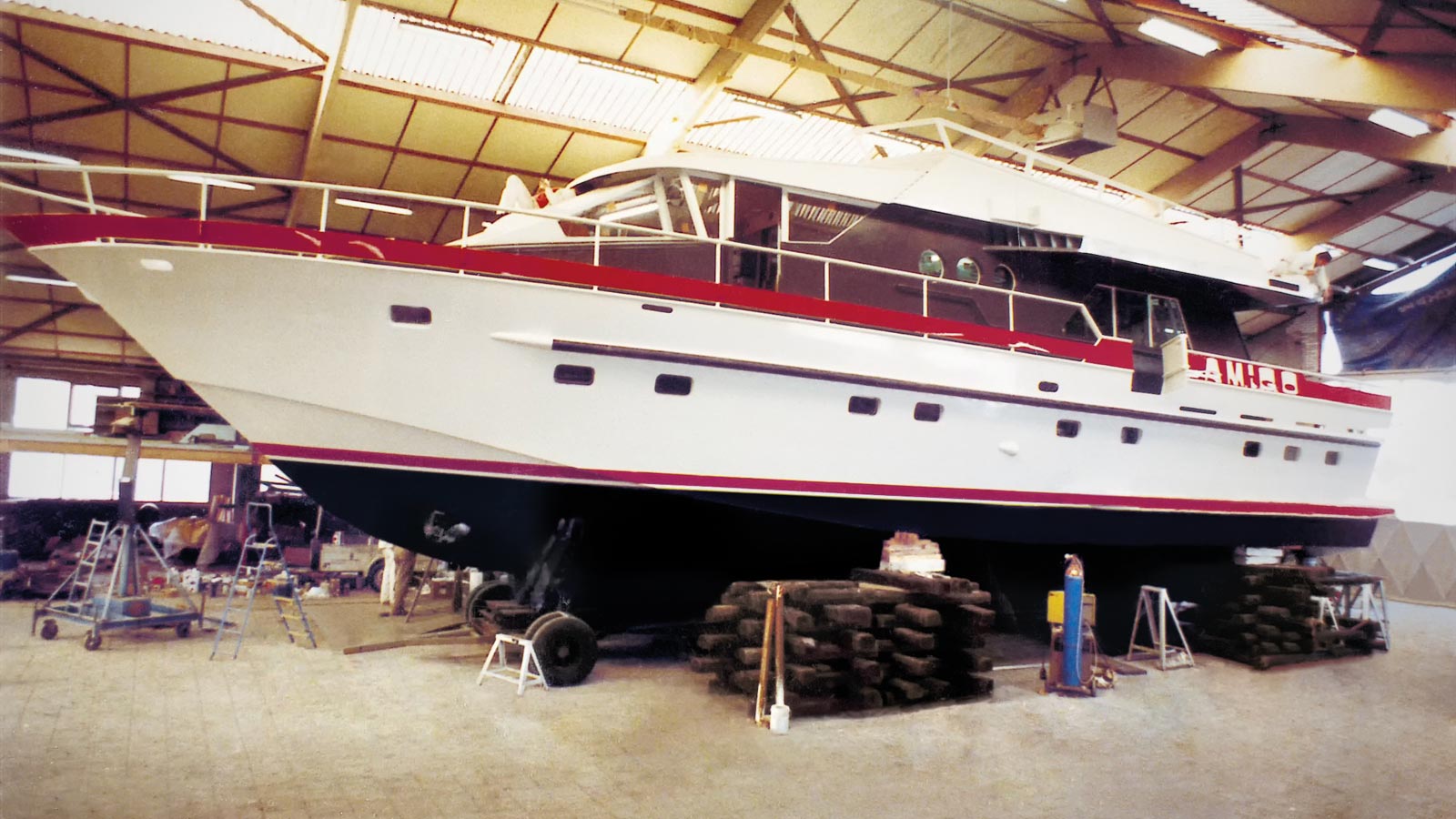 Continuing to build luxury yachts of compact sizes, the first major breakthrough for Heesen came in 1988, when the boatyard was commissioned to build a luxury yacht that could reach max. speeds of 50 knots. This was a major challenge for Heesen, as it would be for any boatbuilder in general because the 1980s were still somewhat limited by the materials and engineering knowledge that was at disposal for yacht builders.
Nevertheless, Hessen rose to the challenge and managed to deliver an incredible feat of engineering; Octopussy, a yacht named after the 1983 James Bond film and a truly breathtaking vessel. The 44-meter engineering wonder reached incredible speeds of 53.1 knots, which is even more astounding if one factors in all the obstacles that the Heesen team had to face.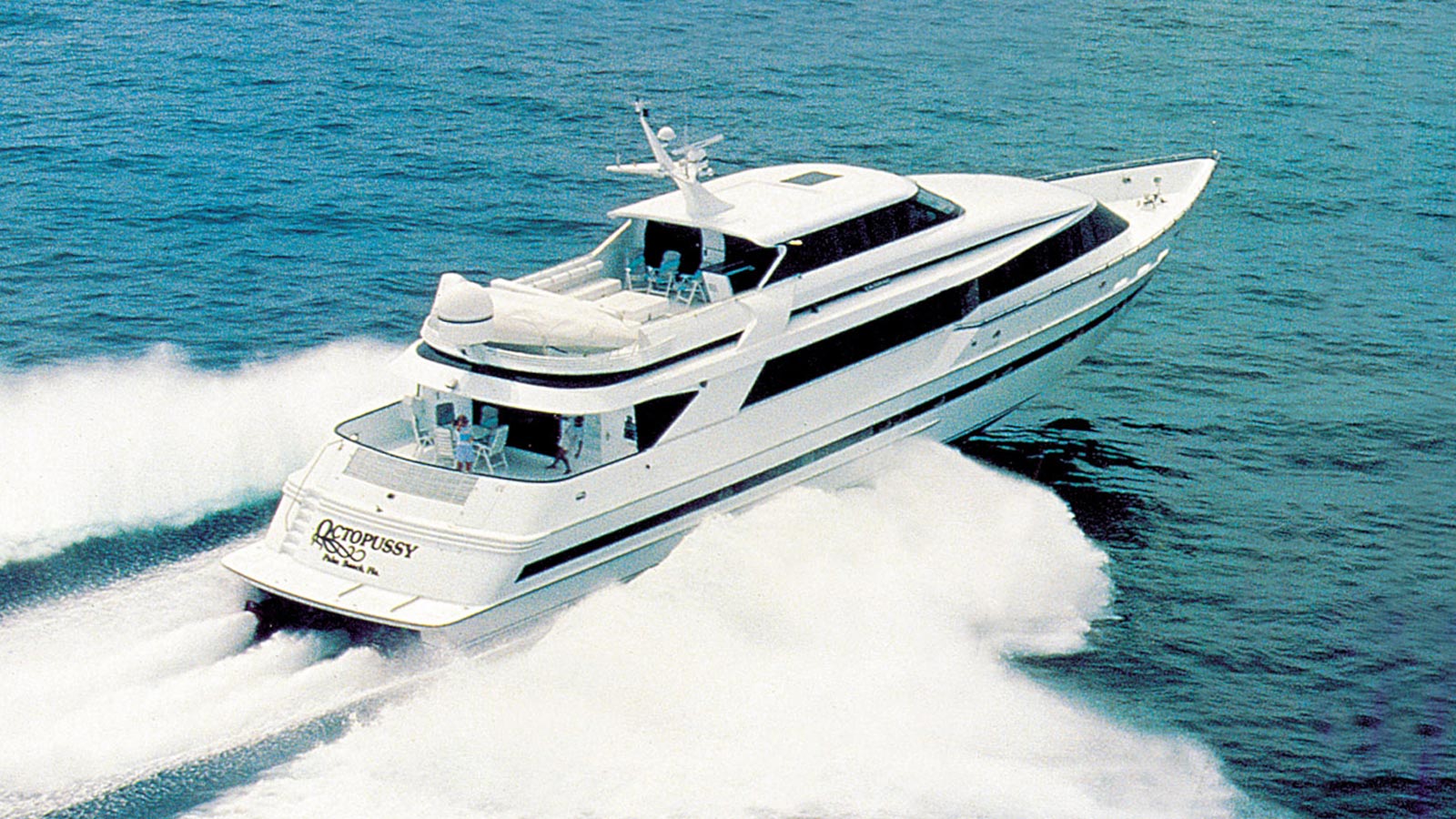 First, the contract between the Heesen yacht shipyard and the customer, an American businessman by the name of John Staluppi, stipulated that the client had the right to abandon the project if the yacht could not perform as expected. Also, a penalty was included for each fraction of a knot that the yacht could not accomplish.
Despite all these roadblocks, Hessen arose victorious, revealing Octopussy to the world; from then on, Heesen would be regarded as one of the most important players in the luxury yachting industry on the global stage.
In 1992, Heesen started to construct more traditional yachts, with steel and displacement hulls and with longer and longer ranges. This venture was marked by building the 37-meter luxury yacht Obsessions, which also managed to reach speeds up to 33 knots.
With the beginning of the 21st century, Heesen promptly threw itself into newer and more groundbreaking projects. This was marked by the delivery of the 4400 and 3700 series, which in turn demanded an upgrade of the entire Heesen yacht shipyard.
Today, the headquarters and shipyards of Heesen yachts are located in the town of Oss, in the Netherlands. The dockyard is comprised of five dry docks and nine construction hangars. The shipyard is constantly going through upgrades and renovations, further improving upon its ability to produce more in less time, without sacrificing quality or its distinctive brand attributes. With the newest renovations done in September of 2016, Heesen now has the ability to build superyachts measuring up to 83 meters in length.
Type of Heesen Yachts
Project Cosmos
One of Heesen`s most awarded yachts was Galactica Star, built in 2013 and measuring 65 meters; she won nine awards, the most important of which was the World Superyacht award.
Among many other famous Heesen yachts, one of the largest projects of this yacht shipyard to date was the 80-meter yacht known as Project Cosmos. Started in 2019, this yacht was the pinnacle of innovative yacht design, incorporating several new breakthroughs in yachting technology: an FDHF (fast displacement hull) and a Rolls Royce Promas system (rudder and propeller integrated into a single element, improving hydrodynamics).
2019 was also the year that Heesen announced project Skyfall, a 59-meter yacht that was expected to achieve maximum speeds of 37 knots – a remarkable feat for such a lengthy yacht. This was made possible with the help of 4 waterjets, producing 22,000 horsepower (nearly 30 Lamborghini Aventadors).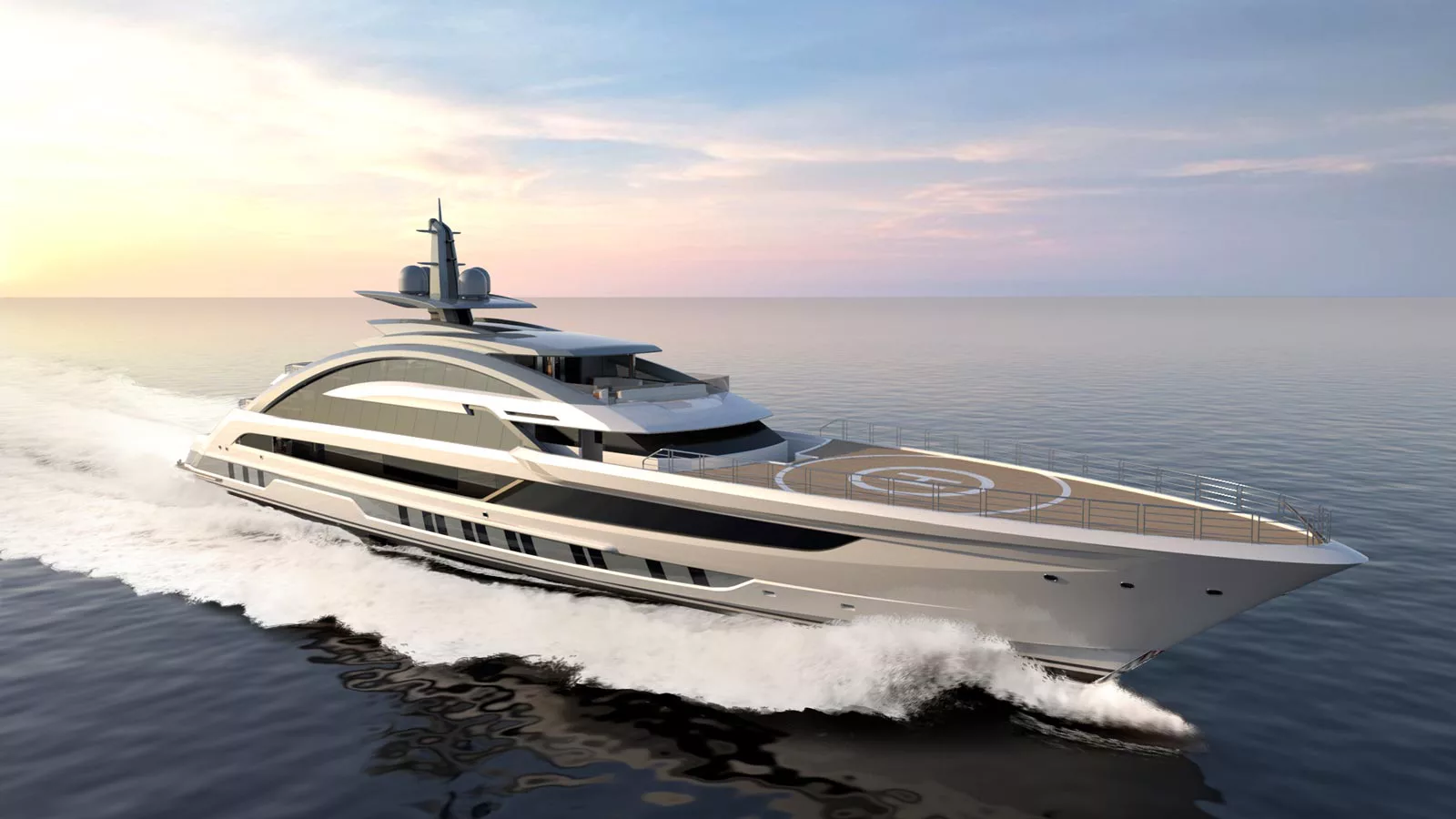 Notable Heesen Yachts
Heesen is constantly in a race with themselves, one-upping each new design and yacht they launch, always trying to find some part of the vessel that can be upgraded. All of this does not mean that Heesen shies away from tradition; their naval architecture and design are considered to be totally different from Italian or Turkish naval design. To give some idea of the many different types of Heesen-made yachts, here are several examples…
Model: 4700
A 47-meter-long yacht, Heesen`s Asya was built to offer maximum comfort and enjoyment to potential clients. She is the second-largest yacht in the restyled 47-meter class, boasting a full-steel displacement hull and an aluminium superstructure. Asya was launched in 2015 and immediately started earning a reputation as a high-performance and high-luxury yacht, with an experienced and diligent yacht crew.
Because she is constructed by Heesen, Asya guarantees long-lasting efficiency, as well as trivial and affordable maintenance. These qualities make Asya a charter-friendly superyacht, which is great as an investment or as an opportunity to enjoy the call of the open sea.
You could arrange to take Asya for a spin in the turquoise Croatian Adriatic sea, where the performance of both the yacht and the crew would speak for themselves. Until that time, a walking tour of her interior and exterior will reveal stylistic simplicity as the main backbone of the design. Designed by Bannenberg & Rowell, Asya`s interior uses glossy white surfaces, paired with ebony wood and rare stones.
Her wide side decks allow for easy access to every space onboard, so guests can experience Asya without any hindrances in movement. Asya`s Dutch design also takes care of the crew, making sure that the crew quarters and mess hall are bigger, as well as the berths in the crew cabins, while the captain has a private cabin near the bridge. This means that the crew aboard Asya will be more rested and energized, which will make them able to tackle all challenges.
Crew readiness and hospitality are the deciding factors of all superyacht experiences; Heesen recognized this fact and dedicated considerable efforts to making the crew function as neatly as possible. Asya can accommodate 12 guests in 5 cabins, in a classic arrangement of a master suite, 2 double and 2 twin cabins, with the twin having the option of additional pulman berths.
Model:4400
Agram is a Heesen-made yacht that truly personifies the core values of this Dutch yacht shipyard: perseverance, wisdom and grace, all tied together with a passion for yachting and love for the sea. Cruising with Agram enables potential clients to really familiarize themselves with all the amenities this yacht offers.
Built in 2008, this 44-meter yacht was subsequently refitted many times, to keep her up-to-date with all the latest trends in yachting and to enable her guests a comfortable yacht experience, without sacrificing performance. Her crew numbers 9 members, all experienced and multilingual professionals, who will give their all to create an unforgettable charter experience for potential clients.
Agram can accommodate up to 12 guests, which can be allocated in one of 5 cabins, with the possibility of an additional 6th cabin, thanks to the modularity of Agram`s upper deck.
Furnished in soft and warm tones, Agram`s interior will invite potential clients to relax and unwind in a soothing and peaceful environment, while also being able to experience the thrill of riding Agram`s water toys or the exquisiteness of the food served from Agram`s galley. She is equipped with both at anchor and underway stabiliser, ensuring all guests do not experience any rolling, both when the yacht is stationary or cruising.
Agram`s spacious exterior decks allow her to satisfy many different tastes, thanks to the dedicated jacuzzi area on the sundeck, as well as the nearby lounge and sunbathing area.
There is also a BBQ, ideal for open show-cooking in the evenings – you will be entertained by the chef`s skill on the grill and the taste of the excellently-grilled fish or meats. Agram can reach a cruising speed of about 16-18 knots and a full speed of nearly 25 knots.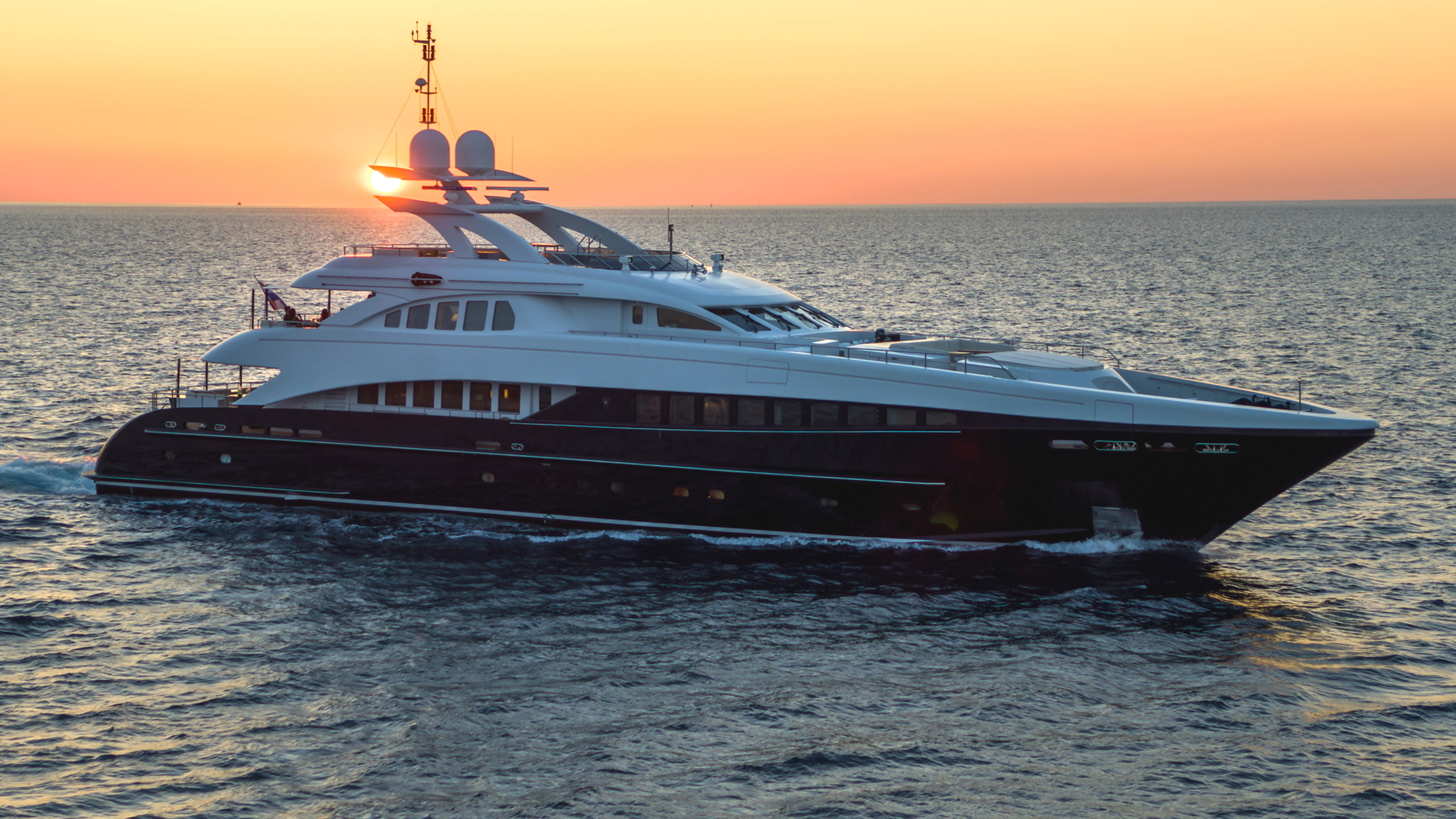 The Value of Heesen Yachts
To talk about the value of Heesen yachts is to understand their first success – Octopussy – a project on which Hessen risked their reputation, as well as the entire yacht shipyard, so they could build the fastest yacht in the world. The idea that one could travel 30 knots in a finished luxury yacht was novel in 1983, but to exceed speeds of over 50 knots was considered impossible. Enter Frans Heesen and John Staluppi, two men with a dream.
Staluppi, with his passion for speed and boats and Frans Heesen, an unyielding visionary that decided to break the limits of what was considered possible, both invested considerable effort to create what was deemed unfeasible.
A contract was signed that had several interesting clauses – these clauses stipulated 100,000 dollars of penalty for each knot not reaching the pre-set limit of 50 knots. Another clause said that the client has the right to abandon the project altogether if the yacht was slower than 48 knots.
The final product was one of marvel – a sleek luxury yacht that seemed to go fast even when she was sitting at the dock- a true sports car on water!
At the start of the sea trials, the entire yachting world, as well as the general public, wanted to be informed about this innovative yacht- would she achieve the predetermined speed of 50 knots or fail miserably, taking Heesen`s reputation with it? After the first few trials, Octopussy managed to achieve speeds of 45 knots.
Knowing that they could improve upon this even further, the entire Heesen team made subtle changes to the stern of the boat, with improvements on how the water was displaced from the aft section of the hull. After fine-tuning the yacht, Octopussy managed to accomplish an incredible result of 53.17 knots; that is  61.23 mph or 98km/h.
After achieving the set goal, all the workers in the project knew that they have accomplished something unbelievable – something that would change the yachting world forever.
Frans Heessen risked it all and in return, he managed to create a reputation for Heesen shipyards, as being one of the most successful luxury yacht shipyards in the world.
This short story communicates, more than anything else, the value of Heesen-made yachts, because it paints a clear picture of what Heesen is willing to go through to achieve perfection and success.
To be guided by a vision and a disregard for contemporary mainstream dogmas is the path for Heesen`s future and one of their greatest values.
Why charter a Heesen yacht with SuperZacht Croatia?
A Heesen yacht has value and meaning – it means quality and knowledge, experience and excellence. The brand of this shipyard is equivalent to incredible naval architecture, smart engineering solutions and aesthetically-pleasing design. The arrangement of living spaces, both in the interior and the exterior, can be rivalled by no other yacht shipyard in the world. The Heesen brand is also synonymous with reliability, beauty and performance – the three most important things for any yacht to be a successful charter vessel.
To put these claims to the test, potential clients should consider chartering a Heesen-made yacht in the Croatian Adriatic sea, one of the last bastions of unpolluted water in the world. Let yourself be spoiled by the incredible diversity and beauty of Croatian nature, while you enjoy historic coastal settlements, lush green islands and a turquoise sea so rich in life, it would be considered an aquarium anywhere else in the world.
Commit to an adventure in the Croatian Adriatic sea and let your senses run wild in an atmosphere, unlike any other Mediterranean location. Bask in the glory of the warm summer sun as you dive into the turquoise Adriatic, only to witness extraordinary beauty on the seabed. Fish schools, shells, crustaceans and sea urchins are all clear signs of the health and cleanliness of the Croatian Adriatic.
Charter Yachts
We present to you the best selling yachts for charter in 2021. Slide through these different yachts, ranging from 20 to 80 meters in length, and choose the best option for you. If you have any questions regarding yacht charter, destinations & yacht support, contact us.
VIEW ALL CHARTER YACHTS
VIEW ALL CHARTER YACHTS