ASYA Yacht Charter - Performance-Wise Luxury Superyacht
Constructed by the well-known yacht builder Dutch giant, Heesen, the luxury ASYA yacht charter is an ideal combination of a traditional and contemporary yacht. Built in 2015, her interior is designed by Bannenberg & Rowell and features a tremendous Main salon with the main dining area, Upper deck salon, and 5 luxurious cabins accommodating 12 guests.
Her vast exterior is boasting plenty of gathering areas, including two Alfresco dining tables, a fully equipped bar, sun pads, loungers, and a stunning deck jacuzzi. She is generously equipped with a collection of water toys as well as gym equipment perfect for those who want to stay active on their voyage.
Performance-wise, ASYA yacht charter is extremely smooth and comfortable. She has stabilisers both at anchor and underway which makes the cruising experience extremely pleasant. Combining welcoming interior and feature-packed exterior, Asya is surely one of the best luxury superyachts for charter in Croatia.
YACHT CHARTER ACCOMODATION
Yacht details.
Guests:

12
Cabins:
5
Yacht Length:
47 meters / 153 feet
Yacht cabins layout:
3x Double + 2x Twin
Total living area:
787 sq.m / 8471 sq.ft
Yacht exterior area:
331 sq.m / 3.563 sq.ft
Yacht interior area:
456 sq.m / 4.908 sq.ft
Types of Cabins on This Yacht:
1x Master Suite + 2x VIP Stateroom + 2x Twin Cabin
Bed Configuration & Size:
1x King + 2x Queen + 4x Single + 2x Pullman
Yacht Interior Guest Areas:
Main Saloon with Private Entertainment Centre · Main Dining Table for 12 Yacht Charter Guests · Upper Deck Lounge & Salon · Five Private Cabins
Yacht Exterior Guest Areas:
Aft Deck – Alfresco Dining Table & Welcome Aboard Lounge · Upper Deck – Alfresco Dining Table · Bar & Lounge Sofas with Jacuzzi & Sun Loungers · Swimming Platform & Sun Pads on Bow Area
TOP 10 YACHT CHARTER FEATURES
Yacht highlights.
1
Spacious Accommodation for 12 Guests Including 1 Master Suite & 2 VIP's
2
Jacuzzi on the Sundeck with Loungers & Private Wet Bar
3
Two Large & Comfortable Salons- Main Salon & Upper Deck Salon
4
Alfresco Dining Table on the Aft Deck & Upper Deck
5
Master Suite is Equipped with a Large En Suite Bathroom with Bath Tub & Shower
6
Vast Collection of Gym Equipment On Board
7
Comfortable Cruising Speed of 10 Knots
8
Extensive Swimming Platform
9
Wide Range of Different Water Toys
10
Zero Speed Stabilisers (No Rolling at Full Speed)
YACHT PHOTO & VIDEO GALLERY
Charter Moments.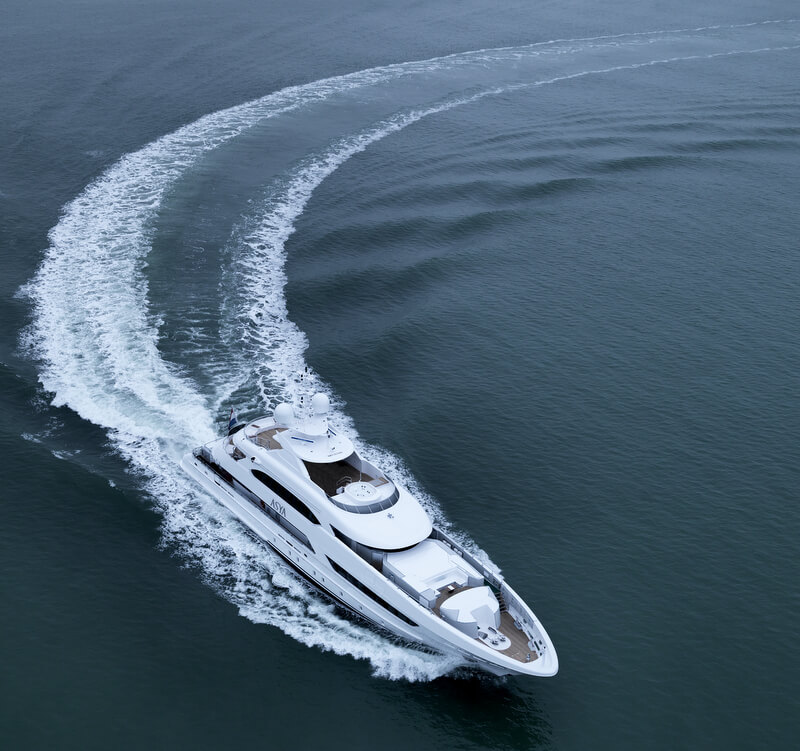 YACHT CHARTER SPECIFICATIONS
Particularities.
GENERAL INFORMATION
Length: 46.70 meters (153.3 ft)
Beam: 8.85 meters (29 ft)
Year Built: 2015
Year of last refit:
Yacht Builder: Heesen
Main Engines: 2 8V 4000 M63
Maximum Speed: 15 knots
Cruising Speed: 10 knots
Fuel Consump. Engines: 150 l/hour*
Generator Engines: 2 99kW
Fuel Consump. Generators: 30 l/hour*
Stabilisers: At Anchor & Underway
*Highly dependent on sea conditions
LIST OF AMENITIES
Outdoors Gym Equipment · Spacious Sundeck Jacuzzi Bath & Jacuzzi Lounge · All decks Air Conditioning · Outdoors & Indoors Wi-Fi On Board · At-Anchor Stabilizers – No Rolling 'While Asleep' · Under Way Stabilizers – No Rolling 'While Cruising' · Indoors Cinema Lounge with State of the Art Cinema Surround System · Sun Deck Private Bar
WATER SPORTS & TOYS
1x Seadoo GTX IS 260
1x Kawasaki Standup PWC
2x Seabob F5SR
1x Jetsurf GP
1x 3 Person Towable
1x 2 Person Towable
1x 1 Person Airhead Blast (Donut)
1x 2 Person Airhead Blast (Flat)
1x 5 Person Banana Towable
2x 11 Ft inflatable Stand Up Paddles
1x Water Ski
2x Wake Boards
1x Knee Board
1x 1 Person Inflatable Kayak
1x 2 Person Inflatable Kayak
*Yacht is yacht an approved RYA water sports centre, crew is official watersports instructors
* Crew has diving instructor licences: PADI advance, PADI rescue diver & PADI open water
TENDER VESSELS
Dariel, 6.8m Tender (Included)
Axopar 37, 12.5m Chase Boat (Optional)
FULL YACHT CHARTER REVIEW
Inspected by Us.
Step aboard ASYA, a superyacht built to provide guests a perfect charter holiday in the beautiful Croatian Adriatic.
ASYA yacht charter is a 47-meter steel and aluminium full-displacement superyacht, launched in 2015. Since then, she earned a reputation as being a reliable vessel with a hard-working and dedicated crew.
ASYA yacht charter ensures redundancy of all electrical and plumbing installations, meaning that if one should encounter a problem, there is a second and third backup system, ready to go; guests are usually totally unaware of any problems that arise and are momentarily resolved. All of this comes to the conclusion that ASYA`s quality is long-lasting, and her maintenance is easy and economical. If that does not spell "charter-friendly" it is hard to find a yacht that does.
The Dutch quality in ASYA`s design reflects another characteristic, easily forgettable, but crucial if you want your charter vacation to be a cut above all the other luxury services provided on land. All the crew on ASYA sleeps in bigger and more comfortable beds and cabins.
They have more space to themselves in the crew mess, and the captain has got his own quarters near the bridge. This means that the crew will be more rested and energised, in turn being more dedicated and detail-oriented when on active duty. They will also be more prepared and able to face all the challenges of giving you and your charter party an unforgettable superyacht charter experience.
Having all of this in mind, ASYA is built, designed and furnished to match the quality of a home, not a ship – this, more than anything else, makes her stand above the rest of the yachts in her category and is the reason some guests return to ASYA, year after charter year.
Her exterior is designed by Frank Laupman of Omega Architects and is envisioned as a walk-around yacht, meaning you have exterior hallways on both port and starboard sides, meaning fewer potential traffic jams and a service that will not disrupt guests when they are enjoying alfresco meals or relaxing in the saloon.
ASYA yacht charter can be recognized from afar, thanks to her pelican-like bow, complemented with classical lines and elongated glass windows, all of which are Hessen exterior hallmarks. Sleeping 12 guests in 5 cabins, ASYA`s living quarters follows a traditional setup of a full-beam master suite, one VIP double stateroom, one double cabin and two twin cabins; the twins having two pullman berths between them.
The somewhat minimalist décor of the interior, designed by Bannenberg & Rowell, matches the approach whose main goal was simplicity, mainly featuring s gloss white lacquer paired with bleached wenge and ebony.
If you are among those who can appreciate ASYA`s characteristics, continue reading to find out more…
Her Dutch roots tend to show all around the exterior and interior: the more conservative design points to superior technical details, which are made to last and endure. With an approach similar to building spaceships, the Dutch shipyard Hessen has a tradition of building enduring yachts that are oriented towards providing sustainable enjoyment and maintenance.
Fuel efficiency, cruising speed, soundproofing and isolation, electrical and plumbing…all secondary characteristics when it comes to planning a charter holiday, but these basic characteristics bring more to the table than specific luxury details.
Hessen, a renowned Dutch shipyard, creates yachts abiding by only the most exceptional standards of craftsmanship and obsessive attention to detail, this also being the case with ASYA yacht charter. Skilled and passionate labourers worked tirelessly to produce one of the most unique and fascinating luxury yachts in the world.
The drive towards constant innovation and creation pushes Hessen to constantly outdo themselves, producing award-winning designs each year. Fitting that description is ASYA, a superyacht that will dazzle charter guests with its performance and amenities.
A DAY ON THE YACHT
No matter when or how you went to sleep, be sure you will wake up refreshed and rested whenever you slumber on ASYA yacht charter. As you do your morning rituals, step out to the exterior and witness a particularly beautiful day: the sun is shining bright and there is not a cloud in sight. This means that there are countless possibilities and options when it comes to the question: how to best spend a perfect day of a superyacht charter holiday?
First things first, join your charter party for breakfast at the main deck aft alfresco dining table and enjoy the breakfast buffet options laid in front of you. Taste freshly-baked pastry, fruits, vegetables, deli meats and eggs done in a hundred different ways. Drink fruit smoothies, coffee, tea and milk, either plant or dairy. If you would rather fancy a particular breakfast dish, just place an order with a stewardess and the chef will whip it right up.
As you enjoy breakfast, contemplate your itinerary options: if you are a more fun-loving, thrill-seeking and adventure-driven person, you might want to choose a more active approach to your superyacht charter holiday.
Opt for water sports, bike tour expeditions, coastal explorations and countless options of having fun on land, like horseback riding, cave exploration, archery ranges, adrenaline parks, paragliding, bungee jumping or similar activities. If you are a more chill person, consider staying on board and enjoying the privacy and peace that ASYA yacht charter provides.
You could tell your captain to anchor in the middle of open water, where nothing and no one can disturb your peace. Then, enjoy a slow and relaxing swim in the crisp blue Adriatic, before surrendering to a thorough massage by a licensed massage therapist your thoughtful crew hired just for your pleasure.
Snap out of your daydream, with your breakfast plate empty and with the questions of your charter party, saying: What should we do? Knowing that there is no singular way to please all your guests, reach an agreement: everyone will do their own thing, before meeting back on ASYA for lunch. Seeing that there are so many water toys to try out, you cannot decide what to try out first.
You spend several minutes learning to stand on the electric surfboard, before displaying enviable surf knowledge. Retire to the jacuzzi on the sundeck, enjoying the hilarious view of your friends jumping and falling from their water toys. Hours pass fast when you are having fun, and ASYA yacht charter is no exception to that rule.
Sitting for lunch, feed your body and your soul with marvellous dishes like pappa al pomodoro, veal with sweet potatoes and carrots and coffee panna cotta with coffee ice cream for dessert.
In the afternoon, set a course to a particular Croatian beauty known as the Kornati archipelago. It would be interesting and fun to check out the pristine nature, beautiful water and more than a hundred uninhabited islands, scattered around an aquatic paradise.
The Kornati National Park is an archipelago of hundred-or-so islands and islets, mostly uninhabited. This makes Kornati a perfect location for all those looking for total privacy and intimacy on their charter holiday. Ride the tender to a deserted island and explore it, before diving into the pristine waters for a snorkelling session.
Being a National Park, Kornati is home to some of the most diverse and numerous biospheres in Croatia, making sure every snorkeler has a time of their life, observing countless fish schools, colourful corals, seashells, crabs, crustaceans and many more.
You will not want to get out of the water, but as the sun sets and daylight vanishes, there are no options but to return to ASYA yacht charter for a fantastic dinner set-up, already waiting for you in the form of a decorated dining table and appetisers. Fill up on limpets tartelette with asparagus, savoury sea bass with fennel, celery, bacon, lemon, and honey, with a chocolate au crumble de fraises for dessert.
After dinner, let the champagne flow, as you toast to the health of everyone on board. Ask your crew to prepare post-dinner entertainment, in the form of local Croatian musicians, dancers, acrobats or other enjoyments. Be amused until you are ready for bed, feeling tired but content and happy because there are more days like this to spend on ASYA yacht charter.
YACHT CHARTER DINING
When enjoying life on ASYA yacht charter, do not let traditional restrictions stop you from trying out new things, particularly when it comes to cuisine. If you have or heard about a specific dish that you have not tried before, a holiday on ASYA is the perfect time to do so.
Specifying your preferences in advance does set the tone for the overall dining experience, but your chef is an intricate nutritionist, more than able to improvise and adapt to a somewhat changed menu or a particular gastronomic wish. Your loving chef will be more than happy to abide by exotic wishes or an out-of-the-box approach to fine dining.
Tired and hungry from a whole day's worth of fun and enjoyment a superyacht vacation entails, prepare to enjoy a terrific meal, typically consisting of dishes similar to watermelon and feta salad, pork tenderloin with golden beets, sheet pan balsamic steak and potatoes, with chocolate mousse cake with raspberries for dessert. If charter guests clearly specify their likes and dislikes, there will be no constraints in providing a fully custom made and hand-tailored dining experience.
Sitting down for a meal on ASYA yacht charter, it is typical to expect dishes like baby spinach, figs and almonds salad, followed by shrimp fettuccine alfredo with garlic whipped potatoes. After some honey garlic glazed salmon and coq au vin with cocoa powder, finish with a lovely dessert, like rustic blood orange tart with salted pecan crust.
Just remember, your expert chef has passed many trials and tribulations before getting to the point where he is today. Tried and true, he is more than able to satisfy each culinary craving, doing so in an expert fashion, with a smile on his face and attention to detail that is only rivalled by the overall service on ASYA yacht charter and her excellent crew.
Do not let the size of the galley deceive you; ASYA is more than able to provide and sustain meal after meal, consisting of only 5-star ingredients and prepared by a Michelin level chef.
ASYA`s galley is a place of mixing and magic, this is where the show known as luxury dining starts. From seemingly different ingredients, your chef will manage to produce dishes that will be out of this world. Every bite will be its own story, singing a song of a thousand satisfied taste buds, praising the glorious creator behind the food onboard ASYA.
YACHT MAIN DECK
Stepping aboard ASYA yacht charter, one can immediately notice the size of her main deck aft alfresco area, wide enough to host a dancing competition. Here, the alfresco dining option consists of an absolutely huge U-shaped sofa arrangement, surrounding the dining table and leaving room for movable dining chairs on one end.
Yacht charter accommodation: main salon & dining area
Steaming into the interior saloon, guests can notice the spaciousness and length that is achieved by a smartly designed layout and overall attention to detail. The saloon follows an open plan, with the formal dining area being divided by a small cabinet. This feature accentuates the open plan, warmly inviting all guests into comfort and relaxation.
The saloon lounge area features two parallel sofas and armchairs on either side. With a TV that can be viewed from any corner of the saloon, be sure you will not miss one second of that important game or the plot twist of the newest blockbuster.
Continuing forward into the dining area, an absolutely mind-boggling dining space features a master dining table for 12 people, gorgeously decorated and accessorized by polished steel details. Pass the dining area and into the foyer, guests can stop in the day head located next to the galley, or continue into the private corridor/office of the Master suite.
Yacht Charter Accommodation: The master cabin
Being absolutely huge, the master boasts an enormous ensuite with a jacuzzi tub and a big walk-in closet. Classical and conservative lines point out ASYA`s Dutch heritage, as guests will feel the quality on every level of the cabin.
Three big windows illuminate the cabin and the vanity table is placed directly beneath them, enabling guests to read a book, fix their makeup or do some unexpected work. The grey woollen carpet and the light-grey wall panelling are contrasted by darker wooden tones of the low-standing cabinetry. The king-size berth is unusually framed, using smooth wooden curves to over-accentuate the size of the bed.
YACHT UPPER DECK
The upper deck can be reached by a staircase located on the main deck aft, or by the staircase in the main foyer. The aft features an incredible lounge area that overlooks the stern and the panorama that ASYA leaves behind her, as she rushes into the horizon.
The alfresco lounge area on the upper deck is equipped with everything needed for a fantastic time spent observing the colours of the fantastic Croatian Adriatic. You can also ask your crew to utilize this space to serve a more versatile purpose, like an improvised yacht gym, or a space to practice yoga, hold dance competitions or themed parties and do anything your heart would desire.
Stepping into the interior of the upper deck, the skylounge features a circular sitting option in the form of wonderful sofas and a 2-piece circular table. An informal atmosphere enables guests to sit back and relax. This area can also be customized to provide a unique cinema experience, with a bar nearby, providing all the necessary snacks and beverages needed for a perfect movie night.
Moving towards the bridge, a games table provides a perfect opportunity to host a poker tournament or a game of wits, in the form of chess. Stepping out of the skylounge, guests find themselves in the foyer, with the helm station located towards the bow and another day head located to port.
YACHT SUNDECK
The sun deck boasts an absolutely huge circular-shaped sofa that follows the entire length of the sun deck stern thus creating a fantastic sitting arrangement for at least 10 guests. This is done by separating the circularity of the sofa with small tables, dividing the sitting area for 2 people per table.
Smartly designed, the circular sofa enables a ton of space on the sundeck, without the need of having additional tables or surfaces that would only use up space. Yet another dining table to starboard adds to the alfresco dining versatility of ASYA yacht charter, with options of dining on all three of her decks.
To port is a fully equipped wet bar with bar stools, perfect for relaxing with after-dinner drinks and some light music. Forward are movable sun loungers, for those sun lovers in need of a perfect bronze tan.
And last but not least, a magnificently-placed jacuzzi, located at the tip of the sundeck, protected by a semi-flybridge windshield and surrounded by spacious and comfortable sunbeds. This jacuzzi will be the main focal point for relaxation, either with candlelight under the starry sky or in the afternoon with a glass of champagne and your favourite book.
YACHT LOWER DECK
The lower deck consists of 4 cabins: 2 double cabins and 2 twin cabins, each of which has its own separate entrance in the hallway that is connected with the staircase that goes all the way through the upper deck sky lounge.
All the cabins on ASYA`s lower deck are furnished and decorated differently so that every cabin gives out a novel impression to guests. ASYA`s exterior is shaped to match a traditional profile, but this is not to be said about her interior. With everything being so well-appointed and symmetric, guests always know where they are and where they need to go; one can hardly lose their way when moving between decks.
The all-around symmetry is the hallmark of Dutch design in general, with an added bonus of orange tulips, that can be found in each vase around the lower deck cabins, giving homage to ASYA`s Dutch heritage. The berths in each cabin are placed to provide the maximum distance from one another, passively adding to the soundproofing of the entire lower deck, which is sublime.
Hessen has a tradition to uphold and protect when it comes to sound and vibration insulation, and ASYA yacht charter is no exception. Excellent soundproofing will make sure every guest sleeps like a baby, not even being aware that there are other people surrounding him.
Yacht Charter Accommodation: The twin cabin
ASYA`s twin cabin is perfect for families on a charter holiday, looking for fun and safe accommodation for their children. Neutral grey tones are represented in every corner of the cabin, which makes daylight stand out more, illuminating the cabin in a silvery haze.
The ensuite features all the amenities for a comfortable superyacht vacation, like a separate shower cabin, twin sinks and a head. If you plan on your children sleeping in the twin cabin, know that they will feel comfortable and secure.
Yacht Charter Accommodation: The double cabin
Light and bright, the double cabin features only occasional darker wood details. Everything else, from the carpet to the ceiling and the walls, is covered in light-grey fabric or leather. A vanity table moulded into one of the wall surfaces is placed parallel to the queen-sized berth, enabling guests to appropriately prepare for lunch or dinner.
The windows are a never-ending source of natural light during the day. In the evening, roll up the electric blinds and enjoy an Adriatic panorama bathed in moonlight or the flickering lights of a distant coastal town.
YACHT BEACH CLUB & SWIMMING PLATFORM
Stay close to the sea while on your superyacht Croatian holiday, by spending your time on the swimming platform or the beach club of your yacht charter. Combine your yacht`s amenities and the potential of the swimming platform and beach club, and let your crew create a personalized Adriatic atmosphere.
First, play your favourite tunes on the integrated beach club speakers and enjoy individualized cocktails or canapes. Second, use this space to lounge around on comfortable chairs and cushions, while enjoying a truly personal view of the sea. Let your crew use decorations and accessories to bring out a certain theme and transform the beach club of ASYA yacht charter into your favourite motif, be it a pirate`s treasure trove, a Caribbean vibe or a stylish Casino Royale surrounding.
If it is a really hot day, ask your Michelin-level chef to prepare refreshing dishes, like hand-made ice cream or watermelon granitas, so you could enjoy them on the swimming platform. Once you are done with sampling delicious desserts, jump straight into the Croatian Adriatic sea,  if you feel you need more cooling off.
YACHT WATER TOYS & WATER SPORTS
Enjoying yourself as much as you possibly can, will not be a problem at all, with the help of the numerous water toys on ASYA yacht charter. Among a wide selection, guests can pick between one classic and one stand-up jet ski, an electric surfboard, a Seabob, a whole army of towables, waterskis, wakeboards, paddleboards and kneeboards.
To spice up the list are two inflatable kayaks, even coming in a 2-person sitting option. Between this numerous list of potential fun factories, it is hard to pick and choose just one. A definite recommendation would be to try the stand-up jet ski, particularly if you are familiar with classical jet skis because the only thing that is similar is the propulsion.
Everything, from balance to handling, will make you understand the principles of operating a stand-up jet ski, but once you get it, you will not want to go back to traditional models.
Also popular is the electric surfboard, a true revolution in maritime movement, enabling guests to experience surfing without the need to wrestle and get frustrated about waves. Just hop on and enjoy the feeling of surfing.
For more relaxed guests, a tandem kayak excursion sounds like a dream; you could even go so far as to prepare fishing gear, so you could try to catch some fish while in the company of your best friend or loved one. There is nothing more fun or enjoyable than catching a meal together.
YACHT CHARTER CREW
At Your Service.
captain
first officer
chef
chief stewardess
stewardess
stewardess
chief engineer
engineer
deckhand
SIMILAR YACHTS FOR CHARTER
By Charter Rate.
LET'S GET IN TOUCH TODAY.
Contact us.