Photo credit to xbrchx from Shutterstock
Yacht Charter in Zadar
Explore the 3000-year-old city centre and moor your yacht charter in Zadar right next to the Old Town peninsula. Relax on your yacht deck and listen to the majestic symphony of nature conducted by the "Sea Organ", and discover why this unique engineering masterpiece is worth visiting. Enjoy the world-famous solar installation "Greeting to the Sun" and witness a spectacle of light you can only experience in Zadar.
Enjoy a unique yachting experience in the heart of central Dalmatia. Moor your yacht right next to the Old Town promenade and explore the 3000-year-old streets, where ancient times meet the modern era.
Discover a picturesque city with a unique atmosphere and a long history, just a few steps from your superyacht. Find out why yachtsmen all over the world have been drawn to Zadar throughout history and enjoy a memorable yacht charter in Zadar.
Grab the best seats on your yacht sun deck and watch the majestic sunset in the middle of the Zadar Channel, which is famous for its majestic beauty. During your yacht charter in Zadar, you will explore the rugged coastline with over 300 islands, full of unspoiled nature. Enjoy cruising around countless secluded bays and find out why it is known as a nautical paradise.
You will certainly enjoy the scenery full of extraordinary views and untouched nature. The SuperYachts Croatia team will assist in exploring all the best spots, that are only familiar to local experts. This way, your charter holiday will be a highly-curated and private experience, far away from the brimming city crowds and prying eyes. You will also get a chance to explore 89 uninhabited, mostly private islands with countless mesmerizing bays and enjoy all the best summer activities from the comfort of your yacht charter.
Make sure to visit the otherworldly Kornati Islands, just an hour of cruising from Zadar, where you can spend most of your charter holiday and enjoy all the perks of the yachting lifestyle. Do not miss out on nearby islands such as Dugi Otok, Ugljan or "The island of olives" and the ancient Pašman, full of unique natural features and magnificent locations fit for a perfect yacht charter holiday.
WHY CHARTER IN ZADAR
You will have the best berth in the world! Explore the 3000-year-old city centre and moor your yacht charter in Zadar, right next to the Old Town peninsula. Relax on your yacht deck and listen to the majestic symphony of nature on the "Sea Organ",and discover why this unique engineering masterpiece is worth visiting. Enjoy the world-famous solar installation "Greeting to the Sun" and witness a spectacle of light you can only experience in Zadar.
Discover why Florida sunsets cannot match those in Zadar. Secure the best spot and anchor your yacht in the middle of the Zadar channel. Grab a glass of champagne and enjoy the vibrant burst of vivid colours on the horizon, so you can witness a breathtaking sunset so bright, even Hitchcock mentioned its beauty in his memoirs.
Zadar has the best position to start your charter vacation. Except for the town's extraordinary beauty and remarkable architecture, the location of the city alone is very practical, meaning that it will save lots of time, which you can then spend cruising around the stunning archipelago instead of travelling to far-away destinations. Zadar is a city of exceptional historical and natural beauty, surrounded by the sea, the majestic Velebit mountain range, 4 National parks and 2 Parks of nature.
The city even has its own airport just 20 minutes from the town center, connected to Zadar by a highway. The SuperYachts Croatia Team will gladly organise a VIP transfer for you and your charter guests from the airport to your superyacht. You will enjoy a panoramic view of the city and a short stop in one of the most beautiful places in town, perfect for a toast before the start of your charter in Zadar.
Zadar can provide even more reasons for a yacht charter holiday in Croatia! Anchor your floating castle near Europe's only sphinx and enjoy the peaceful Maestral Bay. You can also moor your yacht in the Zadar Marina, which is fully equipped to meet all your needs and located only 100 meters from the city centre. When strolling through Zadar`s old core, soak up the lively atmosphere of historical streets and enjoy a unique place, where ancient mixes with the modern.
Enjoy the unparalleled local gastronomy in exquisite restaurants with native cuisine that leaves every guest asking for seconds. Taste the quality of wines and liquors in charming bars hidden between narrow cobbled streets. Get ready to mingle and have a night out at the exciting open-air clubs in the middle of the historic 5 Wells Square!
WHEN TO CHARTER IN ZADAR
The charter season in Zadar begins in April and lasts until November. The sailing conditions are exquisite, and the weather is excellent all year round. We recommend booking your yacht charter in Zadar at the end of June and first 2 weeks of July, so you can enjoy ideal weather conditions.
The most popular time for a yacht charter in Zadar region is during the summer months i.e. between June and September. Summer in this region means that you will be blessed with 13 hours of sunshine per day and temperatures between 25 and 30 C° (77-86 Fahrenheit).
The Mediterranean climate promises a dry and warm summer with winds of no more than 10-20 knots. The peak season for sailors is July and August, with an insanely high number of sunny days and a great number of yachts on the water, while June, September, and October offer equally satisfying sailing conditions but fewer crowds.
For a truly tranquil yacht charter in Zadar, April, May, and November are ideal for exploring the 300+ islands, islets, and reefs. Thanks to the low boat traffic, the underwater world is at its peak during these months. You will have the opportunity to explore the region in all its glory, without the summer crowds. Imagine waking up on your yacht in a peaceful, pristine bay and seeing curious dolphins jumping around your boat.
The winds are particularly reliable during the yachting season when local yacht lovers claim they can set their watch by relying on their frequency. The mistral wind blows during the day, peaking between 9 am and 12 pm, then taking a break for a couple of hours before returning at 3 pm ("after lunch") for a few more hours until dusk, when the winds die down to a light breeze.

Zadar has mild winters and warm summers, but the temperatures are never too extreme. In the yacht charter season from May to September, conditions are practically perfect – the temperature is somewhere between 20 and 25 C°  (68-77 Fahrenheit) which means swimsuits, light clothes and bare feet are the order of the day.
The Adriatic is very well protected and enclosed, so temperatures never drop below 15 degrees, and the sea is swimmable all year round. By the end of May, swimming in the sea becomes pleasant and refreshing at around 20 degrees, and by the end of August, at 25 degrees, it feels like you are swimming in a pool.
HOW TO GET TO ZADAR
Zadar is a picturesque historical town in southwestern Croatia, considered to be located in the "Heart of Dalmatia", with its roots dating back to the time of ancient Roman emperors. The city is separated from the islands of Ugljan and Pašman by the Zadar  Sea Channel, meaning that this town is the ideal base for your yacht charter holiday, because it has a natural deep-sea harbor protected from harsh weather by the dotted islands and the Velebit mountain range. You can reach Zadar very easily, by air, sea, and land.
Zadar airport is located in Zemunik Donji, 9 km southeast of the city. The airport is well connected with the whole of Europe and other international destinations. You can easily find a direct flight to Zadar from any major European city, especially during the summer months. Once you land, the SuperYachts Croatia team can arrange a VIP transfer for you and your charter guests.
Zadar is also excellently connected via highway to all major cities in Croatia. You can reach Zadar by driving on the A1 or enjoy the scenic route along with the Velebit Mountain range by way of the famous Jadranska Magistrala (D8).
If you are arriving by sea, your yacht charter in Zadar will be awaiting your transfer! Yachts can moor on the peninsula next to Old Town, giving guests the possibility to enjoy all the amenities of the attractive Old Town, as well as transfer quickly between vessles.
PERFECT ACTIVITIES FOR YOUR YACHT CHARTER IN ZADAR
Island hopping around nearby islands
Enjoy island-hopping adventures by sailing between nearby islands in the greater Zadar region. Discover unspoiled nature, crystal clear sea, and secluded bays, only 2.5 km from the city centre! Along the way, stop at the smallest inhabited island in the country – Galevac. On your next stop, take a moment to soak in the view of the lush scenery on the "Island of Olives" – Ugljan. Visit the ancient island of Pašman and discover the heart-shaped island of Galešnjak. Also, do not miss "The Island of Diversity" – Dugi Otok.
Visit the "Island of Olives" – Ugljan
On Ugljan island, you will discover rich vegetation and more than 200,000 olive trees. While cruising along the coastline, explore the 7 "Island jewels" of Ugljan; seven authentic and traditional villages surrounded by lush Mediterranean vegetation. On Ugljan, you can also escape from the crowds and enjoy complete solitude in charming fishing villages.
This majestic island is also perfect for nature lovers, as well as various outdoor activities. You will enjoy peaceful walks in unspoiled nature, hikes under the shade of pine trees and relaxing bike rides along its 24km long coastline.
Moor in one of the countless natural lagoons around Ugljan island and immerse yourself in various water sports around pristine bays. If you are looking for wonderful coves with a hint of privacy and excitement around Ugljan – try Mulina bay, which offers suitable moorings for yachts and a secluded corner for naturists.
Cruising around a nautical paradise – Kornati Islands
Escape to Kornati Islands and explore countless private islands, with an interesting history. These 90-or-so islands were originally owned by ancient aristocratic families in Zadar, which used the islands to pay their workers for hard labour. Today, those same barren and once considered worthless, islands are priceless and deemed to be a nautical paradise.
Kornati islands will impress you with their crystal-clear sea and beautiful seascape. Cruise around a true oasis for yachts, full of unique experiences and turquoise bays. Witness spectacular views from high ocean cliffs or swim and snorkel in pristine waters, surrounded by wild fish.
Cruise around the limestone island Taljurić, famous for its flat surface that reminds of a plate, standing only 3m above the sea surface. This islet is not easily accessible by larger boats, but if you wish to take a few spectacular photos, hop on your tender and take a closer look.
Drop your anchor in a private bay on Mana island, and just a short hike away, you will discover scattered stone ruins on top of the island, which were part of a movie set from the 1950s movie named "As the Sea Rages" with old school Hollywood stars Maria Schell, Cliff Robertson, and Cameron Mitchell.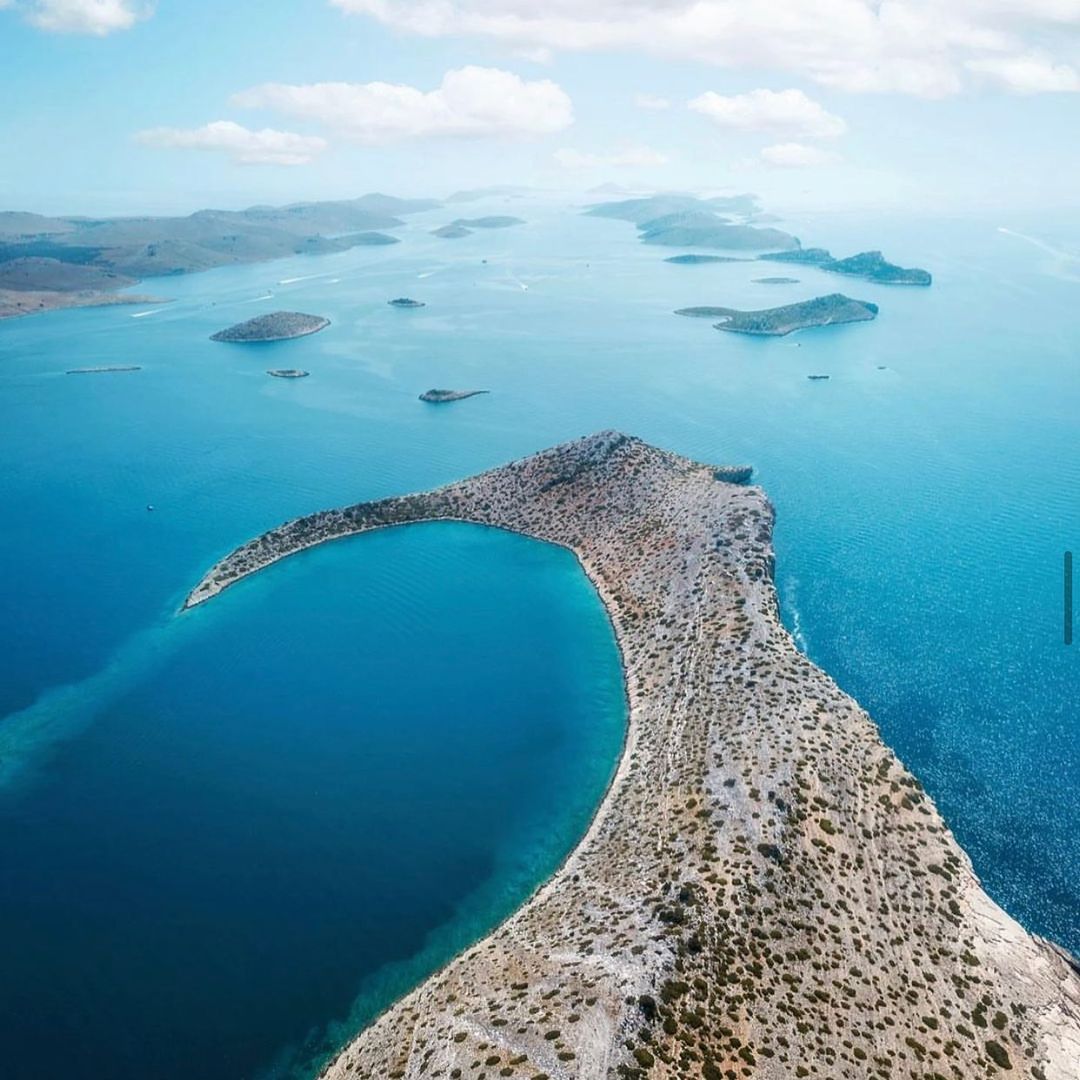 Discover Pašman, an Ancient Roman Island
Explore the `Island without frontiers` – Pašman, where you will discover the wonders of a 60 km long island filled with countless private coves, ideal for spending a night at anchor or having fun with water toys in the afternoon. Soak up the sun on your yacht deck, cruise around the island and explore the 7 breathtaking sandy lagoons of this island paradise.
Since Pašman was populated from ancient Roman times, it has a rich heritage and many traditions. Enjoy a unique atmosphere, while visiting ancient ruins and 2 historical monasteries around the island. – the Franciscan Monastery of St. Dujm in Kraj, or the Benedictine Monastery of Saints Kuzma and Damjan, near Tkon. Besides the monasteries, you can also explore a few old churches, including the Church of Our Lady of Loreto on the hill of Mali Bokolj.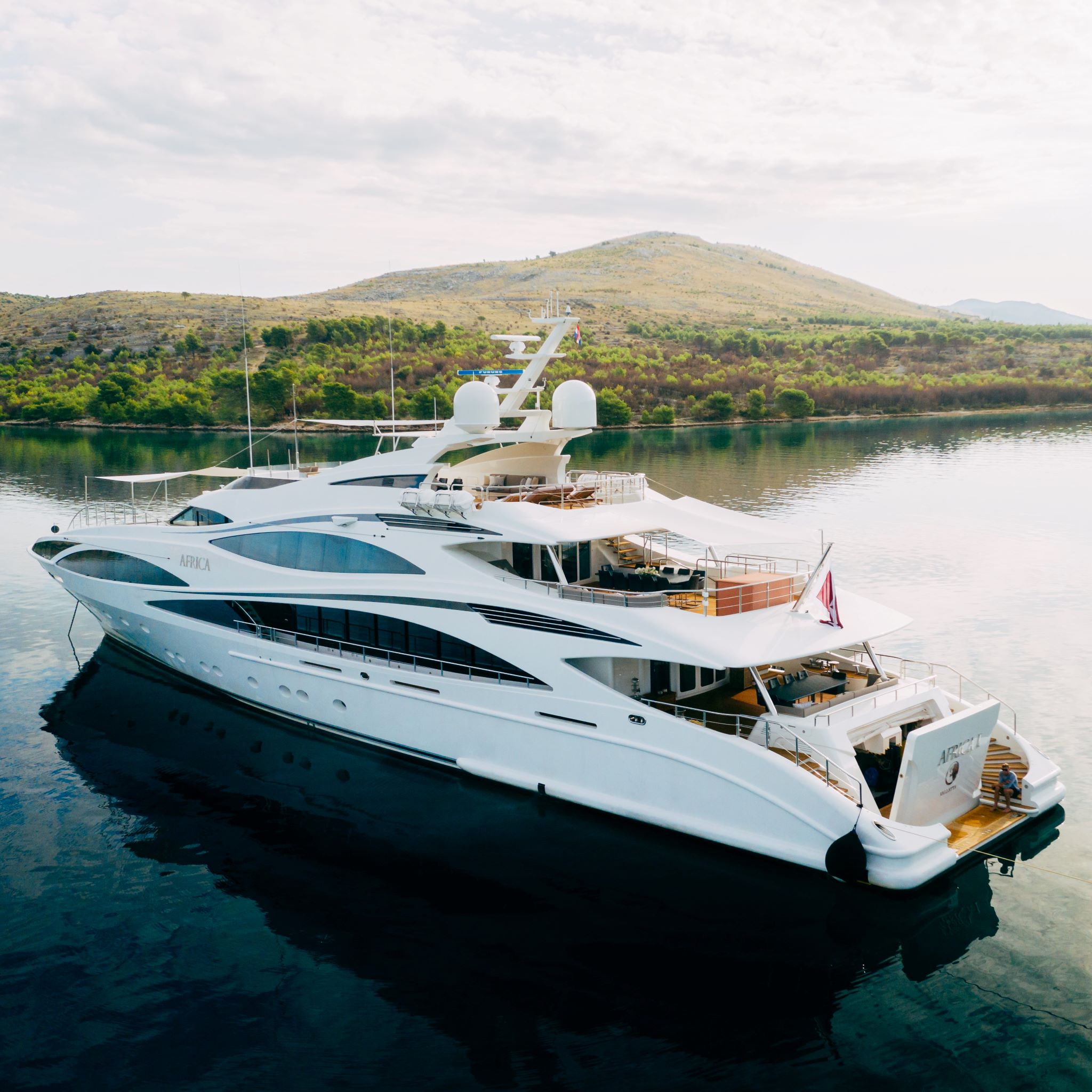 Enjoy the romance on the heart-shaped island – Galešnjak
You can enjoy a romantic date, an anniversary dinner or a proposal on Galešnjak, also known as the "Island of Love". With the help of the SuperYachts Croatia team, your romantic plans on this unique, heart-shaped islet will go smoothly. Prepare for an exquisite fine dining experience for you and your beloved, with impeccable service and top-notch cuisine, right on Galešnjak island.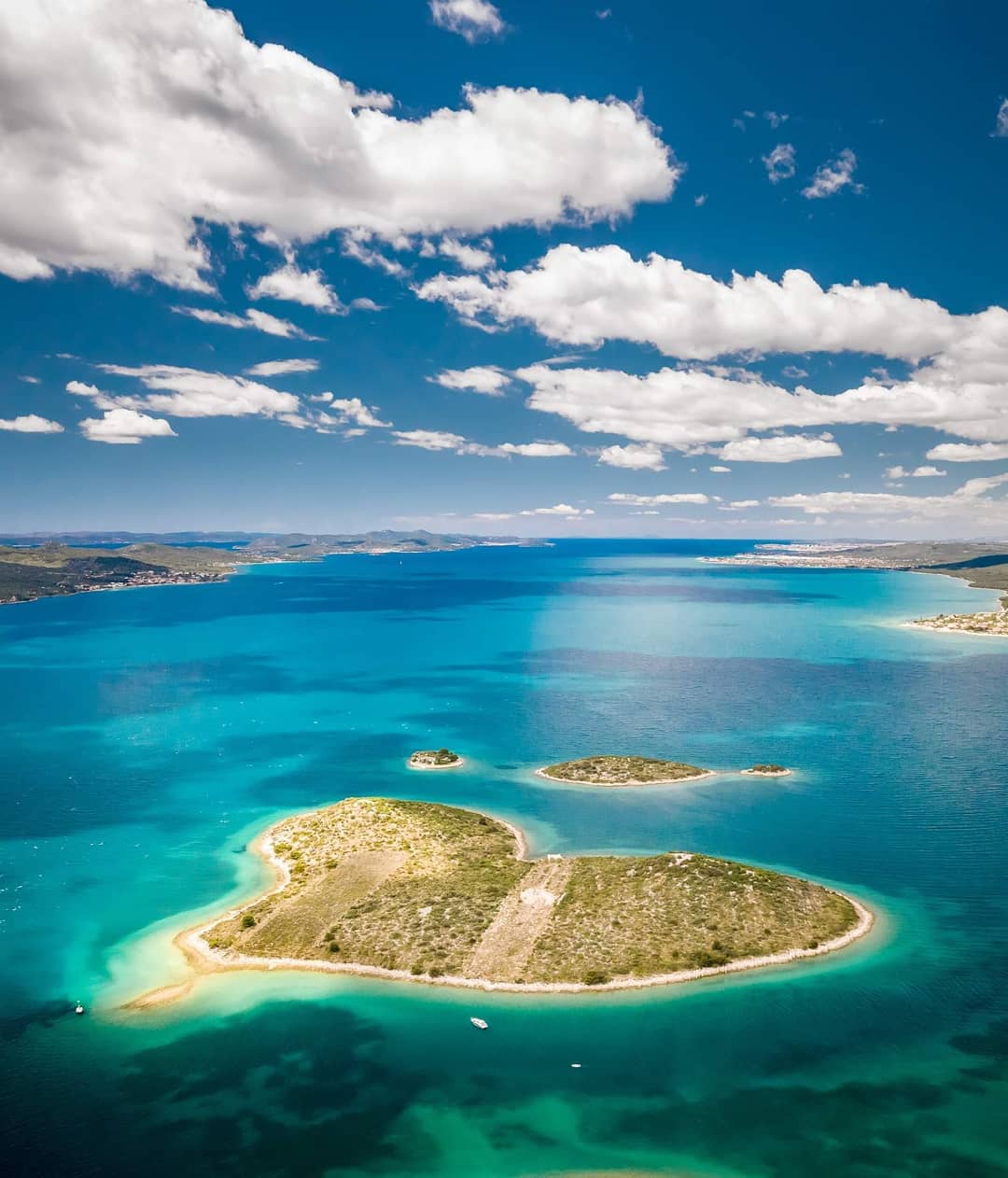 Explore the Island of diversity – Dugi Otok
Known as 'The Island of Diversity', Dugi Otok has a lot to offer, like exploring shipwrecks filled with fish and coral. Located near Veli Rat, Michelle is an Italian merchant ship that sank in 1984; today, she is a very attractive spot for divers or snorkelers.
The wreck is partially above the surface, so it is easily accessible and visible.  There are 2 more shipwrecks to explore in the nearby Muline bay -. Cargo ship Etna and a military ship named  Muline. Both ships are located in pair, near a peaceful and secluded cove. Grab your snorkeling gear and get ready for a unique underwater adventure.
The north side of Dugi Otok hides another kind of experience;  relax under the shade of pine trees, near the 800m long sandy beach – Sakarun. Swim in the crystal clear sea of Veli Žal or moor your yacht in one of the turquoise bays of your choice.
You can visit the highest lighthouse in the Adriatic- Punta Bianca, or cruise around to the southern side of Dugi Otok to enjoy the remarkable Nature Park Telaščica, home to an infinite number of secluded coves, majestic cliffs and awe-inspiring nature. Embark on an adventure in the Telaščicaa Nature Park and reconnect with your natural self. This island park is a popular destination for yachtsmen, as well as nature lovers.
Visit the "Island of Captains" and snorkel next to sarcophagi on Silba
If you plan on staying longer on your yacht charter in the Zadar region, be sure to also visit Silba or the "Island of Captains". This island is a lush, tranquil oasis without cars and the perfect place to escape from the hustle and bustle of the city. On Silba, you will learn about the love story behind the Torretta tower, built by the legendary captain Marinić.
Climb to the top of this enchanted tower and enjoy a spectacular panoramic view of the island Silba. Except for being known as the `Island of  Captains`, Silba is also recognized for great cuisine and fresh seafood dishes. Enjoy delicious local food near the stone wells in restaurant Leggero, relax under the shade of the olive trees and watch the food being prepared in front of you on an open grill.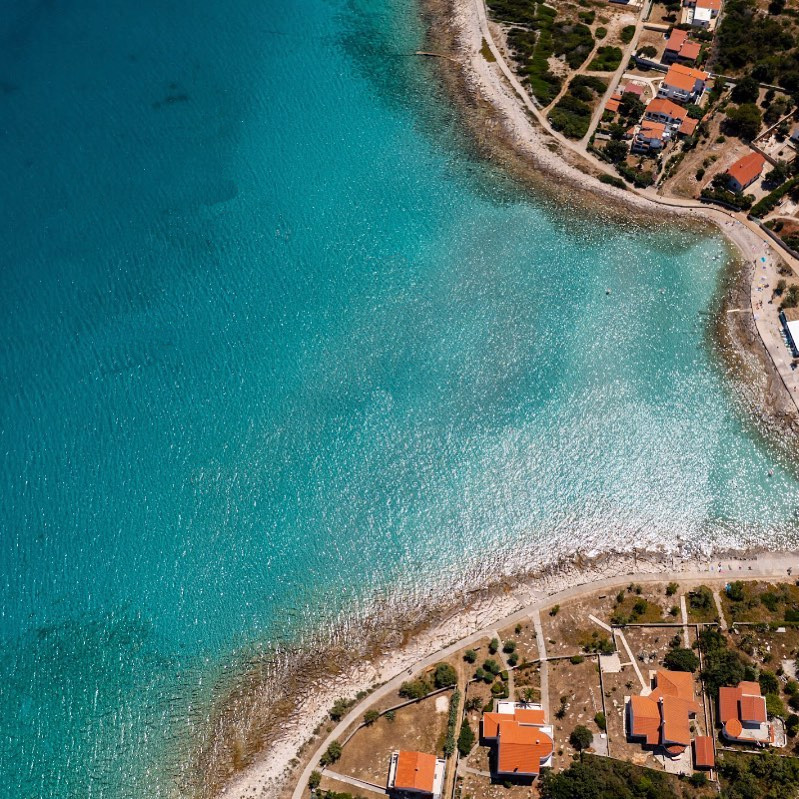 Cruise around Olib island, the Adriatic king of sandy beaches
Enjoy exploring countless sandy beaches around the island of Olib. This isle is full of lush vegetation, untouched nature and awe-inspiring sandy lagoons, where you can enjoy complete seclusion in this Adriatic paradise on your yacht charter holiday. Olib has only one settlement, famous for producing pillows made entirely out of seagrass. Purchase a unique souvenir that will always remind of that perfect charter vacation in Croatia.
Bask in the sun, alongside music from the Sea Organ
Dock your yacht charter in Zadar, on the peninsula next to the Old Town promenade and experience a unique symphony of the sea combined with a solar-powered light show. Zadar is home to a one-of-a-kind installation which you can find only on the city promenade.
The Sea Organ is an experimental musical instrument built by local architect Nikola Bašić, and inspired by the deep voices of Dalmatian traditional a-capella singers. Take a stroll on the seafront and sit on majestic marble steps, so you could listen to the song of the wind and sea.
This sound is made by using pipes of different sizes and diameters, built under a series of huge cascade steps. This wonderful technical masterpiece is the place where all locals and tourists gather to enjoy spectacular sunsets while listening to "Nature`s orchestra".
If you prefer listening to this spectacular melody in more private surroundings, you can listen to it from your yacht deck or hop on your tender and enjoy the concert from the sea, with a view on Zadar and the spectacular Velebit mountain range.
Witness the world's most extraordinary sunset experience
Experience an awe-inspiring, out-of-this-world moment on your next charter holiday right here. Zadar has the most beautiful sunset in the world, at least that's what Alfred Hitchcock claimed. Whether it's true or not, it is up to you to decide.
Imagine the sun's rays breaking over the horizon and gently setting into the Adriatic Sea, while warm orange tones paint a vivid picture in the sky, together with clouds that change colours right in front of your eyes. You can enjoy this spectacular vista on your main deck aft alfresco area, with a glass of the finest champagne, right in the middle of the Zadar Channel.
Enjoy a shopping spree on your yacht charter in Zadar
Enjoy a tour of the old Roman streets and shop during your sightseeing walkabout in Zadar. As you stroll around the ancient marble walkways, you will discover many charming boutiques around Old Town. Make sure to stop by the green market or the fisherman's market, where you can find traditional, locally grown produce from the Zadar region, as well as freshly caught fish. , There are also dozens of little souvenir and craft shops, right next to the Old Town promenade.
Zadar has 2 large shopping malls with dozens of shops. The City Galleria shopping centre is within walking distance from Old Town, while the Supernova shopping centre is slightly outside city limits.
This is the largest shopping centre in the region and has all the stores you need in one place. Supernova offers dozens of shops, stores, and many other services. This shopping centre has a large number of parking spaces, so you can park right in front of the mall.
Visit these must-see sightseeing spots
Roman Forum and the city Landmarks – Only a few steps away from your yacht charter, you will discover the largest preserved Roman Forum in Dalmatia. During ancient times, the forum was the centre of city life.
Since Zadar was destroyed and rebuilt 4 times throughout history, you will be able to see numerous remains,  including the famous pillar of shame and the majestic Church of St. Donatus, a must-see landmark of the city. Near the St. Donatus church, you will discover a majestic bell tower, which is open for visitors.
Climb up to the top, and witness a spectacular 360 panorama of the entire town and archipelago. Near the cathedral, you can find the best Gelato in the region in the Donat Ice cream shop.
Nearby, you will also be able to see the Monastery of St. Mary, where you can visit the famous exhibit inside the church -the  "Gold and Silver of Zadar". From this location, you can take a stroll along Kalelarga – the main street which will lead you to the main square.
The People's Square – Everything that has ever mattered in Zadar, happened on this square. The People's Square is the centre of urban life, a place where locals enjoy their macchiatos and a place that draws visitors in with a unique atmosphere. Here you will find the first lamp ever put in town, as well as City hall and main street Via Magna, also known as Kalelarga. If you keep walking straight, you will find St. Simon's church and the 5 wells square.
The Five Wells Square – This unique system of cisterns with 5 wells from 1574 once saved the city from an Ottoman siege, providing it with water from Lake Vrana. Today, this square is a popular clubbing destination with 2 clubs surrounding it. Svarog bar near the 26m tall Captain's Tower and Ledana Lounge bar on the left in the park of Queen Jelena Madijevka. These clubs provide a unique blend of experiences, mixing ancient with the modern, alongside great music.
The Foša harbour and the Land Gate – This charming little harbour hides three spectacular things. First, the Venetian Landgates, followed by a fine-dining restaurant also named Foša, and lastly, a UNESCO heritage site i.e. the fortifications of Zadar. These mighty walls were considered impenetrable, and they defended the city from all conquerors for centuries.
The Sea Organ & Greeting to the Sun installations – Just a step or two from your moored yacht, you can stumble upon 2 unique installations. "Greeting to the Sun" is a solar-powered installation, made by the famous architect Nikola Bašić. It represents our solar system while performing a spectacular light show after sunset. On the same spot, you will find the magnificent Sea Organs, which will let you listen to the symphony of the sea.
The Footbridge & the Rowing Boatmen – the Zadar peninsula is connected to the mainland part of the city with the Footbridge, which is within a 10-minute walking distance from the Zadar marina. You can enjoy a tranquil stroll around the marina and cross the footbridge to get into the Old Town, but there is a faster way.
The Rowing boatmen will take you from the Marina Zadar pier to  Oldtown in no time. Venice has gondoliers, and Zadar has boatmen! For centuries now, from dawn until dusk, the hardworking boatmen row in their orange wooden boats transporting people across the channel. Moor your yacht in Marina Zadar, and try out a traditional rowing boat ride across the blackwater, for a much faster route to the city centre.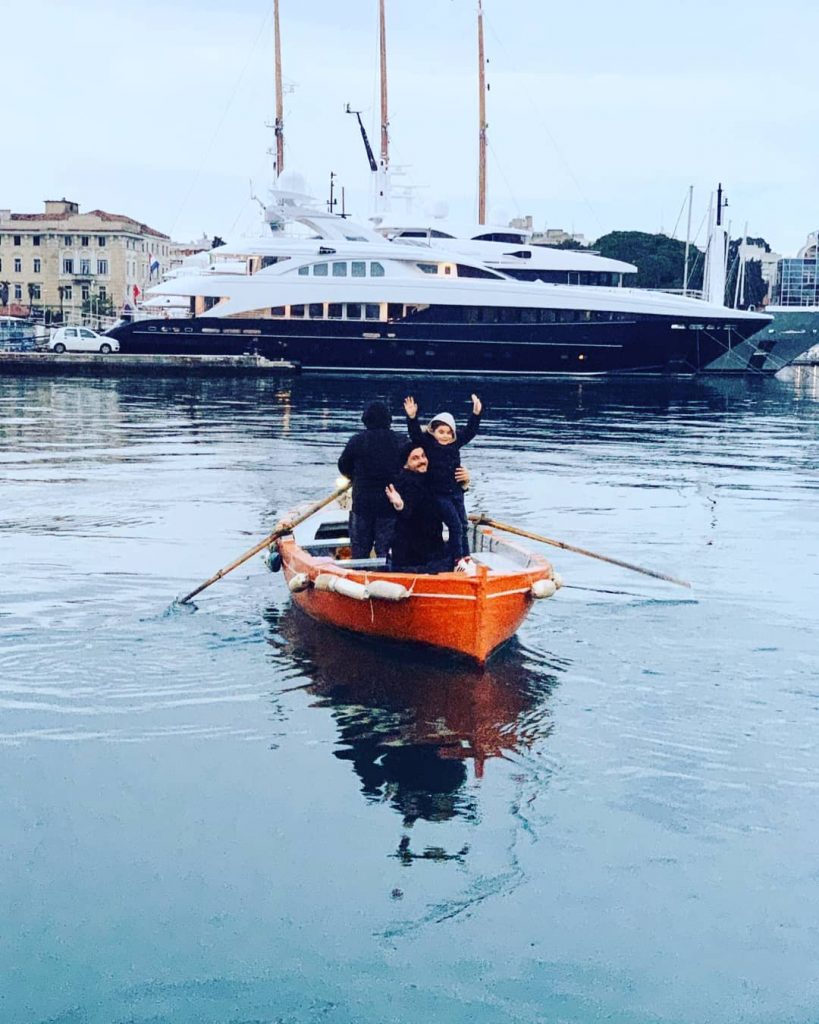 ENJOY AN EXQUISITE FINE DINING EXPERIENCE ON YOUR YACHT CHARTER IN ZADAR
The culinary scene in Zadar is fantastic, with choices ranging from Dalmatian cuisine to Italian and international flavours. However, if you do not know what to pick, always opt for seafood, the true speciality of Zadar, caught in the Adriatic Sea and brought straight to your plate.
Meat lovers will get the opportunity to try mouth-watering steaks, marinated with first-class spices and prepared with great expertise. For vegetarians and vegans, there is a wide selection of dishes made from organic vegetables grown in the Zadar region. Exceptional dishes are not the only thing Zadar has to offer, you can try a wide selection of award-winning local wines, gins, liqueurs, and much more.
Harbour Cookhouse and Club – Enjoy a unique dining experience right on the seafront, while you soak up the spectacular view of Old Town and its famous footbridge. This place will amaze you with its one-of-a-kind decor made completely out of wooden ship parts. You can observe a real-life wooden deck in the middle of this cookhouse, which certainly gives this place a special atmosphere, perfect for savouring exquisite cuisine, impeccable service and a stunning fine-dining vibe. We also recommend trying the award-winning local wines from Degarra winery or Kraljevski vinogradi vinery.
Restaurant Foša – The best and most famous seafood restaurant in Zadar will amaze with its open-air terrace, overlooking the mighty Zadar walls and the majestic Land Gate adorned with the Venetian winged lion. Enjoy first-class dining, an astonishing sea view, a delightful atmosphere, great service and freshly caught seafood.
Restaurant Bruschetta – Discover Bruschetta, a charming restaurant located on the promenade, only a short walk away from your yacht.  Sit down and enjoy dining in privacy, with attentive service and extraordinary food.
Ravni Žakan – Accessible only by your yacht, this inhabited islet has one of the most famous island restaurants for yacht enthusiasts, and it is a must-see spot of surreal beauty. This island is a luxury destination and is recommended for people who appreciate the beauty of nature, combined with outstanding food and atmosphere and complemented by top-notch service. All this makes Konoba Ravni Žakan a unique fine-dining spot in an unbelievable surrounding, far away from prying eyes.
Šporka Mare – visit the oldest restaurant around the Kornati islands archipelago. This historic place is located on the south shore of the islet Katina, near the Proversa Vela channel (the north gate of Kornati National Park) and is owned by a family which kept it running for 4 generations.
They received the bare island Katina in the 19th century from Zadar's noblemen and that's where the story begins. The old family stone house on the shore was a storm shelter for fishermen, but also a place for unloading fishing nets.
Slowly, this shelter for fishermen and sailors became the first restaurant on the Kornati islands, and over time it got an outstanding reputation among yacht lovers, fishermen and sailors, who named it after its owner – grandma Mare. Today this restaurant is a must-visit spot for yacht charters in Zadar, famous for its extraordinary seafood dishes and fine impeccable service. Enjoy top-notch seafood made from Mare's cookbook and served in traditional hand-made pottery.
Konoba Opat – Discover an eco-friendly paradise in Opat bay in the heart of the marvellous Kornati Islands. This extraordinary restaurant will welcome you with warm hospitality, professional service and a stone house restaurant made of eco-friendly materials.
You will enjoy fresh seafood on the open-air terrace by the sea in Konoba Opat and witness the stunning vistas while you enjoy Mediterranean cuisine. Relax in a unique Dalmatian atmosphere, extraordinary views and a 1st class fine-dining restaurant incorporated into the natural environment.
Restaurant Core & Lounge bar is a modern, impeccably designed venue in Vrulje bay. Enjoy homemade food and a great selection of wine and fantastic view of the Kornati archipelago. All the dishes in Core have a traditional base implemented with innovative culinary methods and chic ingredients.
Except for mouth-watering gourmet food, this place will offer a stunning lounge bar, with a glamping resort nearby. Moor your yacht on the restaurant dock and try out colourful cocktails at the bar while the skilful chef prepares your meal, or simply enjoy swimming in the Vrulje bay with backdrop vistas of the splendid Kornati Islands.
OUR SUGGESTED SEVEN-DAY YACHT CHARTER IN ZADAR
Explore countless secluded bays and discover beautiful private bays, as well as unspoiled nature and rich heritage, all in one place. Moreover, because Zadar has a unique atmosphere, it is a great place to start your yacht charter holiday. Keep reading for our suggested seven-day yacht charter in Zadar.
Day 1: Zadar – Ugljan – Pašman
Start your yacht charter in Zadar by visiting the nearby islands of Ugljan and Pašman. Located only 2.5 nautical miles from Zadar, Ugljan will take your breath away with its lush landscapes.
This green island is a perfect place to escape the hustle and bustle of the city and the summer crowds. On your way from Zadar to Ugljan, make sure to visit the smallest inhabited island in the Adriatic – Galevac.
There you can explore the Franciscan monastery in the heart of the islet. Afterwards, drop your anchor in Mala Lamjana bay, one of the largest and most beautiful coves on Ugljan island. Here, you can find diverse underwater life with plenty of fish and shellfish, skittering on the sandy sea bottom.
Sail from Ugljan to the nearby island of Pašman and experience the true meaning of the Adriatic spirit. Ask your charter crew to anchor your yacht charter in a private bay and sunbathe in complete privacy, under the shade of pine trees, while your diligent crew serve refreshing cocktails and terrific finger food.
.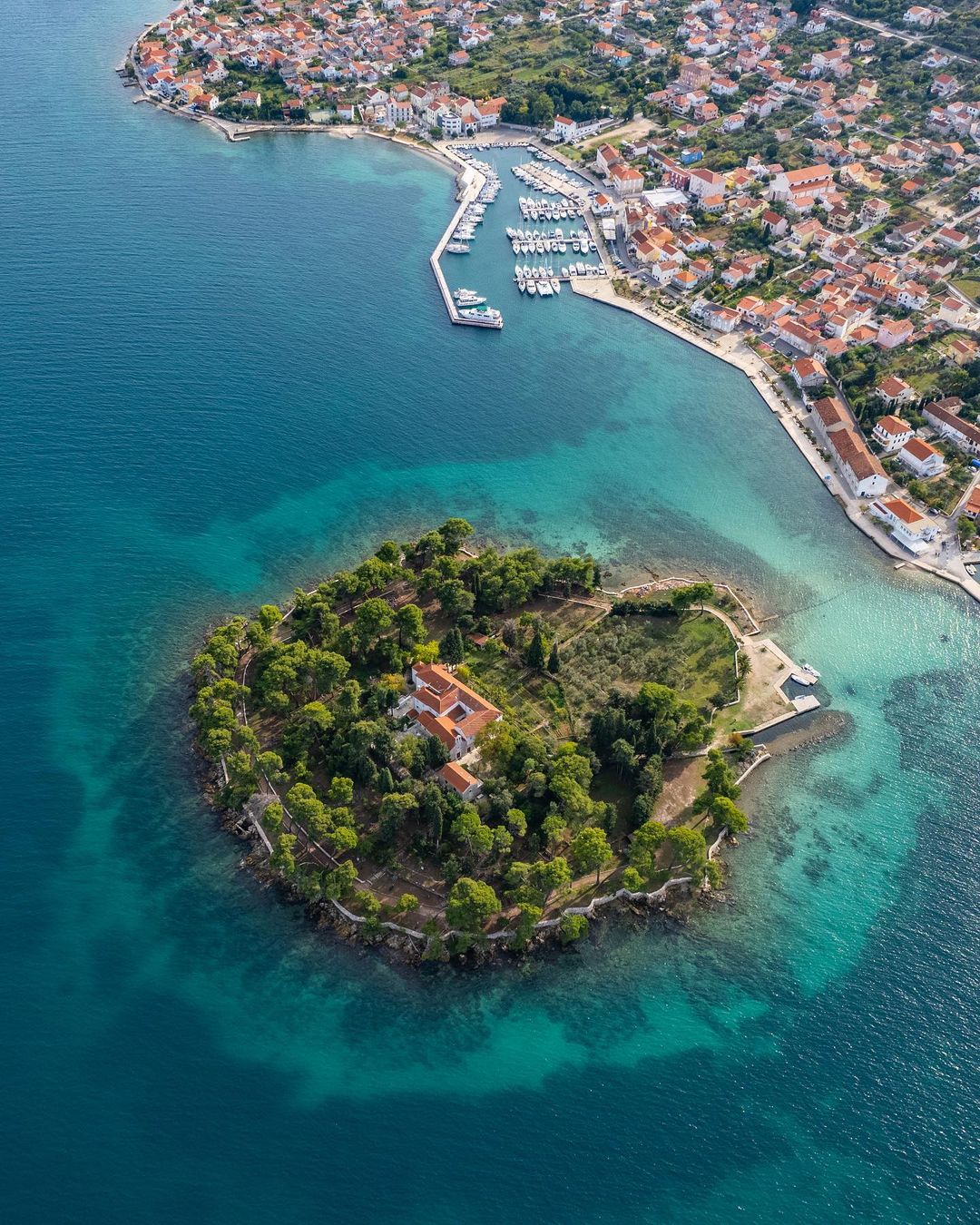 Day 2: Pašman – Galešnjak
Pašman is connected to Ugljan island via the bridge, so you can take a bike ride along Ugljan and Pašman or hop on your Vespa and enjoy breathtaking views while you ride. Because of its unique character, this place overwhelms your soul and enters the pores of your innermost being.
We suggest dropping anchor in Kobiljak cove, a secluded bay adorned with exceptional beauty. This bay is exposed to the scirocco wind, and it has a 4-10 m deep sandy bottom. Another lovely cove, where you can enjoy the surreal beauty of Pašman island is St. Ante Bay.
This bay is located on the SW coast of the island, and it is one of the favourite anchorages for yachts on Pašman island. This bay was named after the nearby church of St. Ante, which you can visit with your tender. The SuperYacht Croatia Team will gladly procure a Vespa, a motorcycle, an e-bike, a quad or a scooter, so you can enjoy exploring 2 islands of remarkable beauty.
Nearby, in the Pašman Channel, you will find the heart-shaped island of Galešnjak – a world-famous "Island of love". It is so popular that even the world-famous singer Beyonce celebrated her 39th birthday here. The island has an area of 0.132 square meters, and although it is small in size, it has a grand effect on people. Even Forbes recognized that! Galesnjak was on the Forbes list of the most romantic Valentine's destinations.
Day 3: Kornati Islands
This labyrinth of remarkable beauty, according to the legend, was created from the rocks that God had left after creating the world. He tossed them into the sea and decided the Kornati were so perfect that nothing else needed to be changed.
On your cruising adventures around the stunning Kornati islands, notice the incredible landscape of the Kornati crowns (cliffs) which were shaped by the sea. These magnificent cliffs will make your cruise worthwhile and impress you over and over.
No matter if you are a beginner or an experienced scuba diver, you can enjoy snorkeling around Kornati or diving with your private diving instructor to explore the Kornati underwater crowns, which are full of colourful marine life. We suggest the spots around Piškera and Rašip islands.
Kornati Islands are also recognized as famous gastronomical heaven for yachts. Moor right in front of numerous restaurants and enjoy exquisite fine dining, as well as various seafood and unmatched service. The SuperYachts Croatia team will make sure you have the best seats in the 1st class restaurant of your choice.
Make sure you don't miss out on Ravni Žakan, one of the finest and most luxurious island restaurants. Try out exquisite seafood, attentive and professional service, and unmatched Mediterranean cuisine. Here, you can anchor your yacht and enjoy a fine-dining experience in unbelievable surroundings, far away from the crowds.
Kornati islands, yacht charter paradise – Photo Credit to Instagram Account: julienduvalphoto
Day 4: Telašćica Nature Park
Embark on a wild adventure in the Telašćica Nature Park and reconnect with unspoiled nature on the southern side of Dugi Otok. This island park is a popular destination for yachts and nature lovers. Apart from pristine bays, you will get to discover majestic white cliffs, roaring 200m above sea level, mighty and unmovable.
You will also have the opportunity to visit the salty lake "Mir" ( translated to "peace" in Croatian) and soak in its waters, which are known to possess healing properties. You can also discover countless private coves around its 13 surrounding islands; witness this lush Eden of the Adriatic, also home to more than 500 different plant species.
Imagine starting your day snorkeling with numerous colourful marine animals, sponges and corals that have found their home in this exceptional park.
Day 5: Dugi Otok
Drop your anchor at Sakarun, the best wild beach in Croatia, famous for its white sand and crystal clear sea. There are a few beach bars that offer cocktails, lounging areas and light snacks. Enjoy the fine white sand and Caribbean colours, which are truly a unique phenomenon in the Adriatic.
This 800-meter-long lagoon offers enough space for a perfect beach escape under a lush pine forest. Since Sakarun bay slopes very gently, kids can splash around in the sea and play in the sand as they please.
For your next spot on Dugi Otok, we suggest exploring the majestic Golubinka sea cave. Here, you can dive straight into the 'underground world' and discover a beautiful pebbly cave beach. Outside the cave, you can try cliff jumping, if you are up for the challenge, or just relax and enjoy the shallow turquoise Brbišćica
Drop your anchor in stunning Pantera Bay, one of the most beautiful and popular destinations for yachtsmen, located on the northwestern side of the island. From here you can take a relaxing walk through the pine forest and explore the Punta Bianca at Veli Cape,  overlooking the majestic bays of Dugi Otok.
Besides the extraordinary nature, Dugi Otok is also home to the remains of a 70 meters long military tunnel. used for sheltering submarines. Explore this fantastic army hideout and find out more about submarine warfare in the Adriatic from your knowledgeable crew.
Day 6: Silba – Olib
On Silba island, experience a unique snorkeling adventure and discover hidden treasures beneath the surface of the sea, better known as the sunken sarcophagi near Pocukmarak bay. On the other hand, you could also enjoy swimming in the crystal-clear sea near the sandy Sotorišće Bay or just take a nice and relaxing walk through an island without any cars or traffic.
Visit the Open Air Art gallery and admire the unique sculptures made by the Croatian sculptress Marija Ujević- Galetović. Cruise with your yacht charter to the nearby island Olib and moor your yacht near Slatina bay on Olib island, which will charm you with its stunning seabed.
Refresh yourself with an afternoon dip in St. Nikola bay, full of untouched nature. Feel the sand beneath your feet as you relax with a refreshing drink or a cocktail in the shallow sandy lagoon and soak up the surroundings. Enjoy exploring the countless secluded coves, dive with exciting fish species or just relax in your yacht pool, far away from the crowd with a spectacular view.
Day 7: Olib – Pag – Velebit – Zadar
On your last day of yacht charter in the Zadar area, you can observe the majestic landscape or Croatia`s biggest mountain chain, by cruising through the Velebit Channel and enjoying the view of the islands and the Velebit mountain range. Be sure to visit the island of Pag, which is full of culinary surprises.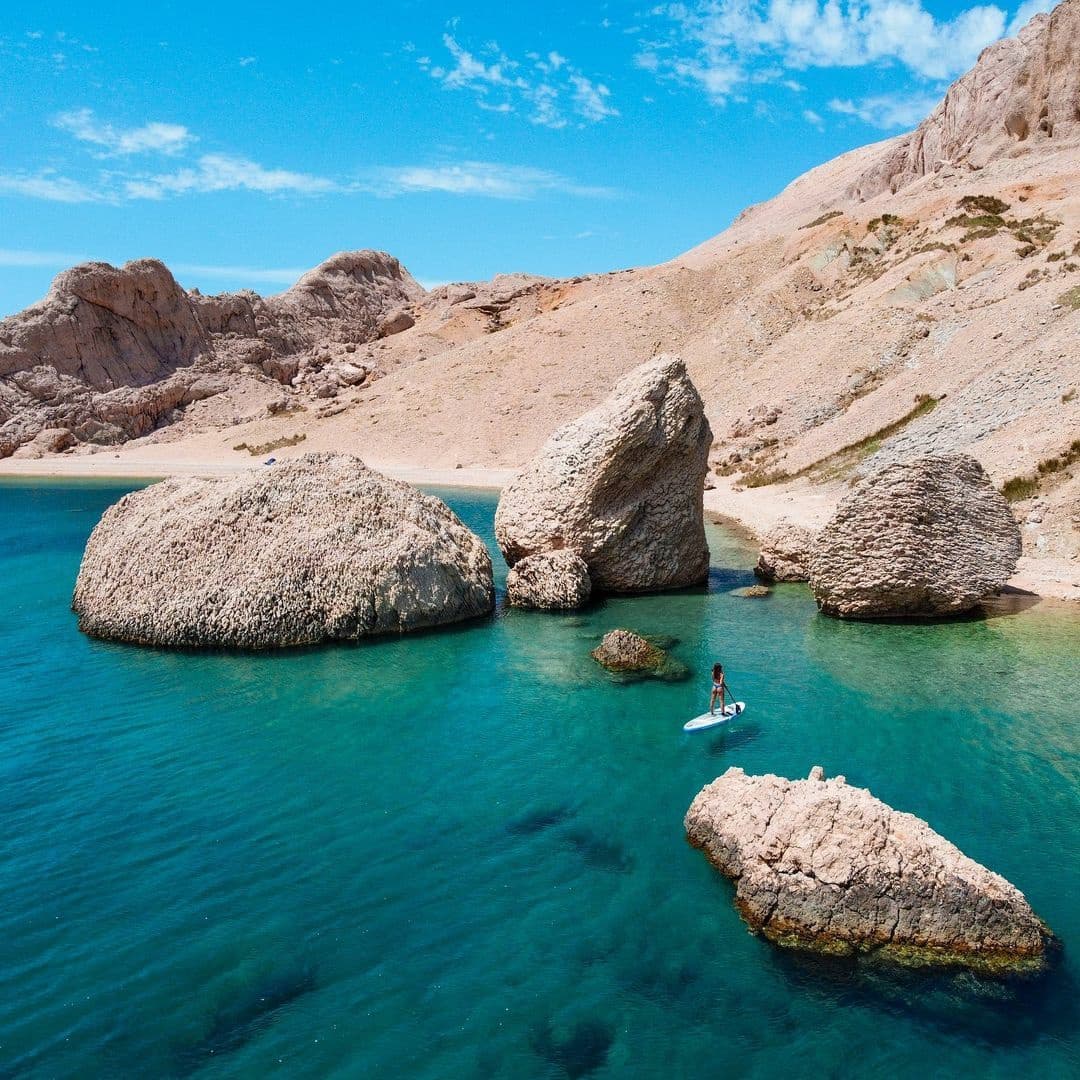 Try Paški cheese and Paška lamb and enjoy the magnificent views of the bare and unreal surface of Pag. This unique island got its nickname "the Moon Island" because its bare landscape reminds people of the surface of the moon, especially in the evening when the moon shines over the calm sea with a silvery haze.
The truth is, Pag is bare due to strong Bura winds from the north, although its moonlike appearance made Pag a perfect filming location for multiple TV shows like 'The Terror', 'Winnetou', 'Top Gear' and many commercials for famous brands like Bugatti, Rimac and Audi.
Apart from UNESCO heritage treasures like Paška lace, Pag conceals another gem – the impressive Zrće beach, also known as the "Croatian Ibiza", where you can moor your yacht at Club Noa and enjoy the beats from your yacht deck.
Zrće beach is one of the best spots for electronic music in Europe and every year it hosts numerous big names from the electronic scene (Guetta, Tiesto, Garrix, Carl Cox, Hardwell, Van Buuren, Dimitri Vegas & Like Mike..) with world-known celebrities.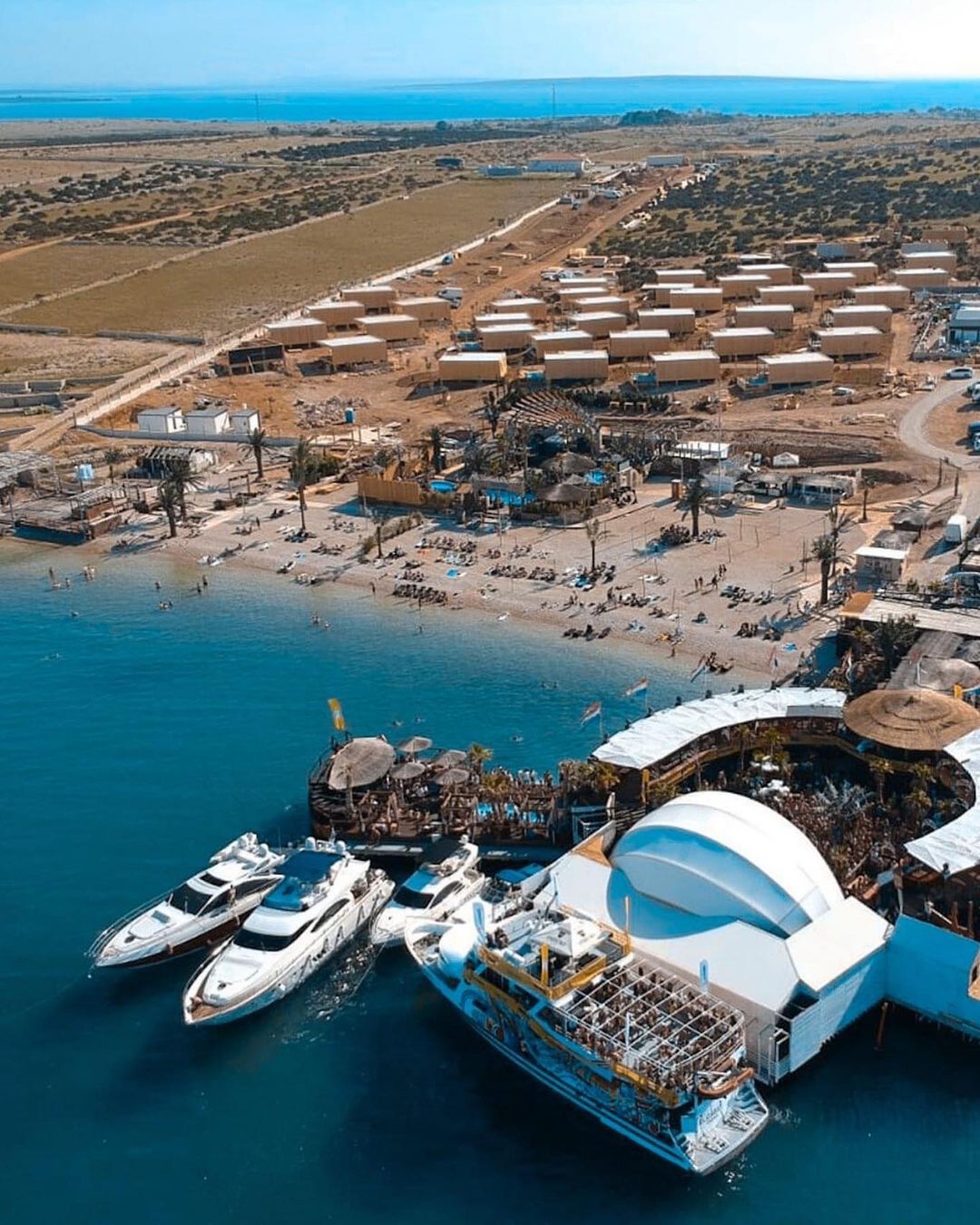 TOP ANCHORAGES AND MARINAS FOR YOUR YACHT CHARTER IN ZADAR
You will find two top-class marinas for your yacht charter in Zadar – Marina Zadar Tankerkomerc and Marina Borik. The Zadar region has the largest concentration of marinas in Croatia, with several marinas on the central Dalmatian coast between Zadar and Šibenik.
In the Zadar archipelago, there are numerous berths with a good mix of marina berths and free-swinging anchorages. Further south lays the marina Dalmacija in Sukošan – the largest marina in Croatia (located 7 km south of the historical town of Zadar) and the beautiful marina Biograd.
Marina Zadar (Tankerkomerc) – You can get to this marina quite easily from the airport, by taxi or a VIP transfer, arranged by the SuperYachts Croatia team. The journey from the airport to the marina takes less than 15 minutes, and there's no real effort, except to sit back and enjoy a scenic ride through Zadar.
Tankerkomerc Marina Zadar has a total capacity of 300 wet berths and 200 dry berths, all of which are equipped with water, electricity and other amenities. It can accommodate yachts up to 45 m in length. Sea depth in the marina ranges from 8 to 12 m, and at the breakwater between 12 and 15 m.
Marina Zadar is located right in the city centre, which means that it is a very atmospheric place to stay, with many bars and restaurants nearby. The nearest supermarket is Konzum on the main road leading from the marina towards the bridge to the old town and should have everything you need.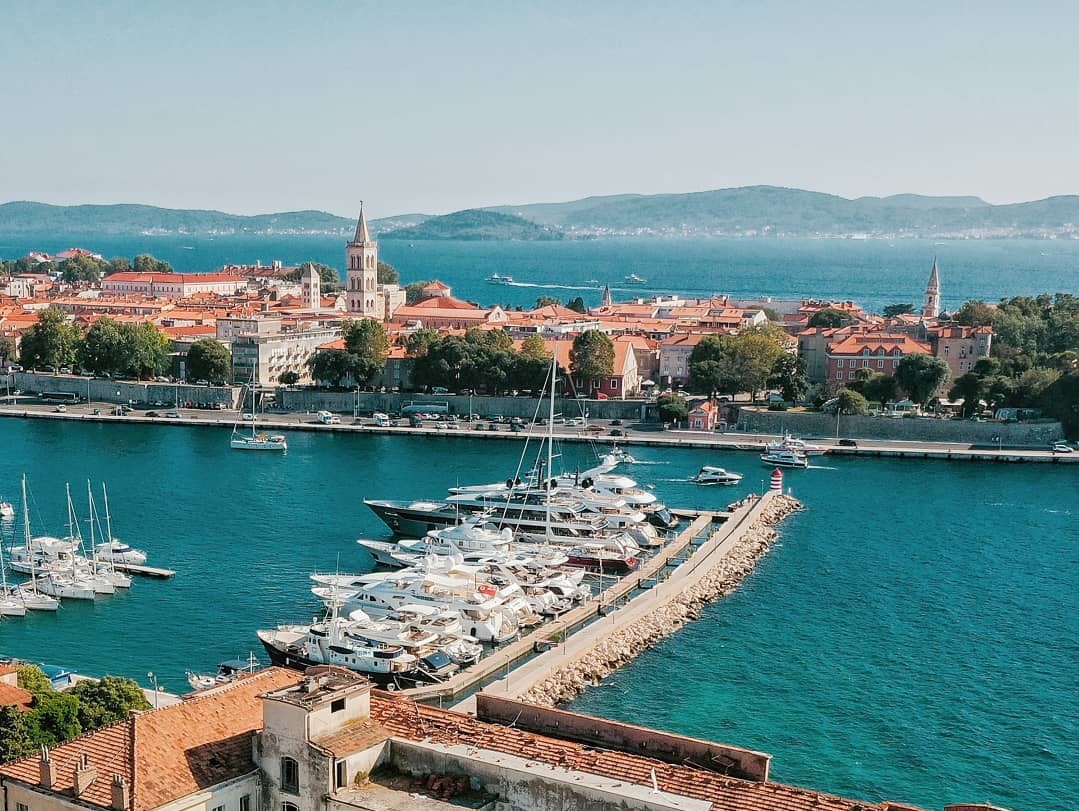 Marina Borik (D-Marin) – The premier boutique marina D-Marin Borik is a fantastic gateway to the dotted Adriatic coast. Marina Borik has 177 berths with a maximum draft of 3.5m and a maximum boat length of up to 40m, and it has sufficient facilities to accommodate up to 185 vessels in the sea.
This marina offers six floating pontoons with depths up to 6m and is equipped with a side finger pier mooring system. This marina is also equipped with freshwater outlets and a 220 V power bollard.
D-Marin Borik is located near the famous Sailing club Uskok, where you will find many sailors and professional skippers. Here you can also witness some regattas, such as the traditional regatta Zadarska Koka in October which is a delightful sight. Near the marina, you can enjoy the sandy beach Borik or the pebble beach Uskok.
D-Marin Dalmacija – the largest and most luxurious marina on the Croatian coast, located near the city of Zadar, with first-class facilities and top-notch gastro and hospitality services. This marina has a berthing capacity of 200 wet berths and 300 dry docks, and a capacity for superyachts up to 70m.
The marina is only 12 km from Zadar Airport, which has a direct connection to London, Manchester, Dublin, Glasgow, and many other European cities. This marina is open all year round, and it is located south of Zadar near Sukošan. There are enough berths to accommodate 1200 boats.
The marina has many facilities, including a reception, water and electricity connections, telephone connections, a small shop, a hotel, a casino, a yacht club, an indoor Olympic swimming pool, laundry, and dry-cleaning services, sports fields, medical services, and a charter fleet. The marina has a lift and is equipped for repairs as well as the many amenities and services you might need.
Telašćica Bay – anchor your superyacht in the extraordinary Telašćica bay, known as the largest, safest, and most beautiful Croatian harbour full of unspoiled nature. This paradise is located in the SE part of Dugi Otok and it offers protection from all winds. Due to its extreme beauty, it was declared a nature park in 1988.
Telašćica is popular amongst the yachts lovers for its calm emerald bays and pristine nature. This stunning bay is one of the most beautiful places in the Adriatic, filled with lush vegetation and majestic white cliffs.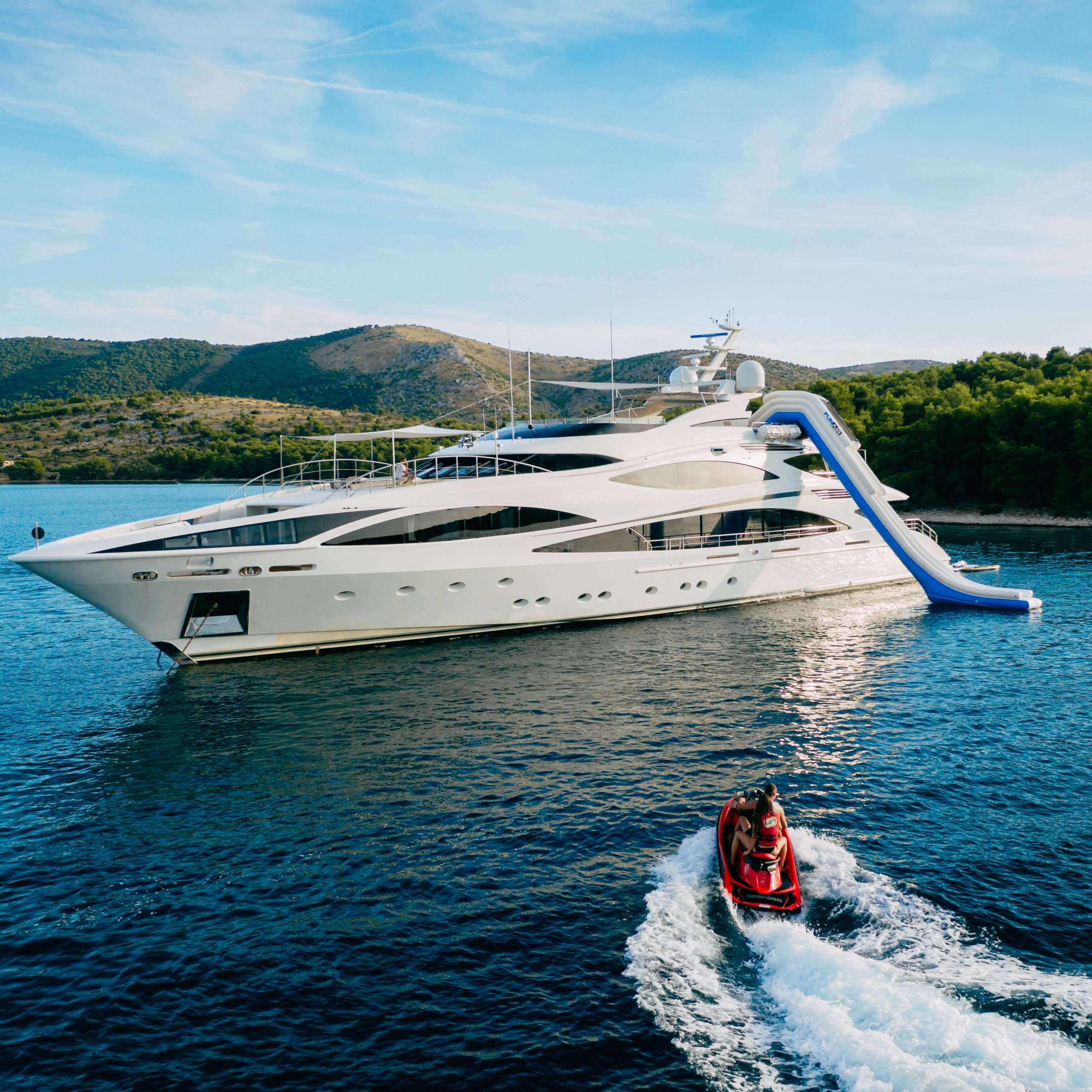 Sakarun Bay – Anchor your yacht charter on one of the most famous beaches in Croatia – the 800m long Sakrun bay, widely recognized for its white sand. You will enjoy a hint of the tropical atmosphere and feel the Caribbean flare while you swim in the turquoise lagoons that is Sakarun bay.
Levrnaka Island – cruise with your yacht to the island Levrnaka, a place of truly remarkable beauty. This small island offers two anchorages – one on the north side and the other on the SW side. They offer good protection from north and south winds. The bay on the N side is deep and suitable for larger boats.
The bay on the Southwestern side has a sandy bottom and offers mooring buoys. Here you will find the only sandy lagoon in the Kornati archipelago – Lojena.
THINGS YOU DIDN'T KNOW ABOUT ZADAR
WHY CHARTER IN ZADAR WITH SUPERYACHTS CROATIA?
SuperYachts Croatia will make sure you have experienced a fully-tailored yacht charter experience, suited to your needs and preferences. We will make sure that everything corresponds to the highest levels of superyacht hospitality.
Trust in our local know-how, relax and enjoy your yacht charter in Zadar. Let us make all your dreams come true because nothing is impossible for your SuperYacht brokerage team.
Charter Yachts
We present to you the best selling yachts for charter in 2021. Slide through these different yachts, ranging from 20 to 80 meters in length, and choose the best option for you. If you have any questions regarding yacht charter, destinations & yacht support, contact us.
VIEW ALL CHARTER YACHTS
VIEW ALL CHARTER YACHTS