TALEYA Yacht Charter -  Spectacular Superyacht From Rossi Navi Brand
The 55m long TALEYA yacht charter (ex RARITY Yacht Charter) is a spectacular vessel made by Rossi Navi. Launched in 2008, she had an extensive refit in 2017 which included redesigning the interior, as well as adding an extension to the swimming platform. This yacht can easily accommodate up to 12 guests in 6 luxurious and spacious cabins, while her refined living areas include an open main salon with a dining room, a spacious lounge on the bridge deck, and another salon on the upper deck.
TALEYA yacht charter has an incredibly long list of features that include a private gym, an elevator that connects all decks, a spacious movie theatre and game consoles for ultimate entertainment aboard the yacht, and many more.
Ideal for a family yacht charter or for an adventurous charter full of unique activities, TALEYA yacht charter and her crew of 12 will pamper you during the entire charter, allowing you to truly experience life in Croatia.
YACHT CHARTER ACCOMODATION
Yacht details.
Guests:

12
Cabins:
6
Yacht Length:
55 meters / 180 feet
Yacht cabins layout:
4x Double + 2x Twin
Total living area:
1.088 sq.m / 11.711 sq.ft
Yacht exterior area:
428 sq.m / 4.607 sq.ft
Yacht interior area:
660 sqm / 7.104 sq.ft
Types of Cabins on This Yacht:
1x Master Suite + 1x VIP Stateroom + 2x Double Cabin + 2x Twin Cabin
Bed Configuration & Size:
1x King + 3x Queen + 4x Single
Yacht Interior Guest Areas:
Main Salon with Private Entertainment Centre · Main Dining Table for 12 Yacht Charter Guests Galley · Main Deck Day Head · Bridge deck- Lounge Area with L-Shaped Sofas and a Dining Table · Upper Deck Day Head · Upper Deck -Salon with Sofas and Chairs · Private Gym with Exercise Equipment · Private Office in the Master Suite · Six Private Cabins
Yacht Exterior Guest Areas:
Aft Deck – Alfresco Dining Table & Welcome Aboard Lounge · Bridge Deck – Dining Table & Lounge Sofas · Sundeck Deck – Jacuzzi · Sun Loungers & Sunpads · Swimming Platform – Beach Club with Water Toys and Additional Loungers
TOP 10 YACHT CHARTER FEATURES
Yacht highlights.
1
Refreshed in 2017, With Redesigned Interior by Cristiano Gatto
2
Zero Speed Stabilisers for Maximum Comfort
3
6 Luxurious Cabins Including a Master Suite With a Private Office and a Walk-In Wardrobe
4
Wide Collection of Water Toys Including 2 Jet Skis & 2 F5 Sea Bobs
5
Movie Theatre on the Bridge Deck
6
Sumptuous Sundeck with a Spa Pool, Gym, Lounge Seating & Sunbathing Area
7
Large Elevator Connecting all the Decks
10
Experienced Crew of 12 People
YACHT PHOTO & VIDEO GALLERY
Charter Moments.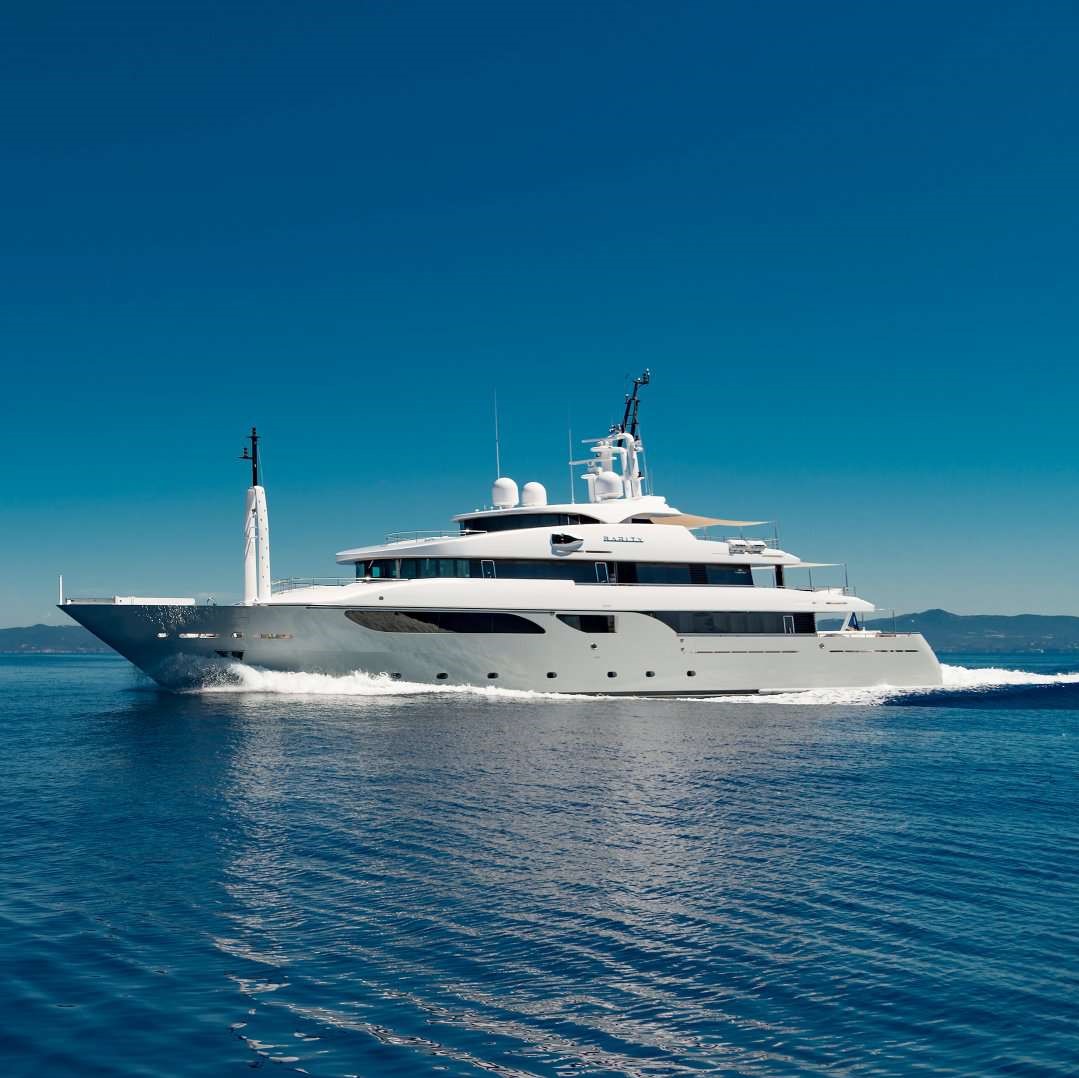 YACHT CHARTER SPECIFICATIONS
Particularities.
GENERAL INFORMATION
Length: 55 meters (180.5 ft)
Beam: 10 meters (32.10 ft)
Year Built: 2008
Year of last refit: 2017
Yacht Builder: Rossi Navi
Main Engines: 2x 3516 1640
Maximum Speed: 15.5 knots
Cruising Speed: 12 knots
Fuel Consump. Engines: 250 l/hour*
Generator Engines: 2x 160kW + 1x 93kW
Fuel Consump. Generators: 120 l/hour*
Stabilisers: At Anchor & Underway
*Highly dependent on sea conditions
LIST OF AMENITIES
Outdoors GYM · Spacious Sundeck Jacuzzi Bath & Jacuzzi Lounge · All decks Air Conditioning · Outdoors & Indoors Wi-Fi On Board · At-Anchor Stabilizers – No Rolling 'While Asleep' · Under Way Stabilizers – No Rolling 'While Cruising' · All Decks Modern Sound System · Basic DJ Equipment · Indoors Cinema Lounge with 200 x 280 Cinema Screen & Professional Cinema Surround System · Private Movie Collection (DVD) · All Suites with Private Entertainment Centres – Multimedia Systems – Sound · LCD & LED Private Library at Main Deck · Sun Deck Private Bar & Barbecue · Upper Deck Al-Fresco Lounge – Private Bar & BBQ
WATER SPORTS & TOYS
1x FXHO Yamaha Jet Ski
1x WRVX Yamaha Jet Ski
2x Seabob F5
1x Cowelly Water Ski
1x Glider Water Ski
1x Tech Water Ski
3x Krown Wake Board
2x Stand Up Paddle boards
2x Canoe
1x Jobe Banana Watersled
1x Wow Big Thriller – 2 persons
1x Obrien Heavy Duty Doughnut
1x Jobe Airstream – 3 persons
TENDER VESSELS
Castoldi, 7m Jet Tender (Included)
Axopar 37, 12.5m Chase Boat (Optional)
FULL YACHT CHARTER REVIEW
Inspected by Us.
Collect memories that will last a lifetime, with overtones of Mediterranean magic and Adriatic adventure, on TALEYA yacht charter.
TALEYA is a luxury motor yacht that underwent extensive refits in 2017 and 2019. Elegant and stylish, the interior design is signed by Cristiano Gatto. Guests will feel the difference between the Italian design present on TALEYA yacht charter and all other yachts that are not Italian-made. This 55m long luxury yacht is all about space and an open plan concept.
Guests can easily move between decks with an elevator on board, creating the impression of being in a New York skyscraper, rather than a yacht. The elevator also means she is 100% wheelchair accessible, making TALEYA truly a yacht for any type of guest.
Offering a sophisticated interior, the living quarters consist of six cabins with en-suite bathrooms, which can accommodate 12 guests, in a classic one Master, one VIP, two double and two twin cabin configuration.
The master cabin is complemented with a private office and a walk-in wardrobe, decorated with carefully chosen textile, tiles and lighting. Big enough to provide guests with an array of leisure opportunities, the exterior offers possibilities of catching some rays on the sundeck, having a fun time in the jacuzzi or relaxing in the main alfresco aft deck while enjoying 5-star dining.
The number of features and amenities on TALEYA will make any charter vacation in Croatia a fun and exciting experience, full of events and entertainment.
When it comes to guest-to-crew ratio, TALEYA offers an astounding rate of 1 crew member to 1 guest. There are 12 crew members at full disposal to a maximum of 12 guests onboard TALEYA yacht charter, meaning that every guest will have his/her personal crew member for assistance and service. By implication, the service will be above 5-star, guaranteeing a truly tailor-made and completely unique charter experience.
For your fun and pleasure, this luxury superyacht is equipped with various facilities for numerous water activities. Canoeing, water skiing, windsurfing or snorkelling, take your pick!
TALEYA yacht charter also contains several on-land services, so if you are more into mounting biking or taking a ride with electric scooters, your needs are covered. Lastly, her underway and zero speed stabilisers will ensure that you and your charter party have a smooth and stable holiday experience, both when cruising or at anchor.
Find out more about TALEYA yacht charter by reading on…
Rossinavi's TALEYA is a yacht that will seduce you in every way. Rossinavi as a brand was born in 2007, as an evolutionary stage in the growth of Cantiere Fratelli Rossi, a well established Italian shipyard. Immediately, Rossinavi started producing incredible designs, launching the young brand into luxury yacht stardom.
One of their earlier designs, TALEYA yacht charter, was built in 2008 and deserves to be considered as contemporary as ever, due to timeless stylistic simplicity and technical reliability.
Rossinavi's shipbuilding is synonymous with a strong work ethic and a passion for research as well as a meticulous shipbuilding process.
Being totally dedicated to bringing together essential and aesthetical elements, Rossinavi guarantees a luxury yacht experience like no other, which is obvious when guests come aboard TALEYA. On this superyacht, technical perfection is maintained through rigorous quality control checks, to ensure immaculate condition for every luxury holiday.
Each Rossinavi yacht is constructed by following their passion for details, but also a strong orientation towards efficiency and excellence. In its essence, this is particularly true about TALEYA yacht charter
A DAY ON THE YACHT
Seagulls in the distance, a soft summer morning breeze and a fantastic breakfast – your dream vacation has begun. The first rays of sunshine complement the professionally decorated dining table, as you dig in the lavish selection of breakfast dishes, while your friends feast on local prosciutto and famous Croatian sheep cheese.
The breakfast menu also consists of a variety of fresh fruits, freshly-baked bread and pastry, cold meats, cheese platters from local Croatian businesses and salads. Something for every taste.
Between bites, you can discuss the itinerary for the day ahead. There is a possibility that you and your charter party agree on a relaxing cruise, before anchoring at some remote and private location. Let your trusted captain decide about the safest and most beautiful locations available in the Croatian Adriatic.
Setting the route, TALEYA yacht charter starts cruising from its anchorage to the island of Rab, located in the North Adriatic Sea. While cruising in the crystal clear waters, let your crew provide refreshing cocktails, canapes or a special meet-and-greet from the chef, where you can discuss future lunch and dinner menus.
Relax by sunbathing on the sundeck and celebrate your arrival on the coastline of Rab island with chilled champagne. Before you start having fun in the water around the island, let your stewardesses serve a light lunch, consisting of freshly-caught sea bass and gilt poll sided with a potato salad with balsamic and spring onions or tenderized veal ravioli with basil-based basmati rice, with tropical rum cake with a chocolate glaze for dessert.
A truly divine meal! After a fantastic light lunch, you may want to explore all the amenities and water toys that TALEYA yacht charter has on offer. Some of your guests have already called dibs on the jet skis, while the adventurers decide to take a ride with a canoe. On the other hand, the water skis are an excellent choice for thrill-seekers, while other more mild-mannered charter guests decide to just enjoy swimming in the perfect Adriatic sea.
You could also consider letting your crew prepare mountain bikes and electric scooters for an in-depth exploration of Rab island. The winding coastline roads intersect with centuries-old dirt paths, which are excellent for a 2-wheel adventure. Because it combines tradition with modernity, the island of Rab is a go-to holiday location for many luxury charter yachts.
With evening slowly approaching, your charter party slowly begins to gather on TALEYA. Consider telling your crew to serve dinner in the alfresco dining area on the main deck, where you can enjoy a fresh sea breeze and wonderful cuisine.
Here you will be presented with gourmet delights, like roasted local lamb with sweet potato puree and broccoli crisps with garlic and olive oil, double smoked salmon with baby spinach and pesto, cherry tomato and rucola salad, cucumber and lime quinoa salad and much more. If one of your friends is celebrating a birthday, you can secretly make arrangements with the chef and crew members to prepare a surprise birthday cake.
Give the chef a perfect reason to prepare a chocolate hazelnut Pavlova cake with strawberries and vanilla, as well as dozens of other sweets and cupcakes. If you successfully surprise your friend, prepare to party until morning!
YACHT CHARTER DINING
During your stay on TALEYA yacht charter, your dining experience will be up to the highest of standards of luxury yacht cuisine; top-class meals will be prepared with local, organic and fresh ingredients. The galley on TALEYA is fitted to provide course upon course of delectable dishes, each tailored to meet your specific preferences.
The onboard chef will make sure that the food on your plate is decorated, as well as delicious and divine, creating a one-of-a-kind dining experience. Try new and exciting dishes, local products from Croatia or stick to a traditional yachting menu – it is your choice.
Eating lunch on TALEYA yacht charter will be a marvellous experience every time. Strictly abiding by your preference sheet, TALEYA`s chef will prepare Michelin-level dishes that will suit your specific tastes.
A lunch menu similar to this one is expected to be found on TALEYA: tapioca-goat cheese bagels with caviar, tomato soup with basil and crispy bacon, lobster with truffle risotto, radicchio salad with balsamic vinegar, figs and almonds with bette noir cake with whipped cream for dessert.
When it is time for dinner, be delighted as you sit at a marvellously decorated dining table, choosing either an alfresco option or a more enclosed experience. Your onboard chef will delight you with a menu that could be similar to dishes such as savoury grana padano and chorizo palmiers, charred sea bass with croquettes and beetroot, tabbouleh salad and pear and red wine panna cotta for dessert.
YACHT MAIN DECK
The spacious main deck is a fluid and modern area, with an exterior lounge space designed in a navy-like fashion, with white and blue decor. All guests find it enjoyable to spend their evenings in an alfresco setting on the main deck aft, sipping cocktails and chit-chatting while dinner arrives. The stern lounge area features several comfortable sofas and armchairs, perfect for observing beautiful Croatian sunsets.
You can seamlessly transition into the main salon, designed by mixing contemporary features with a neo-deco twist and plenty of artwork, which helps create a vibrant and modern atmosphere. Every detail of the design is carefully chosen to make your stay on board an unforgettable luxury experience. Relax in the comfortable sofas, enjoy drinks or play a game of pantomime in the lounge area.
The central point is the formal dining table for 12 guests, perfect for dinner in a cosy, but stylish interior enriched with dynamic photography and artwork. Further in, you will find the elevator in the foyer, which is used to make TALEYA yacht charter the most wheelchair accessible yacht in the Adriatic Sea.
A spiral staircase supplements the elevator in making the transitions between decks as smooth as possible. The floors mix soft wool carpets and hardwood, offering the best of both worlds in terms of tactile sensations.
Yacht Charter Accommodation: The master stateroom
Modern artwork crossed-over with wooden panelling and grey leather surfaces creates a harmonious blend of colours and textures in the master stateroom. The light colour palette, combined with dark wood details, drastically enhances the natural light coming in from big windows.
Meanwhile, the colour blue is present on the carpet and in various details scattered across the stateroom, like on the upholstery on the twin sofas, located beneath the portside and starboard windows. There is plenty of space to walk around the master stateroom, making it feel like you are staying in a 5-star Croatian hotel room, rather than a superyacht.
The ensuite is completely covered with black and grey marble, elevating the luxury experience of the master stateroom. Guests will feel grandious – like Roman emperors, every time they brush their teeth.
Yacht Charter Accommodation: The VIP cabin
After the hallway that connects the main deck salon with the bow, you will stumble upon the master and the VIP cabins, both complemented with the en-suite bathroom and plenty of wardrobe space. A contemporary styling combined with an Italian approach to design creates an inviting atmosphere in the VIP cabin.
The warm wooden tones aim to relax guests, soothing their stress and working towards enjoyment and unwinding. Mirrors and artwork both contribute immensely to the style of the VIP cabin; an image hanging above the queen-size berth communicates fashionability and trendiness, both major attributes of the VIP. The en-suite is decorated with marble, black tiles and a dash of light wood, a combination that will turn your morning shower into a royal experience.
YACHT BRIDGE DECK
The bridge deck consists of the upper salon, the upper lounge, the lift/staircase foyer and the helm station. There is even a bridge-deck media room, with a huge 220-inch cinema screen for memorable movie nights while cruising in the Adriatic Sea. Guests will surely love relaxing on plush sofas while watching the newest Hollywood blockbuster.
As you enjoy the movie, your expert crew will supply you with hand-made popcorn, local ice cream, smoothies or anything else that would enhance your viewing pleasure. TALEYA`s bridge deck salon and its light-purple and creme-beige furniture are a beauty to look at, providing a comfortable atmosphere for relaxing in the afternoon or partying in the evening. Large windows will make sure that the bridge deck interior gets all the sunlight it can, to highlight its calm and relaxing atmosphere.
Furnished with C-shaped sun pads and a table, the bridge sundeck is perfect for those afternoon sunbathing sessions, so you could work on your perfect tan. Ask your expert crew to provide premium sunbathing lotions and cremes, so you could achieve your desired colour without risking sunburns.
The shaded alfresco dining area on the bridge deck aft is the best place to have breakfast with a spectacular view, paired with wonderful service. This location is always popular with charter guests because it combines the wonderfully decorate dining table with excellent cuisine and fantastic panoramas. All of this elevates your superyacht charter experience to new levels.
YACHT SUNDECK
The stern of the sun deck features two pairs of double-sun pad beds and different sitting arrangements, in the form of loungers, sofas and armchairs. Designed for lazy enjoyment under the sun, sip cocktails as you read your favourite book or magazine. When the sun sets, this area also provides an excellent podium for light workouts, yoga exercises or an improvised yacht cinema.
A fully enclosed gym is located next to the foyer, connected by an elevator and staircase with the rest of the yacht. The gym contains a bike, a weight bench, a step machine and a cross-trainer. Air-conditioning in the gym makes sure that every gym-goer stays cool, despite any outside temperatures.
In front of the gym enclosure is a magnificent jacuzzi, overlooking TALEYA's bow. Right after a quality workout, only several steps divide any potential gym-goer with relaxing in the massive hot tub.
There is truly nothing better after a good exercise than to seek instant refreshment in the crisp Adriatic Sea, before relaxing in a hot jacuzzi that overlooks the sea and the islands in the distance, as a soft and warm breeze brushes over you.
Made for pure enjoyment, TALEYA`s sun deck enriches any luxury yacht charter holiday. You could spend your time in a modern and well-equipped gym, enjoy relaxing in the jacuzzi or relax in the comfortable sky lounge; all with a glass of champagne in your hand.
YACHT LOWER DECK
TALEYA`s lower deck is easily accessible thanks to the elegant glass elevator, with an added wraparound staircase that connects all four decks.
Clean interior lines and sophisticated decor create a contemporary living atmosphere on TALEYA`S lower deck, both enjoyable and modern. Thanks to a steel hull, TALEYA yacht charter can ensure all guests get a good night's sleep because steel acts as a strong insulate of noise and vibrations.
This means that guests can only hear the sound of the sea when they are ready for bed. The lower deck is decorated using boldly accented colours and warm tones, that create a multitude of sensations on all levels. TALEYA's lower deck is comprised of four cabins: two doubles and two twins., with the portside twin having an option of converting into a double.
Because the VIP and Master cabin are both located on the main deck, the twin and double staterooms have more space to work with overall. This makes them unusually spacious and perfect for a larger charter group or prolonged charter holidays.
Yacht Charter Accommodation: The double cabin
Natural wood finishing and wall panelings in the double cabin go great with the artwork above the berth, complementing the colour scheme of the cabin. Every cabin comes with costume artwork, that matches TALEYA`s art theme. The cabinetry is done in accordance with the wooden theme of the space.
A vanity table, directly in front of a large mirror, makes the cabin seem bigger and higher. There are also other mirrors that add to the creation of an optical illusion, making the double cabin seem wider. A very tall, raised queen size berth is centrally placed, offering comfortable sleeping.
Yacht Charter Accommodation: The twin cabin
The twin is streamlined and polished in a contemporary fashion, with soft curves and gentle lines, creating an atmosphere that is both appealing and comfortable. The predominant colour is beige and light-creme, contrasted by dark wood surfaces, that elongate the space.
The artwork above the berth features blue and dark grey motifs, complementing the abundance of natural light. The ornametalized carpet ties together the whole atmosphere into a coherent design structure. Beige wall panels create a warm atmosphere in a compact space, beckoning charter guests to relax in an inviting and homey environment.
YACHT BEACH CLUB & SWIMMING PLATFORM
The already huge aft deck swim platform on TALEYA yacht charter has been fitted with extra extensions, to create a truly intimate connection with the sea for her charter guests.
Two mechanical steps and a handrail act as a portal into your private piece of the ocean. Excellent for swapping water toys or just returning from a swim, the extendable staircase is a wonderful addition to an already spacious beach club, and truly a feature all charter guests will enjoy. You can just walk straight into the refreshing Croatian Adriatic sea, even if you are holding a glass of champagne in one hand.
Stand semi-submersed in the water, enjoying the soft waves and the authentic Adriatic atmosphere. Marvel at the beautiful panorama of the shimmering sea and distant Croatian islands.
The beach club platform is equipped to handle a wide array of water toys, as well as movable sun loungers and parasols, creating a sense of a real beach. Here, you can enjoy all the benefits of a superyacht charter, while still being close to nature. Ask your crew to serve refreshing cocktails or Michelin-level canapes, as you appreciate the comfort of the beach club furniture and the 5-star service of your expert charter crew.
This yacht saves the best for last. The built-in LED lights beneath the swimming platform will highlight the luxury experience on TALEYA yacht charter, turning this superyacht into a floating light-show palace in the evening. Enjoy the warm blue-ish glow of the underwater lights and go skinny dipping in a surrounding that resembles a spa pool, encircled by the darkness of the evening sea.
YACHT WATER TOYS & WATER SPORTS
Jet skis, canoes, windsurfing and water skis are for those that crave adrenaline and speed, while those who enjoy something more soothing will be delighted with TALEYA`s snorkelling and scuba-diving equipment.
Choosing a specific water toy is best done in consultation with your experienced charter crew, because they will be able to recommend the ideal toy for you. Race with the waves on jet skis, or compete with other members of your charter party, doing laps around TALEYA yacht charter – ask the captain to honk the horn for the beginning of the race.
There is also an option of bringing a professional windsurfing instructor, to teach you and your friends and family the basics of this adrenaline-fueled sport. Excitement can also be found on waterskis, which will be towed by TALEYA`s tender and operated by a competent member of your charter crew.
Inform your charter crew that you would like to go on a tour of the best diving spots in Croatia. If you have never tried scuba diving before, you can easily get certified while on your yacht vacation. Sunken ships and planes, coral reefs, incredible underwater cliffs – all of this and more will be available if you decide to try scuba diving with the help of the competent crew on TALEYA yacht charter.
YACHT CHARTER CREW
At Your Service.
Captain
Ante Juresco
Ante grew up in the beautiful town of Zadar, located on the Dalmatian coast in Croatia. Throughout his childhood, he was attached to the blue Adriatic Sea. From an early age, he made a decision to start his career at sea and become a captain. After finishing Maritime high school and university, he spent 9 years on commercial ships before moving to yachts in 2012. He gained his yachting experience on yachts from 55 meters up to 147 meters. Ante holds a Master Unlimited licence. Ante is a very friendly and humble Captain with lots of knowledge and patience, keen to help the guests and his crew.
Chief Officer
Jack Stanbury
Jack was born and raised in Devon, UK. From a young age has been involved in most activities to do with the sea. He has had a passion for sailing since he can remember, regularly sailing/racing around the Plymouth Sound in dinghy's. Being around yachts all his life led to a career in the Merchant Navy where he graduated from Warsash Maritime Academy and went on to work on Large Oil and Gas Tankers as a Deck Officer. When the opportunity arose he swapped the Tankers for the Yachting industry with his Wife (Lauren – Chief Stewardess); worked his way up to Chief Officer, continuing to learn and progress with aim of becoming Captain.
2nd Officer
Nemanja Kovacevic
Nemanja is from Kotor, from a long line of seafarers. He has finished Nautical Maritime High School, started working on Cargo Ships by the age of 19 where he gained his Officers licenses and from 2015 he is working on superyachts. Nemanja likes to stay active and socialise, enjoying the gym as well as water sports.
Chief Engineer
Fabrizio Bendinelli
Fabrizio from Viareggio started his maritime career as engineer cadet on board commercial vessel. He has been in the marine industry for over 20 years and has gained the experience and knowledge to hold a Chief Engineer over 3000 Kw. He has served time on board boat from 30 to 60 meters. Other qualifications include: technician of military helicopters and engineer on board steam propulsion ship and scuba diver. Over these years he has gained extensive knowledge of the Mediterranean, USA east Coast and Caribbean Sea. Apart from his interest in sport, Fabrizio has a passion for travel, meeting new people. He is always available for a chat or tour of the engine room and strives to give guests 6 star service.
2nd Engineer
Davide Maffei
Davide is an Italian engineer with around 15 years experience in the yachting industry. He enjoys his job with passion and professionalism due to keen interest of ship machinery and systems. Davide has a background of long periods at sea, wide world navigation and shipyard periods. His hobbies include surfboarding and bike rides.
Chef
Spiro Pavlic
A hardworking, motivated and enthusiastic Head Chef, Spiros is passionate about food. His unique methods of cooking are usually based on local and seasonal ingredients, with modern techniques applied to traditional and new recipes. He loves challenges and is well aware of the importance of operating at a healthy profit margin level. As a strong leader, and a team player, Spiro is well known to for creating a stimulating, positive and energetic working atmosphere onboard M/Y Taleya.
Chief Stewardess
Lauren Stanbury
Lauren was born and raised in Devon, UK. She grew up always being close to the sea and has fond memories of boating and kayaking down the Avon estuary. She graduated from Bristol University in Summer 2017 as a qualified Radiography, Bsc Medical Imaging and worked passionately hard for the National Health Service for two years, until the opportunity arose to join the super- yachting industry in 2019 with her now husband, Jack Stanbury (Chief Officer). Since then, she's found a love for dedication to guest care, completing Magnums Butler academy and WSET Award in Wines.
2nd Stewardess
Tanja Sovrlic
Tanja is from Serbia. She has been working as a Spa therapist on the Cruise ships. As a highly motivated individual she graduated from the International Butler Academy, and possesses almost a decade of an experience in the Maritime and Hospitality industry. Combining in-depth knowledge of Butler and Valeting with luxury procurement and beauty therapy procedure she quickly became established as a valuable and delightful team member.
Stewardess
Klaudia Govic
Klaudia comes from Sibenik, a small city on Croatian coast, after studying hospitality management she discovered a passion for floristry and since then she is upgrading her skills to become the owner of a floral shop. You shouldn't be scared because Klaudia will protect you with her Brazilian Jiu-jitsu moves. In her resting time, she's mastering crafts with her daughter and playing with their dog.
Stewardess
Dima Dimova
Dima was born in a small town of Bulgaria where she graduated from art school. She discovered her passion in Wellness and Spa industry and she's been working doing what she loves for 10 years. Her desire to travel to different places, meet different people and discover different cultures takes her to the ships. In her free time, she loves socializing with people and enjoying the beach with a glass of wine in her hand.
Bosun
Maroje Godinovic
Maroje is from Split, a city by the sea. He graduated from Civil Engineering college, but decided to go a different way. At the age of 5 he was "dropped" into the swimming pool and then, after 15 years of hard work, he came out as a professional swimmer, water polo player and swimming coach, being familiar with other different sports activities as well. He loves to travel a lot, meet different people and discover new places.
Deckhand
Angel Aviles
Angel was born and raised in Barcelona, Spain. Growing up close to the Mediterranean he spent most of his childhood by the sea, enjoying water sports, sailing, and taking trips to Balearic Islands. This sparked his interest in traveling, having spent 12 months exploring Southeast Asia where he completed his advance open water diving, and hopes to explore more of the world's oceans. His passion for travel and the ocean inspired his move to the yachting industry where he hopes to make a career for himself. In his time away from boat, he enjoys keeping fit and has enjoyment playing paddle tennis as well as other team sports.
Captain
Chief Officer
2nd Officer
Chief Engineer
2nd Engineer
Chef
Chief Stewardess
2nd Stewardess
Stewardess
Stewardess
Bosun
Deckhand
SIMILAR YACHTS FOR CHARTER
By Charter Rate.
LET'S GET IN TOUCH TODAY.
Contact us.