View of the Motor Yacht Noor from the Camerlengo Castle in Trogir
A family yacht charter is the best holiday option for 2022
Due to the numerous family-friendly amenities available on a superyacht charter in Croatia, this kind of family vacation is an excellent choice. While the kids are having fun on the hydrofoil or playing with the Seabob, mom and dad can relax on the sundeck with cocktails, while still keeping an eye on their children from above. Moreover, parents can always hire an additional crew member, a nanny, who will assist them during the day and night.
The best thing about a family yacht charter holiday is that you can also focus more on each other than it is possible on a more traditional vacation.
A superyacht charter creates a uniquely intimate family atmosphere, where you can become even closer to your loved ones and you will have enough time to dedicate entirely to your family. A dinner conversation or a group activity can make all the difference in the relationship between kids and parents. You can enjoy water toys together with your children, racing on jet skis or diving with Seabobs. 
On the other hand, you can always leave your youngest to discover Croatia on their own, knowing that your yacht crew is always keeping an eye on them.  There are superyachts built and equipped exclusively for a family charter – ask your local Superyachts Croatia broker to introduce you to superyachts fitted for an unforgettable family charter vacation.
A superyacht provides plenty of different activities
Imagine a giant playground in the middle of the sea where you can entertain both the young and the elderly; a chartered superyacht fits perfectly into that description! While you are chilling on the sun deck and sampling delicious drinks, your kids can play with the latest and limited-edition water toys. You do not have to be concerned about your children`s safety, because they are in the safe and capable hands of your knowledgeable crew.
Also, on your family yacht charter, you can enjoy a family movie night or water-jumping competitions on the most beautiful beaches in the world. Let your expert crew pick an ideal beach where you can play fun beach games like frisbee, picigin, water-tag and more. Your whole family will enjoy this unique family yacht charter vacation. 
The cuisine is also tailored to the needs of the youngest passengers
The food served on yachts is equal to the food served in the finest restaurants in the world. Croatian cuisine is a unique marvel and it has so much to offer, that you have to try it yourself. Following a Michelin-level standard, your chef will create a range of shapes and colours for children's meals. The kids will definitely be delighted, while the adults will enjoy their extravagant fine dining food.
If your children want a special dish,  your chef will gladly prepare a costume meal for your child. On the other hand, if kids ask for something that is not available at the moment, the expert crew will procure it as soon as possible.
Children may also assist the chef in preparing certain dishes or in catching and collecting specific ingredients. It could be a once-in-a-lifetime opportunity to learn basic cooking skills from an expert, as well as an experience that will be spoken about at school for days.
Your children will be entertained by a warm & loving yacht crew
The most important thing to look for when deciding to charter a yacht for your family vacation is that the crew love children and that they know how to entertain them, cook for them or just watch cartoons with them. Every member of the crew will know how to amuse and make your youngest happy.
Parents will rest peacefully as their kids have a playdate of their life. The crew will organize diving and starfish searches. Your kids are also going to love making messages-in-a-bottle and launching them into the vast blue sea or around a specific Croatian island. This will provide the parents with some much-needed peace to enjoy their holiday. 
One of the crew members could also be a foreign language tutor, a teacher of a certain musical instrument or a swimming coach who can show your kid the best swimming techniques and jumps that will delight everyone.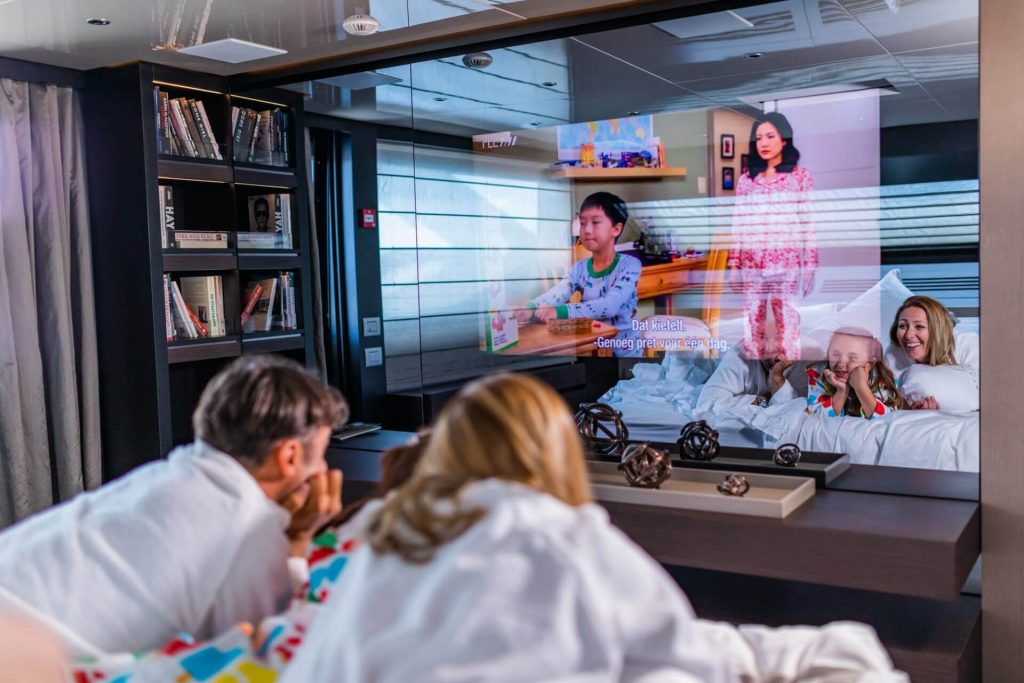 Spend quality time with the ones you love the most
Maximum safety for kids on a private yacht
When children spend their holiday on a yacht, their safety is 100% priority for everyone aboard. The cabin crew will child-proof sockets and electrical outlets, tables, and sharp objects, as well as remove anything that might harm the child. To keep the kids absolutely secure, a small door can be installed at the top of each staircase.
There will always be one member of the crew looking after the kids and ensuring that nothing bad happens to them. If necessary, children will also wear life jackets while enjoying exterior activities.
It is very important that you explain the rules of behaving on a yacht to your children in advance, to prevent any unnecessary complications.
Create unforgettable memories on a family yacht charter in Croatia
With plenty of space and activities to choose from, every member of the family will enjoy a certain aspect of life on a luxury yacht. While the parents are working on their tan on the bow, the kids can spend their time on the beach club. At the dinner table, enjoy quality family time accompanied by fantastic food and connect with your loved ones like never before. 
The perfect balance between family and privacy is the key to an enjoyable family yacht charter.
90% of charter parties consist of families with children, which means that the yacht crew is trained and experienced in handling family charter groups aboard superyachts. Charter a luxury superyacht and your kids will have a better time than in any amusement or theme park because all the rides and all the options will depend entirely on their whims and wishes. Create unforgettable memories with your loved ones on crewed yacht charters while vacationing in Croatia.
Charter Yachts
We present to you the best selling yachts for charter in 2021. Slide through these different yachts, ranging from 20 to 80 meters in length, and choose the best option for you. If you have any questions regarding yacht charter, destinations & yacht support, contact us.
VIEW ALL CHARTER YACHTS
VIEW ALL CHARTER YACHTS