SPICE OF LIFE II Yacht Charter - Luxury Island Explorer
SPICE OF LIFE II yacht charter is a 20 meters vessel made in 2009 by Princess Yachts and refitted in 2018.
Her contemporary style, high-level performances, and cool features, like the sliding rooftop and large portside windows with electric controls, distinguish SPICE OF LIFE II as the yacht for pleasure-seekers and aesthetes who wish to soak in the beauty of the Adriatic Sea at all times.
You can book SPICE OF LIFE II from her homeport in Split, so she can take you on a memorable cruise along the Adriatic coast. She offers a perfect opportunity to explore the secret coves of Croatia's many tiny islands.
YACHT CHARTER ACCOMODATION
Yacht details.
Guests:

6
Cabins:
3
Yacht Length:
20 meters / 67 feet
Yacht cabins layout:
2x Double + Twin
Total living area:
111 sq.m / 1.195 sq.ft
Yacht exterior area:
45 sq.m / 484 sq.ft
Yacht interior area:
66 sq.m / 710 sq.ft
Types of Cabins on This Yacht:
1x Master Cabin + 1x VIP Stateroom + 1x Bunk Bed Cabin
Bed Configuration & Size:
1x King + 1x Queen + 2x Single
Yacht Interior Guest Areas:
Main Salon Area with a Flat Screen TV & Bose Surround Sound System · Captain's Lounge & Helm Area with a Retractable Hard Top · Galley Area · Three Private Cabins
Yacht Exterior Guest Areas:
Main Deck Aft Dining Area & Lounge with a Private Bar · Front Deck Sunbathing Area with Sunshade · Sea-Level Swimming Platform
TOP 10 YACHT CHARTER FEATURES
Yacht highlights.
1
Full Beam Master & VIP Cabins
5
Comfortable Alfresco Dining Area
8
Water Toys Available for Charter Guests Use
10
Saloon Port Side Electrical Opening Window
YACHT PHOTO & VIDEO GALLERY
Charter Moments.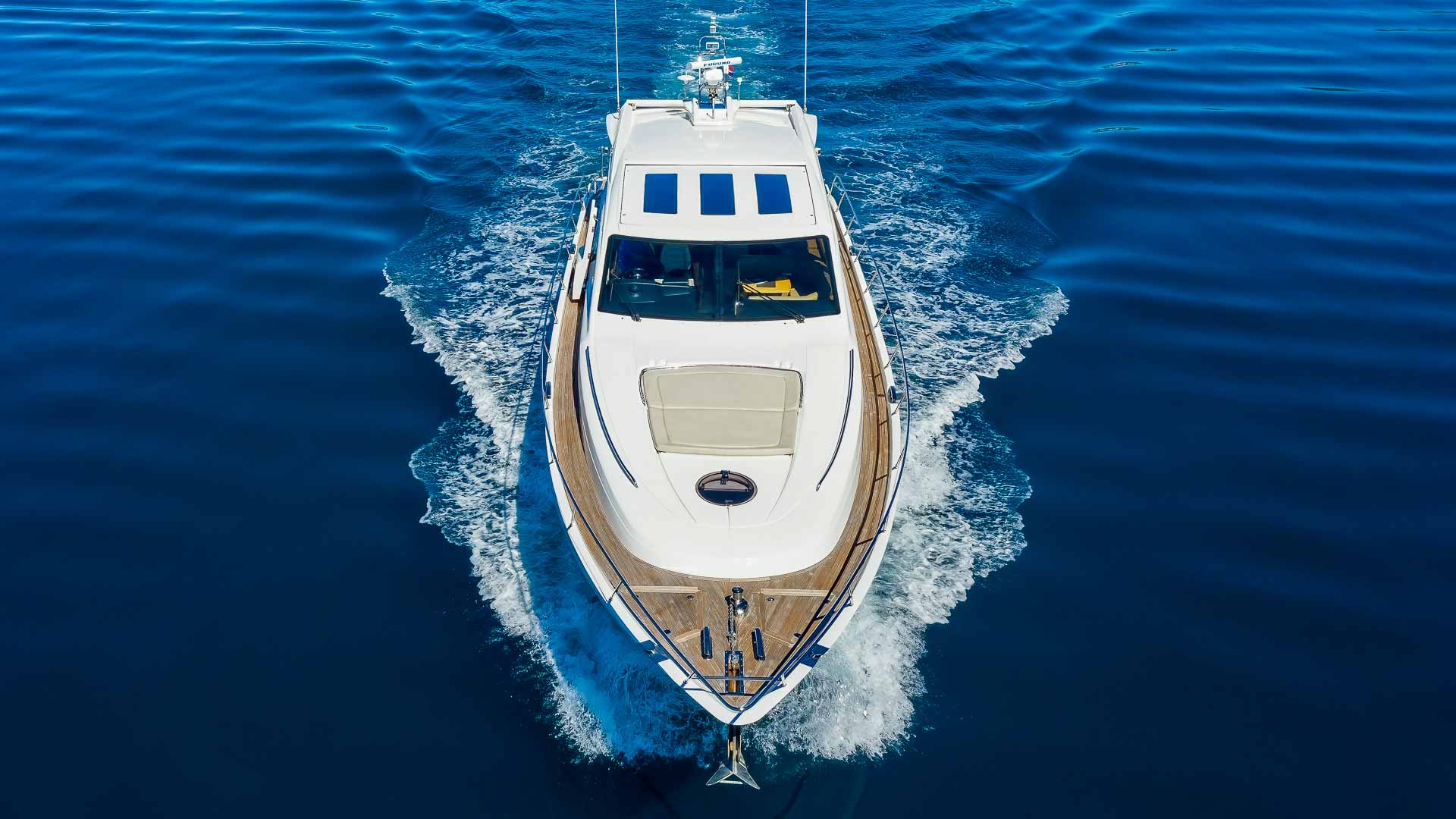 YACHT CHARTER SPECIFICATIONS
Particularities.
GENERAL INFORMATION
Length: 20.33 meters (66.7 ft)
Beam: 5.10 meters (16.9 ft)
Year Built: 2009
Year of last refit: 2018
Yacht Brand / Shipyard: Princess Yachts
Main Engine(s): 2x MTU 1500 hp
Maximum Speed: 34 knots
Cruising Speed: 20 knots
Fuel Consumption – Cruising: 300 l/hour
Generator Engine(s): 22.5 kW
Fuel Consumption Generator(s): apx. 6 l/hour
Stabilisers Systems:
LIST OF AMENITIES
Air Conditioning · Retractable Salon Roof · Great Selection of Water-Toys · Light and Comfortable Salon and Cabins · Bose Surround Sound System with a Retractable Samsung TV in the Main Salon · Entertainment System in Every Cabin · Private Bar on the Aft Deck
WATER SPORTS & TOYS
1x Jetski (Yamaha)
1x Waterskis
1x Donut
6x Snorkeling Gear
TENDER VESSELS
Williams 325, 3.3m Tender (Included)
Axopar 37, 12.5m Chase Boat (Optional)
FULL YACHT CHARTER REVIEW
Inspected by Us.
The 20 meter luxury motor yacht (m/y) SPICE OF LIFE II boasts impressive leisure and entertainment facilities and is an ideal charter yacht for socialising and entertaining with family and friends. She was built in 2009 by the Princess Shipyard, and last refitted in 2018. This amazing yacht is powered by two enormously powerful, 3000 horsepower engines (strong like 5 Lamborghini Huracans), enabling an astonishing cruising speed of 20 knots, and a spectacular top speed of 38 knots.
Her crew of two are friendly and knowledgeable, always on duty and looking after your comfort and safety. Observant and wise, your crew will always read the mood on the yacht and set up the scene accordingly, adapting the music, the lighting, the temperature and the level of comfort to suit a particular atmosphere at any given moment. Furthermore, your hostess or captain aboard SPICE OF LIFE II yacht charter can be beside you 24/7, ready to assist you in any way or leave you alone, so you could enjoy your superyacht holiday in Croatia in peace, privacy and silence.
This great 20-meter yacht has a practical and compact draft which means that your expert captain can anchor very close to shore, enabling you to explore mysterious and hidden bays otherwise inaccessible to larger yachts. SPICE OF LIFE yacht charter accommodates up to 6 guests in 3 lovely cabins, and she is equipped with 3 bathrooms, thus enabling privacy at the highest level. On the lower deck, you will find a great master cabin, one VIP cabin and one twin cabin.
On the main deck, there is a fantastic aft area, as well as a lovely indoor lounge, ideal for socializing and having fun. Inside is the helm station and above it, a large hardtop that acts as a great source of light through the deck. You can also decide to sit next to the captain and enjoy the cruise with him. On the other hand, in the evening, the hardtop gives the possibility of a beautiful view of the stars.
In addition, there is an excellent sunbathing area on the front main deck, where you can work on your perfect tan, but also find protection beneath the bimini and enjoy the miracle view of Croatian islands in the cooling shade. SPICE OF LIFE II yacht charter also has an amazing beach club, featuring a hydraulic swim platform that can both support a tender and create a private beach.
If you want to know more about SPICE OF LIFE II yacht charter, keep reading…
ONE DAY ABOARD
On SPICE OF LIFE II yacht charter, a wonderful day full of experiences may begin the moment you open your eyes. After a quick breakfast consisting of homemade pancakes with a special jam made with organic ingredients or a local fruit salad, combined with your favorite coffee or freshly-squeezed fruit juice, you could be ready to explore the magnificent island of Korčula. This great yacht has the advantage of being able to enter any port and disembark guests anywhere.
After your great tender leaves you just in front of Korčula, you will finally enter the completely walled city with astonishing gothic and renaissance style architecture, which represents centuries of amazing tradition and rich culture. If you want, your experienced hostess will arrange a unique historical tour, so you can learn about Korčula, the home city of the famous explorer, Marco Polo.
When you are done sightseeing, we recommend lunch in the award-winning Michelin restaurant LD, from where you will have an excellent view of your beautiful SPICE OF LIFE yacht charter. Enjoy eating great seabass with peas, cabbage, kimchi and turmeric velouté sauce or amazing black angus with egg yolk, shallots and demi glace paired with the best Croatian wine.
After lunch, you can return to your yacht and take a nap in your master cabin or relax while watching your favourite movie in the main salon. When you have recharged your batteries you might be ready to enjoy SPICE OF LIFE`s spectacular water toys. Have fun riding an excellent jet ski right next to the Dominican Monastery of St. Nicholas or have fun while water skiing near the Franciscan Monastery Badija. You will remember this experience for the rest of your life. If you are not in the mood for water toys, you can always sunbathe on the lovely sundeck with your favourite cocktail or read a book while enjoying the comfort of the great main deck aft sofas.
You can decide to have dinner in a well-known Korčula restaurant, Filippi where you can enjoy a tuna steak with asparagus and tomato jam or a delicious octopus fritters with pea cream. At the end of the day, you may want to unwind with a glass of your favourite champagne on the main deck aft while watching locals mingle on the walkways of the amazing island of Korčula.
DINING
On SPICE OF LIFE II yacht charter, a lovely galley on the lower deck will enable you or your hostess to prepare great meals for the whole charter party. For breakfast, you can enjoy an amazing Croatian platter with cheese from the island of Pag and ham from the region of Dalmatia, as well as local tomatoes and olives, combined with your favourite coffee or tea. You can decide to have it on a charming alfresco table on the main deck aft or in an air-conditioned dining area. Whatever you choose, you are not going to make a mistake.
Croatia is full of award-winning restaurants so you can always choose some of them for your family lunch or a romantic dinner. Wherever you cruise, your knowledgeable captain will know the best places to satisfy your taste. If you adore seafood, he will take you on a tour of the best restaurants in Croatia, but also show you how to catch fish and prepare your own meal.
Furthermore, if you decide to eat meat every day, your captain might recommend trying Boškarin meat – a special type of cattle from the region of Istria; you could also consider lamb from the islands of Kornati or Pag. You will be amazed by the tradition of preparing these meals which you have never seen before.
MAIN DECK
As soon as you get aboard this stunning yacht, it becomes obvious that she was built for socializing and having fun with your friends and family. SPICE OF LIFE's main deck is all about luxurious living on the sea. This deck will undoubtedly be a legendary gathering spot at any time during your vacation. On the main deck aft, you will find a huge dining table with sofas and chairs on the starboard side and an amazing sun pad on the port side.
What I like the most is the sunbathing on the main deck aft from where you can enjoy sipping cocktails, reading the newspapers or relaxing after a refreshing swim. Next to the sun pad is a lovely wet bar from where your hostess can prepare delicious cocktails and serve freshly prepared snacks.
Moving forward through the sliding glass doors you can access the charming indoor salon. On the starboard side, you can consider having lunch in a great dining area, consisting of a C-shaped sofa, an adjustable table and two chairs. Opposite the dining area is an extra sofa and a large pop-up TV, which comes out from the cabinet, enabling you to watch your favourite movie or football game.
If you want to watch how your captain on the amazing SPICE OF LIFE II yacht charter is cruising or just chit-chat with him, you can sit on the sofa next to the helm station. Your experienced captain will have answers to each of your questions and will be happy to show you some nautical tricks. Next to the sofa is a coffee table where you can put your drinks or book.
Furthermore, there is an opening hardtop on the main deck that will provide fresh air and natural light together with large hull windows. If you want to sunbathe inside, it is also possible since the sun can enter through the roof. For romantic evenings, you can close it together with shades and make a perfect private room just for you and your better half. Your crew aboard SPICE OF LIFE II yacht charter will always do everything in their power to provide with absolute privacy and comfort.
SUNDECK
If you move forward on the main deck you will eventually arrive to the amazing bow sundeck, equipped with plenty of sunbathing areas. Here, you can work on your perfect tan while soaking up the Croatian sun or enjoy watching the stars during the night. SPICE OF LIFE`s comfortable sun pads are ideal for lying down for hours on end, while your yacht is cruising or anchoring. From here, you can also enjoy an amazing view of spectacular Croatian islands.
You can ask your crew to organise a great romantic night with your better half, where you will enjoy being surrounded by light bulbs and listening to your favourite music playing in the background. During the warm Croatian evenings, you can admire the starry sky while sipping your favourite champagne and nibbling on great snacks. An amazing feature about this area is that you have a bimini top so your head can be in the shade while you read a book or edit photos, while the rest of your body is exposed to the sun.
LOWER DECK
Moving down to the lower deck of SPICE OF LIFE yacht charter, the first thing you can notice is a great galley on the starboard side, where your hostess can prepare breakfast. There is also plenty of space so you will feel at home while showing off your cooking skills.
Yacht Charter Accommodation: The Master cabin
The lower deck aft is home to a beautifully decorated full-beam master cabin. In the middle is a great queen-size berth, surrounded by two nightstands which are excellent for leaving your belongings. Furthermore, your better half can surprise you with coffee or squeezed juice in bed, while you enjoy a perfect view of the beautiful Croatian sea.
An improved feature that really sets this space apart arethe large windows located to port and starboard. Thanks to modern materials and expert engineering, every cabin on SPICE OF LIFE II yacht charter is soundproofed and vibration-insulated, which will allow guests to sleep soundly during the night without being disturbed by engine sounds or other guests moving around the yacht. Opposite the berth is a large Tv, where you could watch your favourite Netflix series or a basketball game.
On the starboard side of this great master cabin is a vanity table with a large mirror, where you can put your makeup on or just store your unique jewellery. Next to it is the ensuite bathroom with large mirrors and a big window which provides natural ventilation and sunlight. On the port side of the cabin is a lovely sofa, where you can relax while the sun is at its zenith or before going to sleep.
Yacht Charter Accommodation: The VIP cabin
In addition, on the lower deck of SPICE OF LIFE yacht charter is a full-beam VIP cabin with a comfortable queen-size berth as well as an ensuite bathroom. What I really like in this cabin is the amazing views enabled by large windows. If you want to relax before going to sleep, turn on your large TV and enjoy your favourite romantic or comedy movies with your better half.
Yacht Charter Accommodation: The Twin Cabin
Next to the VIP cabin is the third cabin – a twin with bunk berths, where your kids could enjoy spending their time. The bunk berths in the cabin are ideal for playing, while the parents relax in their cabin or the salon. The layout of the twin cabin is perfect, so each guest can have privacy but also be close to other guests.
SWIMMING PLATFORM & BEACH CLUB
The great thing about the SPICE OF LIFE II yacht charter is the hydraulic swimming platform, which could become your private beach, serving as the main location for spending moments just a few inches from the beautiful Croatian sea.
When the tender is launched, the swimming platform joins in to create a wide alfresco deck space, located at the very edge of the water. Here, charter guests can enjoy the atmosphere that brings the outside in, with all the benefits of having the beauty of the Croatian Adriatic sea just one meter from you.
While your crew serves perfectly chilled champagne or Michelin-level canapes, relax on movable sunchairs and comfortable cushions, catching as much sun as you can, for that perfect bronze tan.
YACHT WATER TOYS & WATER SPORTS
SPICE OF LIFE II also has a variety of water toys that can turn the surrounding sea into a real playground. While you ride your Yamaha jet ski, your better half can try out water skiing, parallel to your children enjoying being towed on donuts. It is an ideal yacht for both adults and kids.
On SPICE OF LIFE II yacht charter, you will have a great tender at your disposal, that can take you to secluded bays or party islands. Your crew will take care of every aspect of your vacation, not only providing flawless service but also excellent knowledge of local sites, popular attractions, and hidden bays. My favourite water toy on this yacht is a supersafe jet ski; I enjoyed playing with waves but also felt safe the whole time.
Since this jet ski can go really fast, I was challenging guests from other yachts to race with me and each time SPICE OF LIFE's jet ski and my skills were enough for the win. The feeling was great and it is absolutely my favourite water toy to play when chartering SPICE OF LIFE II.
YACHT CHARTER CREW
At Your Service.
SIMILAR YACHTS FOR CHARTER
By Charter Rate.
LET'S GET IN TOUCH TODAY.
Contact us.