Photo credit to trabantos from Shutterstock
Yacht Charter in Split
Split is the largest Croatian city on the Adriatic coast, and from there you can go on an island-hopping adventure to the adjacent islands, where you can relax and unwind in complete seclusion. The nicest form of charter holiday you can have is a yacht charter in Split. Furthermore, this lovely town is ideal for hours of exploring and will interest both children and adults.
Start your yacht charter in Split, a city with a rich cultural and historical legacy, and a vast archipelago. Here you will discover a city of art filled with magnificent architecture, sports and music, and it is undoubtedly a once-in-a-lifetime experience for those who visit for the first time. It has been on the UNESCO World Heritage list since 1979, and it is widely considered to be the best-preserved example of ancient era imperial palaces.
Split is the chief city of Dalmatia, surrounded by the Marjan Hill and the Adriatic Sea. Because of its perfect position, the city of Split is a paradise for a yacht charter vacation. In only one day you can kayak through Blue Cave on the island of Biševo, party on the island of Hvar, snorkel on the island of Vis and swim in the crystal clear sea of the Blue Lagoon on the island of Veli Drvenik.
As we already said, Split is perfectly positioned for cruising around. Furthermore, during your yacht charter in Split, you will have a knowledgeable Croatian crew and local SuperYachts Croatia broker that will show you much more than just the city of Split. We will enable unique yachting experiences, take you to the best locations, and fulfil all your wishes.
If you are ready for an unforgettable yacht charter in Split and nearby islands, welcome onboard your Superyacht charter!
WHY CHARTER IN SPLIT
Island hopping during your yacht charter in Split is the best kind of charter vacation you can ever get. Split is the largest Croatian city on the Adriatic coast, from there you can visit almost the whole country and have the cruise of your life. Moreover, you can opt for just a few nearby islands and enjoy pure comfort and privacy.
We recommend you to visit the nearby islands: Hvar, Vis, Šolta, Korčula, Biševo, Brač and many more full of secluded coves and magnificent beaches. You will be amazed at how close these islands are and how peacefully the Croatian Adriatic sea is on your yacht charter in Split.
If you are a history buff, you will adore yacht charter in Split. Since the Roman emperor, Diocletian decided to build a palace in Split, where he wanted to spend the last years of his life in tranquillity, the legend of Split has survived for 17 centuries.
During those 1700 years, the Palace grew into a city, which now fascinates travellers with its rich history, exquisite architecture, and natural and cultural heritage. In 1979th, UNESCO added the 4th century Diocletian Palace and the Split's historical centre to the World Heritage List.
WHEN TO CHARTER IN SPLIT
Whenever you are ready for the perfect yacht charter! Yachting season in Croatia is between April and November and it has ideal cruising conditions. If you want to swim, snorkel and play with water toys during your yacht charter in Split, we recommend visiting it from May to September.
This period we can divide into three parts: the heart of the season – July and August, middle season – May, June and September and low season – April and November.
For those who prefer warm summers and cities brimming with life, the middle of the season is perfect. What's even better is that even on the busiest day of the year, you can always discover a private beach with your yacht charter in Split and enjoy complete privacy.
Additionally, you will get the chance to visit the Ultra Music Festival, one of Europe's largest music events, where you will be able to hear the sounds of Carl Cox, Afrojack, Armin van Buuren, Hardwell, and many others.
For this time of the year, everything you will need is a swimsuit, light summer clothes and a good mood. Relax and let your crew and SuperYachts Croatia team take care of everything else. All you have to do is swim, sunbathe on your yacht deck, have a blast with water toys and explore the turquoise crystal clear Adriatic sea in countless secluded bays.
The low season is when temperatures are between 18 and 21 degrees Celsius (65 and 70 degrees Fahrenheit), which is best for people who do not like when it is too hot. The sea is calm and the winds are mild and ideal for your yacht charter in Split.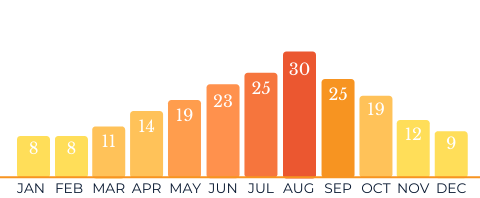 If you want to experience the real yacht charter in Split, connect to locals, watch soccer games, or appreciate the coffee culture, the low season is the best time of year to visit this magical city.
HOW TO GET TO SPLIT
Getting to your yacht charter in Split is simple. After the capital city – Zagreb, Split is Croatia's second-largest travel centre and you can reach it easily with your private jet, car, and yacht.
Because of the number of tourists, in the middle of the season, it is truly hard to find a free parking slot so that is why you have us. If you need a parking place for your car, your local broker from the Superyacht Croatia team will take care of it.
Moreover, we can arrange a special transfer with an exclusive car or helicopter (if your yacht has a helipad) so you will avoid traffic jams and also enjoy panoramic views with the glass of your favourite champagne.
Split Airport is only 20 km away, so you can be on your yacht in less than half-hour. The Split airport is well-connected and provides direct flights to and from the Middle East, as well as many European places.
What is even better is that we can organize everything from a plane or private jet to a limo, Mercedes S-class, or a specially adorned vehicle.
PERFECT ACTIVITIES FOR YOUR YACHT CHARTER IN SPLIT
Feel like a knight in Diocletian's Palace
In addition to delighting with its beauty, the palace also offers many other facilities. Enjoy various concerts which are regularly held on the peristyle, and visit an impressive underground museum arranged in the catacombs of the palace.
Do not miss out on the Days of Diocletian, which are traditionally held in this unique place, where you can feel like a true knight and walk around the streets of Split. Feel the true history of Split, because all of this is an additional reason for everyone to explore Diocletian's Palace and admire its uniqueness and beauty.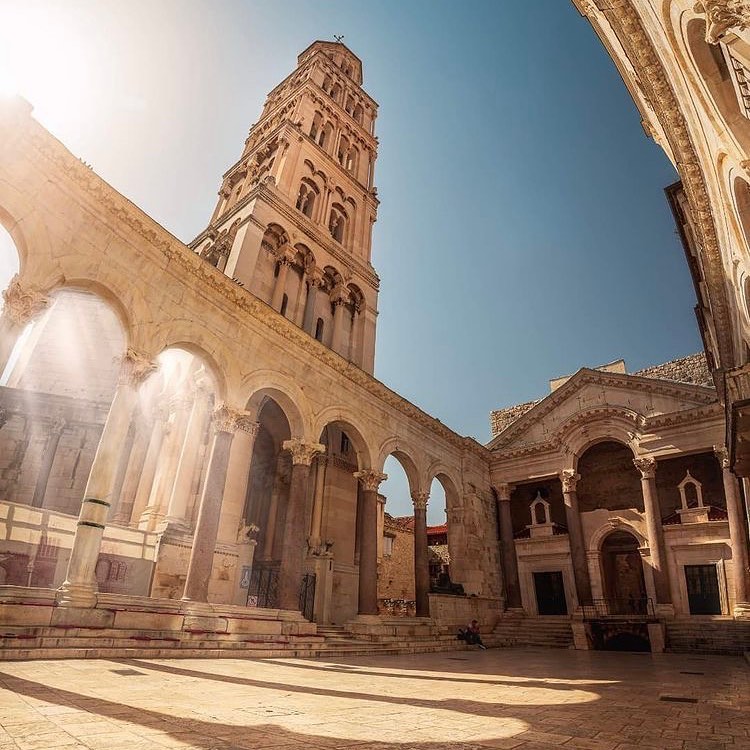 Ride your e-bike or cycle in Marjan Park
Get ready for your next yacht charter adventure, and ask your yacht crew to prepare e-bikes or bikes and you can go to Marjan Park, from where you will have a magnificent view of the whole city of Split and your lovely yacht berthed right in front of the magical city.
Climb on the top of the cathedral of St. Duje and enjoy the magical view
If you do not want to ride a bike, you can just climb on the cathedral of Saint Duje and enjoy the spectacular panoramic view of the entire city and archipelago.
Moreover, Saint Duje is a saint of the Roman Catholic Church, bishop and martyr of the city of Solin, but also the patron of the city of Split. Charter a yacht in Split in May and if you are lucky enough you will get a chance to take part in a huge celebration where the people of Split celebrate their patron!
Take a stroll along the Split promenade where local people adore drinking coffee for hours
Drinking coffee in cafes is one of the favourite habits in Croatia. Here, you will see people sitting for hours and chit-chatting with friends, reading newspapers or just gossiping with passers-by.
Drinking coffee on the Riva Seastrand is a Split state of mind. Moreover, from here you can watch your beautiful yacht charter in Split, and enjoy your view of palms and crystal clear Croatian sea.
Island hopping around the nearby islands
During your yacht charter in Split, we suggest you go island hopping. With your yacht charter, you will be able to see as much as you want. You can explore nearby islands or you can go all the way to the city of Dubrovnik.
Whatever you choose, your itinerary will be full of adventures, exploring, swimming, fun with water toys, unique fine dining experiences and much more.
Quad tour around Split hinterlands
From the city of Split, you can go on one of the most popular and appealing outdoor activities – a quad ride. Riding through Dalmatia's breathtaking landscapes, highways, rivers, and gorges will leave you speechless.
Furthermore, while enjoying the outstanding local food, breathtaking views, and the unspoiled nature of Split's hinterland you will feel the freedom and excitement of these unforgettable adventures in the Split hinterlands.
Visit the Party of the year – Ultra music festival
If you plan to go on a yacht charter in Split during the middle of July you will have absolutely the best time. Ultra music festival is one of the biggest electronic music events in the world and Split was chosen as the only European host.
This exquisite EDM festival is the only UMF on the whole continent and its unmatched atmosphere attracts visitors from 140+ countries every year.
If you are interested in this kind of festival, your local broker – Superyacht Croatia will arrange VIP or backstage tickets, spectacular booth, and a royal service so you will be able to enjoy the sounds of the best electronic music DJs in the World and have one of the best nights in your life.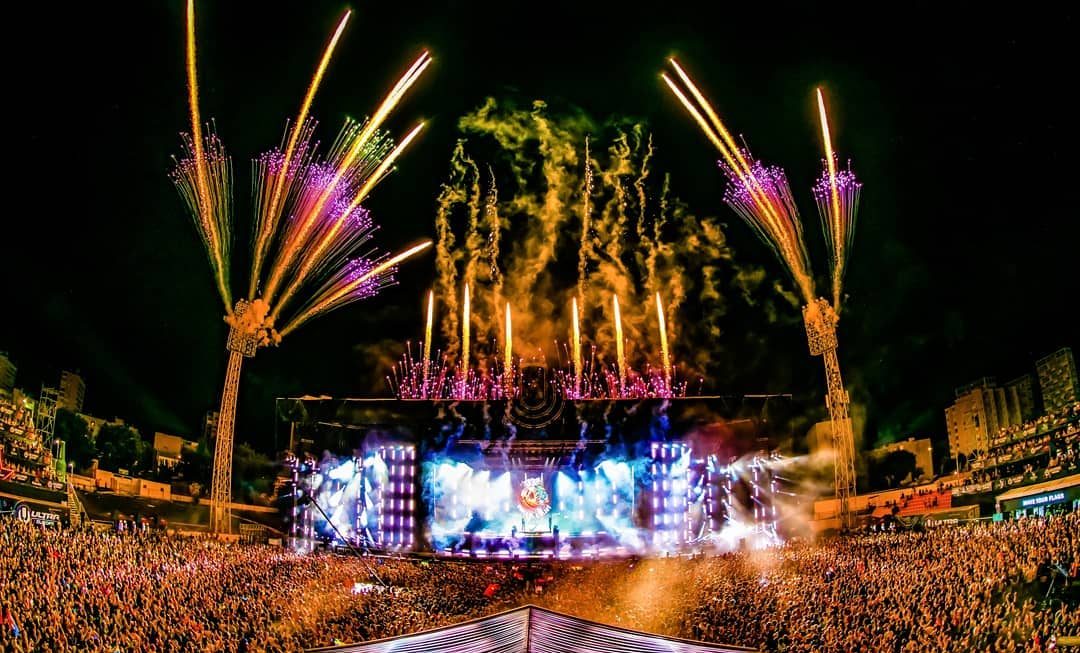 Enjoy the local football match
The local football team and its supporters are something you simply have to experience during your yacht charter in Split. Whether their club is losing or winning the game, the song is sung all over the stadium.
Both children and adults love this atmosphere from the Poljud Stadium which is declared Protected Cultural Heritage. If you are a fan of football this is a must-see attraction in Split and you might not have heard of this club but you will surely feel all the emotions while local people are celebrating.
Play picigin – a unique local beach sport
If you have never heard about picigin, do not worry. It is a beach-based, traditional Croatian game where players must keep a little ball out of the water. Sometimes it is really funny, but if you play with professionals it might be super hard. This is mostly an amateur sport and you have to try it.
You can ask your captain and deckhands to show you how to play it and you will have the whole day fun with your family and friends. Moreover, the World Championship in Picigin is played at Split's Bačvice beach every year.
Who knows, maybe you will become a champion while chartering a yacht in Croatia or you can organize a picigin tournament back in your country.
Visit a local market also known as Pazar
Here you can buy whatever you want and this open-air market is located just a few minutes from your yacht.
Pazar is truly a central place of life in Split. Moreover, it has become increasingly popular with tourists from all over the world who are looking to immerse themselves in the local atmosphere.
Visit spectacular waterfalls in National park Krka
When you arrive at Krka National park you will not be able to believe that Croatia has so much beauty and natural beauties. Opt-in for a one day trip to the Krka and enjoy the unique scenes in the world!
Your yacht charter can cruise you to the beginning of the National park and from there you can decide to take a walk, ride an e-bike or go with an exclusive car to this spectacular location.
The national park is named after the beautiful river Krka, which is 72,5 kilometres long. The park includes the most fascinating part of the Krka river and the lower part of the Čikola river, but the main attractions are magnificent waterfalls.
Let your Instagram explode on the Cetina river
This magical place enjoys special popularity on Instagram. In the middle of the karst field, there is an incredibly beautiful blue-green lake.
What makes this place even more stunning is that the depths are not explored yet, so no one knows how deep it is. Moreover, if you are among the braver, we recommend you to swim in the lake – water is around 10 degrees during the summer, but your Instagram will explode if you capture this natural wonder with your drone.
In addition, you can go rafting here and enjoy hours of pure joy, adrenaline and a lovely environment.
ENJOY AN EXQUISITE FINE DINING EXPERIENCE ON YOUR YACHT CHARTER IN SPLIT
ZOI Restaurant – This magical place, located in the heart of the city of Split – on its promenade is one of the best fine dining restaurants here. From the lovely terrace, you will be able to enjoy the magnificent view of the city, harbour and your charming yacht charter in Split.
We recommend the steak and lamb, which are both expertly prepared and seasoned, so your server can pair them with a bottle or glass of fine wine. With a total of 82 excellent wines, the restaurant covers most of the world's wine areas while maintaining a strong tilt for Croatia and the local region.
The service is outstanding, and the staff are very knowledgeable while also being super-friendly. Furthermore, the restaurant has received several honours since its opening in 2017, including a Michelin guide and a Gault & Millau award. ZOI is a place where 1700-year-old history, passion, and gastronomy collide to create unique moments.
Restaurant Dvor – This wonderful restaurant's terrace is truly magnificent, with views of the Croatian Adriatic Sea. It is almost a distraction from the meal, but the food is equally fantastic.
We recommend you order the long-cooked octopus, which tastes wonderful and is extremely soft. Furthermore, you can also try the shrimp risotto, which will probably be one of the best you have ever eaten, and you will want to ask for a recipe from the chef.
For dessert, we suggest the lava cake in white chocolate sauce with black olives which is rhapsodic. In addition, the ambience is fantastic as well as the service.
Zrno soli restaurant – this magnificent place is located in the marina of the beautiful city of Split, where you will enjoy the fantastic ambience and even better food. From here you can watch your stunning yacht charter in Split and everything that you will try will be of exceptional quality and very tasty.
This place offers excellent traditional cuisine, and it is an unavoidable place in Dalmatia for many tourists, but also locals. The restaurant is known for combining indigenous and traditional ingredients with modern cuisine.
For the appetizer, we recommend you to try Istrian cattle tartare (boškarin) with homemade butter, balsamic vinegar beads, a cold salad of leeks, fresh tomatoes and capers or Adriatic white fish carpaccio with pistachio, fig beads, dill and apple salad, olive ash, orange and onion chutney.
The main dish can be sliced ​​beef fillet, Adriatic shrimp buzara and roasted Roman gnocchi or shells on the guest's request. Moreover, this restaurant has an indigenous premium menu with 6 sequences so you can also opt for that version.
Kadena Restaurant – this stunning restaurant provides the greatest gourmet experience while also exuding a sense of luxury. The food here is very delicious and prepared to perfection. We recommend you to try sea bass fillet with baked scampi flavour with Swiss chard and baby potatoes or foie gras cured in cognac and orange juice with tiger prawns on almond and hazelnut crumble with Granny Smith apple and forest fruit cream. You will enjoy every bite.
OUR SUGGESTED SEVEN-DAY YACHT CHARTER IN SPLIT
From Split, you can have more than 100 various itineraries and each of them will amaze you. We are bringing you our favourite cruising spots and we hope you will enjoy your yacht charter in Split:
Day 1: the City of Split – the island of Korčula
The first day you can spend in the city of Split – walking around Diocletian Palace in which people still live, and you will be fascinated while exploring the narrow streets that have been there for more than 1700 years.
The palace itself contains many attractions that were once an integral part of everyday life, and one of the most impressive is the Cathedral of St. Duje, which was built as a mausoleum of the famous emperor, and there is an associated bell tower that was added in the 13th century, and which is considered to be the most original Dalmatian medieval building. From the bell, you can have one of the most beautiful views of the city of Split.
Moreover, you can berth your yacht near the Old Town where you can enjoy magnificent restaurants, the Split's coffee culture or just watch people mingling around. Who knows, maybe you will meet with locals and learn something new about Croatia and the city of Split.
Day 2: the island of Korčula
On the second day of your yacht charter in Split, we recommend you to cruise to the island where Marco Polo was born – the island of Koručula. You can have an al fresco lunch in Moro at Stupe beach, one of the most picturesque places where your social media will explode after posting the photo swinging on the swing.
After enjoying the meal, take out your water toys and have fun while kayaking, standing up and paddleboarding or riding a jet ski around the walls of Korčula. Afterwards, you can enjoy exploring the inside of the Walls and bastions of the city, built in the 13th century or visit some of the churches or museums.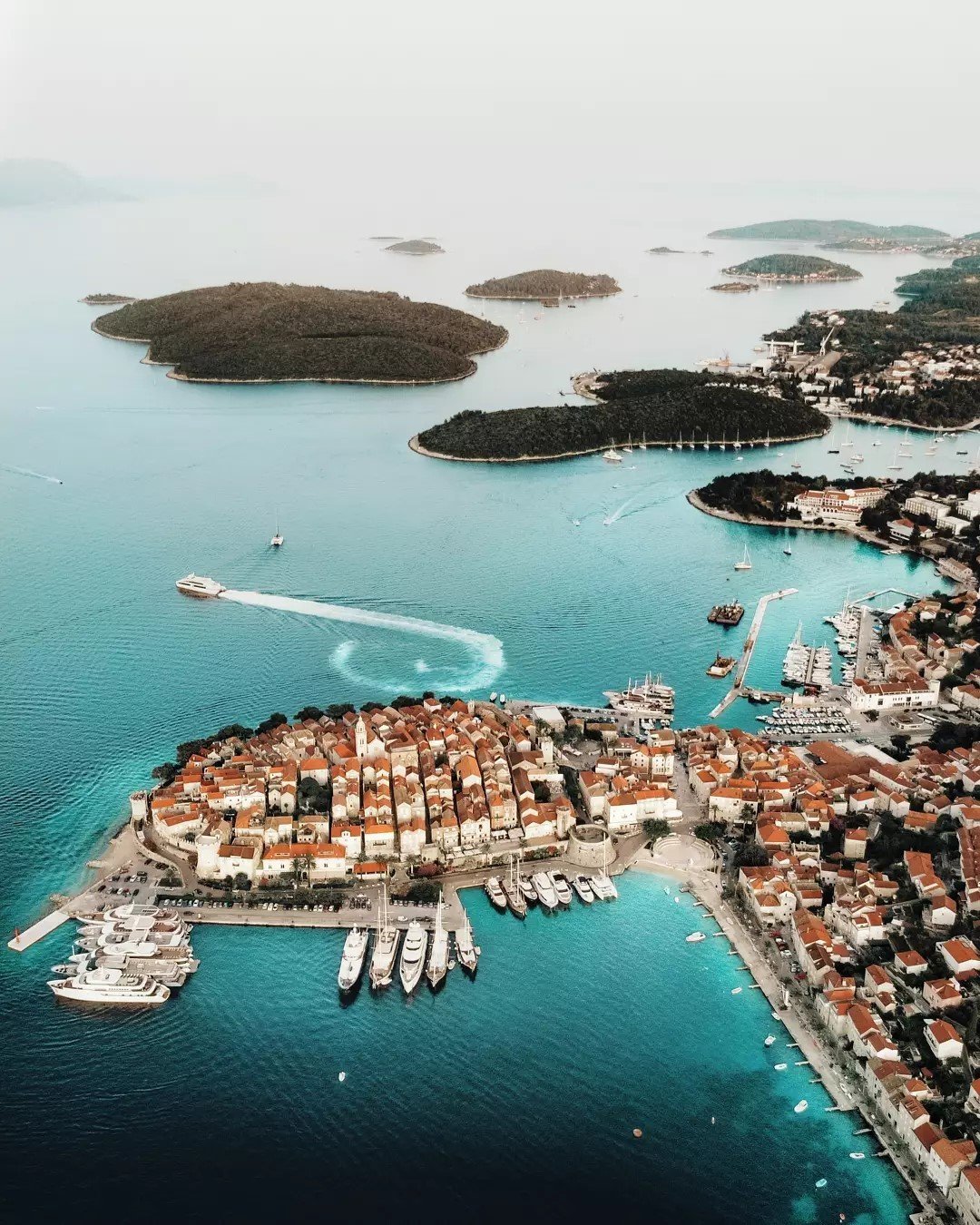 Day 3: Vis island
The third day of your yacht charter vacation can be reserved for a beautiful island of Vis – the pearl of the Split archipelago. Its beaches regularly find their place on the list of the most beautiful ones in the world.
The most famous is Stiniva beach, hidden in the bay of the same name surrounded by rocks that hide it even from passing ships. You can anchor your yacht there and snorkel around with your friends and family.
Apart from gorgeous beaches, the island of Vis hides many other attractions that will leave everyone breathless. You will surely fall in love with the lovely towns of Vis and Komiža, but also enjoy the diverse offer of restaurants and family households on the island. Visit the islet of Veliki Budikovac where there is a bay called Plava laguna.
From the island of Vis we recommend you to visit Biševo island and its Blue Cave – both adults and kids will be amazed by this natural wonder. Moreover, while chartering a yacht in Croatia you do not have to wait in long queues for entering the cave – your crew will take out the tender or kayaks and you will be able to enter it as soon as you arrive.
Day 4: Cruise around the island of Hvar
What is better than waking up each day at another location on your yacht charter holiday? On the fifth day of your yacht charter in Split, cruise to the island of Hvar or on Pakleni islands nearby, where you will have enough time to relax and refresh in the crystalline sea.
If you are a party person you will also enjoy this place – dance in the Laganini bar or the Carpe Diem club with a bottle of your favourite champagne or the best Croatian wine. This is the most popular yacht charter party place.
After the party, we recommend your cruise around the island of Hvar – the sunniest Croatian island with 2700 hours of sunshine a year. There you can explore a fortress called Fortica built in the early 16th century, Franciscan monastery, purple fields of lavender and much more.
If you decide to have your fine dining on the island we recommend a Gariful restaurant located right in front of your lovely yacht. For a night party, you can walk only one minute from your yacht and you will be in Carpe diem – one of the best Croatian nightclubs where both locals and tourists like to party.
Day 5: Island Hvar – island Brač
Have you ever heard about a beach that is changing its shape due to winds? One of the most popular Croatian beaches – Zlatni rat is located exactly on this stunning island.
The island of Brač is the largest central Dalmatian island and the third largest island in the Croatian Adriatic Sea. Surrounded by magical bays and covered with pine and cypress forests, Brač is one of the most beautiful Croatian islands, which is often covered by renowned foreign media.
Recently, Business Insider included it on its list of "100 under-the-radar islands in the world that must be visited at least once in a lifetime''.
This charming and typical Dalmatian fishing village has turned into an attractive tourist destination. You can berth your yacht in the old port and enjoy a lot of lovely restaurants and bars.
When you are ready to play with water toys your captain can take you to Lovrečina sandy beach, Osibova bay and Murvica beach. Whether you choose to ride a jet ski, snorkel, stand-up paddleboard or play with a Seabob you will truly enjoy every moment on this magical island.
Day 6: Brač island – Šolta island
If you like shipwrecks, welcome to the island of Šolta. Here, you can snorkel or dive around a stunning shipwreck named Kontesa. Let your captain take out the drone and make a lot of amazing videos and photos. Your friends will envy you on such a spectacular yacht charter vacation in Croatia.
But, the island of Šolta is not only snorkelling around shipwrecks. The island offers an interesting blend of nature and luxurious locations ideal for relaxing and enjoying life while sipping your favourite cocktail on the sundeck or resting your eyes looking at the endless sea.
On the north side of Šolta, you will find the bay Gornja Krušica which hides the most beautiful beaches on the island. Surrounded by a dense pine forest and a green-blue oasis with the cleanest turquoise Croatian Adriatic sea, it leaves everyone speechless.
Day 7: Island of Šolta – City of Split
After enjoying the view of the Split Riviera when entering the city, you can continue your journey in the beautiful Split or opt for another city on the coast.
If you stay longer in Croatia, we recommend you to visit the spectacular Skywalk Biokovo and the Krka National Park, which will delight absolutely everyone with their famous waterfalls.
TOP ANCHORAGES AND MARINAS FOR YOUR YACHT CHARTER IN SPLIT
While on a yacht charter in Split you can anchor on the most magical places ever and have an astonishing new view every morning.
On the island of Veli Drvenik, we recommend you to anchor in Blue Lagoon – Krknjaši where you will enjoy magical colours and a spectacular clean sea. This place is on the Lonely Planet list of "the most beautiful anchorages".
While chartering a yacht on the island of Biševo and exploring the Blue cave the ideal place for anchoring your vessel is in the Porat bay – this is a perfect area for families with kids.
The next amazing anchorage places are Borac on the island of Hvar where you can have a perfectly peaceful yacht charter vacation and Palmižana on Pakleni islands where you can party all day and all night.
Our favourite anchorage spots on the island of Vis are Stončica and Stiniva bays both perfect for taking out all the water toys and having a lot of fun with your loved ones.
If you want to spend a day or night in the marinas you have ACI Marina Split and its neighbour Zapadna obala (West coast), ideal for watching tourists passing by and meeting with local people.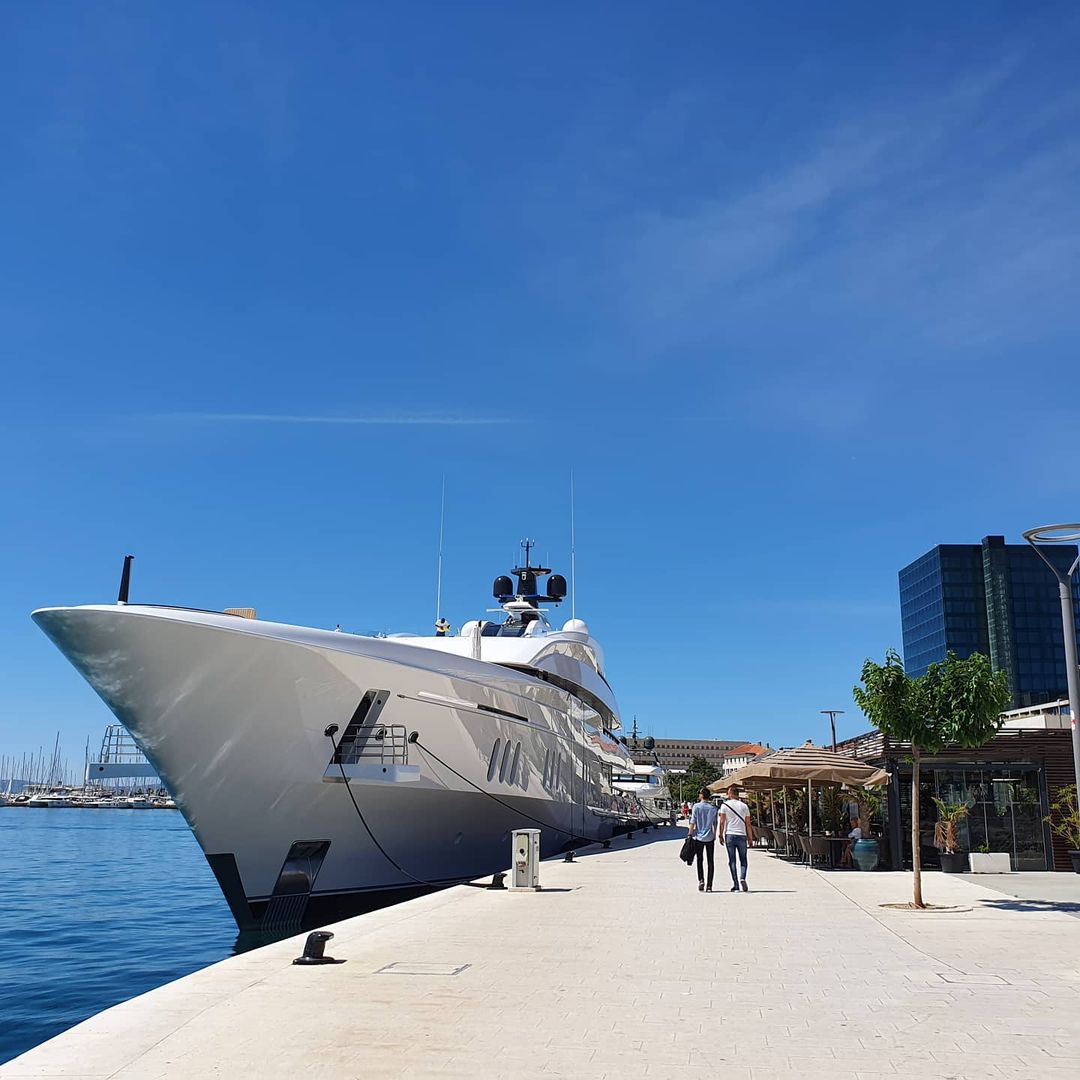 The city of Split is known for its ancient sites, but it also offers excellent shopping opportunities, ranging from high-end fashion in the city's shopping malls to one-of-a-kind masterpieces in the city's markets. Make sure to visit Green Market (also known as Pazar), located only a few steps from your yacht charter in Split, where you can buy whatever you want while chit-chatting with local people.
THINGS YOU DIDN'T KNOW ABOUT SPLIT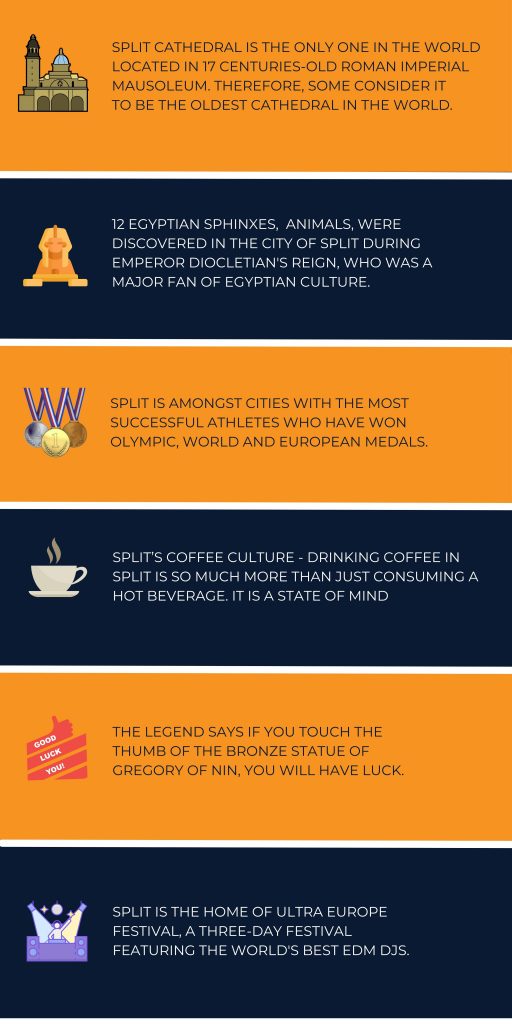 WHY CHARTER IN SPLIT WITH SUPERYACHTS CROATIA?
For the city of Split, you will need more than just one day to explore it, feel it and experience it. The rich history and amazing islands that surround it will astound both adults and kids. We can arrange for you special tours or we can recommend you the perfect itinerary that suits your yacht charter party.
Enjoy your yacht charter vacation in Split care-free and let the Superyacht Croatia team take care of everything. We will make your yacht charter vacation perfect. Moreover, since we are located near Split we can help you with anything needed at any time of the day or night.
Feel free to contact us for any food or beverages provisioning, reservations in restaurants or a few more water toys. In the middle of the season, it is impossible to get everything you want but with Superyacht Croatia you will have even more. Locals do it better, and we will do it the best!
Charter Yachts
We present to you the best selling yachts for charter in 2021. Slide through these different yachts, ranging from 20 to 80 meters in length, and choose the best option for you. If you have any questions regarding yacht charter, destinations & yacht support, contact us.
VIEW ALL CHARTER YACHTS
VIEW ALL CHARTER YACHTS