TATIANA Yacht Charter - Experience Beyond Compare, Luxury Yachting At Its Finest
The largest superyacht in our catalogue, TATIANA yacht charter offers an unsurpassed charter experience. She welcomes up to 12 guests served by a crew of 20 members, completely dedicated to every guest & their needs. The master stateroom, situated on the upper deck, has a designated spa area with a massage room, as well as an office area & a private jacuzzi, while the main deck features a home cinema room.
Her enormous beach club is just one of many stunning features of the lower deck aft, which also incorporates a swimming pool, a private bar & lounge spaces on the fold-out, hydraulic balconies. The upper deck also has a massive alfresco dining area while the main deck aft features another pool.
Built by the well-known Bilgin Yachts, she is equipped with zero speed stabilisers that ensure maximum comfort at all times. On TATIANA, you will be able to do something new & exciting every day of your charter holiday.
YACHT CHARTER ACCOMODATION
Yacht details.
Guests:

12
Cabins:
8
Yacht Length:
80 meters / 262 feet
Yacht cabins layout:
5x Double + 3x Twin
Total living area:
1.768 sq.m / 19.030 sq.ft
Yacht exterior area:
638 sq.m / 6.867 sq.ft
Yacht interior area:
1.130 sq.m / 12.163 sq.ft
Types of Cabins on This Yacht:
1x Master Suite + 4x VIP Stateroom + 3x Twin Cabin - Convertible to 3x Double Cabin
Bed Configuration & Size:
3x King + 2x Queen + 6x Single - Convertible to 3x Double
Yacht Interior Guest Areas:
Stunning Beach Club with a Bar, Lounge Areas & a Swimming Pool · Fully Equipped Gym & Sauna · Cinema Room · Main Deck Salon Area · Main Deck Dining Table · Galley · Bridge Deck Salon with a Billiard/Pool Table & a Bar · Pantry Area · Captain's Lounge · Eight Private Cabins
Yacht Exterior Guest Areas:
Main Deck Aft with a Swimming Pool & Lounge Area · Bridge Deck Lounge Area & Alfresco Dining Area · Bridge Deck Front Lounge Area · Owner's Private Deck Lounge & Sunbathing Area · Front Deck Jacuzzi & Lounge
TOP 10 YACHT CHARTER FEATURES
Yacht highlights.
1
Brand New Superyacht, Delivered in 2021
2
8 Cabin Layout - Owner's Private Deck, 4 Guest Staterooms on the Main Deck & 3 Double Cabins on the Lower Deck
3
Astonishing Beach Club with a Pool, Ample Lounge Areas & a Bar
4
Fold-Down Balcony in the Lower Deck Beach Club
5
Main Deck Swimming Pool on the Aft Deck
6
Fully Equipped Gym, Spa Room & Private Cinema Room on the Lower Deck
7
Stunning Sky lounge on the Bridge Deck with a Billiard/Pool Table & a Bar
8
Direct Access from the Main Salon to the Beach Club
9
20 Experienced Crew Members
10
Zero Speed Stabilisers for Maximum Comfort at All Times
YACHT PHOTO & VIDEO GALLERY
Charter Moments.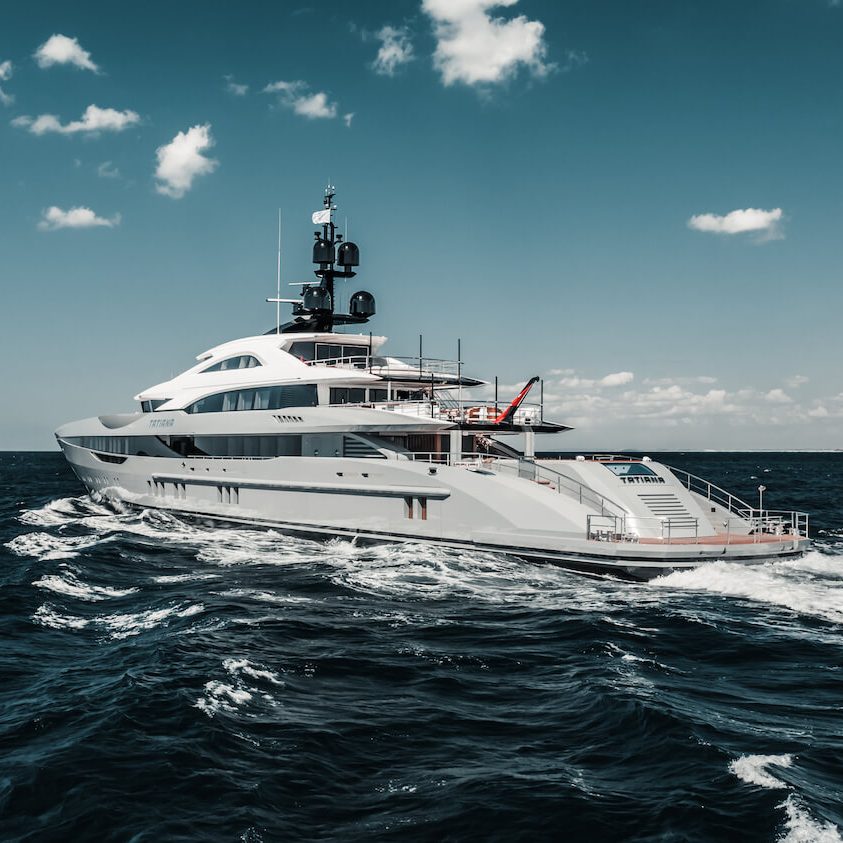 YACHT CHARTER SPECIFICATIONS
Particularities.
GENERAL INFORMATION
Length: 80.00 meters (262.6 ft)
Beam: 12.20 meters (40 ft)
Year Built: 2021
Year of last refit:
Yacht Builder: Bilgin Yachts
Main Engines: 2x 2560 Kw
Maximum Speed: 19 knots
Cruising Speed: 15 knots
Fuel Consump. Engines: 250 l/hour*
Generator Engines: 3x 210 + 1x 150 kW
Fuel Consump. Generators: 180 l/hour*
Stabilisers: At Anchor & Underway
*Highly dependent on sea conditions
LIST OF AMENITIES
All Decks Air Conditioning · WiFi Connection · At Anchor Stabilizers – No Rolling 'While Asleep' · Under Way Stabilizers – No Rolling 'While Cruising' · Cinema Room with a Private Movie Collection · All Suites With Private Entertainment Centres · Main Deck Swimming Pool · Spacious Front Deck Jacuzzi · Fully Equipped Gym & Spa Room with Sauna · Enormous Beach Club with a Swimming Pool, Lounge Areas & a Bar · Skylounge with a Billiard/Pool Table
WATER SPORTS & TOYS
2x Yamaha VX Cruise HO Jet Ski
2x Yamaha EX Deluxe Jet Ski
2x Seabob
1x Lift E-Foil
1x Electric Surfboard
2x Jet ski inflatable platform
1x Banana 6p
1x Scout Towable Tube 3p
2x Inflatable Towable Hotseat 1p
2x Inflatable Double Trouble Donut 2p
1x Triplet Towable Tube 3p
1x Double Inflatable Kayak
1x Wake board
2x Adult Water Ski
1x Kids Water Ski
4x Adult Bodyboard
2x Kids Bodyboard
12x Snorkeling & Diving Equipment
1x Water sports life jacket, gloves & helmet in different sizes
1x Rashvest for adult and kids of different size
TENDER VESSELS
Castoldi Jet 25, 7.5m Tender Boat (Included)
Castoldi Jet 18, 5.68m Tender Boat (Included)
Axopar 37, 12.5m Chase Boat (Optional)
FULL YACHT CHARTER REVIEW
Inspected by Us.
Climb aboard TATIANA, one of the biggest yachts for charter in the Croatian Adriatic and have an adventure of a lifetime. Built by Bilgin Yachts, TATIANA offers the highest echelons of luxury for the true yacht connoisseur; she is also a not-to-be-missed chance to charter a yacht that is brand-new, since her maiden voyage was at the beginning of 2021.
TATIANA`s upper-tier approach to superyacht charter standards reflects in everything this luxury yacht has to offer, starting with her high-tech amenities, wonderful facilities, engineering feats and stylish interior.
Her 80 meters of length makes TATIANA the largest yacht to be built in Turkey to date, with a classical grey colour palette that helps her exterior blend into the horizon. This superyacht`s bulkier hull and incredible length enable her to super-size the deck spaces, both in the interior and the exterior. TATIANA`s superstructure profile truly is one-of-a-kind, with streamlined curves, smooth lines and sleek surfaces that are considered to be trail-blazers in naval architecture.
This divine behemoth is also an environmentally-conscious superyacht: while TATIANA is in her eco-friendly cruise mode, she can move at 12 knots and consume about 250 litres of fuel, the same level of consumption the yachting community has been used to on 40-meter yachts until now. Her enviable eco-friendly credentials grant this superyacht all the necessary classifications and certifications for a 100% clean air exhaust system, with a range of 7,500 nautical miles.
Turn precious moments into long-lasting memories on TATIANA yacht charter.
TATIANA`s designers made sure that every inch of interior space got as much natural light as possible, by putting in plenty of window surfaces, that create a wonderfully inviting, bright and airy interior. Her decor incorporates luxurious materials like Macassar ebony, Italian marble and Asian eucalyptus to create a timeless atmosphere that is both elegant and comfortable. You will feel like you are in ecstasy, with your every sense tingling from tactile and visual stimuli.
The interior design was done by the highly-distinguished H2 Yacht Design studio, who made sure there were no cutting corners when it came to luxury features expected of a yacht of her size, like the unavoidable jacuzzi, but also twin swimming pools, a gym, a hammam, a massage room and a cinema room. With all these features, your superyacht charter holiday will surely bring you closer to heaven than you have ever been.
Timeless styling, beautiful furnishings and sumptuous details create an elegant and comfortable atmosphere…
She also has a sky lounge, themed as a sports bar and equipped with a pool table and a piano, as well as an owner's study. You will be able to relax while listening to professional musicians or do some unexpected work in peace, privacy and silence. An interesting feature of the Masters`s deck is the salon, which can be converted into an additional cabin, very close to the master stateroom. This arrangement is excellent for having your children close by, but letting them have their own space too.
Guests can take advantage of an elevator when moving around decks.
A totally unique feature of TATIANA`s layout is that every guest can access the fantastic beach club directly from the salon on the main deck, which enables free-flowing guest movement. This characteristic definitely sets her apart from the rest of the similar charter yachts on the water.
TATIANA`s beach club is a place where close connections to the sea are formed, with the help of a large swimming platform and hydraulic side platforms, expanding the beach club even further into the sea. An incredible 9-meter swimming pool is placed in TATIANA`s lower deck aft, making it a highlight of this superyacht`s charter offer.
TATIANA yacht charter can take in 12 guests in eight luxurious cabins, consisting of an entirely private Master`s deck, two VIP staterooms, two double cabins and one twin cabin. An incredible crew of 20 able-bodied sailors guarantees safe and smooth cruising, excellent service and an avid level of professionalism when it comes to providing a fantastic superyacht charter experience.
The crew-to-guest ratio on TATIANA yacht charter is such that on average, there are 2 members of the crew per one guest. This means a higher standard of personalized service for every guest on board, making it a truly unique luxury charter
Being so richly equipped with all kinds of fun and practical gadgets and amenities, TATIANA yacht charter really does suit all types of charter groups, providing tailor-made charter experiences, from active luxury vacations, wellness and spa holidays, gastronomic cruises and more.
A DAY ON THE YACHT
Wake up after sleeping flawlessly on TATIANA yacht charter, knowing that having such a grandiose superyacht charter all to yourself offers countless opportunities to live your life to the fullest. Your luxury charter experience will be curated from the minute you open your eyes and find yourself in the totally private Masters`s deck, asking yourself where do you want breakfast served.
Consider having breakfast on the bridge deck aft, taking advantage of a beautiful shimmering sea and faint islands in the distance. Enjoy the panorama half-covered with a thin veil of dissipating heat rising above the surface of the sea, beckoning travellers to explore and discover Croatia.
You could also enjoy the most important meal of the day on the upper deck aft. Sip your morning coffee as a swift cloud passes over the sun, creating a sudden shadow, which completely changes the colours of the sea for a brief moment. Be amazed by this angelic sight and feel the serene atmosphere of the Croatian Adriatic.
Looking back to your table, a wonderfully arranged breakfast offers a rich choice of classical breakfast-buffet items, like freshly-made savoury or sweet pastry, lots of fresh fruit of all shapes, sizes and types, freshly-grounded coffee, premium tea and milk, either dairy-based or plant-based, as well as Croatian breakfast meats combined with olives, native cheeses, and excellent local olive oil. Enjoy your breakfast as you plan for days ahead, wondering what you could experience on your superyacht charter holiday in Croatia.
After breakfast, choose lounging in the lower deck, enjoying the wonderfully-appointed beach club and its swimming pool. Afterwards, book an appointment with one of the members of the crew for a fantastic spa and wellness treatment.
Relax with full-body massage therapy, then go for a quick hammam session, before jumping in the crisp blue Adriatic from the hydraulic passerelle that doubles both as an observatory and a springboard for high leaps into the sea. Experience a refreshing swim as you feel your pores clearing out and the stress of everyday life leaving your body.
As lunchtime approaches, let your dedicated crew set up the alfresco dining table on the bridge deck aft, where you will enjoy delicious mouth-watering delicacies made by a team of Michelin-level chefs for the singular purpose of your enjoyment.
Wrap your lips around a paprika, tomato and red pepper salad, followed by thyme-roasted chicken with fennel & rosemary and roasted sweet potatoes. Continue with grilled chicken breasts with steamed rice, soy sauce and wok-fried cauliflower and broccoli, finishing off with a lemon, lime and strawberry granita with a mango sorbet for dessert.
After lunch, spend some time in the excellently-appointed sky lounge, where you can play an exciting game of pool. Line your shots with an incredible background of the beautiful Adriatic panorama. Play against the people from your charter party or from the members of the crew; you could even ask your expert crew to organize a tournament. The loser has to sing one song after dinner, accompanied by a professional pianist, as a part of the evening's entertainment.
After playing pool, switch gears and sit at the games table; ask one of your hard-working crew to deal blackjack or poker. Or get into a relaxing game of chess. TATIANA yacht charter has it all, and only for your pleasure and enjoyment. If you are more into relaxing with a favourite movie or show, head on over to your superyacht charter`s cinema room, for a unique yacht movie experience.
Lie back on incredibly comfortable sofas and feast your eyes on a razor-sharp image and surround sound quality comparable to IMAX cinemas. Do all of these things before getting ready for a themed dinner party on the bridge deck aft. A formal dress code will perfectly suit the entertainment your dedicated crew has planned for this evening.
First, enjoy dishes that your hard-working chef lovingly prepared, like a spinach, sesame and lemongrass salad with parsley oil, followed by crumbed prawns with cherry tomatoes, baby spinach and parmesan. Continue with a sea bass fillet paired with basil, steamed vegetables and black pepper and finish with a chocolate fudge tart with white chocolate syrup drizzle for dessert.
Then, retire to the sky lounge to enjoy a special musical evening, perfect for post-dinner cocktails and a cigar. Taking full advantage of TATIANA`s amenities, your knowledgeable crew hired a pianist and a soprano vocalist, so they could perform a heavenly duet.
Magnificent music will fill your ears with bliss, making you enter a state of pure relaxation, surrounded by magnificent Croatian nature on the outside and TATIANA`s comfortable design on the inside. After performing some of the more popular musical notes, the artists will bid you goodbye, so you could continue with your superyacht charter soiree.
Grab a change of clothes so you and your charter party could continue your gathering in a more informal setting, either near the main deck alfresco pool or the beach club pool. Ask your crew to open the transom door, so the beach club could transform into an open area, with a view of the endless sea from a warm and enclosed pool. Let your dedicated crew serve drinks and snacks, as the evening rolls over midnight.
With some of your guests tired and ready for bed, you declare an afterparty on the Master`s deck, making full use of the private jacuzzi on the Master`s private bow terrace. Completely cut off from any intrusions, a stunning view of the black night sea and the starry sky above create a wonderful contrast, that is even more beautiful if you watch it form a warm jacuzzi on a superyacht charter like TATIANA.
YACHT CHARTER DINING
An excellent team of chefs will have more than enough room and auxiliary kitchen appliances to prepare every meal in sumptuous style and unseen glamour in TATIANA's spacious galley. Making sure that every bite is its own piece of paradise, a team of professional chefs will create meals that will astonish and dazzle all your senses.
So many wonderful dishes and so many different cuisines will all blend into one singular gourmet experience that will tingle all your senses and leave you craving for more.
Dishes like a green garden salad with lemon, pomegranate and lentil, followed by lemon-pepper chicken wings with crispy red onions and spicy prawns with home-made Croatian noodles, finishing off with a lemon cake with a banana and chocolate syrup for dessert.
No one will find it strange or hard to believe that you will constantly want more from your chefs, who will delight you with an unlimited number of Michelin-level delicacies, enticing you to finish every meal down to the last crumb, but always wanting more.
Every dish you taste will be unique and special, inspired by local recipes but with a Michelin twist, like avocado and rucola salad, pan-roasted sea bass with pea puree and fresh tuna marinated in garlic, lime juice and parsley, with asparagus rice-cakes.
For dessert, you can enjoy a ripe mango with grapefruit and lime sorbet or a hand-made vanilla ice cream with a classic tiramisu. Prepare to experience only the most fantastic culinary delights, made by a whole host of chefs and sous chefs, ready to please your taste buds on levels not reachable by similar establishments on land.
Place yourself in the capable and expert hands of your galley team, so you could experience all the incredible benefits of professional 5-star luxury cooking aboard TATIANA yacht charter.
YACHT MAIN DECK
When guests arrive on the main deck aft, they can either choose to continue forward in the interior salon or to explore the alfresco experience of the main deck aft. Opting for the latter, you could go for a quick swim in the swimming pool, centrally placed on the aft and surrounded by huge sun pads on both port and starboard sides.
With its 8.5 meters in length, the main deck aft swimming pool offers spectacular chances of cruising in the beautiful Adriatic sea on a higher level of luxury than on any other superyacht in the Mediterranean. A big C-shaped sofa lounge arrangement borders on the front side of the pool, facing the bow and a seating bar with 4 barstools.
YACHT CHARTER ACCOMMODATION: MAIN SALON & DINING AREA
Moving into the interior, guests arrive in a marvellous main deck salon… A centrally placed lounge area is both gorgeous and huge, with a pair of wide coffee tables surrounded by double lounge sofas and four separate and movable chairs. Here, you can relax with cocktails prepared by your loving crew or watch TV, read a book or take a quick afternoon nap.
Across the lounge set-up and divided by a pop-up TV island, is a stunning 16 person dining table, absolutely magnificent and breath-taking, decorated by a custom-made crystal chandelier. The dining table coupled with the chandelier will elevate your fine dining experience into the highest echelons of luxury.
To port, a crew door leads to the main deck pantry and the industrially-equipped galley, equipped with every kitchen gadget needed for an all-inclusive Micheline-level culinary adventure. To starboard is a hallway that leads to 4 guest cabins located on the interior main deck.
A day head placed along the way ensures guests do not have to return to their cabins for basic hygiene, while a lift in the foyer, along with the stairs, makes TATIANA yacht charter wheelchair accessible, meaning that she is truly a yacht for all people.
The staircase is beautifully decorated, using polished stainless steel details, mirrors, glass surfaces and crystals to create an interdependent game of reflecting light and shadow. This magnificent stairway connects all the decks, parallel to the fully-functioning lift, which makes guests feel as if they were staying in the Hilton Hotel in New York.
Yacht Charter Accommodation: The VIP cabin
Two VIP cabins are all located on the main deck, boasting queen-size berths and floor-to-ceiling windows which provide unbelievable panoramas of the beautiful Croatian Adriatic Archipelago while TATIANA slowly cruises in some of the cleanest waters on the planet. Earthly colours create a grounded atmosphere, while the big windows enable a thousand different tones of blue to enter the cabin and overflow it with natural light.
Your guests will feel the luxurious tactile pleasures of silk sheets, wool carpets and marble flooring, while also experiencing a modern and sophisticated atmosphere. All the VIP en-suites are decorated using marble, with double sinks and a bathtub with a shower. Your guests can feel like Roman emperors while doing their morning routines, surrounded by luxurious marble and stone.
YACHT BRIDGE DECK
Starting from the aft of the bridge deck, a smartly designed lounge offers guests a chance to enjoy pre-dinner cocktails before sitting at a stylishly decorated dining table, for a fantastic alfresco dining experience. You will simply adore eating Michelline-level food under the starry Croatian sky.
Stepping inside, an excellently-appointed sky lounge will astound, enticing you to spend every free moment of your evening in this marvellously decorated space, filled with amenities and high-tech features.
An absolutely fantastic circular sofa makes sure that every guest has somewhere to sit and enjoy either a talented individual playing on the piano or people matching their skill on the centrally-placed billiard table. The warm interior is decorated by Macassar veneer and light eucalyptus, combined with top-quality marble to produce an atmosphere fit for lounging and relaxation.
During the day, the artwork chosen to further accentuate the stylish atmosphere really complements the tons of natural light coming in through big windows on both sides, or the subtlety integrated artificial lighting. Beige colour tones, combined with azure blue patterns, polished surfaces and mirrors invite the outside in.
Electrically powered and operated canvas shades enable guests to shut off the noon sun on the bridge deck, if they so choose. A double-bar island acts as a divider between the entertainment area and the stairway placed amidship. Another day head ensures guests do not have to make the long trip to their cabins so they could wash their hands before an alfresco dining experience.
YACHT MASTER DECK
The Master deck is an innovative and brilliant addition to an already fantastic superyacht. One floor above the bridge deck, you can find yourself in a totally private deck, dedicated entirely to a sumptuous and glamorous lifestyle.
Choose living life to the fullest and start from the aft: an O-shaped island sofa complements the rest of the private aft terrace furniture, made out of a coffee table, parallel sofas in the centre and a small circular table and 3 chairs, for enjoying coffee in the morning or a nightcap while starring in the beautiful Adriatic distance.
Stepping inside, a marvellous king-size berth has the benefit of a wonderful aft view, providing a magnificent panorama. Your captain will constantly have this view in mind, always turning TATIANA yacht charter to face the appropriate cardinal direction, so as to provide you with the best sunsets or sunrises in Croatia. The tones and colours used, primarily white, grey and gold, illustrate the exclusivity and luxury of this marvellous suite.
To port is a single day bed, nestled closely near a window and providing a perfect place to read your favourite book with a view in the background; there is even a designated sitting area for meals and beverages. Continuing forward, to port is a day head and to starboard is a U-shaped sofa arrangement, excellent for relaxing in a conversational surrounding.
The centre of the interior space is reserved for the ensuite, wonderfully decorated in white marble. You can genuinely feel the coolness of the marble lowering the temperature in the ensuite, an ideal property to have on hot summer days. A separate rainfall shower and a jacuzzi bathtub both offer options for relaxing in hot water, before getting ready for dinner under the stars.
Continuing onward, a port sofa and a starboard walk-in closet lead guests to the private salon, overlooking the bow terrace. Guests can enjoy wide windows which give a 270-degree view of TATIANA`s surroundings and her cruising destination and path. Stepping outside, the marvellous private terrace is covered with teak and encircled on all sides by sofas and a large sunbed to starboard.
This open space can be used for a variety of purposes, from doing yoga, exercising with a private coach using TATIANA`s gym equipment or simply sunbathing and enjoying a totally private tanning experience. And the coup de grace is definitely the forward-facing owner deck bow jacuzzi. This feature is a cherry-on-top of a superyacht that is certain to leave an unerasable mark on the yachting world for decades to come.
Every primary charter guest has only praises for this totally private bow jacuzzi. Ask your crew to set up a romantic atmosphere, complete with candles, rose petals, Belgian chocolate and champagne, so you could spend an intimate evening with your loved one or just relax in private, just you, TATIANA and the starry sky.
YACHT LOWER DECK
Located on the lower deck are a well-appointed gym area and the yacht cinema, with accompanying two double cabins and one twin cabin. Avoiding design clichés, TATIANA`s lower deck has an attitude that will dominate the yachting industry for years to come, making her a true trail-blazer for luxury superyachts, when it comes to deck layouts and interior decor.
The gym onboard TATIANA yacht charter features a running machine, a rowing machine and multiple weights. This is a perfect place if you want to spend your superyacht charter holiday being active or working on a particular part of your body with a professional fitness coach. If you get hot, jump straight into the refreshing Adriatic and continue your workout straight away.
The cinema room uses smart artificial lighting, to create two separate atmospheres. One light setting transforms the cinema room into a gold and black private viewing room with an exclusive vibe, suited for viewing any kind of film or show.
The other light setting bathes the room in silver glass, with azure and aquamarine overtones, suiting a more serene and peaceful vibe. An enormous flat-screen TV adds to the experience of a sophisticated enjoyment of blockbusters, Netflix series or documentaries about Croatia
When it comes to accommodations, each cabin on the lower deck has its own en suite, including a day head in the foyer which connects the cabins with the gym and the cinema. TATIANA`s lower deck interior design is rich and sumptuous in feel, with stone and marble used extensively throughout the interior, to create a sense of sturdiness and stability.
Yacht Charter Accommodation: The double cabin
The double cabin features an exclusively white theme, with faint traces of light blue. Polished details and some narrow surfaces reflect everything in black, to create an impression of contrast and dynamicity. Light and bright modern furniture produces an exquisitely-soothing atmosphere, both tranquil and serene.
Beneath the queen berth is a fantastic piece of furniture that expands the bed`s length, making it seem longer and bigger. The ensuite uses marble and light colours that invite guests for a relaxing hot shower, before continuing with their charter activities on TATIANA.
Yacht Charter Accommodation: The twin cabin
TATIANA`s twin cabin could easily pass for a master suite on smaller yachts. With masses of walk-around space, the two twin berths are queen-sized and covered with soft silk linens. The carpet beneath is made from cotton and wool, with irregular patterns that accentuate the orange marble headpiece above the twin berths.
You will feel as though you are walking on soft clouds every time you step into TATIANA`s twin cabin. Two nightstands provide immediate storage for all the everyday necessities, while 2 huge windows offer a spectacular panorama and illuminate the whole space with ample of natural light.
YACHT BEACH CLUB & SWIMMING PLATFORM
Arriving on TATIANA yacht charter, you first must pass her grandiose swimming platform and exterior beach club area. Once aboard, this magnificent superyacht charter can reveal the first of her many secrets that are sure to spice up your luxury charter holiday in Croatia. Only several meters will stand between you and the Adriatic, so you will always have a sense of bringing the outside in, like never before in the yachting universe.
The transom door opens to reveal an incredible 9-meter swimming pool, spanning the majority of the beach club and connecting guests to the sea in a way not yet seen on luxury yachts.
Here you are sure to experience many marvellous moments of pure bliss, with TATIANA`s underwater lights illuminating the evening surface of the sea. Swim in the pool with a fantastic view of the Croatian Adriatic sea – even if it's pitch black, you will still enjoy spectacular panoramas.
Observe the illuminated water from your warm pool, feeling like you are in the sea, but enclosed by TATIANA`s warm embrace. The pool in the beach club is placed directly above the pool on the main deck aft.
With the help of a glass bottom, the main deck aft pool contributes to the atmosphere of the beach club with the summer sun dispersing between the water on the main deck pool and breaking into a million fantastic patterns in this wonderful area. This feature only serves to further accentuate the intricate game of light and shadow in the beach club, creating a totally unique atmosphere.
The dedicated spa and hammam area are sure to fulfil and bring together the awesome space of the beach club. If you decide to go for an evening swim, it is good to know that you have an option of instant warmth, in the form of a hammam.
If you are more into relaxation, why not have your crew organise a private massage therapist, for relaxing massage? Combine all three features to experience a truly glamorous superyacht charter holiday. The hydraulic hull terraces on both port and starboard further extend the beach club into the sea, providing guests with a chance to form a connection with the surrounding nature like never before.
Do all of this and more on TATIANA`s beach club and swimming platform, all the while being served with hand-made cocktails, chilled champagne and Michelin-level canapes, by your hard-working charter crew.
YACHT WATER TOYS & WATER SPORTS
TATIANA yacht charter has 2 tenders on demand for a whole army of towable and inflatable toys, including two inflatable donuts, one towable tube, one wakeboard, three pairs of waterskis and two inflatable hot seats, with an added bonus of one double inflatable kayak and a 6 person banana.
Kids are the first to fall in love with this army of inflatable water toys, and they will not want to leave the water until they are completely exhausted by being towed on the sea, by members of your competent charter party. Rest assured, each member of the crew will keep the safety of your and your charter party as their highest priority.
Also for your considerations are two Yamaha jet skis and an accompanying jet ski inflatable platform, so you can swap the jet skis instantly, with other members of your charter party. Fly over the waves with the jet skis or race with your friends and family. A fun idea is to do several laps around TATIANA yacht charter, while the captain honks the horn for the beginning of the race.
There are also tons of auxiliary equipment, for improved enjoyment of water toys, like diving and snorkelling equipment, life jackets, flotation devices, gloves and helmets in all sizes. These will allow guests to fully immerse themselves in the magnificence of the Croatian Adriatic seabed, discovering sunken ships, coral reefs and spectacular underwater canyons. These excursions under the surface of the sea will also be helped by two fast-charging Sea bobs.
For guests who want to try something new and exciting, TATIANA yacht charter also offers high tech toys, like a Lift-e foil and an electric foil.  This way of moving through water is relatively new in the yachting and water toy industry, making it a toy most charter guests want to try out at least once. The experience of riding a foil board is similar to surfing, but without any waves needed; it is also much easier to learn than traditional surfing.
The main point of the toy is that, once you develop sufficient speeds, you lift above the surface of the sea and surf without touching the water.
YACHT CHARTER CREW
At Your Service.
CAPTAIN
Lars Højegaard
Lars comes with over 40 years of experience including 15+ years as a large yacht Captain. During this time, he has acquired extensive knowledge and skills through worldwide cruising on commercial, offshore and luxury private and charter yachts. As the son of a Captain, he was born with a passion for the sea and is dedicated to inspiring, motivating and being a hardworking Captain. Lars loves meeting guests from around the world whilst keeping the utmost professionalism and positivity on board.
CHEF
Alexandros Martzoukos
Alexandros hails from Corfu, Greece where he trained as a sous chef in a Michelin star restaurant under the guidance of famous chef, Ettore Botrini. This is where he refined his skills in the culinary arts, transforming them into his passion. Sourcing the right ingredients and produce, Alexandros is proud of his ability to always think outside the box when presenting meals. He is a true artist who makes magic happen with his team in the galley, whilst retaining an incredibly positive demeanour and his warm Greek charm.
CAPTAIN
CHEF
SOUS CHEF
FIRST OFFICER
SECOND OFFICER
CHIEF STEWARDESS
STEWARDESS
2ND STEWARDESS
STEWARDESS
STEWARDESS
MASSEUSE
BOSUN
DECKHAND
DECKHAND
DECKHAND
DECKHAND
CHIEF ENGINEER
ENGINEER
SECOND ENGINEER
THIRD ENGINEER
SIMILAR YACHTS FOR CHARTER
By Charter Rate.
Soundwave
The Ultimate Choice For Your Yacht Vacation in Croatia
from: 650.000 €
per week
LET'S GET IN TOUCH TODAY.
Contact us.