Photo Credit to mislaw from Shutterstock
Yacht Charter in Vis
After you charter a yacht in Croatia, head straight towards the island of Vis, where you can visit the unique Stiniva bay, hidden by impressive cliffs or snorkel in the one-of-a-kind Blue Cave. You can also expect to dine on exquisite lobsters plucked straight from the sea on your yacht charter in Vis.
Charter a yacht in Vis, one of the most secluded islands in the Croatian Adriatic Sea, meaning you will enjoy complete privacy and an insanely high amount of sunny days. Cruising conditions on Vis are ideal, with many different natural phenomena ready to explore.
Opt for an unforgettable yacht charter holiday in the most beautiful island group in Croatia. Discover picturesque towns full of history and enjoy untouched nature and countless crystalline bays. This island is also the farthest inhabited island in Croatia.
Apart from that, Vis is home to the world's smallest town – Hum, which stands 587 metres (1,926 feet) above sea level. Use the help of your charter crew to reach Hum and observe the otherworldly vistas of the seascape and your yacht charter.
Visit the unique Stiniva, a bay hidden by impressive cliffs, snorkel in the Blue Cave or dine on lobsters, plucked straight from the sea.
Moreover, you will get a chance to experience abandoned submarine tunnels, enjoy thrilling scuba diving around sunken ships and aircraft or tour antique towns filled with remarkable architecture and unspoiled nature.
The SuperYachts Croatia team will make sure you get to see all the secret spots that only local experts know about, enabling you to have unique yacht adventures in Vis, filled with one-of-a-kind experiences and memories that will last a lifetime!
Keep reading to discover what we have in store for your yacht charter in Vis…
WHY CHARTER IN VIS
Charter a yacht in Vis and discover a place full of outstanding natural beauty and rich history. Unlike Hvar and Brač, this island is not a popular destination, which means you will enjoy privacy without swarming summer crowds.
You will be able to explore the world's smallest town of Hum and witness spectacular vistas from the highest point of the island, all the while enjoying hiking and cycling adventures under the shade of pine trees in the island's hinterland.
Apart from that, this island is full of spectacular snorkelling and diving spots, and numerous awe-inspiring bays where you can appretiate all the perks of your luxury yacht charter in Vis.
Near Vis, you will discover the spectacular Blue cave, located on the islet of Biševo, which is also home to 25 extra sea caves. Swim in crystalline waters underneath impressive cliffs in Stiniva bay or dive to witness a sunken B52 " Flying Fortress" aircraft.
On your yacht charter in Vis, you will also get a chance to feel like a star in a Hollywood movie, dining in the restaurant where the iconic Mamma mia! Here we go again! was filmed.
Furthermore, the Vis archipelago is the most beautiful island group in the Adriatic Sea, and a part of the UNESCO Geopark list. Prepare to enjoy countless natural phenomena and unique charter experiences just a brief cruise away from Vis island.
Your local yacht brokers in SuperYachts Croatia will make sure you tour only the best locations, witness the most impressive natural phenomenon and dine in top-notch restaurants.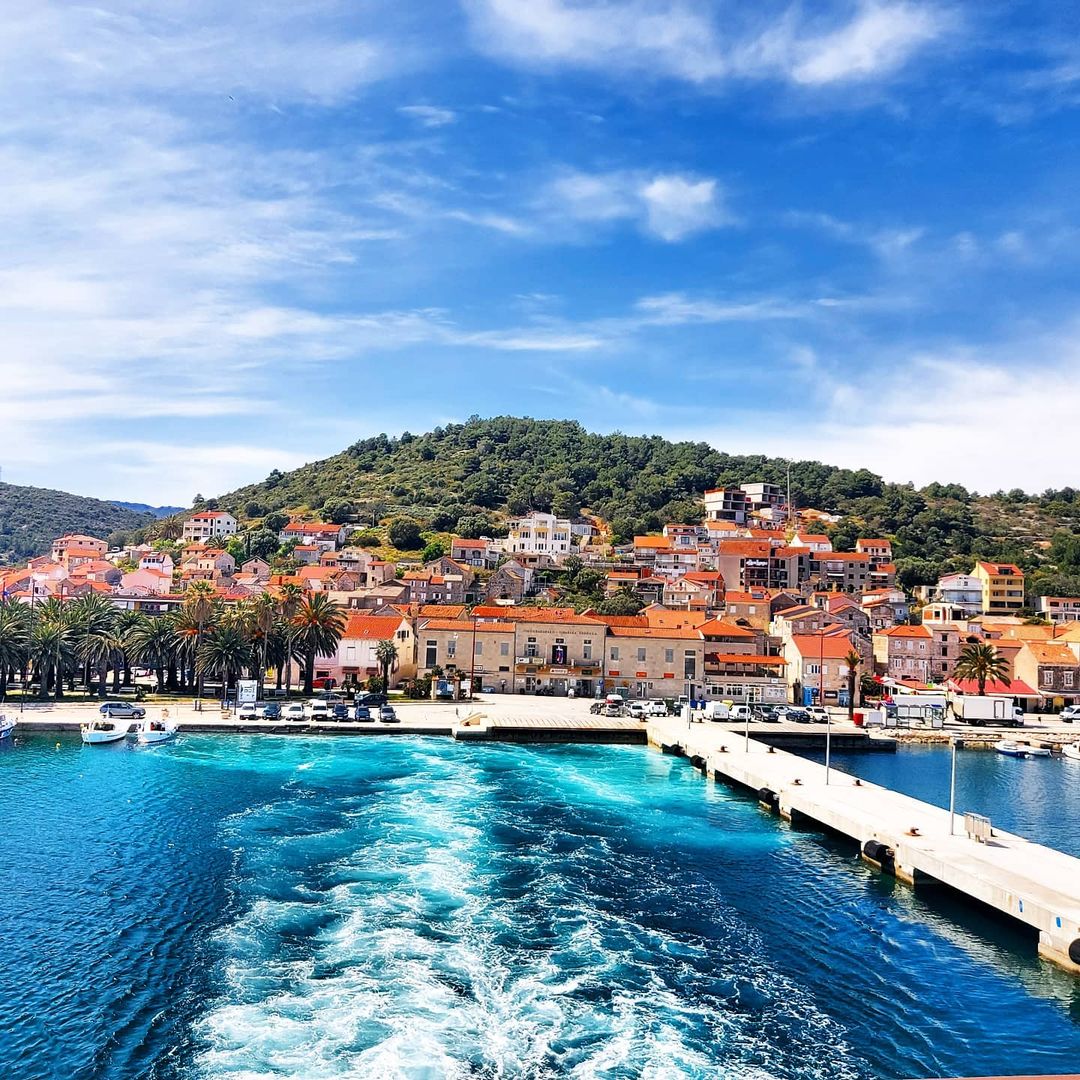 WHEN TO CHARTER IN VIS
We recommend you charter a yacht in Vis in the high season, between the months of July and August, since the island of Vis is remote and not as accessible as the other islands closer to the mainland. This means you will get to enjoy the perks of your yacht on an island filled with untouched nature and crystalline waters, but without the summer crowds.
During the main summer season, the island becomes a true oasis for yacht charterers. Although the yachting season in Vis starts in April and lasts until November, temperatures are ideal and the sea is warm during the entire summer, which is perfect for all kinds of yacht charter activities.
If your schedule does not permit chartering a yacht in Vis from June to September, do not worry, even in the shoulder season, booking a yacht charter in Vis will be an extraordinary experience.
The air temperature during the summer is somewhere between 25 C° (77F) – 30 C° (86F)  and the sea temperatures are around 20C° (68F) – 25C° (77F).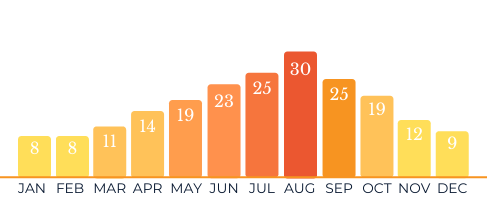 The SuperYachts Croatia team will create a completely tailor-made itinerary that will suit your preferences and needs on your yacht charter in Vis.
HOW TO GET TO VIS
If you are arriving by private aircraft, you can fly to the airport located on the island of Brač. Apart from that, there are two airports in the proximity of Vis; Split airport and Zadar airport.
The SuperYachts Croatia team can arrange a VIP transfer with a limo, an SUV, or another vehicle of your choice, from the airport and straight to your yacht charter in Vis. Moreover, Split airport is well-connected and provides direct flights to and from Europe all year round.
SuperYachts Croatia can also organise every step of your vacation like procuring aeroplane tickets, a chartered jet, a helicopter (if your yacht has a helipad) a limo, a Mercedes, a Porsche, a Range Rover, a Rimac, a Tesla or an Audi.
If you want to board your yacht charter in open water, various boats and tenders will be ready to transport you from the mainland to your yacht. On the other hand, if you are a fan of driving, you will enjoy scenic roads in Croatia, like the A1 highway or the iconic Jadranska magistrala road.
SuperYachts Croatia team can make every solution possible; we will make sure your car is safely parked in our private garage and that you are safely transferred to your yacht charter in Vis.
Due to its superb maritime location and distance from the coast, this island is perfect for yacht lovers who want to enjoy unspoiled nature and get away from brimming crowds. Vis is easily reachable with your yacht charter from all sides of the island, and it is a very popular summer destination for yachts from Italy.
The port of Vis is in a mile long and naturally protected bay of Sv. Juraj, which is sheltered by the Prirovo peninsula, famous for the remains of ancient Roman baths.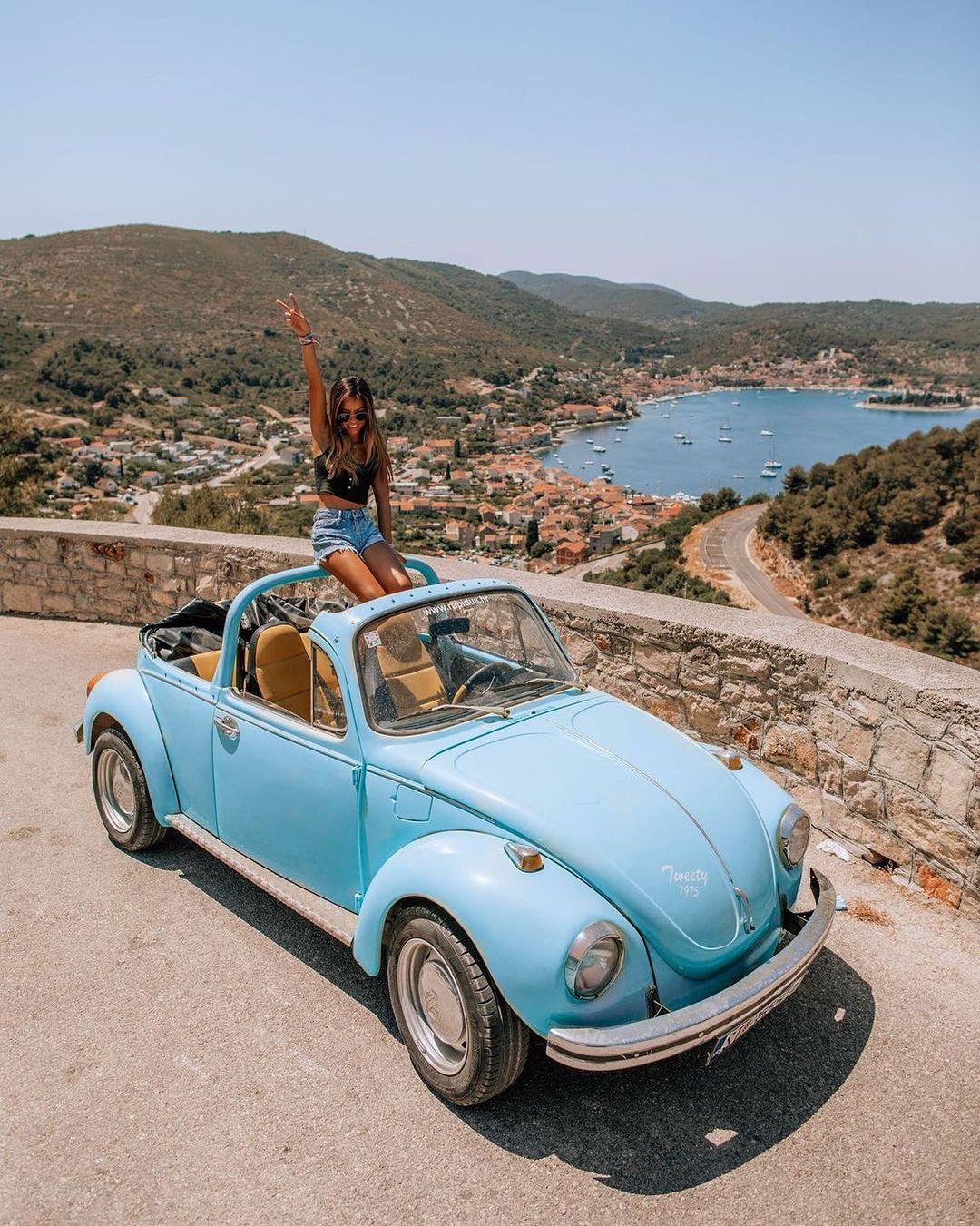 PERFECT ACTIVITIES FOR YOUR YACHT CHARTER IN VIS
Visit the oldest city in Dalmatia
Once you arrive on your yacht charter holiday in Vis, take a relaxing stroll through the historical alleys of the ancient Greek settlement Issa. This ancient Greek settlement is known today as the town of Vis, which is also the oldest established town in Dalmatia, founded in 397 B.C.
History lovers should visit the Archaeological museum in Vis ( located in a 19th-century Austrian fortress) that keeps a collection of over 600 Greek amphoras and a bronze head of the Greek goddess Artemis.
Besides that, you can also visit the remains of the original Greek settlement, below the Gradine hill, on the north side of the island.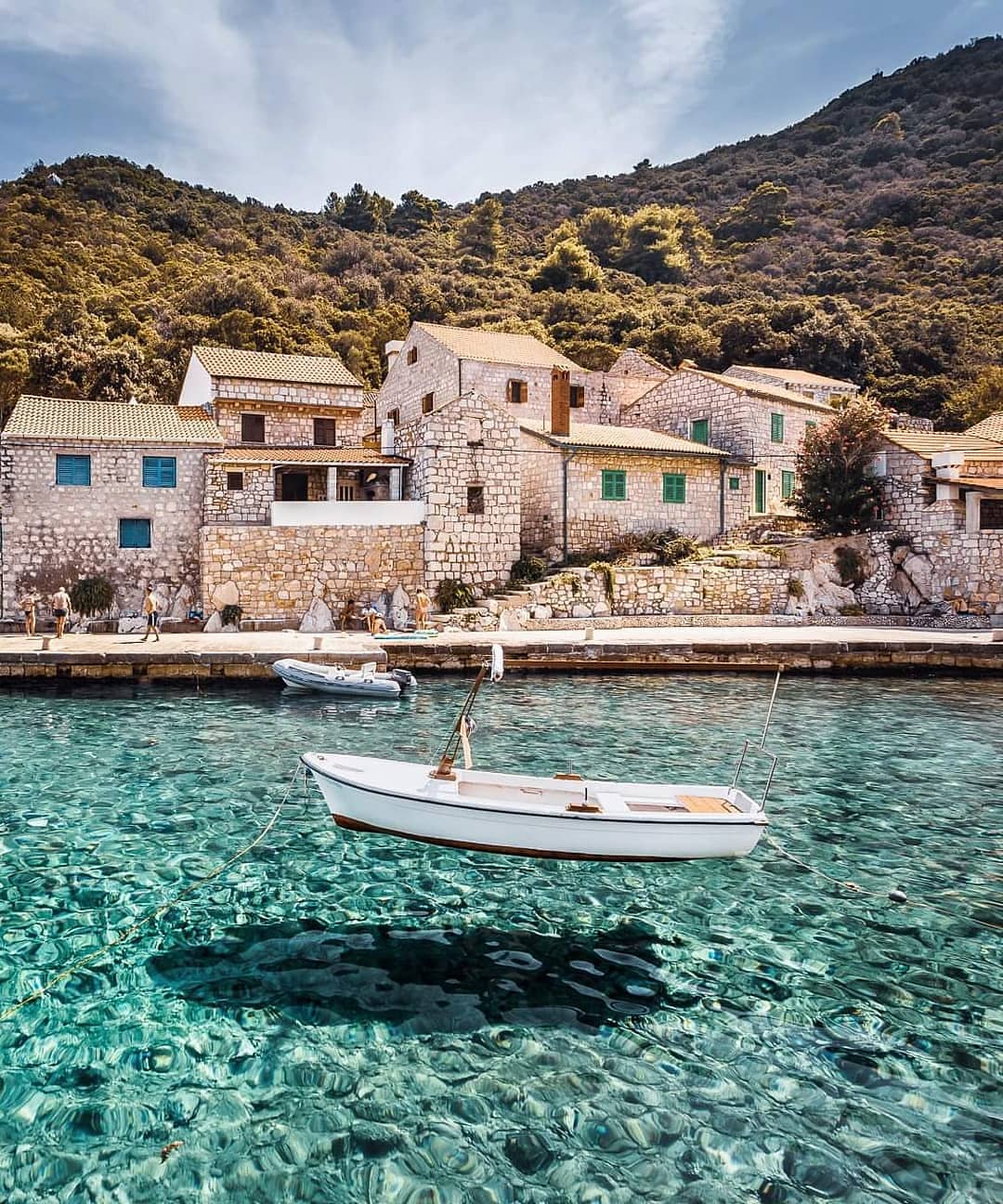 Dive near the B52 'Flying Fortress'
Try out exciting activities during your yacht charter in Vis and scuba dive with your personal diving instructor to the remarkable remains of a Flying Fortress – a Boeing B-52 plane that crashed in November of 1944, finding its final resting place near Cape Polivalo.
Thanks to Vis' crystal clear waters, the cape offers perfect visibility of the wreck, also enabling divers to explore its interior, filled with aquatic vegetation and colourful schools of fish.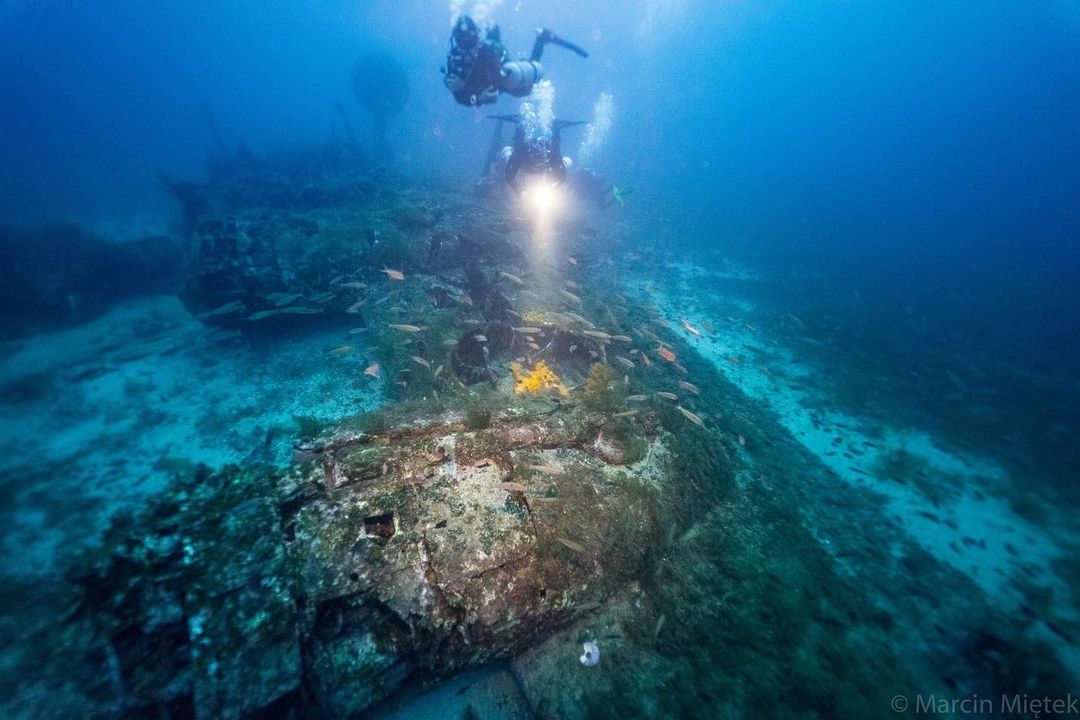 Live like a local on Vis island
Try out an authentic Dalmatian experience that will rejuvenate your body and mind. If you are tired of your fast-paced lifestyle and stress, this approach will be just what you need. Leave all negative influences behind and recharge your batteries on your yacht charter in Vis.
Ask your local crew to show you the best places to relax, in one of many charming bars overlooking spectacular seascapes, with your luxury yacht in the backdrop. Sunbathe atop your floatie in the middle of the bay with a cocktail in your hand or try out the local gastronomical scene.
Watch a movie in the island's outdoor cinema, a popular attraction during the warmest months and a summer tradition for locals, or simply switch to your own private yacht cinema. Sit under the stars and take in a Hollywood blockbuster on the big screen.
After the movie, you can enjoy exquisite local wines on your sundeck and feel invigorated with authentic, fresh seafood. We suggest sampling several local specialities like octopus under the bell, lobster, grilled fish and the famous Vis bread. As the locals say: Fish should swim either in sea or in wine!
Explore the majestic Blue Grotto on the island of Biševo
Cruise to the nearby islet of Biševo, on the south side of Vis, where you will get the opportunity to discover 26  sea caves! Ask your crew to prepare your snorkelling gear, kayaks or SUP boards and embark on an exploration mission.
Make sure to visit the eastern side of this little island and the famous Blue Cave in the afternoon, and get ready to be amazed by the light show inside the cave. Witness the fascinating reflection of the sun on the cave's bottom, colouring the water blue, while objects in the water remain silver.
Soak up the view as the sun rays gently paint the walls in shades of silver and blue. At the end of this spectacular cave, you will stumble upon a large pebble bay, which is a fantastic place for taking unforgettable holiday photos.
We also suggest a visit to the equally attractive and breathtaking Green cave on the southwest side of the little island of Ravnik.
Cruise off the beaten path to Stiniva Bay
Cruise with your yacht charter to one of the most beautiful locations on Vis island – Stiniva bay. This small sandy bay is surrounded by a circular formation of majestic cliffs and exposed to the sea through just a 10-metre (33ft) gap. It is something you have got to see to believe it actually exists.
This unique bay was created by a collapse of a vast sea cave, and today this lagoon is a perfect place to moor your yacht charter in Vis and enjoy a unique location with the crystal-clear sea, surrounded by impressive cliffs.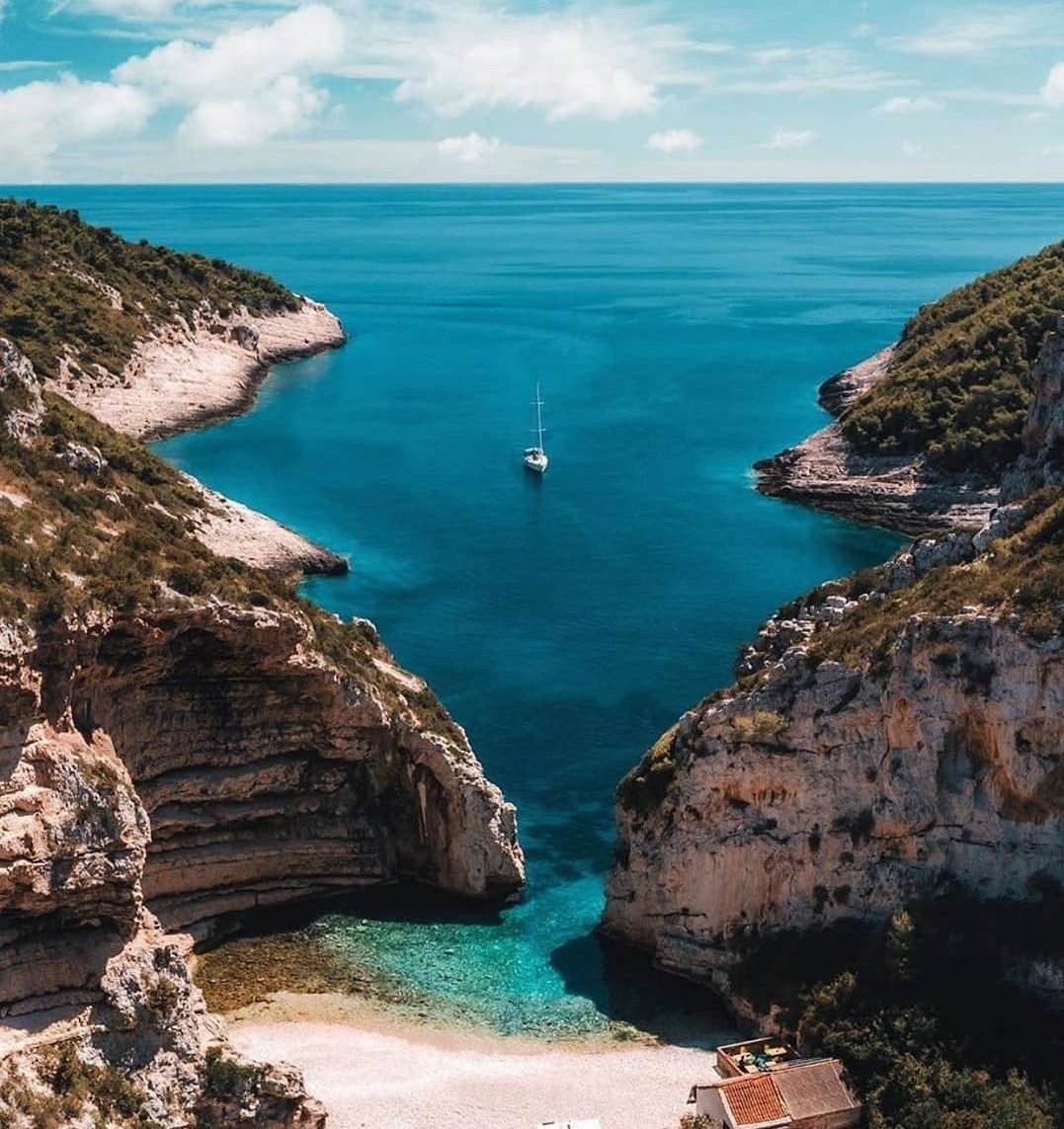 Stay active around the island's hinterland
For yacht lovers who are looking for a good hike in nature to kick off their day, we suggest visiting Red Rocks; you can arrive at this interesting rock formation by following one of a dozen trails for all types of hikers, a mere stroll away from the city of Vis.
We suggest visiting the highest point of  Vis island, and the smallest town in the world – the city of Hum, where you can witness outstanding vistas of the surrounding islands and your luxurious yacht charter.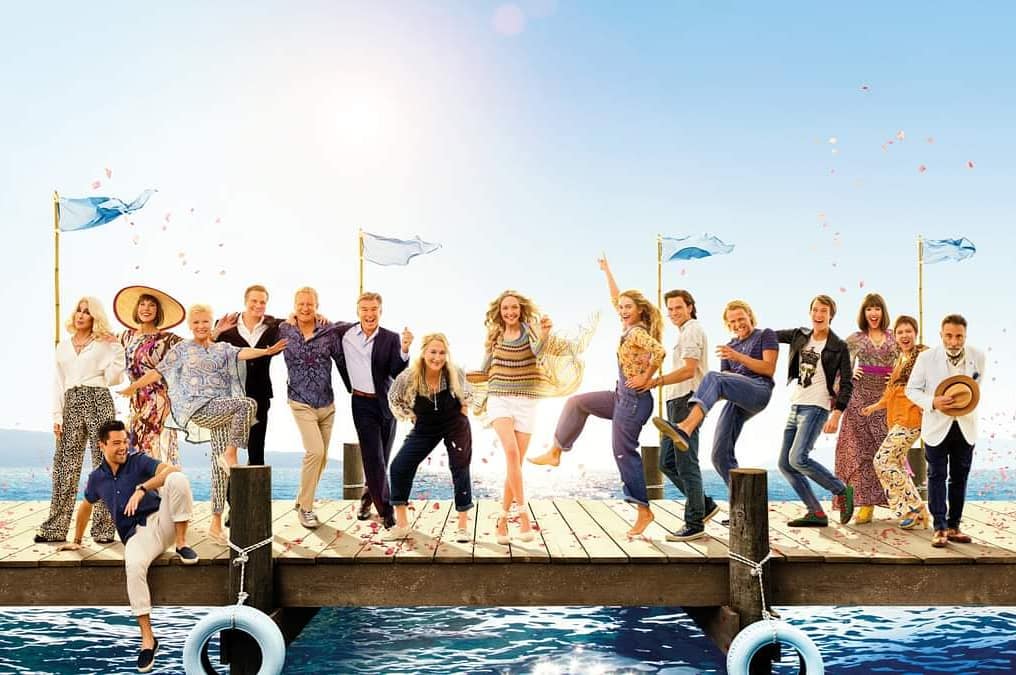 Mamma Mia! Here we go on a yacht charter in Vis!
Be a part of the Mamma Mia! experience and feel like a movie star, recreating iconic film scenes on locations of movie sets. The franchise sequel, Mamma Mia! Here We Go Again was filmed on the island of Vis, during the summer of 2017.
Dominic Cooper, Pierce Brosnan, Meryl Streep, Cher, and Julie Walters gathered around the island, shooting in Komiža, at Barjoska Bay and in Stiniva Bay, with locals being filmed as extras. Imagine what it might have been like that summer, as you visit those locations.
A local member of the charter crew will take you to the legendary restaurant where some of the film's most iconic scenes were filmed – at the Tavern Jastožera.
Apart from that, you will eat the freshest seafood you ever tried and the best lobsters grown in the restaurant's private lobster pond. You can moor your yacht charter on the restaurant's dock, and enjoy your Hollywood dinner in a unique ambience complemented by spectacular vista, first-class cuisine, impeccable service and top-notch wines.
Explore queen Teuta's cave – a precious pearl of Vis island
Opt-in for a Jeep ride to the Okjučina village, a hidden settlement on the northwest side of the Vis island, and take a 40-minute hike through the lush island forest. Upon your arrival, discover a mysterious cave with an abundance of stalactites and stalagmites.
Take your time to look around this natural phenomenon and explore the five caverns and multiple passages that connect them. This wondrous cave system got its name from the legendary Illyrian Queen Teuta who ruled in the 3rd-2nd centuries BC.
This mysterious place was inhabited during the Late Stone Age (Neolithic), and the Bronze age, which was confirmed by numerous archaeological findings.
Opt-in for a military tour of hidden submarine tunnels
Marshal Tito was a Former Yugoslavian president and a military leader in WWII, and from June to October 1944, his headquarters were in Komiža, now known as Tito's Cave. There, he took cover with advisors and allies and orchestrated his next moves. Until 1989, Vis served as a Yugoslav military base, effectively cutting off any foreign visitors for 30 years in a row.
Explore the remains of military hideouts and bunkers around the island, or cruise along the coastline and pay attention to the dotted military tunnels that were used by Josip Broz Tito's submarines. When Tito's army left the island in 1989, they left behind many tunnels and caves that were used for protection.
Visit the must-see attraction: an underground submarine tunnel on the northern side of the island Vis, which you can explore with your tender.
ENJOY AN EXQUISITE FINE DINING EXPERIENCE ON YOUR YACHT CHARTER IN VIS
Tavern Jastožera is located near a 15th-century fortress that connects two cliffs and creates a natural open-air sea pool for breeding lobsters. This unique restaurant was established in 1883 and since has been owned by the family Marinkovć – Mestrežane.
Here you can eat the freshest and finest lobsters in the Adriatic Sea, together with a wide selection of freshly-caught fish and first-class meat. You can berth your yacht near the west wall of the restaurant and enjoy an exquisite fine dining experience with impeccable service and a one-of-a-kind atmosphere.
You can observe the lobster ponds firsthand, which gives this place a unique atmosphere. While many people come here to photograph the famous table from the MamaMia2 movie set, the Superyacht Croatia team will arrange that you can dine on that exact table and feel like a Hollywood star.
You will enjoy the local seafood that tastes like nothing you ever tried before. Everything in Jastožera restaurant is personalised, down to the finest detail
Restaurant Villa Kaliopa – Opt for a one-of-a-kind fine dining experience in an oasis located off the beaten path, in an antique garden surrounded by palm trees and candles. You will enjoy exquisite food in an exotic atmosphere of a 16th-century Gariboldi mansion – Villa Kaliopa. Be pampered by impeccable service in an upmarket restaurant frequented by yachting enthusiasts.
This place is known for hosting occasional concerts and exhibitions, around its garden statues that give the restaurant a unique atmosphere. This is the `IT` place where the yachting scene comes to dine, with vistas on their yachts moored on a new anchorage in front of the place.
Pojoda restaurant is a place where you can expect a fabulous setting, outstanding cuisine and food prepared to perfection. Here, you will enjoy the mouth-watering Dalmatian cuisine plus standout dishes such as prawn and barley risotto and lentil and squid broader. Try out the stylishly served and tempting appetisers, like octopus salad and seafood cocktails.
The restaurant is located in Kut bay,  in the oldest part of the city of Vis. You will be impressed by the interior, decorated with numerous artwork and paintings, all part of  the owner`s private collection. We suggest dining on the terrace, hidden in the shade of large orange and lemon trees, which exude a fragrant charm.
Tavern Roki will offer you an inland, rustic dining experience at a working vineyard, in an open courtyard next to Vis's cricket ground. Roki is high on any yacht lover's must-visit list for its traditional dishes made under the peka (under the bell), served in a unique setting, amid olive groves and vineyards, accompanied by Roki's high-quality wines – Plavac or Vugava.
When things are made prepared with Peka or, under the bell, the dish is enveloped by a large iron dome, which is then covered by hot coals and left to rest for a couple of hours. This way, all the fragrance and aroma are preserved, while the dish cooks thoroughly and slowly.
OUR SUGGESTED SEVEN-DAY YACHT CHARTER IN VIS
Explore mysterious sea caves and other spectacular sights on your seven-day yacht charter in Vis. SuperYachts Croatia knows all the best spots in the archipelago!  Keep reading and discover more about unique charter experiences around Vis-
Day 1: Island Vis -island of Biševo
Start your yacht charter in Vis, and discover the ancient Greek settlement of Issa, today known as the town of Vis. Explore the historical city centre – if you are a history buff, you will be able to familiarize yourself with a rich culture, mysterious tradition, beautiful locations and exquisite cuisine.
For all yacht lovers who also enjoy climbing activities, Hum will amaze with spectacular views of Komiža and Biševo islands. Apart from that, Hum is the highest point on Vis, also known as the smallest town in the entire world.
After your stroll around the picturesque cobbled streets and atmospheric squares, depart and anchor your yacht near the docks of Taverna Jastožera, so you could enjoy spectacular cuisine, overlooking the local lobster ponds.
Later, head for Tiha cove near Komiža, where you can stay at anchor till the early afternoon and enjoy numerous crystalline bays. While you are on Vis, pay attention to the military tunnels used by former Yugoslavian fighters. Cruising along the coastline and you will discover numerous submarine tunnels and bunkers dotted through the hills.
Ask your crew to prepare your tender and visit a must-see attraction, a mysterious underground submarine tunnel on the northern side of the island.
Make sure also to check out the otherworldly Stiniva bay, created by a collapse of a vast sea cave. Today, this lagoon is a perfect spot to moor your yacht charter and enjoy a unique location with the crystal-clear sea, surrounded by majestic cliffs.
Day 2: Island of Biševo – island of Lastovo – Korčula island
On the second day of your yacht charter in Vis, cruise to the islet of Biševo and ask your crew to prepare your kayaks or SUP boards, so you could enjoy a scenic rowing adventure around the picturesque coastline.
We suggest visiting the Blue Cave in the afternoon, so you could be amazed by the light show inside the cave, as the sun`s rays gently paint the walls in shades of silver and blue.
At the end of this spectacular cave, you will find a large pebble bay, which is a stunning place for unforgettable holiday photos.
Cruise from Vis to the island of Korčula and discover the timeless beauty of this narrow islet covered with lush vegetation. You will have plenty of opportunities to explore its secluded coves, mysterious grottos, stunning sea caves and a rich underwater world. All of this makes Korčula a dreamlike destination for every yacht enthusiast.
While there, make sure to explore Vela Luka and its pristine coves or stop by the Vela Spilja Cave, a magnificent spot right above town, on the Pinska cape.
This place is one of the most important archaeological sites on the Adriatic, with excavational findings dating back from 3,200 BC. As you familiarize yourself with the history of this place, pay attention to the panoramic view of the old town complemented with a long crystalline bay that safeguards your yacht.
Day 3: Island Korčula – Mljet island
On the third day of your yacht charter holiday, ask the yacht captain to cruise to Mljet island. The best way to explore this island is by cruising around the countless secluded bays of the island.
Mljet is the `IT` destination for yacht lovers who come here to enjoy lush and unspoiled nature. According to the legend, Odysseus was shipwrecked on this island, on which he remained for 7 years as the prisoner of the nymph Calypso.
Although he grieved for his beloved wife Penelope, each night Calypso would bewitch him, promising him immortality if he stayed with her. He was set free only after Zeus intervened. While on Mljet, make sure to visit the Odysseus cave,  which you can enter by swimming, just like the ancient hero did.
Furthermore, this island harbours the natural beauties of Mljet National Park, where you can try out various activities, such as: cycling, walking, hiking and kayaking around 2 breathtaking saltwater lakes.
In the Veliko lake you will discover a tiny island of Sveta Marija with a Benedictine monastery, which you can visit with your kayaks or ask your crew to prepare your snorkelling gear and explore the abundance of underwater life in the emerald waters.
You can also dive with your personal instructor around the spectacular coral reefs, caves and the two inland salt lakes.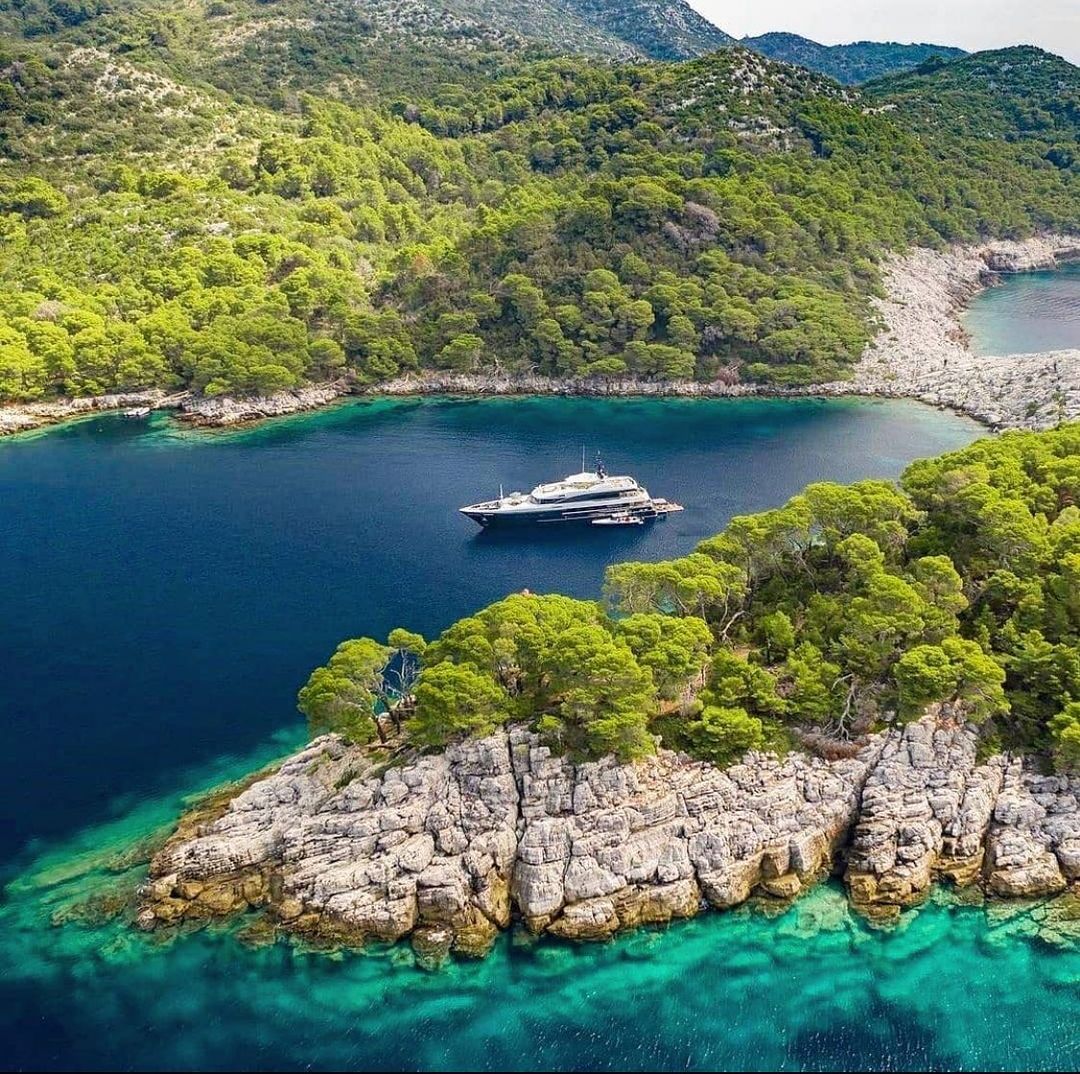 Day 4: Mljet National Park- Hvar island
Cruise with your yacht charter to an elite destination, well-known amongst the yacht lovers – the island of Hvar.
Here, you will enjoy strolling around romantic villages, green hills and countless olive groves. This place is also known as the sunniest island in Europe, which makes it ideal for cruising around its numerous secluded beaches and pristine waters.
Ask your crew to moor your luxurious superyacht in Dubovica, a white pebbled bay, considered to be one of Hvar's most beautiful beaches, where you can work on your tan in the middle of the sea on your floaties.
Consider hopping over to the nearby island group of Pakleni islands, for exceptional diving and snorkelling opportunities. Moreover, these islets, which are designated as a Nature Park, are filled with secluded bays and are ideal to explore with jet skis or your tender.
While on Hvar, take your time to explore unparalleled wineries, cute designer boutiques and elite parties that are favourite summer events for many celebrities and yacht charter guests.
Hvar island is renowned for its luxurious and upscale clubs, where you can experience how celebrities party, enjoying the impeccable service and remarkable sea views from your club booth. Many clubs offer mooring for yachts, which is a yacht lover's dream come true.
If you do not like parties, let your crew organise a romantic picnic in Hvar`s lavender fields; inhale and feel the rejuvenating scent of essential oils, on the sunniest island in Croatia. If you are a nature lover, the SuperYachts Croatia team will make sure you have a modern scooter or an e-bike for a fun day of exploration in the lush forests of the island.
You might enjoy a stroll around Stari Grad (Old town) Hvar, one of the oldest towns in Europe, where you can witness rich architecture, long traditions and marvellous gastronomic offerings.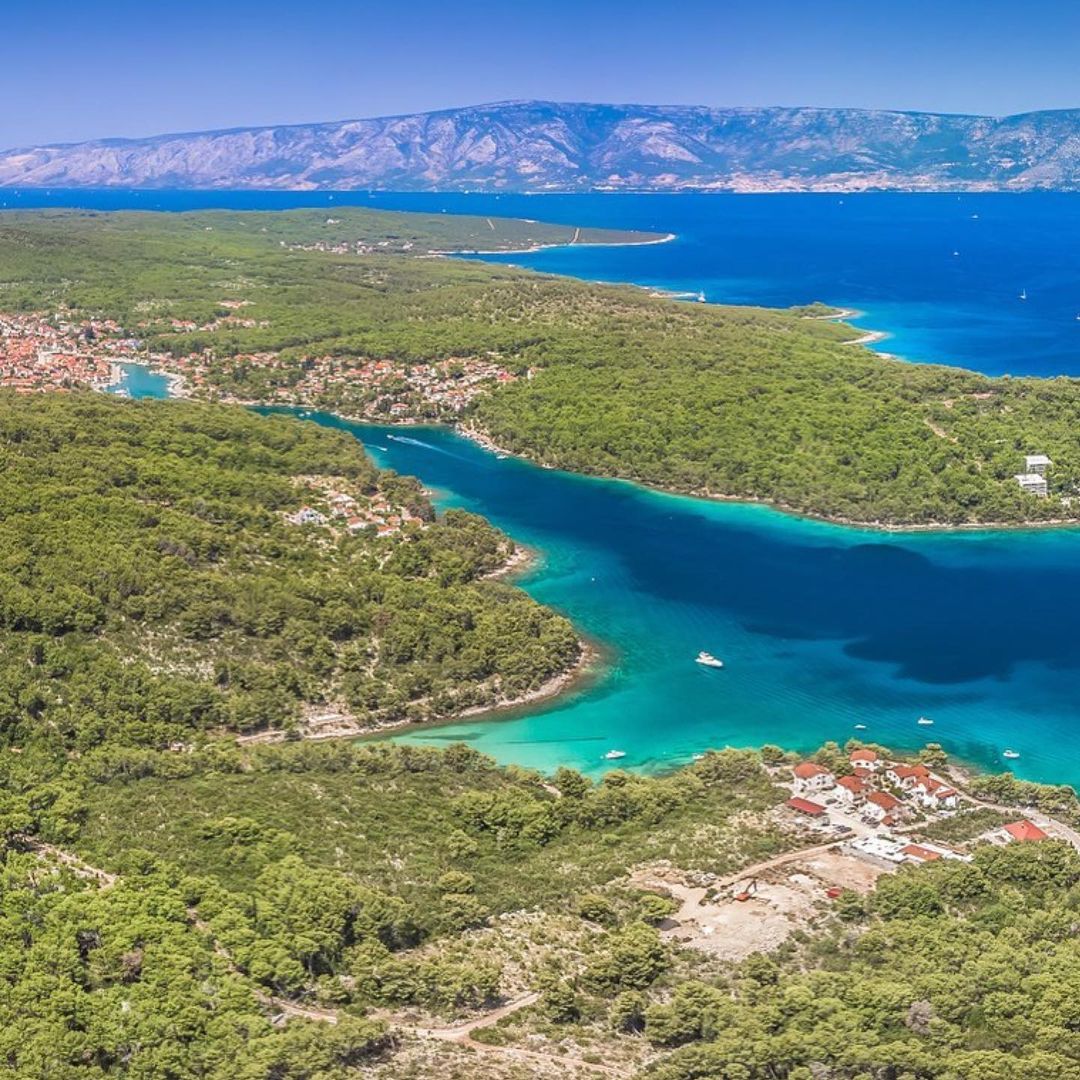 Day 5: Hvar island- Brač island
After a night on Hvar, cruise with your yacht to the nearby Brač island, a must-visit destination for all yacht lovers eager for a luxurious cruising holiday.
The island is full of unique experiences, from kitesurfing, kayaking or parasailing on the Golden cape, to thrilling jet ski rides around secluded bays. You can also opt for a family fun day in Brač`s aquapark with your children.
Take your time exploring the rich heritage and architecture of the island's hinterland, and enjoy a relaxing day cycling or hiking around the lush island trails. Make sure to visit the Dragon's Cave and witness a 360 view of the neighbouring archipelago.
We suggest trying out the island's exquisite gastronomy in one of several upper-class restaurants; the SuperYachts Croatia team will make sure you have the best view and the finest table in the restaurant of your choice.
Day 6: Brač island – island of Šolta
Cruise to the island famous for Illyrian legends, ancient fishponds, mediaeval poetry, nautical tradition and oenology – the island of Šolta. This patch of land charmed the Illyrian queen Teuta so much that she decided to build her castle on Šolta.
Apart from that, Šolta is best known for its olive groves and oil making tradition, hailing from the time of Ancient Greek settlers. Although Šolta is not as popular as its neighbouring islands Brač and Hvar, it is well worth visiting. On this island, you will discover stunning beaches, ideal for families with kids, private bays and sandy blue lagoons with pristine sea.
We suggest also visiting Nečujam bay, where an old shipwreck provides a perfect opportunity for some diving or snorkelling. Ask your yacht crew to prepare your snorkelling gear and explore the sailing boat that sank a decade ago. This spot is perfect for beginners as the shipwreck lays only two (6ft) metres under the surface.
On your way back, visit Maslinica bay, known for the Martinis Marchi castle on the south side of the bay, built in 1708. Today, this castle houses a modern hotel with a luxury marina and moorings for 40 boats. Explore this baroque castle and stroll around the alleys of a picturesque village full of charming stone houses.
Day 7: Šolta island – Vis island
Start your morning with a cruise to Šešula Bay, ideal for relaxing, swimming, snorkelling, fishing or enjoying excellent local food.
This place is a perfect location for escaping everyday life and brimming summer crowds. Here, you will enjoy a peaceful and relaxing experience complemented by the sound of sea waves, crickets and birds in the backdrop.
Later, cruise back to Vis island. We suggest you save the best for the last, and as the last stop of your charter holiday visit the magnificent Stiniva bay.
This cove is protected, which means you can reach it with your yacht charter and explore this beautiful lagoon and its pebble beach to the fullest. Witness majestic cliffs standing tall above the crystalline sea and enjoy the best summer activities in this spectacular place.
The SuperYachts Croatia team will arrange a boat transfer from your yacht charter in Vis island to your hotel, villa on the mainland.
TOP ANCHORAGES AND MARINAS FOR YOUR YACHT CHARTER IN VIS
The most popular berthing option is Luka Vis, a large natural harbour with two major quays where yachts can moor on the main town dock. Besides, there is a decent anchoring spot in the west part of the harbour, and another suitable anchorage for your yacht charter in Vis, on the northwestern side of the peninsula, in the small bay called Stonča.
The yacht can also moor in front of the Vis town on the south end of the bay or along the quay wall of Kut.
Porat or the Biševo port is a sandy bay on the islet of Biševo and it is an excellent choice for an overnight stay. Be aware that the sea here is quite shallow so we recommend anchoring your yacht at least 40 metres from the beach.
On this islet, you will discover more than 26 sea caves which make it an ideal stop for a day filled with new experiences. Biševo is also home to the finest lobsters in the Adriatic Sea.
Ask your crew to moor in the largest bay on the island of Vis, surrounded by Knez cape – the stunning Komiža bay. You will find shelter behind high breakwaters on a dock with 30 moorings. on the southwestern part of Vis island.
Cruise to the southern side of Vis and discover one of the most impressive beaches in Croatia – Stiniva bay. This marvellous bay is secluded and obscured from the view of passing boats.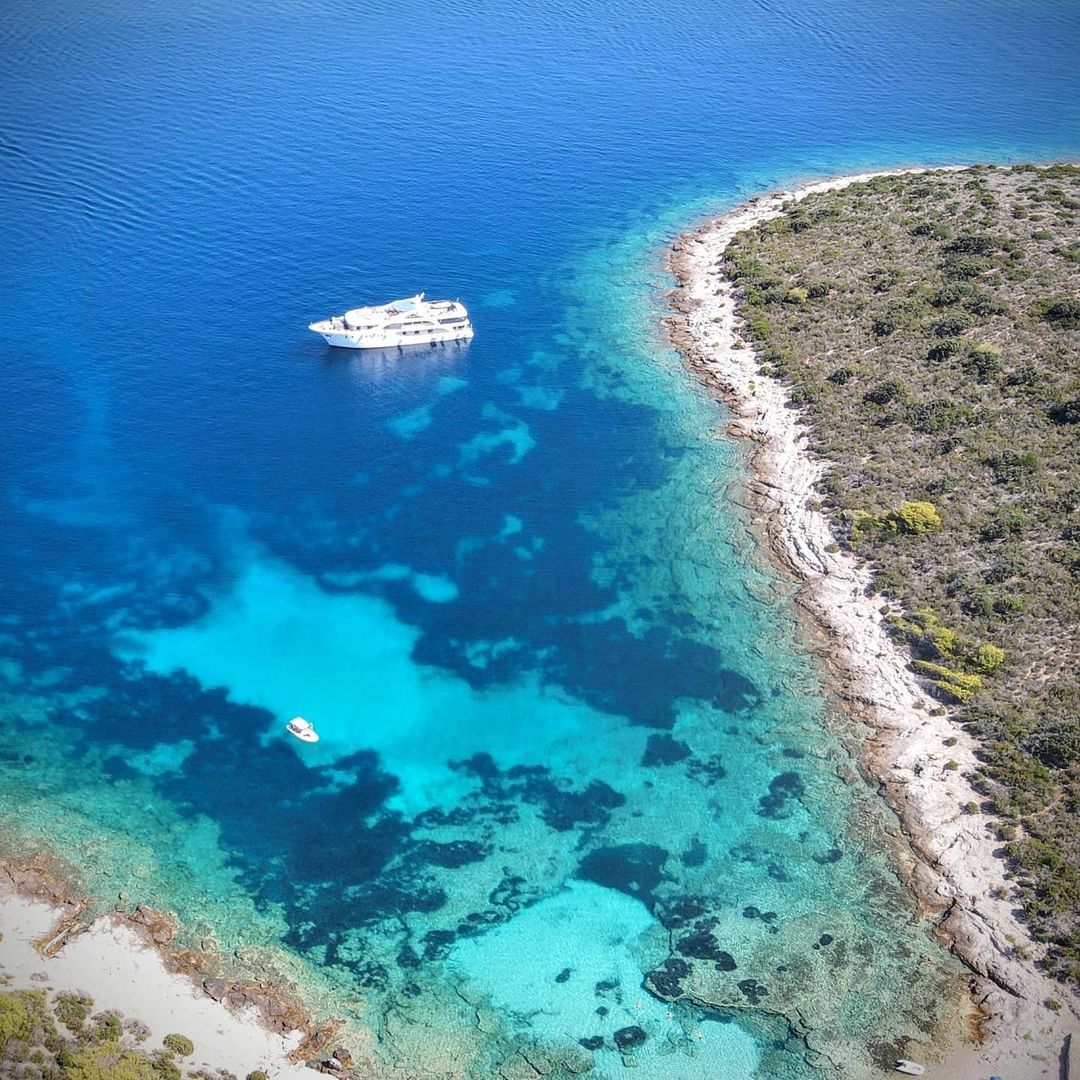 Cruise to the northeastern side of Vis island; only half an hour away, you will discover the breathtaking Stončica bay, a great spot for swimming and snorkelling. You can also explore the nearby lighthouse or enjoy this sandy beach with soft sandy bottoms and stunning reefs.
Stončica is a perfect spot for families and children, because of its shallow waters near the coastline, where your kids can spend the afternoon playing around the warm water, carefree.
Ask your yacht captain to moor your yacht near Veli Budihovac bay, in the middle of a miniature archipelago whose numerous islets and cliffs make the southeastern part of Vis really special.
Budihovac is one of the most spectacular lagoons in the Adriatic Sea, complemented by its pebbly beach and protected from most winds. If you are a fan of secluded bays, you will enjoy this place.
THINGS YOU DIDN'T KNOW ABOUT VIS
WHY CHARTER IN VIS WITH SUPERYACHTS CROATIA?
Charter a yacht in Vis and explore its numerous wonders, with the help of your local yacht broker from SuperYachts Croatia. We will make sure you visit the best spots known only to local experts, where you will live through a tailor-made itinerary, full of unique charter experiences.
You will also profit from the best yacht support on your yacht charter in Vis, available 0/24, and a professional yacht crew who will pamper you on your luxury yacht charter. The SuperYachts Croatia team will arrange every step of your holiday, the only thing you need to do is show up.
We will arrange VIP transfers, scuba-diving excursions, yoga instructors,  restaurant reservations, and much more! Simply relax and enjoy your holiday in breathtaking locations on your yacht charter in Vis.
Charter Yachts
We present to you the best selling yachts for charter in 2021. Slide through these different yachts, ranging from 20 to 80 meters in length, and choose the best option for you. If you have any questions regarding yacht charter, destinations & yacht support, contact us.
VIEW ALL CHARTER YACHTS
VIEW ALL CHARTER YACHTS