Photo credit to Instagram profile: voly_yacht_accounting
6 of the best yacht cinema experiences
Fill the evenings on your yacht charter with relaxing & entertaining movies & shows. Do you have a particular need for some good, old western flicks, or a rom-com with someone special? Why not watch a movie about Croatia's maritime traditions? Whatever your taste may be towards audiovisual entertainment, you do not have to look further than your yacht cinema to provide the best cinematic entertainment.
Witness the enormous difference between a regular movie viewing & a unique yacht cinema experience…
Relax on the yacht deck with a movie in the background
Be it on the flybridge, the deck or the multimedia room, your chartered superyacht will have numerous options for your viewing pleasure. Get comfortable and snuggle with pillows, blankets and snacks under a starry sky, with the waves gently splashing against your chartered superyacht. Experience a favourite movie like never before with friends and family by your side. There is no better way to watch a movie than in a superyacht alfresco cinema. Your chef can prepare handmade popcorn, while you watch the newest James Bond. Do not forget to order a martini – shaken, not stirred 😉 .
Turn the volume up on your favourite music artist or watch a concert on the big screen
Your superyacht charter is equipped with cutting edge surround sound technology, which you can use to the full extent. Consider playing your favourite musician while anchored in a private bay, with the yacht cinema presenting the concert on screen. Setting the speakers to max level will make the water carry the sound further and louder, creating the feeling that you are part of the show. You can play your favourite pop artist or blast the fiercest movements and arias of the most famous classical pieces.
Listen to the greatest monologues of contemporary cinema of the 20th century, like Charlie Chaplin's speech in The Great Dictator or Marlon Brando's performance in Apocalypse Now. Whatever audio aspirations you may have, your superyacht charter crew will make sure that you live them to the fullest.
Play a movie for the kids & enjoy reliving your childhood
After a full day filled with fun yacht charter activities, sometimes there is no better thing to do than snuggle with cushions, blankets and loved ones while watching a movie of their choice. Ask your children what they want to watch and enjoy experiencing the marvel in their eyes as they watch their favourite movie in a manner like never before.
Suggest Pirates of the Caribbean, so you can re-enact some of the best swashbuckling scenes the next day on your favourite water toys. Whatever the choice may be, for a short moment, you will see the world through the eyes of your children, and become a child yourself. With all the fun memories you will have on your superyacht charter, this is one memory that will surely never fade.
Visit a famous filming location while on a yacht charter in Croatia
Experience the Croatian Adriatic Sea from a different perspective and visit locations of famous scenes filmed in Croatia. Ask the captain of your superyacht charter to set a course for the city of Dubrovnik and visit the filming location of Game of Thrones, like the Old Town Walls of Dubrovnik, the Red Keep and Blackwater Bay.
You can also tour the island of Vis and witness the shooting sites for Mamma Mia, or watch the Blue Lagoon and then check out a real-life example in Trogir. Feel like a movie star when stepping out from your superyacht onto famous film locations and backgrounds, adding a glamorous flair to your already luxurious charter holiday.
Let the waves & the serene atmosphere of a relaxing movie rock you into a state of bliss
Let the starry night and serene waters echo with the sounds of your favourite movies. Allow the wavelets to rock you to sleep, while you watch your favourite relaxing movie. Do not worry, your expert charter crew will take care of you if you doze off. You can lounge after dinner while watching a movie or lie in a jacuzzi and unwind, while a movie plays for you in the background. A yacht charter is a perfect place to experience cinema in a completely different fashion, with your expert charter crew gladly assisting in setting up a perfect cinematic adventure.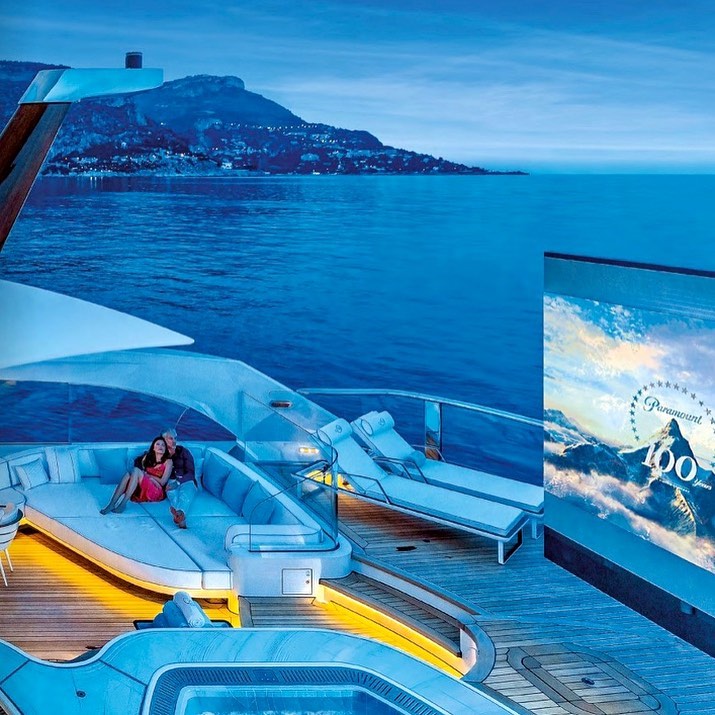 Experience the best films of the century like never before
The only way of truly experiencing masterpieces of cinema, no matter the taste or genre, is on a superyacht charter. Picture a perfect postcard scene: the Milky Way hangs above your charter, while you prepare to watch a movie worth watching on an exclusive venue like a superyacht. Consider the option of transforming various decks and surfaces aboard your charter to fit different yacht cinema expectations.
Control the mood and way in which you watch movies, for a fully customizable cinematic experience, like adjusting the lighting, the volume, screen resolution, sharpness or the option of going full 3-D. For your viewing pleasure, the crew aboard your charter will cater to your every viewing need.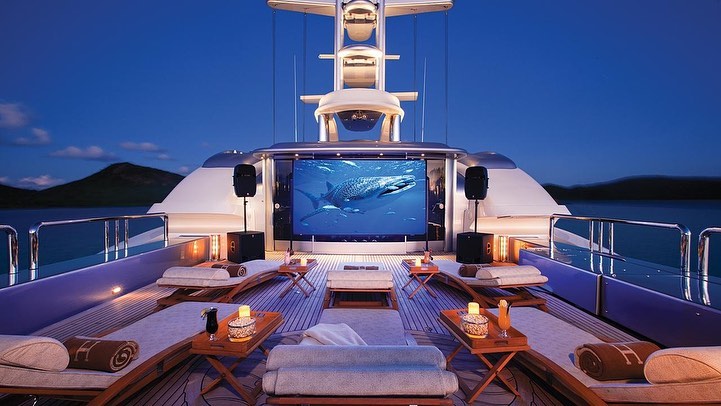 Why do we need yacht cinemas?
Yacht cinemas are a unique way of experiencing your favourite film, surrounded by an atmosphere not usually found when viewing movies in a classical fashion. For maximal viewing pleasure, the onboard charter crew will serve a huge variety of snacks and beverages.
The sheer number of ways you can customize your viewing experience aboard your superyacht makes it the most versatile audio-visual entertainment centre you could wish for. Technical specifications of multimedia equipment onboard your charter satisfy the highest standards and greatly surpass generic televisions or film projectors found in stores.
Charter Yachts
We present to you the best selling yachts for charter in 2021. Slide through these different yachts, ranging from 20 to 80 meters in length, and choose the best option for you. If you have any questions regarding yacht charter, destinations & yacht support, contact us.
VIEW ALL CHARTER YACHTS
VIEW ALL CHARTER YACHTS