TESORO Yacht Charter - Brand New Refit From Ferretti
There are 2 main elements that define TESORO yacht charter: timeless Ferretti design & ample amount of space in just 24 meters. Built in 2008 and fully refitted in 2019, TESORO is ready to take new charter guests on an unforgettable tour of the Croatian Adriatic sea.
TESORO yacht charter boasts plenty of fabulous features, including a full-beam master cabin with a private sofa, from where you can gaze at the Adriatic sea.
She also has a spacious flybridge, ideal for socializing & soaking up the sun`s rays while being served by a fantastic crew of 3. Lastly, zero speed stabilisers will ensure the highest level of comfort on board & a top-notch yacht charter experience, without any rolling while underway.
YACHT CHARTER ACCOMODATION
Yacht details.
Guests:

8
Cabins:
4
Yacht Length:
24 meters / 79 feet
Yacht cabins layout:
2x Double + 2x Twin
Total living area:
193 sq.m / 2.077 sq.ft
Yacht exterior area:
97 sq.m / 1.044 sq.ft
Yacht interior area:
96 sq.m / 1.033 sq.ft
Types of Cabins on This Yacht:
1x Master Suite + 1x VIP Stateroom + 2x Twin Cabin - Convertible to 2x Double Cabin
Bed Configuration & Size:
1x King + 1x Queen + 4x Single - Convertible to 2x Double
Yacht Interior Guest Areas:
Main Salon Area with AV System · Main Deck Dining Table · Galley Area · Captain's Bridge · Four Private Cabins
Yacht Exterior Guest Areas:
Aft Deck Dining Table · Foredeck Sunbathing Area · Flybridge with Lounge Area & a Private Bar
TOP 10 YACHT CHARTER FEATURES
Yacht highlights.
1
Warm & Spacious Main Saloon area
2
Both Twin Cabins Convertible to Doubles
3
Air Conditioning in Every Cabin & the Main Salon
4
Spacious Foredeck Sunbathing Area
5
Commodious Flybridge with a Private Bar, Sun Pads & BBQ
7
Featuring Watermaker, Icemaker & Cool Box
9
Swimming Platform on a Sea Level
YACHT PHOTO & VIDEO GALLERY
Charter Moments.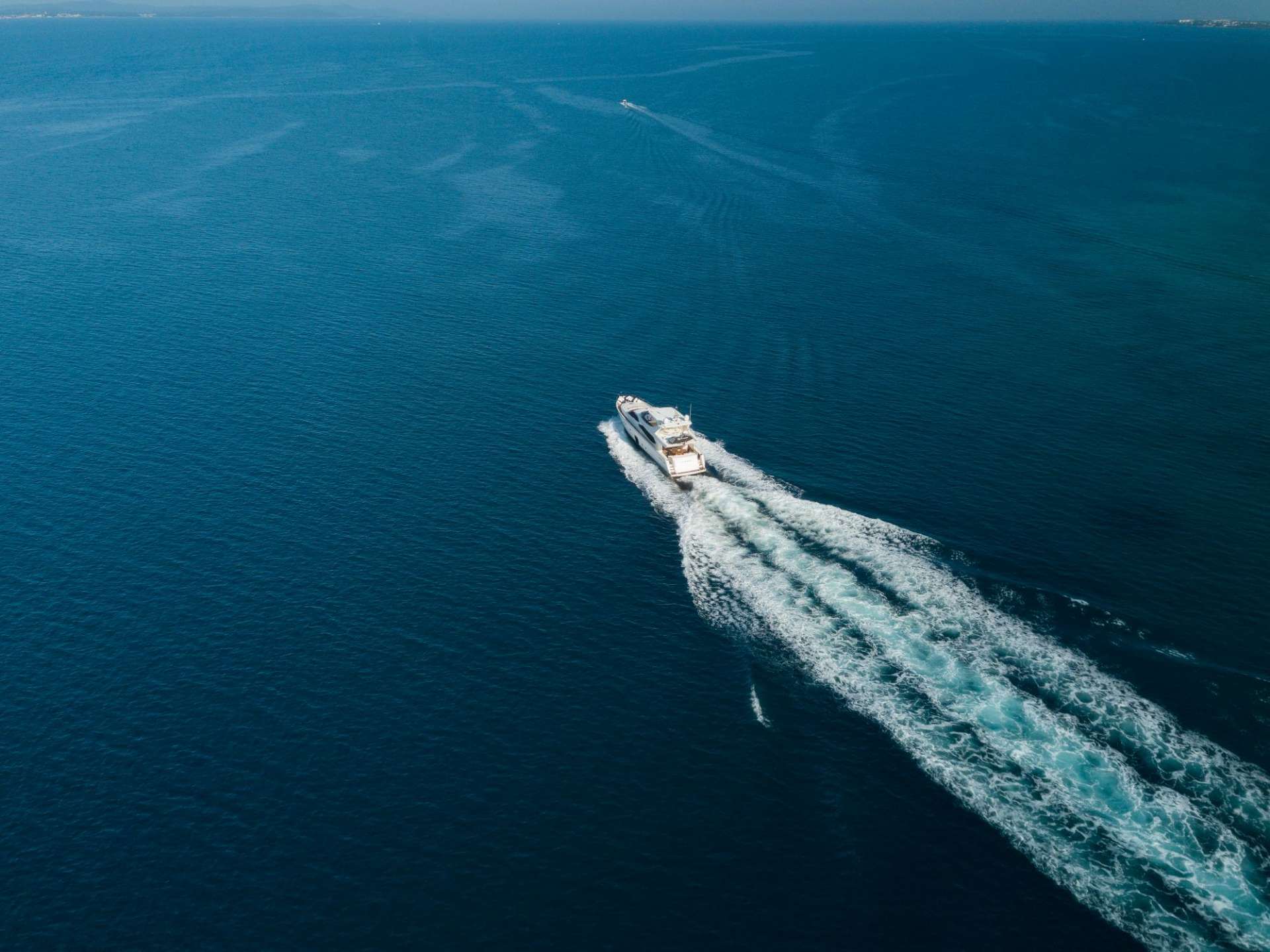 YACHT CHARTER SPECIFICATIONS
Particularities.
GENERAL INFORMATION
Length: 24.00 meters (78.9 ft)
Beam: 5.95 meters (19.6 ft)
Year Built: 2008
Year of last refit: 2019
Yacht Builder: Ferretti
Main Engines: 2x MTU M92
Maximum Speed: 33 knots
Cruising Speed: 22 knots
Fuel Consump. Engines: apx. 500 l/hour*
Generator Engines: 2x 20 kW Kohler
Fuel Consump. Generators: apx. 12 l/hour*
Stabilisers: Zero Speed Stabilisers
*Highly dependent on sea conditions
LIST OF AMENITIES
All Decks Air Conditioning · State of the Art AV System in the Main Saloon & Every Cabin · Zero Speed Stabilisers · Wet Bar on the Flybridge with Ice Maker · Watermaker & a Cool Box · BBQ on the Flybridge · Plenty of Sunpads on the Flybridge & Foredeck
WATER SPORTS & TOYS
1x FX SVHO Cruiser Jet Ski
1x Seabob
1x SUP
1x Towable Donut
8x Snorkelling Gear
TENDER VESSELS
Axopar 37, 12.5m Chase Boat (Optional)
FULL YACHT CHARTER REVIEW
Inspected by Us.
Let your mind and body unwind and relax on the most stress-free vacation you can experience. Book TESORO, a superyacht charter perfect for cruising around the Croatian Adriatic Sea and finding the most secluded and spectacular sites for anchoring. Enjoy untouched nature and clean sea while experiencing wonderful local cuisine and fine dining experiences aboard TESORO yacht charter.
With a length of 24 meters, TESORO yacht charter will have everything a compact family yacht should have, taking on a maximum guest list of 8 people. Built in 2008 and refitted in 2019, with all new water toys, TESORO can offer a jet-ski, a Sea bob, one stand-up paddleboard, a towable doughnut and eight snorkelling gear sets. The layout of this fabulous yacht guarantees a totally different dining and luxury yacht charter experience.
Cabins on board TESORO are configured as such: one master cabin, one VIP cabin and two twin cabins. Bare in mind that the twin berths can be converted into a double berth, enabling variety when planning sleeping arrangements with your charter party. TESORO performs best with smaller charter groups, particularly when it comes down to a tight-knit family circle or an exclusive group of friends The 3 crew members, including the chef, make sure that the dining and the overall experience on board is up to luxury yacht levels.
TESORO yacht charter can reach a cruising speed of about 20 knots, accomplishing max. speeds of  32 knots, making her more than capable of handling a location-rich charter itinerary. To understand the true value of TESORO, one simply needs to compare the value of this yacht with similar yachts on the charter market.
To learn more about TESORO, keep reading…
The engineers of luxury yachts and the inventors of the yachting lifestyle, the Italians, were the first in the world to start building luxury lifestyle yachts. One of the first "lifestyle" shipyards in Italy was the Ferretti shipyard, a family-owned business that produced tailor-made and hand-crafted yachts. This is the heritage of TESORO, a luxury yacht built by Ferretti, on the foundations of a well-established yacht-building heritage.
To better understand TESORO yacht charter, one must first try to understand Ferretti and their vision tied to building the most luxurious and glamorous lifestyle yachts on the global market. With a tradition that spans a century, Ferretti was among the first to start constructing boats that had an orientation toward luxury, not only performance.
Slowly, but steadily, the demand for more luxury grew, as the market embraced the new yachting paradigm: bigger, better and more comfortable yachts began pushing out all others who did not manage to adapt to this new yachting climate. Ferretti was on top the whole time, riding the wave of their first successes all the way to the peak of luxury yacht production, design and utilisation.
Today, the Ferretti group encompasses a number of famous and prestigious shipyards, embracing Ferretti`s core values: luxury, growth, innovation and sustainability. These values are also present in TESORO, a luxury superyacht ideal for a perfect charter vacation.
ONE DAY ABOARD
After you wake up on TESORO, step onto the main deck aft and experience the sweet sensations of a perfect Croatian summer: the gentle warmth of the morning sun, the cry of the seagulls in the distance and a panorama of picture-perfect Adriatic islands.
Let your loving and hardworking crew surprise you with a magnificent breakfast, prepared by your loving chef who followed your preference sheet to the letter. Of course, there is always a possibility to order something special, just ask your expert crew and they will fix any gastronomic problem in a heartbeat. While you enjoy your breakfast, a gentle gale steers your focus towards the beautiful sea that surrounds you, sparking a moment of simple adoration for all things natural and pristine.
After breakfast, you might want to try something totally different. Let the members of your crew take you on a unique tour of the Croatian coastline, teaching you about all the numerous plant and animal species you see.
Croatian biodiversity is above average, even when compared with countries known for the protection and preservation of nature. Your very own private ZOO-tour will enable you to learn through experience about which plants along the shore are edible and which are medicinal. No supermarket can provide the range, the quality and freshness of products similar to what you can find while scouring parts of the Croatian shoreline.
The expert and knowledgeable crew will help you select edible and medicinal plants and herbs, for your benefit and enjoyment, guaranteeing a unique experience of learning something new and useful. Let your chef prepare a cup of highly-beneficial tea from the herbs you picked or eat a salad for lunch, made out of plants you picked by hand. While scouring the shoreline, let your crew teach you to distinguish between different schools of fish.
Ask your crew about crabs, sea-urchins and sea-shells, while also being fascinated by the habits of diver-birds. You could even ask your crew to organise a class about medicinal plants and essential oils of the Croatian Adriatic, so you could learn more about lavender, immortelle, rosemary and sage.
Returning to TESORO, you feel wiser and hungrier, wondering about lunch. Knowing that you will be returning with an appetite, the chef prepared a tomato tart with chickpea crumble and a slow-roasted salmon in parchment paper, sided with sweet potatoes and a spinach reduction.
After lunch, spend your siesta sunbathing in total privacy on a secluded beach of your choosing, with a splendid view of TESORO lazily swaying on the waves. Usually, the best sunbathing beach spots are not hospitable places, being very far or hard to access, but TESORO and her crew will ensure you the best experience imaginable.
Thanks to the help of your hard-working crew, you will constantly be refreshed with ice-cold drinks, perfect for an enjoyable tanning experience. As the sun slowly sets over the horizon, return once more to TESORO to enjoy a mouthwatering dinner. After you taste clam toasts with pancetta and slow-grilled leg of lamb with mint yoghurt and salsa verde, let your crew open a bottle of fine champagne, so you could toast to a perfect charter day and many more to follow.
YACHT CHARTER DINING
How can one even begin to describe luxury yachting without first analysing the luxury dining experience? Generally speaking, the bigger the vessel, the more extravagant the service; logistics being the main debilitating reason for not serving 7-course meals on a 19-meter vessel, for example.
This means that the level of service and the number of courses a gastronomic experience has, greatly corresponds with the length of a superyacht. Within the range of 24 meters, charter guests can begin to experience the meaning of luxury dining on a superyacht.
Despite being somewhat structurally limited, the galley onboard TESORO still harbours great potential when it comes to preparing delicious food, like pork chops with celery and almond salad sweet ricotta and strawberry parfaits.
Being a chef on a superyacht has its perks, but it also has its duties, like providing a 5-star luxury dining experience tailored specifically to match guests' taste in food and ingredients, no matter the price. Your expert chef can accommodate and abide by every need, no matter how minuscule the demand or how great an effort is needed.
Rising to the occasion, your chef will surpass himself with every meal, creating dishes like grilled garlic-and-lemon shrimp and sparkling grapefruit sorbet floats. Rest assured, your fine dining experience will come to life on TESORO yacht charter.
YACHT MAIN DECK
Yacht charter accommodation: main salon & dining area
The aft main deck comes with a teak table, large enough to accommodate all the guests aboard TESORO comfortably. Thanks to a sink to starboard, a cold storage locker to port and a drink – cooler in between, the main alfresco experience will be happening here. The main deck aft even features an ice machine and a docking station to port, with thrusters and engine controls.
Accessed using a floor-to-ceiling glass door, the salon is specially constructed to highlight the open concept design, because part of the door can be detached and retracted into the hardtop above, causing the exterior and interior to meet and meld.
The split level salon has all the hallmarks of the Ferretti/Italian interior, directed towards an open, stylish and innovative raised design. It features an elevated dining area, thanks to 3 steps that enable more headroom for the lower deck, while at the same time successfully dividing the lounge area from the dining area.
A formal dining area is a big deal on a yacht of 24 meters, and TESORO manages to pull it off thanks to the galley being separated by a hallway, guaranteeing a luxury dining experience. Streaming from the salon, through the hallway and past the galley, guests can arrive at the interior helm station. Use this area to watch the panorama as TESORO yacht charter cruises in the Croatian Adriatic.
YACHT FLYBRIDGE
The size of the flybridge is ideal for relaxing with plenty of sunbathing space in form of two large sun pads, with an added dining table, circled by a U-shaped lounge bench. This is the third dining space option, comfortably seating six people.
Also featuring a wet bar, the flybridge is the ideal spot for a nightcap of mixing cocktails in the afternoon. Located on the tip of the flybridge is the exterior helm station, equipped with all the advanced instruments and high-tech gadgets needed for a safe and comfortable cruise.
To starboard is another large sunbed, from which you can observe the charming panorama of Croatian islands in the distance, while also comfortably lounging around on a soft sunbed. Watch as your captain expertly handles the wheel from a comfortable position, while chit-chatting with him about interesting things to see and do while on a charter yacht vacation in Croatia.
YACHT LOWER DECK
All the cabins on TESORO are located on the lower deck and are bathed in light, thanks to bulky portholes, located throughout the deck. A beige colour theme and smartly placed artwork give out an atmosphere of a floating summerhouse, inviting guests to feel all that the lower deck of TESORO has to offer.
Brown wood panelling subtly matches the soft and light carpet and the beige overtones, creating a soothing visual experience. Being excellently soundproofed, TESORO can guarantee a sound night's sleep to even the most sensitive of guests.
Yacht Charter Accommodation: the master cabin
The master cabin aboard TESORO is very bright, due to soft and light leather panelling, both on the walls and on the ceiling. A soft and fluffy carpet adds to the airiness of the space, which is also equipped with a desk, a sofa and plenty of shelf and drawer storage.
Use the sofa to lounge around the cabin or take a quick afternoon nap, after doing some unexpected work. You can also ask your crew to deliver some snacks and beverages into your cabin, while you relax, lounge or are being productive. Being full beam, the master also enjoys an ensuite located to starboard, with a magnificent feature: double wide portholes, so when you are going through your morning rituals, you have a fantastic view of the beckoning Adriatic Sea.
Yacht Charter Accommodation: the double/twin cabin
The twin cabins also have an en suite, which doubles as the vessel`s day head. The cabinetry is done in accordance with the rest of the yacht i.e. brown wood panels without gloss. The second most dominant colour is white, which goes great with the wood furnishings.
A combination of portholes and windows enables guests to enjoy the view, while also being able to receive fresh sea air into the cabin, without the need of going up to the main deck. An art piece hanging above the berth complements the decor, with its primary colour being white, which ties in the whole atmosphere nicely.
Yacht Charter Accommodation: the VIP cabin
The VIP cabin is located forward on the bow, containing a queen-size berth, an ensuite and plenty of drawers and closets. The mirror above the berth makes the VIP seem infinitely deeper than it actually is. This cabin emits a comfortable and cosy atmosphere, due to polished wood surfaces and plenty of natural light.
Coming in from double portholes located on both sides of the hull, daylight can be easily blocked out by 100% blackout curtains, enabling a pitch-black surrounding, for guests who want to take a nap during the day. The darker tones of the wood go great with the white ceiling details or the light beige carpet, which is illuminated by floor LED lights, a smart choice for creating a warm vibe.
YACHT BEACH CLUB & SWIMMING PLATFORM
For a yacht of her size, TESORO has an unusually big beach club. This is due to her garage doors doubling as a very large swim podium: the door can fold down, creating a wide and spacious swimming platform. This enables guests to change and swap water toys in a blink of an eye – you could even try combining them all at once.
Easy access to the water is not the only thing charter guests will find on the swimming platform and beach club on TESORO yacht charter. There is also champagne and cocktails to be enjoyed, as well as comfortable sun loungers to be laid upon, while the gentle splashing of wavelets rocks you into a state of pure relaxation.
Prepare to enjoy your private seaside venue, with all the benefits of a superyacht charter and the 5-star service of her experienced and hardworking crew. All of this will make your yachting holiday in Croatia an unforgettable summer experience.
YACHT WATER TOYS & WATER SPORTS
Let your crew pack the Sea bob and snorkelling gear onto your jet-ski, then search for the perfect snorkel location. It would usually take some time to find or reach an ideal spot, but with the help of your knowledgeable crew and fast jet skis, you find a perfect location in a blink of an eye.
Let your crew secure the jetski, while you unpack the Seabob and snorkelling gear. Dive into the waters of a secluded bay and enjoy the richness of Adriatic underwater life; use the Sea bob so you could fly through the seabed, feeling like a true marine being. Observe the numerous specimens of aquatic flora and fauna, like corals, crabs, fish schools, sea cucumbers or the ever-present sea urchins, a clear sight that the Croatian Adriatic sea is clean and healthy.
Afterwards, return to TESORO in a heartbeat, while your dedicated crew returns all the toys, so you do not have to.
YACHT CHARTER CREW
At Your Service.
Captain
Sandi Merhar
Sandi was born in 1969 in Zadar, and he holds a Captain's Yacht Master up to 500 GT. For the same yacht owner, he has been working for the last 15 years on different motor yacht vessels cruising the Adriatic and the whole Mediterranean. Sandi speaks English and has a basic knowledge of Italian. His vast experience, pleasant personality and professionalism ensure that your vacation will be everything you expect. He is the father of 4 children, and in his free time, he enjoys cooking.
Deckhand
Matija Merhar
Matija was born in 1994 in Zagreb. He graduated from the University of Split, Faculty of Kinesiology. For the last 5 years, he has been working with his father on motor yachts, holding the position of a deckhand. His personality is outgoing and friendly, and he has proved to be a hardworking individual with excellent knowledge of yachts. Matija speaks fluent English, and in his free time, he enjoys sports – free diving, running, handball and gym-going.
SIMILAR YACHTS FOR CHARTER
By Charter Rate.
LET'S GET IN TOUCH TODAY.
Contact us.