NOVELA Yacht Charter - An Extra Touch of Luxury
NOVELA yacht charter is truly a great story in the luxury charter world that you need to experience. Built in 2000 and completely refitted in 2019, this amazing yacht is everything you will need while yachting in Croatia.
NOVELA has an amazing variation of outdoor amenities, like a supersized jacuzzi which will, without a doubt, leave you breathless. Indoors, NOVELA offers four luxurious suites, all air-conditioned, and can comfortably accommodate eight guests. Her state-of-the-art surround system provides that extra touch of luxury you would want while cruising the Adriatic.
A very impressive selection of water toys is available under the helpful eyes of the professional five-member crew. NOVELA yacht charter is ready to cater to your every need and be at your disposal 24/7.
YACHT CHARTER ACCOMODATION
Yacht details.
Guests:

8
Cabins:
4
Yacht Length:
30 meters / 100 feet
Yacht cabins layout:
2x Double + 2x Twin
Total living area:
410 sq.m / 4.413 sq.ft
Yacht exterior area:
195 sq.m / 2.099 sq.ft
Yacht interior area:
215 sq.m / 2.314 sq.ft
Types of Cabins on This Yacht:
1x Master Suite + 1x VIP Stateroom + 2x Twin Cabin
Bed Configuration & Size:
1x King + 1x Queen + 4x Single
Yacht Interior Guest Areas:
Main Salon with casual seating · Main Dining Table · A Cocktail Bar with state of the art Entertainment system · Upper Deck (sky)Lounge & Pilothouse with Entertainment Systems · Four Private Cabins
Yacht Exterior Guest Areas:
Aft Deck – Alfresco Dining Table & Welcome Aboard Lounge · Upper Deck - Alfresco Dining Table, Bar, Barbecue & Lounge Sofas · Sundeck – Jacuzzi, Open Bar & Sun Loungers · Beach Club & Swimming Platform · Front Deck Lounge · Master's Private Terrace with Fitness and Lounge Area
TOP 10 YACHT CHARTER FEATURES
Yacht highlights.
1
Refreshed in 2019 with Stylish & Modern Interior
2
Supersize Jacuzzi on Flybridge
3
Stabilisers At Anchor & In Navigation
5
A Wide Selection of Water Toys
7
Large, Light-Filled Main Salon
8
State of the Art Entertainment System
9
Design & Engineering by Luca Dini Design
10
Experienced & Long Term Crew of 4
YACHT PHOTO & VIDEO GALLERY
Charter Moments.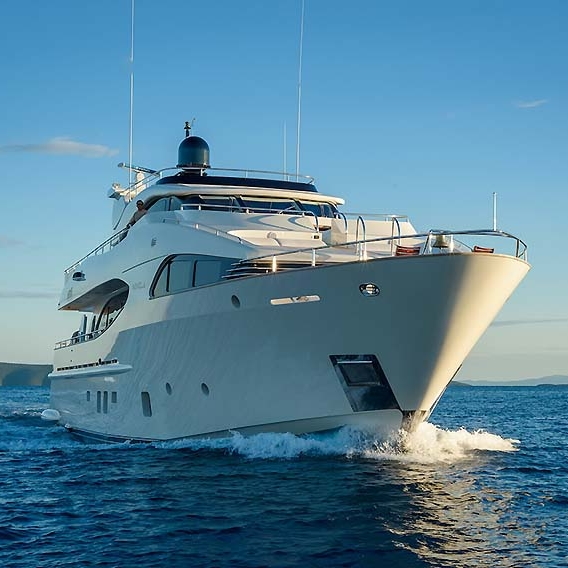 YACHT CHARTER SPECIFICATIONS
Particularities.
GENERAL INFORMATION
Length: 30.60 meters (100.5 ft)
Beam: 7.20 meters (23.7 ft)
Year Built: 2000
Year of last refit: 2019
Yacht Builder: CBI Navi
Main Engines: 2x 1050HP
Maximum Speed: 15 knots
Cruising Speed: 12.5 knots
Fuel Consump. Engines: 275 l/hour*
Generator Engines: 2x 50kW + 1x 25kW
Fuel Consump. Generators: 36 l/hour*
Stabilisers: At Anchor & Underway
*Highly dependent on sea conditions
LIST OF AMENITIES
Spacious Sundeck Jacuzzi Bath & Jacuzzi Lounge · All decks Air Conditioning · Outdoors & Indoors Wi-Fi on board · At-Anchor Stabilisers – No Rolling 'While Asleep' · Under Way Stabilizers – No Rolling 'While Cruising' · All Decks Modern Sound System · LCD & LED Private Library at Main Deck · Sun Deck Private Bar & Barbecue · Upper Deck Al-Fresco Lounge – Private Bar & Barbecue
WATER SPORTS & TOYS
1x Seadoo JET SKI – RXP – X 260hp 2 seater
1x Seadoo JET SKI – RXT – X 260hp 3 seater
2x Sea Bobs (2017)
1x Sailing dingy (2014)
2x 10 6ft Paddle boards
2x Wake board
2x Kneeboard
2x Skis
4x Mono skis
4x Donuts
1x 4 man sofa
1x 3 man flyer
8x Snorkelling equipment
1x Eliptical Cross Trainer on Flybridge
TENDER VESSELS
Brig Eagle, 7.8m Tender (Included)
Axopar 37, 12.5m Chase Boat (Optional)
FULL YACHT CHARTER REVIEW
Inspected by Us.
If you have ever wondered what a perfect vacation looks like, keep reading about the magnificent NOVELA yacht charter and her impressive crew members, since they are her biggest advantage.
Besides tending to your cabin twice a day, keeping the deck clean, doing laundry and bathrooms, NOVELA`s loving and hard-working crew will still find the time to include themselves in your daily activities and to upgrade your overall superyacht experience.
Unrivalled in every aspect, the NOVELA yacht charter crew will help you create unforgettable memories. Not only are they sailors with decades of experience, but they also bring plenty of other skills and knowledge to the table.
Besides her crew, NOVELA`s modern design and lots of fun features entice guests to keep returning to this 30-meter luxury yacht, season after season. After a major refit in 2017, she received noticeable living space and amenity upgrades, making her stand out in comparison with other yachts of her size.
NOVELA yacht charter can accommodate up to 8 guests in 4 spacious cabins, every one impressive in its own way. Because of the large amount of living space and fun amenities, she is a perfect fit for every charter group, from families with children to couples and smaller groups.
She is also a very successful charter yacht, with numerous charters all around the Croatian coastline, with frequent and returning guests.
She has 5 crew members, making the crew to guest ratio above average, even when compared with 50-meter yachts. The crew will try their hardest so you and your charter party can experience the best NOVELA has to offer.
Her crew is really exceptional, providing a service above 5 stars, which is why guests keep returning to NOVELA yacht charter, year after year. Besides animating and making you and your charter party laugh and have a good time, the crew also has regular tasks to uphold and complete, on top of their hobbies and passions that they share with you.
Deckhands tend to provide surfing, windsurfing and diving lessons for those inclined towards a more active superyacht charter holiday, as well as improvised gym work-outs and other exercises. The stewardess will gladly help and provide services for anyone interested in yoga, fitness, wellness or excellent massages.
The chef will always abide by every gastronomical idea you might have. Preferences will always be upheld, but with a professional twist. The meal schedule will be flexible, adapting to your holiday rhythm. Furthermore, in the class of 30-meter yachts, NOVELA is richly fitted, possessing an equivalent of water toys compared to a yacht of 50 meters.
Her water toys include two jet skis, a big tender, a fly board, mono skies and inflatables, so there is a lot to do for families with children, sports enthusiasts and thrill-seekers. Among other things, you could glide over the waves like an albatross with the flyboard or race with jet skis.
If you are already interested in the amazing NOVELA yacht charter, keep reading…
A DAY ON THE YACHT
Flawless service will be something you will remember long after your stay on NOVELA has ended. After a week onboard, the crew will become more than just professionals who assist you during your charter holiday.
They will transform into dear friends and trusted advisors, providing services that go above and beyond their call of duty; feeling their kind and professional service, any charter holiday will turn into a life-changing experience.
Serving you breakfast, the crew will present a variety of itinerary options, making sure you are entertained every single minute of your charter holiday. Before the fun starts, you might enjoy a special salad with fruits from a local farm, homemade pancakes with chocolate dip or strawberry jam or any kind of English, Mediterannean, American or Asian type of breakfast.
You may let your crew take you to local points of interest, discovering sights and places reserved only for the natives. For instance, a particular secluded beach that is kept a secret from regular tourists will be presented to you for your enjoyment.
Homes of the locals will be opened to you, where Croatian grannies will offer handmade goods and delicacies, crafted from century-old recipes. Off-road trails and hidden pathways will be revealed by your caring crew, dedicated to providing an exploration experience of a lifetime. Dare to dive deep into hidden sea caves or climb to the top of a Croatian island using secret dirt paths.
Enjoy your stay aboard NOVELA yacht charter – we also recommend sunbathing on the spacious full-beam sun pads on the upper deck or jumping into the charming jacuzzi right next to them.
Your lovely hostess will serve snacks and cocktails while you enjoy the sunniest island in Europe – the Croatian island of Hvar. After uncovering local secrets and traditions or just unwinding on the upper deck, the chef onboard NOVELA yacht charter will dazzle you with a wide assortment of authentic Mediterranean, French, Italian or Croatian dishes, made from the freshest ingredients and hand-picked wild herbs and spices.
In the afternoon, you might want to try out one of many numerous water toys on NOVELA yacht charter. Just ask your expert crew and in a blink of an eye, the Croatian Adriatic Sea will become a private playground for you and those closest to you. First, you might want to ride jet-skis on open water, jumping on waves.
After that, swap your jet-skies for a hydrofoil or a fly board and glide across the open sea. The feeling is amazing and your loved ones will remember these days forever. Furthermore, you can have fun with inflatables or combine your tender with water skis, answering the age-old question: Is skiing better on water or snow?
Following a fun-filled afternoon, you can return to NOVELA yacht charter. While your chef prepares dinner, withdraw to the TV room for some digital entertainment, where snacks and beverages are already waiting for you.
After a mouthwatering dinner, made specifically to fit your exact tastes, consider a cocktail on the flybridge, letting the calm night air lull you into a state of pure relaxation and bliss.
Decide between going to bed or staying out some more, marvelling at the night sky and the number of visible stars, excitedly waiting for what the crew aboard NOVELA yacht charter has in store for you tomorrow.
YACHT CHARTER DINING
The second you step foot onto NOVELA yacht charter, you will be surprised by the quality and quantity of marvellous meals that come out of this luxury yacht galley. The chef aboard is an expert cook, proficient in numerous cuisines, ranging from Indian, Middle-eastern, Classic continental or Mediterranean.
Because a positive crew creates a wonderful atmosphere, the dining table on NOVELA will always send out an aura of humour, jokes and laughter. With menus tailored to match every taste in food you have, every meal will be made to your liking. Your expert chef will also prepare all kinds of snacks and cocktails, not allowing you to go hungry or thirsty for even a moment.
You will dine on only the finest of dishes, expertly prepared by an experienced chef. A menu similar to this example will be for lunch:
lentil, pomegranate and herb salad
ravioli from the Istrian peninsula with fennel, cipollini onions and truffles
honey scones with lemon mousse and forest fruit crème
For dinner, you and your charter guests can expect something along the lines of:
duck pate with marinated celery, lime and locally grown artichoke salad
duck a l'orange served with famous cheese from the Croatian island of Pag
English chocolate-chip muffins filled with raspberry sorbet
Charter guests on NOVELA are so pleased with the overall dining service that the minute after the charter ends, they already book the same luxury charter for next year.
YACHT MAIN DECK
Right after you step foot on the main deck you will realize how amazing the main deck aft alfresco area is. It will surely become your favourite place to gather and socialise, enjoy breakfast or dinner with some fresh sea air.
Yacht charter accommodation: main salon & dining area
Moving forward, the interior of the main deck features an amazing salon, open and airy because of mirrors, colour themes and the height of the ceiling. During the day, the salon is filled with natural light, thanks to the wide glass windows, placed on both sides of the deck.
You will spend hours lounging in the salon, enjoying drinks from the bar and snacks on demand. A compact and professionally-equipped galley will make sure that you are always wined and dined to your heart's content.
Yacht Charter Accommodation: The Master suite
Towards the bow, the main deck leads to the impressive master suite, featuring a private office, a dressing room and an ensuite bathroom. The wood details and cornering is done in a subtle manner, contrasting the lighter tones of beige and grey, thus making the master suite a truly enjoyable space to spend time in.
The comfortable king-size berth, located in the middle of the suite will impress every guest on board NOVELA yacht charter. In front of the berth is a large pop-up TV, ideal for watching romantic movies or football games while your kids watch cartoons in the upper deck sky lounge.
On the starboard side, you will find a lovely work area which also can be converted into a make-up table. While you are replying to your emails or just putting on lipstick, you might enjoy the marvellous view, courtesy of the large windows that the master suite provides.
Moving down a few stairs, you will arrive at a private foyer that leads to the wardrobe, accessible on both sides, and a large ensuite bathroom in the middle. The ensuite has an amazing shower, toilet, two sinks, a huge mirror and a lot of storage.
YACHT UPPER DECK
The upper deck boasts an impressively large sky lounge, complete with an L-shape sofa and a hidden LED TV, for countless hours of digital entertainment and fun. This is the area that all guests find most enjoyable when chartering NOVELA. Furthermore, the L-shape sofa can be linked to a lovely table to make an additional extra-large bed for some more guests.
The sky lounge openly connects with the upper alfresco deck, where the amount of features blows every guest away. Here, a second alfresco dining area is stationed parallel to a large barbecue, where the expert chef demonstrates his talent by creating 5-star BBQ meals.
And the best for last – a stunning jacuzzi tub, surrounded by a lounge area and sun pads, for those romantic Croatian sunsets.
This fabulous area can also be turned into an improvised yacht gym. After the sun passes its zenith, your motivated yacht crew will create the perfect surrounding for a stretch-out session or some light exercises.
YACHT SUNDECK
NOVELA yacht charter will surprise you with an ace up her sleeve, in the form of a sun deck located on the bow of the main deck. This front-facing sun lover`s paradise is a perfect place to have breakfast in the morning, thanks to a compact dinette arrangement and a coffee table.
Sun-worshippers will also enjoy a comfortable double sunbed setup. Charter guests prefer the front sun deck for observing the panorama while cruising because it offers an unobstructed view of NOVELA`s heading and destination.
On this magnificent yacht, there are even more sunbathing areas. One of the guest`s favourites is located on the upper deck aft, where cosy sun pads create a beautiful C-shape, which surrounds a lovely jacuzzi.
If you want to be even closer to the sun, there is one more upper deck where you can sunbathe in complete privacy. Order your favourite drink, bring a best-seller book and enjoy the sunniest islands in Europe – located in the middle of Croatia.
YACHT LOWER DECK
The lower deck interior aboard NOVELA is masterfully decorated, with unified themes that span the entirety of the yacht, following the basic principles of Art Deco.
An enjoyable blend of classic and contemporary elements, the lower deck on NOVELA is outlined with a glossy wood finish, pleasant artwork and intricate details. NOVELA yacht charter boasts 4 cabins, of which one VIP stateroom and two twin cabins are located on the lower deck.
Yacht Charter Accommodation: The VIP Stateroom
The VIP stateroom can also be called a second master suite. It features modern entertainment systems with a contemporary décor and mirrors that help displace natural light coming in through big portholes. In the middle of the stateroom, you will find an amazing king-size berth surrounded by two nightstands.
What is great about this stateroom is the magical mirror on the ceiling, so guests have the feeling of a much larger space. On the port side is a vanity table ideal for replying to emails and a huge walk-in wardrobe where your luggage will be safe.
Moving to the starboard side, you will find an amazing sofa that is ideal for observing astonishing nature or just reading your favourite book. Next to it is an ensuite bathroom with a large shower, toilet, two sinks, a great mirror and a lot of storage.
Yacht Charter Accommodation: Two Twin Cabins
As it is somewhat standard on luxury yachts, the twin cabins have an option of converting into a double, for maximum sleeping flexibility.
The comfort and spaciousness of the cabins on NOVELA yacht charter is something charter guests always complement, testifying that they sleep better on board than on land. The twin cabins also have a lovely ensuite bathroom so each guest aboard NOVELA will enjoy complete privacy and comfort.
In addition, NOVELA was recently refitted with a brand-new interior, adding two brand new silent generators installed in May of 2021. This guarantees no background noises when anchored or berthed, so everyone on board can sleep in peace and comfort.
YACHT BEACH CLUB & SWIMMING PLATFORM
On NOVELA yacht charter, all water toys and tenders are located in the garage, which doubles as a large swimming platform. An added bonus is a costume-made inflatable dock, constructed exclusively for this yacht.
Fitting two jet skis, two Sea bobs and two paddleboards easily, the buoyant dock can also serve purposes as a launching platform, a swimming platform and a sunbathing platform.
Ask your crew to separate the dock from the beach club so you could enjoy your very own private piece of floating paradise. Have cocktails at the ready, delivered using jet skis by your dedicated crew, while you enjoy a beach in the middle of the open sea.
YACHT WATER TOYS & WATER SPORTS
On NOVELA yacht charter there are a variety of choices of water toys, from jet skis, super fun Sea bobs, a sailing dinghy, easy to use paddleboards and snorkelling equipment.
Explore the depths of the Croatian Adriatic sea or go swimming with schools of fish. Whatever fun activity you wish to engage in, know that your expert crew will always have your safety and the safety of your charter party as their highest priority.
My favourite water toy is a fantastic jet ski, which I used to circle around the yacht while also exploring isolated bays in Croatia's breathtaking Adriatic Sea.
It is the ideal water toy for having fun with yourself, with friends, or with family. In addition, the skilled crew demonstrated some fantastic tips on how to get the most out of the jet ski while chartering a yacht in magical Croatia.
YACHT CHARTER CREW
At Your Service.
Captain
Andy Marinovic
Andy was born in Croatia, but at an early age moved to London where he was raised. He would spend his holidays in Croatia and around boats, from where his adoration of the sea was born. After working as a stockbroker in France and the UK, he decided to radically refocus his efforts and started a successful motor yacht charter company in Croatia. Years later he sold his company to a luxury hotel chain and ever since has never looked back. Andy is a true polyglot having lived and travelled all over the world. He speaks four languages fluently, can blend into any situation.
Chef
Nikola Knezic
Nikola was born and raised in Sibenik. He started his career in restaurants in Sibenik, and worked his way up through various divisions of different kitchens and in one of the best restaurants in Croatia, before joining the yachting industry in 2019. Nikola is a real magician in the galley! He is a talented and creative chef, who cooks with passion and is very eager to learn new recipes, styles and cuisines. Nikola always strives toward perfection.
Captain
Chef
stewardess
engineer
deckhand
SIMILAR YACHTS FOR CHARTER
By Charter Rate.
Imagine
Timeless Yacht From Ferretti Group, Led by an Exceptional Crew
from: 62.000 €
per week
Ena
A Refined Queen of Luxury Yacht Charters in Croatia
from: 64.000 €
per week
Klobuk
Classical Choice Fitted To Provide Luxury Vacation
from: 66.000 €
per week
LET'S GET IN TOUCH TODAY.
Contact us.