Photo credit to monocleyachts.com
Kayaking in Croatia is a perfect yacht charter activity
Because of their versatility, kayaks can turn any yacht charter holiday into a fun experience. Explore, fish, relax or get some light exercise. Use it as a swimming and diving platform or go adventure-seeking with your family & friends – there is no end to the possibilities that the kayak provides.
A kayak is a perfect means of transportation if you want to get close and personal with the beauty of the Croatian Adriatic sea – let the surface of the sea be the medium that fuels your holiday charter vacation.
The difference between a kayak and a canoe is in the sitting positions and using different paddles. Ask your yacht crew to prepare a canoe for covering longer distances and a kayak for coastal exploration.
Kayak away from your yacht and into a swift sunset
A combination of yacht charter and kayaking in Croatia offers beautiful experiences and spectacular panoramas. Want to relax? Why not paddle over the swift sunset, feeling the last warmth of the sun on your skin. Gliding through the glistening Adriatic, with velvet waves gently refreshing you, is a sensational experience you will never forget. After the sun sets, find some peace and quiet on the water, before returning to your chartered superyacht for some well-deserved supper. Afterwards, you will sleep like a baby – guaranteed.
Consider choosing a low wind day, to avoid collisions with the wind.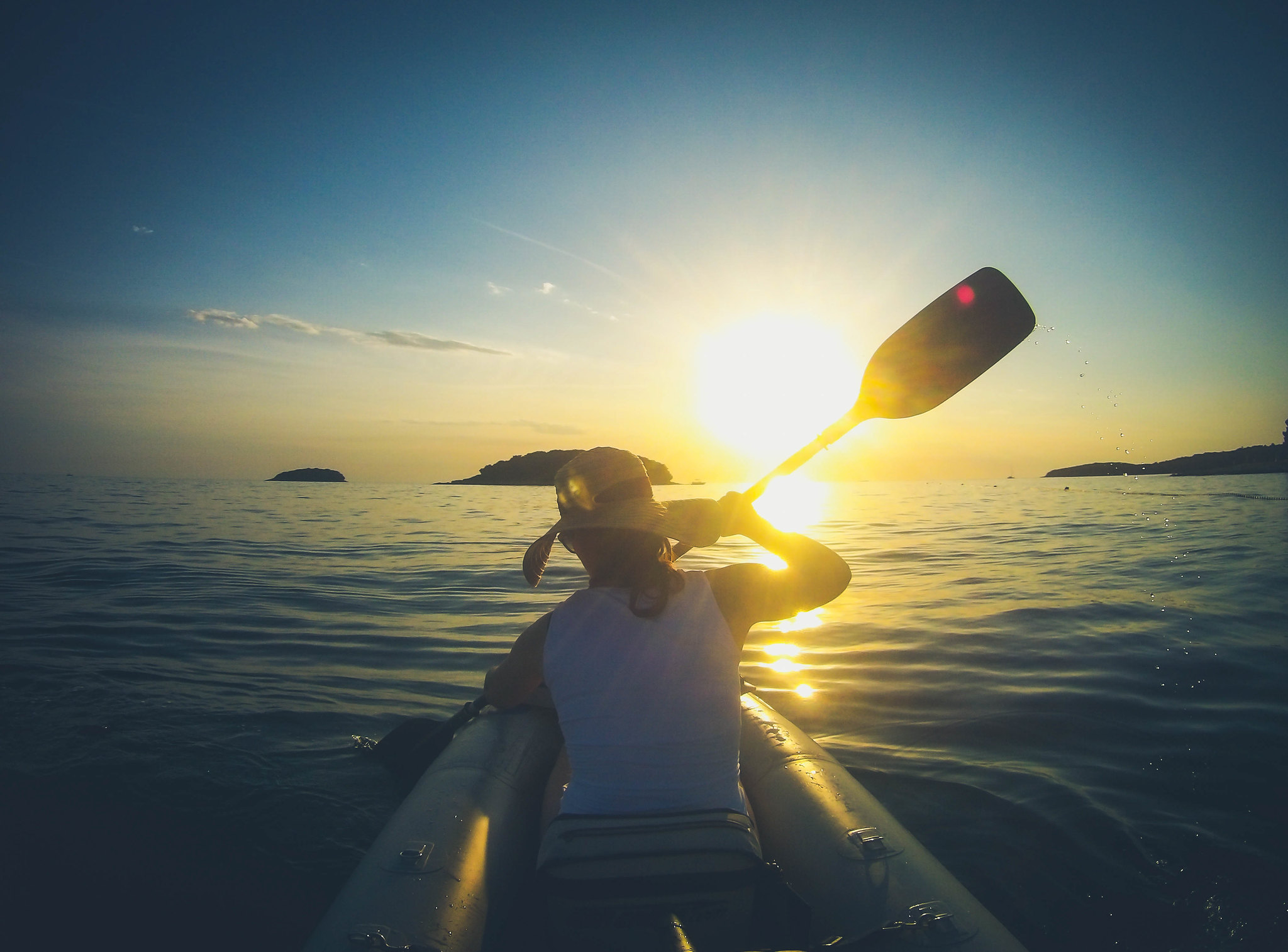 Enjoy the exclusivity of the beaches that become available when combining chartering a superyacht and kayaking in Croatia. You can choose a beautiful location to anchor your charter and then go kayaking, exploring capes and coves otherwise inaccessible to superyachts.
The best thing about kayaking in Croatia & chartering a superyacht is that you have all the equipment available at any time. Kayaking merges leisure and pleasure, extending your superyacht experience to the very edge of the water's surface. Choose if you want to paddle to shore or observe underwater life, always having the quick option of returning to your superyacht.
Kayaks offer a sound and secure way of exploring locations otherwise unreachable to bigger boats, especially superyachts.
Enjoy a kayak picnic with your friends and family
Have fun on a kayak picnic – a truly unique outdoor adventure. Disembark from your chartered superyacht, then paddle to the perfect beach with your kayak. Your superyacht charter crew knows the best local places to have a seaside picnic – ask them. Invite a loved one and make it a romantic getaway or have a fun time on the beach with your friends and family.
The chef on your superyacht charter can prepare a special picnic menu, filled with local delicacies and authentic ingredients. Your expert charter crew will load your kayak with snacks, water, dessert or fruit, and find a perfect spot for a kayak picnic. Enjoy seaside activities and sports. After some seaside respite, let your crew set up for a meal and take a quick dip before returning to your superyacht home base.
Your superyacht crew will always escort you on your adventures, making sure you got everything you need.
Anchor your yacht & investigate secret caves
Kayaking in Croatia will connect you with nature while you discover secret locations on your private yacht charter. You can ask your experienced yacht crew about the best caves in Croatia and the best time to visit them. Near the island of Vis lies the most famous underwater cave in the Adriatic, the renowned Blue Cave. This cave reflects natural light, using the water inside the cave as a lens, which produces the most amazing colours and an atmosphere of silvery glass.
With a chartered superyacht, you can decide when you want to go cave exploring – at dawn, noon or dusk, low or high tide. Choose a clear, starry night and let the moon shine against the blue sand surfaces of the caves – a stunning sight to behold. Entering and exiting any cave will be the easiest thing to do, since all kayaks are nimble, compact and agile.
It is always a smart idea to wear a wet suit, for added sun protection and because the sea in the cave is almost always colder than the outside.
Follow the Adriatic Sea into the river Krka
Set a course with your superyacht charter to the delta of the river Krka and experience the difference between kayaking in the salty sea to paddling in the fresh waters of the Krka river and Krka National Park. Observe the difference between sea and river underwater life. Kayak up-river and explore Krka National Park, witnessing a whole different ecosystem, before returning to your charter in the evening. The professional crew aboard your superyacht always make kayak safety their highest priority, so there is always an easy way back to your charter.
There are many variants of the kayak, fitted for various needs: sail kayaks, gliding kayaks, pedal-powered kayaks and the standard single or tandem cockpit kayaks.
Go on a kayak fishing tour
Catch the biggest fish and tour the best fishing locations, by advice from your expert and local superyacht crew. You can get to know the sea from a fisherman`s perspective and catch your dinner. Afterwards, ask the chef on your charter to prepare it and taste your catch with some local olive oil and authentic wines. Surround yourself with the azure waters of the Adriatic and get near nature like never before.
Observe the richness of the underwater life, thanks to kayaks with transparent bottoms, and gaze upon fish schools, shellfish, crustaceans and more. If it gets too hot, let a refreshing dip in the Adriatic Sea cool you off, before continuing onwards.
Kayaks are ideal for deep-water fishing because they can silently manoeuvre through waters that would otherwise be disturbed by larger boats.
Why kayaking in Croatia is an ideal yacht charter activity?
Kayaks are excellent for watersports and there are many models that can accommodate various needs. Use kayaks for fitness, coastal exploration, fishing or fun – the options are endless. Only the best kayaking equipment is stored on your chartered superyacht – easy to manoeuvre, easy to lift and tough enough to resist all conditions on sea and land. The biggest thrill you could experience is adventure kayaking on your superyacht charter. Have a look at our selection of superyachts that have the best kayaking equipment.
Charter Yachts
We present to you the best selling yachts for charter in 2021. Slide through these different yachts, ranging from 20 to 80 meters in length, and choose the best option for you. If you have any questions regarding yacht charter, destinations & yacht support, contact us.
VIEW ALL CHARTER YACHTS
VIEW ALL CHARTER YACHTS