HAPPY ME Yacht Charter - Beautiful Italian Design & Top-Class Features
Happy Me yacht charter is the newest addition to the world-known Benetti yacht range. She has state-of-the-art equipment onboard, an abundance of space for socializing & relaxing, and a huge selection of water toys to keep all guests entertained.
She has a modern, chic interior with a spacious main saloon connected to a main deck dining area. Also on the main deck is a full-beam master suite with an office and 2 large dressing rooms. Guest cabins on the lower deck are perfect for the other 9 guests – 2 VIP staterooms, twin cabin, and a convertible, are all en suites with heated marble floors. 
The sundeck is a perfect area to relax and unwind with another dining table for 10, a large sofa, and a BBQ. The front deck area is another special feature, perfect for sunbathing with plenty of comfortable sun pads & a large Jacuzzi, ideal for 6 guests.
YACHT CHARTER ACCOMODATION
Yacht details.
Guests:

11
Cabins:
5
Yacht Length:
40 meters / 132 feet
Yacht cabins layout:
3x Double + 2x Twin
Total living area:
731 sq.m / 7.869 sq.ft
Yacht exterior area:
331 sq.m / 3.563 sq.ft
Yacht interior area:
400 sq.m / 4.306 sq.ft
Types of Cabins on This Yacht:
1x Master Suite + 2x VIP Stateroom + 2x Twin Cabin - Convertible to 2x Double Cabin
Bed Configuration & Size:
1x King + 2x Queen + 4x Single - Convertible to 2x Double + 1x Pullman
Yacht Interior Guest Areas:
Sky Lounge with a Private Cocktail Bar & a Karaoke Machine · Main Salon with Private Entertainment Centre · Main Dining Table · Main Deck Day Head · Galley Bar Area · Captain's Bridge Lounge · Five Private Cabins
Yacht Exterior Guest Areas:
Aft Main Deck Lounge · Beach Club with Swimming Platform · Sundeck Jacuzzi & Sunbathing Lounge · Sundeck Dining Table for 10 · Front Sunbathing area · Sundeck Outdoor BBQ & a Private Bar
TOP 10 YACHT CHARTER FEATURES
Yacht highlights.
1
Brand New Yacht from Benetti Classic Supreme 132 Range
2
Front Deck Sunbathing Area with Jacuzzi for 6
3
Sky Lounge on the Upper Deck with a Disco Setup, Karaoke Machine & Cocktail Bar
4
Pool Table & Football Table on the Upper Deck
5
Heated Marble Floors in Every Guest Area
6
4 Exercise Machines on the Sundeck + 4 Hybrid Bikes
7
Massage Room with a Private Masseuse Onboard
8
12m (40 ft) Chase Tender With a 850 HP Engines
9
Fantastic Selection of Water Toys Including 2 Seadoo Jetski
10
Experienced & Local Yacht Charter Crew
YACHT PHOTO & VIDEO GALLERY
Charter Moments.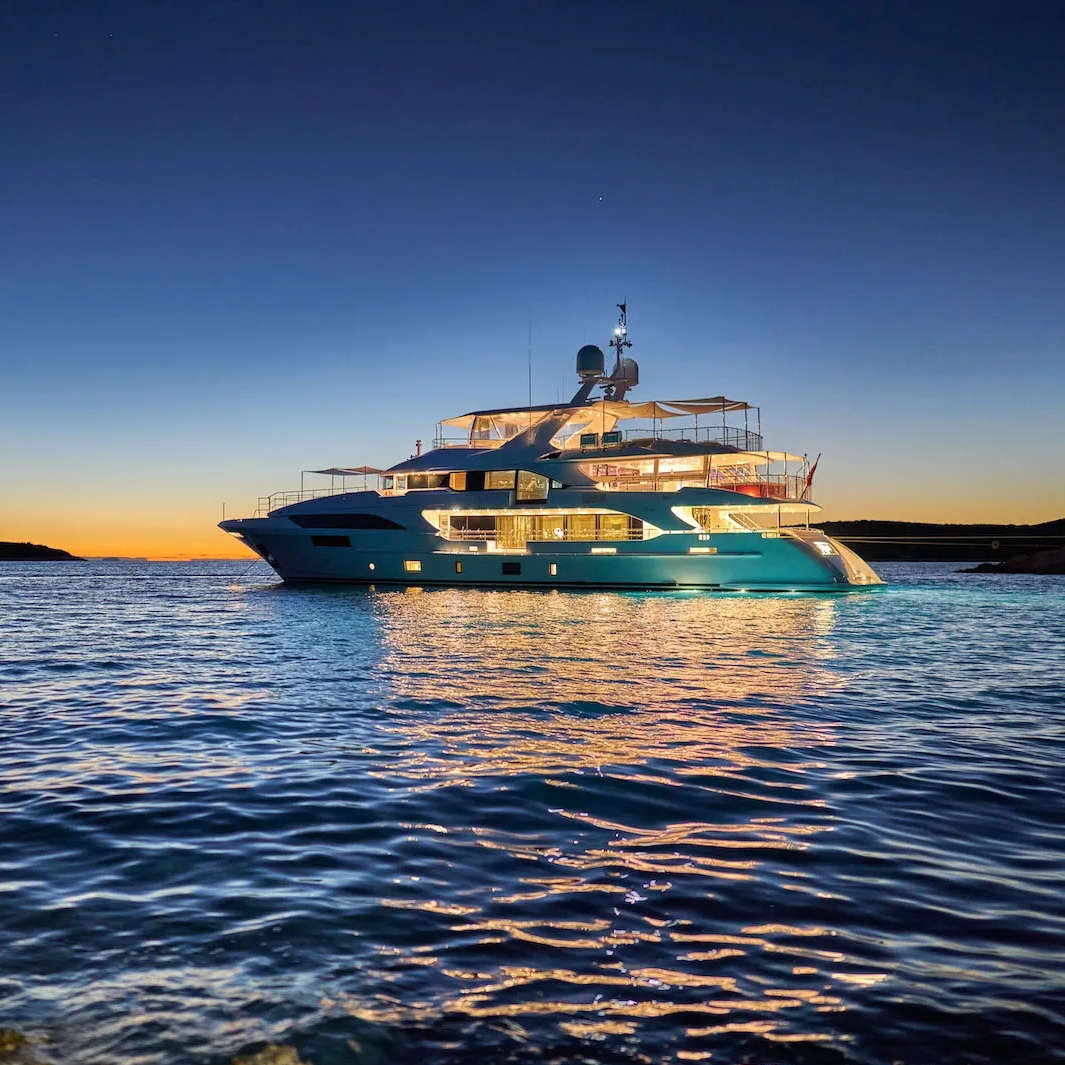 YACHT CHARTER SPECIFICATIONS
Particularities.
GENERAL INFORMATION
Length: 40.24 meters (132 ft)
Beam: 8.18 meters (26,10 ft)
Year Built: 2020
Year of last refit: –
Yacht Builder: Benetti
Main Engines: 2x 12V 2000M72
Maximum Speed: 16 knots
Cruising Speed: 11 knots
Fuel Consump. Engines: 160 l/hour*
Generator Engines: 2x 80 kW
Fuel Consump. Generators: 50 l/hour*
Stabilisers: At Anchor & Underway
*Highly dependent on sea conditions
LIST OF AMENITIES
Outdoors Yacht GYM Equipment · Spacious Sundeck Jacuzzi Bath & Jacuzzi Lounge · All decks Air Conditioning · Outdoors & Indoors Wi-Fi onboard · Under Way Stabilizers – No Rolling 'While Cruising' · At Anchor Stabilizers – No Rolling 'While Asleep' · All Decks Modern Sound System · All Suites with Private Entertainment Centres · Sundeck BBQ · Disco Setup on the Sky Lounge – Karaoke Machine, Cocktail Bar, Smoke Machines · Massage room
WATER SPORTS & TOYS
1x Seadoo RXP-X 300 sit down jet ski (2 person)
1x Seadoo RXT-X 300 sit down jet ski (3 person) with module for waterskiing
2x Seabob F5
1x Inflatable docking pontoon
2x E-foil (available upon request and at Captain's discretion)
2x Kayaks
2x Windsurfers
2x Standup Paddle boards
2x Waterskis (selection for adults and children)
1x Wake board
1x Kneeboard
2x Donuts
1x 3-person armchair
1x Drone
11x Snorkelling equipment
1x Fishing equipment
4x Hybrid bikes (Specialized Diverge Sport)
4x Hybrid e-bikes (Specialized Turbo Creo SL Comp Carbon EVO) (Bicycles available upon request with sufficient notice prior to the charter)
TENDER VESSELS
Technohull Explorer 40, 12.1m Tow Tender (Included)
Axopar 37, 12.5m Chase Boat (Optional)
FULL YACHT CHARTER REVIEW
Inspected by Us.
Can you just imagine having your private movable island, amazingly designed and fully equipped with everything you will ever need? Chartering a motor yacht (m/y) HAPPY ME will awaken in you only the most beautiful sensations and you will enjoy every moment. HAPPY ME yacht charter is the newest and most advanced yacht in the Benetti Classic Supreme 132 series.
She was built in 2020 and carefully supervised by the original ideas of her owner with a keen eye for detail, as well as a desire to have the best equipment, a wide range of guest amenities, and entertainment systems all aboard one yacht. HAPPY ME yacht charter is now one of the best yachts in its size category thanks to the owner`s efforts and you can charter her in Croatia!
Her oversized and extremely powerful engines have a horsepower output equivalent to 8 Lamborghini Diablos which gives her a top speed of 16 knots and a cruising speed of 11 knots. Built almost entirely of fibreglass and with an excellent hull efficiency, the HAPPY ME yacht charter will burn just 160 litres of fuel per hour at her cruising speed.
This amazing design, which spans more than 40 meters in length, can accommodate up to 11 guests in 5 spacious cabins. All guest areas on HAPPY ME yacht charter have heated marble floors so you will feel comfortable at any time of the year. Furthermore, the full-beam master suite has an office, two generous dressing rooms, and an astonishing bathroom with a steam shower.
Also, the HAPPY ME yacht charter has 2 VIP staterooms and 2 twin cabins both of which convert to double cabins and one of which has a Pullman berth. Moreover, she has huge windows that naturally light up the high-ceilinged interiors, a giant beach club with fold-out stern platforms, with an inflatable docking pontoon to provide you with additional space.
HAPPY ME yacht charter has 7 crew members on board, all of them are Croatians, who will show you the best-hidden coves, gorgeous private beaches, and exclusive photo opportunity spots. Furthermore, on this superyacht, you can play billiards and table football against your crew, or show your singing skills during karaoke and disco night where you will have the best laser lighting and smoke machines.
HAPPY ME is a fantastic yacht with the most water toys of any yacht of its length. Your superfast 12-meter chase boat with 850 HorsePower is even stronger than a Porsche 918 Spyder. You can cruise in style on two donuts, a banana, or two armchairs, it is up to you.
After a long day filled with the exciting activities that this yacht has to offer, you can unwind with a massage courtesy of the onboard professional masseuse on the upper deck or a workout with a coach on the sundeck gym.
When I first time visited HAPPY ME yacht charter I just fell in love. Her amazing interior and spacious exterior give you the opportunity to absolutely enjoy every second of your yacht charter vacation in Croatia. It is perfect for families as well as for friends.
There are a lot of water toys with which you can explore the most interesting and secluded places in Croatia and have complete privacy, without seeing other tourists. HAPPY ME yacht charter is the absolute winner for me in the category of yachts up to 40 meters.
If you are wondering why I fell in love with the HAPPY ME yacht charter keep reading …
A DAY ON THE YACHT
For the early birds, there is no better way to greet the day than to pull out Standup paddleboards or kayaks and watch the sunrise over the mountains. Enjoy that magnificent and unique moment! With your HAPPY ME yacht charter, you can experience a new sunrise every day in a different location.
If you like to sleep longer or just do not like adrenaline in the early morning, after waking up, enjoy a cup of your favourite Turkish or ness coffee on the front sundeck while your crew prepares breakfast.
After your ideal morning, the amazing breakfast will be ready according to your preferences. A Croatian chef will enthusiastically present local specialities such as freshly baked bread on coconut butter, covered with an aromatic spread of freshly picked apricots, or a beautifully arranged fruit bowl with homemade Croatian yoghurt. With such a breakfast, the hostesses can prepare freshly squeezed orange juice with mint leaves or your favourite cup of black tea.
If you want to burn those breakfast calories your yacht will stop next to the island of Mljet, where you can explore uninhabited places with 4 hybrid bikes or 4 hybrid e-bikes. Enjoy the untouched nature. Furthermore, your crew can make an alfresco lunch in the middle of the national park.
Your loved ones will be delighted with this experience! A private chef onboard HAPPY ME yacht charter can prepare a multi-course lunch while the captain is opening a bottle of your favourite Dom Perignon with a sabre. After lunch, your yacht will be waiting for you right next to your alfresco location and you will be ready to continue your journey to the next location.
Also, if you want to relax after breakfast, you can catch the sun lights on your sundeck or watch a Netflix movie in your sky lounge. Afterwards, you can have lunch in an air-conditioned dining room by the most extravagant interior and huge windows on both sides, giving you natural light during the whole day.
Enjoy your favourite lobster and salmon terrine with snow crab and keta caviar or marinated grilled chicken thighs and bok choy, paired with your chosen bottle of exclusive wine. While you have your indoor lunch, the captain will be moving to the next location.
As you cruise on, you can enjoy the beautifully decorated sundeck from which you can follow the vessel and enjoy the unique view, or play billiards or table football against your children who will celebrate victory against you for days.
While you are playing with kids, your better half can relax during the massage with an onboard masseuse or practice a headstand (Salamba Sirsasana) with your yoga tutor. HAPPY ME yacht charter is ideal for the whole family!
At your disposal, you will have a drone, so you can take pictures and record the whole holiday or just learn how to fly it. On the way to the next location, you and your captain can decide to anchor in the middle of the crystal-clear turquoise sea. Take out all your water toys and practice head jump on an Inflatable docking pontoon or learn to operate an E-foil. Every day, learn something new because HAPPY ME yacht charter has the biggest array of water toys of any vessel of its type!
For dinner, you can suggest to your chef to make the best BBQ together; mix freshly caught fish and delicious Croatian meat, or let him prepare your favourite poached king prawns with new season potatoes or roasted crowns of lamb with baby carrots.
Your hostesses will bring you your favourite chilled beer or authentic wine so you can enjoy a magnificent dolphin dance around your yacht, which will make your dinner even more special. You can celebrate the end of the day in the jacuzzi or in the sky lounge watching your favourite movie and sipping the tastiest cocktails your crew can make. Let your HAPPY ME yacht charter really make you the happiest person in the world!
YACHT CHARTER DINING
Imagine yourself enjoying the most magnificent sunset while sipping your favourite champagne as your private chef Marko prepares an innovative and exciting meal from the Mediterranean or Asian cuisine. He can prepare you 3-5 meals a day, and each of them will astound you.
Having a talented and enthusiastic private chef, every meal will be special. Marko worked with award-winning chefs, including two Michelin-starred chefs so he can prepare meals that have received many prizes and his food is really on the level of the best Croatian restaurants.
Enjoy seared fresh tuna steak with mango, lime, and chilli salsa or fillet steak with lemon and parsley gremolata, saffron rice, and Mediterranean vegetable ratatouille. He will always know which Croatian wine will be the best choice for your meal or you can decide instead of him.
Your private chef likes to prepare BBQ, so there is an opportunity to showcase your amazing grilling skills. Have fun during your vacation and let your private chef teach you the best techniques of preparing delicious meals. His mission is to provide guests with brilliant, imaginative, tasty food and world-class service.
YACHT MAIN DECK
As soon as you walk onto the main deck, you will know how incredible this superyacht is. The designer of this yacht has done an amazing job with the exterior and interior of the whole yacht. The light colours and materials create a relaxed and informal atmosphere while keeping things subtle and without anything too flashy. This really is where the richness of the interior emerges.
The amazing main deck aft is the place where you can have an aperitif, enjoy an amazing world-class dinner on a large alfresco table, or simply chit-chat on comfortable sofas while listening to the chirping of island birds and the sound of the sea.
Yacht Charter Accommodation: Main Salon & Dining Area
When you enter the inside foyer, the indoor saloon will leave you speechless. HAPPY ME yacht charter features the latest construction technology paired with breathtaking design, making it the ideal charter yacht. Beautiful turquoise and beige sofas, huge windows that provide constant light, handmade silk artworks created from millions of individual hand stitches will delight you. You will immediately fall in love with this room.
Further on the front, there is a huge dining area beautifully decorated with two Japanese frescoes and a table for 10 guests. The fun fact is that you can separate these artworks using the remote control, and behind you can find a secret champagne glass stand. Behind the dining room is a yacht galley where your private chef will prepare delicious meals every day.
Yacht Charter Accommodation: The Master Cabin
On the starboard side of the dining room is a spacious foyer with a day head and access to the master suite. A full-beam master suite, with a king-size bed, has huge double windows on each side, allowing the endless view of the water and the horizon. What will amaze the female part of your charter party is a perfect makeup table and two generous dressing rooms. There is also an ensuite grey and copper marble bathroom with a central steam shower.
Such an incredible interior will leave you speechless, and you will immediately want to design your own completely identical. The mind-blowing marble floor in the bathroom is even heated so you will feel comfortable any time of the year. Your master suite will be the area where you can watch your favourite football game on the large LCD TV or take a nap after a delicious breakfast.
YACHT UPPER DECK
The upper deck of the HAPPY ME yacht charter is also known as a "fun deck". It is perfect for all generations, and both young and old can play billiards or football tables. Show off your high school skills and some tips you learned 20 years ago to your better half. She will be overjoyed, and the kids and friends will try to imitate you.
If you have always dreamed of becoming a singer, HAPPY ME yacht charter is the place to show your special skills. Sky lounge converts to a day or nightclub with the best karaoke equipment, laser lights inside and out, a cool onyx bar with two real beer taps, and a smoke machine. Enjoy your evening and sing your favourite song. Become a singing star one day!
When you choose to relax rather than play or sing, the upper deck even has a massage room with an onboard massage therapist. Next to the massage room is a gym bath with a shower and a separate day head. If you are going on the front you will find a spacious jacuzzi for 6 guests, a glamorous sofa, table, and plenty of sun pads where you can drink your favourite rose wine or whiskey.
On the upper deck, there is also a captain's cabin and a wheelhouse from which you can enjoy the breathtaking cruise. Since these two rooms are so close together, you do not really have to see the captain if you would not want to.
YACHT SUNDECK
The huge sundeck is the real stress reliever where you can spend the day with a loved one or have dinner at an alfresco table for 10 guests. Surprise your squad with a sundeck BBQ and watch the game of your favourite home club on pop-up TV. A fully retractable roof on the sun deck, with sliding glass doors and even ceiling heaters, offering the greatest possible flexibility and comfort in all weather conditions.
During the day, you can chill on sun pads while sipping your favourite rose champagne or watch the captain from the bar stools. Also, on the front sundeck, you can enjoy a spacious jacuzzi for 6 people, sun pads, sofas, and 2 pool tables where you can put your fruit salad or interesting book.
If you want to exercise, you also have 2 techno gym treadmills and 2 Technogym exercise bikes on the sundeck. Stay fit during your dream vacation and work out on the sound of the sea.
YACHT LOWER DECK
The lower deck has two VIP staterooms and two convertible twin cabins which can be arranged in minutes in twin or double format for extra flexibility and with an extra Pullman berth. This beautifully designed lower deck can comfortably accommodate 8-9 guests.
Yacht Charter Accommodation: Two VIP Staterooms
Amazing VIP staterooms, with queen-size beds, are beautifully designed and have heated marble en suite bathrooms with showers. The combination of blue, gold and white colours will astound each guest in this great stateroom.
Furthermore, on the lower deck cabins, you will be able to watch different news channels, movies or football games in each room since all of them are equipped with a widescreen TV. The coolest feature is that the onboard iPads are monitoring the lighting, temperature, TV, music, and curtains in all guest areas. HAPPY ME yacht charter is an entertaining paradise.
Yacht Charter Accommodation: Two Twin Cabins
Each of the lower deck cabins has a desk and a wardrobe where you will easily find a perfect combination for exploring the islands or enjoying a night party. Your kids or friends will enjoy two more twin cabins that can easily be converted into two double cabins. HAPPY ME yacht charter is always full of surprises that you will adore.
YACHT BEACH CLUB & SWIMMING PLATFORM
The beach club on HAPPY ME yacht charter is ideal for connecting with the sea, and your crew can arrange chairs, a bimini and a table so you could wholeheartedly enjoy sipping champagne against a marvellous Adriatic background.
Savour the connection with the sea as you feel the salty sea breeze gently pass through your evening attire.  Experience the sensation of gentle waves meeting the hull of HAPPY ME yacht charter, as you gaze into the distance with awe, inspired by the awesome beauty of the Croatian Adriatic sea.
Let your dedicated charter crew prepare a special atmosphere, so you could enjoy the beach club and swimming platform on HAPPY ME in luxurious and exclusive surroundings. Dress formally and make the swimming platform a part of the dinner event, where you will be sampling pre-dinner cocktails and palette cleanser, before sitting down at the main deck aft alfresco dining area; or pick the interior salon as the background for the continuation of the evening.
This way, you will stay in touch with the sea during every second of your incredible charter holiday in Croatia.
YACHT WATER TOYS & WATER SPORTS
HAPPY ME has an extraordinary list of water toys and her crew made every effort possible to make sure you enjoy the vacation of a lifetime without ever having to leave the vessel if you do not want to.
The Technohull Explorer 40 chase boat can take you to absolutely every secret cove where you can use your snorkelling or fishing equipment, depending on your plans for the day. While you relax, your friends can race on two fantastic Seabobs or try windsurfing.
HAPPY ME yacht charter even has an extra inflatable swimming platform, extending your reach into the sea even further, while allowing you and the members of your charter party easier access to the plethora of water toys on this fantastic yacht.
My favourite water toy on HAPPY ME yacht charter is an impressive three-seat Seadoo RXT-X 300 Jet-Ski with a module for waterskiing. Its innovative lighter design, together with the Ergolock System, maximizes stability in any situation and it is super easy to drive.
With the 300-hp engine, it can go 60 mph (96 km/h) which is enough to enjoy an amazing ride on the Adriatic sea, race with a friend or explore the mysterious bay with two other people. This extremely secure jet-ski is perfect for families and groups of friends.
YACHT CHARTER CREW
At Your Service.
Captain
Boris Slatina
Boris worked as a Captain on a Croatian Police Cutter Yacht for 20 years. Boris moved into the private yacht sector in 2004 and has captained a number of charter yachts of differing sizes based in Croatia and the Mediterranean. The latter include the Superyacht 66° ABOVE, which he captained from 2011, followed by HAPPY ME, where he continues to be employed as Captain by the same owner. Captain Boris is a 500GT STCW II/3 qualified captain and has vast experience at sea. He speaks fluent english and will ensure your stay onboard HAPPY ME will be an unforgettable experience.
Chief Engineer
Ante Vladovic
Languages: English, German, Croatian Ante has always had a passion for engineering science and technology. Having worked for many years on board multiple vessels, he has developed extensive knowledge and experience of ships systems and engines, priding himself on his understanding of all working parts on board the ship. He is a great team player and likes to lead by example. Ante will ensure you spend some memorable times onboard and will put your safety firs, whilst he keeps all the ships engines running.
Deckhand
Duje Mise
Languages: Croatian, English, German. Duji has spent 12 years working on ships including big cargo vessels where he first started his career as an apprentice mate. Duji is very organised and plays a vital role in ensuring many aspects of the day to day running of HAPPY ME are attended to. He prides himself on having a good eye for detail and is happy to assist meeting any needs guests on board the yacht may have.
Junior Deckhand
Luka Sminderovac
Languages: Croatian, English, Polish Luka recently joined the HAPPY ME team and is passionate about a career in the yachting industry, travelling and developing his skills as much as possible. Luka is a trained physiotherapist and assists on board with massage therapy. His interests include travel, water sports, hiking, keeping fit and sailing
Chief Stewardess
Nikica Radic
Languages: Croatian, English, Spanish, Italian. Croatian Nikica worked in the luxury hospitality industry for 6 year before moving onto luxury yachts. Nikica is the go-to person onboard for "mission impossible" requests, including sourcing the best tables at restaurants, buying rare wines and much more. Nikica is also a licensed bookkeeper and holds a yacht license up to 50 GRT. Nikica's strength lies in her ability to relate to a wide variety of people and to understand and adapt to their every need. Her friendly & positive personality is displayed in any situation and her exceptional social skills make others feel comfortable and relaxed in her presence.
Second Stewardess
Martina Božikov
Languages: English and German. Martina resides in Šibenik,Croatia. She has always been very active and has a great love for basketball where she played at a professional level whilst at school and university. After completing her education she worked part time in the hospitality industry whilst studying physiotherapy. After graduating she has worked extensively in both spa, relaxation massage and sports massage. Her great love for the sea and passion for service led her to the position of Stewardess aboard Happy Me.
Chef
Marko Rajilic
Languages: Bosnian, Croatian, English Marko is an experienced and ambitious chef with a strong interest in creating imaginative and interesting Mediterranean cuisine. Prior to working on luxury yachts Marko trained and worked in top restaurants in both Bosnia and Croatia, during this time he worked with award winning chefs including training with two Michelin star chefs. It is his goal to deliver amazing, creative delicious cuisine, with best in class service to guests.
Captain
Chief Engineer
Deckhand
Junior Deckhand
Chief Stewardess
Second Stewardess
Chef
SIMILAR YACHTS FOR CHARTER
By Charter Rate.
LET'S GET IN TOUCH TODAY.
Contact us.