5 reasons why Benetti is considered one of the global leaders in the yachting industry
Benetti is one of the oldest and most successful luxury yacht shipyards in the world; its history spans over a century, during which time they managed to construct over 300 yachts of all shapes and sizes. The shipyard consists of more than 300,000 square meters of production facilities (which equals a surface of 5 soccer fields), scattered around 6 shipyards.
As you are reading this article Benetti has around 30 yachts under construction; these include megayachts with lengths of over 90 meters.
Benetti is a luxury yacht shipyard with a pedigree, which guarantees the excellence of design and the quality of every superyacht build. Known for their long-standing Italian signature, Benetti yachts do not lose value over time; in fact, they become living testaments of excellent naval engineering that can trace their roots back for over one hundred years.
Due to their extreme commitment to excellence, as well as a rich tradition to draw inspiration from, Benetti-made yachts are always one step above their competition, while also being up to par with modern luxury yacht standards.
If you are a fresh yacht enthusiast or an experienced yacht connoisseur, Benetti is an excellent stepping stone to the marvellous world of luxury yachting.
The Philosophy of Benetti Yachts
Benetti's philosophy, when it comes to building luxury yachts, rests on several key points, each one a crucial factor when delivering the final product.
First, Benetti`s heritage and culture of boatbuilding is a big factor during the entire process of construction. This entails that the experience and the knowledge of past generations merge with the advanced technology of the future to create a truly timeless design, one that draws power both from the wisdom of the past and the great expectations of the future.
Benetti`s yacht shipyard would mean nothing if it was not for the master craftsmen and professionals of every field related to boat buildings- engineers, designers, carpenters, metalworkers… These highly skilled individuals are the main reason for Bennetti`s fame, for it is they that create, with their sharp minds and skilled hands, the magnificent masterpieces we know as Bennetti-made superyachts.
Each build is compartmentalised into several key steps, and each step undergoes rigorous quality inspection, which is a regular occurrence in Bennetti`s shipyards. Known for adhering to deadlines, while also keeping close contact with the client in order to completely satisfy all the key desires that are expected from a yacht made by Bennetti, this yacht shipyard offers nothing less than floating works of art with an Italian signature.
This all comes down to the final product: a luxury yacht so astounding in every imaginable way, it would almost be a shame to ever let it out of the dry dock- it would sooner belong in a museum.nAll of these factors greatly contribute to the fact that Benetti, one of the most prestigious and recognized luxury yacht brands in the world, is at the forefront of avant-garde design.
This includes sumptuous living spaces, sleek decks with lots of specially-dedicated areas and yacht amenities that revolve around keeping the clients happy, entertained and full of new and different experiences.
History of Benetti Yachts
The town of Viareggio is considered the unofficial capital of luxury yacht building in the world. It is no wonder then that, in 1873, Lorenzo Benetti established his shipyard in this exact town. The boatyard operated quite well until Lorenzo's death in 1927, at which time the legacy was passed on to his sons Emilio and Gino.
Since the two brothers went into the family business together, they renamed the shipyard Fratelli Benetti, or "Brothers Benetti". The main breadwinners of the shipyards were commercial leisure vessels and war-time navy ships, as well as coastguard and search-and-rescue boats. During World War II, Bennetti built middle-classed military vessels for the Italian navy, but after successful bombing raids by the Allies, production abruptly ceased.
After World War II ended, there was no more need for producing war-time crafts, so the shipyard switched its attention to leisure and luxury vessels. During this time, the rise of buying power enabled some individuals to purchase more and more luxurious yachts and Benetti saw this as an opportunity to move into the design and production of luxury yachts.
This business model took off in the 1960s, under the guidance of Lorenzo Benetti, who managed to put out the Delfino yacht model, a customized and luxuriously designed yacht, made out of wood and steel.
Benetti was one of the first shipyards to realise the true potential of new and emerging materials in building boats. So they abandoned wood as the primary material and concentrated their efforts on constructing luxury yachts made from aluminium, steel and fibreglass. This mini-revolution, which took place in the 1960s, allowed Benetti to become a trailblazer in how the superyachts of the future would look and feel.
Following this success, Benetti became the global leader in building yachts that measured 24 meters or more during the 1980s. Then, disaster struck. A difficult contract to deliver the biggest yacht of that time, Nabila, together with the passing of Lorenzo Bennetti, created circumstances that forced the shipyard into bankruptcy in 1984.
This was the time that Azimut saw an opportunity to join forces with Benetti, thus becoming one of the largest luxury yacht conglomerates in the world. Today, Bennetti operates from two shipyards, located in Viareggio and Livorno, constructing yachts between 40 and 50 meters.
The Azimut- Bennetti group is recognized as the world's largest and most successful builder of luxury yachts; this is observable in the fact that in 2020, this builder managed to deliver three mega yachts that measured over 100 meters. This list included the 107-meter Luminosity, the 108-meter IJE and the 107 meter Lana.
Benetti has evolved into producing customized luxury yachts, with full or semi-displacement hulls, that span from 25 meters to 90+ meters. Every yacht made by Benetti is also the singular representation of the owner`s ideas of what a perfect luxury yacht should look and behave like.
Benetti always listens to what the clients want from their yacht, but they also go a step further, including interviews between clients and designers or visiting the owner`s home to get a feel of how space is accessed and used in the most private of places. The client is constantly updated and informed about the construction process, as well as being intimately involved with every change or swap that is added to the yacht.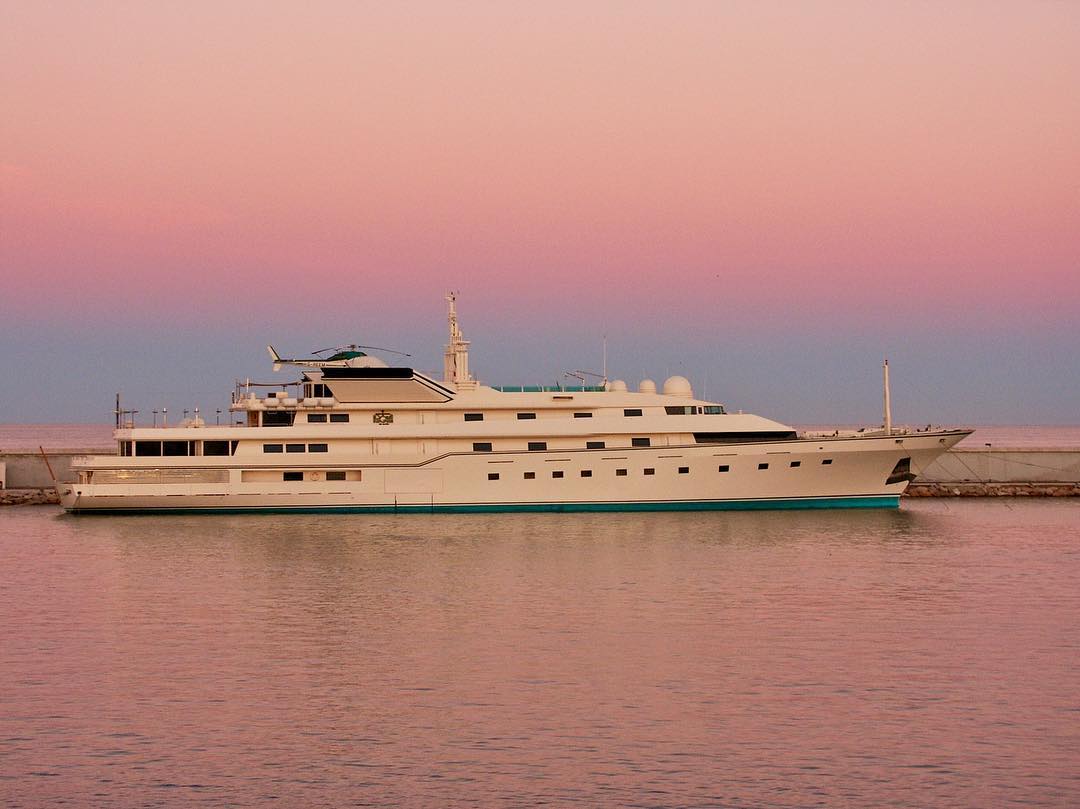 Types of Benetti Yachts
Due to the exceptional experience and knowledge that Benetti possesses in creating luxury yachts, they managed to refine their product into 5 different types. These types represent the pinnacle of Benetti boatbuilding abilities, but also showcase how different products reflect the different needs of their owners.
Benetti`s yacht fleet incorporates five different types:
Class
B.Yond
B.now type
Oasis type
Custom
The Class type consists of two yacht models characterized by a composite displacement hull, while the B.Yond type fields an aluminium superstructure, attached to a solid steel hull, with a hybrid propulsion system.
The Oasis type is actually a proof of concept for the Oasis Deck® solution, a brave and innovative Benetti deck proposal, which aims towards revolutionising the way space is handled on a superyacht exterior, as well as the border between the interior and exterior decks.
The B.Now type is comprised of 4 categories, the 50M, 58M, 66M and 72M, also equipped with the Oasis Deck® plan. This type suits travellers who are more relaxed and prefer a casual cruising experience, without sacrificing comfort.
At last, the Custom type yachts are built over 100 meters in length and represent the largest Bennetti-made yachts.
Notable Benetti Yachts
The most famous yacht made by Bennetti, in terms of reputation and media coverage, is certainly the luxury yacht Nabila, the biggest yacht made during the 1980s, with a length spanning 85.6 meters.
Her owner, Adnan Kashoggi was one of the most famous arms dealers in history, hailing from Saudi Arabia. Nabila became famous as a venue for hosting wild parties, orgies and billion-dollar business deals; Kashoggi was famous for coercing potential business partners with women and wine, to "sweeten the deal" before final arrangements were made.
This billionaire named the yachts after his daughter, Nabila, which also translates to "noble" in English; the yacht was also famous for starring in the James Bond film "Never Say Never Again", where the luxury vessel was prominently featured.
The yacht changed hands several years after the purchase, with her next famous owner being the former president of the United States, Donald Trump.
Other notable vessels made by Benetti include 11.11, Africa 1, Lady Mrd and Happy Me, all available for charter in the beautiful Croatian Adriatic sea, with the help of Superyachts Croatia.
Type FB265
11.11. is one of Benetti most recognizable yachts on the water today, with her extra-sleek and incredibly smooth profile, as well as ingenious deck arrangement and interior design. This 63-meter luxury yacht has a range of over 5,000 nautical miles, which she can traverse at cruising speeds of 13 knots and top speeds of 17 knots.
11.11 has managed to win several awards and competitions, which include the best Power yacht from 40-65 meters, awarded by the International Superyachts Society Awards in 2016, as well as Best Yacht design of 2016, courtesy of the Asia Boating Awards. Built in 2015, 11.11 can accommodate up to 12 guests in 6 cabins.
Once you step into the interior of this yacht, you will be enveloped by a fantastic design with an Italian signature. From the cabins to the salon, enjoy the timeless features and appealing commodities so characteristic for a Benetti-made yacht.
Tasteful accessories dominate the interior, with subtle art deco details and rare materials used in decorations. 11.11 also incorporates genuine works of art, with pieces from Tracy Emin, Hans Kotter and Dominic Harris.
Before trying out 11.11` water toys, why not enjoy the fully-equipped yacht gym, but also the business/AV room or the pool, before relaxing in the dedicated spa area, equipped with a hammam and a massage room. 11.11`s tender garage can deploy a small army of different water toys, as well as a costume-made Bennetti limousine tender, allowing you to come to shore in absolute style.
With 15 crew members, 11.11`s hospitality service can adhere to any wish, seeing that there are more crew than guests. This is particularly noticeable on charter vacations when all of the yacht`s amenities and features come to play. You can experience this fact for yourself and book a charter holiday in Croatia today, with the help of your local Superyachts Croatia broker.
Africa I is a luxury yacht, measuring 47 meters and built by Benetti in 2010. Since then, she underwent numerous refits, satisfying potential clients with her updated list of yacht amenities, upgraded design and technical improvements. This yacht is considered to be one of the champions in the Mediterranean charter market, and it is not hard to see why.
With a top speed of 24 knots, Africa I encompasses the perfect balance between performance and comfort. Africa I is equipped with advanced stabilisation systems, enabling guests to feel like they are on solid ground, regardless of the yacht being underway or at anchor. She can house 12 guests in utter comfort, accommodated in 6 cabins.
When it comes to her exterior decks, Africa I boasts plenty of sundeck spaces for doing yoga, but also an alfresco yacht gym and a dedicated massage area. All the decks on this yacht are connected with stairs, as well as an elevator, which makes Africa I truly fit for people of all backgrounds.
Africa I is crewed by 10 competent and experienced men and women who dedicate their knowledge and expertise to making the client`s stay aboard this yacht a fantastic experience. Watertoys are plentiful on Africa I, with her also being a certified RYA water centre, which means that scuba diving is an option with every stay aboard Africa I.
Class Rina, Type Crystal 140
Benetti-built Lady Mrd is a luxury yacht that will offer adventure and excitement to all of her potential clients, satisfying the need for cruising in turquoise seas and between attractive islands.
Her length is 42 meters – more than enough for 5 cabins that can house up to 12 guests. The accommodations and the interior living space are designed by Stefano Righini and Francois Zuretti. For closing business deals, Lady Mrd can offer a dedicated private office area, while the competent and experienced charter crew, numbering 8 members, takes care of all your business and leisure needs.
Lady Mrd saw her maiden voyage in 2015; since then, she was refitted several times – the last date being 2020. This allowed her to stay in perfect conditions for several future charter seasons, enticing potential clients with advanced yacht amenities, upgraded features and improved design. This yacht offers plenty of interesting opportunities to enjoy time under the sun, starting with her avid list of water toys, but also incorporating a sundeck jacuzzi and a glass pool on the upper deck bow.
Class Classic supreme 132 series
A relatively new build, Happy Me is a Benetti-made luxury yacht, constructed in 2020, with everything needed for a pleasant and enjoyable stay aboard this superyacht. Her up-to-date technology and modern naval architecture enable the yacht to behave incredibly smooth while underway, making her guests feel like they are riding on a cloud, touching the edge of the water. She can cruise at a comfortable speed of 11 knots, reaching max speeds of 16 knots.
Happy Me is extremely fuel-efficient, thanks to her modern hull structure and the newest technologies, like improved battery life, improved generators and eco-friendly engines. Her 40 meters of length will be able to accommodate up to 11 guests, allocated in 5 well-appointed cabins.
7 crew members will make sure every aspect of a luxury yachting experience aboard Happy Me goes through as smoothly as possible, while also introducing potential clients to the wonders of cruising between lush green islands, discovering quiet coves and secluded bays.
The design of Happy Me allows for a giant beach club with a fold-out swimming platform, as well as an inflatable docking pontoon, which allows guests to access all of Happy Me`s water toys without any trouble. For de-stressing sessions, ask your crew to hire a masseuse or a professional trainer, for massages or exercises on the upper deck.
Value of Benetti Yachts
Show Boat International magazine has declared Benetti a global benchmark when it comes to designing and building fully-customized megayachts with an Italian signature.
Benetti stayed true to their legacy from day one, that is – to always strive towards innovation, while also not forgetting their rich tradition and humble beginnings. This blend of old knowledge and young aspirations creates the recognizable Benetti hallmark, which means both the exterior and the interior are wrapped in that distinguishable and luxurious Italian design.
Cruising on a Benetti yacht means establishing your yachting experience with one of the oldest and most prominent luxury yacht connoisseurs in the world. Benetti, belonging to a multi-national superyacht conglomerate, can attest to owning many shipyards in Italy, all of them specialising in a specific part of superyacht construction.
The oldest of all shipyards is located in Viareggio – where Bennetti`s story began. The second yacht shipyard is located in Fano, with the third shipyard being purchased in 1998 and located in Siar- Moschino.
Why You Should Book a Benetti Yacht With SuperYachts Croatia?
Benetti represents a brand that is synonymous with Italian luxury yachts. Despite being a part of the larger Azimut- Bennetti group, it managed to keep its identity completely intact, producing superyachts that stand for true Benetti values. This means an excellent naval architecture, combined with innovative technology and a sense of past knowledge, which seeks to join together the drive that pushes Benetti forward into the future, while also staying true to its roots.
Benetti`s design is famous throughout the world, due to avant-garde features found in the interior and practical, but subtle additions that dominate the exterior. These all have a single purpose – to make life onboard a Bennetti-made yacht as comfortable and enjoyable as possible, without the need to sacrifice performance or aesthetical impressions. This is possible because decades of experience made Bennetti aware of exactly what the public and potential clients come to expect from this luxury yacht shipyard.
Once a Bennetti yacht sets a course, it becomes a sanctuary from the hustle and bustle of the world, a refuge from everyday stress. Depending on the location, this experience can only be upgraded, and nowhere is this more true than in Croatia. A country very close to the town considered Bennetti`s birthplace, Croatia boasts one of the cleanest and healthiest seas in the world.
The amount of wildlife found under the surface of the sea and above it is enough to declare Croatia a "lost paradise", ready for discovery. Find out why every year, more and more yacht enthusiasts choose to spend their time cruising and sailing surrounded by the turquoise beauty of the Croatian Adriatic sea. Experience this uncharted world, filled with historic seaside cities, hospitable locals, beautiful nature and a clean sea.
Talk to your local Superyachts Croatia broker to find out about all the possibilities that are possible when chartering a Benetti-made yacht in Croatia.
Charter Yachts
We present to you the best selling yachts for charter in 2021. Slide through these different yachts, ranging from 20 to 80 meters in length, and choose the best option for you. If you have any questions regarding yacht charter, destinations & yacht support, contact us.
VIEW ALL CHARTER YACHTS
VIEW ALL CHARTER YACHTS