Photo credit to croatia.hr
Croatian National parks & nature resorts are a must visit
Imagine yachting through one of the 8 national parks or eating fresh oysters under the magical waterfall? That is what you can do in Croatia! Croatian national parks and nature parks are on everyone's travel bucket list, and nature lovers from all over the world were fascinated as they strolled through each of the country's 19 parks.
Croatia is lucky with a number of national and nature parks and each has something magical and lovely to offer. Read more about them!
Plitvice Lakes – pure perfection from UNESCO`s list, only 90 minutes ride from Zadar
Plitvice Lakes, a UNESCO World Heritage site, is a magnificent blessing from nature and one of the most popular Croatian national parks. It receives over a million visitors each year, but charter yacht guests are always VIPs and they never wait in queues. If you charter a yacht you can berth it near Zadar and in less than 90 minutes you will be in Plitvice. Moreover, crystal lakes are so brilliant that you can see your reflection in them. It is Croatia's largest and most visited national park, located between the two mountains – Mala Kapela in the west and Plješivica in the east. 
Plitvice Lakes are on the TOP 10 lists to visit in almost every travel magazine. There are 16 interconnected lakes and a lot of waterfalls and cascades ranging in height from 25 meters to 78 meters where you can enjoy your day in complete peace and quiet. Wear comfortable shoes and, depending on the duration of your hike, you will need between two to eight hours.
Kornati islands– Charter a yacht and dive into an archipelago of 140 islands, islets, and reefs
The Kornati is an archipelago with the Mediterranean's most grouped islands, and it is one of the most extraordinary Croatian National parks. When you charter a yacht, you must put the Kornati islands in your itinerary and we promise you an unforgettable day. This national park is a nautical paradise with 140 islands, islets, reefs, and over 238 kilometres of coastline.
Prepare your snorkelling or diving equipment and explore the archipelago. Be ready for a unique experience when dolphins start playing near your yacht.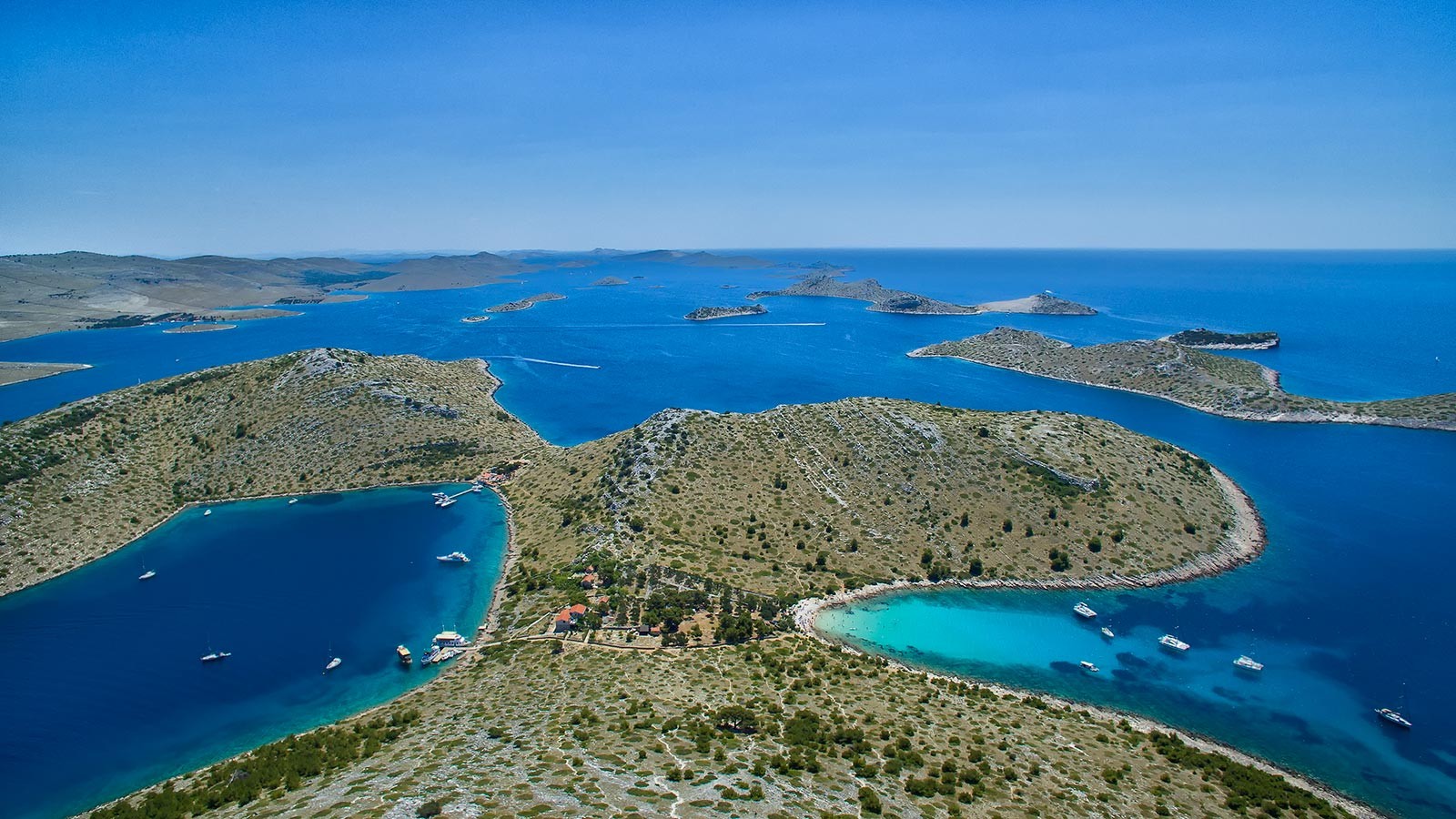 Krka river – Cruise around with your yacht and eat fresh oysters in the middle of the national park
,,There is no better place to find yourself than sitting by a waterfall and listening to its music!'' said Roland R. Kelmer. Everyone likes waterfalls and you will fall in love with these ones. We recommend berthing your yacht in Skradin and from there you can enter the national park containing the most famous waterfalls in Croatia.
The Skradinski Buk Waterfall, which consists of 17 cascades, is the largest and most spectacular waterfall in the region. The park has many walking paths and trails that highlight the history and wildlife of the region. Krka National Park is home to over 200 various bird species so do not be surprised if you see a golden eagle, a griffon vulture, or a peregrine falcon. Krka has the 2nd-largest lavender concentration in Europe. Buy lavender goods and enjoy them during the whole year. Until 2021 swimming was allowed in Krka national park but protecting nature comes first, so swimming was prohibited.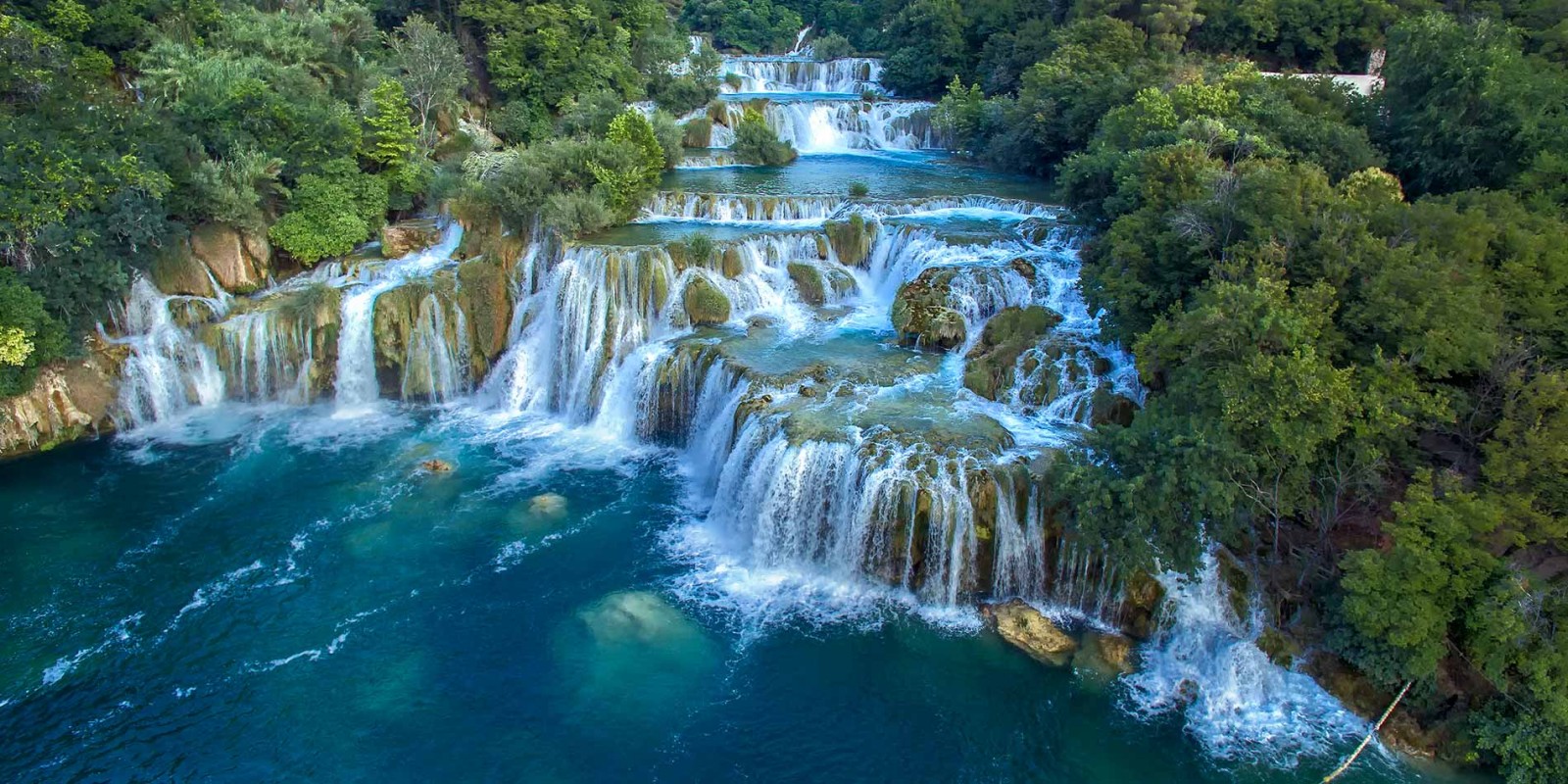 Sjeverni Velebit mountain– Enjoy your view all the way to Italy
If you are ready for one active day, let's berth your yacht and go to Sjeverni Velebit (Northern Velebit), the mountain that divides the Adriatic coast from continental Croatia. You can easily drive to the top of the mountain and admire the endless view. The park also offers an evening stargazing program for a truly unique holiday experience. ,,Stars above Zavižan'' is the name of the program, and for less than 20 euros, you will be driven to the Zavižan area and taken on a night walk with a guide for an hour of stargazing.
During the summer, in the dark and very high places such as Sjeverni Velebit, you can see falling stars, and if you make a wish, it will come true! Croatian national parks are truly amazing, right?
Mljet island– Bring your family to one of the most famous Croatian national parks
Mljet is a national park for people who like stunning scenery and a little bit of adventure, but also excellent for families with kids. It's situated on the Island of Mljet, near Dubrovnik and it's bordered by two saltwater lakes. This hidden gem is a place to relax and let the sun kiss you in the ,,greenest" Croatian national park.
There is always a free spot for your yacht so take out your water toys and explore the national park. There is a myth about Mljet! Legend says that the goddess Calypso kept Odysseus captive here. No one really knows if that is true.
Paklenica – Visit a popular cave and home of brown bears in less than an hour from your port
Paklenica is close to Zadar and is easily accessible to most Croatian tourists. It is the ideal spot for a day trip, away from the crowded coast. The trails will satisfy almost everyone, from those who love a nice walk to enthusiastic and experienced climbers.
Pack comfortable shoes and be ready for trail exploration
Paklenica welcomes rock climbers, mountaineers, and treasure hunters from all over the Planet. There are several challenging routes and caves to discover. If you are up for a two-hour trek along a mountain trail, you will find Manita Peć Cave. This cave is 175 meters long and is divided into two halls with spectacular stalagmites and stalactites. All of the natural diversity draws not only humans but also a wide range of animal species. Thousands of birds, including eagles and falcons, live there.
Paklenica is also a home of brown bears.
Brijuni islands– berth your yacht and organise a golf tournament with your friends
On the west coast of Istria, you will find an archipelago of 14 islands – Brijuni. Most islands are private and off-limits for tourists but the main one – Veliki Brijun (Big Brijun) welcomes tourists from all over the world.
On Veliki Brijun you can find over 200 dinosaur footprints. On Brijuni there is also a safari park with zebras, deers, giraffes, ostriches and other exotic animals, one of the island's main attractions. Bring your golf or tennis equipment because you can play it here. Relax from everyday stress in untouched nature and celebrate the win against your best friend in one of the most beautiful Croatian National parks.
Risnjak – hiking paradise only 45 minutes from Rijeka port
If you are looking for a colder place during the summer, welcome to Risnjak! Temperatures here are comfortable 20 degrees Celsius (68 degrees Fahrenheit) allowing you to fully breathe the fresh mountain air. It's around 45 minutes by car from Rijeka to this jewel of Croatian national parks.
Risnjak got the name because of lynx, on Croatian ,,ris'', who is a common inhabitant of the park. It is also a home for wolves and brown bears, but they have never attacked any humans. Wear appropriate clothes and shoes because there are many tracks for climbers and the views are absolutely speechless. If you like trekking this might become one of your favorite Croatian national parks.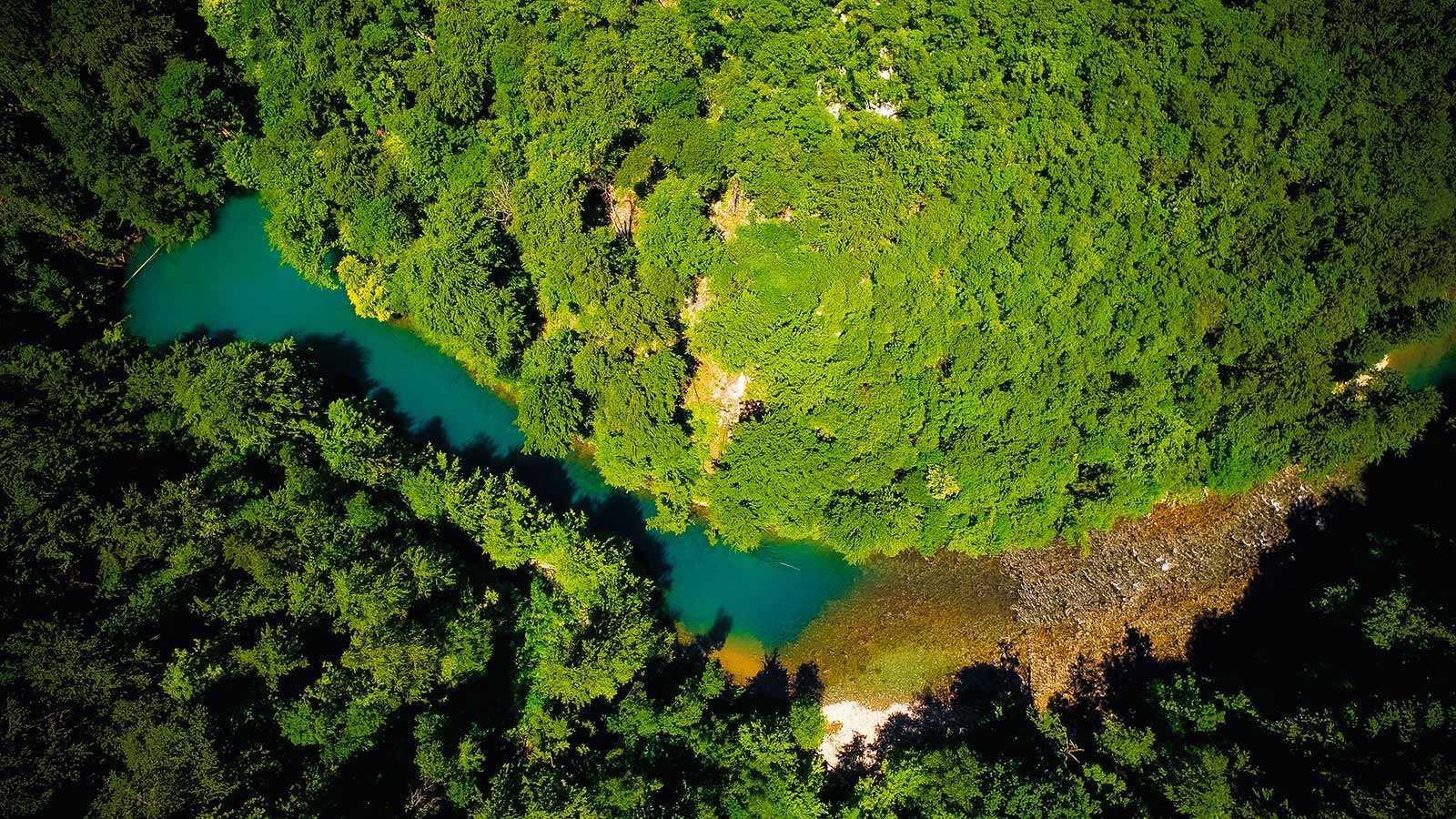 Nature parks in Croatia
There are 8 Croatian national parks and even 11 Croatian nature parks:
In Dalmatia
● Biokovo Mountain – Walk on a unique skywalk and enjoy a beautiful combination of sea and mountains, only 30 minutes by car from Makarska where you can berth your yacht.
● Velebit Mountain – Visit two national parks, Paklenica and Sjeverni Velebit, on the largest mountain in Croatia – Velebit.
● Vransko Lake – Unwind on the biggest lake in Croatia only 5 minutes by car from Marina in Pirovac.
● Lastovo island – Do you know where the most beautiful starry sky in Europe is? Astrographs agreed that this 2nd most ,,woodiest'' Croatian island – Lastovo deserved the throne.
● Telašćica, on island Dugi Otok – Take magnificent photos with your drone on the most beautiful salt lake in Croatia – Telašćica.
In other parts of Croatia
Istria – Učka Mountain, east Croatia – Kopački Rit, Papuk Mountain and Lonjsko Polje, near Zagreb – Medvednica Mountain and Žumberak – Samoborsko Gorje.
Charter Yachts
We present to you the best selling yachts for charter in 2021. Slide through these different yachts, ranging from 20 to 80 meters in length, and choose the best option for you. If you have any questions regarding yacht charter, destinations & yacht support, contact us.
VIEW ALL CHARTER YACHTS
VIEW ALL CHARTER YACHTS