SIMULL Yacht Charter - Elegance and Innovation in One Place
SIMULL yacht charter is a great example of a leader in the world of luxury yachts up to 20 meter lengths. The great woodwork on this yacht makes it even more appealing to guests and all those who like to enjoy the benefits of luxury and good taste.
Space, where guests can spend their time, includes the immense saloon, three cabins with private head, and bathrooms with shower compartments. Yachts has also a centre-line owner's cabin and a flybridge, which makes the yacht even more comfortable and special.
The SIMULL yacht charter also has a great sunbathing space for 10 people, which is more than great for a yacht of that size.
YACHT CHARTER ACCOMODATION
Yacht details.
Guests:

6
Cabins:
3
Yacht Length:
20meters / 67 feet
Yacht cabins layout:
2x Double + 1x Twin
Total living area:
125 sq.m / 1.346 sq.ft
Yacht exterior area:
47 sq.m / 506 sq.ft
Yacht interior area:
78 sq.m / 840 sq.ft
Types of Cabins on This Yacht:
1x Master Suite + 1x Double Cabin + 1x Twin Cabin
Bed Configuration & Size:
1x King + 1x Queen + 2x Single - Convertible to 1x Double
Yacht Interior Guest Areas:
Main Salon with Private Entertainment Centre- TV Area · Main Salon Equipped with Large Sofas · Main Deck Galley · Three Private Cabins
Yacht Exterior Guest Areas:
Alfresco dining table on the Aft deck · Flybridge with a BBQ Grill Area · Alfresco Dining Table on the Flybridge · Outdoor Kitchenette · Sunbathing Area for 10 Guests
TOP 10 YACHT CHARTER FEATURES
Yacht highlights.
2
High-Tech Design Solutions
3
Gyro Stabilizer, Staying in Waves & at Anchor is Very Pleasant
4
Fully Equipped Pantry with Various Refrigerators, Freezer, Icemaker, Oven & Outdoor Grill.
5
Fast Top Speed of 28 knots
7
Air Conditioning in all Cabins and in the Salon
8
Hydraulic Bathing Platform
9
Audio-Visual Entertainment Systems
10
All Cabins Have Ensuite Bathroom Facilities
YACHT PHOTO & VIDEO GALLERY
Charter Moments.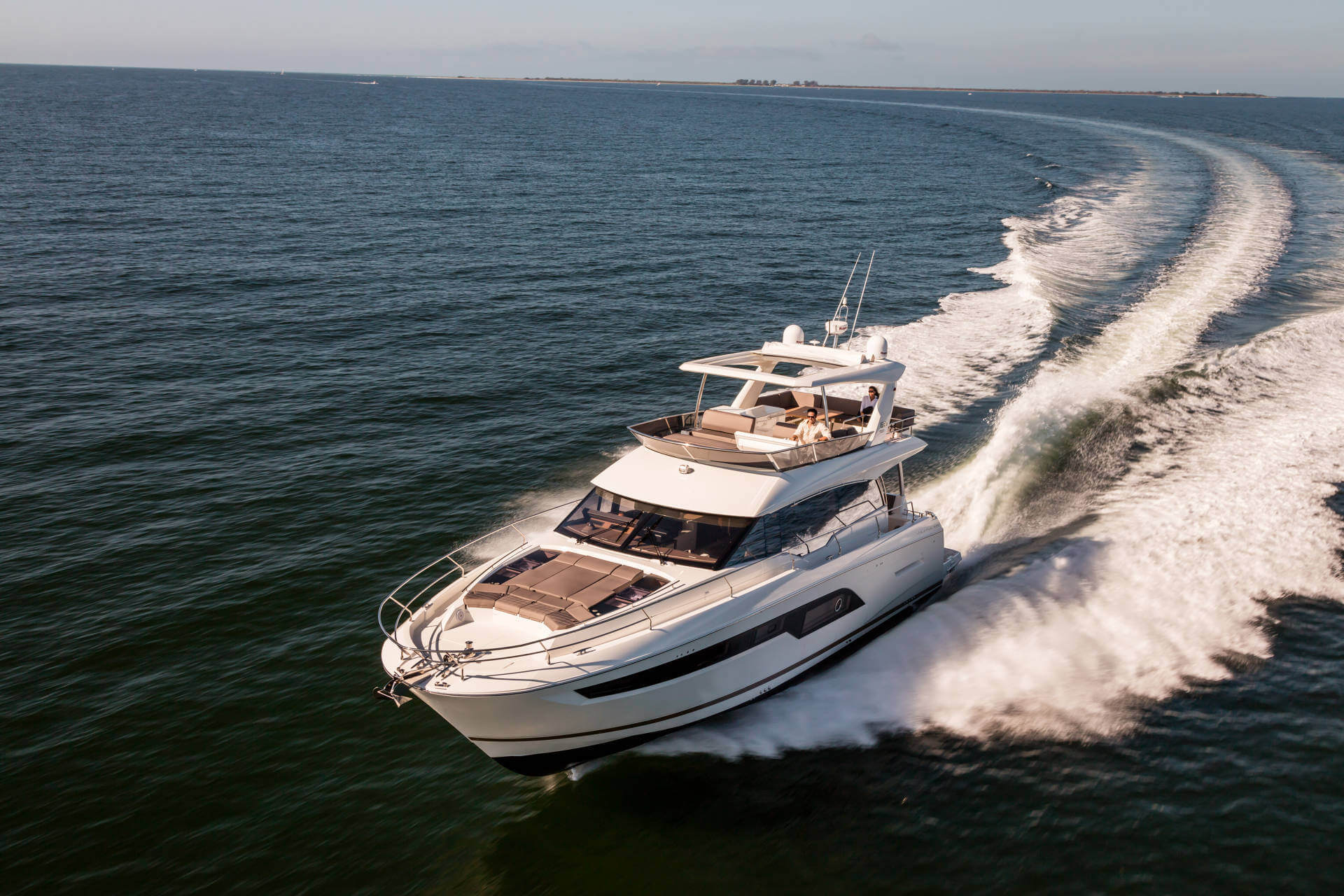 YACHT CHARTER SPECIFICATIONS
Particularities.
GENERAL INFORMATION
Length: 20.50 meters (67.3 feet)
Beam: 5.15 meters (16.90 feet)
Year Built: 2018
Year of last refit:
Yacht Builder: Prestige Yachts
Main Engines: 2x 725hp
Maximum Speed: 28 knots
Cruising Speed: 24 knots
Fuel Consump. Engines:
Generator Engines: 21.5 kW
Fuel Consump. Generators: 6 l/hour*
Stabilisers: Gyroscopic stabilizer (Seakeeper)
*Highly dependent on sea conditions
LIST OF AMENITIES
Air Conditioning · BBQ Grill · WiFi Connection Onboard · Wet Bar · Sunbathing Pads · Ice Maker · Gyroscopic Stabilizer
WATER SPORTS & TOYS
2x Stand-Up Paddleboards
1x Tube
6x Snorkeling Gear
TENDER VESSELS
Williams 385, 3.8m Tender (Included)
Axopar 37, 12.5m Chase Boat (Optional)
FULL YACHT CHARTER REVIEW
Inspected by Us.
The amazing SIMULL is our most compact yacht for charter, ideal for a weekend getaway with your family and friends or a romantic vacation with your loved one. You might be wondering why we decided to put this yacht on charter; and here is why…
Most yachts of her size do not have stabilizers so the vessel sways, but not SIMULL. You will not feel a single wave, so you can wake up energized every morning. Furthermore, this interesting yacht has a separate entrance to the master stateroom which makes a huge difference with yachts of this size, enabling a higher level of privacy for the guests. You can also choose to have a third member of the crew onboard, for instance, a private chef, who will delight you with spectacular delicacies every day.
The magnificent SIMULL yacht charter is the perfect combination of a stunning exterior and a beautiful interior, built in 2018 by Prestige Yachts. Thanks to an excellent layout and a smart design, with a length of 19 meters, you will feel like you were chartering a 25 meter boat. She can accommodate up to 6 guests in two stunning double staterooms and one great twin cabin on the lower deck, each of them with private head and shower compartments.
The flybridge of SIMULL will definitely become your favourite place on this adorable yacht. With plenty of places to sunbathe, you might also want to eat all your meals there and hang out with your charter party until late into the night.
Furthermore, there will be 2 crew members on board – a hostess who will help you with absolutely everything, like cleaning the rooms or preparing meals and the captain, whose experience and knowledge will make you feel safe. Both of them will make your stay on this superyacht special and enjoyable.
If you want absolute privacy, they will not disturb you at any point of your vacation. What is great about the SIMULL yacht charter is the possibility of having an extra crew member – like a private chef – who can be onboard if there are 4 guests instead of 6.
In addition to great layouts, this yacht also has excellent water toys and a superfast tender. You can spend your day exploring mysterious caves or racing on the amazing jet ski. Every wish and desire will be met and fulfilled on your perfect yacht charter holiday, due to expert brokerage from Superyacht Croatia.
If you are ready to get onboard SIMULL yacht charter, keep reading,…
A DAY ON THE YACHT
Once you open your eyes, an amazing day full of adventures can start on a SIMULL yacht charter. After having a quick breakfast consisting of a local fruit salad or Croatian pancakes with organic jam, paired with your favourite coffee or tea, you might be ready for exploring the astonishing pearl of the Mediterranean, the city of Dubrovnik. A great feature of this compact yacht is that it can enter any port and disembark guests anywhere.
After your tender leaves you in the harbour in the middle of the old town of Dubrovnik, you can finally enter the famed walled city. You might enjoy discovering the centuries-old tradition of Dubrovnik fortifications, while at the same time observing SIMULL yacht charter in the distance. If you get tired while exploring the former Republic of Dubrovnik, we recommend stopping for lunch in a Micheline-star restaurant.
From your pre-reserved table, you will have an excellent view of your beautiful yacht while eating fagotini with cuttlefish, mussels and sweet & sour fish sauce or pan-fried duck breast, Jerusalem artichoke cream, duck jus, leg confit and a sour onion paired with the best Croatian wine from an underwater winery.
After lunch, you might want to take a swim in the clean Adriatic sea or use quad-bikes to get to the top of Srđ mountain, which offers a magical view of the whole of Dubrovnik, but also of your yacht. Relax in the Panorama restaurant, while marvelling at the beautiful sunset and watching your yacht anchored near the mysterious island of Lokrum and being bathed in orange and yellow tones of sunlight. Whenever you want, you can go down with the cable car to the old town of Dubrovnik and you will be able to see your spectacular beauty, SIMULL yacht charter, all the time.
The great tender will wait for you in the harbour, returning the whole group to an alfresco dinner on your superyacht charter. If you decide to have an extra crew onboard, your excellent private chef will prepare and serve dinner for you, exactly as you wish. He can amaze you with a grouper fillet sauté with mashed potatoes flavoured with ginger or salmon fillet with local vegetables. At the end of the day, you can choose to enjoy drinks on the flybridge while watching locals mingle on the streets of the most romantic city in Croatia.
YACHT CHARTER DINING
SIMULL yacht charter is ideal if you like preparing and eating your own food if you decide to not have one more crew member onboard. You can use the galley at any time, be it day or night. It has a lot of storage and you will be able to prepare delicious meals every day. For your charter group, you can prepare a fruit salad or a platter with local ham and cheese for breakfast.
In the meanwhile, the hostess can provide you with freshly baked bread or croissants, so you will have everything for the most important meal of the day. Per your request, the crew can also prepare an English breakfast or can order out from a magnificent restaurant. Your experienced captain will suggest only the best Croatian establishments. There is no need for a reservation, your crew will take care of everything.
For lunch, you can surprise your better half with an amazing risotto with local shrimps or pasta with truffles from the region of Istria. Your charter group will be overjoyed. Everything you need for your meals can be provided by your broker – Superyachts Croatia, during the entire duration of your vacation. Consider a diner made up of excellent meat or fish prepared on the upper deck BBQ. Show off your cooking skills on this electric grill and have fun with your friends and family.
YACHT MAIN DECK
Your main gathering and dining area will probably be the fantastic main deck aft, complete with a lovely hardwood table and a comfortable sofa. In addition, this is a great place to enjoy your morning coffee or to read your favourite book.
yacht charter accommodation: main salon & dining area
The indoor area is connected through a glass sliding door. Alongside is an aft window that can lift up to further blend the inside with the outside. This yacht's expansive indoor main deck is the greatest you can get for its size. There are even two comfortable sofas with a table that can be converted from a coffee table to a dining one. Also, there is an LCD TV, a wine chiller, and a generously spaced galley, positioned at the back end of the main deck, where you or your hostess can prepare delicious snacks or amazing cocktails.
The designers of SIMULL yacht charter took everything into consideration when they assumed the lounge area could sometimes become hot in the sun – an electronically controlled sunscreen creates a pleasant atmosphere and refreshing shade.
YACHT UPPER DECK
The SIMULL's upper deck is all about luxurious living on the sea. This flybridge will undoubtedly be a legendary gathering spot at any time of your vacation. When you walk in, you will see an L-shaped sofa that wraps around a beautifully polished table with stainless beverage holders in the middle. There is also a bar from where you can enjoy the finest cocktails without going down to the main deck. A double-wide bench seat on the port side can be converted to an L-shaped seat by moving the helm seat forward.
When you want to separate from your charter party, you can sit next to the captain and enjoy the view. If you would be interested he will explain to you how to cruise the yacht, which button is for anchoring and also allow you to take the helm for a few moments. This area has one of the best hardtops on the market, with a slide-opening roof that can be opened or closed as preferred.
YACHT SUNDECK
Despite the fact that this yacht is still just 19 meters long, there is more than enough space for sunbathing. The large sun pads at the bow offer excellent views ahead and SIMULL yacht charter has done an excellent job of integrating some flexibility into this feature – it can be ratcheted into various forward-facing seat positions, with a pop-up bimini top bringing a touch of comfort. You can sunbathe in this area or read your favourite book in the shade.
There is also a spacious sunbathing area on the upper deck, next to the helm station. You might lay down in front of the captain and watch where he is cruising next. Furthermore, when the hardtop on the upper deck is opened, you will be able to enjoy even more sunbathing areas on cosy sun pads. Your experienced hostess will supply you with the best bio lotions for your body in order to keep you safe when sunbathing.
YACHT LOWER DECK
PRESTIGES 630`s two fantastic staterooms and one great cabin will comfortably host up to six guests.
Yacht Charter Accommodation: The Master cabin
There is a private entrance to the Master stateroom that separates SIMULL yacht charter from other yachts in this class. Going down to the master stateroom, from the main salon, you will immediately feel the softness of the carpet. In this full-beam master stateroom with a large bed, huge windows that provide a lot of natural light and fresh air, a pop-up TV and an impressive ensuite bathroom, you will feel like you are on a much larger yacht.
There is also a desk with a chair ideal for working from your yacht and a large sofa under the window where you can relax, separated from others on the vessel. Moreover, you will have lots of wardrobe and storage space at your disposal, enabling you to store clothes, shoes or jewellery.
Yacht Charter Accommodation: The VIP Double Stateroom
The next stateroom is the large VIP, which can easily be mistaken for the master stateroom on any other boat in this category. It is very spacious, it has its own ensuite bathroom and big windows on both sides so you will have an amazing view every time you enter this stateroom. Moreover, there is a TV, so your kid can watch their favourite cartoon while you are watching the football game in your master stateroom.
Yacht Charter Accommodation: The Twin Cabin
And the third cabin is a twin cabin with separate beds that can easily convert into a queen-size bed. It also has a beautiful head and bathroom, easy access to the bed, plenty of natural light, and a big TV screen. This cabin is ideal if you will need one more crew member as a private chef who will surprise you every day with a new magnificent meal.
YACHT BEACH CLUB & SWIMMING PLATFORM
The beach club on SIMULL yacht charter has a hydraulic swim platform that can support a tender, as well as create a private beach. Once the tender is launched, this area transformed into a wide swimming platform that is best suited for staying close to the sea, every second of your Croatian charter holiday.
You can enjoy your time here while drinking limited-edition champagne and watching the miracle sunset slowly give way to the evening`s soft veil.
Because of good naval architecture, the exterior design on SIMULL allows good communication between decks, so you can chit-chat with guests who are spending time on the main deck aft, while you splash your feet in the sea on the swimming platform. Allow yourself to enjoy the panorama of a beautiful Adriatic sunset, while you stand on the threshold of the Croatian sea, thanks to the swimming platform on SIMULL yacht charter.
YACHT WATER TOYS & WATER SPORTS
If you are ready for adventures, you can start the race between you and your charter party on two stand-up paddleboards. Race around the yacht and see who can paddle faster – the winner should have the honours of honking the yacht`s horn, as a sign of victory.
You can also experience the depths of the Croatian Adriatic sea by using your snorkelling equipment. This yacht offers a lot of water toys, and whatever extra amenity you wish will be provided immediately by your fantastic Superyachts Croatia broker.
My favourite toy on the SIMULL yacht charter is the great stand-up paddleboard. When you try SUP for the first time, you will never want to get off your board. It is an amazing water toy for working out, as well as for having fun with your friends or family. The most important thing is that it is not as hard as it looks. You will love this water toy!
YACHT CHARTER CREW
At Your Service.
SIMILAR YACHTS FOR CHARTER
By Charter Rate.
LET'S GET IN TOUCH TODAY.
Contact us.