KARISMA Yacht Charter - Newest Member on the Charter Market in Croatia
Let KARISMA yacht charter introduce you to luxury on the high seas, with the help of her fun water toys, high-tech amenities and an experienced crew. She was built by Canados in 2008, with her last refit being in 2017. With a length of 26 meters, KARISMA is a perfect vessel for exploring the otherworldly beauty of the Croatian Adriatic sea; because of her low draft, she can anchor and cruise in waters otherwise inaccessible to lengthier yachts.
KARISMA yacht charter can accommodate 8 guests in 4 astonishing cabins, including a master cabin, 2 VIP cabins and 1 twin cabin. Her incredible crew consists of 4 seasoned professionals, whose only job is to make your stay in Croatia as pleasant and comfortable as possible. She can cruise at speeds of 25 knots, reaching top speeds of just over 33 knots – more than enough if you want to pack your charter itinerary with locations that are far apart.
When it comes to water toys, KARISMA yacht charter has a lot to offer to guests who want to stay active and entertained on their holiday; between a jetski, Sea bob, Stand-up paddleboards, waterskis, donuts and snorkelling, you will not even have time ti taste the incredible cuisine made by your Michelin-level chef.
YACHT CHARTER ACCOMODATION
Yacht details.
Guests:

8
Cabins:
4
Yacht Length:
26 Meters / 86 Feet
Yacht cabins layout:
3x Double + 1x Twin
Total living area:
206 sq.m / 2.218 sq.ft
Yacht exterior area:
86 sq.m / 926 sq.ft
Yacht interior area:
120 sq.m / 1.292 sq.ft
Types of Cabins on This Yacht:
1x Master Suite + 2x VIP Stateroom + 1x Twin Cabin
Bed Configuration & Size:
1x King + 2x Queen + 2x Single + 1x Pullman Bed
Yacht Interior Guest Areas:
Main Deck Salon Area · Main Deck Dining Area · Captain's Lounge · Four Private Cabins
Yacht Exterior Guest Areas:
Main Deck Aft Dining Area & Welcome Aboard Lounge · Flybridge Dining Area · Flybridge Sunbathing Area · Front Deck Sunbathing Area · Swimming Platform with Water Toys
TOP 10 YACHT CHARTER FEATURES
Yacht highlights.
1
First Time on the Charter Market in Croatia
2
Canados 86 Model Built in 2008 by a Famous Italian Shipyard & Refitted in 2017
3
Able to Accommodate up to 8 Guests in 4 En Suite Staterooms, 3 Double & 1 Twin Cabin
4
Superb Team of 4 Crew Members, Professional Captain with 20 Years of Nautical Experience
5
Spacious Flybridge with Plenty of Sunbathing Areas, Outdoor Dining Area
6
Front Deck Sunbathing Areas, Amazing Views while Cruising
7
2nd Outdoor Dining Option on the Aft Deck
8
Amazing Collection of Water Toys Including a Sea bob, 2 SUPs, Water Skis & Snorkeling Equipment
9
3.6 Meter Tender With a Powerful Yamaha Engine
10
65'' Smart TV in the Main Salon & State of the Art Bose Sound System
YACHT PHOTO & VIDEO GALLERY
Charter Moments.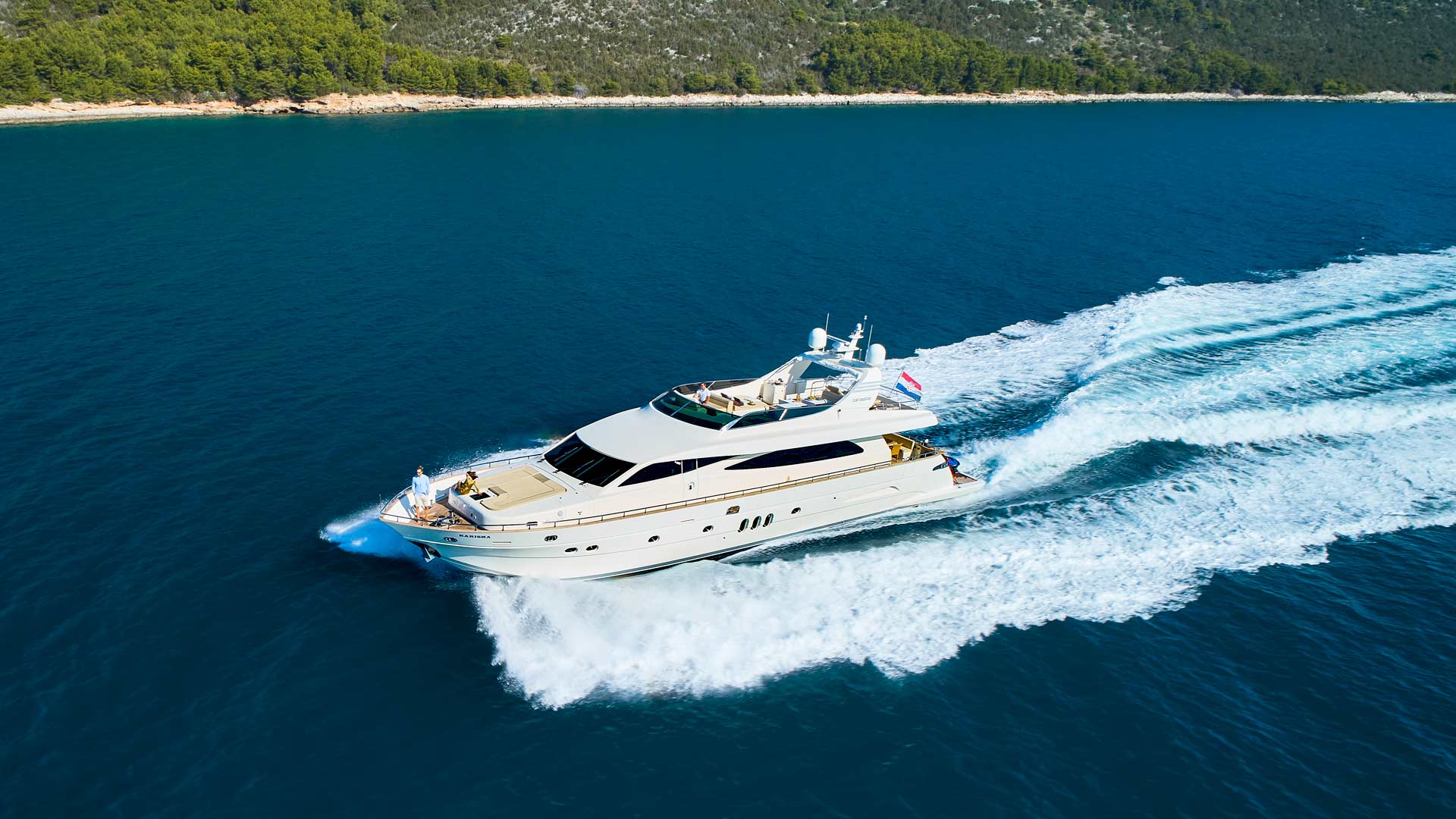 YACHT CHARTER SPECIFICATIONS
Particularities.
GENERAL INFORMATION
Length: 26.48 meters (86.11 ft)
Beam: 6.45 meters (21.2 ft)
Year Built: 2008
Year of last refit: 2017
Yacht Builder: Canados
Main Engines: 2x 1343 HP
Maximum Speed: 33 knots
Cruising Speed: 22 knots
Fuel Consump. Engines: 400 l/hour*
Generator Engines: 2x 27 kW
Fuel Consump. Generators: 17 l/hour*
Stabilisers: /
*Highly dependent on sea conditions
LIST OF AMENITIES
Air Conditioning · WiFi Connection · 65" Sony Smart TV with Netflix in the Main Salon · State of the Art Bose Surround Sound · Bluetooth Audio Fusion on the Flybridge · Flybridge Refrigerator · Flybridge Sun Loungers & Sunbathing Pads
WATER SPORTS & TOYS
1x Sea Doo Spark
1x Seabob
2x SUP
1x Water Ski
2x Donut
6x Snorkeling sets
TENDER VESSELS
Capelli, 3.6m Tender (Included)
Axopar 37, 12.5m Chase Boat (Optional)
FULL YACHT CHARTER REVIEW
Inspected by Us.
When it is time to go on a well-deserved holiday, there are many different options and choices, all equally alluring for travellers seeking relaxation and comfort. Plenty of beautiful countries around the world have their pros and cons, with astounding nature, incredible architecture and history, fantastic cuisine and welcoming locals.
But, some of these countries are far away, some have unclear rules about travel and transit, some provide a lesser standard of service while charging the same tarif and some are just too boring.
This summer season, consider coming to Croatia for a yacht charter holiday, because this type of vacation merges all the positive attributes of exotic lands, while also providing that familiar Mediterranean feeling. As a member of the EU, Croatia's laws and rules are clear and upheld to the letter, particularly when it comes to chartering a yacht. You can give your unconditional trust to the SuperYachts Croatia, a team of local professionals dedicated to providing the best possible charter service.
For a perfect summer experience, we recommend booking KARISMA yacht charter, a vessle that has earned the recognition of a secesful charter yacht. With her last refit in 2019, KARISMA has developed a reputation as being a customer favourite, even though she was built in 2008.
Her length of 26 meters is more than enough to handle a busy charter itinerary, allowing you to experience as much as you possibly can on your yacht charter holiday in Croatia. This is also possible because  KARISMA yacht charter can achieve a top speed of 33 knots and a cruising speed of 25 knots – more than enough to see all the major historic and natural attractions in Croatia.
KARISMA yacht charter can take in a total of 8 guests, allocating them in 4 cabins, which are arranged as a master cabin, 2 double cabins and 1 twin cabin. A total of 4 crew members will make sure guests have everything they need for experiencing an unforgettable yachting holiday in Croatia. The crew will use their local know-how to paint a unique picture of Croatia for their guests.
The Croatian Adriatic sea will be a constant temptation, offering a perfect refreshment with its clarity and cleanliness. This will make guests hungry for fun in the sea, and the crew will indulge them by launching water toys. Listen to the crew`s safety tips before enjoying the jetskis, the Sebobs or the waterskis and the wakeboards.
Since this is the first time that KARISMA yacht charter has come to the Croatian charter market, you could be the very first guest aboard to experience her comfortable furnishings, stylised interior and extravagant profile.
A DAY ON THE YACHT
Choose KARISMA yacht charter and spend an unforgettable charter holiday in Croatia, with the help of your local charter crew and the expert assistance of the SuperYachts Croatia support team. Once you step onto the deck of this grand vessel, all your troubles will be washed away by a combination of excellent cuisine, fine wines and expert service.
Relax as you have not in years and let go of all your worries, while letting the competent charter crew handle your every request and desire, no matter how trivial it might be. A stable and solid cruise is what you can expect from KARISMA yacht charter, thanks to her unusually wide beam, which creates more space in the interior, while also providing more stability when under way or at anchor.
From your first step on KARISMA yacht charter, you will feel the seamless quality of the teak underneath your feet as you experience her in person. The first impressions are always the most important ones; it is for that reason that the crew aboard KARISMA yacht charter will work towards making you feel welcomed and relaxed from the very  start of your holiday.
You and your charter party will be welcomed with champagne and cold towels right off the dock. While boarding, the crew will carry your luggage while you take a tour of the yacht with your stewardess. After you have properly settled down and chosen a cabin for each of your guests, relax on the flybridge while KARISMA yacht charter cruises from your anchorage in Zadar towards Kornati National Park.
During the cruise, enjoy the pictouresque panorama of the beautiful Croatian Adriatic sea alongside refreshing drinks, either on the shaded main deck aft or on the sunny and windy flybridge.
Savour every minute of the cruise, as your dedicated chef prepares lunch in KARISMA`s galley. Once you reach your destination near the National Park of Kornati, you will have a choice between exploring beautiful nature before or after lunch.
If you are hungry, you only need to sit at the incredibly-decorated dining table, either on the flybridge or on the main deck aft and enjoy the Michelin-level dishes prepared by your hard-working chef.
Start with a tuna tartare served alongside a lime and parsley reduction, followed by a typical Croatian sea dish – a black cuttlefish risotto. Continue with a grilled seabass, served with bulgur, roasted carrots, pumpkin mash and edible flowers. Finish with an incredible dessert – hand-made puff pastry filled with local Croatian jams, alongside 100% natural vanilla ice cream.
After lunch, set aside the whole afternoon for exploring the incredible diversity of the Kornati National Park. Use different water toys on KARISMA yacht charter to discover different angles and levels of beauty surrounding this fabled park.
The Kornati islands were once given to the poor fishermen of the surrounding Murter area as compensation for their work, because they were considered barren and worthless. Today, they are a priceless natural heritage, to which the locals care very deeply.
Snorkeling is allowed, so feel free to snorkel in the best and most lively spots, provided by your local charter crew, who know all the ins and outs of Kornati. Be sure that you do not disturb the seabed, or you risk being cited by patrolling park guards.
Use the stand-up paddleboard to move slowly and silently between numerous islets, while observing fish schools underneath you and the barren, yet mesmerizingly-beautiful nature of Kornati. You can even hike up to the top of one of the bigger Kornati islands and take in the marvellous panorama of the barren white islands, bathed in the yellow glistening of the sun against the turquoise sea.
Spending a whole day in Kornati will be a day you will remember for the rest of your life, so do not be surprised when daylight starts to fade, because time passes fast when you have fun. This will be a sure signal that it is time to return to KARISMA yacht charter and start to prepare for dinner.
After you change into something more comfortable, meet with the rest of your charter party on the main deck aft and sit down for dinner, enjoying each other's company as much as the food that will be served.
Start with an octopus salad with fried calamari and a fresh-fish soup, made by following a traditional Croatian recipe. For your next course, you can look forward to a smoked salmon, served with a basil, tomato and sweet chilly sauce, sided by pan-roasted asparagus and lentil mash. Finally, enjoy a choice between a classic tiramisu or a coconut, almond and pineapple cake.
As the evening progresses, KARISMA yacht charter will provide the perfect background for creating unforgettable holiday memories in Croatia. You can gaze at the stars, seeing that Croatia has one of the clearest skies in Europe, which is only accentuated ten-fold when you factor in that the entire region of the Kornati National Park is uninhabited.
Let your crew set up a private club atmosphere on the flybridge, with dimmed lighting, candles and your favourite music. Take this opportunity and enjoy life to the fullest, and if you get a little inebriated – forgive yourself, because a charter holiday in Croatia is a great reason to let loose.
YACHT CHARTER DINING
Let the tastes and scents of the Adriatic be captured on your dining plate by the competent hands of your yacht chef. There is no better provisioner of fresh and natural ingredients than the Adriatic sea, one of the cleanest seas in Europe. Because of its cleanliness, everything from the Adriatic sea is 100% edible and fresh, from the seaweed and clams to crustaceans and many different types of fish.
The chef aboard KARISMA yacht charter will provision exclusively with fishermen that catch the fish and other fruits of the sea the same day they are to be prepared for your dining pleasure. Let your chef surprise you with traditional Croatian sea dishes, like a black risotto, artichoke and freshly caught scampi prepared in a traditional Croatia white wine reduction sauce known as buzara or smoked tuna stakes with chard and spring potatoes
In Croatia, it is not only the sea that provides delightfully-edible bounties, but the rest of the country as well. You can enjoy homemade fettucini with white Istrian truffles, honey made above the plains of the National Park Sjeverni Velebit or excellent red and white wines, made by harvesting grapes grown in the southern islands of the Croatian Adriatic sea.
Rely on the local know-how of your yacht chef to introduce you to the hidden gastronomic side of Croatia. You can enjoy tasting authentic and traditional Croatian cuisine or any other type of cuisine you prefer; on your yacht holiday in Croatia, every dish will be made by following your preferences. And seeing that your yacht chef is an expert in every imaginable type of gastronomy, he will have no problems in following your preferences to the letter.
YACHT MAIN DECK
Since Princess Yachts is the builder of KARISMA yacht charter, you will get to experience first-hand why Princess Yachts are considered to be one of the top innovators for yachts under 40 meters.
Their smart use of space and ingenious amenities that are hidden, but still near when you need them is the main reason why charter guests keep returning to KARISMA yacht charter, year after year.
The main deck aft is reserved for the alfresco dining arrangement, consisting of a stern-placed sofa bench and movable chairs on the other side. Considering KARISMA`s overall length, her main deck aft is spacious and gives plenty of room for charter guests to relax and socialise.
Her main deck is walk-around, allowing guests to reach the front sunbathing space, located on the bow of KARISMA yacht charter. This inviting nook is perfect for working on your tan on a lazy afternoon, thanks to wide and comfortable sun cushions, which are moulded into the frame just in front of the main deck helm station windshield.
Yacht charter accommodation: main salon & dining area
After you have seen everything there is to see on the main deck exterior, it is time to step inside the main deck salon, through the glass sliding door. Once inside, the inherent Princess Yachts style will be immediately recognizable The two dominant colours of the interior salon are grey upholstery and orange wood cabinetry, together with orange wood wall panels.
This choice of colour creates a visible dynamic between the upwards-facing orange colours of the cabinetry and downward-facing grey colours of the furniture and the plush wool grey carpet. The salon is arranged as such: once a guest enters, there are long sofas on both the port and starboard sides, with a coffee table and movable chairs on the starboard side.
Continuing onward, there is hip-high cabinetry with a wide countertop on the portside and an interior dining table on the starboard side. Behind the dining table is a wall surface with an integrated flat-screen TV, visible from every angle of the interior. This means that the guests can relax with their favourite show, no matter where they choose to sit.
The interior staircase, leading to the flybridge, is located on the port side, while the entrance to the starboard galley is just before the interior helm station. What is interesting about the staircase is its design; two sheets of thick glass fixed on a stainless steel beam is a really futuristic feature and one that adds a certain dash of "extraordinary" to the entire interior arrangement of the salon. Behind the dining table, there is a second staircase, leading to the lower deck of KARISMA yacht charter.
YACHT FLYBRIDGE
Reachable from both the exterior via the main deck aft staircase and the interior via the salon staircase, the flybridge on KARISMA yacht charter will pleasantly surprise guests with its arrangement.
The stern of the flybridge is usually reserved for the tender, which is launched by using the hydraulic crane. Once the tender is in the water, this area can be used for a variety of different purposes. First, movable sunloungers present a favourable option for sunbathing, but you can also do yoga on the flybridge`s stern with the help of a hired professional instructor, courtesy of your loving yacht crew.
An L-shaped sofa is placed on the port side of the flybridge, complemented with a foldable coffee table and movable chairs, effectively transforming itself into a second alfresco dining option.
There is a second sunbathing option on KARISMA`s flybridge, in the form of a big sunbed, located behind the starboard exterior helm station. This arrangement is ideal for afternoon naps, when the sun is past its peak, or for resting after an exquisite meal.
YACHT LOWER DECK
The guest`s accommodations aboard KARISMA yacht charter are all located on the lower deck, reachable from the interior staircase in the main deck salon and consisting of a full-beam master stateroom, a VIP cabin, a double cabin and a twin cabin.
Yacht Charter Accommodation: The master stateroom
The full-beam master stateroom is located amidship on the lower deck and has everything any primary charter guest would want from their master-tier yacht accommodation.
The king-sized berth is placed in the centre of the cabin, with plenty of walkaround room and with a beige leather adornment above the headspace.
The rest of the cabin is done in matte orange wood, with a white ceiling and a light grey carpet. This somewhat monochromatic scheme would be tedious if not for the large portholes on either side of the cabin, supplying the space with plenty of natural light and transforming the atmosphere of the stateroom into a warm, natural and inviting room.
There is a small sofa underneath the portholes on the starboard side, which is a perfect choice if you want to read your favourite summer book with the help of natural light. You can also read, write or answer emails on the desk, opposite the starboard sofa. Plenty of cabinetry will help you store all the things you need for an unforgettable summer vacation in Croatia, as will the walk-in closet.
The long ensuite is equipped with double sinks, a head, a bidet and a generously-large shower cabin.
Yacht Charter Accommodation: The VIP cabin
The VIP cabin is placed in the bow of the lower deck on KARISMA yacht charter. Like in the master stateroom, the same orange-shaded matte wood cabinetry is present, as well as the majority of the cabin being covered with orange wood panels. There are nightstands on either side of the centrally placed queen-sized berth, with a large leather-covered panel, adorning the headspace above the berth.
Below the berth is futuristic LED lighting, that casts a blueish glow at night, totally transforming the appearance of the VIP cabin. A small desk is located just below the porthole, enabling guests to read a book or answer some emails with plenty of sunshine during the day.
Yacht Charter Accommodation: The double cabin
The double cabin aboard KARISMA yacht charter has a very unique feature. A queen-size berth covers the entire beam of the cabin, meaning the berth reaches both port and starboard walls, with no walkaround room around the berth. This feature makes this cabin an obvious choice for accommodating children because this means that the majority of the cabin is actually one big berth.
Obviously, the double is equipped with a wardrobe and an ensuite, but the berth, being wall-to-wall, really makes this accommodation feel more like a comfortable den, than a cabin on a yacht, which is not a bad thing at all.
Yacht Charter Accommodation: The twin cabin
The twin cabin is decorated according to the general design of KARISMA yacht charter; wood panels and cabinetry, all done in orange glossy wood, which covers the majority of the surfaces in the cabin.
Most charter parties pick the twin or the double cabin for their children, because both of these accommodations are very kid-friendly, meaning there are no sharp edges, breakable things, or high furniture.
Divided by a nightstand, the two single berths are also equipped with a nightlight, so you could read a bedtime story to your children while tucking them in. A wide porthole is the source of daylight in this cabin – since the porthole is on-level with the surface of the water, it reflects the daylight against the edge of the sea into the cabin, creating mesmerizing light reflections.
SWIMMING PLATFORM & BEACH CLUB
The jet ski is towed on the swimming platform while KARISMA yacht charter is underway, so when it is launched the space on the swimming platform opens to reveal a wide platform, ideal for a number of different purposes.
First, the swimming platform is incredibly spacious, considering the length of the yacht. This space enables guests to experience a different variety of activities, starting with sunbathing on movable sun loungers near the edge of the sea, taking in the tranquil atmosphere of your private beach lounge.
Also, you could ask your crew to hire a massage therapist, so you could enjoy a massage, while being relaxed by the sound of the sea.
There is even enough room for a compact table and a couple of chairs, so you could potentially experience a romantic dinner for two, right on the swimming platform. The tender garage takes the place of the beach club – nevertheless, it stores many different types water toys, for the enjoyment of the charter guests.
YACHT WATER TOYS & WATER SPORTS
KARISMA yacht charter will surprise you with the number of water toys she has available for her guests, starting with 2 towable donuts, which are ideal for both kids and adults, who want to take to the water and have fun splashing around and bouncing on the waves while being towed.
A pair of waterskis will present a challenge to all first-time water skiers, but also present a perfect opportunity to learn a new skill during your yacht charter holiday in Croatia.
Next, a jetski will provide hours of never-ending fun in the Croatian Adriatic sea. Transform the surrounding area around KARISMA yacht charter into your very own water park by utilizing the jet ski to its full extent.
If you are more into underwater adventures, combine the Sea bob with snorkelling equipment and experience the feeling of moving through the water like a fish or a dolphin. Thanks to the clarity of the Croatian Adriatic sea, you will be able to see many different fish schools, as well as crabs, seashells and octopi.
Finally, two stand-up paddleboards can serve several purposes; you can enjoy paddling on the smooth surface of the sea and savour the tranquil and meditative atmosphere of the Croatian Adriatic. SUPs can also be used for practising balancing poses in yoga, because it is tricky to hold your footing, while the waves rock the board.
YACHT CHARTER CREW
At Your Service.
captain
Mateo Radonic
Mateo was born in Split and grew up on the island of Hvar. From his young age he has been strongly connected to the sea. He has completed Martime Highschool in Split and Maritime Faculty in Zadar. Last 12 years Mateo has been working on different yachts and he got to know every part of the Adriatic Sea. His hobbies are underwater fishing and running. Mateo is proficient in English and is very communicative.
chef
Tomislav Rimac
Tomislav has 13 years of experience in the prominent hotels and restaurants in Austria, Germany and Croatia. He is attentive to quality and details and he is always keen to exceed clients' expectations. Tomislav speaks English and German.
deckhand
Bruno Topic
Bruno was born in Split, Croatia and he is professional deckhand experienced in yachting. Bruno is hard working with excellent attention to details, he will ensure that guests are looked after in safe, yet fun manner. Bruno is very active person, enjoys sport activities and he is dedicated to giving customers the best experience possible. Bruno is non-smoker and he speaks English.
captain
chef
stewardess
deckhand
SIMILAR YACHTS FOR CHARTER
By Charter Rate.
LET'S GET IN TOUCH TODAY.
Contact us.