Yoga Session on the Sundeck Aft on board Motor Yacht Africa I
Practice Yacht Yoga on Your Charter Holiday in Croatia
Practice yoga on your superyacht and take a break from the stress of the daily business routine. Every chartered day starts peacefully, after a relaxing yoga session. Invite stability and comfort with every breath you take while practicing tailored yoga flows on your superyacht charter vacation.
From morning sessions and meditation to the last sun salutation of the day, a yacht yoga flow will fit perfectly in any charter holiday. Get your body in balance and free your mind and spirit while getting in touch with nature. Your private certified yoga instructors will help you enjoy yoga to the fullest on your superyacht charter vacation.
Using the power of breath and light stretching, yoga can help with eliminating stress and tenseness, brought from the big city.
Start the day refreshed with morning yacht yoga flows
Yoga practice is adaptable, suiting different needs on any chartered superyacht. Wake up with mantras of happiness and peace and step into a safe space, with scented sticks and lighted candles. Your expert yoga coach can instruct the yacht chef to prepare a light breakfast menu to help with your yoga practice, made from the best of local Croatian ingredients. If you want to find out more about what to eat before and after yoga, you can read this interesting blog.
A special yacht yoga music playlist will complement the splashing of the Croatian Adriatic Sea, as you enter a soft yoga flow that will prepare you for other wonderful experiences on your superyacht charter.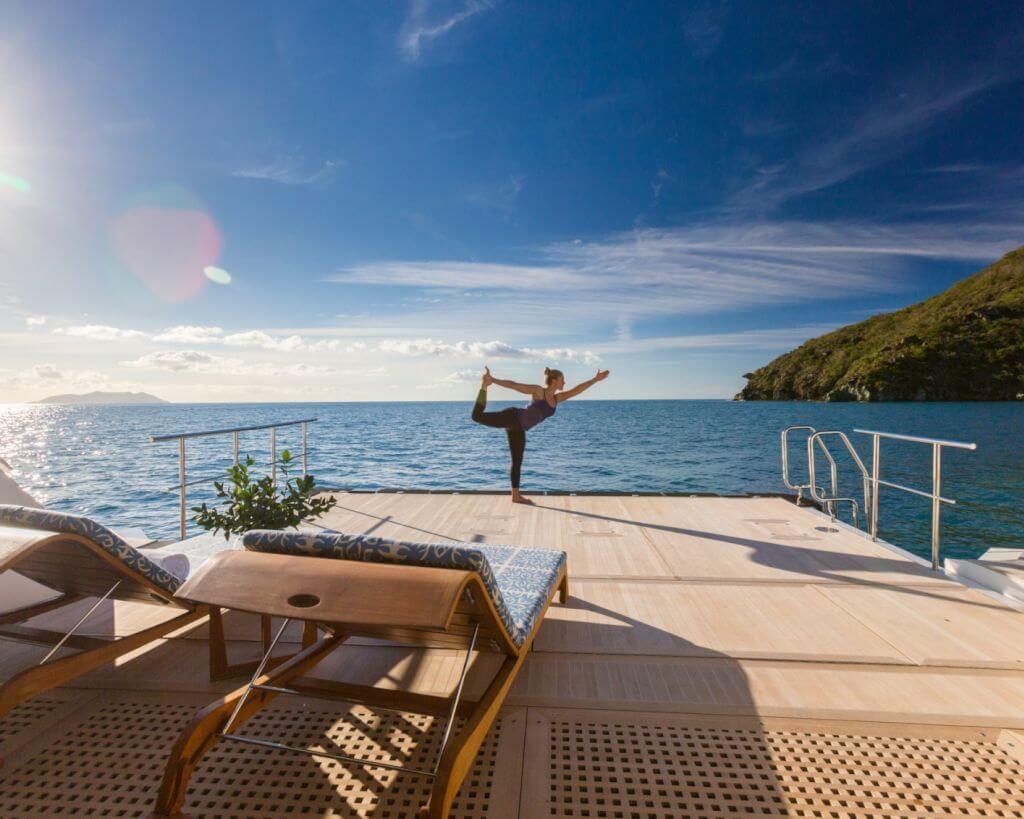 Best yoga positions to practice on a superyacht charter
Practising yoga on land is different from practising yoga on a superyacht charter. Ask your professional yoga instructor how to utilize the Adriatic Sea to the fullest. The fresh sea air will only enhance your yoga experience, against the background of the water, waves, and sun.
Ask your professional yoga instructor for some yoga positions, adapted to conditions on a superyacht, like:
With the help of your expert yoga instructor, you will be able to:
Plant yourself firmly on the deck of your superyacht in the Mountain pose
Balance in the Tree pose with your legs as roots
Form a bridge pose on the flybridge of your superyacht
Convey the warrior aspect within with the Warrior pose
Catch your breath and find your centre with the Downward Dog pose
Feel the stress flow away in the Cobra pose
Let your body rest in Child's pose
Use various spaces on your superyacht as a training pad for yoga
Your superyacht charter offers many spaces and surfaces, ideal for practising yoga. Use the sundeck as a platform for doing relaxing yoga flows or meditate on the flybridge. Salute the sun as it rises on your superyacht deck and enjoy your first yoga pose in the beach club, alongside cooling ocean breezes.
A popular charter choice combines yoga with water toys, so you could enjoy stretching on SUP boards or waterbikes. SUP boards are the same surface as mats for doing yoga and add a new element to practising yoga. You just need to know the basics before trying a few simple yoga poses on your SUP board.
Meditate alongside gentle breezes and soft Croatian Adriatic waves
You can centre yourself with yoga and feel your surroundings – the beautiful blue sea, crystal clear skies, and the hot summer sun. Meditate on the upper deck or on the flybridge and feel the surrounding serene atmosphere enveloping you. Breathe in and out, as aquamarine waters help you find your centre.
Your professional yacht yoga instructor can provide guided meditation, complete with gong sounds and incantations. Listening to the sounds of the sea will help you enter a state of peace and well-being.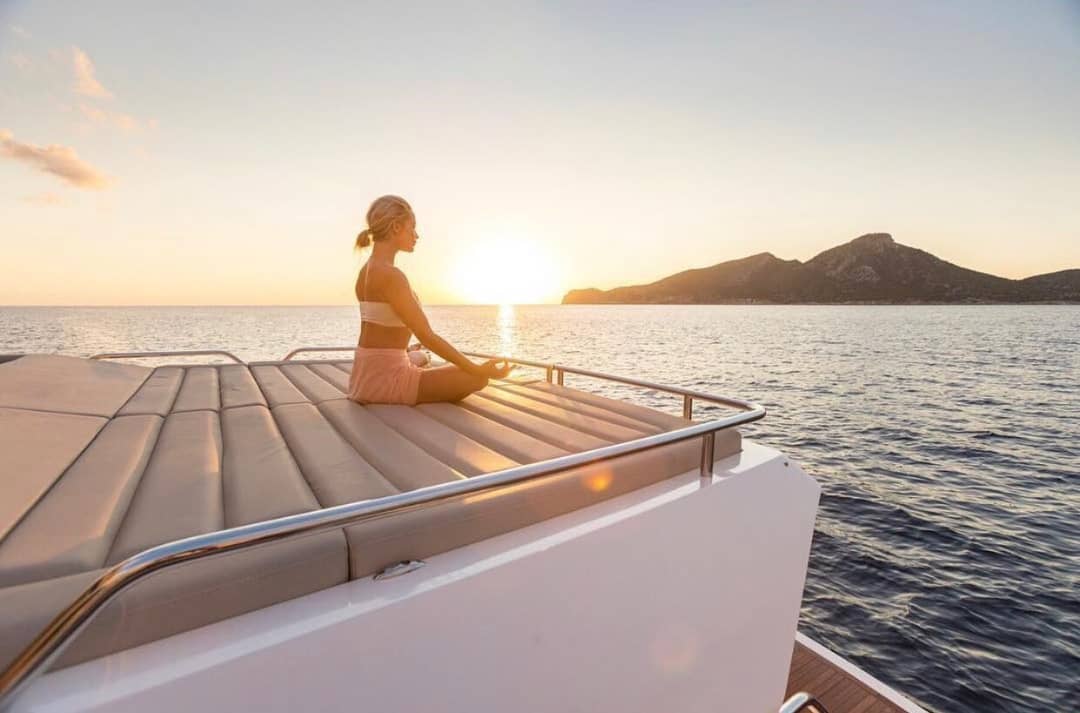 Enjoy custom made yacht yoga programs
Certified yoga instructors aboard your superyacht charter can adapt to provide any yoga experience you desire. If you are a beginner or advanced practitioner, the licensed yoga staff on your superyacht charter can offer you what you need. This could include a good workout, peaceful meditation, stretching, flexibility, or strength.
Ask your crew for costume-made combinations of spa, massages, wellness, and water toys for the optimal yoga experience. After a good yoga stretch, relax with a hot-stone massage, before finding refreshment in the sea. Or head in the sauna before a yoga flow, and feel as toxins leave your body.
Maybe you want a more fun yoga flow – combine it with a stand-up paddleboard and try to hold your balance while the waves rock your board – it's an exciting way of doing yacht yoga.
Why practice yacht yoga on a superyacht charter?
You can practice your well-rounded yoga routine on your charter and balance body and mind. Choose a one-on-one class or ask your family or friends to join in. Use your superyacht and do yacht yoga everywhere: in the beach club, on the flybridge, or on the sundeck – the possibilities are endless.
Consult with the professional yoga instructor on board your superyacht and let him tailor a costume yoga program that will specifically fit the needs of your body and soul. Relax as never before as you combine yoga with other wonderful services onboard your charter, like wellness, spa, massages, or water toys. Apart from practising yoga, you can always stay in shape with yacht gym training.
Charter Yachts
We present to you the best selling yachts for charter in 2021. Slide through these different yachts, ranging from 20 to 80 meters in length, and choose the best option for you. If you have any questions regarding yacht charter, destinations & yacht support, contact us.
VIEW ALL CHARTER YACHTS
VIEW ALL CHARTER YACHTS