5 Main Reason why Lurssen is One of The Best Yacht Shipyards in The World
Lurssen is a German-based shipyard, specializing in constructing the best and biggest luxury yachts. With shipyards located all around the Baltic coastline, Lurssen represents 4 generations of shipbuilders, constructing thousands of boats and yachts over a course of more than a hundred years. Accumulating vast amounts of shipbuilding knowledge, Lurssen managed to rise to the position of one of the best superyacht shipyards in the world. Their heritage is extensive, expansive, and is one of the main reasons for their success today.
Photo credit to @guillaume_plisson from Instagram
Lurssen's construction process (and consequently, yacht shipyard organization) is divided into three main parts. The first one concentrates on building special purposes ships, like navy ships or rescue boats; the second one constructs superyachts, while the third handles all the backroom technical and logistical concerns, like refits, maintenance, management, training etc.
Lurssen yacht shipyard invests a considerable amount of resources into its workforce, subsidizing education and seminars, but also exchanges of knowledge from other professionals in the industry. Achieving an avidly high standard of superyacht construction, Lurssen is also a reliable option for yacht refits and upgrades.
These are the main points that turned Lurssen into the giant of the industry it is today
The Philosophy of Lurssen
Lurssen yacht shipyard understands that constructing a bespoke luxury superyacht is a process that has to overcome many obstacles before it can show the result of its labour. Because of this understanding, each step in the process is treated as the final one, thus greatly improving upon the overall quality of the process and the final product. Thus, each hurdle that is mastered becomes a source of satisfaction for the future owner, as well as engineers and technicians at Lurssen.
But, before the hard work can even start, there needs to exist a source of otherworldly inspiration or an artistic vision in their mind, because each Lurssen yacht cannot go without a poetic, romantic or metaphysical primary purpose. Once this condition is met, things become easier because customising artistic visions and turning them into real-life objects is what Lurssen yacht shipyard is all about.
Following the entire process meticulously, They oversee and sets strict guidelines and rigorous standards for their skilled workforce of professionals covering wide areas of expertise, including electrical engineering, metalworking, woodwork and skilled painters.
There is plenty of ceremony, and ample reason for it, when the future yacht owner begins the journey of her construction. Lurssen understands that this period is vital for the later success of the entire project, but also believes in following traditions. That is why important milestones are marked by a protocol like hiding a coin under the keel or christening the yacht before launching her into the sea and beginning sea trials.
Before the final delivery, a Sea Acceptance Test (SAT) is carried out, which includes measuring the speed of the yacht, navigation, vibration and noise levels, among many other parameters. Between this moment and the maiden voyage are some technicalities before finally, a Lurseen yacht becomes a client's bespoke sea-faring home.
All of these reasons are why cruising on a Lurssen yacht means experiencing a completely new way of travelling, combining all the best parts of taking your home with you everywhere you go, while also enjoying all the benefits of a bespoke superyacht.
Lurssen yacht shipyard has been building sea-faring vessels for over a century, building more than 2900 ships, yachts and boats. This experience that expanded for over a hundred years is the pool from which Lurssen draws inspiration and expertise, that goes into ship construction.
History of Lurssen Yacht Shipyard
The founding father of Lurssen, the 24-year-old Friedrich Lurseen, set up shop in the town of Aumund in 1875 and concentrated on manufacturing hand-made wooden boats. The main focus of the newly-established shipyard was to construct fishing and transport boats, mainly ferries.
The first produced boat had a hull length of 5 meters – truly a humble beginning for a now-giant of the superyacht industry. Friedrich was somewhat of a visionary, seeing the true potential of motorized vessels; that is why Lurssen shifted from fishing and ferry boats to motorized sport boats during the 1880s, with the first motorboat in the world being built by Lurssen in 1886.
Named REMS, this 6-meter-long motorboat was commissioned by the inventor Gottlieb Daimler, who wanted to test out his ideas regarding engine construction on a boat. The sea trials were successful, which made Lurssen a true trendsetter, pawing the way for motorized luxury yachts in the future.
In 1911, the Lurssen-Daimler motorboat became the sensation of the boat racing circuit, winning the World Championship (The Championship of the Sea), but also the Prix de la Cote d`Azur and the Grand Prix des Nations, thanks to its 102 horsepower engine.
This increased demand for Lurssen-made boats drastically, until the start of World War I.
Between 1911 and 1916 a lot of things happened- the first World War started, and Friedrich Lurssen died at the age of 65. Despite these setbacks, the Lurssen shipyard managed to grow into one of the biggest and most successful shipyards in Germany, by building warships of different classes for the German navy.
1925 was another pivotal year for Lurssen, because they celebrated their 50th anniversary. 1932 saw the death of Friedrich Lurssen`s son, Otto, which left a gap in the company that was filled by his wife.
Lurssen continued to produce military-grade ships well before the Second World War had started. These included designs like E-boats, based on Lurssens designs of a private yacht named Oheka II. Also produced were minesweepers and 5 different classes of fast attack craft ( Seeadler, Jaguar, Zobel, Intrepida and Tiger).
Sometime after World War II, Germany was allowed to produce navy ships again, which made Lurssen step up its production of military and leisure crafts. During the 60s, Frieda Lurseen handed over the reins of the company to her suns Fritz and Gert, who completed the 55-meter Pegasus II.
The 70s saw a further improvement of Lurssen`s technical capabilities and overall potential, delivering Carinthia VI. Even though she was built over 50 years ago, her design still retains major elements of contemporary yacht design and it was this yacht that acted as a benchmark for the majority of Lurssen`s projects in the future.
During this time, tragedy struck, as Fritz died unexpectedly and his brother withdrew from active company leadership, handing over management to his son Friedrich.
The late 80s saw a major re-branding effort, where Lurseen decided to dedicate half of their building capacity to luxury shipyards (from the previous 90% capacity, which was entirely dedicated to building ships for the navy, while 10% was invested into luxury yachts). From this point onward, Lurssen`s fate as a luxury yacht shipbuilder was sealed.
In 1991, Be Mine was completed, one of the first vessels built by the new Lurssen yacht-building branch. She was an instant success, winning the International Superyacht Society Design Award and the Superyacht of the Year Award.
At the start of the new millennium, exactly 125 years after its founding, Lurssen had a lot to be proud of; they grew from a small boatbuilding shipyard into a huge shipyard that build military vessels, as well as luxury superyachts.
The modern era saw Lurssen build bigger and bigger megayachts, creating a reputation as the builder of the largest superyachts in the world with the delivery of Azzam in 2013, the largest yacht on Earth, measuring an astounding 180 meters. Also worthy of mentioning is Dilbar, a 156-meter yacht constructed in 2016 and the heaviest yacht in the world, with a gross tonnage overshadowing its competitors.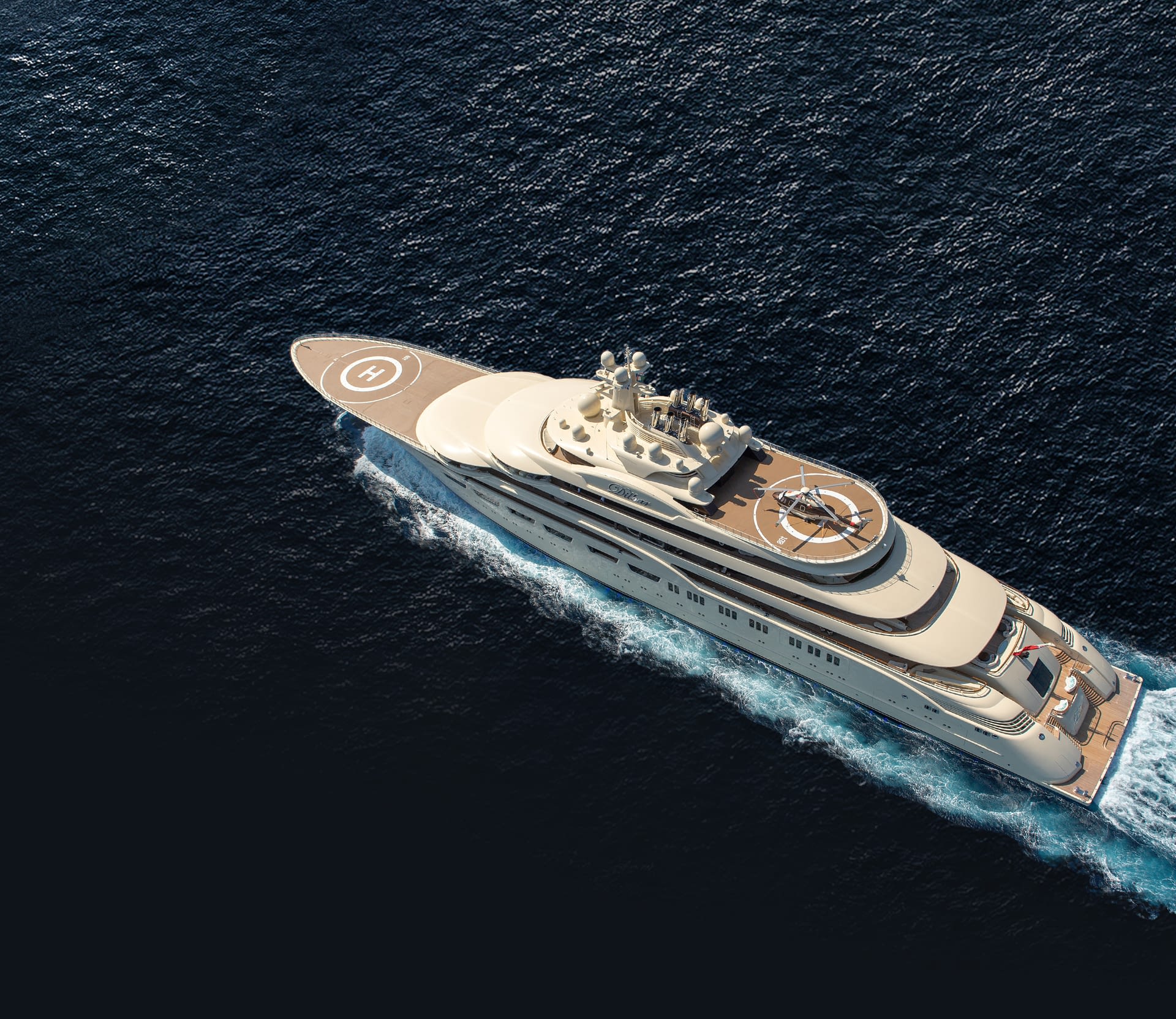 Types of Lurssen Yachts
Since Lursseen built more than 3000 different crafts, vessels, boats and yachts, it would be folly to list them all. Instead, a more comprehensive approach is needed, focusing only on those yachts that left a mark on the yachting industry as a whole or served as a benchmark for the world`s largest, heaviest or fastest superyacht.
Since Lurssen was heavily invested (more than 90% of its production was dedicated towards building ships for the navy, which shifted in the 1990s, when more than half of all of Lurssen`s capacities was allocated towards superyacht construction) in navy ships, it is also important to note Lurssen`s achievements in this sector.
Many E-boats of World War II were based on Lürssen's design for Otto Hermann Kahn's private yacht Oheka II. World War II also saw many Lurssen-made R boat minesweepers, including the first minesweeper (1929) fitted with a Voith Schneider propeller (R8).
There were also the patrol boats belonging to the Jaguar class, the Seeadler-class, the Zobel class, the Intrépida class and the Tiger class, as well as the Frankenthal-class minehunters
Notable Lurssen Yachts
Lürssen has launched some of the world's most iconic yachts, measuring between 33 and 200 metres. Some of its world-famous launches include Microsoft co-founder Paul Allen's 127-metre superyacht Octopus in 2003 and Rising Sun, 138 metres in length, delivered to Oracle CEO Larry Ellison in 2004 and now owned by David Geffen.
In 2013, Lürssen launched Azzam, which at 180 metres is currently the world's largest superyacht. Her exterior styling is by Nauta Yachts, and her interior décor is credited to Christophe Leoni.
Azzam
Launched in 2013, Azzam still holds the title of the largest private superyacht in the world, measuring an incredible 180 meters of length. With a beam of 20.8 meters, Azzam has an unusually shallow draft for a vessel of her size, just above 4.5 meters. Considered to be Lurssen`s flagship, Azzam serves as a monument to this shipyard brilliance and determination.
With a steel hull and an aluminium superstructure, Azzam can reach top speeds of 31 knots. She was built for Sheikh Khalifa bin Zayed Al Nahyan, the Emir of Abu Dhabi for a total sum of 600 million dollars. Since his passage in 2022, it is assumed that the ownership of the yacht belongs to the current Emir and President of the UAE Mohammed bin Zayed Al Nahyan.
Azzam's naval architecture was done by the Lurssen in-house team, in cooperation with Nauta Design for the exterior, while the interior was done by Creation Line Decoration.
This yacht can accommodate a whooping 36 guests and an astounding number of 60 crew members.
Besides the cinema room, the beauty salon, several gyms, elevators, game rooms, pools, spas and sports courts, not much is known about the actual design of Azzam`s interior because the owner decided to keep it a complete secret, but there are rumours that the master suite is protected by bullet-proof glass and that the entire vessel carries an air-to-air missile defence system.
Another mysterious thing about Azzam is that nobody actually saw her tender, so it is possible that it is swapped regularly.
The Value of Lurssen Yachts
Lurssen has several key points of construction, each one serving a different purpose in the mega-chain of the shipyard`s production. The first one is in Vegesack, which has been the centre of operations since 1918, housing the administrative offices and logistics centre.
Lemwerder has been Lurssen`s construction hotspot since 1935, managing an area of nearly 130, 000 square meters. This shipbuilding mecca covers a wide spectrum of facilities dedicated to construction and assembly, specifically Lurssen`s Refit and Repair departments. Lemwerder has specialised in constructing yachts in lengths between 80 and 110 meters and is Lurssen`s main shipyard.
Lurssen assimilated the Bremer Vulkan Marineshiffbau shipbuilder in 1997. Its facility, situated near Aumund has a 170-meter dry dock, ideal for large yachts. The Lürssen-Kröger Werft shipyard near Rendsburg joined the Lurssen group in 1987. And immediately gave a great boost to the Group`s capacity to maintain and refit Navy ships.
2006 saw another acquisition, this time Neue Jadewerft shipyard in Wilhelmshaven joined Lurssen`s fold, bringing to the table the ability to maintain, refit and repair with lengths up to 150 meters.
The facility near Berne was acquired in 2010 as a backup to Lurssen`s main shipyard in Lemwerder, which is not far from Berne. Ship-building capabilities were thus further improved upon, adding floating docks and high-capacity lifts, able to move vessels up to 150 meters in length. Shortly after, Hamburg Norderwerft was included in the Lürssen Group in 2012, followed by the Peene-Werft acquisition in 2013.
One of their last major additions was the merging of Lurssen with Blohm + Voss in 2016.
All of these acquisitions testify to the wide coverage of services that Lurseen is capable of providing. Regardless of the length of the vessel or its purpose, Lurssen always remains true to its core principles and a high standard of quality control.
Management also plays a vital role in the overall scheme of yacht-building. Employing nearly 2000 people, Lurssen management believes that it is vital to have each employee in their highest capacity and optimal efficiency, so the final product can be nothing short of perfection.
It is also observable, from the sheer number of acquisitions that Lurssen made over the years, that their ambitions only grew, from the time they dedicated half of their overall production capacity to building luxury yachts.
Charter Yachts
We present to you the best selling yachts for charter in 2021. Slide through these different yachts, ranging from 20 to 80 meters in length, and choose the best option for you. If you have any questions regarding yacht charter, destinations & yacht support, contact us.
VIEW ALL CHARTER YACHTS
VIEW ALL CHARTER YACHTS