Uncategorized
A guide for enjoying cocktails on a yacht charter
Once you board your superyacht in Croatia, prepare to enjoy every conceivable cocktail in a paradise-like atmosphere.
It is a widely recognized fact that cocktails on a yacht charter go hand in hand like butter and toast. Due to this, all charter guests find it necessary to always have a refreshing cocktail option nearby, be it a Tequilla Sunrise on the sundeck or a White Russian in the salon.
Refreshing cocktails for an afternoon session of sunbathing
Enjoy hand-made cocktails with fresh fruits, spices and premium liquor, while you soak up the sun`s rays on your yacht charter in Croatia. Let your dedicated stewardess surprise you with a perfect cocktail for a warm sunbathing session on a sundeck of a yacht.
Pre-diner cocktails in the salon
Before tasting exquisite dishes made by your Michelin-level chef, open up your appetite with a pre-dinner cocktail at the bar. There are several drinks in Croatia that are traditionally consumed before a meal, acting as an opener to the entire experience, known as rakija; these drinks include local hard liquors made from figs or carobs. If you are feeling adventurous, you could ask a member of the crew to procure them, so you could mix them into an all-encompassing pre-dinner cocktail experience.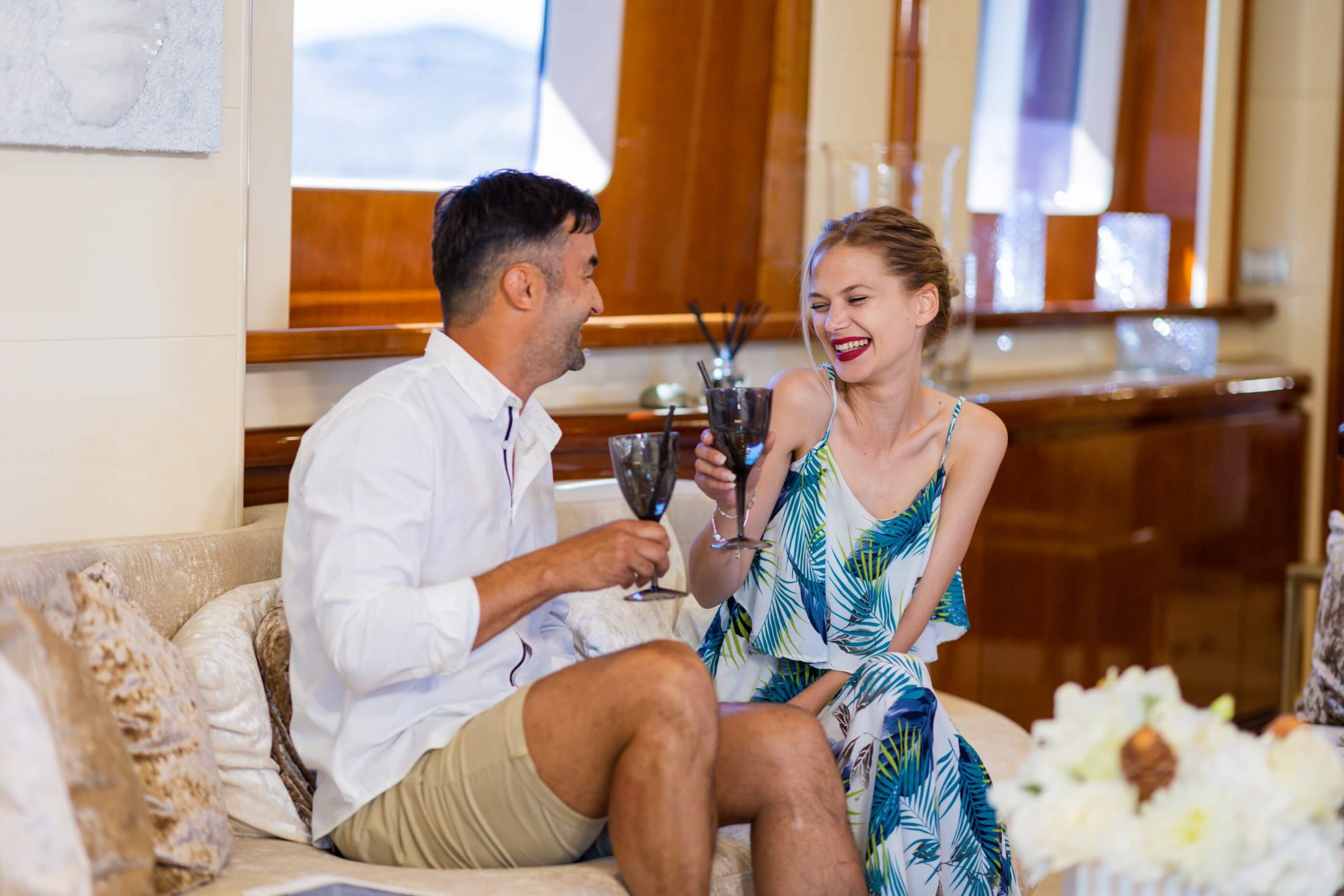 Watch and learn: observe your stewardesses making cocktails and try for yourself
You will be stunned by the level of skill and knowledge your expert stewardesses will mix different ingredients to create a perfect drink for a yacht charter in Croatia. Sufficiently interested, you may even learn a thing or two about how to properly determine and combine ingredients for cocktails, whether they are classics, like Sex on the Beach and Mojito, or create new and unique mixes that will suit your specific taste. Just like the chef cooks to your exact preferences, so too can the stewardess mix a cocktail designed specifically for you.
Combine different flavours and create your very own and totally unique Croatia yacht charter cocktail.
Is there a better way to sum up your ideal yacht charter holiday in Croatia than by creating a cocktail synonymous with your experience? Ask your dedicated yacht stewardess for assistance and in no time at all will you be creating a totally unique cocktail, with flavours that will remind you of the beautiful Croatian Adriatic Sea every time you drink it. Name your new drink according to the best experience you had on your yacht charter holiday in Croatia, like "Sunny bay picnic" or "Midsummer evening harmony".
Cocktails on a yacht charter – an inseparable combination
Cocktails on a yacht charter are best enjoyed on a cruise in Croatia, a land of immeasurable beauty and clean sea. Once you board your superyacht in Croatia, prepare to enjoy every conceivable cocktail in a paradise-like atmosphere. Even if you do not like alcohol, your loving stewardesses can always make a virgin version of a cocktail, that tastes even better, thanks to the freshness of the fruit and the quality of the ingredients.
Charter Yachts
We present to you the best selling yachts for charter in 2021. Slide through these different yachts, ranging from 20 to 80 meters in length, and choose the best option for you. If you have any questions regarding yacht charter, destinations & yacht support, contact us.
VIEW ALL CHARTER YACHTS
VIEW ALL CHARTER YACHTS