Sunbathing on a Yacht in Croatia
There's nothing quite like soaking up the sun while lounging on the deck of a luxurious yacht in Croatia. With its crystal-clear waters, gorgeous coastline, and abundance of islands to explore, it's no wonder that Croatia has become a hot spot for yacht charters. One of the best things about a yacht charter vacation in Croatia is the opportunity to sunbathe in style.
Photo credit to: Zadar Archipelago
A constant companion on your journey through the Croatian Adriatic Sea will be the summer sun. From the early hours of the morning until the last hints of light at dusk, charter guests will develop an intimate relationship with the sun. Because it is impossible to avoid sunbathing on a yacht charter vacation in Croatia, here are some tips and tricks on how to make the sun an integral and enjoyable part of your holiday.
Natural Croatian Suncreams, Oils and Tonics – Excellent Skin Care on Your Yacht
Spending time in the sun can be both rejuvenating and relaxing, but it can also be harmful to your skin. That is why it is important to use high-quality sun creams, oils, and tonics to protect your skin from the damaging effects of the sun.
Croatia is known for its natural skincare products made from local ingredients like lavender, rosemary, and olive oil. Some popular local products include Lavender Oil mixed with Immortelle, which has a calming effect and helps reduce redness.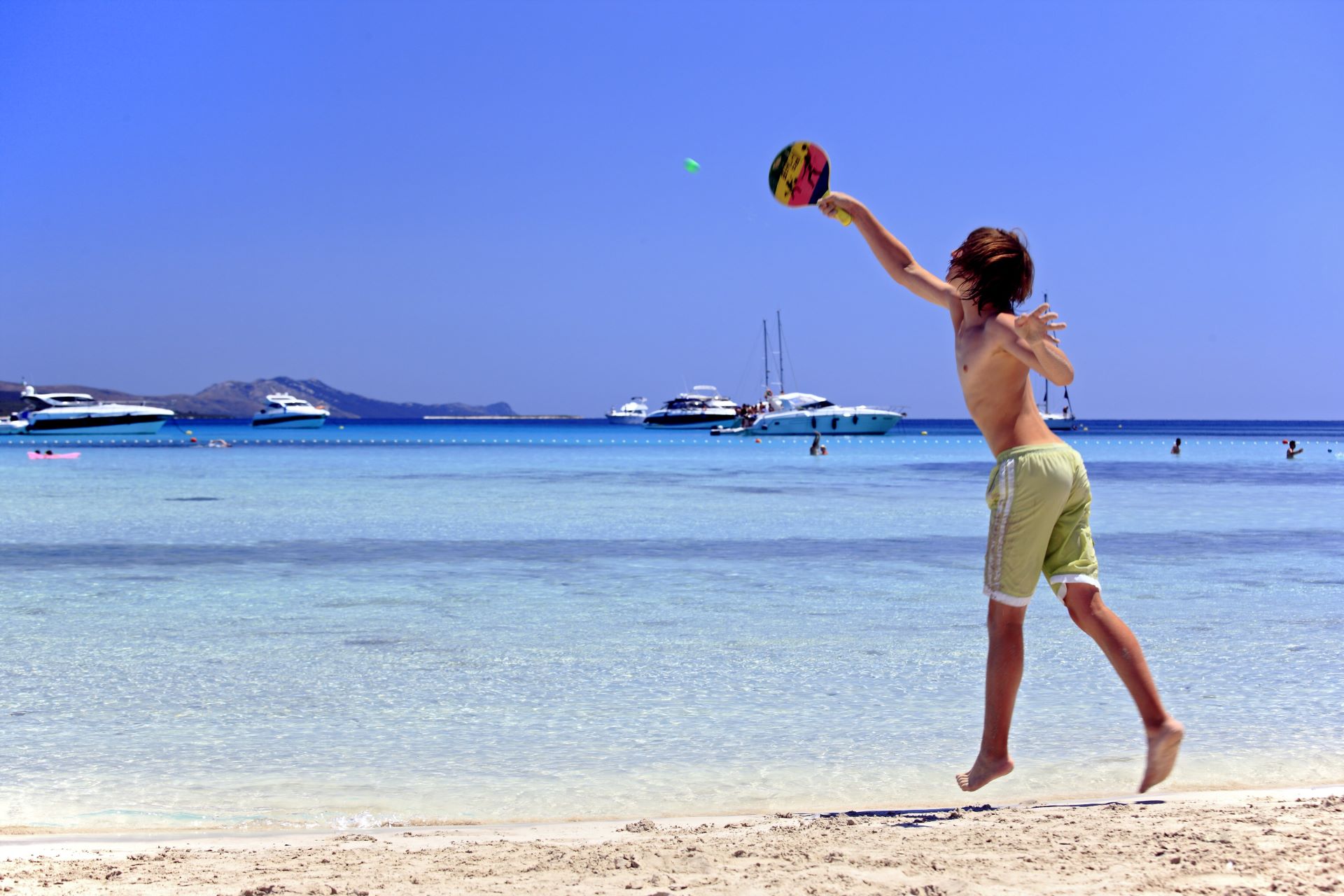 Talk to your local charter crew about procuring the best local oils and cremes, which will help you stay protected from the sun, or achieve the perfect bronze tan – depending on your wishes. Skincare is a big part of experiencing an enjoyable holiday, and your diligent crew will provide you with everything needed.
Comfortable Sunbeds, Sun Decks, Movable Sun Loungers
One of the best things about sunbathing on a yacht is the ability to move around and find the perfect spot to catch some rays. Most yachts from SuperYachts Croatia`s catalogue come equipped with comfortable sunbeds, sun decks, and movable sun loungers, allowing you to find the ideal spot to soak up the sun.
If you prefer to lounge on the top deck, on the bow, or in a more secluded area with some shade, you will find every option available on one of our charter yachts.
The best place for sunbathing on a yacht is usually found on the sundeck or the flybridge, depending on the length of the yacht you booked. There are also other yachts that have a dedicated forward sunbathing section, usually on the bow of the main deck. These spots come equipped with fixed sunbeds, which nonetheless offer an unparalleled sunbathing experience.
Pair that with fresh and juicy cocktails served by your charter crew, and you have a recipe for a relaxing holiday afternoon.
Take Precautions According to the Time of Your Yacht Charter Holiday – July and August have More UV Rays than June or September
While the Croatian sun can be glorious, it is important to take precautions to avoid sunburn and other skin damage. The UV rays are strongest during the peak summer months of July and August, so it is essential to apply sunscreen regularly, wear protective clothing, and take breaks in the shade.
If you are planning a yacht charter holiday in Croatia during these months, make sure to pack at least one hat and some sunglasses. During these months, the sunniest islands in Croatia are Hvar and Vis, both of which offer sun lovers a perfect opportunity to bask in more than 2800 hours of sunlight during the entire year.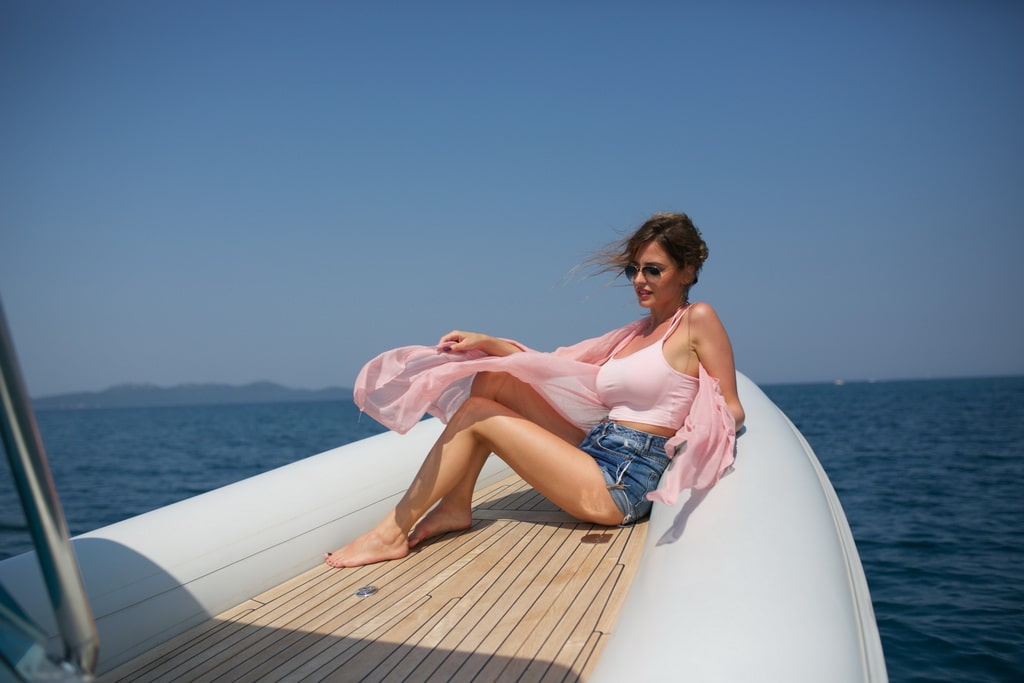 Staying healthy is what is always important, and that is why you can rely on your charter crew to provide the best protection against the sun. Shaded areas, plenty of fluids, the best skincare, and more – the crew will always take care of the guests.
On the other hand, if you want to work on your colour and have some sunbathing expertise, inform the crew and they will set up an optimal timetable for sunbathing on a yacht; one where you enjoy all the advantages of the summer sun, with none of the risks.
Shaded Areas, Refreshing Drinks, and Air-Conditioned Environments on Yachts
Yachts are designed to provide comfort and luxury, and this includes shaded areas, refreshing drinks, and air-conditioned environments.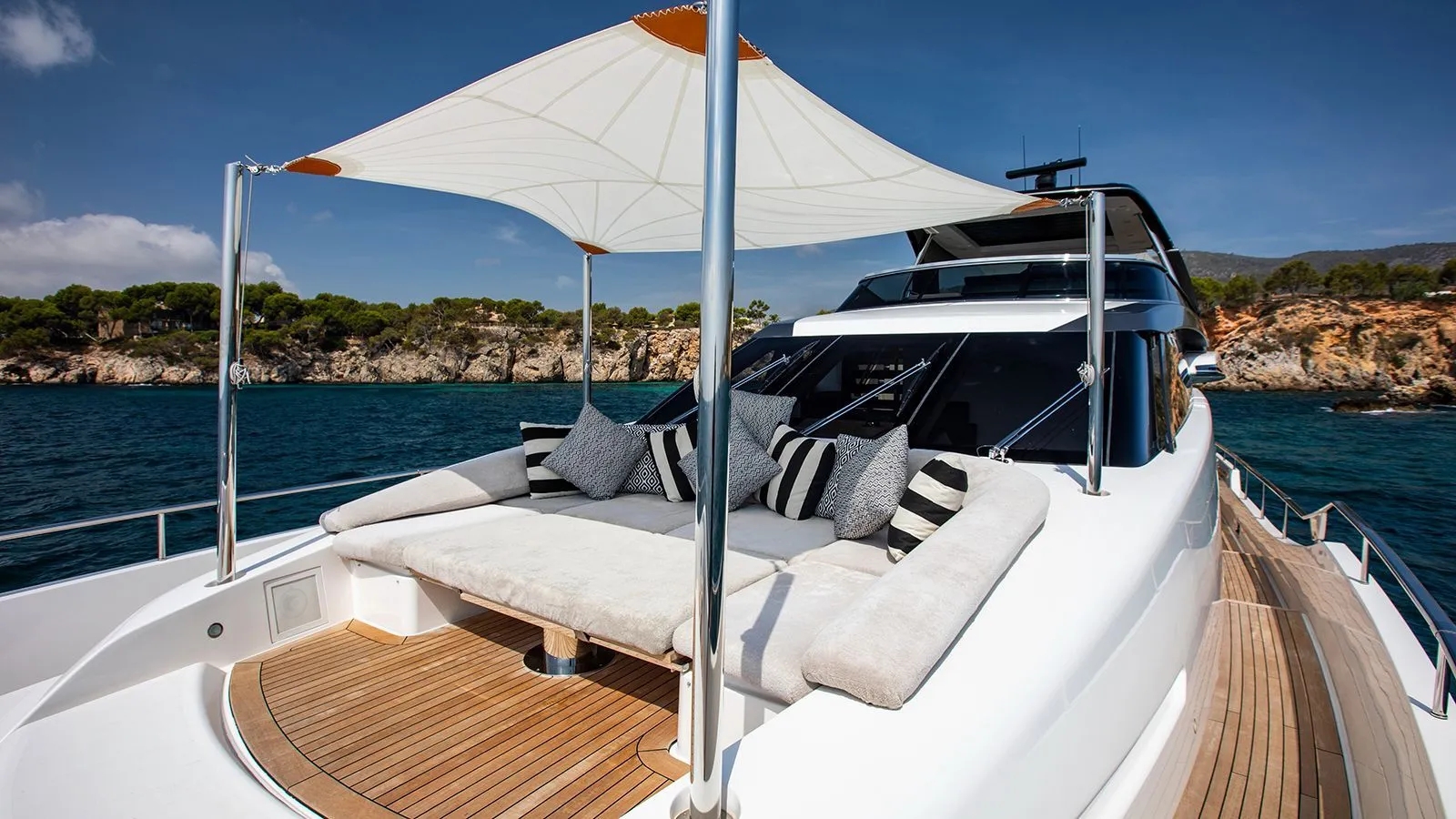 When the sun becomes too intense, you can retreat to a shaded area or take a dip in the refreshing Croatian Adriatic sea to cool off. All yachts also offer refreshing drinks, such as cocktails or fresh juices, to keep you hydrated and refreshed. And if you need a break from the heat altogether, the air-conditioned interior of the yacht provides a comfortable escape from the summer temperatures.
Swimming in the Cool Croatian Adriatic Sea after a Satisfying Sunbathing Session
After a satisfying session of sunbathing on a yacht, nothing feels better than taking a dip in the cool waters of the Adriatic Sea. Croatia boasts some of the clearest and cleanest waters in Europe, making it the perfect place to swim and cool off.
Many yachts come equipped with water toys like kayaks and paddleboards, allowing you to explore the surrounding area and get some exercise while enjoying the beautiful scenery. For those inclined towards aesthetics, swimming during a sunset can be a little chilly, but the visuals and colour explosions make up for the temperature several times over.
Why Sunbathing on a Yacht is one of the Traditional Staples of a Charter Vacation in Croatia?
Sunbathing on a yacht has become one of the traditional staples of a charter vacation in Croatia. It's the perfect way to relax, unwind, and soak up the beautiful Croatian sun while enjoying all the amenities and luxury of a private yacht.  Sunbathing perfectly sums up the leisurely approach to life we should all sometimes borrow from our holidays and implement into our everyday lives.
And since you cannot have a yachting holiday in Croatia without bathing in the sun, it is better to prepare for plenty of sunshine and warm temperatures on your holiday.
Charter Yachts
We present to you the best selling yachts for charter in 2021. Slide through these different yachts, ranging from 20 to 80 meters in length, and choose the best option for you. If you have any questions regarding yacht charter, destinations & yacht support, contact us.
VIEW ALL CHARTER YACHTS
VIEW ALL CHARTER YACHTS