Tirea Yacht Charter Vs. Reve D'Or Yacht Charter
For clients who have just gotten used to the idea of their first yacht charter holiday, the choice between so many different yachts can sometimes be overwhelming. Naturally, first-time charterers usually do due diligence, getting to know the basics of yachting holidays, pricing, taxes, provisioning etc. But, there are some information that laymen might tend to overlook.
After all, first experiences are always the most intense, and that is a good thing. But, for clients who cannot make up their mind about which yacht to choose, SuperYachts Croatia presents a clear distinction list, which could help future clients determine the perfect kind of yacht for their holiday
From SuperYachts Croatia catalogue, we have picked two very distinct vessels,s and pitted them against each other to analyze clear distinctions and similarities, to determine their pros and cons, and to help clients decide on their dream yacht charter.
We are talking about Tirea yacht charter and Reve D`Or yacht charter.
Both TIREA and Reve D`Or yacht charter are luxurious charter yachts with impressive features. Although they may have similarly shaped hulls and lengths, they could not be any different.
Short intro to Tirea and Reve d`Or
Tirea
Tirea yacht charter stands out as a prominent attraction in the Croatian city of Rijeka, where it predominantly docks. This remarkable vessel, formerly known as FOLLOW ME V, boasts a length of 45 meters and offers unparalleled satisfaction to every guest. The vessel's exquisite interior, designed by Studio Spadolini, and its exterior, designed by Reymond Langton Design, cater perfectly to those who appreciate a blend of simplicity and luxury.
Tirea yacht charter can comfortably accommodate up to 10 guests in its 5 spacious cabins, including a master suite on the main deck and four double cabins on the lower deck. The yacht's layout seamlessly enhances the sense of pure comfort and privacy.
What further enhances the yacht's appeal is its exceptionally spacious sundeck, providing an ideal spot for guests to spend their time. For those who prefer indoor spaces, the magnificent flybridge deck offers a gym area, cinema room, and a charming bar that's perfect for extended evening conversations. TIREA yacht charter is operated by a crew of 9 experienced and knowledgeable members, dedicated to assisting with all guest needs.
In addition to its impressive interior features, the yacht offers a variety of water toys, suitable for both adults and children. These include a Yamaha jet ski, a Sea bob, two paddleboards, and more, ensuring that every day on board Tirea yacht charter is filled with enjoyment and entertainment.
Reve D`Or
Reve D`Or yacht charter, a 46-meter motor yacht, has been designed to offer the ultimate in luxury cruising. It excels in every aspect, captivating you with its elegance and astounding you with its efficiency as a highly fuel-efficient vessel. Cruising at a speed of 13 knots, Reve D`Or consumes approximately 250 litres per hour, a remarkable achievement for a yacht of this size.
Crafted by the renowned Sanlorenzo shipyard in 2011 and subsequently refitted in 2017 and 2019, Reve D`Or yacht charter stands as one of the most opulent charter yachts available in Croatia.
The beach club on Reve D`Or yacht charter is exceptionally spacious and includes a wellness centre with a sauna. Charter guests often find themselves drawn to this area, as it skillfully combines the Adriatic Sea's ambience with a tranquil atmosphere. Here, you can recline on mobile sun chairs with a cocktail in hand before taking a refreshing plunge into the crisp Adriatic waters.
The yacht features two day heads, located on the main deck and upper deck, ensuring the utmost comfort for all charter guests. Comprising 6 spacious cabins and accommodating up to 12 guests, Reve D`Or yacht charter boasts an elegant interior designed by Studio Massari.
One of the standout features of the Sanlorenzo 46 model is its solid steel hull, which imparts greater strength and durability to the entire Reve D`Or yacht charter, making her exceptionally well-suited for charter purposes. As a result, the yacht boasts superior sound insulation and vibration dampening, surpassing the performance of yachts constructed primarily from aluminium due to the steel's ability to absorb shocks and inhibit sound wave transmission.
Comparison of the interior design between the two yachts
Tirea yacht charter features an interior design by Studio Spadolini, known for its simplicity and luxury. This can be observed in the somewhat simplistic approach to spatial geometry in Tirea, where there are no "out-of-place" lines, and all the guest`s attention and focus are always directed forward. This flow of spatial energy also makes the décor on Tirea more grounded, establishing a firm relation with the natural elements outside the yacht.
Both Tirea and Reve d`Or heavily rely on the use of dark wood surfaces in the design of the interior, but Tirea`s interior design accentuates straight lines and corners, while Reve d`Or gives more attention to smooth lines and gentle and fluid transitions between corners. Wood seems to be more streamlined in Tirea`s interior, matching the somewhat minimalist approach to detailing surfaces, with rich textures still being present in the upholstery and furniture
Reve D`Or, on the other hand, uses a more opulent interior décor, with lots of dark brown matte wooden surfaces. This is noticeable in the main deck interior salon, a space filled with incredibly comfortable sofas and armchairs, both classical in design and with traditional wood ornaments done in a bespoke fashion. Aquamarine details are also added throughout the interior, creating a wholesome connection between Reve D`Or and the sea
There are also gracious day heads and en-suites, that marry the features of marble and wood into an aesthetically pleasing unit. Since Reve D`Or was constructed by Sanlorenzo, a prominent superyacht shipyard, their unique signature is clearly visible in the overlaying design of Reve D`Or.
Sanlorenzo's philosophy for every model remains consistent: to create handcrafted and customized motor yachts that align with a glamorous and opulent lifestyle. This ethos extends to Reve D`Or yacht charter, which was built to understand and cater to the tastes and preferences of yachting enthusiasts.
Thus, this yacht sets a new industry standard thanks to the collaboration between experts in design, engineering, and décor, which ensures that every detail harmoniously integrates with the yacht's overall design.
It boils down to a clear option: do guests want to be surrounded by rich traditional design on Reve D`Or yacht charter or minimalistic traditional design on Tirea?
Comparison of the exterior between Tirea & Reve d `Or
The exterior of a luxury yacht is often the first thing that captures the attention of onlookers, and it plays a significant role in the overall appeal of the vessel.
The exterior design of Tirea yacht charter is a masterpiece created by Reymond Langton Design, known for their expertise in crafting elegant and stylish superyachts. Tirea stands out with its sleek and modern appearance, making it a head-turner in any marina or cruising destination; the exterior of Tirea yacht is a testament to the skill and creativity of its designers.
One of the notable features of Tirea yacht's exterior is her generous deck areas. The sundeck and flybridge deck offer ample space for relaxation and entertainment. The flybridge deck goes a step further by incorporating a gym area and a cinema room, allowing guests to stay active and enjoy movie nights under the open sky. The addition of a bar on this deck ensures that refreshments are always within reach.
However, it's worth mentioning that Tirea yacht charter lacks a jacuzzi, a feature often found on luxury yachts. Nevertheless, this omission is compensated by a more water-oriented approach. The beach club on Tirea yacht charter provides an extended swimming platform, offering direct access to the water for swimming and other water activities. This unique feature ensures that guests can fully immerse themselves in the pleasures of the sea.
Turning the page towards Reve D'Or, this yacht boasts a distinctive exterior, featuring a white and blue paint job with a thin red line separating the layers. This colour scheme adds a visually exciting element to the yacht, giving her a distinct and appealing appearance. The combination of colours evokes a sense of serenity and elegance.
One of the standout features of Reve D'Or yacht's exterior is her abundance of exterior deck space. Guests have the opportunity to bask in the sun or enjoy the cool sea breeze from various vantage points on the yacht.
The beach club on Reve D'Or is a true gem in its own right. Equipped with a hydraulic swimming platform, it provides easy and convenient access to the pristine waters of the Croatian Adriatic Sea. Every swimming session becomes an enjoyable and refreshing experience with this feature. What sets this beach club apart is its hidden secret in the form of a sauna. This addition elevates the wellness potential of the yacht, allowing guests to relax and unwind in style.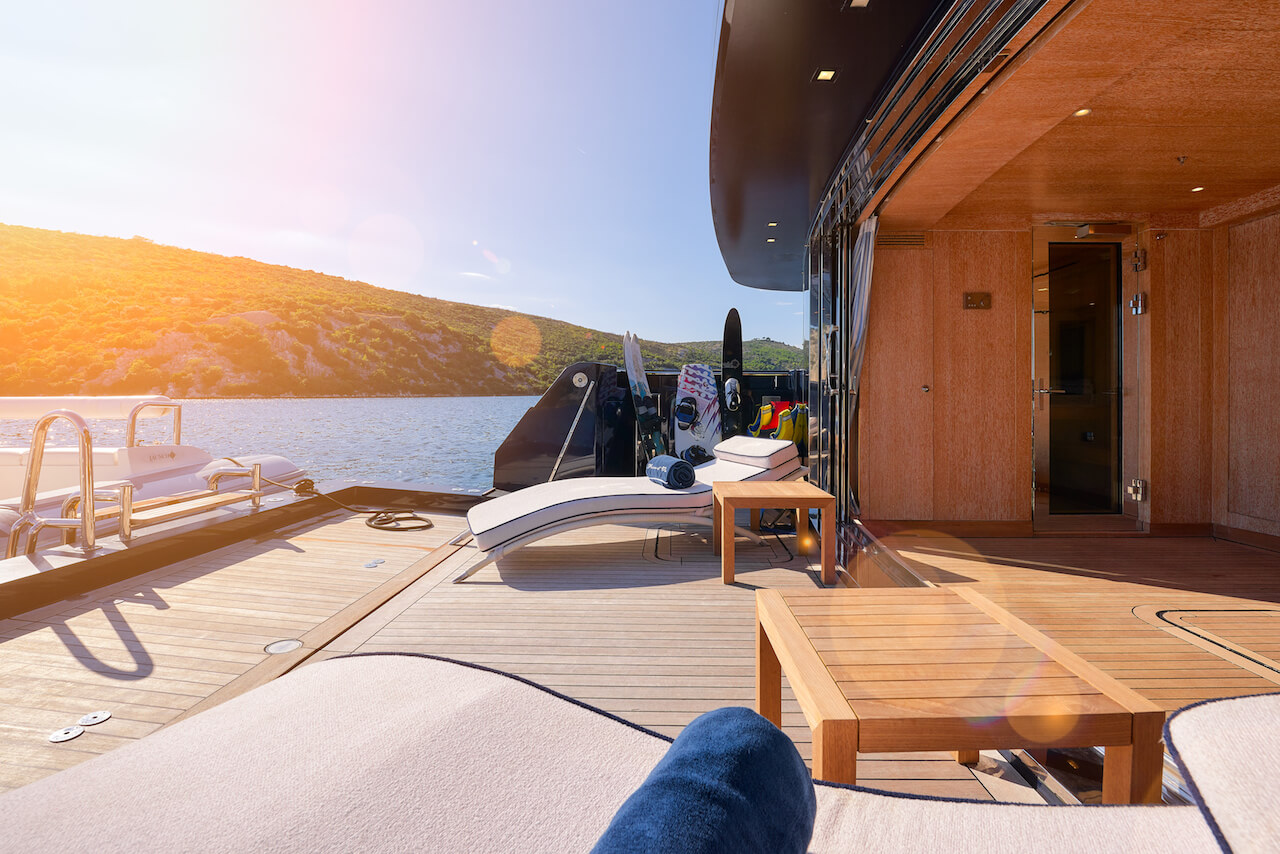 In terms of spacious deck areas and amenities, both Tirea and Reve D`Or yacht charter excel. They offer comfortable outdoor furnishings and amenities that cater to the desires and needs of their guests.
Comparison of amenities and toys
Most charter guests come with families on their yachting holiday, which means children. And kids usually skip the jacuzzis, the saunas, and the gyms and go straight to the water toys. Luckily, both Tirea and Reve D`Or have lots to offer in that department.
Starting with Tirea yacht charter, several extra floating platforms extend the capabilities of the fixed swimming platform and beach club. This means easier access to the water for the kids, but also a better learning curve for the first-time riders, because the crew will have an easier time explaining all the different water toy techniques if there is more space to do so. Tirea yacht charter offers a variety of water toys, including a Yamaha jet ski, Sea bob, paddleboards, and more for guests' enjoyment.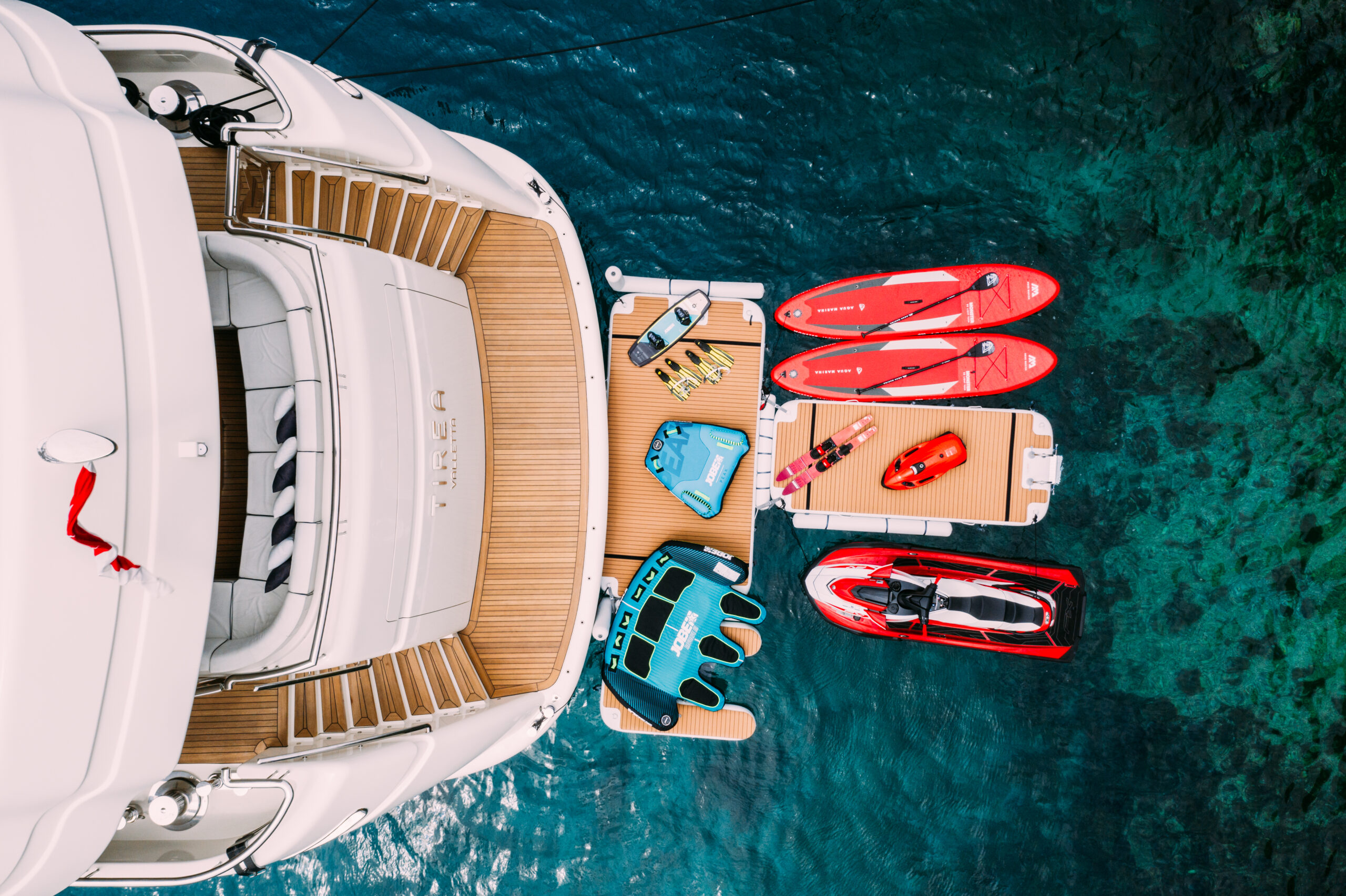 In this regard, Tirea yacht charter offers more of a hands-on approach to water-based fun, although Reve D`Or has a bespoke beach club with a sauna. Plenty of water toys aboard Tirea are orientated towards a family yacht charter
Also, Tirea yacht charter features a cinema room on the flybridge deck, making it an excellent choice for movie nights or entertainment.
Another thing that Tirea has and Reve D'Or does not is a dedicated gym area with lots of different gym equipment, including a running track, a multi-functional machine, a static bike and more. These items will serve to greatly enhance the experience of all charter guests looking forward to an active yachting vacation.
Reve D`Or yacht charter also boasts a lavish sundeck jacuzzi, the most important amenity on this yacht and the main difference between these two yachts. For friends, colleagues and partners, there is no better way to celebrate a yacht charter vacation than by soaking in the warm and bubbly waters of the jacuzzi, while sipping on premium champagne.
This could also be an indicator of how conceptually the two yachts differ: Tirea yacht charter would better suit a family yacht vacation, while Reve d`Or corresponds more with the needs of an adult-only charter audience.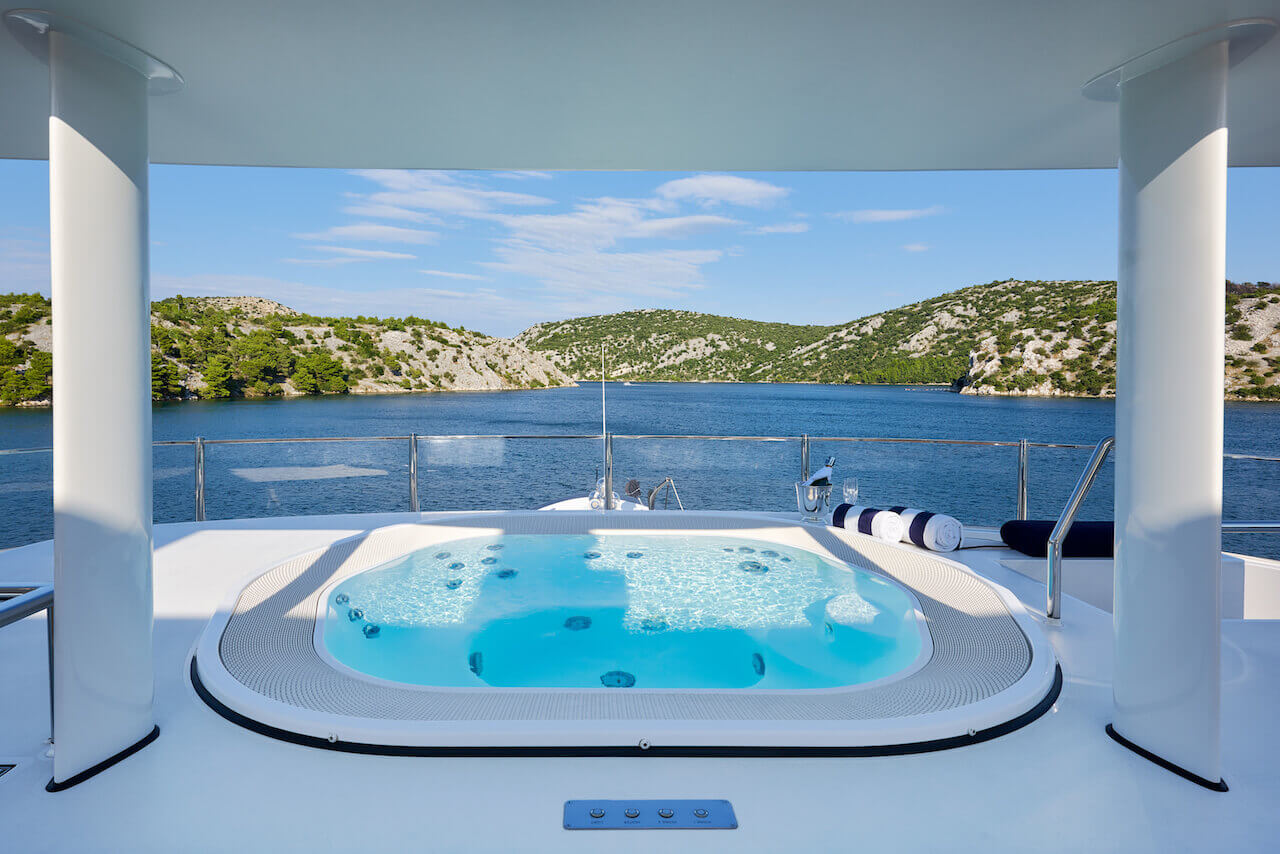 When it comes to fun near the water`s edge, Reve D'Or offers a unique approach to sea-based lounging: a bespoke beach club, with enough room to create an atmosphere of an authentic seaside bar. Add to this the incredible wellness amenities like the nearby sauna, and guests will enjoy upgrading their holiday with luxury spa treatments, massages, and refreshing dips in the Croatian Adriatic Sea.
Reve D'Or also provides a range of water toys, including a jet ski, Sea bobs, inflatable toys, paddleboards, and more – just talk to your diligent charter crew about all the water toy possibilities on Reve D'Or.
Which yacht to pick – Tirea yacht charter or Reve D`Or yacht charter?
Both yachts offer a high level of luxury, comfort, and entertainment for guests. Tirea yacht charter emphasizes a spacious swimming platform with lots of water toys, as well as entertainment and wellness features in the sky lounge, while Reve d`Or is known for her fuel efficiency, beach club wellness centre, and solid steel hull.
The choice between the two yachts depends on individual preferences, whether you prioritize spacious outdoor areas or wellness amenities. Ultimately, both yachts offer a fantastic experience for those looking to charter in Croatia.
Charter Yachts
We present to you the best selling yachts for charter in 2021. Slide through these different yachts, ranging from 20 to 80 meters in length, and choose the best option for you. If you have any questions regarding yacht charter, destinations & yacht support, contact us.
VIEW ALL CHARTER YACHTS
VIEW ALL CHARTER YACHTS